July, 24, 2014
7/24/14
12:00
PM ET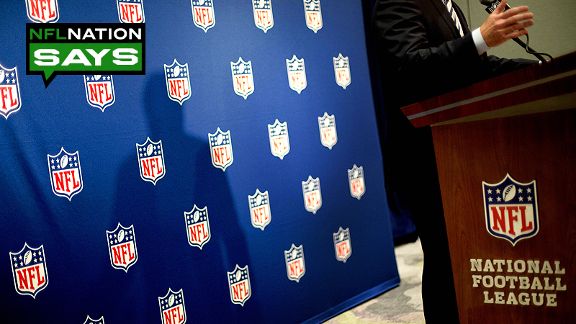 AP Photo/David GoldmanWhat would our panel of Hall of Famers change about today's game if they could?
There's little doubt that the NFL has seen a rise in popularity over the past several decades, perching it atop the American sports landscape.
But as the game has grown, rules have changed. Much of the emphasis has been on player safety, with quarterbacks and other offensive players increasingly afforded greater protection.
Reaction to the changes has been mixed. To some, it's part of a natural evolution toward a faster-paced, speed-based game. To others, football has shifted away from its roots as a physical sport.
Given the chance to be NFL commissioner for a day, which rule would you change?
That's the question we asked several Pro Football Hall of Famers at the Hall's inaugural Fan Fest in Cleveland in May. From stars of the 1960s to players who earned their gold jackets playing a more modern version of football, there was no shortage of opinions about how to change the game -- even some you wouldn't expect.
"Well, I'd put the head slap back in," former defensive lineman Carl Eller cracked.
Eller, a member of the
Minnesota Vikings
' famed "Purple People Eaters" of the early 1970s, took a more serious note when he offered a popular commentary about the modern NFL: It's becoming too much of an offensive game.
Here are more proposed rule changes and thoughts from Hall of Famers in our latest NFL Nation Says:
Contributing:
Coley Harvey, Pat McManamon and Michael C. Wright.

"I would probably ease up on the fining of guys. I know the player-safety thing is a big issue, which is a great thing. But a lot of those things they are emphasizing, those rules have been in place for quite a long time. So just emphasize rules the way they should be, clarify the rules. Probably one thing I really want to see -- I know we're probably not gonna get full-time refs for all of them -- but at least give me full-time [with] the head refs. The guys that are wearing the white hats, give me 20 of those guys, who know the rules, who can interpret the rules. We don't have to go to some common place on the sidelines to interpret what rules are being broken on a consistent basis."
-- Steelers DB Rod Woodson, Class of 2009
---

"They'll get mad at me probably, but I'd cut the teams. I'd cut the rosters. I wouldn't protect the quarterback. I would let the defensive backs mug that receiver until that quarterback released the ball. I'd get a tighter holding rule on the offensive linemen and make them be inside that framework, sort of wrap them around. I'd get it back to a contact sport. And in that way kind of create and enforce a little more of the running game."
-- Patriots G John Hannah, Class of 1991
---

"Holy cow, man. I don't know (laughs). Maybe I'd still let the guys celebrate a little bit. How's that? I think it's OK to show a little excitement when you score a touchdown. The dunk -- what's wrong with that? I'm not sure what I would change, but I would let them have a little more fun when they score."
-- Vikings G Randall McDaniel, Class of 2009
---

"I think they need to throttle today's players a little bit, too. You go out there and you play. You don't go out there and celebrate and dance around and jump up in the stands. I guess that's what the fans maybe want. But I'd fine the living daylights out of a player if I was a coach. If you jump in the stands, maybe it's costing you $50,000. So you jump up there as many times as you want. Why risk injuring yourself doing something foolish? Maybe it's just me, but I think it's just ridiculous. And you'll find a guy where, team's behind 20 points, it's the fourth quarter, he breaks through and sacks the quarterback and you'd think he just broke the world record for something, celebrating and pumping his fists. That's not what you're out there for. You've got to utilize some good common sense."
-- Redskins LB Chris Hanburger, Class of 2011
---

"I would give all the old guys a raise. Get some money to them. In the 1950s, pro football was looked upon like professional wrestling today. ... Guys struggled. And then ... because we put on a product that was pleasing to the public, people started coming through the turnstiles. TV got involved -- ESPN and others -- and now all the sudden you got this big thing going on. Teams have these hundreds of millions of dollars, in some cases billion-dollar stadiums, they got all this parking, all these loges, all these sky boxes -- everybody's making big money. These young guys who make $20-30 million a year, if they think they're getting it just because they're so great, nobody's going to pay you a million dollars that's not making a million and a half themselves. The reason why the owners are making that million and a half is because what we did for them. These guys don't understand. They only make that money because a lot of guys made a lot of sacrifices. All these stadiums, it's amazing. And if I was commissioner, I would make it very, very clear to the athletes today that you owe -- you don't owe, you should say thank you to the old-timers to be able to get that contract. The game has changed so much because guys made big sacrifices with their bodies and everything else, and I just feel like the commissioner or somebody needs to do something."
-- Packers LB Dave Robinson, Class of 2013
---

"Well, I'd put the head slap back in. They've made a lot of changes. There's been massive changes. They've been mostly offensive oriented. I feel for the guys that are in the defensive backfield. They really have a tough time. And it's become a passing game, a scoring game. So I don't know, I'd tighten up some of those rules and not be so lax on the receivers."
-- Vikings DE Carl Eller, Class of 2004
---

"Concussions are up on a higher level now. So to take some of the things out of the game, it would still be football. But maybe increasing the helmet protection as best as they can may be a way to reduce a lot of the concussions that are going on."
-- Lions CB Lem Barney, Class of 1992
---

"I would make it required that the running backs have to get the ball at least 30 times a game (laughing). That's what I would do. But I understand it's a passing league. Just being kind of funny or whatever, but I would love to see the running backs be a little more part of the game than they are today."
-- Bills RB Thurman Thomas, Class of 2007
---
Contributing: Coley Harvey, Pat McManamon, Michael C. Wright
July, 24, 2014
7/24/14
12:00
PM ET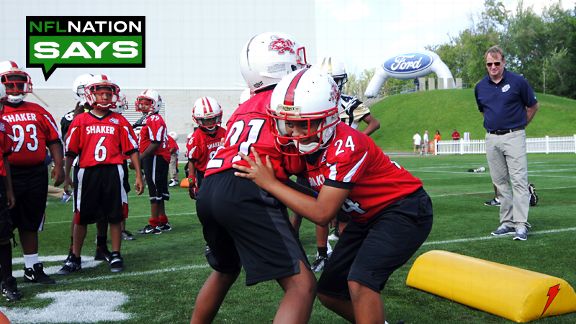 Tom E. Puskar/ AP Images"There's a correct way and a wrong way to tackle," says Hall of Famer Dave Robinson.
The topic of football-related concussions is one that hits home for many former players, including some whose children and grandchildren may want to follow in their footsteps.
At the inaugural NFL Hall of Fame Fan Fest in Cleveland in May, ESPN.com caught up with several Hall of Famers who shared a variety of opinions on whether they would encourage their children or grandchildren to play football, considering the concussion risk.
It's a topic that's been discussed from youth football parents to President Barack Obama, who said if he had a son he wouldn't let him play pro football.
Despite the rule changes the NFL has made in recent years to eliminate the types of violent collisions that can cause concussions, and despite the league's push for teaching youth coaches "heads-up" tackling techniques, some former players still have their reservations about letting their grandkids play the game.
"I'd rather for them to be a doctor or lawyers," Cowboys Hall of Fame offensive tackle Rayfield Wright said.
Not all of the Hall of Famers shared Wright's sentiments. Here are more thoughts from others when asked if they would want their youngest relatives to play the game that made them legends:

Hannah
"I've got two grandchildren coming in this year. One from each of my children. Would I want them to play the game? Yeah, if they wanted to play. I would encourage it. If they didn't I wouldn't push it either. I would rather they play it the old way than the new way. [Why?] I think the new way is, being an offensive lineman, I think it's great for the running back and the receivers -- especially the receivers -- but it's not great for an offensive lineman because as an offensive lineman you're never on the attack. You're always kind of protecting. Offense was given the word offense because it's the attacker. They've taken it and actually, in today's game, you should call defense 'offense' and offense 'defense.' So knowing that most of my grandkids genetically will be like me, they'll be dumb offensive linemen, I'd like to see them enjoy the game and be on the aggressive side."
-- New England Patriots G John Hannah, Class of 1991
---

Eller
"I have three grandchildren. But one grandson (
Nick Alexander
), well, he wants to become a pro football player. [Would you allow him to do that?] I would encourage him to do that. Of course he's successful doing it (he played defensive end at Portland State). And I've certainly supported him."
-- Minnesota Vikings DE Carl Eller, Class of 2004
---

Wright
"That's a very interesting question. I'd rather for them to be doctor or lawyers. There are a lot of things that a lot of fans don't know and don't understand. Every player that has played this game, they have issues -- physical issues, mental issues -- and a lot of the doctors, universities and people that do all these tests, they don't have any idea of what is truly coming down on these players that have left the game and have been out of the game for a while. I've been retired now 34 years, and it doesn't seem as though it's been 34 years. But I have issues like all the other players have health issues and we have to learn to deal with those issues. I would go back and do it again though for the simple reason of what the game itself did for me, what it did for my family. When someone had to make a mark within their family, God put me first to do that."
-- Dallas Cowboys OT Rayfield Wright, Class of 2006
---

Robinson
"I would encourage it. The big thing -- some people say, why play football? It's a violent sport, it's a violent concussion. There are more concussions in soccer. What am I going to do, let my grandson play soccer? Give him a header and get a concussion. Somebody told me the No. 1 concussion sport is cheerleading. Concussions are part of the game. You can do your best to control them. You can make rules and teach the people how to tackle correctly. It's amazing. To tackle correctly, the way I was taught to tackle, attack the center of gravity, which is in the guy's midsection, your helmet's nowhere near his head. The other thing is, the guys now telling runners, when you come into contact, drop your head and be a battering ram. That's asking for a concussion. So you get them coached, you do everything you can to avoid them, but you're going to get them on occasion. Played four years in high school, four years in college, and 12 in pro football -- 20 years. I never had a helmet-to-helmet collision. I got concussions, but usually from a knee hitting me or something else. Never helmet to helmet because we didn't tackle that way. There's a correct way and a wrong way to tackle. These kids need to learn it. Coaches need to learn how to coach it."
-- Green Bay Packers LB Dave Robinson, Class of 2013
---

McDaniel
"I still want kids to play. My problem is that people coaching them or teaching them along the way who aren't properly trained and teaching them the wrong things. That, I have a problem with."
-- Minnesota Vikings G Randall McDaniel, Class of 2009
---

Woodson
"Yeah, I allow my son to play football. So why would I not want my grandson to play? I think there's a misinterpretation about the head trauma, concussions in football. If you do the studies, there's more girls who get concussions in little league soccer than in football. More kids get concussions on the playground than in football. So you've got to be very careful trying to make that blanket statement that football is a violent sport. Yes it is, but just being a kid is violent. You could hurt yourself all the time. I think there's an evolution, especially in the National Football League, with how we've dealt with concussions, just like everything is an evolution. Just the way ACLs are being treated throughout the course of modern medicine. It's been different 20 years ago than it is today. Wearing a seat belt in a car, we know that's safer today than it was when I was a kid. I didn't wear a seat belt when I was a kid. So the evolution of how we're dealing with concussions is a big part of how the future's gonna be. I think the NFL is being very keen on not using your head and getting guys out of the playing surface when they do have a concussion and not letting them return. So I think it's been emphasized, and I think it's gonna get better as the years go."
-- Pittsburgh Steelers DB Rod Woodson, Class of 2009
---

Thomas
"I would love my grandkids to play the game. I'm not one of those parents who will ... I will just sit back and be like, 'Hey, if it's something that you want to do, if it's something that you love to do.' I think that's one of the things that a lot of the parents are missing. Is this a kid who loves the game? Is this a kid that wants to play the game? Then instead of just taking it out of their hands ... so yeah, if I was in that situation I would definitely let the kid decide."
-- Buffalo Bills RB Thurman Thomas, Class of 2007
---
Contributing: Mike Rodak, Michael C. Wright, Pat McManamon
Contributing: Mike Rodak, Michael C. Wright and Pat McManamon
August, 2, 2013
8/02/13
2:00
PM ET
OXNARD, Calif. – As he sat with opposing players before they had to play against
Larry Allen
, John Madden could notice the dread.
"You didn't sleep easy the night before, hoping you get to play against Larry Allen," Madden said. "They knew it. There's no pro football player that has a fear of another guy that plays on that level, but he was so doggone strong and there wasn't much you could do against him."
Allen will be the 14th Cowboy inducted into the Pro Football Hall of Fame on Saturday, and Madden, a Hall of Famer himself, can't wait to see him in Canton, Ohio. He shares northern California ties with Allen and got to know him over the years.
Madden remembers Joe Greene praising Allen, even if Greene never played against him. He recalls the respect
Reggie White
had for Allen. And he remembers the words coaches like Mike Holmgren and George Seifert had for Allen.
Even Allen's teammates were amazed at what he could do.
"When
Nate Newton
played he came in at 300 pounds, and that was a number that you didn't want to exceed," Madden said. "I remember those days because I coached and those 300-pound guys would be 299, and Nate always fought his weight. He said he always had to be under 300 pounds and he said, 'Then this Larry Allen comes in and he weighs 330 pounds and they're all bragging about it. They never let me weigh 330 pounds, and then we got this guy and I saw him and he was a different 330 pounds than I (had) ever seen.'"
What made Allen so great?
"He had everything," Madden said. "That was the thing he had. He had strength and knew how to use it. There are a lot of guys that have strength and power and don't use it. There are other guys that don't have it and go and get beat. He was the type of guy that could use it at the line of scrimmage and use that in space. He could pull and get at defensive back downfield and he could block at the point of attack and pass protect. That's what makes a great player. You don't say he had one thing. He had everything."
Allen made offensive line play cool, and few were cooler or better than Allen, according to Madden.
"He has to rank right up there at the top," Madden said. "I think you have to go by the ones you've seen, and I've always put John Hanna up there as that guy. I had Gene Upshaw and he's a Hall of Fame guard, and I put Larry Allen right there with that group. There was never a question with me whether or not he was a Hall of Famer. He's one of the all-time great NFL players at his position, and you could make an argument that he's the best, but you'd have to wrestle some other guys for it."
November, 5, 2010
11/05/10
10:25
AM ET
The NFL Network on Thursday night concluded its
persuasive series "The Top 100: NFL's Greatest Players"
by revealing the best 10 in league history.
As expected, no AFC East players made the top 10 because all of the big names already had been revealed. Some
New England Patriots
fans probably would argue about their three-time champion quarterback being listed 21st compared to a certain
Indianapolis Colts
quarterback being eighth.
Here's the rundown of players from the AFC East (with the fan ranking):
20 (6). Brett Favre, Jets quarterback
21 (20). Tom Brady, Patriots quarterback
24 (--). John Hannah, Patriots guard
25 (7). Dan Marino, Dolphins quarterback
31 (33). Bruce Smith, Bills defensive end
40 (44). O.J. Simpson, Bills running back
49 (--). Mike Haynes, Patriots cornerback
61 (31). LaDainian Tomlinson, Jets running back
65 (24). Randy Moss, Patriots receiver
100 (42). Joe Namath, Jets quarterback
What do you think of the list?
Who is missing? Who is overrated? Who isn't high enough?
Reviewing the list made me think back to a phone call I had with Moss two summers ago. In addition to forecasting better offensive numbers in 2009 than the Patriots posted in their record-breaking 2007 season,
Moss proclaimed himself the greatest receiver -- and maybe player -- in NFL history
.
"I'm the best wide receiver of all-time, hands down," Moss told me.
"I don't really like to judge people or other athletes. I know what I'm able to do on the field, but the things I'm able to do to dictate how a defense plays the game, I don't think there's no other receiver but myself and
Jerry Rice
to be able to do that."
Moss later added: "To hell with wide receiver. I think I go down as one of the greatest players to ever play this game."
The NFL Network rated Rice as the greatest player of all-time and Don Hutson ninth. Moss was ranked the third-best receiver on the list.
February, 10, 2010
2/10/10
11:16
AM ET
By
Matt Mosley
| ESPN.com
With former Redskins guard Russ Grimm being voted into the Hall of Fame last Saturday, we've heard a lot of great stories about him. But Redskins blogger Matt Terl pulled back the curtain on the voting process Tuesday
by visiting with Grimm's presenter, David Elfin
.
[+] Enlarge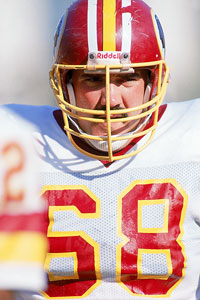 Bernstein Associates/Getty ImagesRuss Grimm received some lofty praise from former opponents.
The former Skins beat writer for the Washington Times (when it still had a sports section) was refreshingly honest about what led to Grimm finally making the final cut. And he talked about how difficult it is to quantify an offensive lineman's worth to a team. Elfin set out to talk to coaches and players who had faced Grimm over the years. And obviously the strategy paid off:
"What I chose to do this year was go to people who opposed Russ. I don't mean the voters, I mean the people who played and coached against him," said Elfin. "Because if they had good things to say, that would be more decisive than anything [Joe Bugel] or [Joe] Gibbs or anybody on the Redskins could say.
"And Randy White said that Russ Grimm was one of the best guards he ever faced. Bill Parcells said that Mike Munchak was the only one that he's ever seen in his time who was better than Russ -- and he was on the Patriots when they had John Hannah.
"Harry Carson said that Russ always gave him a headache and was the glue that held the Hogs together. And Matt Millen said basically that he was the smartest offensive lineman he had ever seen. So that was the basic gist. Those four people, I think, were pretty decisive."
Terl also asked Elfin to talk about who's next for the Redskins in the Hall of Fame:
"For me, if you wanted to name Redskins who are deserving, Chris Hanburger is number one," says Elfin. "Nine Pro Bowls, there's no question. I would say Len Hauss is second, with, like, seven Pro Bowls. And then you'd probably throw [Dave] Butz into the group with Jake and Pat Fischer and Larry Brown and ... off the top of my head, those'd be the lead guys."
The one name missing from that group in my mind is wide receiver Gary Clark. Who's next in your minds? As hard as this is to believe, defensive end Dexter Manley only went to one Pro Bowl. But he was named to the All-Pro team twice and had 103.5 sacks. That sack total is higher than Charles Haley's. Defensive end Charles Mann went to four Pro Bowls but he only finished with 83 career sacks, 82 with the Redskins. But he did play on three Super Bowl-winning teams.
August, 2, 2008
8/02/08
10:59
AM ET
Posted by ESPN.com's Tim Graham
Joe DeLamielleure is considered a football student of the highest order.
He estimates he has visited the Pro Football Hall of Fame a dozen times before he was inducted in 2003. Conversations with him are sprinkled with obscure trivia questions and name dropping that demonstrates a humbling knowledge.
He also is a vocal advocate for retired players in need of financial assistance, waging war against NFL Players Association executive director Gene Upshaw.
DeLamielleure has passionate opinions and backs them up.
So people ought to listen when the sensational pulling guard for the Buffalo Bills and Cleveland Browns declares Andre Tippett was a better outside linebacker than Lawrence Taylor.
Tippett, who recorded 100 sacks for the New England Patriots, will be inducted into the Pro Football Hall of Fame Saturday.
"I thought he was better all around," DeLamielleure told ESPN.com by phone from Canton. "A lot of guys thought he was better.
"He played the run better than Lawrence Taylor. They never asked Lawrence Taylor to put his hand down on the ground. Lawrence Taylor was just a standup rusher.
"I always said if Tippett would have put his hand down on the ground every down, he probably would have been one of the top rushing defensive ends to ever play."
DeLamielleure was a member of the Electric Company, the gang who blocked for O.J. Simpson. Their coach was Jim Ringo, another Hall of Famer.
DeLamielleure said Ringo, a position coach for four Hall of Fame linemen, shared his belief Tippett was the best.
"Think of how many sacks Tippett had, and he always had a tight end on his side," DeLamielleure said. "He played the strong side. Lawrence Taylor was a weak-side linebacker."
Not surprisingly, DeLamielleure had a couple other names to push for induction. The first was his football role model, former Miami Dolphins guard Bob Kuechenberg, a finalist each of the past five years.
"John Hannah and I both looked at him when we were younger and said 'That's the guy we want to be like,' and we're in the Hall of Fame and he isn't," DeLamielleure said. "Strange."
Another oversight in DeLamielleure's mind is former New York Jets defensive lineman Joe Klecko.
"He made the Pro Bowl as a nose guard, as a defensive tackle and as a defensive end," DeLamielleure said.
"Think about that."