NFL Nation:

John Matuszak
February, 2, 2013
2/02/13
7:04
PM ET
Pro Football Hall of Fame senior inductee Curley Culp started off with Kansas City, but he made a huge impact with the Houston Oilers, too.

Culp
The six-time Pro Bowler was named the NFL's defensive player of the year by the Newspaper Enterprise Association in 1975 after helping lead Houston to its first winning season in eight years.
He will be inducted into the Hall in Canton, Ohio, on Aug. 3, along with six others -- offensive lineman
Larry Allen
, wide receiver
Cris Carter
, tackle
Jonathan Ogden
, coach Bill Parcells, linebacker Dave Robinson, and defensive tackle
Warren Sapp
. Robinson was the other senior nominee.
Rick Gosselin of the Dallas Morning News presented Culp at the selection meeting, and John McClain of the Houston Chronicle also led the discussion of Culp's candidacy.
McClain
spoke to Culp
leading up to selection day.
"I'm anticipating a great outcome," said Culp, who resides in Austin. "I'm blessed to be in this position. I was part of a Super Bowl winner with the Chiefs, and those Luv Ya Blue teams were special.
"I'm not sure what I'll be doing, probably pulling weeds and raking the yard."
Said McClain this week in New Orleans: "Curley was the epitome of a 3-4 nose tackle. Strong, quick, nasty -- an NCAA wrestling champion who could get leverage and keep it."
"The Oilers traded (defensive tackle) John Matuszak to Chiefs in 1974 for Culp and No. 1 pick they used on outside linebacker Robert Brazile. It was a tremendous trade. Along with Hall of Fame defensive end Elvin Bethea, they were the cornerstones of the Luv Ya Blue defense."
Culp is the ninth member of the Oilers/Tennessee Titans to be elected to the Pro Football Hall of Fame.
The capsule on Culp from the Hall:
Defensive Tackle … 6-2, 265 … Arizona State … 1968-1974 Kansas City Chiefs, 1974-1980 Houston Oilers, 1980-81 Detroit Lions … 14 seasons, 179 games … Selected in 2nd round (31st player overall) in 1968 draft by Denver Broncos … Denver attempted to switch him to offense before trading him to Chiefs during training camp … Fit in perfectly with Chiefs' dominating defense … Member of team's Super Bowl IV championship team in second season … Started at left defensive tackle in Super Bowl win over Vikings and registered three tackles, one assisted tackle … Dealt to Houston Oilers in blockbuster trade during 1974 season … Key veteran leader with 11.5 sacks to help Oilers to 10-4-0 record in his first full season with club … Winning record in '75 was Oilers first winning season in eight years and just second in 13 seasons …. Named NFL's Defensive Player of the Year by Newspaper Enterprise Association, 1975 … Culp led defense that helped Oilers earn back-to-back appearances in AFC championship game, 1978-79 … Named All-Pro, 1975 … All-Pro Second Team 1971, 1977, 1978, and 1979 …. First- or second-team All-AFC five times … Elected to six Pro Bowls … Born March 10, 1946 in Yuma, Arizona.
June, 25, 2010
6/25/10
11:15
AM ET
Notable players:
QB Ken Stabler, FB Mark van Eeghen, WR Fred Biletnikoff, WR Cliff Branch, TE Dave Casper, OT Art Shell, G Gene Upshaw, DL John Matuszak, DL Otis Sistrunk, LB Phil Villapiano, LB Ted Hendricks, CB Willie Brown, S George Atkinson, S Jack Tatum, P Ray Guy.
[+] Enlarge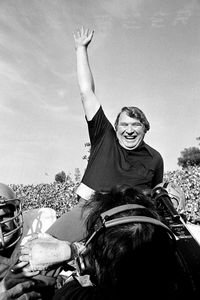 AP PhotoJohn Madden's 1976 season was nearly perfect -- culminating in a Super Bowl win over the Vikings.
Analysis:
This championship season was in the works for some time. Oakland owner Al Davis and coach John Madden put together a great team.
The Raiders didn't have the titles that Miami, Dallas and Pittsburgh had, but they were a dominant team in the 1970s. If you were going to win the Super Bowl, you probably had to go through the madcap marauders of the East Bay.
Wild, free-spirited and wickedly clutch on the field, the Silver and Black was a special fabric of the NFL in the 1970s. They were always known for close calls, but in the end not having enough to be complete the championship journey.
That all changed in 1976. The Raiders had plenty. They were, by far, the class of the NFL and they have the hardware to prove it.
Led by a stunning group of players, this team had depth on offense and defense. Stabler was the engineer, as he seemingly rolled out of bed and led the Raiders to one last-minute win after another. He had great receivers in Biletnikoff, Branch and Casper. The offensive line was anchored by future Pro Football Hall of Famers Shell and Upshaw.
Defensively, the Raiders were nasty with first-year Raider Matuszak and Sistrunk up front, Hendricks in the middle and Brown and Tatum anchoring the unit.
It was enough for Oakland to nearly go unbeaten. After New England thrashed the Raiders in Week 4, Oakland didn't lose another game. Oakland went 13-1 in the regular season (despite having a five-game trip spanning Weeks 2-6) and then won home playoff games against New England and Pittsburgh before toying with Minnesota in Super Bowl in XI.
It was a culmination of a great run in Oakland. In the end, this team will be remembered as one of the NFL's great all-time teams.
Most impressive win:
A 32-14 victory over Minnesota in Super Bowl XI. The Raiders showed their dominance on offense and defense by completely suffocating the Vikings. It was a fitting day to end a near-perfect season. No one in Oakland will forget the sight of a jubilant Madden being carried off the Rose Bowl field by his victorious Raiders. Davis surely never will.
Crazy start:
The Raiders had some memorable battles with Pittsburgh. This special season started with a classic battle between the two 1970s powerhouses in Oakland.
The Steelers led 28-14 with five minutes to go. However, Oakland made a furious comeback to tie the score. Oakland then got the ball back and won it with a short field goal with 18 seconds remaining, sending the home crowd into a wild celebration.
Nothing like beating the hated Steelers on opening day. It set the tone for Oakland's best season of all time
.
Honorable mention:
1967:
The Daryle Lamonica-led Raiders were 13-1 in the regular season before being worn down by Green Bay in Super Bowl II.
1980:
The Raiders became the first wild-card team to win a Super Bowl. The 11-5 Raiders were led by coach Tom Flores and spunky, resurgent quarterback Jim Plunkett.
1983:
The Raiders' third Super Bowl champion was a dominant unit. Led by a great defense and young running back Marcus Allen (1,014 yards rushing, 11 TDs), this was a special team.