October, 20, 2011
10/20/11
11:21
AM ET
No team in the NFL thought
Doug Baldwin
would quickly emerge as one of the most productive young wide receivers in the league.
We know this because the 32 NFL teams drafted 28 wide receivers in 2011, but not Baldwin.
NFC West teams drafted five of them, but not Baldwin.
Austin Pettis
(third round, St. Louis),
Kris Durham
(fourth round, Seattle),
Greg Salas
(fourth round, St. Louis), Ronald Johnson (sixth round, San Francisco) and
DeMarco Sampson
(seventh round, Arizona) have combined for 22 receptions, 195 yards and no touchdowns.
Baldwin, signed as an undrafted free agent from Stanford, has 20 catches for 330 yards and two scores even though he played sparingly in the season opener.
How surprising is Baldwin's production? His college coach,
Jim Harbaugh
, surely did not see it coming. Harbaugh's 49ers were
seeking a slot receiver
in the draft. They went with Johnson in the sixth round partially because the 49ers' receivers coach, John Morton, coached Johnson at USC. There was no shame in the selection; the draft guides I saw rated Johnson over Baldwin.
Johnson failed to earn a roster spot. Baldwin is leading Seattle in targets, receptions and receiving yards. He caught eight passes for 136 yards and a touchdown during the Seahawks' 36-25 victory over the
New York Giants
in Week 5. His 55-yard touchdown reception against the 49ers in Week 1 helped Seattle erase most of a double-digit deficit in the fourth quarter.
Among Seattle rookies, only
Joey Galloway
, with 349 yards in 1995, has gained more receiving yards than Baldwin through five games, according to ESPN Stats & Information (Hall of Famer Steve Largent had been second with 313 yards through five games in 1976).
Baldwin was initially reluctant to bite when I asked him how much motivation he gets from knowing his own college coach could have drafted him or signed him, but did not.
"There is definitely motivation that comes out of that," Baldwin said. "Obviously, I went undrafted, so there is motivation from that as a whole, but definitely motivation."
Baldwin's college career was up and down. He became disillusioned with his diminished role as a junior, as the Pensacola News recounted in a story
available via PDF
.
"He is one of the most mentally strong people I have ever met," said 49ers tight end Konrad Reuland, a rookie who played with Baldwin at Stanford and lived with him for a time. "He had his ups and downs at Stanford. He always battled back from any kind of injury or setback that he had. He's just mentally tough. He went through a year where he didn't play very much and came back the next year and was our best receiver."
Baldwin appears ideally suited for the slot. The Seahawks, despite having already had their bye week, rank eighth in the league with 203 plays featuring at least three wide receivers. Baldwin's presence helps account for some of that.
The Seahawks want him on the field and value what he offers from the slot in particular. So far, Baldwin has nine receptions for 125 yards and a touchdown from the left slot, seven receptions for 114 yards from the right slot and four receptions for 91 yards when lining up outside, according to ESPN Stats & Information.
"In terms of physical ability, he is one of the quickest guys I have ever seen in and out of his breaks," Reuland said. "He's got those cat-like reflexes and just explodes in and out of his breaks."
Baldwin has also proved he can bounce back from big hits, whether from opposing defensive backs -- one such hit drew a $15,000 fine -- or from the NFL teams that decided he wasn't worth drafting.
June, 7, 2011
6/07/11
12:42
PM ET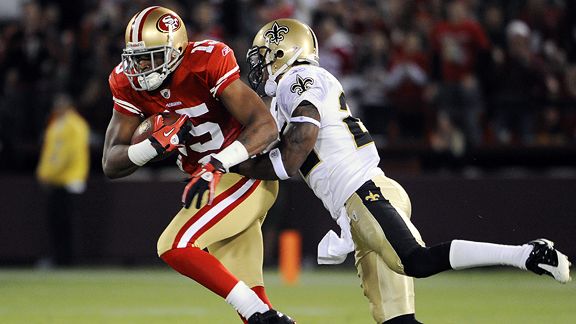 Thearon W. Henderson/Getty ImagesMichael Crabtree joined teammates for informal workouts for the first time Monday, when offensive players began a four-day "minicamp" at San Jose State.
What to know when putting into perspective where receiver
Michael Crabtree
stands heading into his third season with the
San Francisco 49ers
:
This season is critical. Crabtree has shown flashes of excellence on the field. He led the team's wide receivers in touchdown receptions last season. Like quite a few young and supremely talented players, Crabtree needs strong guidance in becoming a professional. This team lacks a top veteran wideout for Crabtree to pattern himself after. The team's decision to hire recently retired receiver Bobby Engram as a quality control coach could come into play in that regard. Also, new receivers coach John Morton must reach Crabtree in ways his grizzled predecessor, Jerry Sullivan, did not.

Structure has been lacking. Crabtree went from relative unknown to superstar quickly during his college career at Texas Tech. He was wise beyond his years in football instincts, but also young and immature. Crabtree also lacked solid support structure. Remember his adviser, the controversial bail bondsman? Who else has had Crabtree's ear? Deion Sanders, one of the all-time greats on the field and someone so talented that the normal rules did not apply to him. Once the 49ers drafted Crabtree, the longest rookie contract dispute in 49ers history ensued. Now, a lockout is keeping the 49ers' new coaching staff from providing the structure and guidance Crabtree obviously needs.

The fast start hurt him. When Crabtree finally did report to the 49ers as a rookie, he succeeded right away despite having no training camp or minicamps. Veteran teammates were impressed. Crabtree appeared to be on his way to great things. Did the success go to his head? When Crabtree encountered the difficulties that await all NFL players -- recall his rough outing against Seattle in the 2010 opener, when passes intended for him resulted in interceptions -- he did not take ownership. By then, Crabtree had already rankled teammates, notably tight end Vernon Davis.

The Troy Smith factor. Crabtree's production picked up last season when an injury forced Alex Smith out of the lineup. Backup Troy Smith immediately developed a rapport with Crabtree, on the field and in the locker room. They meshed well. During one stretch, Troy Smith found Crabtree for gains of 12, 13, 28 (touchdown), 9, 15, 21 and 16 (TD) yards with only one incomplete pass along the way. Something to keep in mind when Crabtree tempers his support for Alex Smith.

Alex Smith has tried to reach out. The quarterback told reporters he had been in touch with Crabtree this offseason and unable to get the receiver to show up for practices. Why wasn't Crabtree there? "Good question," Smith said. "Asking the wrong guy." The implication was clear. When Crabtree finally did show up this week, he wouldn't even acknowledge that Smith was the likely starter heading into the season. These guys obviously aren't on the same page.

The subplot thickens. Meanwhile, Davis has continued to praise Smith's leadership and overall goodness. You'll recall that Davis and Crabtree had to be separated during practice last year when Davis took issue with the young receiver's overall approach. Said Davis at the time: "I hope he got the message. I think he did, I strongly believe, but if anything I see that I feel is wrong or that needs to be addressed, then I'm going to say something. I don't really have any frustrations with Michael. He just did some things during that time that I didn't like. That's all. ... It was basically taking ownership."

There's a pattern here. By his actions, Crabtree risks coming off like a player who has been catered to, and expects it to continue. He appears unwilling to meet people halfway. The 49ers' contract offers were not enough. The 2010 exhibition season wasn't important enough for Crabtree to play through lingering neck soreness. Alex Smith isn't good enough to command public acknowledgement from him. Player-organized workouts aren't worth his time even though he had been working out in the Bay Area for weeks. These are the perceptions. Is Crabtree going to change them?
The latest developments on the Crabtree front bear monitoring as the 49ers head toward what remains an uncertain 2011 season. When the lockout finally does end, coach Jim Harbaugh needs to move quickly and decisively in seeing if there's a way to help Crabtree take the next step.
April, 20, 2011
4/20/11
9:27
PM ET
SANTA CLARA, Calif. -- Roughly 45 NFL prospects with Bay Area ties spent Wednesday afternoon running through drills at
San Francisco 49ers
headquarters.
Their local pro day wasn't the story.
For the first time since Jim Harbaugh took over as the 49ers' head coach in early January, his staff was on the field directing actual football players through actual football drills. What a concept.
[+] Enlarge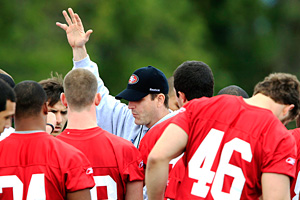 AP Photo/Paul SakumaJim Harbaugh got a chance to run football drills for the first time as the head coach in San Francisco.
Harbaugh stood behind the quarterbacks while they threw passes to receivers running three-step slants first, then other routes.
Down the field, receivers coach John Morton showed himself as one of the more vocal staffers, criticizing and encouraging players' techniques at a decibel level high enough to carry clearly for 30 yards on a blustery day.
"I want to see you come off the ball!" Morton shouted.
Offensive coordinator Greg Roman, a stout man from New Jersey with a background as a defensive lineman at John Carroll University, took the lead in running tight ends through receiving drills. With Roman operating the drills, tight ends coach Reggie Davis pulled players to the side for individual instruction.
Harbaugh chatted with various staffers during breaks in the action. He stood between Roman and offensive line coach Tim Drevno for a while. Later, Harbaugh and general manager Trent Baalke appeared comfortable joking with one another. The atmosphere was loose and it was clear everyone was happy to finally get onto the field.
The three-plus months without organized on-field sessions seemed much longer for a staff eager to get going. NFL rules governing the ongoing lockout prevent coaches and players from interacting over the phone, let alone on the field. But the period of forced separation could help in some ways.
"One thing this lockout has done that has been positive for us as an offensive staff is just being able to get the trust with the coaches and know each other and comb through our systems and really take advantage of each coach's talent before you present it to the players," Harbaugh said after three hours on the field.
Special-teams coach Brad Seely has a presence more commanding than I had anticipated. He looks like a former offensive lineman and he is one, having played at South Dakota State in the 1970s.
The 49ers ran punt prospects through a drill I hadn't seen before. Each return man held a football in his hands as a punted ball approached from about 40 yards away. The returner would throw the ball he was holding into the air, catch the punted ball and then catch the ball he'd thrown aloft.
Results were comical at times, with footballs bouncing off players.
Linebackers coach Jim Leavitt stood out among defensive staffers. He took the lead in demonstrating drills requiring players to run through padded obstacles, flip their hips as they rounded a corner, backpedal to another corner, maneuver sideways while crossing one leg over the other and then sprint toward a finish line where they started.
Harbaugh watched these drills with great interest and enthusiasm, cheering on some of the 15 players he knew from his days coaching them at Stanford.
Laughter broke out when quality control coach Ejiro Evero, a former player at UC Davis and camp invite with the
Oakland Raiders
, slipped and fell on the natural grass practice field while trying to keep pace with one of the prospects.
Defensive coordinator Vic Fangio isn't known as a yeller and that was evident. I heard him offering instruction a couple times, but others stood out more.
Harbaugh paid attention to the quarterbacks, and to the small stuff. He asked offensive line coaches if they were finished occupying an area he sought to open up for passing drills. He instructed equipment staffers to relocate a water station he thought stood too close to an agility drill's finish line.
Some of the bigger-name college invites didn't participate. Cal defensive lineman Cam Jordan did not attend. Eastern Washington running back
Taiwan Jones
, having already helped his stock by running blazing 40-yard times, attended but did not participate.
Nebraska's
Roy Helu
and Cal counterpart
Shane Vereen
competed hard and evenly drills for running backs. Harbaugh said he would have to watch the video to see which one came out ahead.
"I loved it, I absolutely loved it," Harbaugh said. "Those guys are highly thought of running backs that are going to go high in the draft. For them to come out here and compete, you could see they joy they had in competing, getting in the one-on-ones, getting in the seven-on-sevens, that got me fired up."

NFL SCOREBOARD
Thursday, 9/18
Sunday, 9/21
Monday, 9/22
WEEKLY LEADERS