July, 11, 2014
7/11/14
10:00
AM ET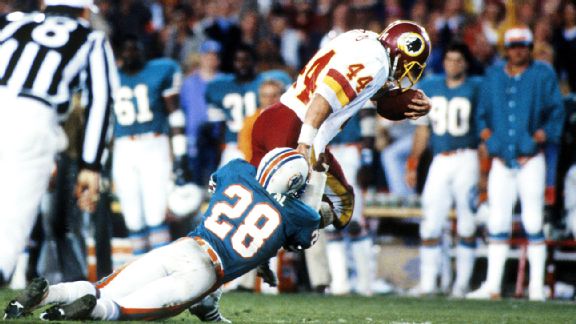 Manny Rubio/USA TODAY Sports
Score:
Redskins 27, Dolphins 17
Date:
Jan. 30, 1983.
Site:
The Rose Bowl, Pasadena, California
From the moment this project was announced, and before I tweeted a word on it, there was only one play in my mind that deserved top billing. When a team hasn't won an NFL title in more than 40 years ... and it trails by four points in the ultimate game ... and it's fourth-and-1 ... and the running back goes the distance? How exactly do you top that?
Fortunately and wisely, the fans agreed with my take. Which is why John Riggins' touchdown run against Miami in Super Bowl XVII was the runaway choice for the top spot. Riggins' run received 76 percent of the more than 30,000 votes and was solidly ahead shortly after the choices appeared on the blog.

Thing is, there were a few choices that didn't even make the list: Mark Moseley's 42-yard field goal in the snow to clinch a playoff spot in 1982; Clint Longley's bomb on Thanksgiving Day (not all memories are good ones); Sean Taylor's return of a blocked field goal attempt in the final seconds that led to a winning Redskins field goal over Dallas; Ken Houston's stop of Dallas running back Walt Garrison at the goal line; Joe Theismann's broken leg; and either of the two Santana Moss touchdown catches in the Monday night comeback win over Dallas. There are others as well.
But the right three were on the board. A Hall of Famer in Darrell Green making one of the biggest plays of a 20-year career. That garnered 16 percent of the vote. A clinching touchdown on an unlikely play -- an interception return by defensive tackle Darryl Grant -- to win the NFC Championship Game at home, providing a moment that likely still brings chills to those in attendance. But it wasn't big enough, receiving just 8 percent of the votes.
Riggins' run happened in the ultimate game. It happened on a fourth down. It gave Washington the lead. Shall I keep going? Based on the votes, the answer is no. You got it. And you got it right.
@john_keim These are great memories, but the list is (1) 70 Chip with John Riggins in Super Bowl and (2) everything else :)

— Dave Scarangella (@DullesDistrict) July 10, 2014
December, 28, 2012
12/28/12
3:15
PM ET
An open letter to the fans of the Dallas Cowboys and the Washington Redskins:
Get excited.
You may not need my permission, or my urging. You may already be there -- as excited as you've been about a professional football game in a very long time. And if that's the case, good. You should be. Sunday night's game at FedEx Field for the NFC East title has everything any of you could possibly want. And while some of you will end your night deeply disappointed in the result while others celebrate a playoff appearance you couldn't possibly have imagined two months ago, these next 53 hours are your time to feel like kids on Christmas Eve. Get excited.
[+] Enlarge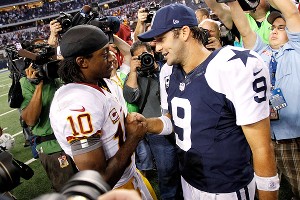 Rodger Mallison/Getty ImagesRobert Griffin III and Tony Romo lead their respective teams in the most important game in the Redskins-Cowboys rivalry in years.
Regardless of which team you root for, think about how far you've come to get to this point. It started on the day before free agency, when the NFL took a huge chunk of salary-cap money away from each of these two teams and redistributed it among the others for what to this day continues to look like no good reason. The owner who most vocally championed and reveled in that punishment for your teams' spending during a season that featured no official spending rules was John Mara, the owner of the division-rival and Super Bowl champion
New York Giants
. His team can't win the NFC East. Yours can. His team needs a minor miracle Sunday just to get into the playoffs. Your team has control of its own destiny. If you want to cackle in glee about that particular irony, that's your right. Get satisfaction.
If the Cowboys are your team, you were 3-5 on Election Day, losers of two straight heartbreakers to the Giants and Falcons and wondering when anything was ever going to change. Defensive starters were dropping like flies,
DeMarco Murray
was out with a foot injury that refused to heal and
Tony Romo
was throwing interceptions around as though they were "I Voted" stickers. You were two and a half games out of first place behind the team that took the division from you last December, and you wanted everybody gone. If you want to look back over the last seven games and wonder what made Romo stop throwing picks or marvel at the way Jason Garrett has managed the second half or tell everyone it's about time
Dez Bryant
turned into one of the best receivers in the league, go ahead. Get amazed.
If you are a Redskins fan, you were 3-6 heading into the bye week. Your coach, Mike Shanahan, was defending comments he made after a miserable loss to Carolina about using the rest of this season for evaluations. You were pleased, obviously, with the brilliance of rookie quarterback
Robert Griffin
III, and of the belief that the future looked bright. But you were still staring at a second half of the season that was going to feel too sadly familiar -- watching from the sidelines while the teams you hate fought it out for the division title. If you want to slap your friends on the back and shout, "Did you ever think we'd win six in a row after the bye and be in first place in Week 17?", be my guest. Get proud.
Whichever of these teams is your favorite, you have to be happy about the fact that this rivalry means something again. Cowboys-Redskins is one of the most historically intense rivalries the NFL has. Popular wisdom holds that the reason the Cowboys were kept in the NFC East when the divisions realigned, in spite of good geographic reasons to move them elsewhere, was to preserve the Cowboys-Redskins rivalry by allowing them to continue playing each other twice a year. So if this week gives you reason to think about Tom Landry and Joe Gibbs and Jimmy Johnson and John Riggins and
Michael Irvin
and
Darrell Green
and
Troy Aikman
and Joe Theismann... good. It's time to hate again -- time to remember why that star bugs you so much, time to get outwardly indignant about a politically incorrect team nickname that wouldn't bother you otherwise. Get trash-talking.
Get jacked. Get geeked. Get fired up. This is a big, big game, folks -- the kind of game that justifies every kind of the silly, overblown enthusiasm sports fans can muster. If you're a Redskins fan or a Cowboys fan, Sunday is your night. And the days leading up to it are for getting excited.
June, 26, 2012
6/26/12
3:31
PM ET
Maurice Jones-Drew
must be spending too much time in the sun while he's been staying away from the Jaguars.
Jones-Drew
I don't understand how this question came up in
a recent interview
on The Ticket in Denver. Also, I understand players are programmed to say "I can do it" to virtually any question about ability and/or achievement.
Still, it's hard to take this in:
On if he can break Emmitt Smith's career rushing yards record:

"Yeah, I think it's doable. I definitely think it's doable. Once again, Emmitt Smith was in a different situation than a lot of us, though. I mean, he had a Hall of Fame receiver, Hall of Fame quarterback, Hall of Fame offensive line, Hall of Fame fullback. Whoever put that team together did a heck of a job, and it just showed. … Don't get me wrong -- he was the reason they won, but he had a lot of guys around him as well."
Smith has 18,355 career rushing yards. Jones-Drew
ranks 55th
with 6,854.
That gap of 11,501 yards is 149 more than John Riggins had in his entire career, and Riggins ranks 16th all time.
Jones-Drew is 26 years old. If he played 10 more years, an improbably long career for a running back, he'd have to average 1,135 yards in each of those 10. It would be 1,419 a season if he played eight more years and 1,892 if he played six more years.
He led the league with 1,606 rushing yards last season, before which his career best was 1,391.
He didn't absorb full wear and tear early on when he worked with
Fred Taylor
. Still, a bruising back like Jones-Drew typically doesn't have great longevity.
It's good to hear he's feeling well.
On how long he'll last in this league:

"As long as I feel good, I'm gonna play," he said. "That's it. When I start to hurt and the hurting doesn't stop in February, March, it starts going into July and August, then we're gonna have problem. But right now I'm feeling great, and all I can do is keep playing and taking it a year at a time."
I hope it's a lot of years. And that he's staying out of the sun.
June, 23, 2012
6/23/12
9:00
AM ET
ESPN recently published a list of the
25 greatest playoff performances
in NFL history.
The ballot I submitted featured five performances for franchises currently aligned in the NFC West. It included three performances for the San Francisco 49ers and three for the Washington Redskins. There were two from Kurt Warner, including one each from his years with St. Louis and Arizona. All 15 were for offensive players, a disparity I couldn't reconcile.
Several worthy performances just missed the cut. You'll find most of them accounted for in the top 25.
Keith Lincoln's 329-yard game (206 rushing, 123 receiving) ranked seventh on my ballot, 13 spots higher than it ranked in the top 25. This performance wasn't on my ballot initially because Lincoln played for the then-AFL San Diego Chargers. I gave it a prominent spot when told this performance was eligible because it appeared in the NFL record book.
All for now. Here's hoping this Saturday ranks among your top five this month.
November, 4, 2011
11/04/11
1:30
PM ET
»
NFC Final Word
:
East
|
West
|
North
|
South
»
AFC
:
East
|
West
|
North
|
South
Five nuggets of knowledge about Week 9:
From the Dept. of Sore Subjects:
The
Dallas Cowboys
and
Seattle Seahawks
have met twice since the famous 2006 playoff game that
Tony Romo
blew with a botched field-goal snap, and I'm sure it comes as little comfort to Cowboys fans to know that Dallas has won both. Even if the Cowboys win and improve to 4-4, this will be the second straight season in which they made it through the first half with a non-winning record. According to ESPN Stats & Info, the last time that happened was 2001-02. They were 2-6 after eight games in 2001 and 3-5 in 2002. Last season, you might remember, they were 1-7.
[+] Enlarge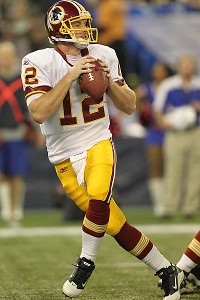 Luc Leclerc/US PresswireRedskins QB John Beck needs better protection from his offensive line.
Timing John Beck:
Is the
Washington Redskins
quarterback to blame for the 10 sacks he took last week? ESPN Stats & Information has a "next level" number that indicates the issues might lie up front with the offensive line. According to S & I, Beck takes an average of 2.57 seconds to release the ball after it is snapped, which is a league-average figure. Last week, six of the 10 sacks the Bills recorded against Beck and the Redskins happened before that 2.57-mark. So while it was nice of Beck to come out and take responsibility for some of the sacks, the overall problem is, I believe, that banged-up offensive line in front of him. The good news is that offensive lines tend to improve as they play together, so maybe it'll be better this week?
Manning protecting the ball:
New York Giants
quarterback
Eli Manning
has been interception-free in four of his past five games. He had only four games all of last season in which he didn't throw at least one interception. After throwing a league-leading 25 interceptions in 2010, Manning has just five so far this season through seven games. Additionally, according to ESPN Stats & Information, Manning in 2010 had 14.1 percent of his passes either picked off or tipped by a defensive player, which was the sixth-highest such figure among qualifying quarterbacks. This season, he's had only 9.1 percent of his passes intercepted or tipped by a defender, which is the 33rd-highest such figure among qualifying quarterbacks.
Shady finds the end zone:
Philadelphia Eagles
running back
LeSean McCoy
has scored a touchdown in each of his team's first seven games this season. That's the sixth time since the merger that a running back has accomplished that feat. Four running backs -- Dallas' Emmitt Smith in 1999, Washington's George Rogers in 1986, Washington's John Riggins in 1983 and Buffalo's O.J. Simpson in 1975 -- have scored touchdowns in each of their team's first eight games. Also, incidentally, since rookie
Danny Watkins
took over at right guard for the Eagles in Week 5, Philadelphia is gaining 6.3 yards per carry as opposed to the 5.4 it was gaining with
Kyle DeVan
as the starter at that spot.
Rematch fun:
The Giants-Patriots game is the ninth game this season that has been a rematch of a Super Bowl. The team that won the Super Bowl in question is 6-2 in those games, including the Giants' victory against the Bills in Week 6. The only two that have gone the way the Super Bowl didn't go were the Bills' victory last week against the Redskins and the Packers' Week 4 victory against the Broncos.
May, 25, 2011
5/25/11
10:24
AM ET
I find it at least entertaining and occasionally hilarious when
Clinton Portis
talks, so I was excited to learn that he had done
an interview with Sirius XM Radio
and spoken on a number of topics related to the Redskins and himself. The juicy, newsy bit is that he said he'd like to play for another NFC East team, particularly the Giants, in order to get a chance to play the Redskins twice a year.
"To go to the Giants and get to play the Redskins twice a year after them feeling I wasn't capable anymore, I think that would be outstanding," Portis told hosts Brian McGovern and
Maurice Jones-Drew
(yes, that one).
[+] Enlarge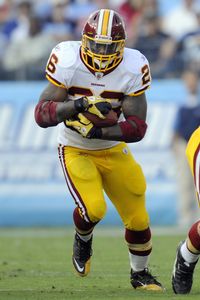 AP Photo/Joe HowellClinton Portis played in just five games last season, gaining 227 yards and scoring two TDs.
To be clear, though, Portis seems to harbor no ill will toward the Redskins or Mike Shanahan for cutting him:
"I think for the situation that was going on in Washington for myself it was time to vacate. The organization was going in a different direction and I really think that Coach Shanahan is going to get the organization back on track and back to winning ways, which is what the people in Washington want to see."
So that's good to know, that it's not personal. Portis even said he wishes he'd been able to pass John Riggins and become the Redskins' all-time rushing leader, but that injuries and circumstances unfortunately conspired against him and he finished 648 yards short. So he's moving on, and said that if not the Giants, he'd welcome the chance to play with a quarterback like
Peyton Manning
,
Tom Brady
or
Michael Vick
.
He said some other stuff, too:
Asked about his preference for skipping practice so he could be healthy for game day, Portis said his way was better. "When I wasn't practicing I was coming out and producing 100 yards, week in and week out," he said. "All of a sudden it turned out that I gave you everything during the week and I was banged up the last two years after practicing every day in practice." FACT CHECK: Portis has had exactly 12 100-yard games in the past five years.

He thinks the Washington media did in Donovan McNabb and consistently sabotages the Redskins' chances for success. "It was hard to really have that team bond because the media would shoot at picking it apart and tearing it apart and so critical even when the good times came," Portis said. "I don't think Donovan was ready for that, even coming from Philly. I don't think he understood the position he was coming into." FACT CHECK: OK, (a) McNabb came from PHILADELPHIA, dude. He wasn't ready for negativity? And (b) The media always get blamed when a team doesn't do well, but no one's ever come out and said after a championship, "I really think the positive way the media covered this team was critical to our success." I find that odd. It's almost as if blaming the media is a weak, lazy excuse. Nah....

He's enjoying the lockout. "Actually, I think it's perfect for me, just having all of the time to recover to train, to get healthy," he said. "Usually by now my back hurts from pushing sleds and doing this and doing that in the offseason program. I think for myself I feel great right now. I'm looking forward to growing completely healed." FACT CHECK: He should have plenty of time.
July, 8, 2010
7/08/10
12:00
PM ET
By
Matt Mosley
| ESPN.com
A weeklong look at current or former players or coaches with Hall of Fame potential in the division.
Cowboys
: Cliff Harris, free safety
[+] Enlarge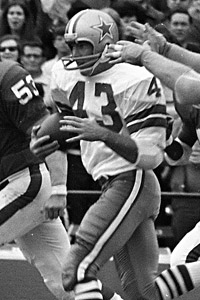 AP PhotoCliff Harris was the safety by which others were measured for years after he retired.
Claim to fame
: Member of the 1970s all-decade team. Wasn't drafted out of Ouachita Baptist University in Arkansas, but immediately won the free safety role. Nicknamed "Captain Crash," he was one of the most feared defenders in the game.
Case for enshrinement
: He was a finalist in 2004 and certainly deserves to be in the Hall. For years, safeties entering the league were compared to Cliff Harris. He was the rare player who was excellent against the pass but could also blow up running plays. He took Tom Landry's complicated flex defense and added his own spin. Harris, a highly intelligent player, finally made it into the club's hallowed Ring of Honor in 2004.
Harris studied opponents for hours at a time and he punished wide receivers who ventured over the middle. Cardinals great Larry Wilson, who's in the Hall of Fame, has said that Harris was the best safety he'd ever watched. Harris went to six Pro Bowls and he and Ken Houston were considered the best safeties from the '70s.
Case against enshrinement
: It's tough to build a case against Harris. But the fact that he had only 29 career interceptions probably works against him. Wilson had 52 and Houston finished with 49. Harris walked away from the game after the '79 season when he was still going to Pro Bowls (age 31). I'm sure he could have collected 10 to 15 more interceptions.
And those Super Bowl losses to the Steelers in the '70s didn't help matters. If the Cowboys win one of those games, they probably would have two or three more players in the Hall than they have. I think Harris would've been one of those players.
Bottom line:
In a lot of ways, Harris redefined how the safety position was played, and that should be rewarded by the selection committee.
Best player who will never make it:
For my money, it's Drew Pearson. His stats don't hold up in this era, but he played a huge role in Roger Staubach's success. And though he had only a couple of 1,000-yard seasons, he made clutch catches seemingly all the time. Ask Redskins fans from the '70s if they think Pearson belongs in the Hall of Fame.
Eagles:
Donovan McNabb
, quarterback
Claim to fame:
Took over as the full-time starter in 2000 and took the Eagles to five NFC title games and one Super Bowl in that decade. Has been selected to six Pro Bowls and has the fourth lowest interception percentage of all time. Became the first NFL quarterback to throw 30 touchdowns and fewer than 10 interceptions in 2004. The best quarterback in the history of the Eagles.
Case for enshrinement:
His numbers compare favorably to Hall of Famer
Jim Kelly
, who never won a Super Bowl. And McNabb put up monster numbers with average to subpar wide receivers (except for
Terrell Owens
).
DeSean Jackson
was a rookie when McNabb led the Eagles to the NFC title game in '08. Other than the Patriots, the Eagles were the most dominant team of the past decade and McNabb played a huge role in their success. McNabb also compares favorably to Hall of Famer
Steve Young
, although he's missing one very important piece of jewelry. McNabb's one of only six quarterbacks to pass for 25,000 yards and rush for 3,000. And his lower-body strength still makes him one of the most difficult quarterbacks in the league to sack. McNabb's lost some of his athleticism, but he still has a cannon for an arm.
Case against enshrinement:
Those five NFC title games we discussed? Well, the Eagles lost four of them. And it's not as if McNabb strung together excellent performances in those games. He'll also be remembered for throwing three interceptions against the Patriots in the Super Bowl following the '04 season. It was the beginning of the end of the McNabb-T.O. relationship.
I think McNabb will always be appreciated more by the national media more than the folks in Philly. Every game has been dissected, so Eagles fans simply got to know him a little too well. His career has honestly been more consistent than
Kurt Warner
's. But Warner has the ring and he finished strong with the Cardinals.
Bottom line:
Another trip to the Super Bowl would help his cause immensely, but he's already in the Canton conversation.
Best player who will never make it:
Wide receiver Harold Carmichael's numbers might not look special compared to
Randy Moss
and Owens, but he was an elite receiver from his era. His numbers completely trump Hall of Famer Lynn Swann's. Carmichael finished with 254 more receptions and 28 more touchdowns than Swann. Of course, Swann has the four rings and that's the biggest reason he's in Canton.
Giants:
Tiki Barber
, running back
[+] Enlarge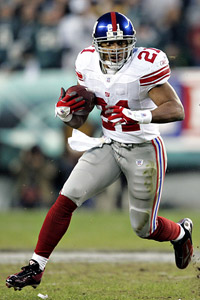 James Lang/US PresswireTiki Barber finished his career with five consecutive seasons of at least 1,200 yards rushing.
Claim to fame:
For the record, I'd originally chosen former defensive end
Michael Strahan
, but his "no-brainer" status for the Hall doesn't lend itself to a good argument. Barber may have left a sour taste with his early retirement, but he put up some impressive numbers. As Daily News columnist Gary Myers once pointed out, Barber may have left 3,000 yards on the table. He's the greatest running back for one of the most storied franchises in the league. Doesn't that count for something?
Case for enshrinement:
He finished strong with five consecutive seasons of at least 1,200 yards rushing. And his 15,632 yards from scrimmage (rushing and receiving) ranked him 10th on the league's all-time list upon his retirement following the '06 season. In 154 regular-season games, Barber averaged 101.5 yards from scrimmage per game. That puts him in an elite group with the likes of Walter Payton and
Barry Sanders
.
Barber led the franchise in all-time receptions with 586 at the time of his retirement. And he was still on top of his game when he walked away after '06 -- as evidenced by a 200-yard performance against the Redskins. He was the Giants' leading rusher in 80 consecutive games from 2002 until 2006, which speaks to his consistency.
Case against enshrinement:
Super Bowl rings talk, and Barber retired a season before the Giants broke through in '07. And he certainly left a lot of yards on the table when he walked away at age 31. There's a chance that he could've had at least two more highly productive seasons. Like
Emmitt Smith
, he had the ability to avoid the big hits that knock running backs out of games. Barber was one of the best backs in the league over his final five seasons, but I suspect that won't be enough. And it doesn't help that
Ricky Watters
is ahead of him on the all-time rushing list. Watters isn't getting in the Hall -- and Barber probably will meet the same fate. By the way, can any of you make a case against Strahan? I'd be interested to see what that looks like. I guess you could point out the fact that
Kevin Greene
has nearly 20 more career sacks. But that's about as far as I got.
Bottom line:
Barber's early retirement probably cost him a shot at the Hall.
Best player who will never make it:
I realize that
Phil Simms
has said he wouldn't elect himself, but I think he deserves honorable mention. He took a beating his first few years in the league and then had to deal with Bill Parcells, a man who chews up quarterbacks. What Simms did in Super Bowl XXI was remarkable. His 22-of-25 performance earned him the Super Bowl MVP. Simms was a huge part of Parcells' success with the Giants, so I'd have no problem with him being in the Hall of Fame.
Redskins:
Gary Clark
, wide receiver
[+] Enlarge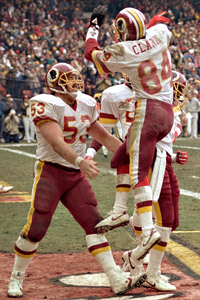 AP Photo/Scott StewartGary Clark caught 65 touchdowns during 11 NFL seasons.
Claim to fame:
He didn't have the longevity of
Art Monk
, but he was brilliant during his eight seasons with the Redskins. In the late '80s and early '90s, I thought he overtook Monk as the best receiver on the team. He could stretch the field with his speed, but he was also willing to go across the middle -- as evidenced by his annual appearances on the All-Madden team.
Case for enshrinement:
The thing that always jumps out at me is that Clark had 65 touchdowns in only 167 games. Art Monk's in the Hall of Fame with 68 touchdowns in 224 games. But I don't want to turn this into an anti-Monk argument. I think they probably both deserve to be in the Hall.
The fact that Clark was the top receiver on what I thought was the best Redskins team ever ('91) holds a lot of weight with me. He caught 70 passes for 1,340 yards and 10 touchdowns that season. Clark also had seven catches for 114 yards and a touchdown in the Super Bowl win over the Bills.
Clark was a player who inspired all of his teammates. And as of a couple of years ago, he was still inspiring the Redskins.
Santana Moss
told me about a time when Clark showed up to practice and told him to kick it into gear. Moss went on to finish the season strong after that talk in '07. Of all those great players from the Gibbs I era, Clark's the guy who always stands out to me. Perhaps he's hurt by the fact that Monk and
Ricky Sanders
were both so good.
Case against enshrinement:
He simply didn't do it for long enough. And one of his Super Bowl rings came in a strike-shortened season. If he'd played 16 games in the strike-shortened '87 season, I believe Clark would have had another 1,300-yard season. Those were pretty rare in those days, but he made it look easy.
Clark got a late start because he spent a couple of seasons in the USFL. Those are two years he could've put up big numbers for the Redskins in the mid-'80s. But to nearly reach 11,000 yards in a relatively short career (compared to Monk's) is pretty remarkable.
Bottom line:
Despite his brilliance, he just doesn't have the numbers to get in.
Best player who will never make it:
I hope I'm wrong about this one, but it's unlikely left tackle
Joe Jacoby
will enter the Hall. The Hogs finally have a representative with Russ Grimm. I think those dominant teams of the '80s that blew open holes for John Riggins deserve more, but it probably won't happen. Jacoby was a trailblazer of sorts because he didn't get in a three-point stance on obvious passing situations. He was one of the first players to do that, and it soon caught on around the league. I think it's pretty much a wash when you put Grimm and Jacoby next to each other, but that's just me. I'm also a big fan of defensive end
Charles Mann
's work in the '80s and early '90s.
Now, let's hear some of your arguments.
May, 26, 2010
5/26/10
12:30
PM ET
By
Matt Mosley
| ESPN.com
In the little time I've spent with
Washington Redskins
general manager Bruce Allen, it's obvious that he has an affinity for the club's glorious past. But it doesn't seem like he's trying to rely solely on his famous father to give him credibility in Washington.
[+] Enlarge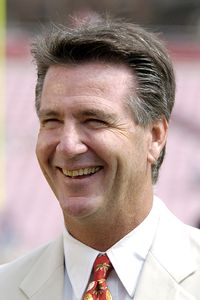 Al Messerschmidt/Getty ImagesRedskins GM Bruce Allen's efforts to reach out to the team's alumni may already be paying off.
He simply appreciates the great Redskins of the past, in part, because he grew up next to a lot of them. And that gives him a unique perspective as he attempts to bridge the gap between former players and the current regime. Mike Wise of the Post
talked to a couple of the more outspoken former Redskins
about Allen's efforts in a column Tuesday. It appears that Allen's initial efforts are already paying dividends. Brian Mitchell, who has been highly critical of his former team over the years, said he received an invitation to an alumni gathering at Redskins Park recently.
"[Allen] made it clear he wanted to reunite the burgundy-and-gold family, which has been fragmented," Mitchell told Wise. "Hell, I've seen it fragment. They used to reach out to a certain group of guys that told them what they wanted to hear. I can't say that right now. This feels like a sincere attempt to reconnect with their past in a good way."
If you've ever listened to Mitchell on the radio, you know that he doesn't often take a conciliatory tone. I'm sure Allen's lineage gives him a home-field advantage in his efforts, but he still has work to do. Owner Dan Snyder has done some notable things from a charitable standpoint, but he's never endeared himself to fans. In fact, his aloof persona has always overshadowed the fact that he's a passionate fan of the organization. I didn't agree with Hall of Famer John Riggins when he said Snyder had a "dark heart" during a television interview, but it speaks to how disenfranchised some former Redskins feel. Allen aims to help repair some of those relationships.
"Our job, as current employees, is to respect the history," said Allen in Wise's column. "The reason we have fans is the great performances of the players and coaches and the fans before. We didn't create this magic last year or the year before, or this year. It's everyone who came before us.

"So I do believe we owe more than a debt of gratitude to the players that came before us."
So should we expect to see
LaVar Arrington
and Snyder to share a hug in the coming months? Well, I wouldn't hold my breath for that reunion. But I do think Allen's gone a long way in repairing some of the damage. And you'd be amazed what 10 wins could do for the relationship with fans.
I'm wondering if it's important for you guys to see Allen reaching out to some of the former greats? Would that give you more pride as a Redskins fan? Please show your work in the comments section.
March, 9, 2010
3/09/10
6:15
PM ET
Chiefs fans had been worried that their team wouldn't make an impact signing. Fret no more.
[+] Enlarge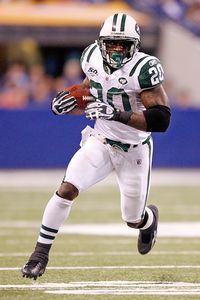 Andy Lyons/Getty ImagesIn Kansas City, Thomas Jones will likely serve as the No. 2 back and the short-yardage specialist.
ESPN's Adam Schefter has reported
Kansas City signed running back
Thomas Jones
. The former Jets, Bears, Tampa Bay and Cardinals runner will be paid $5 million over the next two years.
This is a great deal for Kansas City. Jones may be 31 and he may have worn down some in the playoffs. But he is still a player who can help. He ran for more than 1,400 yards last season.
Jones has shown he is the rare tailback who can succeed after the age of 30. He has rushed for more than 1,000 yards in each of his two seasons after turning 30. According to ESPN Stats & Information, Jones can tie the record -- held by
Emmitt Smith
, Walter Payton and John Riggins -- for having three 1,000-yard rushing season after turning 30.
Don't worry about this guy being finished. He's not.
He gives Kansas City a legitimate NFL running game. It is clear the Chiefs are bound and determine to try to control and win games on the ground.
Jones will team with blossoming star
Jamaal Charles
. He had 1,120 yards in his second NFL season in 2009 despite not becoming the primary back until November.
Expect the game-breaking Charles to be the Chiefs' primary back. But Jones will get plenty of carries and will likely be the Chiefs' short-yardage back. This tandem should work fine. At the combine last month, Kansas City coach Todd Haley said it was imperative Kansas City get Charles some help because he is "200 pounds soaking wet."
The Jones signing will make Charles better because he shouldn't wear down. The Chiefs still have to improve their offensive line this offseason, but the Kansas City offense is on its way.
New offensive coordinator Charlie Weis will have plenty to work with. The Charles-Jones rushing duo should help quarterback
Matt Cassel
. With the run setting up the pass, Cassel won't have to do it alone.
Kansas City has been looking to make an impact move for a week. It was reported the Chiefs were primed to visit with San Diego running back
Darren Sproles
before the Chargers gave him the high tender at the deadline. The Chiefs tried to trade for receiver
Anquan Boldin
on Friday before he was dealt to Baltimore.
After missing out on those productive offensive players, Kansas City -- which re-signed standout receiver
Chris Chambers
on Monday and will likely target a receiver early in the draft -- got itself a fine player in Jones.
He was the team's top choice at running back in free agency. The team had lined up visits with free agents
Justin Fargas
and
Willie Parker
. A source close to the situation said Tuesday afternoon that Parker will not visit Kansas City now that Jones signed. Fargas' visit is likely is jeopardy now as well.
Enjoy this signing Chiefs fans. It's significant.
February, 27, 2010
2/27/10
6:30
PM ET
INDIANAPOLIS –
Toby Gerhart
simply says he's "colorblind."

Gerhart
The Stanford product is one of the more intriguing running back prospects at the NFL combine. The Heisman Trophy runner-up is a rugged, tough runner, who is a yardage eater. It wouldn't be a shock if both San Diego and Kansas City considered adding the big back to their roster in the early rounds.
Saturday at the combine, Gerhart was asked about being a rarity – a white running back.
"I'm colorblind – I'm a running back," Gerhart said.
Good answer.
Gerhart said that he found it amusing that he is often compared to "quote white guys." He said he often hears that he reminds people of former NFL running backs John Riggins and Mike Alstott. However, Gerhart said he has modeled his game after former NFL running backs Eddie George and Corey Dillon.
"I'm a physical runner, but I can give a little wiggle, too," Gerhart said. "I just want the opportunity to play in the NFL."
There's no doubt that is about to happen.
January, 28, 2010
1/28/10
5:21
PM ET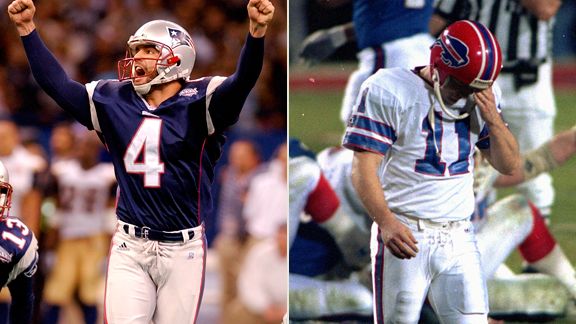 AP PhotoAdam Vinatieri and Scott Norwood played key roles in the best and worst AFC East Super Bowl plays.
ESPN's John Clayton put together his list of the
10 most memorable plays in Super Bowl history
.
AFC East clubs have been involved in many unforgettable moments, and in attempting to put together a list, the heartbreakers seemed more distinguished than the triumphs. Rather than combine them, I've decided to break down the five best plays and the five worst.
Think I missed one or disagree with the way I ranked them? Add your suggestions in the comments section below.
Five best
1. Vinatieri's field goal clinches Patriots' first title:
With broadcaster John Madden advising the
New England Patriots
to kneel out the clock and go to overtime,
Tom Brady
orchestrates a drive against the
St. Louis Rams
that lays the foundation for a Hall of Fame career.
Adam Vinatieri
kicked a 48-yard field goal as time expired to win Super Bowl XXXVI.
[+] Enlarge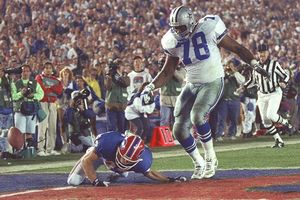 Getty ImagesDon Beebe saved a Dallas touchdown and proved that showboating doesn't pay.
2. Beebe strips Lett:
Super Bowl XXVII was getting out of hand when the
Dallas Cowboys
sacked
Buffalo Bills
quarterback Frank Reich, forcing him to fumble. Leon Lett scooped the ball and rumbled for what should have been a 60-yard touchdown, but he celebrated too soon. Don Beebe racing from behind knocked the ball out of Lett's hand at the goal line to revert possession to the Bills.
3. Law's interception:
In the second quarter and with the favored Rams ahead 3-0, Law made a statement when he intercepted a
Kurt Warner
pass and returned it 47 yards for a touchdown. The Patriots went on to score 17 straight points. The Rams never led again, and the Patriots launched a mini-dynasty.
4. Walker's kickoff return TD:
In a game full of big plays, Fulton Walker returned the first kickoff for a touchdown in Super Bowl history. Walker went 98 yards to give the
Miami Dolphins
a 17-10 halftime lead, but the
Washington Redskins
scored 17 points in the second half to win.
5. Maynard's incomplete bomb:
Speedy receiver Don Maynard was a significant contributor to the
New York Jets
' championship team, but he was shut out in Super Bowl III. "I didn't catch a single pass," Maynard recently told the Bergen Record, "
but I really had a great game
." With no score, Maynard raced behind the Baltimore Colts secondary for what should have been a long touchdown. Joe Namath barely overthrew him, but the play spooked the Colts enough to double- and triple-team Maynard the rest of the game, leaving George Sauer free to catch eight passes for 133 yards.
Five worst
1. Wide right:
So many fates swung on Scott Norwood's right hip socket when he attempted a 47-yard field goal that would've beaten the
New York Giants
in Super Bowl XXV. Norwood's kick sailed wide ride, spoiling what would turn out to be the Bills' best shot to win any of their four straight Super Bowls. The kick also propelled Bill Parcells to legend.
[+] Enlarge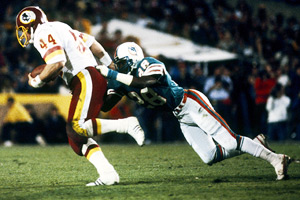 Alan H. Schwartz/Getty ImagesJohn Riggins broke a tackle from Don McNeal en route to a 43-yard touchdown run.
2. Tyree's catch:
Giants afterthought
David Tyree
made the most miraculous catch in Super Bowl history to help ruin the Patriots' pursuit of perfection in 2007. In the final minute and down by four points,
Eli Manning
made an unbelievable scramble and heaved the ball to Tyree, who outbattled Patriots safety
Rodney Harrison
and made the reception by pinning it against his helmet.
3. Riggins' run:
Redskins locomotive John Riggins made an iconic run in Super Bowl XVII that still symbolizes power football at its finest. On a fourth-and-1 play in the fourth quarter, Riggins ran off left tackle and steamrolled Dolphins cornerback Don McNeal on his way to a 43-yard touchdown to give the Redskins their first lead.
4. Howard's 99-yard return:
Desmond Howard
sealed a victory for the
Green Bay Packers
when he returned a kickoff 99 yards in the fourth quarter against the Patriots in Super Bowl XXXI. Howard was awarded the MVP for rolling up 244 return yards.
5. Yepremian's blunder:
The Dolphins were trying to achieve perfection in 1972 and seemed to have everything under control against the Redskins in Super Bowl VII. The Dolphins were ahead 14-0 with about two minutes left, when Garo Yepremian lined up for a 51-yard field goal. The kick was blocked and ricocheted to Yepremian, who comically tried to pass. The ball rolled off his hand and was bobbled. Mike Bass snatched it out of the air and ran 49 yards for a touchdown.