January, 14, 2014
Jan 14
4:00
PM ET
ALLEN PARK, Mich. -- John Wooten compared it to winning a Presidential election.
The chairman of the Fritz Pollard Alliance Foundation, an organization committed to helping minority candidates get a fair look in coaching jobs, among other things, could think of no other comparison to describe Jim Caldwell being hired by the
Detroit Lions
.
"To be openly frank, we felt that he should be the guy," Wooten said Tuesday afternoon. "We really wanted him in that particular team. Thought it was an excellent fit.
"Our overall reaction was probably very similar to what we felt when President (Barack) Obama was elected six years ago, when the Virginia vote came in. That's how we felt. We felt that strongly about it. Great move for us."
Caldwell, the first black coach in Detroit Lions history, was at Wake Forest from 1993 to 2000, where he compiled a 26-63 record before being fired. Then he was a quarterbacks coach for Tampa Bay for a season before heading to Indianapolis, where he was the quarterback coach for
Peyton Manning
from 2002 to 2008.
Then he was hired to replace Tony Dungy and took the Colts to the Super Bowl in 2009, where they lost to the
New Orleans Saints
. He followed that with a 10-6 season in 2010 and then a 2-14 season in 2011 when the Colts lost Peyton Manning and had no viable option as a backup.
Indianapolis fired him following that season.
The Lions owner, William Clay Ford, was pleased with the way the hiring process went and feels like Caldwell is the right hire.
"On behalf on my entire family, I want to express how thrilled we are with the appointment of Jim Caldwell as our new head coach," Ford said in a statement. "We believe Jim is the right man to lead our team and deliver a championship to our fans.
"I also want to commend Tom (Lewand) and Martin (Mayhew) on the thoroughness of the coaching search," Ford continued. "We had a very specific plan and profile for our next head coach, and I am convinced that we found that man in Jim Caldwell."
To Wooten and his foundation, Caldwell's hiring for a second NFL head coaching job had that much meaning. Since the Lions fired Jim Schwartz on Dec. 30, Wooten had been speaking frequently about how good a fit Caldwell would be for the spot.
He also spoke glowingly of Caldwell's interview with the Lions, saying he laid out the entire plan of what he wanted to do and how he would improve
Matthew Stafford
.
That message reached the Detroit players Stafford spoke with following the interview.
"Excited about him," Lions wide receiver
Kris Durham
told ESPN.com in a text message. "Have heard nothing but amazing things about Coach Caldwell. Matthew (Stafford) spoke highly of him after their meeting during the interview process."
He wasn't the only one.
Running back
Joique Bell
played for Caldwell in Indianapolis in 2010.
"Good to know I'll have my old head coach back to replace another great coach," Bell tweeted earlier Tuesday. "Great move by our front office."
Offensive guard Rob Sims said some of the team's veterans had been communicating over the past few weeks about who could be the replacement for Jim Schwartz, who was fired after five seasons on Dec. 30.
Like many on the outside, he had initially thought he would be playing for Ken Whisenhunt, but when he found out he'd be playing for Caldwell, he was also happy, saying he thinks "is a good fit here."
"To be honest, I don't know too much about Jim other than the fact of where he's coached and the success he's had. I'm excited about the change from where we were a few weeks ago. I think that's going to help our team morale, just his presence as somebody who has been there and seen what it looks like to have a winner.
"...We still have a winner here and somebody to lead the ship that's been there is going to help out tremendously."
One of the players who helped make Caldwell a winner, Baltimore quarterback Joe Flacco, called Caldwell a friend and someone he respected both personally and professionally.
"Through his calming influence and extensive knowledge of the game, he was an integral part of our success over the past few years," Flacco said. "He will be missed by me and the Ravens. I wish him the best of luck in Detroit."
His former players were also pleased.
Jeff Saturday
played three seasons for the
Indianapolis Colts
under Caldwell, and what the former center saw is someone who will hold his players accountable, will be well organized and consistent with players.
"This will be a disciplined, well-balanced football team," Saturday said on ESPN just after the hire was announced. "He will set forth a plan, he does it every Wednesday. I heard people talk about how he's not known as the most charismatic guy, that's not true when he's in a team setting.
"This guy calls you to a level of accountability and gets you excited. He sets up a gameplan on Wednesday and that gameplan will be followed, and he will hold you to the line he has drawn."
Saturday also said much of Manning's success was enhanced by Caldwell.
"A great deal. Every player has to be coached. And Peyton Manning wants to be coached and always wanted to be coached. He wants a guy who's as committed to the organization and team as he is, and that was Jim Caldwell for him," Saturday said. "He's not afraid to correct or to talk about, 'You have to do this better' or 'here's a mistake you made.' That was what Caldwell brought to us. He has a great offensive mind, but he knows how to work with quarterbacks to get the most out of them.
"He did with Flacco, he did it with Manning and he'll again do it with Stafford. … He comes with such a calm demeanor that you never feel attacked as a player, you always feel like he's trying to build you up as a player and as a man."
Some of Caldwell's former players were also happy for their now-former offensive coordinator to land a head coaching job.
Congrats to Coach Caldwell...great coach/teacher and even better person..he always taught us something new..he will do well in Detroit

— Torrey Smith (@TorreySmithWR) January 14, 2014
Very happy for coach Caldwell. He is a great coach and a great person. I think Detroit is lucky to have him.

— Gino Gradkowski (@GinoGrad56) January 14, 2014
NFL Nation Baltimore Ravens reporter Jamison Hensley contributed to this report.
January, 7, 2014
Jan 7
8:20
PM ET
TEMPE, Ariz. -- In his two interviews this offseason,
Arizona Cardinals
defensive coordinator
Todd Bowles
impressed the
Minnesota Vikings
and
Cleveland Browns
, according to John Wooten, chairman of the Fritz Pollard Alliance.

Bowles
Wooten said Bowles interviewed with the Browns on Friday in Cleveland and with the Vikings on Sunday in Arizona. In Wooten's conversations with Bowles and both teams, both sides said the talks were positive, but Bowles seems to have hit it off better with the Vikings than he did with the Browns.
"Both [the Vikings and Bowles] have said to us, very poignantly, that it was a completely outstanding interview," Wooten said. "And, if you allow me to quote the Vikings, [they said] 'He simply blew us away.'"
The Browns told Wooten that Bowles was well prepared for his interviews. He presented himself "extremely well," was "strong and likeable" and "showed great leadership skills." From what both teams told Wooten, they're looking for two vastly different styles of coaches. Neither team has moved forward with second interviews.
Bowles took an already stout Cards defense and improved it in 2013. The Cardinals finished the season with the top-ranked defense against the run and sixth best overall.
Bowles had a brief experience as a head coach when he was named the
Miami Dolphins
' interim for three games in 2011, going 2-1. The coach Wooten has seen this season isn't the same one he saw when Bowles was in South Florida. And that could help the 50-year-old Bowles land a head job, Wooten said.
"I think he has a great chance of getting a job this year," Wooten said. "I think that the last couple of years he has grown. I listen to him talk. He sounds way different than the guy who interviewed for the Miami Dolphins job two years ago.
"I think the experience this year has really, really blossomed him out. I think he's an excellent leader of men because I think he's just so open and honest."
January, 1, 2014
Jan 1
4:35
PM ET
The
Washington Redskins
will interview former
Indianapolis Colts
head coach Jim Caldwell next week, according to John Wooten, the chairman of the Fritz Pollard Alliance Foundation. It's uncertain what day he will interview.
At this point, he's the third name that has surfaced in the Redskins' quest to replace fired Mike Shanahan. They've spoken to Seattle offensive coordinator Darrell Bevell and will interview Carolina defensive coordinator
Sean McDermott
this weekend. Also, the Redskins have requested permission to speak with New York Giants defensive coordinator Perry Fewell, according to ESPN's Josina Anderson.
Also, Wooten said their foundation has recommended that Washington interview Cincinnati's assistant head coach/running backs Hue Jackson, also a former Redskins running backs coach and ex-
Oakland Raiders
head coach. But Wooten said he did not know if the Redskins have contacted the Bengals for permission to speak with him. They can't interview him now anyways because the Bengals play a first-round playoff game this weekend.
Caldwell has served as the Raiders' offensive coordinator since late last season and also is the quarterbacks coach. He posted a 26-22 record as the Colts' head coach from 2009-11; that mark included a 2-14 final season with quarterback
Peyton Manning
sidelined. He went 26-63 in eight seasons as the head coach at Wake Forest.
The Fritz Pollard Alliance Foundation compiles a list each season of coaches they feel are deserving of interviews. In addition to the above two, that list also includes former Redskins secondary coach Jerry Gray, Arizona defensive coordinator Todd Bowles, Indianapolis offensive coordinator Pep Hamilton, Cleveland defensive coordinator Ray Horton, former
Chicago Bears
coach Lovie Smith, Carolina assistant head coach/defensive backs Steve Wilks, Indianapolis offensive line coach Harold Goodwin, Green Bay assistant head coach/linebackers Winston Moss, Chicago defensive coordinator Mel Tucker. They also included college coaches James Franklin (Vanderbilt), Kevin Sumlin (Texas A&M), David Shaw (Stanford) and Charlie Strong (Louisville).
January, 9, 2010
1/09/10
10:04
AM ET
The Seahawks' attempts to court USC coach Pete Carroll without violating the Rooney Rule appears awkward, as outlined in
this report
from SI.com's Jim Trotter.
John Wooten, chair of the Fritz Pollard Alliance promoting diversity in NFL hiring, sheds light on the Seahawks' attempts to interview Vikings defensive coordinator Leslie Frazier, a move that would satisfy the Rooney Rule requiring teams to consider minority candidates.
It's a tough sell when everyone knows -- or at least thinks -- Carroll is the man Seattle wants for the job.
According to Wooten, Seahawks CEO Tod Leiweke told him the Seahawks would not be willing to give Carroll as much control as Mike Holmgren wielded as coach and general manager from 1999 to 2002. That assurance was apparently a signal to Frazier that the Seahawks were not willing to hire Carroll unconditionally.
Compliance with the Rooney Rule in this case seems tricky. The Seahawks might not have been willing to fire Mora until they were reasonably sure they could get the coach they wanted, presumably Carroll. They couldn't know whether they could get Carroll without approaching him and exploring possibilities.
The team could not have fulfilled the Rooney Rule while Mora was still the head coach.
Frazier shouldn't be expected to play along just to help Seattle get through the process. As Trotter noted in
a followup tweet
, "Leslie Frazier will back out of interview with Seahawks on [Saturday] unless he 1st receives assurances that Pete Carroll WON'T have total control."
The Seahawks cannot allow another candidate to dictate terms of any future agreements, but they also cannot comply with the Rooney Rule without interviewing Frazier or another minority candidate.
Fun times for Leiweke.
January, 6, 2010
1/06/10
4:45
PM ET
Minnesota Vikings
defensive coordinator Leslie Frazier has been viewed as a token interview over the years, an obligatory candidate for various head-coaching vacancies because he's black. NFL policy stipulates that at least one minority be interviewed for every vacancy.
[+] Enlarge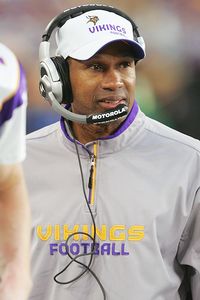 Paul Jasienski/Getty ImagesThe Bills will interview Leslie Frazier on Thursday for their head-coaching job.
But we can safely state the
Buffalo Bills
don't view Frazier as a required interview. The Bills will meet with Frazier on Thursday morning to discuss their opening.
The Bills aren't searching for a minority to interview as many teams have done in the past. They interviewed interim coach Perry Fewell on Monday afternoon. The Bills also are reportedly interested in
San Diego Chargers
defensive coordinator Ron Rivera. Fewell is black. Rivera is Puerto Rican.
John Wooten, chairman of the Fritz Pollard Alliance, which oversees the so-called Rooney Rule on minority hires, said he anticipated the Bills will interview Rivera later this week.
Frazier and Rivera are permitted to interview for the Bills' opening before the end of their teams' seasons because they have a first-round postseason bye.
"I'm impressed," Wooten said of the Bills' search. "They didn't have to interview any of these minority guys. They've already satisfied the Rooney Rile with the interview they gave Perry Fewell."
Wooten couldn't confirm a scheduled interview for Rivera, but the Fritz Pollard Alliance stages preparatory sessions for candidates before they interview. The organization already has met with Rivera about the Bills.
Frazier declined to comment on Thursday's interview when I reached him at the Vikings' facility because he was on his way to a team meeting.
Frazier has interviewed for five openings over the past two years. He was the lone minority the
Miami Dolphins
interviewed for the job Tony Sparano assumed in 2008.
"He has absolutely earned it," said Wooten, a Pro Bowl guard for the
Cleveland Browns
in the 1960s. "I think he's really ready to take the step up. I think he should have gotten the job with St. Louis and Detroit. I really thought he'd fit right in with those particular spots last year. He was disappointed, and I told him there was nothing wrong with becoming disappointed, but don't get discouraged.
"He'll do a fantastic job tomorrow. His stinger will be up and he'll give a good interview. I think he brings the fire they need."
October, 6, 2008
10/06/08
4:56
PM ET
| | |
| --- | --- |
| | |
| | Darryl Norenberg/Getty Images |
| | In 1968, Marlin Briscoe became the first black quarterback in the modern era to start a game. |
Posted by ESPN.com's Tim Graham
Forty years have passed -- a long time, but not a lifetime.
What a big moment it was then. Now it's a weekly occurrence in multiple NFL stadiums.
A black quarterback starting in the NFL is no big deal these days. A couple generations have grown up with Doug Williams and Warren Moon and Donovan McNabb and Daunte Culpepper and Michael Vick running offenses.
But when Marlin Briscoe broke the Denver Broncos huddle and surveyed the Cincinnati Bengals defense as he walked to the line of scrimmage Oct. 6, 1968, he became the first black quarterback in the modern era to start a game.
"It's come a long way," Briscoe said from his home in Long Beach, Calif. "They thought a black man could not think, throw and lead at that level."
Now the United States could be on the verge of electing its first black president.
Willie Thrower was the first black quarterback to get into an NFL game in 1953, but stereotypes and small-mindedness prevented coaches from providing a real opportunity until Lou Saban, partially out of desperation, handed the job to Briscoe.

NFL SCOREBOARD
Sunday, 2/2
WEEKLY LEADERS