NFL Nation:

John Zernhelt
May, 3, 2012
5/03/12
5:45
PM ET
Since the Titans added seven players in the draft, I've said several times that I am a bit scared of their leanings toward potential over production, or the weight of athleticism in several of the selections.

But it's important to note that of the seven players, that "complaint" centers on less than half the class.
Second round outside linebacker
Zach Brown
brings some questions about being more of an athlete than a football player. Fourth-round cornerback
Coty Sensabaugh
is an excellent athlete with great speed. Fifth-round tight end
Taylor Thompson
is a big-time athlete who didn't play tight end in college.
("You may say there are some more productive," GM Ruston Webster said of Brown, "but few are more talented.")
Perhaps those perceptions from draft analysts are off.
Perhaps three Titans assistants -- linebacker coach Frank Bush, secondary coach Brett Maxie and tight ends coach John Zernhelt -- will coach that trio up, and they will pan out in just the way the team imagines.
Perhaps we'll rave about how their athleticism benefits the team.
It's also worth noting that the rest of the class, led by receiver
Kendall Wright
, appears to be composed of guys who qualify, without question, as football players.
November, 26, 2010
11/26/10
3:43
PM ET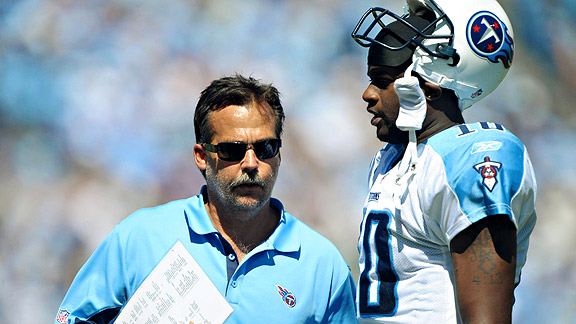 Kirby Lee/US PresswireFor Bud Adams, the choice won't be as simple as picking Vince Young or Jeff Fisher.
NASHVILLE, Tenn. -- The
Vince Young
-Jeff Fisher showdown and its spillover has many observers thinking Bud Adams will ultimately have to choose one or the other.
But the math in the equation is off, and this is not a simple, one-against-one situation.
If the love-struck Adams chooses his favorite quarterback, he's not only going to lose Fisher,
he's going to lose all, or most, of Fisher's staff
.
While Adams would be making a poor choice, even he'd have to admit that Young at his best isn't going to do much to offset the loss of some excellent assistant coaches.
All but one Titans assistant coach is working with an expiring contract, according to a Titans source. Fisher's contract runs through 2011.
In a typical scenario, Fisher would get an extension and then line up his assistants with deals of the same length.
"We are in the process of extending contracts for the entire staff," Fisher said after practice Friday. "I don't comment on negotiations other than to say we're in the process."
But there has been no word on any talks about a new deal for Fisher, and now it's a safe bet there will not be one before the Young issues are resolved. If they come to fruition, those staff extensions could be for only one season.
And the uncertain labor situation gives Adams the potential to hold off on anything new until after things are settled between the league and the players, in case he has to withstand a lockout.
Whenever it comes around, the staff issue is more significant now given the battle between Fisher and Young and Adams' comments to The Tennessean saying he expects the two to find a way
to co-exist
next season.
I think we're past the point where that's a possibility and Adams is going to have to make a choice. Hopefully it's a well-reasoned one.
[+] Enlarge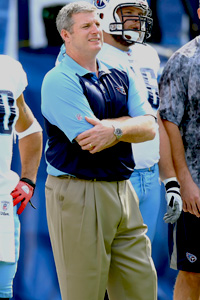 AP Photo/Kevin TerrellThe Titans' solid pass protection and good run blocking are due to efforts by coach Mike Munchak.
Pick Young, and you probably sacrifice
Mike Munchak
.
Munchak is one of eight members of the Houston Oilers/
Tennessee Titans
franchise in the Pro Football Hall of Fame. He's a steady teacher who recognizes talent and has consistently groomed quality guys. The Titans have regularly had good pass protection and solid run blocking in large part because of Munchak's exhaustive work.
Pick Young, and you probably sacrifice Jim Washburn.
The Titans' defense is tied for second in the NFL with 30 sacks. They've come from players Washburn has rebuilt such as
Jason Babin
,
Dave Ball
and
Tony Brown
or guys he encouraged the front office to draft, such as
Jason Jones
. A large number of franchises in the league would love to add a high-energy defensive line coach who can get production from such reclamation projects and draft picks.
Those two are key coaches on a staff that's widely regarded around the league as one of the best. A staff Fisher has been able to shape and hold onto because of his stability and the loyalty he shows -- occasionally to a fault.
His staff also includes offensive coordinator Mike Heimerdinger, who has been mentioned as a candidate for head-coaching jobs and once interviewed with San Francisco for its top post; defensive coordinator Chuck Cecil; veteran linebackers coach Dave McGinnis, who has been head coach of two teams; defensive backs coach Marcus Robertson, who had an excellent career as a safety for the franchise; special teams coach Alan Lowry, who scripted the Music City Miracle; strength and conditioning coach Steve Watterson; receivers coach Fred Graves; tight ends coach John Zernhelt; running backs coach Craig Johnson; and quarterback coach Dowell Loggains.
They are not all irreplaceable superstars, of course. And with expiring contracts, some of them could be moving on even if Fisher is firmly in place.
Washburn is a Nashville fixture who appreciates the second-chance Fisher gave him in 1999. But if he becomes a coaching free agent, perhaps a team with a bad defensive line would make him an offer too good to refuse.
Still, the chances he stays in Tennessee are far higher if Fisher is in the big office. I'd be willing to bet the same would be true for all the assistants.
If Adams chooses to stick with Young and Fisher negotiates out of his contract, or if another team strikes a deal to give the Titans picks to get Fisher out of his last year, I predict all the assistants would be totally turned off by Adams' choice.
Some might have to stay if they could to ensure themselves of a job. But given any sort of choice, I believe they'd be unlikely to sign new deals with Tennessee to work under Fisher' replacement.
More likely, these assistants would rejoin Fisher with a new team if he is able to move on for 2011. If not, they would find jobs elsewhere. The older guys might ponder retirement or take a year off with assurances from Fisher that they'd have a job with him once he re-enters the league.
The top in-house candidate to replace Fisher with the Titans would have to be Heimerdinger, and I believe his loyalty to Fisher would mean he wouldn't even allow his representative to talk to Adams about the post.
Even Fisher's harshest critics have to appreciate assistants like Munchak and Washburn and acknowledge they'd be difficult to replace. (You can make a case against Fisher, sure. But in a head-to-head against Young there is no way not to choose the coach.)
If Adams makes his move against Fisher, Fisher could have solidarity from his staff of 16.
If Young is the one shown the door, he'd be walking through it alone.
March, 18, 2010
3/18/10
1:54
PM ET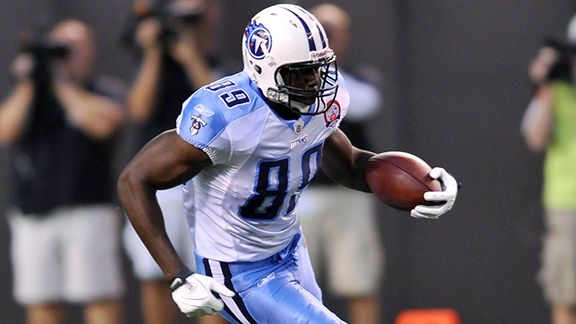 AP Photo/David RichardBecoming more consistent is important for Jared Cook if the tight end plans on being more involved in the Tennessee Titans' offense.
If there is a bigger X factor on offense in the AFC South for 2010 than Titans tight end
Jared Cook
, I'm not sure who he'd be.
As a rookie, Cook dazzled us with his post-draft, training camp and preseason work. His height, speed and athleticism made him look to be an impossible matchup as a route runner. He looked like he would plug in and be the team's second most dynamic offensive weapon, behind only
Chris Johnson
.
Then he suffered an ankle sprain and disappeared. Tennessee got nine catches for 74 yards out of him in 14 games, and the word out of team headquarters was his confidence plummeted and he did nothing to force the Titans to get him on the field.
"He needs to become much more consistent week to week if he's going to play for us," offensive coordinator Mike Heimerdinger said this week. "He has to be more consistent in everything before he can play."
And how much do you need to know what a consistent Jared Cook can bring?
"Oh, a tremendous amount," Heimerdinger said. "Hell, I don't even know who our team is besides C.J."
It's unsurprising that a gruff coach like Heimerdinger would be unenthusiastic about his group in March as he prepares to prod them into improving and sets about refining the schemes in which people are deployed.
But Cook has the potential to make Heimerdinger a happier man. He also has the potential to make the Titans look bad. They traded their second-round pick this season, No. 48 overall, to New England in order to snare Cook with an extra third-rounder, No. 89, last year.
And Tennessee has a lot of needs, so a lot of people, Cook included, will be acutely conscious of how the trade will ultimately measure out. Some want to jump the gun and judge Cook a failure after one season, but it's far too early for such conclusions.
"I'm aware," Cook said. "I know I just have to do what I do best. Definitely it's a chip on my shoulder, so as long as I put in hard work, everything is going to be all right."
May, 22, 2009
5/22/09
2:34
PM ET
Posted by ESPN.com's Paul Kuharsky
NASHVILLE, Tenn. -- Alge Crumpler's never had a body builder's physique.
"Because I'm a big guy, I think he's great looking," Titans tight end coach John Zernhelt said when I asked if Crumpler didn't have a beautiful body. "He doesn't look like a basketball forward, no."
In 108 games with the Atlanta Falcons over seven seasons, Crumpler averaged 45 catches for 602 yards and five touchdowns per season.
| | |
| --- | --- |
| | |
| | Geoff Burke/US Presswire |
| | Since joining Tennessee, Alge Crumpler has been used less as a receiver and more as a blocker. |
Last season, after Atlanta's purge, he was let go and happily signed with the Titans. The way the season unfolded, he caught just 24 passes for 257 yards and one score. (His worst moment was a lost fumble in the playoff loss to Baltimore.)
But he was very productive as a blocker, a key piece to the league's seventh-ranked rushing attack.
I asked him at the Titans' OTAs about the altered role and his weight -- he's listed at 262 but looks at least 15 pounds more than that.
"That's not what I expected, but I became very good at it," he said of working more as a blocker. "I always felt like my goal was to be one of the most complete tight ends, and when asked to do that, I've done it very well."
With the Falcons, he was freed up to be a big pass catcher, the way Bo Scaife is now with the Titans.
"When you talk to a lot of guys around the league at all these charity [golf] tournaments you go to and to all these different functions, to have guys that come over, reach out to you and talk about the things they saw, it makes you stick your chest out a bit," he said. "It's definitely a different role, but I feel like I am one of the few guys in this league who can set the edge and give us a good point of attack as long as that's what they want me to do. I'm pretty sure that'll be the role that I will be in again."
As for the weight: Crumpler said if he was working as more of a pass catcher, he'd be 10 or 15 pounds lighter.
"But if I'm going to have to control that line of scrimmage, then I have to stay where I'm at," he said.
Which is where?
"You'll never get that out of me," he said.
Then, when he ran past me from one drill to the next during Friday's OTA session, the 31-year old Crumpler added: "Don't let the baby fat fool you."
NFL SCOREBOARD
Sunday, 2/2
WEEKLY LEADERS