NFL Nation:

Johnny Culbreath
July, 24, 2012
7/24/12
4:17
PM ET
Four
Detroit Lions
players encountered legal problems this offseason. Two have now been jettisoned from the roster.

The Lions released offensive lineman
Johnny Culbreath
on Tuesday, replacing him on the roster with veteran lineman
Jonathan Scott
.
A story on the team's web site
gave no specific explanation for the move or its timing, but it must be pointed out that Culbreath was charged in January for marijuana possession while in South Carolina and ultimately paid a $412 fine.
It was the first of seven incidents Lions players were involved in over the ensuing six months. Running back
Mikel Leshoure
and defensive lineman
Nick Fairley
remain with the team, while cornerback
Aaron Berry
was
released Monday
.
Culbreath was a seventh-round draft pick in 2011 and spent the year on injured reserve, so it's possible he no longer fit into the Lions' plans on the field. If the Lions thought his offense merited internal discipline, they probably wouldn't have waited six months to do it. Regardless, what's done is done. The Johnny Culbreath era is over.
July, 23, 2012
7/23/12
11:59
AM ET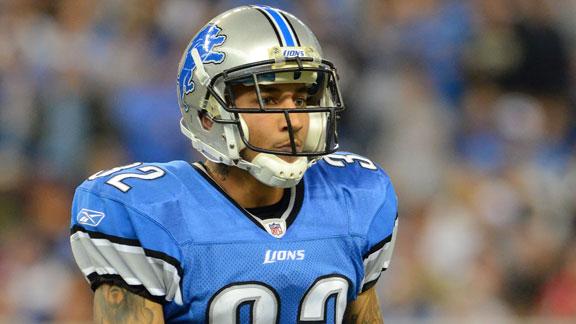 We've already hashed through the
Detroit Lions
' conundrum with cornerback
Aaron Berry
from several angles Monday morning, noting
how easy the ultimate resolution
could be and how
at least some fans feel disappointed in and disconnected from
the franchise. The team's
decision to release Berry
, reported by ESPN's Adam Schefter and others, leaves us with a few items to wrap up.
It's worth repeating that Berry hand-delivered this outcome to the Lions, who prior to this weekend had been unwilling to jettison talent for off-field transgressions. Two arrests in a month by a marginal player at a time of high scrutiny? There was no other option.
Some of you have already pointed out, correctly, that Berry hardly ranks as a prominent player and, thus, made this decision even easier. As an undrafted free agent, he received a signing bonus of $1,500 in 2009 and has earned minimum salaries in each of his past two seasons. According to records I've seen, Berry will count $500 on the Lions' salary cap after his release. That hardly represents a lost investment.
Johnny Culbreath, Mikel Leshoure and Nick Fairley -- and before Berry's run began? We might not get those answers until the next incident. With the offseason coming to a close and free time dwindling for players, "next time" might not be for a while.
Lions president Tom Lewand offered a statement that leaves vague whether the team has entered a new phase of internal discipline. Here is the statement: "We have repeatedly stressed to everyone in our organization that there will be appropriate consequences when an expected standard of behavior is not upheld." Does that mean Berry fell short of a standard that other players arrested this offseason did not? Was a new standard established early this summer -- after run-ins by
Berry ran with the Lions' first-team defense throughout the offseason, but you could make an argument that there isn't much separation between him and some of the other cornerbacks who will now compete for a starting job. That list includes Jacob Lacey, Alphonso Smith and rookie Dwight Bentley. The Lions fielded a weak secondary during parts of the 2011 season, and losing a potential starter isn't ideal. But if he wasn't much better than his competitors, the on-field impact could be minimal.
Moving swiftly Monday morning puts a symbolic capper on the offseason and allows the Lions to open training camp with Berry's future no longer in question. It's the best the Lions could do to diminish the distraction of their offseason.
The biggest remaining question to me is whether what we've seen this offseason reflects poor judgment by some key players, or simply some dumb and poorly-timed mistakes. The former would suggest the Lions are in for another season of bad judgment on the field. The latter would mean there will be no connection. A fair-minded person might say it's a little bit of both.
July, 23, 2012
7/23/12
7:24
AM ET
In some ways, cornerback
Aaron Berry
has made it easy on the
Detroit Lions
. Over the weekend, he handed them a gift. Consider it the Lions' first break of the 2012 season.
To this point, the Lions have opted against their only option for major discipline in dealing with their too-long list of arrested players this offseason. The NFL handles suspensions and fines, leaving teams to decide if they want to continue employing the player. Berry -- along with
Mikel Leshoure
,
Nick Fairley
and
Johnny Culbreath
-- all remained on the roster as of early Monday morning.

Berry
Cutting a player for an off-field transgression isn't routine in the NFL, but it does happen. Perhaps the Lions were concerned about precedent. Maybe they didn't think any of the offenses rose to the level of termination. Something was clearly holding them back.
That obstacle, whatever it was, should no longer exist.
Berry's latest arrest
, this time on charges of simple assault in an incident that involved a firearm, gives the Lions more than a fair justification for release. It's an obvious way to raise the stakes and grab the attention of players who, in at least some cases, are exhibiting poor judgment at a time of high scrutiny.
The Lions would hardly need an explanation. No one in their locker room would be surprised, and the timing would set an appropriate tone for the opening of training camp later this week. Otherwise, Berry's continued employment would be a tacit endorsement of his behavior and leave us to wonder what -- if anything -- would compel the Lions to fire a player other than poor performance on the field.
I can understand the initial reluctance to start jettisoning promising talent as a result of this offseason run. Culbreath's offense was minor from a legal perspective, while Leshoure and Fairley were high 2011 draft picks. Berry is the top candidate to win the starting cornerback job vacated by the departed
Eric Wright
.
But unless this latest incident proves a complete misunderstanding, the Lions no longer need to waffle on the issue of roster termination. Aaron Berry made it easy on them.
May, 29, 2012
5/29/12
3:46
PM ET
Perhaps you've heard the saying: Acceptance is the first step toward change. By all accounts, the
Detroit Lions
have that part covered as they deal with a
series of offseason incidents
that have embarrassed the franchise.
Speaking Tuesday to local reporters, coach Jim Schwartz left little doubt that he has a problem on his hands. Schwartz said he was "concerned" and "angry" about six incidents involving members of his 2011 draft class, and acknowledged as a group that a line has been crossed between "affecting yourself and affecting your own reputation and affecting teammates and affecting the organization."
"We have 90 guys out here working, most of which are doing a very good job and working with a good goal in mind," Schwartz said. "But the actions of a few have affected the reputations of not just the other guys in the 90, but also the organization as a whole and that's not a good situation."
In relative terms, acceptance is the easy part. By far, however, the more difficult task is addressing and correcting the problem. Schwartz didn't have much to say on that topic, other than to note there are "certain criteria" that receiver
Titus Young
must meet to continue practicing with the team. And in truth, Schwartz is limited by collectively-bargained rules governing discipline for legal matters and substance abuse in the offseason.
Fair or not, some of the responsibility will lie with veteran teammates to model appropriate conduct and mentor the younger players. But especially in the offseason, most of it will come down to whether
Nick Fairley
, Young,
Mikel Leshoure
and, to a lesser extent,
Johnny Culbreath
, can get themselves under control.
All four players were at the team facility for Tuesday's OTA, which in a counterintuitive way might have been the best place for them. Much in the way parents run their toddlers through parks to wear them out for bedtime, NFL teams can limit the social ambitions of young players by working them hard on the field.
Schwartz said he spoke Tuesday morning with Fairley about his second arrest in two months, and Young was back on the field after apologizing to teammates for a reported fight with safety
Louis Delmas
. But Lions security officials escorted both players off the field and away from reporters after practice, robbing us of an opportunity to judge whether Fairley or Young understand the magnitude of their mistakes.
Over on Twitter,
@Jason_Decker
suggested the Lions "don't have faith in them to say the right things. If they were remorseful there would b no reason to shield." I don't disagree, and if that's the case, you wonder when the Lions will feel confident that they have a handle on the situation.
Hope isn't a strategy, but right now it's all the Lions have. They're hoping these guys will get it, sooner rather than later. If they planned to release, suspend or demote one or more of the offending players, they would have done it by now. Short of that, however, resolution is mostly out of the Lions' control. That's a scary thought.
May, 27, 2012
5/27/12
6:47
PM ET
Just last week, we were discussing the
Detroit Lions
' odd offseason
in our SportsNation chat
. "Silly" was the word I settled on to characterize a number of relatively minor incidents that, viewed together, suggest there are too many players on this team with some growing up to do.

Fairley
I think it's fair to say we moved from "silly" to "stupid" this weekend after defensive tackle
Nick Fairley
's arrest in Alabama
for driving under the influence and attempting to elude police
. It was Fairley's second arrest in two months, the fifth known legal entanglement of a Lions player this offseason and the sixth incident involving a member of their 2011 draft class.
Fairley was arrested April 3 on a misdemeanor marijuana possession, also in Alabama. Running back
Mikel Leshoure
was cited twice for marijuana possession, offensive lineman
Johnny Culbreath
received one marijuana citation and receiver
Titus Young
was missing last week from organized team activities after fighting with safety
Louis Delmas
.
No matter how you view marijuana use or high-speed driving -- Fairley was clocked at 100 miles per hour prior to his arrest, according to police -- these players are guilty most notably of stupidity and selfishness.
NFL players young and old should know by now that commissioner Roger Goodell is prepared to discipline them more harshly than the U.S. legal system, especially for repeat offenders. Marijuana possession, drunken driving and eluding police in two months? That's an excellent list of ingredients for an NFL suspension. Like Leshoure before him, Fairley has absolutely no excuse for not being on his absolute best behavior after his first police run-in. Both have invited Goodell's scrutiny.
And it's selfish because these are players the Lions are counting on for both their short- and long-term success. The Lions aren't as good of a team with Leshoure or Fairley suspended, and they could indirectly suffer from Young missing valuable development time this offseason. This group's immature behavior threatens to impair the Lions' competitiveness in 2012 and beyond.
I'm sure there will be another round of questions about the Lions' discipline under coach Jim Schwartz. But I'm not coming down on Schwartz for poor offseason behavior. For the most part, especially under the NFL's new collective bargaining agreement (CBA), players are on their own in the offseason. OTAs occur during the week, and players typically go home over the weekend. That's where Fairley was for both of his arrests.
To me, the offseason requires players to be men and accountable to themselves and teammates. It's not a time when a coach can cast a net over his roster. If you want to criticize or question the Lions, maybe it's better to start with their evaluation of the character of a draft class that doesn't seem to have its collective head on straight.
I don't think this silliness or stupidity or whatever word you chose has doomed the Lions to a setback season in 2012. Not yet, at least. But when will it end?
April, 3, 2012
4/03/12
6:34
PM ET
On Monday
, we learned that Detroit Lions running back
Mikel Leshoure
had been cited twice in the past month for marijuana possession. The second resulted in an arraignment that reportedly is scheduled to take place this week.

On Tuesday
, Lions defensive tackle
Nick Fairley
was arrested and charged with misdemeanor marijuana possession in Mobile, Ala.
As several of you point out, that makes three members of the Lions' 2011 draft class to have marijuana-related legal problems since the end of the season. Offensive lineman
Johnny Culbreath
paid a fine in January after
being charged with misdemeanor possession
.
Typically we don't get too worked up about a misdemeanor crime. But three similar incidents in a short period of time reflect poorly on the franchise, and a statement released Tuesday afternoon implies rising concern from the team.
It read
: "We are aware of the incident involving Nick Fairley. We hold all of our players to a high standard of behavior and the recent charges against Nick and Mikel Leshoure are not consistent with those standards. We are extremely disappointed. We will continue to gather information and will have further comment at the appropriate time."
I don't think these incidents will impact any player's status with the organization. If Culbreath wasn't released or disciplined (publicly), then you wouldn't think that Leshoure or Fairley would. However, all three will be subject to the NFL's substance abuse program, which triggers suspensions on a second offense.
In the end, this is a collection of relatively minor offenses, at least from a legal perspective. But the timing and close proximity suggests the Lions might need a more forceful internal deterrent. To combat post-whistle penalties last season, coach Jim Schwartz instituted an infamous zero-tolerance policy. Perhaps a similar program is necessary now.
July, 28, 2011
7/28/11
5:49
PM ET
The
Detroit Lions
will be the first NFC North team to get on the field for a training camp practice, and so it makes sense for them to have made signing their draft class a high priority. After a flurry of agreements Thursday afternoon, the Lions are down to one unsigned rookie: First-round pick
Nick Fairley
.
The Lions have a 10:15 a.m. practice scheduled for Friday morning.

Chicago Bears
Signed
Unsigned

Detroit Lions
Signed
Unsigned

Green Bay Packers
Unsigned

Minnesota Vikings
Unsigned
July, 27, 2011
7/27/11
1:51
PM ET
Amid the frenzied free agent market, NFL teams are also trying to get their draft classes signed in time for the training camps they want to open in the coming days. So lets resurrect our annual draft tracker to keep you abreast of who has signed and who is left.
To this point, the
Chicago Bears
are the only team with confirmed draft pick signings at this point.
I'll post new versions of this bad boy regularly but not necessarily after every transaction.
Chicago Bears
Signed
Unsigned
Detroit Lions
Unsigned
Green Bay Packers
Unsigned
Minnesota Vikings
Unsigned