NFL Nation:

Johnny Hekker
December, 1, 2013
Dec 1
7:21
PM ET
SAN FRANCISCO -- A few thoughts on the
St. Louis Rams
' 23-13
loss
to the
San Francisco 49ers
.

What it means:
Now that the Rams sit at 5-7 on the season, any flicker of playoff hope they had has essentially vanished in the competitive NFC. They're a full three games behind San Francisco for the No. 6 spot in the conference and still trail a handful of other teams just to get into the mix. Any reasonable person wouldn't have expected the Rams to win their final six games to get into the playoff hunt, but at least now those dreams can be put to bed.
In the bigger picture, the Rams again found out just how far they have to go to become a contender in the powerful NFC West Division. After two impressive wins against Chicago and Indianapolis, the Niners knocked out the Rams with relative ease for the second time this season.
Stock watch -- up:
Punter
Johnny Hekker
-- There's not much to choose from after another mostly ugly outing for the Rams, but Hekker was excellent again in this one and deserves praise for the work he's done all season. He averaged 48.8 yards per punt, and the 49ers mustered only two returns for 5 yards.
Stock watch -- down:
Rams pass-catchers -- As is the case in a loss like this one, there's plenty to choose from here. But it's worth pointing out some of the costly drops and missteps from the Rams' receivers and tight ends. Receiver
Chris Givens
had a few, and tight end
Jared Cook
also missed some catchable passes. Quarterback
Kellen Clemens
wasn't very accurate, but that's nothing new. In recent weeks, his pass-catchers have at least been hanging on to the ones that are catchable.
Penalty-palooza:
After accumulating just four penalties against Chicago, the Rams made up for lost time against the 49ers. They committed 11 penalties for 105 yards and were particularly guilty in the first half. In the opening 30 minutes, the Rams had seven infractions for 60 yards. Most of those were against the defense, effectively keeping the San Francisco offense moving and allowing the 49ers to build a 10-point halftime lead.
What's next:
The Rams return to St. Louis for a few days before heading west for the second consecutive week with a trip to Arizona to take on the Cardinals. While St. Louis has little chance to leapfrog the 49ers, the game against the Cardinals at least provides an opportunity for it to start crawling out of the NFC West basement.
November, 23, 2013
Nov 23
12:30
PM ET
ST. LOUIS – A look at three individual matchups to watch in Sunday's game between the
St. Louis Rams
and
Chicago Bears
.
Long
Rams left tackle Jake Long vs. Bears defensive end Julius Peppers
A couple years ago this might have been one of the premiere individual battles you could find anywhere in the NFL. Make no mistake, Long and Peppers are still very good players but they might not be at the level they once were.
Still, this is one of the most important matchups in this game. Peppers' combination of speed and athleticism remains even if the numbers aren't jumping off the page as they once did.
"He's a great player, day in and day out," Long said. "He's got such long arms, he's got power, he's got speed to take down the edge, so it's a good battle to go up against him. I'm excited. It's going to be fun."
Through the first 10 games, Peppers has posted 29 tackles, four sacks, a forced fumble, a fumble recovery and an interception returned for a touchdown.
Long has struggled against elite rushers this year, particularly with Dallas defensive end
DeMarcus Ware
, a player not unlike Peppers in terms of size and skill set. But Long has also been much better in the past month or so since the Rams switched to a more run-heavy attack.
If the Rams can get the run game going – an area Long can help jump start – it should allow for the Rams to keep Peppers off balance and Long to dictate the matchup.
Jenkins
Rams cornerbacks Janoris Jenkins and Trumaine Johnson vs. Bears receivers Alshon Jeffery and Brandon Marshall
There's no receiver combination in the league more physically imposing than Jeffery and Marshall. That duo has caused nightmares for opposing defenses with its ability to outjump and outmuscle opposing corners for the ball.
The 6-foot-4, 230-pound Marshall has 64 catches for 828 yards and eight touchdowns this season while the 6-3, 216-pound Jeffery has 54 catches for 818 yards and three touchdowns.
There isn't a cornerback duo in the league equipped to match Marshall and Jeffery in terms of sheer size.
"It's a matchup issue," coach Jeff Fisher said. "They're very, very talented. Both quarterbacks Jay [Cutler], obviously was playing well before he went down, but Josh [McCown] does a really good job putting the ball up to them. They've got confidence. These guys can outjump and outreach. We've got a battle on our hands, but our corners … 'Jenks' is a leaper and 'Tru's' got length, so we'll just see how it goes."
At 5-10, 198 pounds, Jenkins is the smaller of the Rams' options and must be on top of his game in terms of timing his leap. He's had mixed success in those situations this year but hasn't faced a challenge of this size just yet.
Johnson has improved in 2013 and at 6-2, 208 pounds is more suited to take on players like Marshall and Jeffery.
The Rams have been more aggressive in coverage in recent weeks, playing more press coverage at the line of scrimmage. That may be the best way to keep the Bears duo from winning jump balls. A good jam at the line of scrimmage can throw off timing and allow the Rams defensive line to get after McCown before he can get the ball down the field.
Hester
Rams punter Johnny Hekker and kicker Greg Zuerlein vs. Bears returner Devin Hester
Rams fans still have nightmares about Hester's game in St. Louis in 2006 when he returned two kicks for touchdowns.
Much has changed in terms of Hester's role since then as he no longer contributes much to the offense and has even been in the mix as a cornerback. But he remains Chicago's primary returner with a strong kick return average of 28.23 yards and 13.25 yards per punt return to go with a touchdown.
"He's not playing any offense, but he's still very, very dangerous," Fisher said. "I think, considering the fact that his role on offense has been reduced or limited, he's going to be more inclined to bringing the ball out and has that desire to make plays. So, it makes him very dangerous and they've always had great confidence in him."
The onus falls on Hekker and Zuerlein to help neutralize the player who is probably the most dangerous returner in league history.
Hekker has been as good as any punter in the league so far in 2013, leading the league in net punting with an average of 43.51 yards.
Zuerlein hasn't yielded much in the way of returns, either, averaging 65.88 yards per kickoff, fifth most in the league. The coverage units have been good in this regard, too, as Rams opponents have started an average of 80.4 yards from the end zone on their drives, second furthest away in the league.
July, 29, 2013
Jul 29
11:00
AM ET
The
St. Louis Rams
'
Greg Zuerlein
connected on all 13 field goal tries, including four from 50-plus yards, during his first five NFL games. He made 10 of 18 tries from that point forward, missing six of nine kicks from at least 50 yards.
Some of the misses were from unreasonable distances, but the pattern was pretty clear. That is why John Fassel, the Rams' special-teams coach, advised Zuerlein to spend much of his offseason resting. Zuerlein, who had kicked almost nonstop from college through the pro evaluation process and into his 2012 rookie season,
did not kick for three months
during the recently completed offseason. The idea was for Zuerlein to gain strength so he could remain more consistent throughout his second season.
Fortunately for us, Zuerlein, punter
Johnny Hekker
and snapper
Jake McQuaide
did participate in one of those "
Dude Perfect" trick-shot videos
. Hekker is the star of the show, but Zuerlein also makes an appearance, at one point banking a field goal try off a basketball backboard and through the hoop.
"I was out here while they were filming it," Fassel told reporters Sunday, "and it took them a couple hours, and every single one you see is legit -- no trick photography. The one off the roof 70 yards into the pool was ridiculous."
Some of the shots took about 20 takes to execute, Fassel estimated, a figure he considered amazingly low given the level of difficulty.
December, 9, 2012
12/09/12
4:08
PM ET
Thoughts on the
St. Louis Rams
'
15-12 victory
over the
Buffalo Bills
in Week 14:
What it means:
The Rams have won three consecutive games for the first time since 2006. Quarterback
Sam Bradford
enhanced his already strong fourth-quarter credentials with a game-winning drive featuring outstanding plays from his receiving targets as well. St. Louis improved to 6-6-1 and kept itself alive in the NFC playoff picture. This was a huge road victory for the Rams, who had gone 1-6 outside the NFC West before Sunday. The defense deserves credit for hanging tough and keeping the Bills' scoring down without enough help for most of the game.


What I liked:
Bradford entered this game ranked third behind
Jay Cutler
and
Peyton Manning
in fourth-quarter Total QBR.
Austin Pettis
helped him out on that front with a sensational fourth-and-1 grab on a pass well behind him as the Rams drove in the final two minutes. Bradford threaded a 22-yarder to
Lance Kendricks
over the middle on the same drive.
Brandon Gibson
also emerged in key spots, including on his 8-yard scoring reception to take the lead in the final minute. With that, Bradford led the winning 84-yard touchdown drive to salvage what had been a dispiriting performance from the offense.
The Rams' defense bent, but it rarely broke despite getting little help from the offense most of the way. Stopping the Bills after Buffalo took over at its own 49-yard line in the fourth quarter was critical. The Rams got 2.5 sacks from their starting defensive tackles, including 1.5 from rookie
Michael Brockers
. Linebacker
Jo-Lonn Dunbar
preserved the victory with an interception in the final 30 seconds.
Bradford and Gibson got going in the third quarter as St. Louis took the lead. Bradford also showed his running ability, picking up 12 yards on a third-and-9.
What I didn't like:
The offense couldn't get anything going by ground or air through the first half and too much of the second. The Rams joined the
Kansas City Chiefs
as the only teams to go scoreless against the Bills through a first half. The Bills' defensive front, improved in recent weeks as its health has improved, appeared to have its way with the Rams up front. Bradford took too many hits. For too long, the Rams' receivers appeared to have a hard time getting open. The weather was wet and the field at Ralph Wilson Stadium looked like a slow track.
Rookie punter
Johnny Hekker
mishandled a punt snap and took a hard hit while trying to punt the ball, giving the Bills possession at the St. Louis 37.
What's next:
The Rams are home against the
Minnesota Vikings
in Week 15.
November, 12, 2012
11/12/12
12:13
AM ET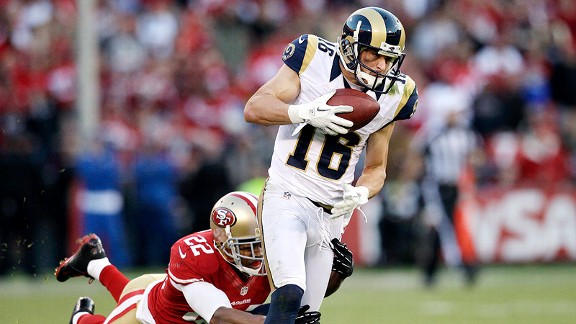 AP Photo/Jeff ChiuOn the first play of OT, Danny Amendola hauled in what would have been an 80-yard pass. The play was called back for an illegal formation.
SAN FRANCISCO -- There were so many compelling stories waiting to be written on this confounding November Sunday at Candlestick Park.
We'll have to settle for all of them.
The
San Francisco 49ers
and
St. Louis Rams
made it so, with a few assists from referee Clete Blakeman and his proactive officiating crew.
This
24-24 tie
did more than fittingly push the all-time series record between the teams to 61-61-3 during regular seasons.
This one also reestablished the Rams' credentials as a newly competitive team under first-year coach Jeff Fisher.
It challenged San Francisco's status as NFC West bullies, serving notice, again, that the NFC West has become the sticks-and-stones division, to borrow a favorite phrase from 49ers coach
Jim Harbaugh
.
It left the Rams at 3-5-1 while weakening the 49ers (6-2-1) heading into their "Monday Night Football" matchup against the
Chicago Bears
in Week 11.
It opened the door, at least a little, for Seattle (6-4) to push for a division title, not just for a wild-card berth.
Mostly, this game boggled the mind.
"I don't know exactly how it feels," Harbaugh said.
It didn't feel good.
"We didn't lose, but we didn't win, and if we didn't win, then I'm not really interested in it," Rams linebacker
James Laurinaitis
said.
There was so much evidence to process.
There was Rams quarterback
Sam Bradford
putting together the signature drive of his three-year-old career, a 14-play march to the go-ahead touchdown with 1:13 left in regulation. This was Bradford at his best. When the game was finally finished, he had completed 11 of 12 attempts to
Danny Amendola
and 26 of 39 overall.
"Big-picture wise, we scored points and we needed to score points," Fisher said. "We've been struggling to get the ball in the end zone and we got the ball in the end zone against a good defense."
There was Amendola returning from a nasty shoulder injury to make what would have been -- and perhaps what should have been, depending upon your view of Blakeman's crew -- the pivotal 80-yard reception in overtime. Officials flagged the Rams' illegal formation. Replays showed the call might have been correct, but officials threw the flag well after the fact and well down the field, and only after conferencing. Strange and anti-climactic.
"It was a roller coaster," Rams defensive end
Chris Long
said. "I feel like we won two games, maybe lost one and tied one today. It was unbelievable. I've never been a part of anything like that. I don't know how to think."
There was more, including young 49ers quarterback
Colin Kaepernick
coming off the bench for a concussed
Alex Smith
to rally his team into position for what would have been the winning 41-yard field goal in overtime, had
David Akers
not missed wide left. The 49ers thought Smith suffered the concussion on a fourth-and-1 sneak. They cannot be sure how long Smith will miss, but they're a lesser team in the short term without him, no question.
Kaepernick can run, but can he run the offense? He struggled with accuracy under admittedly tough conditions. Smith had been getting all the meaningful reps recently as the 49ers successfully recommitted to their regular offense.
"They lost their quarterback, but obviously their backup is talented enough to not lose the game for them," Fisher said.
As endorsements goes, that one felt like a tie.
There was also Rams rookie kicker
Greg Zuerlein
driving home what would have been -- and perhaps should have been, depending again upon one's view of officiating norms -- the winning 52-yard field goal some 12 minutes into overtime. We could fault the Rams for entrusting a rookie holder,
Johnny Hekker
, with clock management in such a situation. But this also seemed like a strange time to enforce the game clock to what seemed like a stricter standard than usual.
Zuerlein missed from 58.
"There shouldn't be a question as to whether or not you get a field goal off to win in overtime," Fisher said. "Apparently, Johnny lost track of the time. That happens. We don't want to say it's OK -- it's certainly not OK -- but he was focused on Greg and focused on protection and just lost track of it, I guess."
Hekker, a free agent the Rams signed in part
for his arm
, completed two fourth-down passes on fake punts, one from his own end zone and the other during that 14-play scoring drive in the fourth quarter. Hekker, empowered by Fisher to audible if the opponent rushes a cornerback at the expense of coverage, did just that with the first-half clock winding down and the Rams facing fourth-and-4 from their own 10. He later completed a fourth-and-8 pass to tight end
Lance Kendricks
for a 19-yard gain.
Late last season, the 49ers outfoxed the Rams in devastating fashion, Akers completing a pass to
Michael Crabtree
on a fake field goal when St. Louis didn't even know Crabtree was on the field.
The fake punts Sunday told us those days are over.
"The first one, we were trying to block the punt before the half," Harbaugh said. "We sent our corner. They can throw a pass when they see that, and that takes a lot of gumption to do it, and they did it. The second one, again, was well-executed on their part. Tough break for us to get that done on us, but tip your hat to them."
So much had happened by game's end that some players couldn't recall specifics.
Bradford could only smile and shrug when asked about the timeout St. Louis had called with 1:13 left in regulation. The Rams followed that timeout with Bradford's 2-yard scoring pass to
Austin Pettis
for a 24-21 lead, but the clock stoppage gave the 49ers sufficient time to respond.
Kaepernick, taking over at his own 22 with 1:03 to play, scrambled for 19 yards on first down. The clock stopped again on the next play when Rams cornerback
Trumaine Johnson
suffered an injury. Kaepernick followed with a 10-yard scramble and a 13-yard pass to
Kyle Williams
. Five seconds remained when David Akers' 33-yard field goal forced overtime.
The Rams didn't seem to care.
Bradford went deep for Amendola on the first play of overtime. Amendola separated from
Carlos Rogers
while the ball was in the air. He caught the ball at the San Francisco 45 and ran all the way to the 2 before
Donte Whitner
finally tackled him.
The game was only beginning -- again.
Each team would possess the ball two additional times before time ran out with St. Louis completing a 24-yard pass to near midfield. The Rams faced third-and-23 on the play after taking an 8-yard sack and a 5-yard penalty for delay.
The sack was particularly costly. It was also frustrating, at least for the Rams. They had first-and-10 from their own 38 with 24 seconds remaining. A couple more completed passes might have moved them into range for another field-goal try. Zuerlein has made five from 50-plus yards, including one from 60. But the Rams couldn't stop the pass-rush combination that
New York Giants
offensive coordinator Kevin Gilbride had so famously complained about.
Left guard
Shelley Smith
wouldn't say much about it, but Saffold overheard the questioning and nodded from his stool at the adjoining locker. The nod suggested Saffold felt as though
Justin Smith
, the 49ers' All-Pro defensive end, had held Shelley Smith to give teammate
Aldon Smith
a clearer path to the quarterback -- just as Gilbride had said the 49ers did with regularity, and in violation of holding rules.
"Justin Smith did a real good job of faking the rush and being able to grab him," Saffold said. "That allowed Aldon Smith to get around. You try to collapse it down so they'll run into each other and slow down the rush, and we were able to do that maybe three or four times, but a couple times where [Shelley Smith] needs to be firm and I need to get depth, it's harder to pass off some of the run-play action that we saw."
That's a lot of Smiths -- Shelley, Aldon and Justin, to say nothing of Alex -- and a lot to sort out. Confused? So were some of the players.
"I didn't know you could tie," 49ers free safety
Dashon Goldson
said. "When I saw both sides walking onto the field, I was like, 'Where's everybody going?'"
There was no winning or losing locker room to visit, just a lot of mixed emotions.
"I'm pissed," Long said. "We're all pissed in here because we feel like we won that game. They played a really good game, too, and they are a really good team.
"But I think we're going to see a lot of those battles for years to come here because we are a different team now. I think they know that from playing us now."
October, 23, 2012
10/23/12
12:50
PM ET
Calm down, calm down. I realize punter-related items tend to whip the blog into an emotional frenzy, but in the interests of civility, please stifle your displays of excitement.
[+] Enlarge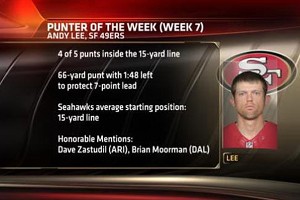 ESPNSan Francisco punter Andy Lee had a huge game against NFC West rival Seattle.
This is not another gratuitous plea for page views.
It's our occasional look at ESPN's punter of the week, as selected by resident puntologist Mark Simon from ESPN Stats & Information.
Seattle's John Ryan won
the honors
previously.
So did
Arizona's
Dave Zastudil
. St. Louis'
Johnny Hekker
was separately named the NFC's top special-teams player for Week 5.
The
San Francisco 49ers
'
Andy Lee
edged Zastudil to top Simon's list for Week 7.
Here's what Simon had to say:
"Lee had five punts in last Thursday's win over the Seahawks and could not have fared much better than he did.

"Lee put four punts inside the 15-yard line.

"On average for the game (including all drives, not just punts), the Seahawks started at their own 15. To that point, it was the worst average starting field position of any team in a game this season.

"Lee's biggest punt was a 66-yarder (net: 61 yards) with 1:48 left and the 49ers protecting a seven-point lead. That turned the field and pushed the Seahawks back their own 11-yard line.

"Since we're giving props to punters for pinning the opponent deep, let's also pay tribute to Dave Zastudil.

"Zastudil, who won Punter of the Week in Week 4, punted five times in situations in which the Cardinals were within 55 yards of the end zone. Zastudil pinned the Vikings inside the 15 on all five punts. Of those five, four were fair catches and one was returned for a net of minus-3 yards. He avoided having any touchbacks."
So, take that, rest of the NFL.
On a more serious note, punters and their coverage units do change expected points when they pin opponents deep. That's important for any team, and especially important in the NFC West, where teams play strong defense and tend to keep the games close.
Way to go, Andy Lee and peers.
October, 5, 2012
10/05/12
12:07
AM ET
Thoughts on the St. Louis Rams and Arizona Cardinals following the Rams' 17-3 victory Thursday night in the Edward Jones Dome:


What it means:
The Rams improved to 3-2, the first time they've had a winning record since the 2006 team was 4-3. They are 3-0 at home and 2-0 in the NFC West after going 4-26 against their division rivals from 2007 through last season. The Cardinals dropped to 4-1 while failing to reach 300 net yards for the fifth time this season. This game affirmed the NFC West's status as a hard-hitting division. Injury costs were high for both teams.
What I liked:
Both teams started quickly on offense. Both teams played tenacious defense for most of the game. The Rams connected on two game-changing deep balls from
Sam Bradford
. Cardinals quarterback
Kevin Kolb
took a pounding, which was bad, but in the process he showed, again, that he's not brittle or lacking in toughness. He took eight sacks last week and nine in this one. Kolb kept battling and drove the Cardinals deep into Rams territory in the fourth quarter by completing 8 of 9 passes before his next completion gained only 3 yards on fourth-and-goal.
The Rams, despite problems on their offensive line, got
Steven Jackson
going for 76 yards on 18 carries. Rookie
Daryl Richardson
had nine carries for 35 yards. St. Louis hasn't gotten much push this season. The production from Jackson and Richardson was encouraging for the Rams.
What I didn't like:
The injuries, the overmatched offensive lines, the dropped passes, the missed opportunities for pass connections well down the field, Jackson disappearing from the St. Louis offense for stretches, the Rams punting to
Patrick Peterson
from deep in their own territory while protecting a 14-point lead in the final minutes.
The Rams will not be the same offensively without top receiver
Danny Amendola
, who watched most of the game wearing a sling after suffering a shoulder injury while diving for a pass. It's not clear how much time Amendola might miss, but the Rams appeared lost without him until Bradford suddenly found rookie
Chris Givens
for a 51-yard touchdown to put away the game. The Cardinals lost running back
Ryan Williams
to a shoulder injury after the second-year back absorbed a brutal hit from
Darian Stewart
. Arizona was already without running backs
Beanie Wells
and
LaRod Stephens-Howling
.
Going after Peterson:
In a big shock, the Rams attacked Cardinals cornerback Peterson and had success doing so, including when Bradford found Amendola for a 44-yard gain early. At times, the Rams'
Janoris Jenkins
looked like the best young corner on the field.
Quinn's big night:
Rams defensive end
Robert Quinn
collected three sacks. Quinn has been quick off the edge this season, but power teams have exploited his weak run defense. The Cardinals posed no threat on the ground. That allowed Quinn to chase the quarterback without concern.
Legatron strikes:
The Rams bucked convention when they cut veteran punter
Donnie Jones
and veteran kicker
Josh Brown
in favor of rookies. That move is paying off big.
Rams rookie kicker
Greg Zuerlein
connected from 53 yards. He has made all 13 attempts this season. Zuerlein connected from 58 and 60 yards last week.
Rookie punter
Johnny Hekker
also showed off a strong leg, posting a 56.9-yard gross average with three of his seven punts downed inside the 20. Peterson had a healthy 15.2-yard average on five punt returns, but he didn't find the end zone -- a welcome change for the Rams, who allowed two Peterson return scores last season.
What's next:
The Cardinals are home against Buffalo in Week 6. The Rams visit Miami.
September, 30, 2012
9/30/12
2:39
PM ET
The
St. Louis Rams
' 2011 season hit bottom, I thought, when the
San Francisco 49ers
humiliated them with a fake field goal for a touchdown in the Edward Jones Dome.
That Week 17 play drew attention to
the coaching advantages
San Francisco seemed to enjoy so frequently last season. The play was also an embarrassing tactical defeat for a Rams' staff that had gone into survival mode amid a long list of injuries.
The tables turned Sunday when the Rams, led by new coach Jeff Fisher, fooled the Seahawks with a similar play. Punter
Johnny Hekker
, the Rams' field-goal holder, found
Danny Amendola
uncovered for a touchdown. Amendola had wandered toward the sideline between plays, just as the 49ers'
Michael Crabtree
had done against St. Louis last season. The play was legal because Amendola never left the field between plays.
Note, too, that the Rams drafted Hekker in part because Fisher liked the way Hekker threw the football. A few paragraphs from
our camp coverage
:
The Rams had played San Francisco tough through most of three quarters of their Week 17 game last season when 49ers receiver Michael Crabtree scored on a 14-yard reception from kicker David Akers. The 49ers won, 34-27. Rams coach Steve Spagnuolo was probably on his way out anyway, but if there had been any hope for him, that play had to kill it.

"It was just probably the lowest I've ever felt," Rams safety Quintin Mikell said this week. "I felt so bad for 'Spags' and I felt bad for the Rams' fans and I felt bad for everyone that was associated because that was just inexcusable at that point."

Sounds like the Rams plan to be on the other end of such plays.
They needed only four games to demonstrate how.

NFL SCOREBOARD
Sunday, 12/22
Monday, 12/23