December, 5, 2012
12/05/12
10:09
AM ET
Running back
Ryan Grant
's relative inactivity in 2012 represents a fair league-wide evaluation of his skill level at this point. Grant didn't participate in a training camp, got one carry during a four-week stint with the
Washington Redskins
and has been on the street since the end of October.
Grant
With that said, the
Green Bay Packers
could do a lot worse here in Week 14 after losing
Cedric Benson
for the season and perhaps
James Starks
as well
. Whether or not Grant can be an explosive runner at age 29, there are a few things we can say with relative confidence amid
an ESPNMilwaukee.com report
that he has agreed to return to the Packers.
Grant's five years in the Packers' offense means he will slide into it seamlessly and presumably be ready to play as early as Sunday night's game against the Detroit Lions.
He will be in shape. No one has ever questioned his conditioning or work ethic.
He will be crafty. Although he might lack the power and speed of elite backs, Grant has always understood where to find yards. He has averaged at least 4.2 yards per carry in all but one of his NFL seasons, and even as his skills apparently diminished last season, he managed to produce 559 rushing yards while splitting time with Starks.
He can produce in the passing game.
He isn't likely to be a turnover machine, having fumbled seven times in 1,017 regular-season touches.
Most important, to me, is that Grant will give the Packers a reliable option to the decimated remainder of their backfield. Second-year player
Alex Green
has managed only 3.3 yards on 109 carries this season and doesn't have the look of a primary back.
Johnny White
and
DuJuan Harris
have combined for 29 NFL carries in their careers. And if
John Kuhn
is a candidate to be a feature back, there haven't been any indications to this point.
The Packers might not make Grant their primary back, but if nothing else he will give them an important security blanket to hedge against their otherwise unproven backfield.
I think I understand why the Packers tried to move on from Grant this season, and I get why they are going to re-sign him. This is an emergency move, one that relied on the good character of both sides to avoid burning bridges. Grant isn't the player the Packers envisioned in their backfield during the stretch run, but he might well prove to be their best option.
November, 25, 2012
11/25/12
11:34
PM ET
EAST RUTHERFORD, N.J. -- A few thoughts on a stunning
38-10 beat down
at MetLife Stadium:


What it means:
It wasn't totally surprising to see the end of the
Green Bay Packers
' five-game winning streak in a road game against the Super Bowl champions. But it's been a while since the Packers have recorded such a lopsided loss. It had been three years, in fact, since they so much as lost a regular-season game by double digits, and overall it's tied for the second-largest margin of defeat since coach Mike McCarthy was hired in 2006. The Packers are 7-4 and one game behind the
Chicago Bears
in the NFC North. They still have a clear path to the division title, but they might need to win their next three games to do it.
Defensive woes:
For the first time this season, the Packers really seemed to miss the playmakers they've lost this season. With cornerback
Charles Woodson
and linebacker
Clay Matthews
sidelined, among others, the Packers couldn't create a play to stop the Giants' offensive momentum. It began with Giants running back
Ahmad Bradshaw
taking a screen pass 59 yards on the fourth play of the game and didn't let up. Quarterback
Eli Manning
threw three touchdown passes after going 107 attempts without one. The Giants did not commit a turnover, finished with 391 total yards and punted three times.
Pass protection:
The Packers' reconfigured offensive line struggled to hold its ground for the second consecutive game. Quarterback
Aaron Rodgers
was sacked five times, and a 61-yard touchdown pass to receiver
Jordy Nelson
-- the Packers' first opening-series touchdown of the season -- proved to be a mirage. The Giants overwhelmed the Packers from both sides as well as in the interior. It got so bad that Rodgers gave way to his backup for the first time ever in a loss that I can recall.
Graham Harrell
entered with four minutes, 53 seconds remaining in the game.
Crosby update:
McCarthy didn't make it easy on struggling place-kicker
Mason Crosby
by sending him out for a 55-yard attempt in the first quarter. The Packers faced fourth-down-and-five in the situation, and a punt wouldn't have demonstrated a lack of faith in Crosby as much as a prudent decision in cold and windy weather. It was 35 degrees with winds of 13 miles per hour at kickoff. The kick was wide left. Crosby did hit a 28-yard field goal in the second quarter, however. In the big picture, I can't say Crosby figured in the outcome of this game one way or the other.
Injury report:
Running back
Johnny White
suffered a concussion in the first quarter and did not return. Defensive lineman
C.J. Wilson
, meanwhile, injured a knee in the second quarter and did not return.
What's next:
The Packers will host the
Minnesota Vikings
next Sunday at Lambeau Field.
November, 25, 2012
11/25/12
10:17
PM ET


EAST RUTHERFORD, N.J. -- A few thoughts on
brutal first half
for the
Green Bay Packers
at MetLife Stadium:
Wow! Where to begin? This was a tough matchup all along, but I'm not sure anyone thought the Packers would fall behind by three touchdowns at halftime. The Giants' 31 points is already a season-high for a Packers opponent -- for an entire game.
From the top, I think we're seeing the cumulative impact of the injuries the Packers have suffered on defense. Obviously they've had a five-game winning streak while losing Charles Woodson, Clay Matthews, Sam Shields and others from this lineup. But watching Sunday night, the Packers defense sure looks like a group with a dearth of playmakers. There hasn't been much resistance as the Giants rolled up 232 yards and, most importantly 31 points.
Two tackle attempts by cornerback Tramon Williams have been shockingly ineffective. One was on Ahmad Bradshaw's 59-yard screen pass in the first quarter. The other resulted in a 13-yard gain for receiver Rueben Randle in the red zone. I don't get it. Is he hurt?
The Giants' defensive line is making short work of the Packers' pass protection. Aaron Rodgers has been sacked three times, one leading to a fumble that set up the Giants' final score.
The Packers put place-kicker Mason Crosby in a tough spot with a first-quarter attempt from 55 yards, from which he was far wide left. He did drill a 28-yarder in the second quarter, but he has now missed eight of his past 15 attempts.
The Packers lost running back Johnny White to a concussion in the first quarter. Based on this deficit, though, they won't be running the ball much in the second half.
October, 15, 2012
10/15/12
7:09
PM ET
Before I run out of gas on what has been what I'll call Sonday -- a Sunday that never really ended and has bled into Monday -- let's review what we know about the
Green Bay Packers
' long list of injuries and personnel questions stemming from their 42-24 victory against the
Houston Texans
on Sunday/Monday.

Courtesy the
Twitter feed of ESPNMilwaukee.com reporter Jason Wilde
:
OK. Barring more breaking news, I'll be back with you Tuesday morning.
April, 30, 2011
4/30/11
5:19
PM ET
ORCHARD PARK, N.Y. -- Imagine how good the University of North Carolina could've been last season.
The Tar Heels won eight games, including their first bowl victory since 2001. But they were peppered with substantial problems throughout the season.
[+] Enlarge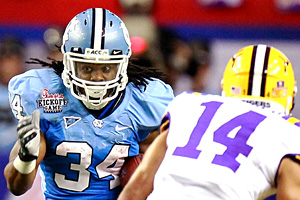 Kevin C. Cox/Getty ImagesNew Buffalo running back Johnny White was one of eight North Carolina players selected in the first 171 picks of the NFL draft.
They endured a pair of scandals, one for improper agent contact and another for academic misconduct. Fourteen players were suspended for one game, seven for the entire season. Injuries presented additional troubles.
Illustrative of the Tar Heels' remarkable collection of talent was how much they populated the NFL draft.
Eight North Carolina players were selected within the first 171 slots and four players inside the first two rounds. The only positional group not represented was tight end.
The
Buffalo Bills
snagged Tar Heels with consecutive picks, taking strong safety
Da'Norris Searcy
in the fourth round and running back
Johnny White
in the fifth.
"We were stacked with talent," White said on a conference call with reporters. "I'm just happy for all those guys and feel blessed to be a part of that."
North Carolina's pro day was like a scouting festival. Droves of personnel evaluators converged on Chapel Hill because so many players hadn't produced in-season game film.
"It was unbelievable evaluating those guys," Bills regional scout Tom Roth said. "I mean, there were 15, 16, 17 [scouting reports] I wrote. Then with all the drama going on there and the injuries, there were about 150 people there. ... Some teams had their whole coaching staffs there."
The Bills sent four evaluators: general manager Buddy Nix, vice president of college scouting Tom Modrak, regional scout Darrell Moody and Roth.
"We felt like if we had all our guys and were healthy and eligible that we could go as far as we could take ourselves," White said.
Searcy was prevented from playing three games while the university investigated a class paper that had been called into question. He was cleared.
"Of all the kids at North Carolina that were involved in the academic stuff," Moody said, "he was a kid -- to put it bluntly -- he got screwed. ... There was something there they wanted to check and had questions about.
"He shouldn't have missed any games at all."
April, 14, 2011
4/14/11
2:18
PM ET
To all those who think the four NFC South teams are so set at running back they don't need to touch that position in the upcoming draft, I give you
DeShawn Wynn
.
In the second half of the
New Orleans Saints
' playoff loss to Seattle, Wynn was getting much of the playing time and serving as the last-resort blocker for
Drew Brees
as the Saints tried to come from behind and keep their dream of back-to-back Super Bowls alive. It didn't happen, and that's largely because the Saints simply ran out of running backs.
[+] Enlarge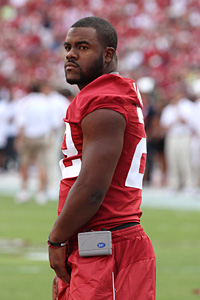 Marvin Gentry/US PresswireThe Bucs and Saints brought in Alabama's Mark Ingram for a pre-draft visit.
Wynn, who had been with the Saints earlier in the season, had been re-signed in the week leading into the game. Same for
Joique Bell
, who didn't make the active roster that day, but the Saints could have used him. They went into the game with
Julius Jones
and
Reggie Bush
as their running backs.
Jones was a retread from coach Sean Payton's Dallas days and was with the Saints only because there already were problems at running back. Bush spent much of last season on the sideline, but was healthy enough to at least set foot on Qwest Field. That's more than can be said for
Pierre Thomas
and
Chris Ivory
, who weren't available because of injuries.
Jones and Bush quickly got banged up by a Seattle defense that didn't scare too many people last season. That left the Saints with Wynn and a loss.
There's a lesson in that for the entire NFC South. No matter how set you think you are at running back, you're probably not as well off as you think. As they head into the draft, the Falcons, Buccaneers and Panthers all seem to have at least an immediate feature back, and the Saints look to have plenty of options in an offense that relies on playing a variety of running backs.
But none of the NFC South teams can afford to ignore running back in this draft. Here's a team-by-team look at why:
Falcons.
Michael Turner
's coming off a season in which he ran for 1,371 yards and 12 touchdowns and
Jason Snelling
's a solid backup with the ability to function as a power runner and catch passes out of the backfield. But that's not enough.
The Falcons got only two games out of
Jerious Norwood
before he went down with a season-ending injury. Norwood is the guy the Falcons always have envisioned as their speed back, but he's never been able to stay healthy, and his time in Atlanta looks to be over.
[+] Enlarge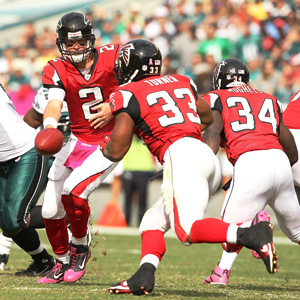 Al Bello/Getty ImagesMichael Turner logged over 700 carries combined during the 2008 and 2010 seasons and could be wearing down.
The Falcons could look for a pure speed back like Kentucky's
Derrick Locke
or North Carolina's
Johnny White
in the middle rounds. But there's been talk in mock-draft circles that Alabama running back
Mark Ingram
could be available when the Falcons pick at No. 27. There are seemingly larger needs at defensive end and wide receiver, but would the Falcons be wise to pass on Ingram if he's available?
Ingram's not a pure speed back and he's not a true power back. He's somewhere in between, and he's the closest thing to a surefire feature back in this year's draft. The Falcons have been pushing their luck with Turner. He carried 334 times last season and 376 times in 2008. He missed five games because of injury in 2009. There were times last season when Turner seemed to lack the pop he showed early in his Atlanta days, and you have to wonder if he's starting to wear down.
It might be time to get an heir apparent in Atlanta. Even if Turner stays healthy, the Falcons could use someone to pick up some of his carries or else they might end up with an empty backfield like the Saints in Seattle.
Buccaneers.
Tampa Bay fans are excited about
LeGarrette Blount
and rightfully so. The undrafted rookie was cut by the Titans in training camp, and Tampa Bay took a shot by picking him up. By midseason, Blount was Tampa Bay's feature back. He ran for 1,007 yards on just 201 carries.
Blount's role and statistics should only continue to improve next season. But it's tough to look objectively at Tampa Bay's backfield situation and say the Bucs are just fine.
Cadillac Williams
is a potential free agent. If he returns, it will be only in the role of third-down back he filled the second half of last season. There's a chorus of fans in Tampa Bay who believe
Kareem Huggins
is the perfect complement to Blount.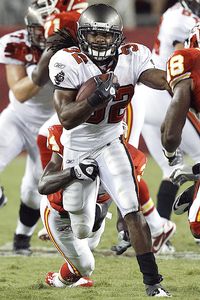 AP Photo/Chris O'MearaKareem Huggins, who figures to be LaGarrette Blount's backup, is coming off a major knee injury.
He might be. Huggins is one of those guys who flashes promise in the preseason. But he has only four regular-season carries in his career and he's coming off a major knee injury. Before the lockout, the Bucs weren't overly optimistic Huggins would be ready for the start of training camp.
Then, there is Blount. His physical style and habit of trying to hurdle defenders could leave him open to injury. Also, Blount went undrafted for a reason. He had a violent altercation with an opponent after a college game, and questions remain about his ability to keep his emotions in check over the long haul. Maybe that's why the Bucs had Ingram in for a pre-draft visit earlier this week.
Panthers
. On paper, they've got the best backfield in the division. They've got
DeAngelo Williams
and
Jonathan Stewart
, and either one could be the feature back for most teams. They also have
Mike Goodson
, who emerged last season when there were injuries in the backfield.
But, depending on how the labor situation plays out, Williams will be either a restricted or unrestricted free agent. Stewart came into the league with foot problems and rarely has been completely healthy. If Williams goes, the Panthers suddenly are on thin ice. They'd be one Stewart injury away from having to use Goodson, who is ideal as a part-time player, as their full-time running back.
Saints.
This circle started and will end with New Orleans. The Saints re-signed Thomas before the lockout. They've given indications they plan to extend Bush's contract and keep him. All signs are that Thomas, Bush and Ivory should be recovered from their injuries. Promising young running back
Lynell Hamilton
also is coming back from injury.
The numbers say the Saints are just fine at running back. But recent history tells another story. The Saints also had Ingram in for a visit, and he has to be a consideration if he's available at No. 24. Even if it's not Ingram, the Saints need to add a running back somewhere in the draft.
Of all the NFC South teams, the Saints know best that you never can have enough good running backs. If they had one more last year, they might have gone back to the Super Bowl.