October, 17, 2010
10/17/10
3:45
PM ET
By
Matt Mosley
| ESPN.com
MINNEAPOLIS -- If you want to know how poorly Cowboys wide receiver
Kevin Ogletree
has played on special teams this season, just
take a peek at the inactives list for today's game
. He's been replaced on the 45-man active roster by former reality TV star Jesse Holley, who was brought up from the practice squad Friday.
The Vikings made a late decision to make cornerback
Chris Cook
inactive to make room for running back
Toby Gerhart
. They also made
Jon Cooper
the starting center for today's game over
John Sullivan
, who will be in uniform. Take a long look at that matchup between Cooper and
Jay Ratliff
. That's one the Cowboys should definitely win. I'd be surprised, though, if Cooper's left in many one-on-one situations against Ratliff.
October, 17, 2010
10/17/10
3:05
PM ET
MINNEAPOLIS -- There were a few surprises Sunday on the
Minnesota Vikings
' inactive list. Cornerback
Chris Cook
, less than two weeks removed from surgery to repair a torn meniscus, is active and available to play Sunday against the
Dallas Cowboys
.
Center
John Sullivan
(calf) is also active, but
Jon Cooper
will start at center.
October, 17, 2010
10/17/10
12:27
PM ET
By
Matt Mosley
| ESPN.com
MINNEAPOLIS --
Minnesota Vikings
quarterback
Brett Favre
had a lengthy conversation with ESPN's Ed Werder on Friday. Werder, who's already done his first live shot today, shared some of the information he gleaned from that interview.
Favre told him that he was more surprised about the Cowboys' 1-3 start than the Vikings', which seems to indicate that he thinks Minnesota has more reasons to be 1-3 than a Cowboys team that has remained relatively healthy. Favre has great respect for Cowboys outside linebackers
Anthony Spencer
,
DeMarcus Ware
and nose tackle
Jay Ratliff
. He does not think the Vikings can block any of those players one-on-one for an extended period of time.
Favre thinks that starting center
John Sullivan
will be in uniform today, but that
Jon Cooper
could end up playing quite a bit. The quarterback joked that Cooper's as big as Ratliff's right leg.
Here's the column Werder wrote Thursday for ESPNDallas.com about how Cowboys coach Wade Phillips
has created a culture where players are insulated from criticism
. By the way,
Keyshawn Johnson
just said on ESPN that the Cowboys have the best chance to turn their season around today.
Cris Carter
thinks the arrival of
Randy Moss
will give the Vikings a major advantage. It should be noted that Johnson played for the Cowboys and Carter the Vikings.
September, 9, 2010
9/09/10
3:47
PM ET
NEW ORLEANS -- It appears as though one pregame question mark for the
Minnesota Vikings
has been answered. Barring a change of heart during pregame warm-ups, the Vikings have decided to start center
John Sullivan
despite a lingering right calf injury that cost him most of training camp and the entire preseason, according to ESPN's Ed Werder.
Sullivan returned to full practice earlier this week after spending more than a month dealing with the injury. The Vikings experimented with two options in the interim; one was using backup
Jon Cooper
and the other was shifting over right guard
Anthony Herrera
and inserting rookie
Chris DeGeare
at right guard. Ultimately, however, the Vikings decided to inflict minimal collateral damage by using an established starter who probably still isn't in full game condition rather than moving one or more players to different positions.
For our next trick, we'll endeavor to find out if the Vikings will add a cornerback to their roster or if they really do plan to enter this game with three healthy players at this position.
September, 7, 2010
9/07/10
12:15
PM ET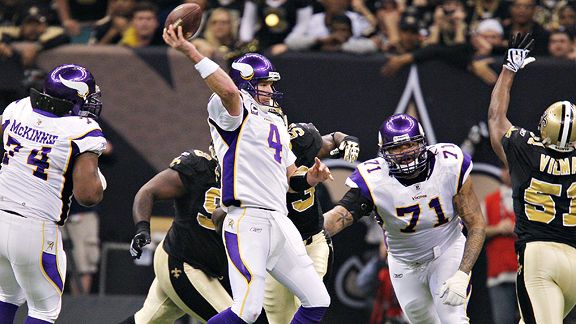 Derick E. Hingle/US PresswireBrett Favre had more success throwing the ball in last season's NFC Championship Game when the Saints brought additional pressure.
EDEN PRAIRIE, Minn. -- We've had our fun discussing
late hits, cheap shots and payback
. We've heard
Brett Favre
say the beating "didn't really hurt," listened to the
New Orleans Saints
brashly
plot a repeat performance
and wondered if the
Minnesota Vikings
have adequately
fortified their quarterback depth
.
I hope you've enjoyed it. Because now it's time to drop the drama and recognize a secret nearly hidden in the 2009 NFC Championship Game: The Vikings handled the Saints' aggressive blitz schemes significantly better than they did the four-man pass rush. Ultimately and ironically, Minnesota took the Saints out of their high-energy pressure and forced them into a more traditional scheme by the end of the game.
"The pressures?" Favre said this week. "We handled them pretty well."
Close your eyes and start your internal video. Dial up the final play of the Vikings' first possession. Saints safety
Darren Sharper
charged the left side of the offensive line just as
Adrian Peterson
took a handoff. Peterson juked Sharper (with the help of a
Jim Kleinsasser
block), burst into the secondary and galloped 19 yards untouched into the end zone.
[+] Enlarge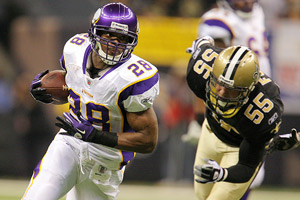 Derick E. Hingle/US PresswireDespite two fumbles -- both of which were recovered by the Vikings -- Adrian Peterson still rushed for 122 yards in the NFC title game.
Now recall the two first-half plays when Sharper came on a "zero blitz" that in essence ensured he wouldn't be blocked. On the first, Favre spotted receiver
Percy Harvin
over the middle and rifled the ball just before Sharper arrived, completing a 20-yard play to convert a third down. On the second, Favre found receiver
Bernard Berrian
on the right sideline for 13 yards and another successful third-down play.
After Berrian's reception, Favre said, "we didn't see that blitz anymore."
It's true that the Saints transitioned to some blitz schemes later in the game. Without question, their pressure impacted the outcome and figures to play an important role Thursday night at the Superdome. And we can't forget that the Vikings' offense remains in flux after a summer-long string of injuries, late arrivals and health emergencies.
But believe me when I tell you the Vikings are drawing great confidence from their performance last January, one that netted 475 total yards and was ultimately felled by turnovers rather than an inability to handle pressure or move the ball.
"We feel like we have playmakers outside," said offensive coordinator Darrell Bevell, "and if we can hold up long enough inside and block them up to give Brett enough time to get it out there we'll make big plays. I think it showed itself in that game. We were still able to make plays even when they had a free rusher.
"Yes, we kind of take it as a challenge. We want to block them up, and we want to be able to make them pay for it when they do it. Most of the time when you make them pay, you run them right out of it. They say, 'We better think twice about doing that.' And that's what we have the ability to do."
Indeed, the reality is that good offenses embrace and invite the type of defense the Saints play, knowing that if their quarterback can release the ball quickly enough, the numbers will dictate favorable matchups downfield. Consider the chart accompanying this post, which spells out Favre's performance against the Saints' blitz compared to their standard four-man pass rush.
The Saints' most effective move that night, Favre said, was to pull back the pressure during key points of the second half. The resulting coverage numbers led to both of Favre's interceptions, including the fourth-quarter pass snatched by cornerback
Tracy Porter
that turned the Vikings away from a potential game-winning field goal.
"In a roundabout sort of way, that's kind of the beauty of that defense," Favre said. "You get so caught up in pressures, blitzes, things like that, that your time clock speeds up. What do you do now? Take a deep breath. That's obviously easier said than done."
So what does all of this mean for Thursday night? Favre, Bevell and coach Brad Childress have all gone out of their way to depict the offense as a work in progress following Favre's post-camp arrival, Harvin's bouts with migraine headaches,
Sidney Rice
's hip surgery and center
John Sullivan
's calf injury. Rice will miss the first half of the season, and as of Tuesday, it's not clear whether Sullivan or backup
Jon Cooper
-- or even left guard
Anthony Herrera
-- will be holding down the middle of the line.
But we'll soon find out if the Vikings are justified in drawing confidence from their January performance or if their offense is too unfinished to handle this type of defense. With Peterson, Harvin, Berrian and
Visanthe Shiancoe
still on the field, the Vikings have enough weapons to capitalize on pressure. But Childress warned that the Vikings are "not by any stretch" close to where they were by the end of last season.
That dynamic would seem to put a premium on Peterson controlling the game on the ground. Remember, Peterson's 122-yard performance in January was his best over the final 2 1/2 months of the season. But given the Saints' own explosive offense, it's hard to imagine the Vikings winning without getting a significant contribution from their passing game.
Which brings us back, as always, to Favre and the reason the Vikings so desperately pursued him this offseason. Success against pressure ultimately comes down to a quarterback's ability to identify the open area, release the ball quickly and absorb the inevitable hit that follows. That's how Favre amassed 310 passing yards in January, and it's the type of elite play the Vikings will need to win Thursday.
Missing from this analysis is a simple but still-overlooked fact: Like the Vikings, the Saints' defense is also in its own transition. Sharper won't play because of a knee injury and their linebackers have been shuffled all summer. That's why it's hard, from a clinical sense, to go along with the prevailing theory that the Vikings are overmatched in this game.
We know both teams have a road map for how they plan to win. The evidence is all there on that 8-month-old video. But the unpredictability of the NFL's Week 1 means we should probably leave it the way Favre did the other day. "Who knows what will happen in this game -- either way," he said.
August, 30, 2010
8/30/10
1:52
PM ET
As we enter the final week of the preseason, position battles and depth chart competition should be nearing their conclusion. No clear answers generally means trouble. So with that timing in mind, let's take a look at the key summer issues in each NFC North locale:

Chicago Bears
Unsettled positions:
Both safeties and strongside linebacker
Comment:
The safety issue will come down to how quickly rookie
Major Wright
can return from a fractured finger. If it's soon, he could be the free safety with
Chris Harris
at strong. If not, the Bears might have to patch the position together with Harris at free safety and
Danieal Manning
or
Craig Steltz
on the strong side. Meanwhile,
Nick Roach
seemed to have the linebacker job won before having knee surgery. Can
Pisa Tinoisamoa
hold him off?

Detroit Lions
Unsettled positions:
No. 2 cornerback, strong safety
Comment:
Jonathan Wade
held down the cornerback job in camp until a finger injury knocked him from the lineup.
Eric King
or
Dre' Bly
could be his short- and/or long-term replacement.
C.C. Brown
was the first-team strong safety for most of camp, but his hand was in a cast last week.
Randy Phillips
has been the primary replacement, but fellow rookie
Amari Spievey
was moved from cornerback to safety last week.

Green Bay Packers
Unsettled positions:
Left guard and punter
Comment:
Daryn Colledge
won the left guard job by default after a hip flexor slowed rookie
Bryan Bulaga
.
Tim Masthay
appears to have an edge on
Chris Bryan
in the punting battle, but the Packers will take the competition through the end of the week.

Minnesota Vikings
Unsettled positions:
No. 2 cornerback, strong safety, center, third-down back
Comment:
Rookie
Chris Cook
appears on the brink of beating out
Lito Sheppard
and
Asher Allen
for the right cornerback job.
Tyrell Johnson
is trying to hold off
Jamarca Sanford
at safety. That battle is too close to call. The Vikings are worried that center
John Sullivan
's calf injury has put him too far behind to be ready for the Sept. 9 season opener at New Orleans, leaving them to decide whether to play backup
Jon Cooper
or move over right guard
Anthony Herrera
. The Vikings have rotated
Adrian Peterson
,
Toby Gerhart
and
Albert Young
in the third-down role and might use a combination when the season begins.
August, 9, 2010
8/09/10
6:59
PM ET
MANKATO, Minn. -- Let's get to some first-day impressions of the
Minnesota Vikings
, now that I've mopped off after a few hours on a steamy practice field where the heat index surpassed 100 degrees Monday afternoon:
When team drills began during the morning practice, these players were part of the first-team offense: Receiver Greg Lewis, center Jon Cooper, guard Chris DeGeare, tight end Jim Kleinsasser and quarterback Tarvaris Jackson. I wouldn't expect any of those five players to be in the starting lineup in the season-opening game Sept. 9 at New Orleans. Injuries, family death and indecision are all to blame.

[+] Enlarge

AP Photo/Andy KingE.J. Henderson has made strides in his recovery from a fractured femur.

Nose tackle Pat Williams, 37, and linebacker E.J. Henderson, who has a titanium rod in his leg, have each participated in more practices than receiver Sidney Rice, receiver Percy Harvin, center John Sullivan and quarterback Brett Favre combined. Tight end Visanthe Shiancoe has been added to the injury list with what coach Brad Childress called a strain, and he missed both of Monday's practices.

I plan to write more about Henderson soon, but for now you should know that Monday was the best day yet in his recovery from a fractured femur. For the first time, Henderson participated in all of the defensive repetitions for his group in the morning practice (first team) and afternoon practice (second team). "It felt good," Henderson said. "No pain. No worries. Ready to keep it moving."

DeGeare, a fifth-round draft pick in April, was filing in for injured right guard Anthony Herrera and appears on his way to winning a roster spot as a backup who can play both guard spots and perhaps tackle in a pinch. With DeGeare and Cooper on the roster, you wonder if the end is near for center/tackle Ryan Cook -- the player drafted in 2006 with the choice acquired from Miami in the Daunte Culpepper trade.

I thought the Vikings looked pretty sharp defensively. The best play I saw was linebacker Chad Greenway's diving tip of a pass intended for Kleinsasser.

Count me in agreement among those who have already observed that rookie quarterback Joe Webb is struggling. I counted three ducks on basic go routes and got the sense he has hit the rookie wall of training camp. Even offensive coordinator Darrell Bevell admitted that Webb's head is "swimming" with terminology and added: "There's been times out here where he's flashed some great plays, but there's been times where he's flashing that he's definitely a rookie."

Here's an interesting wrinkle to the Harvin situation we discussed earlier: Judd Zulgad of the Star Tribune reports that in addition to dealing with the death of his grandmother, Harvin might be suffering from the migraine headaches that plagued him for parts of last season. Childress reiterated Monday afternoon that he isn't certain when Harvin will rejoin the team. "I'm kind of flying in the dark a little bit," Childress said.

The Vikings have a full-pads practice scheduled for Tuesday morning. It will include some live scrimmaging and probably be their last real contact until Saturday's preseason game at St. Louis.

I made it almost a full day without addressing the elephant next door. Childress said he texted with Favre as recently as Monday morning but had no information on Favre's scheduled visit this week with Dr. James Andrews, who performed the routine surgery on Favre's ankle.
January, 17, 2010
1/17/10
12:13
PM ET
By
Matt Mosley
| ESPN.com
MINNEAPOLIS -- Greetings from the Metrodome, where fans have just been warned that pyrotechnics will be used throughout the game. This is somewhat concerning to me, but I'll just roll with it for now.
Now let's look at today's inactives list. No surprises here. For the Cowboys, special teams ace
Pat Watkins
has returned from a sprained knee and he replaces rookie safety
Michael Hamlin
on the active list.
Cowboys:
Emergency QB
Stephen McGee
, CB
Cletis Gordon
, S Michael Hamlin, LB
Jason Williams
, G
Montrae Holland
, C
Duke Preston
, T
Pat McQuistan
, LB
Curtis Johnson
Vikings:
Emergency QB
Sage Rosenfels
, WR
Jaymar Johnson
, CB
Karl Paymah
, TE
Garrett Mills
, LB
J Leman
, C
Jon Cooper
, DE
Jayme Mitchell
, DT
Letroy Guion

NFL SCOREBOARD
Thursday, 9/4
Sunday, 9/7
Monday, 9/8