May, 10, 2014
May 10
7:40
PM ET
»
NFC wrap-ups
:
East
|
West
|
North
|
South
»
AFC
:
East
|
West
|
North
|
South
FOXBOROUGH, Mass. -- A wrap-up of the
New England Patriots
' draft.
Click here
for a full list of Patriots draftees.
[+] Enlarge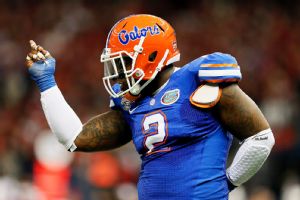 Kevin C. Cox/Getty ImagesFlorida's Dominique Easley will be an impact talent for the Patriots if he can stay healthy.
Best move:
Reinvesting in the offensive line. The Patriots hadn't drafted an offensive lineman in 2012 or 2013, but they triple-dipped with fourth-round center
Bryan Stork
(Florida State), fourth-round tackle
Cameron Fleming
(Stanford) and sixth-round right guard
Jon Halapio
(Florida). Time will tell if the picks were the right ones, but from a general standpoint, the Patriots needed to pay attention to the line both from an infusing-the-pipeline standpoint and also with salary cap integrity in mind. What stands out is the size of Stork (6-3 7/8, 315), Fleming (6-4 7/8, 323) and Halapio (6-3 1/2, 323). The Patriots added an element of offensive toughness in this draft, while also planning for the future. This is a big year for the team's offensive line as it transitions from former coach Dante Scarnecchia to Dave DeGuglielmo.
Riskiest move:
Easley. The first-round defensive lineman is a big-time talent who wouldn't have been available at No. 29 if healthy. But he tore both ACLs at Florida and that affected his ability to work out at 100 percent in the pre-draft process. If Easley returns to full health, the Patriots' willingness to assume the risk could pay off in a big way as the team's interior pass rush could use a boost. But if problems crop up with Easley's knees, the Patriots might ultimately regret their willingness to invest such a high draft pick on an injured player.
Most surprising move:
Dominique Easley
. Wouldn't have thought the Patriots' selection of a player who tore both ACLs in a span of three years was an option in the first round. They generally don't assume that much risk with their top pick, which has contributed to their solid first-round draft record.

File it away:
All the angst that might have been expressed about the Patriots' selecting quarterback
Jimmy Garoppolo
with a late second-round pick (No. 62) will most likely be looked back upon with a chuckle. The biggest question from this perspective is if the Patriots passed on a player who might have helped them more immediately (e.g., Iowa tight end
C.J. Fiedorowicz
to the Texans three picks later), and that's going to be an interesting dynamic to follow in the years to come. But overall, there is no more important position than quarterback. The 2011 Colts are the prime example of a team that didn't address the backup spot and the bottom fell out of their season when starter Peyton Manning was lost for the season. People lost jobs because of it. The Colts were fortunate to wind up with the rare can't-miss prospect (Andrew Luck) the next year in the draft, but most teams aren't that lucky, so the Patriots were wise to be thinking ahead at a hard-to-fill position. It's just a bit jarring to hear the team acknowledge the possibility of a succession plan with Tom Brady, which is still four years away (if not longer) from this viewpoint.
January, 24, 2014
Jan 24
10:00
AM ET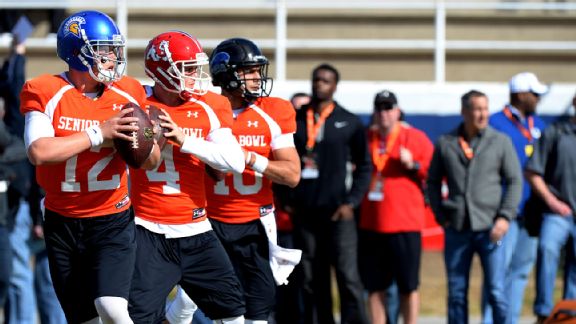 John David Mercer/USA TODAY SportsThe Senior Bowl gives players a taste of what February's NFL combine will be like.
MOBILE, Ala. -- One of the first things the players did at the Senior Bowl this week was get their official height and weight recorded.
It happened on a stage in an exhibit hall at the Mobile Convention Center in front of hundreds of scouts, NFL personnel people and executives, and members of the media in chairs and bleacher seating. The players stood behind a curtain until their name was called and then walked onstage, wearing nothing but their underwear.
The rest of the week was only slightly less weird.
There were interviews with scouts, team executives, the media, agents and their representatives, vendors and PR reps. Former NFL players wandered around. People with "business opportunities" tried to latch onto players.
It's a hectic, tumultuous experience for the players participating in the Senior Bowl, but it's also great training for what they're going to experience at the NFL combine in Indianapolis next month. This week has given them a taste of what to expect.
"This is a good precursor for the combine," Jaguars general manager David Caldwell said. "They get the interviews. They get their first interaction with coaches and scouts and really kind of digging into their background or family life and everything that they do. It'll school 'em up for the combine a little bit."
As each player's height and weight is announced, heads dip in unison as the hundreds in attendance diligently record the numbers on handouts that already include each player's hand width, arm length, and wingspan. That's not so bad considering what they'll experience at the combine, when they can be examined by the doctor of each of the NFL's 32 teams.
"We got into the big auditorium in the back and it's dead quiet and it's just the players back there, so we're like, 'Ah, there's no one. There's a couple people out there,'" offensive lineman
Brandon Linder
said. "And I guess someone got a picture on their phone of what was out there and they started showing around. It was an amphitheater of people. But it wasn't a big deal.
"It was pretty cool, walking across all serious, you get your height and weight and you walk off trying not to trip."
At least that doesn't require much thought. The interviews, however, are another matter. Some are planned, but others are pretty much spontaneous. After team meetings, practices and meals, players have to walk through the lobby and second-floor Senior Bowl headquarters of the team hotel, where at any moment a scout, agent, vendor, PR rep or member of the media can appear and ask for a few moments.
The meetings with the scouts and team officials are obviously the most important and most are pretty straightforward.
"It was very chaotic at the hotel and it still is," offensive lineman
Jon Halapio
said in the middle of the week. "I was used to interviews and stuff at Florida, but it was always about the games and stuff, but this was the first time I've had an interview asking about who I am as a person, about my personal life and stuff like that. It made me feel like, wow, this is an actual interview for a job."
And, as in any job interview, some of the questions are a bit unusual.
The
Cleveland Browns
, for example, dropped this one on some of the players they interviewed: Name as many uses as you can for a brick in one minute.
"I named a couple things," offensive lineman
Cyril Richardson
said. "I named paperweight, counter-balance, and stuff like that.
"Somebody warned me about it. I was like, 'Really?'"
Unusual for sure, but certainly less shocking than being asked if your mother is a prostitute as Dez Bryant was in an interview with the
Miami Dolphins
.
Players can expect the interviews at the combine to be even more intrusive. Each will meet with a representative from every team but the top players will often meet with the general manager and head coach as well. By then teams will have done more research on the players' pasts and will probe for answers about character issues, off-the-field issues, and any other potential red flags.
"I know it's a little bit more intense at the combine -- a lot more intense -- but this kind of gives you a taste and a feel for what you're going to get," San Jose State quarterback
David Fales
said.
One of the more infamous parts of the combine is the Wonderlic test, which is a timed 50-question test given to each player to assess their aptitude for learning and problem-solving ability. The players aren't given that test in Mobile, but they do take some similar exams.
One of the questions on this year's test was to determine to which of five people a fish belongs. Players were given clues.
"Those [tests] are a little off-the-wall," said receiver
Jeff Janis
, who admitted he didn't get the correct answer to the fish question. "I'm not sure what they're for, but I just filled them out and did my best."
While this week is a good trial run for the combine, it's particularly beneficial for small-school players who have not been exposed to this kind of environment. Players from LSU, Oklahoma, USC and Wisconsin have dealt with intense media coverage and have had numerous NFL scouts on their campus and at practice.
That's not the case for a guy like Janis, who played at Division II Saginaw Valley State, or cornerback
Pierre Desir
, who played at Lindenwood University in Missouri, another Division II school.
"It's been a crazy experience, something I'm going to remember forever," said Janis, who received his combine invitation a month ago. "I've just kind of been soaking everything up. This isn't something that happens very often where I'm from. I'm just trying to learn from everybody and take in as much as I can.
"It's different, but I realize that it's part of the game. I just kind of sit back and just enjoy it and have fun with it."

NFL SCOREBOARD
Thursday, 8/21
Friday, 8/22
Saturday, 8/23
Sunday, 8/24
WEEKLY LEADERS