May, 2, 2011
5/02/11
2:40
PM ET
Cleaning out my notebook with the 2011 NFL draft in the books:
The Chicago Bears love their safeties.
Cal's Chris Conte is the ninth they've drafted since general manager Jerry Angelo took over in 2002.
(Extra credit if you can name all nine. They're at the bottom of this post.)
The Bears have given most of the players on that list a chance to start, and there's no reason to think they have a different plan for Conte. The Bears are targeting 2010 third-rounder
Major Wright
as a starting safety, and it's only fair to note that his presumed 2011 partner -- veteran
Chris Harris
-- is entering the final year of his contract. Is Conte the long-term replacement for Harris?
Bears general manager Jerry Angelo said the Bears "spent a lot of time" scouting Conte and noted that his conversion from cornerback means he has some cover skills. Bears defensive backs coach Jon Hoke received a strong recommendation from Cal defensive coordinator Clancy Pendergast, and Angelo said it's "very, very hard to find free safeties." Call me crazy, but I'm thinking we'll see Conte on the field sooner rather than later.
[+] Enlarge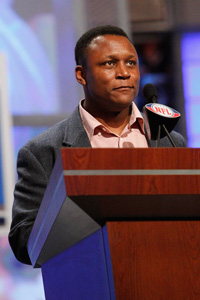 AP Photo/Frank Franklin IIFormer Lions running back Barry Sanders said via Twitter that he might visit Detroit's training camp this offseason.
It was nice to see Hall of Fame running back Barry Sanders announce the Detroit Lions' choice of Boise State receiver Titus Young in the second round.
Sanders hasn't taken much of a public profile in recent years, so it was interesting to follow his draft thoughts via Twitter (
@BarrySanders
). I noticed
this tweet
in particular:
"Very impressed with what the team has done over the past few drafts.... I might even stop by training camp to see the guys this year..."
The Lions have a distinguished history that predates that disastrous Matt Millen era that many modern-day fans associate them with. The endorsement of one of their best-ever players shouldn't be taken lightly.
Only a few minutes after drafting Illinois running back Mikel Leshoure, Lions coach Jim Schwartz was already facing the question:
How will he dole out playing time between Leshoure and incumbent
Jahvid Best
?
Schwartz said he won't use a "Randy Ratio," the
Minnesota Vikings
' ill-fated attempt to ration throws to receiver
Randy Moss
in 2002. (Current Lions offensive coordinator Scott Linehan was in the same position with the Vikings at the time.) Schwartz said there was "definitely a possibility" of using both in the same backfield, but made clear that the approach could "change from week to week."
Schwartz: "It might change due to injuries and player availability. It might change based on opponent. I think there's a lot of different things that happen in our division. We see a 4-3 team like the Chicago Bears. We see a 3-4 team like the
Green Bay Packers
. That's a different style of running back. [You] play 3-4 teams that are two-gapping, that are holding on -- you need a big back who can run through some arm tackles. You want to get guys matched up on different teams, you need guys who can match up and beat linebackers and people that want to play man and trick coverage up for a certain player."
A few years ago, we celebrated when the Bears drafted the "pool guy."
Defensive lineman
Jarron Gilbert
had made waves during the pre-draft process by jumping out of a pool and posting the video on YouTube. Unfortunately, Gilbert couldn't play and was waived last summer.
The Green Bay Packers drafted their own pool guy, Arizona defensive end/linebacker Ricky Elmore, but there is reason to believe he has a better future than Gilbert.
True, Elmore
has posted videos
of him both jumping out of a pool and into a truck on YouTube. But it's also worth noting that Elmore actually had more production last season than his more-famous teammate, defensive end/linebacker
Brooks Reed
.
Elmore finished last season with 11 sacks and a total of 13 tackles behind the line of scrimmage. Reed had six sacks and 10 tackles behind the line. At 6-foot-5 and 255 pounds, I'm eager to see if Elmore's athleticism and college production can translate in the Packers' 3-4 scheme.
Vikings rookie quarterback Christian Ponder is expected to be the starter sooner than later, if not immediately.
Assuming that's the case, it's quite possible the Vikings will look for other ways to get
Joe Webb
onto the field -- possibly in a way that reflects the
New York Jets
' use of
Brad Smith
. In either event, it's likely the Vikings will need a veteran backup.
Offensive coordinator
Bill Musgrave
endorsed that suggestion,
saying over the weekend that it "balances out a position." There continue to be reports, most recently
from NFL.com
, that the Vikings' most likely target is Washington's
Donovan McNabb
. If Ponder is going to take over at some point in 2011, that wouldn't make much sense to me.
But
what do I know
?
The Vikings might be the only NFC North team looking to add to its quarterback depth chart. Angelo strongly indicated that rookie
Nathan Enderle
will be the Bears' No. 3 quarterback behind
Jay Cutler
and
Caleb Hanie
. The Packers seem set with
Aaron Rodgers
,
Matt Flynn
and
Graham Harrell
. And Lions general manager
Martin Mayhew
has said he plans no changes from the trio of
Matthew Stafford
,
Shaun Hill
and
Drew Stanton
.
South Florida safety Mistral Raymond, drafted by the Vikings with the No. 170 overall pick, has endured an incredible three years.
As
Vaughn McClure of the Chicago Tribune
explains, a group vowing retaliation for a shooting mis-identified Raymond's childhood home in Florida and burned it down using Molotov cocktails. No family members were killed, but one of Raymond's sisters was shot four times and airlifted to a trauma center for emergency surgery.
Then, last month,
another sister was murdered
. Raymond said over the weekend that he hoped his selection in the draft provided a joyful outlet for his family.
"Just having my family here with me, having them see my name come across the screen and seeing the excitement that it brought them, I think it was a relief for all of us," he said. "It helped me realize what type of position that the Lord has put me in. He has blessed me to be an outlet for my family. For them to have excitement no matter what at any given time of the day. It's just a great feeling for me personally, and I'm very grateful to be in the position I'm in."
And finally, your trivia answer:
Bobby Gray
(2002),
Todd Johnson
(2003), Chris Harris (2005),
Danieal Manning
(2006),
Kevin Payne
(2007),
Craig Steltz
(2008),
Al Afalava
(2009), Major Wright (2010), Chris Conte (2011).
January, 22, 2009
1/22/09
8:46
PM ET
Posted by ESPN.com's Paul Kuharsky
The theory says there are just six degrees of separation between each of us and anyone else on the planet, that in only six steps we can be connected through common acquaintances.
It's only natural in a league of 32 teams that had about 556 assistant coaches in 2008 that the degree of separation among them, if there is one at all, is usually one.
| | |
| --- | --- |
| | |
| | Kirby Lee/Image of Sport/US Presswire |
| | Gary Kubiak's defensive staff in Houston will have a new look heading into next season. |
Let us consider that as we attempt to prejudge the promotions and additions Gary Kubiak has made to his staff in Houston. Frank Bush, promoted to defensive coordinator, and David Gibbs, hired as defensive backs coach, each have extensive experience with the Denver Broncos on their resumes.
In a recent, scathing column in the Houston Chronicle, Richard Justice made fun of the franchise for its propensity to lean on people Kubiak and GM Rick Smith know from their previous NFL lives in Denver.
Justice wrote that Smith might not have trusted two staff members who were let go after the Texans' season ended -- strength and conditioning coach Dan Riley and head trainer Kevin Bastin -- "because neither worked for the Denver Broncos, had enough friends with the Denver Broncos or changed planes in Denver."
The strength and conditioning coach job is still open. But Kubiak's staff is otherwise complete and now includes eight assistants with Denver ties and 11 without them. (Relevant aside: Of the four coaches Kubiak let go, defensive coordinator Richard Smith was connected to the Broncos while defensive line coach Jethro Franklin, defensive backs coach Jon Hoke and Riley were not.)
Now, of the team's four most powerful assistants by authority and title -- assistant head coach/offense Alex Gibbs and offensive coordinator Kyle Shanahan, Bush and new assistant head coach/defensive line coach Bill Kollar -- only Kollar has no Broncos connection.
That certainly leads some to say, "Hey, coach Kubiak, there's a whole, big football world out there that extends beyond Denver, especially considering that your mentor and the head man out there, Mike Shanahan -- also your offensive coordinator's dad -- was just fired."
Kubiak isn't concerned with perception outside team headquarters, but he was willing to outline how he looks at people he considers hiring or shifting upward.
"This is important and I've been doing it long enough to have coached with a lot of football coaches," he said. "And having some familiarity with how a guy coaches, how a guy teaches, him knowing what you expect and what you stand for, that's is important to me. I can't speak for everyone else out there. At the same time, when you're interviewing coaches that you haven't worked with or you don't know personally, I start pulling from guys I do know that may have worked with them, guys who know their work habits, know what type of person they are.
"In this business, coaches bounce around and we all kind of know each other one way or another."
January, 14, 2009
1/14/09
11:32
AM ET
Posted by ESPN.com's Paul Kuharsky
With four teams in offseason mode, I still appreciate any notes in the mailbag pointing me to anything I may miss in a daily roundup of headlines.
Houston Texans
New defensive coordinator Frank Bush has a long list of influences, says John McClain.
Ex-defensive backs coach Jon Hoke gets the same job in Chicago.
Indianapolis Colts
Jim Caldwell is ready to put his signature on the Colts, writes Phil Richards.
Bob Kravitz says there is nothing wrong with Caldwell being a lot like Tony Dungy.
Jim Souhan looks back at Tony Dungy's first meeting with Tom Moore.
Rick Morrissey says Dungy showed Mike Singletary the way.
Jacksonville Jaguars
Four starters are heading to free agency, writes Vito Stellino.
Tennessee Titans
A Titans free agent roster from Jim Wyatt.
Change will come, but the Titans hope to hold most of their roster together, says Wyatt.
Chris Carr wants to come back and would like a bigger role, writes Terry McCormick.
Rick Gosselin ranks the missed delay of game call in the Ravens-Titans playoff game as the second worst officiating gaffe of the season.

NFL SCOREBOARD
Thursday, 8/21
Friday, 8/22
Saturday, 8/23
Sunday, 8/24