September, 4, 2010
9/04/10
3:17
PM ET
We're planning posts on each NFC North team's cuts once they are official. Announcements could come at any point Saturday afternoon or evening, but for now let's round up some of the bigger names who are already reported to be on the way off their respective rosters.
September, 2, 2010
9/02/10
4:03
PM ET
Preseason play mercifully will end Thursday night, opening what is really a five-day window for NFL teams to settle on their final 53-man rosters and practice squads. Some teams will begin making cuts as soon as Friday morning. Everyone must be down to 53 by Saturday at 6 p.m. ET, but waiver claims, trades and other player movement could continue as late as next Tuesday before Week 1 practices begin in earnest.
As we approach the NFL's flea market season, let's identify one player who seems most at risk on each NFC North team.

Chicago Bears
Player:
Running back
Garrett Wolfe
Comment:
We've been waiting for Wolfe's speed to translate into regular playmaking for three years, and his time might now be up. Although he's been a good special-teams player in the past, Wolfe is on the wrong side of the Bears'
Matt Forte
-
Chester Taylor
tailback tandem. If the Bears keep a third running back, it could be second-year player
Kahlil Bell
.

Detroit Lions
Player:
Offensive lineman
Jon Jansen
Comment:
Jansen started two games last season as an emergency fill-in and has spent the summer competing with
Gosder Cherilus
for the starting right tackle job. But if Cherilus wins the job, as expected, the Lions might choose a younger player such as
Corey Hilliard
as a backup.

Green Bay Packers
Player:
Tight end
Donald Lee
Comment:
The Packers have five tight ends that probably should make the team:
Jermichael Finley
,
Spencer Havner
,
Tom Crabtree
, rookie
Andrew Quarless
and the veteran Lee. But that's a high number, and you wonder if Lee wouldn't be the odd man out. He's scheduled to make $2 million this season, all of which would be guaranteed if he's on the Week 1 roster. That's premium money for a part-time player.

Minnesota Vikings
Player:
Kickoff specialist
Rhys Lloyd
Comment:
A kickoff specialist is a luxury reserved for only the biggest, most consistent boomers in the NFL. Lloyd, on the other hand, doesn't have a touchback this preseason and has been a big disappointment. It's possible the Vikings will give him time to straighten out, but their health-induced duress at other positions might make his roster spot too valuable.
August, 7, 2010
8/07/10
11:30
AM ET
ESPN.com NFL Power Ranking
(pre-camp): 29
ALLEN PARK, Mich. -- If the measure of a good team is roster stability, then, well, we know where the
Detroit Lions
stand. General manager Martin Mayhew and coach Jim Schwartz spent most of their first year together operating like an expansion franchise, using their roster to sift through dozens of nomadic no-names and aging veterans while effecting a near-weekly rotation at a half-dozen positions -- left guard, defensive end, cornerback and safety chief among them.
So as they reported to training camp this summer, the Lions were hoping to slow that train and accelerate the installation of permanent building blocks in their lineup. Schwartz remains realistic about the job ahead of him but is certain the Lions are pointing in the right direction.
"Hope isn't a strategy," Schwartz said. "You need good players. I think what we proved last year is that we weren't ready to accept sub-par performance. We were willing to make changes and things like that. I think that was an important statement to make. In a perfect world, all of our positions would be solidified and you would feel good about it every week. Probably 32 NFL teams are going to be dissatisfied with a couple positions ... but I think the sign of a good team is having less spots that you look at and say, wow, what are they going to do there?"
After a few days at Lions training camp, it was evident the Lions are not there yet. But they're closer than they were last year, having upgraded at receiver, running back, tight end, left guard and along the entire defensive line. Questions remain at linebacker and in the secondary, but the Lions are working methodically to narrow that gap.
"We have a big sense of urgency," Schwartz said. "I don't want to say we've been patient. We just haven't deviated from our plan and we haven't gone too much for immediate gratification."
THREE HOT ISSUES
[+] Enlarge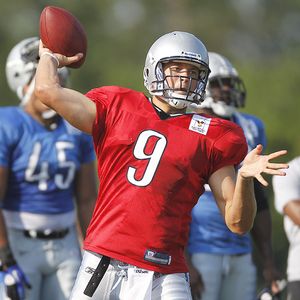 Gregory Shamus/Getty ImagesThe Lions are counting on Matthew Stafford to make progress from his rookie season.
1. Can Matthew Stafford make the jump the Lions need?
Stafford's rookie season wasn't unusual for a highly drafted quarterback. Playing on a bad team, he threw 20 interceptions in 10 games. Injuries cost him six starts. But after surrounding him with receiver
Nate Burleson
, tight end
Tony Scheffler
and running back
Jahvid Best
, the Lions are expecting a much more positive second-year experience.
Stafford spent the early part of the offseason studying the causes of each interception, concluding that the majority of them were "trying to make a play when it wasn't there," he said. He added: "A lot of them were on third-and-long. I've got to be better on third-and-long to trust our backs, to throw a checkdown and let him run and go get it. I have to know that the best teams in this league are 35 percent [conversion rate] on third-and-long. Not everybody's making it every time. The goal this year is to stay out of those as much as possible."
The potential is there. Stafford has spent the entire offseason working with receivers, putting a special emphasis on developing chemistry with
Calvin Johnson
. He has taken every first-team snap in practice and has a set of skill players that can rival other NFC North offenses.
"We have a lot of weapons this year," he said. "It's up to us to get some rhythm and get it going."
2. Can an overhauled defensive line compensate for uncertainty at linebacker and safety?
I like to compare the Lions' defense to an episode of "Hoarders." When Mayhew and Schwartz opened the front door, they found a mass of junk. So they picked one corner, the defensive line, and starting digging their way out.
As training camp opened, the Lions had NFL-caliber starters at right end (
Kyle Vanden Bosch
) and nose tackle (
Corey Williams
), along with a potential superstar in defensive tackle
Ndamukong Suh
. But remember, the Lions are the only team since the 1970 merger to finish with the NFL's worst defense in three consecutive years. In order to move up significantly in those standings, they'll need their line to be so good that it overshadows inexperience at linebacker and another year of patchwork in the secondary.
"If this defense is going to be good, it's going to be on us up front, and we're just going to have to wreak havoc," Vanden Bosch said. "We're going to have to bring energy to every practice and we're just going to have to keep on pushing each other and make improvements."
As we
discussed earlier this week
, it's schematically possible for an elite pass rush and strong run-stoppers to reduce the strain placed on other positions. Based on how the rest of the Lions' defense is shaping up, they'll need nothing less.
[+] Enlarge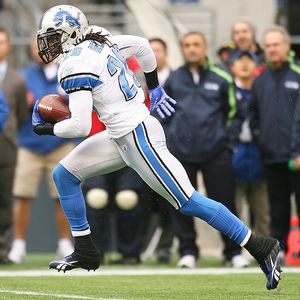 Otto Greule Jr/Getty ImagesLouis Delmas has noticed a change in attitude with this year's team.
3. Can the Lions expunge what safety Louis Delmas referred to as a "ho-hum attitude?"
If you're keeping track, the Lions have lost 28 of their past 30 games and 37 of their past 40. You often hear about new attitudes in training camp, so take this for what it's worth. After jettisoning a number of veteran players this offseason, Delmas said that now "everyone wants to be here and they want to learn." He added: "That's something I don't think we had last year. Guys were just here. The coaches are motivating us to go out there and get better. We've got a great attitude."
As for low expectations among national observers, Stafford said: "I don't think anyone here believes that. They play the games for a reason. The season hasn't started yet. Everybody is 0-0. Come the first Sunday, it's go out there and prove it and see what we can do."
BIGGEST SURPRISE
Tight end
Brandon Pettigrew
tore an anterior cruciate ligament on Thanksgiving Day 2009. A little more than eight months later, Pettigrew was back on the field doing much more than at least I would have expected. He's practicing at least once per day and participating in some contact drills, even while wearing a brace on his knee.
If he has a hitch in his gait, it's barely noticeable. And on at least one play this week, Pettigrew displayed enough speed to get past linebacker
Julian Peterson
and catch a nice seam pass from Stafford. "He's had a really good rehab and we don't want to set him back by trying to do too much too soon," Schwartz said. At this rate, it seems quite reasonable to expect Pettigrew to be ready for a significant role in the season-opening game at Soldier Field. That has to be the best-case scenario the Lions could have imagined when the injury first occurred.
BIGGEST DISAPPOINTMENT
Two key parts of any defensive improvement the Lions will have this season weren't on the field for any part of the five practices I watched. Delmas hasn't practiced since the spring because of a groin injury that Schwartz said has healed but impacted his conditioning. But Delmas is an "established" player who probably could get away with missing a portion of training camp after starting 15 games last season. Linebacker
DeAndre Levy
, however, needs every practice rep he can get while making the permanent transition from the outside to the middle. Levy reported to training camp with tightness in his back, and he was pulled from practice this week. There is no long-term concern at this point, and the Lions must hope nothing develops. At this point, there are no viable internal options to turn to. Levy's backup is veteran
Vinny Ciurciu
, an undersized career special-teams player.
[+] Enlarge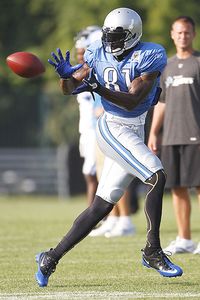 Gregory Shamus/Getty ImagesAdditional weapons on offense should open things up for Calvin Johnson.
OBSERVATION DECK
Burleson signed a five-year, $25 million contract in the offseason that included $11 in guaranteed money. Then, in one of the first meetings of the Lions' reconfigured receiver position, Burleson stood up to speak. "There's a lot of things that can get between players when new guys come along, especially when money's involved," he said. "So I made an announcement that I've been in the league long enough to know, as a guy who just got paid, I'm going play a lot. So my goal is to prove I'm worth more than what they paid me. I'm here for the team, not to pat myself on the back." In part because No. 1 receiver Calvin Johnson is so quiet, Burleson has taken on the leadership role of this group.

Johnson is hopeful that coverages will loosen on him this season, but it will require players like Burleson, making big plays to do it. Burleson doesn't think it will be a problem. "My goal is to come in and make enough plays to where Calvin will get more single coverage and Bryant [Johnson] will make plays," he said. "You hear about [Terrell Owens] and Chad [Ochocinco] in Cincinnati. I'm going to say firsthand that we will be the most-respected receiving corps after it's all said and done." Wow.

Suh is one serious man. During a news conference to announce his arrival to camp, a reporter asked a pretty standard first-day question for a top draft pick: "What are you going to treat yourself to after becoming a millionaire?" Most players bite and say they bought a new car, or a house for their mother or some such splurge. Suh? Here's what he said: "I'm treating myself to getting on this field and getting ready." OK then.

Vanden Bosch makes it a point to touch the ball on every practice play from scrimmage. Sometimes that happens at the line of scrimmage. But whether the play comes directly toward him or goes 30 yards downfield, he chases without fail. If that means sprinting 40 yards, so be it. Although the Lions didn't necessarily sign Vanden Bosch for that reason, he sets an excellent example for a historically moribund defense. "You don't get any points for that," Schwartz said. "But if I was a professional football player, I would hope that I would practice and I would play the way Kyle Vanden Bosch does. I think it is contagious for sure and I think that it's tremendous leadership. I think it makes the running backs better. The running backs are now finishing their runs deeper down the field because they don't want him catching them."

Right tackle Gosder Cherilus, the Lions' No. 1 draft pick in 2008, might be down to his final chance to lock down a permanent starting job. He's sharing repetitions with veteran Jon Jansen, and a decision might not come until the end of the preseason.

Linebacker Zack Follett is on his way to locking down the weakside linebacker job a year after he nearly cost himself his career with a poor showing in training camp. "I was running around like a chicken with my head cut off," Follett said. "This year, it's 100 percent different."

Poor Chris Houston. As the Lions' erstwhile No. 1 cornerback, Houston finds himself lined up against Johnson in 1-on-1 drills more often than not. That's not even fair. I saw Houston make some decent plays against other receivers, suggesting he deserves to be on the field as a starter. But few teams have a true No. 1 cornerback, and the Lions aren't one of them.

With Delmas injured, the same four players made up the first-team secondary during my visit: Houston and Jonathan Wade at cornerback, with C.C. Brown and Marvin White at safety. One thing I'll say is that Wade is feisty, even if he is a bit undersized. Delmas noticed the same thing. "He gave up a big play on Calvin," Delmas said. "And then he came back to us as a group and said, 'We can't do that! I can't do that!' Then he went out and didn't give up another big play. In order to be one of the best secondaries in the NFL, we have to start with that."

In an earlier post, I suggested that rookie receiver Tim Toone had looked sharp and ranked him no worse than No. 4 among the Lions' receivers. In the comments section, some of you suggested that second-year receiver Derrick Williams was having a better camp than I gave him credit for. All I can say is that every time I looked, Williams was dropping a pass while Toone was catching one. Regardless, there is a long way to go for both players.

One beneficiary of Suh's holdout was second-year defensive tackle Sammie Hill. Schwartz said Hill "has taken the biggest step that I've seen him take." Assuming those weren't just kind words for a player destined to cede his first-team status to Suh, this development offers the Lions a level of depth they didn't have last season.
July, 20, 2010
7/20/10
10:00
AM ET
Of the eight divisions, the NFC North reports to camp the latest. All four teams arrive July 30.
Figuring
Brett Favre
will report to Minnesota sometime after the Vikings break camp in Mankato, Minn., that seems fitting. All good things come to those who wait.
The NFC North, once known as a pounding-the-rock division, is now one of the more interesting for quarterback play. Favre, who is expected to return, and
Aaron Rodgers
of the Packers are among the league's elite quarterbacks.
Jay Cutler
of the Bears hopes to regain that status after a poor 2009 season. The Lions drafted
Matthew Stafford
with the hope of him being one of the next great ones.
FOUR BIG QUESTIONS
[+] Enlarge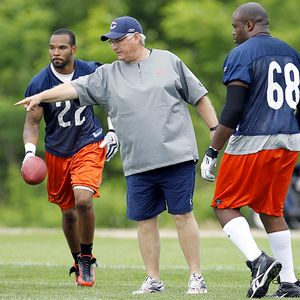 AP Photo/Nam Y. HuhThe addition of Mike Martz to run the Bears' offense should pay off on the scoreboard.
Chicago Bears
:
Can new offensive coordinator Mike Martz add enough offense to the Bears to catch up to the Vikings or Packers?
Martz adds five to six points a game to any offense he's around, so there is no question the Bears will be better on offense. Cutler likes what he sees, but the Bears must tighten their defense because the season will be a roller-coaster ride if they play 27-24 games every week. Keep an eye on the defense -- it ranked only 17
th
in 2009 -- in camp and during the preseason.
Detroit Lions
:
Can the Lions generate enough of a running game to make it easier on Stafford?
Probably not. The Lions averaged only 25.6 rushing attempts a game last season, meaning Stafford needed to complete 24 or 25 passes a game for the offense to be good. Keep an eye on rookie RB
Jahvid Best
in camp. He will add explosiveness. Last year's starter,
Kevin Smith
, is coming off knee reconstruction and may not be ready to earn quality first- and second-down yards.
Green Bay Packers
:
What's the biggest concern on defense?
The Packers must sort out their cornerback situation in camp.
Al Harris
is coming off a major injury, so they must make sure that
Tramon Williams
is ready to take over if Harris is not ready for the start of the regular season. They also must develop
Pat Lee
as a key backup just in case.
Minnesota Vikings:
While they wait for Favre to return, what is the main job of the Vikings' offense this summer?
[+] Enlarge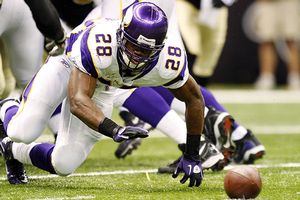 John David Mercer/US PresswireAdrian Peterson had nine fumbles in 2009, losing six.
Ensuring that
Adrian Peterson
protects the football would be nice. Peterson has an NFL-high 20 fumbles the past three seasons. Vikings head coach Brad Childress knows that Peterson's aggressive style sometimes will lead to fumbles, but a repeat of late-season fumbling issues by Peterson would not be good. Peterson fumbled twice and caused a turnover on a third play when he botched a handoff in the second quarter against the Saints in the NFC Championship Game.
HOTTEST SEATS
Bears
: Head coach Lovie Smith. This is an easy one. Smith is on the hottest seat in the division. If the Bears don't have a winning record this season, anyone who isn't a McCaskey or a Halas will lose his job. It's win or else.
Lions
: Right tackle
Gosder Cherilus
: Former Redskins veteran
Jon Jansen
was signed to be an insurance policy, but Jansen came out of the offseason program in competition for a starting job. The right tackle job is there for the taking. Cherilus is big and physical, but he's on the hot seat.
Packers:
Safety
Atari Bigby
. The Packers rewarded free safety
Nick Collins
with a four-year, $30.4 million contract. Bigby isn't happy that he was given the $1.759 million restricted tender and hasn't signed it. Plus, the Packers drafted strong safety
Morgan Burnett
in the third round and seem to like him.
Vikings
: Backup quarterback
Sage Rosenfels
. Before Favre joined the Vikings last season, Rosenfels competed against
Tarvaris Jackson
for the starting job. Rosenfels left the offseason program as the fourth quarterback, behind rookie
Joe Webb
, who was drafted to play receiver. Rosenfels' seat is burning.
SECRET WEAPON
Bears receivers:
Want a weird stat? The Bears are tied with the Vikings for most Pro Bowl players at wide receiver. That's right. The Vikings have
Sidney Rice
and
Percy Harvin
. The Packers have only
Donald Driver
as a Pro Bowler, although
Greg Jennings
has been on the Pro Bowl radar the past couple of years. Bears wide receivers
Devin Hester
and
Johnny Knox
have each been to the Pro Bowl. The problem is that each made it as a returner, not a receiver. Those trips vouch for their athletic abilities, but it makes them ultimate secret weapons in the Mike Martz offense. Hester has receiving skills similar to
Steve Smith
of the
Carolina Panthers
, but he tends to wear down the more routes he runs. Plus, he is challenged by the adjustments receivers must make on routes. Knox's game is speed, but the second-year player still must polish his receiving skills.
Martz and the Bears said they like their receiving corps, but how good is it? If Hester and Knox are raw talents who can turn into solid receivers, the Bears could emerge as one of the league's surprise offenses.
Another receiver to follow in training camp is
Devin Aromashodu
. This is Aromashodu's fifth team, but Jay Cutler treated him as though he were his favorite receiver in the second half of last season. He caught 22 passes in the final five games. It's hard to categorize Bears receivers into who is the legitimate No. 1, No. 2 or No. 3. It will be interesting to see how this sorts out in camp.
WILD CARD: DETROIT'S SECONDARY
How quickly the Lions' secondary jells this summer could determine the fate of Detroit's division rivals. In many ways, the Lions are the wild card of this division because the Vikings, Packers and Bears are each counting on two wins against Detroit if they want to get a better seeding in the playoffs or, in the case of the Bears, make the playoffs.
No secondary has undergone more change the past two offseasons than the Lions'. Detroit's passing defense was abysmal last season, ranking last in the NFL. Opponents threw for 266 yards a game, with a 68.1 completion percentage and a 107.0 QB rating. Obviously that won't cut it in a division that features Favre, Rodgers and Cutler.
Safety
Louis Delmas
, a second-round pick in 2009, seems to be a good piece to build around. Lions coach Jim Schwartz must sort out whether
Ko Simpson
,
Marquand Manuel
or
C.C. Brown
is the strong safety to pair with Delmas.
It's a roll of the dice at cornerback.
Eric King
is the only corner returning from last season, but he started only one game for the Lions. The Lions acquired
Chris Houston
from the Falcons in a trade and have high hopes for third-round choice
Amari Spievey
. The Lions also have
Jonathan Wade
and
Dre' Bly
, who played for Detroit from 2003-2006, but he's 33.
March, 15, 2010
3/15/10
10:06
AM ET
As we head into the second full week of free agency, it's probably a good time to revise
our look
at each NFC North team's unsigned players. We haven't had a restricted free agent (RFA) receive an offer sheet yet, so we'll limit this post to unrestricted free agents (UFAs) -- who have total freedom to sign with another team.
Chicago Bears
UFAs as of March 5:
Linebacker
Darrell McClover
, defensive end
Adewale Ogunleye
, running back
Adrian Peterson
, linebacker
Pisa Tinoisamoa
.
Comment:
None have re-signed. The Bears are trying to bring back Tinoisamoa.
Detroit Lions
UFAs as of March 5:
Linebacker
Vinny Ciurciu
, offensive lineman
Damion Cook
, quarterback
Daunte Culpepper
, tight end
Casey Fitzsimmons
, linebacker
Larry Foote
, tight end
Will Heller
, cornerback
Anthony Henry
, cornerback Will James, offensive lineman
Jon Jansen
, safety
Marquand Manuel
, quarterback
Patrick Ramsey
.
Comment:
Ciurciu, Heller and Jansen have re-signed. Foote seems likely to return to Pittsburgh.
Green Bay Packers
UFAs as of March 5:
Offensive lineman
Chad Clifton
, running back
Ahman Green
, linebacker
Aaron Kampman
, offensive lineman
Mark Tauscher
.
Comment:
Clifton and Tauscher have re-signed. Kampman signed with Jacksonville.
Minnesota Vikings
UFAs as of March 5:
Offensive lineman
Artis Hicks
, defensive tackle
Jimmy Kennedy
, cornerback
Benny Sapp
, running back
Chester Taylor
.
Comment:
Kennedy and Sapp re-signed. Taylor signed with Chicago. Hicks signed with Washington.
March, 5, 2010
3/05/10
5:07
PM ET
Detroit's acquisition of defensive tackle
Corey Williams
made veteran
Grady Jackson
expendable, and the Lions announced Jackson's release Friday afternoon.
The Lions have a much younger, healthier and cheaper version of Jackson already on their roster in
Sammie Lee Hill
. Williams and Hill could share time with either Ndamukong Suh or Gerald McCoy if the Lions make one of the latter two players the No. 2 overall pick in the draft.
Meanwhile, the Lions have also re-signed two of their unrestricted free agents Friday. Offensive lineman
Jon Jansen
and linebacker
Vinny Ciurciu
each agreed to one-year extensions.
March, 4, 2010
3/04/10
9:14
AM ET
Chicago Bears

Potential unrestricted free agents:
Linebacker
Darrell McClover
, defensive end
Adewale Ogunleye
, running back
Adrian Peterson
, linebacker
Pisa Tinoisamoa
.
Potential restricted free agents:
Defensive end
Mark Anderson
, safety
Josh Bullocks
, safety
Danieal Manning
, linebacker
Nick Roach
, linebacker
Jamar Williams
.
Franchise player:
None
What to expect:
With no picks in the first or second round of next month's draft, the Bears are gearing up for a relatively major jump into free agency. They're expected to bid for defensive end
Julius Peppers
and possible safety
Antrel Rolle
and would also like to re-sign linebacker Pisa Tinoisamoa. Tight end
Brandon Manumaleuna
could also be a target. Manumaleuna played for new offensive coordinator Mike Martz in St. Louis.
Detroit Lions

Potential unrestricted free agents:
Linebacker
Vinny Ciurciu
, offensive lineman
Damion Cook
, quarterback
Daunte Culpepper
, tight end
Casey Fitzsimmons
, linebacker
Larry Foote
, tight end
Will Heller
, cornerback
Anthony Henry
, cornerback
Will James
, offensive lineman
Jon Jansen
, safety
Marquand Manuel
, quarterback
Patrick Ramsey
.
Potential restricted free agents:
Defensive end
Copeland Bryan
, offensive lineman
Dylan Gandy
, defensive lineman
Jason Hunter
, offensive lineman
Daniel Loper
, offensive lineman
Manny Ramirez
, safety
Ko Simpson
, linebacker
Cody Spencer
.
Franchise player:
None
What to expect:
The Lions aren't likely to be as active as they were last year, but general manager
Martin Mayhew
said over the winter that he could envision a five- or six-man free agent class. Running back, defensive end and defensive back are all positions they will investigate. They'll also need to find a backup quarterback, assuming Daunte Culpepper moves on.
Green Bay Packers

Potential unrestricted free agents:
Offensive lineman
Chad Clifton
, running back
Ahman Green
, linebacker
Aaron Kampman
, offensive lineman
Mark Tauscher
.
Potential restricted free agents:
Safety
Atari Bigby
, defensive back
Will Blackmon
, offensive lineman
Daryn Colledge
, safety
Nick Collins
, defensive end
Johnny Jolly
, running back
John Kuhn
, offensive lineman
Jason Spitz
, cornerback
Tramon Williams
.
Franchise player:
Defensive tackle
Ryan Pickett
What to expect:
The Packers will have a demanding offseason filled with difficult decisions. To this point, they haven't re-signed either of their starting offensive tackles. They are clearly approaching injured linebacker Aaron Kampman with caution. And they have a long line of restricted free agents who would like long-term contracts, starting with Pro Bowl safety Nick Collins. The Packers have more than enough to keep them busy, but they haven't dabbled much in free agency in recent years, anyway.
Minnesota Vikings

Potential unrestricted free agents:
Offensive lineman
Artis Hicks
, defensive tackle
Jimmy Kennedy
, cornerback
Benny Sapp
, running back
Chester Taylor
.
Potential restricted free agents:
Offensive lineman
Ryan Cook
, defensive end
Ray Edwards
, defensive tackle
Fred Evans
, safety
Eric Frampton
, quarterback
Tarvaris Jackson
, fullback
Naufahu Tahi
.
Franchise player:
None.
What to expect:
The Vikings are awaiting word from quarterback
Brett Favre
on the 2010 season, a decision that could impact their offseason plans. They would like tailback Chester Taylor back, but it's possible Taylor will at least test his value on the open market. As a Final Four team, the Vikings will be limited to signing players that have been released by other teams unless they lose one of their own unrestricted free agents first.
February, 16, 2010
2/16/10
1:00
PM ET
»
AFC Free Agency
:
East
|
West
|
North
|
South
»
NFC
:
East
|
West
|
North
|
South
An early look at the free agency situation in the NFC North.
Note:
These projected lists reflect notable unrestricted free agents for each team. The NFL will not issue an official list of free agents until the signing period begins March 5.
Chicago Bears
Unrestricted free agents:
Linebacker
Darrell McClover
, defensive end
Adewale Ogunleye
, running back
Adrian Peterson
, linebacker
Pisa Tinoisamoa
.
Key figures:
Defensive end
Mark Anderson
and safety
Danieal Manning
are two key players who would have joined the list of unrestricted free agents if the NFL weren't on track for an uncapped offseason. The Bears can block both from moving now. Ogunleye is unlikely to return if he's seeking significant money. The Bears want to re-sign Tinoisamoa, even after his injury-shortened 2009 debut. Peterson's eight-year run with the team might be coming to a close.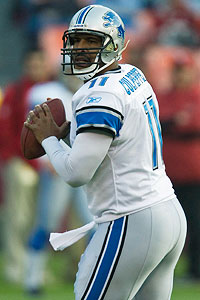 Jason O. Watson/US PresswireDaunte Culpepper could return to Detroit as Matthew Stafford's backup.
Detroit Lions
Unrestricted free agents:
Linebacker
Vinny Ciurciu
, offensive lineman
Damion Cook
, quarterback
Daunte Culpepper
, tight end
Casey Fitzsimmons
, linebacker
Larry Foote
, tight end
Will Heller
, cornerback
Anthony Henry
, cornerback
Will James
, offensive lineman
Jon Jansen
, safety
Marquand Manuel
, quarterback
Patrick Ramsey
.
Key figures:
The Lions have a total of 20 unrestricted and restricted free agents, a product of the extended roster tryouts they held throughout the 2009 season. The biggest name among their UFAs is Foote, who seems unlikely to return and should be replaced by
DeAndre Levy
. Culpepper will seek offers on the open market, but it's not out of the question he could return as
Matthew Stafford
's backup. James had some moments in 2009 and might be worth a return engagement.
Green Bay Packers
Unrestricted free agents:
Offensive tackle
Chad Clifton
, running back
Ahman Green
, linebacker
Aaron Kampman
, nose tackle
Ryan Pickett
, offensive tackle
Mark Tauscher
.
Key figures:
The Packers have a notable list that includes four starters and would have included six more if not for the uncapped year. Clifton will be 34 this summer and Tauscher will turn 33, and it's time for the Packers to begin a succession plan at both positions.
T.J. Lang
figures as Tauscher's replacement, but Tauscher was actually playing better than Clifton at the end of 2009. Kampman seems unlikely to return as a linebacker in the 3-4, especially while he rehabilitates a knee injury. Pickett could be phased out by
B.J. Raji
.
Minnesota Vikings
Unrestricted free agents:
Offensive lineman
Artis Hicks
, defensive lineman
Jimmy Kennedy
, receiver
Greg Lewis
, cornerback
Benny Sapp
, running back
Chester Taylor
.
Key figures:
Taylor is perhaps the most valuable backup tailback in the league, considering his abilities as a receiver and third-down converter. He will be 31 when the 2010 season begins, but figures to get some attention if he enters the free-agent market. The Vikings want him back, but probably won't devote a huge salary to him with starter
Adrian Peterson
approaching the expiration of his contract. Sapp probably made himself some money with a credible replacement of injured starter
Antoine Winfield
.
October, 13, 2009
10/13/09
11:00
AM ET
»
NFC Stock Watch
:
East
|
West
|
North
|
South
»
AFC
:
East
|
West
|
North
|
South

Posted by ESPN.com's Kevin Seifert
Falling

1. Detroit's offensive line:
We've singled out Lions tailback
Kevin Smith
several times for his minimal production, and Sunday he was limited to 53 yards on 20 carries. He's now averaging 3.1 yards per rush this season. But after watching Sunday's game, it's hard to blame Smith for running into brick walls. He isn't seeing much daylight. On Sunday, the Lions also allowed quarterback
Daunte Culpepper
to be sacked seven times. The Lions notably left their offensive line out of their offseason personnel overhaul, but it's clear it also has its limitations. Right tackle
Gosder Cherilus
missed the game because of injury and was replaced by veteran
Jon Jansen
. But let's be clear: No offense will get very far with a limited offensive line.
2. The Mark Tauscher move:
It's going to be difficult for Green Bay to emerge in a positive light from the decision to re-sign Tauscher. If he re-claims his starting job soon and plays well, the Packers will appear to have decided simply to bide their early-season time while waiting for him to recover from a knee injury rather than identity a long-term replacement. That decision contributed to an NFL-high 20 sacks over that span. If Tauscher demonstrates he either isn't ready to play or can't sustain a high level, you could come down on the Packers for not finding a better solution to their early-season problems. Consider it media semantics, but one way or the other, we'll find something to criticize.

3. Detroit's pass defense:
There's no way to single out one player for a group effort that has allowed opposing quarterbacks to complete 73.3 percent of their passes for 15 touchdowns and three interceptions. The Lions have made some improvement against the run, but they are totally vulnerable to the pass. To this point, personnel shuffling has done no good. Cornerback
Phillip Buchanon
has been in and out of the lineup, and the Lions have also inserted rookie linebacker
DeAndre Levy
as a starter. But the big problem is they have no one who has established a consistent pass rush. Using 240-pound linebacker
Julian Peterson
as a defensive end hasn't worked to this point.
Rising
1. Greg Jennings, Packers receiver:
Jennings has always appeared to be a classy player with a far more laid-back personality than many top NFL receivers. So that's why his words Monday should strike everyone as commendable and necessary. In a professional way, Jennings told reporters the Packers need to get him the ball more to ensure success for the long haul. He also didn't shy away from suggesting alternative ways to prevent pass protection woes from scuttling the entire offense. You know it's not Jennings' nature to speak out. So when he makes a strong statement, you should take it to heart.
2. Sidney Rice, Minnesota receiver:
People forget that when the Vikings drafted Rice in 2007, he was 20 years old. He didn't turn 21 until five months after the draft. What you're seeing now is the combination of a healthy, and now experienced, receiver who has developed exceptional ball skills despite mid-range speed that doesn't get him separation from many defensive backs. Rice caught a season-long 47-yard pass Sunday at St. Louis and has already surpasses his production from last season. Most importantly, Rice seems to have earned the trust of quarterback
Brett Favre
and has convinced him to throw his way even though he might appear covered. That's the true test of any pro receiver: Can he catch the ball in traffic? Rice has shown he can.

3. Minnesota's special teams:
We've never failed to point out the nine touchdowns the Vikings have allowed on special teams over the past 21 games. So it's only fair to point out that this season, they are having a positive impact on field position. The kickoff return team has helped the Vikings start their average drive at the 31.8-yard line, third best in the NFL. And their kickoff coverage team is forcing opponents to start their average drive at the 24.4-yard line, the 10th-best mark in the league. Sunday in St. Louis, the Rams started six drives inside their 21-yard line.
June, 18, 2009
6/18/09
12:00
PM ET
Posted by ESPN.com's Matt Mosley
A look at the key loss and his replacement for each team in the division:
Who's out: Terrell Owens, WR, cut and signed with Bills.
Who's in: Roy Williams, WR
Outlook: Williams was acquired so that he could complement T.O., but that thought was abandoned when Jerry Jones released T.O. after the season.
Williams becomes the de facto No. 1 receiver -- and he'll face enormous pressure. His '08 campaign was shaky at best, but he'll get every opportunity to shine this season. In my mind, 65 catches for 850 yards and eight touchdowns sounds about right.
Williams needs Miles Austin to continue to develop as the potential No. 2 receiver. Austin's speed could open things up for Williams to work the middle of the field. Williams has been frustrated by all the doubters, but they're not going anywhere -- unless he helps take the Cowboys to a playoff game.
Who's out: Plaxico Burress, WR, free agent awaiting trial
Who's in: Hakeem Nicks, WR
Outlook: The Giants won't ask Nicks to immediately replace Burress -- and they shouldn't. Domenik Hixon and Steve Smith should be able to hold the fort while Nicks gets up to speed.
But Nicks is too much of a playmaker to redshirt. At some point this season, he'll be called on to play a significant role. I think Eli Manning is relieved to not have the Plax drama hanging over his head this offseason.
I know that rookie Ramses Barden has a body type more like Burress', but he's more of a project at this point. Early in the season, the Giants will lean heavily on the running game. That should buy Nicks and Barden some time to grow up.
Who's out: Tra Thomas, LT, cut and signed with Jaguars
Who's in: Jason Peters, LT
Outlook: The trade for Peters jump-started the offseason. Yes, he gave up too many sacks last season in Buffalo, but he'll bounce back this season.
He finally feels appreciated, and I think he'll turn into one of the best in the league. You also have to remember the loss of Brian Dawkins. But Quintin Mikell is a pretty solid replacement. You get younger, although Dawkins' influence in the locker room will be missed.
Peters should make the Eagles a better running team -- immediately. Now, we just need to see how Brian Westbrook bounces back from a couple of offseason surgeries.
Who's out: Jon Jansen, RT, cut and signed with Lions
Who's in: Stephon Heyer, RT
Outlook: The Redskins didn't really have any major losses, although Shawn Springs was a very solid presence in the locker room.
Springs was still talented, but he couldn't stay on the field because of injuries. Jansen gave the Redskins almost a decade of service, but he had no business starting this season.
Right tackle is Heyer's job to lose, and I think he'll nail it down in training camp. It's still a potential soft spot for this offense, though. Heyer has excellent size and pretty good feet for a big guy. But I'm not convinced he's the long-term answer.
June, 1, 2009
6/01/09
8:25
AM ET
Posted by ESPN.com's Kevin Seifert
Hi there. Hope everyone had a great weekend.

I'll have some more thoughts on Minnesota's minicamp during the week. For now, I'm intrigued by an item buried midway through the weekend column of David Haugh from the Chicago Tribune. Haugh noted the volume of e-mails he has received that document the failure of new quarterback Jay Cutler to sign autographs around town.
One fan predicted that Cutler's decision to wave off fans would be his undoing in Chicago. I think that's a little dramatic and places an unfair standard on a guy who already is dealing with skyrocketing expectations. So the only way some fans are going to root for him is if he stops and signs autographs whenever they want?
There is a balance to that sort of thing, and it's something Cutler will have to deal with for a while. (See this excellent piece by Wayne Drehs of ESPN Chicago for more.) I'm sure Cutler realizes that most fans will base their loyalty on his performance in games, not how many autographs he signs during the offseason.
Let me know if you think differently. Otherwise, let's take a weekend look around the division:
February, 20, 2009
2/20/09
12:09
PM ET
Posted by ESPN.com's Matt Mosley
As far as NFL executives go, the Redskins' Vinny Cerrato is normally about the closest thing to an open book as you'll find. When his position as owner Daniel Snyder's right-hand man was eliminated by coach Marty Schottenheimer in 2001, Cerrato took his gift of the gab to ESPN, where he served as a college football analyst.
But before Snyder could even deliver the news that Schottenheimer was fired after one season, Cerrato was back on the payroll. The two have been inseparable ever since, which is something that annoys a lot of Redskins fans. Coaches come and go, but Cerrato is the one constant.
| | |
| --- | --- |
| | |
| | Andy Lyons/Getty Images |
| | Second-round picks Fred Davis and Devin Thomas have yet to contribute much on the field. |
He's now the executive vice president of football operations and he's led a delegation of coaches and scouts to the NFL combine this week in Indianapolis. I visited with him for about 20 minutes Thursday, although I did most of the visiting. Unlike our conversations in the past, Cerrato seemed determined not to shed any light on which direction the Redskins might go in free agency and the draft.
Cerrato asked whether Giants general manager Jerry Reese had pulled back the curtain on his plans for Plaxico Burress. I quickly informed him that Reese had e-mailed the plan over that very morning.
Cerrato's sick of hearing the same questions, but they're not going away anytime soon. When you draft two wide receivers and a tight end in the second round of the 2008 draft and they combine to do virtually nothing, the questions come from every direction. Devin Thomas has game-breaking speed, but his work ethic came into question last year. Malcolm Kelly had a knee injury and tight end Fred Davis out of USC seems like somewhat of a flake. Cerrato defended the draft picks, but he's also challenged each of them.
"You can't panic," he said. "The two receivers missed all of training camp. Malcolm had the knee injury. Devin and Fred will improve a lot. But I've told them them that our improvement as a team depends a lot on how they do this offseason. I'm putting the pressure on those guys."
Most people were relieved to see the Redskins bypass all the wild-spending in free agency to build through the draft last April. But out of nine picks, seventh-rounder Chris Horton was the only player to make a significant impact. On the surface, it looks like the Redskins grossly overestimated the core group of players that helped them make an emotional playoff run following Sean Taylor's tragic death in 2007.
Over the last eight years, the Redskins haven't made drafting offensive and defensive linemen a major priority. It's hard to believe they have drafted only four interior linemen in the first four rounds of the draft since 2000. And that's a large reason they now have the oldest offensive line in the NFL.
You can talk about the quarterback and the lack of a pass rush all you want, but this team's collapse in the second half of last season coincided with the breakdown of the offensive line. Pro Bowl left tackle Chris Samuels, a former first-round pick, suffered a season-ending injury and veteran players such as Jon Jansen, Randy Thomas and Pete Kendall appeared to wear down. Kendall is an unrestricted free agent and coach Jim Zorn revealed Thursday that Thomas recently underwent surgery for a neck injury.

Jason Campbell
#17 QB
Washington Redskins


2008 STATS
YDS
CMP%
TD
INT
RAT
3,245
62.3
13
6
84.3
But since this league's all about the quarterback, it's important to note that Jason Campbell is entering the final year of his contract. He would like the security of an extension this offseason, but the Redskins aren't showing any interest in making that happen. I reminded Cerrato (not that he needed it) how Jerry Jones ended up paying Tony Romo an extra $10 million or so because the quarterback played so well early in a contract year. And the Cardinals are now dealing with a similar issue with Kurt Warner. Still, Cerrato told me the Redskins don't feel any pressure to extend Campbell at this point.
"He made some strides last year," Cerrato said of Campbell. "He cut down his turnovers. I thought he made great strides with that."
But I've spent enough time with Campbell to know that he functions best when he believes the organization is completely behind him. The fact the Redskins aren't even considering an extension will be weighing on his mind as he enters t
he 2009 season. I know it was something that bothered Romo in 2007, but he used it as motivation and ended up sticking it to Jones, who didn't mind that much since the Cowboys were winning games.
Cerrato said he's talked to the agents for all of the team's unrestricted free agents. He didn't come out and say it, but it's pretty obvious that re-signing free-agent cornerback DeAngelo Hall is a major priority. Cerrato confirmed that he will meet with Hall's agent at the combine to discuss a long-term deal. But with corners such as the Colts' Kelvin Hayden receiving lucrative deals already, there's really no hope of Hall giving the Redskins a hometown discount.
"We're going to meet with his people," Cerrato said. "He played really well for us last year."
On the surface, it doesn't look like the Redskins have the salary cap space to do anything dramatic in free agency, but Cerrato said the team is in position to be relatively aggressive.
"We'll have room to do things," he said. "We've moved some things around to put us in position."
| | |
| --- | --- |
| | |
| | AP Photo/Tony Gutierrez |
| | Many mock drafts have the Redskins selecting Texas DE Brian Orakpo with the No. 13 pick. |
Of all the things that go into the combine, Cerrato said he values the interview sessions the most. The Redskins normally have six or seven people sitting in the room, and they used to bring in a psychologist. Cerrato said that quarterbacks Peyton Manning and Brady Quinn were two of the best interviews he's observed.
"I like the interviews because it's sort of an unknown," Cerrato said. "But the most important thing in the whole process is the film. That's where you gather a lot of the information."
Cerrato said the best combine workout he's ever seen involved former Notre Dame safety Tom Carter, who had 18 interceptions for the Redskins from 1993-96. He said Carter had a 42-inch vertical and ran a 4.3 in the 40-yard dash.
Cerrato's hoping he can find someone with similar ability in the No. 13 spot. The Redskins could end up taking an offensive lineman or a pass-rusher. He said this draft has a lot of "tweeners" at defensive end and outside linebacker. Texas defensive end Brian Orakpo keeps showing up on mock drafts at 13, but Cerrato wasn't about to tip his hand.
With only four picks in April's draft, though, the Redskins don't have much margin for error.

NFL SCOREBOARD
Thursday, 12/18
Saturday, 12/20
Sunday, 12/21
Monday, 12/22