June, 17, 2014
6/17/14
6:03
PM ET
PITTSBURGH -- I expected the street outside of the magnificent St. Paul Cathedral to be choked with people.
There instead was a smattering of onlookers across from the church when Steelers president Art Rooney II and Steelers legend "Mean" Joe Greene, among others, carried the casket into St. Paul's, shortly before 10 a.m. ET Tuesday.
I expected the service to be filled with remembrances from former players and others lucky enough to occupy the same orbit as the only coach to win four Super Bowls.
There was one story told -- it came from Bishop David A. Zubik, who presided over the service that lasted about an hour -- and no eulogy.
The final farewell to Charles Henry Noll, in other words could not have been more fitting.
[+] Enlarge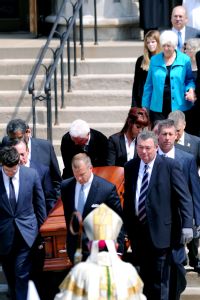 AP Photo/John HellerBishop David Zubik watches as pallbearers carry the casket of Chuck Noll out of St. Paul Cathedral.
Noll, who died at the age of 82 on Friday night, hated a fuss, particularly when someone tried to make one over him. That is why he probably would have been fuming instead of smiling following the outpouring of testimonials and talk of his towering legacy over the last four days.
It is also why his wife of almost 60 years gave pointed directions to Zubik when they planned the service held at the church that is tucked into the Oakland section of Pittsburgh.
"Marianne (Noll) just said she wanted it very simple," Zubik said. "She and I talked on Saturday and she wanted it to be as he lived his life -- no big fanfare."
Noll did receive a send-off befitting his stature simply based on who attended the service: NFL commissioner Roger Goodell and scores of former and current Steelers players, coaches and executives.
And the story Zubik relayed to mourners could not have better captured the essence of Chuck Noll. Zubik described how, as a young priest in Pittsburgh in 1979, he had to plan a retreat for high school seniors from area Catholic schools. And who better to give a talk on leadership than Chuck Noll? Zubik reached out to Noll through a friend and Noll agreed to speak to the group on the condition that Zubik tell no one about it.
Zubik kept his word but it looked like another Steelers' Super Bowl run would spoil Noll's speaking engagement. Noll, after all, had agreed to an appearance that was scheduled for two days after the Super Bowl.
But true to his word Noll showed up at the retreat less than 48 hours after the Steelers had won their fourth Super Bowl in six seasons. He talked to a group that included a Pittsburgh Central Catholic senior named Dan Marino. Oh, and, yeah, he drove himself there.
Zubik later got a call from one of the higher-ups in the Pittsburgh Diocese who wanted to know how in the world he had gotten Noll as a speaker. Zubik, in fact, had never met Noll.
That was the point, he said, of the story.
"For him it didn't matter how important you were or how unimportant you were," Zubik said. "Through his eyes everyone was important."
That was part of the consistency at which those who were around Noll on a regular basis marveled.
"What it takes to win on the field, what it takes to win off the field, he did not waver in that," Greene said.
Noll and Greene are forever linked -- the latter was Noll's first-ever draft pick -- which is fitting considering how much they did to transform an organization that had mostly known losing and dysfunction prior to their arrival.
Greene shudders to think how things would have turned out had the Steelers not taken him with the fourth overall pick of the 1969 draft.
And that has little to do with the four Super Bowl rings he won with Noll.
"Maybe I wouldn't have had an opportunity to be coached by Chuck Noll and that would not have fared very well for me," said Greene, who is widely considered the best player in Steelers' history.
It probably wouldn't have fared well for the Steelers either had they not hired a little-known 37-year assistant in 1969 who had played for Paul Brown and coached under Don Shula the previous season.
Noll went on to earn a place with Brown and Shula in the NFL coaching pantheon and then quietly walked away from the game in 1991.
He had receded from the public eye because of health problems years ago, but Noll's passing only reinforces how much time has passed since the Steelers ruled the 1970s -- a time when the steel mills were closing, jobs were drying up and Pittsburghers needed something to feel good about themselves.
"As we've lost Dwight White and L.C. (Greenwood) and some others, we want to hold on to the past and memories and we do," said former Steelers offensive tackle Jon Kolb, who played for and coached under Noll for almost 25 years. "But I think Chuck's passing, it is truly the end of an era because he truly did bring all of those folks together."
The day of his final farewell produced the kind of heat and humidity that Noll loved when he was putting his players through the paces at training camp. Noll may have been at his best when he was teaching on those grassy fields at St. Vincent College in Latrobe.
No stadium lights. No scoreboards. No fanfare.
Just the way he always wanted it.
June, 17, 2014
6/17/14
3:03
PM ET
PITTSBURGH -- Steelers players from multiple eras -- including this one -- attended
Chuck Noll's funeral
on Tuesday morning in the Oakland section of Pittsburgh.
[+] Enlarge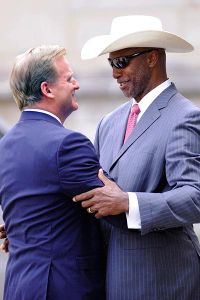 John Heller/AP PhotoNFL commisioner Roger Goodell and former Steelers CB Mel Blount embrace before Tuesday's funeral service for Chuck Noll in Pittsburgh.
Former Steelers greats such as Joe Greene, Franco Harris and John Stallworth were there. So were current players such as
Ben Roethlisberger
,
Maurkice Pouncey
and
Ike Taylor
.
Commissioner Roger Goodell represented the NFL at the service that lasted just over an hour and turned out to be the simple goodbye that Noll, who
passed away Friday
at the age of 82, would have wanted.
Make that demanded.
Dan Rooney, Art Rooney II, Kevin Colbert and Mike Tomlin also attended the funeral with Rooney II, the Steelers' president, joining Greene as one of the pallbearers.
No players spoke at the service but a handful of them talked afterward about what Noll meant to them and his legacy:
Hall of Fame defensive tackle Joe Greene played for the Steelers from 1969-81 and was Noll's first-ever draft pick.
"I used to be very, very bad-tempered with officials and Chuck said, 'You know Joe, those guys have families and kids and they probably don't like you talking to them like that,' and I stopped doing it. He just had a way of sharing information with you that was long lasting. There's not many days that go by when I don't think back on something that Charles Henry Noll said. Anytime I was around Chuck it was a learning experience. Just an outstanding person."
Offensive tackle Jon Kolb played for the Steelers from 1969-81 and then coached under Noll with the Steelers from 1982-91.
"I got to coach with him also for 10 years and he made the point to coaches that the game is about the players. We're here to help the players prepare. That was what he wanted to do and I believe just from the talks I had with him, he didn't just want to prepare for the moment and the season but preparation for life, which is not the norm."
[+] Enlarge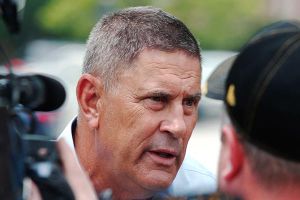 Keith Srakocic/AP PhotoJohn Banaszak recalls the opportunity Chuck Noll provided for him as a Steelers' defensive lineman.
John Banaszak played defensive tackle and defensive end for the Steelers from 1975-81.
"I was an undrafted rookie free agent and there were 17 draft choices in front of me, but Chuck gave me an opportunity and a chance to make that football team and I took advantage of it. I think whether or not I would have played seven years or I would have been (cut) two weeks into (his first) training camp he would have had a very big impact on me anyway. I learned that whether you're in business or you're a football coach or a football player, fundamentals are the essential parts of being successful. He stressed that regularly."
Tight end Mike Mularkey played for the Steelers from 1989-91 and coaches tight ends for the Tennessee Titans.
"You like to be around guys that like playing football and want to do it the right way. That's all he ever asked of his players, and I just told that to my guys in my (meeting) room this past week. He's the best coach I was fortunate to play for but I've gotten more from Chuck off the field about how to do things the right way. Family was important and a balance in life was important, and he showed that every day in his life. I hate to be here under these circumstances but I'm glad I got a chance to be here."
• Read more:
A
collection of memories
from Steelers who played for or coached with Noll.