NFL Nation:

Jon Richardson
July, 16, 2013
7/16/13
2:28
PM ET
Some very sad news out of Charlotte this afternoon. Jon Richardson, the son of Panthers owner Jerry Richardson,
has passed away
after a lengthy battle with cancer. He was 53.
I have very fond memories of Jon Richardson from my days covering the Panthers for The Charlotte Observer. Back in those days, Richardson and his brother, Mark, served, as presidents for the Panthers. Jon was in charge of the stadium, while Mark oversaw the business and football sides.
Much like his father, Jon Richardson was a man of the people. He didn't flaunt his wealth or status and was well respected by the team's employees. I had nothing but positive dealings with Jon Richardson on a professional level, but it went beyond that.
Back in my Observer days, Friday afternoons usually were quiet. I'd go to practice, get the update on the injury report and head to the Dowd YMCA for a workout. Apparently, Fridays also were slow for guys that run NFL stadiums because I used to bump into Jon at the gym.
I can't remember exactly how it started, but we shed our roles as reporter and stadium president. We started playing HORSE on the basketball court and, if other people were around, we'd play games of two-on-two or three-on-three.
The games stopped for a while when Jon first became ill. But he made a recovery and we started playing again. We had common ground because, around that same time, my sister was successfully battling leukemia.
Football was never part of the conversation on those Fridays. Instead, we talked basketball or about Jon's health or my sister's.
I didn't have any contact with Jon after his father fired him and Mark in 2009 (reportedly because the brothers couldn't get along).
But I'll always have the memories of Friday afternoons on the basketball court. And I'll always remember how Jon carried himself with no airs or pretenses.
I'll always remember that Jon Richardson was just a regular guy.
July, 21, 2011
7/21/11
11:26
AM ET
As owners and players appear to be closing in on a new labor agreement, I can't help but wonder if this is the last stand for
Carolina Panthers
owner Jerry Richardson.
He was designated by commissioner Roger Goodell a long time ago as the point man for owners in negotiations that have been tumultuous. Richardson's been accused of trying to break the players' union, taking a condescending tone toward players and may have been pushed aside by some more moderate owners in the late stages of the negotiations.
[+] Enlarge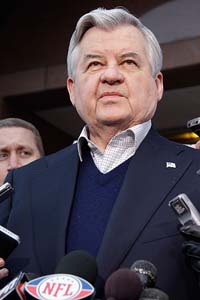 Rob Carr/Getty ImagesOnce a new labor deal is reached, Jerry Richardson may become less involved in league activites.
But, if a deal gets done, it would give Richardson a legacy. The new deal could guarantee labor peace for 10 years. You can bet that Richardson won't be on the point the next time around.
Richardson is 75 and I've got a hunch that once this deal is done, the only former player who is the majority owner of a team is going to take a step back. Ever since the Panthers entered the league in 1995, Goodell and former commissioner Paul Tagliabue have leaned very heavily on Richardson.
They've put him in charge of the stadium committee. They used Richardson as the point man in the previous labor deal, which owners later opted out of. They've also put Richardson on a bunch of other committees through the years because he's one of the most respected owners in the league.
Richardson long has believed the NFL is more important than his franchise. That's why the league logo -- not the team logo -- takes up the prime real estate at Bank of America Stadium. But Richardson has done more than enough for the league.
I'm not saying Richardson is going to flat-out retire. I'm not sure he has it in him to ever fully walk away from the league and the Panthers. But I think you're going to see him take a step back from league responsibilities and he'll resist any offers to join new committees.
Richardson's had some health issues. He had a heart transplant in 2009 and fired his sons, Mark and Jon, as team presidents soon after he returned to full duty. I think Richardson will remain active in running his own franchise, but he won't be quite as hands-on as he once was. Richardson likely will focus on big-picture decisions, but rely on his new power structure to handle day-to-day operations.
Richardson brought in Danny Morrison as team president. His job is to handle business matters and he gradually has been taking on a bigger role. General manager Marty Hurney handles football operations.
Richardson trusts both men completely. The Panthers still are Richardson's team, but look for him to step back a bit and let Hurney and Morrison run the franchise. Look for Richardson to let Goodell and other owners handle league matters going forward.
January, 6, 2010
1/06/10
2:30
PM ET
»
NFC Wrap-ups
:
East
|
West
|
North
|
South
»
AFC
:
East
|
West
|
North
|
South
»
Clayton
:
Video
|
AFC grades
...
NFC
»
More
:
Fantasy MVPs
|
FB Outsiders

|
Awards

A team-by-team analysis of the division. The arrow indicates which direction each team is trending.

New Orleans Saints
Final Power Ranking:
5
Biggest surprise:
Wide receiver
Robert Meachem
said in the preseason this would be the year he showed the world why the Saints took him in the first round in 2007. A lot of people rolled their eyes at that one because Meachem had been a big disappointment in his first two seasons. But the man came through on his word. Meachem turned into a big-time player for the Saints. He scored nine touchdowns, showed very good hands and made things happen after the catch. Most of all, Meachem earned the trust of quarterback
Drew Brees
. He's only going to keep getting better.

Biggest disappointment:
There weren't many in a 13-3 season. But you have to be a little concerned about the way the defense played over the second half of the season. After starting so well under new coordinator Gregg Williams, the defense slowed in its turnover production, in stopping the running game and had trouble with some ordinary passing games. Maybe things will go back to the way they were as the Saints get everybody healthy during the bye week. But recent indications leave questions about how much Williams really improved this defense.
Biggest need:
With
Charles Grant
getting older and injured for the playoffs, the spotlight starts to turn another defensive end: The Saints have a pretty good one in
Will Smith
. But they could use another consistent pass-rusher who would cover up any problems in the secondary.
Team MVP:
Brees. You can make a strong case for him as the league MVP. Even though that honor probably will go to
Peyton Manning
, who grew up in New Orleans, most people in New Orleans will swear that Brees is the real MVP.
Best move not made:
The Saints talked about signing
Edgerrin James
or drafting
Beanie Wells
. They did neither and that turned out to be a brilliant move. The Saints went with a combination of
Pierre Thomas
,
Mike Bell
and
Reggie Bush
, and coach Sean Payton made a strong commitment to the running game that paid off.
---

Atlanta Falcons
Final Power Ranking:
15
Biggest surprise:
The schedule. The NFL handed the Falcons one of the league's toughest schedules, including games against a bunch of teams coming off their byes. In some ways, it might have been payback for a light load in 2008, but it also seemed like the Falcons ran into a lot of teams when those teams were playing their best football of the season.

Biggest disappointment:
The running game, which was so dominant in 2008's playoff season, struggled with consistency most of the year. Just when it seemed as if
Michael Turner
was starting to get back to last year's form, he got hurt and missed a lot of playing time down the stretch. The Falcons need to determine why Turner struggled and they have to address the reasons in the offseason. If Turner wasn't in shape or wasn't running well, it might be time to bring in an alternative. If the problem was with the offensive line, the Falcons need to go out and upgrade it.
Biggest need:
A pass rush. Veteran
John Abraham
dropped off dramatically and no one else really stepped up. The Falcons need to get help for Abraham and an heir apparent. You could also say there are big needs in the secondary, but I don't think they're quite as dramatic. The old adage is that the best pass defense is a good pass rush. The Falcons need a better pass rush than they had this year.
Team MVP:
Curtis Lofton
. In his second season, and with some good guidance from veteran
Mike Peterson
, the second-year linebacker emerged as an on-field force and leader of a defense that got better as the season went on. Lofton became an every-down linebacker this year and anchored a run defense that allowed only one running back to run for 100 yards, and that was New England's
Fred Taylor
in Week 3. Lofton didn't make the Pro Bowl, but Atlanta's coaches will tell you he played at that kind of level. If he keeps doing that, he'll end up in the Pro Bowl when the Falcons become a playoff team.
Remember the rookies:
A lot of people want to call general manager Thomas Dimitroff's second draft a bust, especially since his first one was so great. But that's not fair or accurate. The top two picks, defensive tackle
Peria Jerry
and safety
William Moore
, went down with season-ending injuries before they really had a chance to make an impact. In Jerry's limited time, you could see he was going to be a difference-maker. He'll have to make that difference a year later than expected.
---

Carolina Panthers
Final Power Ranking:
18
Biggest surprise:
Julius Peppers
. After making noise about wanting out of Carolina in the offseason, Peppers wound up sticking around. Somewhat out of character, Peppers showed up on a pretty consistent basis and was dominant at times. Of course, it might be argued Peppers was only showing up so he could earn himself a big contract somewhere else. That might be the truth.

Biggest disappointment:
I still haven't figured out what happened to quarterback
Jake Delhomme
. No, he never was Peyton Manning or
Tom Brady
. But for a very long time, he did a nice job of managing games and being reliable for Carolina's ball-control offense. But Delhomme started throwing interceptions in bunches for no apparent reason. His performance ended up looking even worse when backup
Matt Moore
came in and actually had some success. We still don't know for sure if Moore is good enough to be Carolina's starting quarterback, but it's painfully obvious Delhomme isn't that anymore.
Biggest need:
A quarterback. Let's be real honest here. Moore did some very good things and he could end up being the answer. But has he really shown enough for us to know that for certain? No, period. At very least, the Panthers have to bring in a quarterback capable of competing with Moore for the starting job. This team has too much talent and John Fox has too much on the line not to have another strong option at quarterback.
Team MVP:
Linebacker
Jon Beason
. Peppers had some big games, but Beason was a steady force on a defense that ended up being the best in the NFC South. He had 142 tackles and made some big plays. Beason wasn't too happy when he was snubbed by Pro Bowl voters. He's got a good point –- and he's got plenty of motivation now.
What the heck?:
There wasn't a more stunning move off the field in the NFC South than owner Jerry Richardson firing sons Mark and Jon just before the season started. The Richardson brothers had largely been running the day-to-day operations of this team for a long time. We probably will never know the full story, but it's safe to say the Richardson brothers had a major clash and their father thought it was so divisive that the franchise would be better off without them.
---

Tampa Bay Buccaneers
Final Power Ranking:
30
Biggest surprise:
Oh, man, where do I start? This team had all sorts of surprises and most of them weren't good. I guess I'll go with the firing of offensive coordinator Jeff Jagodzinski about a week before the regular season started. It was followed by claims Jagodzinski wasn't organized and that his playbook was basically a pamphlet. If all that's true, how did Raheem Morris miss the warning signs as he did his homework?

Biggest disappointment:
Again, there are plenty of possibilities. But I'm going with receiver
Antonio Bryant
. He had a huge season last year and the Bucs placed the franchise tag on him. It meant he didn't get a long-term contract, but it also meant he made about $10 million a season. The basic message from the Bucs was, "go out and show us you can do it one more time and we'll reward you''. Instead of doing that, Bryant did little for much of the year and, then, had the nerve to point the blame at just about everyone but himself. Umm, that's not how you get a long-term deal. Good luck in free agency.
Biggest need:
A defensive tackle. Yeah, there are needs just about everywhere, but this one is easily the biggest. Sad part is, it was the biggest need last offseason and, other than drafting
Roy Miller
in the third round, the Bucs didn't address this. It was an obvious problem in the final month of Jon Gruden's last season and the Bucs somehow decided
Chris Hovan
and
Ryan Sims
were the answer. They can't think that this time around.
Team MVP:
Josh Freeman
. The rookie quarterback played only about half a season, but he's the reason Morris is keeping his job. Freeman made some rookie mistakes, but he also had some moments of brilliance. At those times, it made you wonder what this kid can do with some real wide receivers to throw to.
Let's finish with something positive:
Easy -–
Sammie Stroughter
. The Bucs took a shot on the wide receiver, who had some personal problems in college, in the seventh round. Stroughter turned out to be their best receiver and a pretty good return man. So no, not every move the Bucs made was a disaster.
September, 28, 2009
9/28/09
2:21
PM ET

Posted by ESPN.com's Pat Yasinskas
We already know the
Carolina Panthers
face a
must-win game
tonight against Dallas.
So what happens if they don't win? Well, just about everything in Carolina probably will tumble.
The process may already have started when Mark and Jon Richardson resigned as team presidents just before the season opened. New team president Danny Morrison will get his first
in-person look
at the Panthers tonight.
Morrison's going to play a big part in the future of this franchise, but I'd be more interested in hearing what's going through the mind of owner Jerry Richardson if the Panthers lose to the Cowboys. It would be the first time the Panthers have started 0-3 since 1998. That's the year the Panthers lost their first seven games and finished 4-12.
That season cost coach Dom Capers his job, just two seasons after he took the Panthers to the NFC Championship Game. Current coach John Fox has done a lot for this franchise and there's still time to turn it around.
But Fox never has had back-to-back winning seasons and Richardson is painfully aware of that. A loss tonight greatly diminishes the chances of the Panthers making the playoffs or having a winning season. That would increase the chances of Fox losing his job.
Does it end there?
Probably not. Fox and general manager Marty Hurney have been a package deal throughout their time together in Carolina. If Fox goes, Hurney probably goes, too. But that's not quite as automatic as many might think. Hurney has a strong relationship with Richardson. Hurney survived the George Seifert regime and could survive this.
Richardson basically let Hurney hire Fox. He might let Hurney make the next hire.
September, 2, 2009
9/02/09
2:02
PM ET

Posted by ESPN.com's Pat Yasinskas

The Panthers just announced the hiring of a new team president. Here's a copy of the story I just sent to our news desk:

The Carolina Panthers have named Danny Morrison as team president, a day after Mark and Jon Richardson resigned from their executive posts with the team.

Morrison, who spent the last four years as director of athletics for Texas Christian University, has deep ties to the organization. He previously worked at Wofford College, the alma mater of Panthers owner Jerry Richardson and the site of the team's training camp for the first 15 years of its existence.

"We are very familiar with Danny and he is very familiar with our organization," Jerry Richardson said in a statement issued by the team. "He has been successful as a college administrator and commissioner and brings a business expertise and sense of community that fits the position perfectly."

The move comes after Mark and Jon Richardson, the owner's only sons, resigned from their posts as team and stadium presidents. The team has not given any reason for the departures, although the Richardson sons will remain part of the team's ownership group.

The team said Morrison's role will include business operations, Bank of America Stadium business interests and representing the team in league matters. Morris will start his new role in about a month, the team said.

"We have been blessed to be part of the TCU and Fort Worth communities for the last four years. I have had a wonderful experience working at Texas Christian with Chancellor Boschini and the entire staff at the university. Leaving is not easy, but working with Jerry Richardson and the Carolina Panthers is a tremendous opportunity," says Morrison. "I am thrilled to be joining an organization I have followed closely since its inception. Meeting the high standards that Mr. Richardson sets is a challenge I embrace."
September, 2, 2009
9/02/09
11:01
AM ET

Posted by ESPN.com's Pat Yasinskas
In the 24 hours or so since Mark and Jon Richardson resigned their positions as presidents with the
Carolina Panthers
, I've talked to a lot of friends and professional acquaintances in Charlotte. Most of the time, I felt like I was talking to people in Boston.
It seems like Panthers fans suddenly have become the second coming of Red Sox fans. You know the attitude -- a general acceptance that anything that can go wrong will, and an overall gloomy view before the season even starts.
I think that's a mistake. Sure, it doesn't quite look like the stars have been lining up for the Panthers this preseason. The defense has looked bad, injuries are piling up and the change at the top, at the very least, suggests there was some dysfunction within the organization.
But does all that just turn a team that was 12-4 last season into a 6-10 team? I'm not buying it and I grew up a Red Sox fan in the most cruel years in the team's history.
Sure, there are things to be concerned about with the Panthers. The defense has to play better than it has in the preseason, the injuries to linebacker
Jon Beason
, running back
Jonathan Stewart
, linebacker
Thomas Davis
and safety
Charles Godfrey
are reasons for worry, and the Richardson saga creates drama for a team that doesn't like drama at an inopportune time.
But you know what? Every team has some issues with the regular season almost upon us, and the Panthers have less issues than a lot of teams out there. They've also got plenty of positives -- a great running game, a very good offensive line,
Steve Smith
and the possibility of a huge year by
Julius Peppers
.
You really think the resignations by the Richardsons are going to impact this team on the field? Mark Richardson made sponsorship deals. Jon Richardson made sure the grass grew and the lights worked at Bank of America Stadium. Few of the players had direct interaction with the Richardson brothers.
Just because they resigned, don't go resigning yourself to the assumption the Panthers are in for a long season.
September, 1, 2009
9/01/09
12:59
PM ET

Posted by ESPN.com's Pat Yasinskas
Bizarre
story
out of Carolina on Tuesday. David Scott and Charles Chandler report that Mark Richardson has resigned as the Panthers president and brother Jon Richardson has resigned as stadium president.
The Panthers aren't giving any explanation yet and this one seems really strange because the Richardson brothers essentially have been running things the last few years -- even before father and team owner Jerry Richardson underwent a heart transplant in February.
The Richardson brothers will remain part of the franchise ownership group, but this one smacks of some sort of internal conflict. Mark Richardson has been influential in league circles and is a member of the competition committee -- although we'll see if this changes that. Jerry Richardson still is recovering from his surgery and has resumed some duties. The Panthers have been run almost entirely by the Richardson family since they came into existence and it's hard to imagine that changing.
I'll check around and see if I can get more details on what's behind this very strange move.

NFL SCOREBOARD
Sunday, 12/28
WEEKLY LEADERS