November, 17, 2014
11/17/14
6:15
PM ET
By
Lee Schechter, Special to ESPNBoston.com
| ESPN.com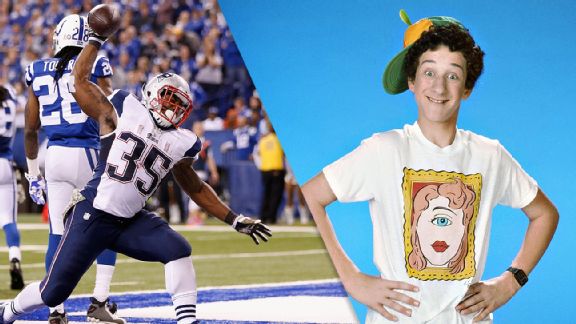 Getty ImagesLong before he torched the Colts, Jonas Gray did stand-up comedy on the same bill as "Screech" (aka Dustin Diamond).
FOXBOROUGH, Mass. -- Word is quickly spreading that the
New England Patriots
have a player with experience in comedy, and it just so happens he also was the star of Sunday night's
42-20 win
against the
Indianapolis Colts
.
Running back
Jonas Gray
isn't just a rumbling, power runner who stampeded all over the Colts' defense for 199 yards and four touchdowns. He is also a stand-up comic.
Fullback
James Develin
, who was Gray's lead blocker throughout the night, said he just found out about Gray's hidden talent.
"One little thing I found out today is that he used to be a comic," Develin said. "I guess he opened up for 'Screech' back in college or something like that."
Yes, Gray opened up for "Screech," who was played by Dustin Diamond in "Saved by the Bell."
"I mean, I feel better about him," Develin said. "It's opening up for somebody. It doesn't matter who it is."
In the locker room on Monday, Gray was asked about his stand-up comedy.
"No comment," Gray said. "No, I'm joking. Back in the day, I called myself a funny guy and did a little stand-up. I was pretty successful at it here and there. Booed off stage a few times."
Gray talked about the experience of opening for "Screech" and whether Gray may have stolen the spotlight from the more famous comedian.
"I think it was a reverse. No, no, no, I'm just joking," Gray said. "It was an honor. He did a good job."
Gray hasn't tried out his routines on his teammates yet, but Develin wasn't surprised to hear Gray is also a comedian.
"No, he's actually a pretty fun guy just around the locker room," Develin said. "It doesn't surprise me at all."
Team captain and safety
Devin McCourty
isn't ready to give out his critique of Gray the comedian.
"I haven't seen it so I don't want to get on him too bad before I actually get to view it," McCourty said.
One reporter asked Gray if he could provide an example of one of his jokes.
"No, no. I don't want anybody to steal them," Gray said. "You never know when they might come in handy."
Gray compared his comedic style to that of Kevin James, who is best known as Doug Heffernan on "King of Queens," because he gets the crowd involved. Gray expects his teammates to request some jokes now that his once-previously hidden talents have come to light.
"They will probably want me to tell a few jokes here and there," Gray said. "I'll give them a few good one-liners and [my teammates] will be OK."
Gray was asked about what his coach, Bill Belichick, will have to say about his comedy. Naturally, Gray cracked a joke about his coach, who isn't exactly known for his sense of humor.
"He would probably say, 'We are on to Detroit,'" Gray said.
Even with a career in comedy that Gray called successful, he isn't ready to quit his real job as an NFL running back, especially after the breakout performance he has worked his entire life for. Gray hasn't had the easiest journey after tearing his ACL during his senior year at Notre Dame, rehabbing it in Miami, playing on Baltimore's practice squad and then emerging with the Patriots this season.
Gray, who carries himself with confidence, a genuine passion for football and exceptional work ethic, said he never thought about going into comedy if football didn't work out.
In fact, he is all business at practice and in games.
"I'm a different player on the field," Gray said. "There's not a whole lot of room for laughing and comedy especially when I'm on the field. Maybe on the sideline a few times."
August, 31, 2013
8/31/13
9:30
PM ET

Most significant move:
The Dolphins had several tough decisions to make at the bottom of their roster. Perhaps the biggest call was whether to keep three quarterbacks -- and Miami opted Saturday to keep third-stringer
Pat Devlin
. Devlin played nearly all of Miami's fifth preseason game against the
New Orleans Saints
and threw for 259 yards, two touchdowns and two interceptions. Devlin showed some good and some bad, and it was just enough.
Several other bubble players didn't make the team. Wide receiver
Marvin McNutt
and defensive linemen
Kheeston Randall
and
A.J. Francis
were all in the running for the 53-man roster; all three are strong candidates for Miami's practice squad. There's also the chance that any of the players cut will be scooped up by other teams. That probably explains why the Dolphins were the last NFL team to release their list of cuts Saturday night -- there had to be some gamesmanship involved.
Close calls:
Several Dolphins who made the 53-man roster won't be able to rest easy. Cornerback
R.J. Stanford
, defensive back
Don Jones
, tight end
Michael Egnew
and offensive tackle
Will Yeatman
are among several bubble players who still have jobs.
For Egnew and Stanford in particular, injuries during the course of training camp and the preseason helped their case. The Dolphins might not be finished adding players this weekend, however.
What's next:
Like most teams, Miami will examine the waiver wires closely. Miami spent $200 million in free agency this offseason but is far from a perfect team. The Dolphins can use additional depth at positions such as offensive line, tight end and now wide receiver. By cutting McNutt and
Chad Bumphis
, the Dolphins only have four receivers on their roster. That will change soon. Miami runs a lot of three-receiver sets and needs more players at the position.
It's also time for Miami to set its sights on a Week 1 road game against the
Cleveland Browns
. The Dolphins have playoff aspirations this season, but they must win their first road game to set the tone in 2013.
Dolphins cuts:
G
Chris Barker
, C
Sam Brenner
, WR Chad Bumphis, WR
Keenan Davis
, DT
A.J. Francis
, RB
Jonas Gray
, S
Keelan Johnson
, S
Jordan Kovacs
, T
Andrew McDonald
, WR Marvin McNutt, TE
Kyle Miller
, DE
Tristin Okpalaugo
, CB
Julian Posey
, CB
De'Andre Presley
, DT Kheeston Randal
l
, DT
Tracy Robertson
, LB
Lee Robinson
, LB
Austin Spitler
, WR
Brian Tyms
, OT
Jeff Adams
(waived/injured), QB
Aaron Corp
(waived/injured), LB
Antwan Applewhite
(terminated contract).
August, 23, 2013
8/23/13
2:00
PM ET

MIAMI – The
Miami Dolphins
will play host to the
Tampa Bay Buccaneers
Saturday night in the "dress rehearsal" game for both teams. The first round of cuts to 75 will be next Tuesday, and the final cut to 53 players is coming on Aug. 31.
This is a huge game for Miami's players who are on the verge of making the team or getting released. Here are five players who need a good performance Saturday night:
1. RB Jonas Gray
Analysis:
It's not often that a team keeps four running backs. But Gray is doing everything he can to make that a tough decision for Miami. Gray has been solid in training camp and preseason games. He even carved out a potential role as a short-yardage and goal-line option for the Dolphins this preseason, which he's done well.
Lamar Miller
and
Daniel Thomas
are locks for the 53-man roster.
Mike Gillislee
also is a draft pick, so he also sticks. Gray is fighting a number's game, and needs to prove Saturday why it is worth keeping an extra tailback.
2. DT A.J. Francis
Analysis:
Perhaps no Dolphins backup has come on stronger in the past week or 10 days than Francis. The light has come on for the raw defensive lineman. Francis put together two good weeks of practice, and had an impressive preseason game last Saturday against the
Houston Texans
. The problem is that the defensive line is the deepest area of the team. My latest
Miami roster projection
has nine defensive linemen, and Francis didn't make the cut. Ideally, the Dolphins would like to keep Francis on the practice squad. But that would risk Miami losing him to another team. Saturday is a good chance for Francis to show why he deserves to be on a 53-man roster -- whether it is Miami's or someone else's roster.
3. Guard Lance Louis
Analysis:
Louis has been in a rough spot in training camp. The four-year veteran is coming off ACL surgery. He missed valuable practice time, but also needed to come back early enough to show what he can do before roster cuts. Louis has plenty of starting experience, but he's still rusty and probably not 100 percent. Louis was my last offensive lineman to make the cut. Much of that was because other offensive linemen are injured. This is a big game for Louis to validate his standing.
4. WR Marvin McNutt
Analysis:
McNutt is in a neck-and-neck roster battle with fellow receiver
Chad Bumphis
. McNutt started training camp fast, then Bumphis took the lead, but lately McNutt is back to making more plays in practice. McNutt also has the size Miami's coaching staff covets. He just needs to work on his consistency. Bumphis is a slot receiver who doesn't offer much versatility. But this battle is still up for grabs, and could come down to the final two preseason games.
5. FB Jorvorski Lane
Analysis:
Lane, last year's starting fullback, has really seen his stock drop in training camp and the preseason. Miami's coaching staff has moved in the direction of versatility and position-flexibility on offense. Therefore, players like
Charles Clay
and
Evan Rodriguez
are getting more reps ahead of Lane, who is a pure fullback. If roster cuts were today, I would expect Rodriguez to get the nod over Lane. Rodriguez is a better athlete, receiver and can play special teams. Lane's chances are dwindling fast. He has two more preseason games to try to earn a roster spot.
August, 19, 2013
8/19/13
4:00
PM ET
MIAMI -- Three preseason games are in the books for the
Miami Dolphins
.
Let's take a look at whose stock is rising and falling for Miami:
Falling
1. Dolphins' tight-end depth:
This weekend, Miami lost starting tight end
Dustin Keller
for the year with a knee injury. This is a big blow for the Dolphins, who were counting on Keller to stay healthy, produce and provide veteran leadership. Now Miami is scrambling to find answers with young players. The Dolphins have four young tight ends on the roster:
Dion Sims
,
Michael Egnew
,
Kyle Miller
and H-back
Charles Clay
. This will be a good test of Miami's depth. Sims, Egnew and Clay were all recent draft picks of the past three years by Dolphins general manager Jeff Ireland. If Ireland got it right, at least one of these in-house tight ends should be able to step up and play a bigger role.
2. Dolphins backup O-line:
If you thought Miami's starters struggled at times, the Dolphins' backup offensive line was worse. Players like offensive tackles
Will Yeatman
and
Dallas Thomas
did not do enough to inspire confidence from Miami's coaching staff. Second-string quarterback
Matt Moore
(four sacks) was being thrown around in the second half. The Dolphins need some of these backups to step up and earn roster spots. Injuries happen every year on the offensive line, and someone needs to gain the confidence of the coaching staff. That hasn't been the case so far in three preseason games.
3. Will Davis, cornerback:
Miami's third-round pick has been one of the surprise players of training camp. Davis has made a lot of big plays, but he struggled in his third preseason game against the Texans. Davis was beat on a double-move during a 38-yard touchdown catch by
Houston Texans
receiver
Lestar Jean
. Davis also played loose on coverage on a few other plays. Davis has made a lot of interceptions in practice and has a pick in the preseason. But he needs to work on being more consistent.
Rising
[+] Enlarge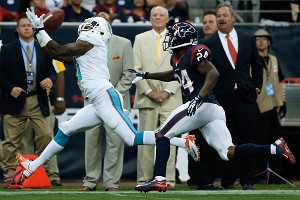 Scott Halleran/Getty ImagesDolphins fans finally got to see Mike Wallace, the team's prized free agent this offseason, catch some balls in Miami's preseason game against Houston.
1. Mike Wallace, receiver:
Miami fans were prematurely getting antsy because Wallace hadn't caught a pass in the preseason. But Wallace exploded in the first quarter of Saturday's preseason game against the Texans with three catches for 58 yards and a touchdown on one drive. Wallace showed a full array of skills against the Texans. He caught a short, intermediate and deep pass on the drive. Dolphins quarterback
Ryan Tannehill
and Wallace began a good week in practice and it carried over into the game. Dolphins fans can relax now that they saw the combo's potential in the preseason.
2. Daniel Thomas, running back:
With
Lamar Miller
the probable starter, the No. 2 tailback position was close between Thomas, rookie
Mike Gillislee
and
Jonas Gray
. But Thomas did a good job to separate himself with a strong performance against Houston. Thomas rushed for 25 yards on four carries and caught a 27-yard shovel pass. Health permitting, Thomas is now the clear favorite to be the first tailback off the bench to spell Miller. Thomas has been inconsistent and had issues with fumbling and injuries the past two seasons. But coaches have been raving about Thomas in Year 3, and he's showing signs greater consistency.
3. A.J. Francis, defensive tackle:
Miami's defensive line is easily the deepest area of the team. The second- and third-string defensive linemen have been stout throughout training camp and the preseason. This week Francis, a third-stringer, had a good performance in limited playing time. Francis finished with two tackles, a tackle for loss, a quarterback pressure and a tipped pass. Francis was disruptive and showed good strength and movement down the line of scrimmage. It's going to be very hard to make the Dolphins as a defensive lineman, but he made a good case Saturday night.
August, 17, 2013
8/17/13
2:30
PM ET
The
Miami Dolphins
will travel to play their third preseason game Saturday at 8 p.m. ET against the
Houston Texans
. Miami split its first two preseason games.


Here are three things to watch in Saturday's exhibition game for Miami:
1. Fast start for offense:
It's only the preseason, but it's clear that Miami head coach Joe Philbin is getting annoyed by the notoriously slow starts on offense. The Dolphins' first offensive play in the Hall of Fame Game against the
Dallas Cowboys
was a lost fumble, and Miami's first play last week against the
Jacksonville Jaguars
was a sack on starting quarterback
Ryan Tannehill
. It has taken Miami's offense several series in both games to get warmed up. Philbin wants Tannehill and the Dolphins offense to hit the ground running and put together a strong drive right away against a solid Texans defense. The offensive line for Miami will be key.
2. Running back competition:
Lamar Miller
is Miami's projected starting tailback. But after Miller, things are getting very interesting at running back.
Daniel Thomas
,
Jonas Gray
and rookie
Mike Gillislee
are all battling for roles. Miami offensive coordinator Mike Sherman said this week that it's possible the team will keep four tailbacks, but that's usually not the norm. Someone from this trio needs to create separation. A strong rushing performance against a talented Houston team could go a long way to helping the coaching staff make a decision.
3. Find depth on defense:
Miami's first-team defense is pretty much set. But this group is still looking for backups and role players who can make an impact this season. This will be a particularly big game for backups at linebacker. There have not been many flashes outside of the starters in the preseason. Reserves like
Jason Trusnik
,
Austin Spitler
, and rookie
Jelani Jenkins
must show they're ready to fill in if needed. That also goes for backups in the secondary and on the defensive line.
August, 13, 2013
8/13/13
8:00
AM ET
DAVIE, Fla. -- The
Miami Dolphins
have a problem at running back. But if you poll Miami's coaching staff, most would say it's a good problem to have.
Based on their performance in training camp and the preseason, the Dolphins may have too many solid running backs to choose from. So much is the case that backup tailback and primary kick returner
Marcus Thigpen
is already switching positions to become a slot receiver. There simply aren't enough carries to go around.
The top four players at tailback for the Dolphins are
Lamar Miller
-- Miami's probable starter -- and backups
Daniel Thomas
,
Jonas Gray
and rookie
Mike Gillislee
. All have shown flashes and caught the eye of their coaching staff.
[+] Enlarge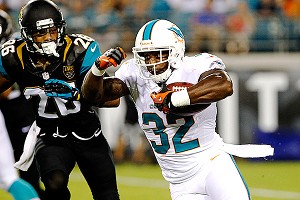 Kim Klement/USA TODAY SportsRunning back Jonas Gray has had two strong performances this preseason for Miami.
Typically, most teams keep three tailbacks, which could set up an interesting numbers game when it's time to trim down to a 53-man roster.
"Yeah, I would say it's pretty close, the running back competition," Dolphins offensive coordinator Mike Sherman said this week. "I thought that Daniel Thomas did a really nice job in the game the other day. Certainly Miller has had his shining moments as well, and some of the younger guys have stepped up.
"So some of the finer points are going to come up. How well do you catch? How well do you pass block? I think from a running standpoint we have some pretty good runners, but to be the complete back, they have to be able to do all of those things."
Sherman brought up an interesting point that Miami is searching for a complete running back. Miami's top four tailbacks all have their strengths and weaknesses.
Miller is by far the best pure runner. His speed, quickness and ability to dart through defenses helped Miller lead the Dolphins last year with 4.9 yards per carry. Miller is most likely Miami's Week 1 starter, barring injury.
The Dolphins' backups have a lot to prove. Thomas is a former 2011 second-round pick who hasn't panned out. This is a big training camp for him after a slow and injury-plagued 2012 season. Thomas must prove that he can fit in head coach Joe Philbin's offensive system.
"I'm very happy with the way he is practicing," Philbin said of Thomas. "I like what he is doing. I was watching him just today in special [teams]. He's going about his business in a very professional manner."
Miami's two younger backs -- Gillislee and Gray -- are inexperienced but have shown eagerness to make an immediate impact. Gillislee, a rookie fifth-round pick, has run well in training camp, and Gray has done well in both exhibition games. Gray recorded 76 total yards from scrimmage in the Hall of Fame Game against the
Dallas Cowboys
and led the Dolphins with two touchdown runs in last week's 27-3 victory over the
Jacksonville Jaguars
.
If both young players continue to do well for the Dolphins, that could make keeping only three tailbacks a tough decision. Miller is the only lock at this point. But the story continues to unfold for Thomas, Gillislee and Gray with three preseason games remaining.
Could the Dolphins
really
keep four running backs?
"There's a possibility that could happen," Sherman admitted. "I tell those guys all the time that they have to be a factor on special teams to have a role as a fourth or third running back. So really that decision, if they're in the mix, that decision will come down to special teams, so they better make sure that they're picking up our special-teams coach in the morning, and driving him home at night and getting him breakfast."