NFL Nation:

Jonathan Crompton
May, 5, 2014
May 5
9:00
AM ET
IRVING, Texas -- Because
Tony Romo
is 34 and because he is coming off his second back surgery in less than a year, just about everybody believes it is time for the
Dallas Cowboys
to find his replacement.
ESPN NFL draft Insider Todd McShay
said it.
Mike Mayock of the NFL Network said it. A lot of fans have said it. A lot of others have said it.
If the Cowboys draft a quarterback, then it must be early in the draft. At least, that's the general philosophy of
Chicago Bears
general manager Phil Emery when it comes to taking quarterbacks.
"I just did a little study. It's very interesting," Emery said in
this ESPNChicago story.
"That developmental theory doesn't hold a whole lot of water. There's entire classes of quarterbacks, since '06, I went back and looked at from Jay [Cutler's] on -- when people say developmental quarterbacks, OK, so who has gotten developed? There isn't a single quarterback after the third round since 2006 that has been a long-term starter. So you're either developing thirds, and most of them have been wiped out of the league. So to get a quality quarterback, you've got to draft them high. That 2012 class is a blip on the radar that's unusual, highly unusual.
"Most of the starters in this league come from the first and second round. So that's where you need to take a quarterback. So when you talk about quarterback every year, they have to be somebody that you truly believe will beat out the second and third quarterback that you perceive on your roster. And if not, history shows that you shouldn't make that pick."
From 2006 to 2013, there were 59 quarterbacks drafted in Rounds 3-7. Only two are top-end starters:
Russell Wilson
(third round, 2012,
Seattle Seahawks
) and
Nick Foles
(third round, 2012,
Philadelphia Eagles
). And Foles might have more to prove, but he was Pro Bowl-worthy in 2013.
The best of the rest:
Bruce Gradkowski
(sixth round, 2006);
Matt Flynn
(seventh round, 2008);
Curtis Painter
(sixth round, 2009);
Ryan Mallett
(third round, 2011);
Kirk Cousins
(fourth round, 2012). Other considerations:
Colt McCoy
(third round, 2010);
T.J. Yates
(fifth round, 2011);
Tyrod Taylor
(sixth round, 2011).
The odds are stacked against a team looking to develop a quarterback. Teams are not a lock to carry a third quarterback on the 53-man roster these days. The Cowboys have not done it since 2011, when they had
Stephen McGee
(fourth round, 2009). There just aren't enough snaps to go around in a season for a quarterback to develop. The pressure on coaches to win means they want guys who can help carry games if a starter goes down, part of the reason why the Cowboys have gone with
Brad Johnson
,
Jon Kitna
and
Kyle Orton
as Romo's backups.
Maybe the Cowboys will draft a quarterback in the middle to late rounds this week. The odds of him turning into Wilson, Foles or
Tom Brady
(sixth round, 2000) are remote. He's more likely to be Andre Woodson (sixth round, 2008), Mike Teel (sixth round, 2009), Jonathan Crompton (fifth round, 2010) or Nate Enderle (fifth round, 2011).
September, 1, 2011
9/01/11
8:15
AM ET
The final preseason games for all NFC South teams are Thursday night.
Baltimore plays at Atlanta at 7:30 p.m. ET and Tampa Bay at Washington kicks off at the same time. Pittsburgh at Carolina and Tennessee at Houston start half an hour later. Since final preseason games generally don't feature a lot of playing time for the starters, we'll make our preview a little more comprehensive.
Instead of doing three things to watch on each team, we'll do one.
Cam Newton's last test.
The Panthers appear to be set to go with the rookie quarterback as their starter for the regular season. He has not had a great preseason as a passer and probably won't get a lot of playing time tonight. But it would be nice to see him complete a few passes against the Steelers. That would help his confidence and also bring some optimism to the fans.
Cameron Jordan's role
. The Saints pulled a surprise Tuesday when they cut starting defensive end
Alex Brown
. Conventional wisdom says that probably means they're ready to use Jordan, a first-round draft pick, as a starter. Coach Sean Payton hasn't committed that far and said the Saints will use a rotation at defensive end. But
Jeff Charleston
,
Junior Galette
and
Turk McBride
aren't the kind of guys you expect to see in the starting lineup on a weekly basis.
Mike Johnson vs. Garrett Reynolds.
This competition for Atlanta's starting right guard job is coming down to the wire. Johnson missed some time early on with a concussion and that gave Reynolds the early edge. But coach Mike Smith has said Johnson still is a contender to start and a strong showing could be the deciding factor. No matter if it's Johnson or Reynolds opening the regular season at Chicago on Sept. 11, the Falcons will have two new starters on the line that day. Center
Todd McClure
will miss the opener with a knee injury, and second-year pro
Joe Hawley
likely will get the start.
Rudy Carpenter in a starting role.
He was Tampa Bay's No. 3 quarterback last season. But Carpenter will get the start against the Redskins and there's a lot riding on this one. Carpenter is in a competition with
Jonathan Crompton
for the No. 3 spot. But coach Raheem Morris admitted that it's possible the Bucs may go into the regular season carrying only
Josh Freeman
and
Josh Johnson
on the active roster, which would free up a spot at another position. Carpenter needs a strong outing to prevent that from happening.
April, 29, 2011
4/29/11
9:26
PM ET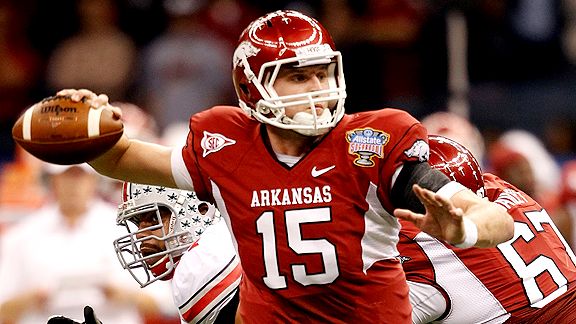 Matthew Stockman/Getty ImagesRyan Mallett had 3,869 yards on 266-of-411 passing with 32 touchdowns for Arkansas last season.
Pardon me for going out of order, but I have a feeling readers would like to digest this
New England Patriots
selection before their previous one. They drafted Arkansas quarterback
Ryan Mallett
with the 74th selection.
Why the Patriots took him:
After his long slide, the Patriots ended Mallett's misery. He has tremendous physical skills but enough off-field question marks that every other team passed on him. The Patriots finally felt compelled to add an intriguing prospect so late in the draft. Risk is mitigated by the presence of
Tom Brady
, an ultimate leader and a chip-on-the-shoulder competitor who should provide the perfect example for Mallett to emulate.
How it affects the roster:
Not much. The Patriots kept only two other quarterbacks last season. Backup
Brian Hoyer
should stick around. The other quarterback on the roster,
Jonathan Crompton
, probably doesn't have any hope.
Scouts Inc. says:
Smooth over-the-top release. Follows through very well. Ball jumps off hand, and he possesses arguably the strongest arm of any quarterback we have evaluated in the 2011 class. Displays ability to make throw downfield off of back foot. ... Overall accuracy is good but still has room for improvement. Displays good mechanics and throws with great balance. Short accuracy is above average, but he can force receivers to open up on crossing routes on occasion. Needs to learn to take some heat off fastball at times.
September, 6, 2010
9/06/10
7:13
PM ET
The
San Diego Chargers
decided they felt more comfortable with three quarterbacks on the 53-man roster, so they agreed to terms with veteran
J.T. O'Sullivan
.
O'Sullivan was cut by Cincinnati during the weekend. He will play behind starter
Philip Rivers
and backup
Billy Volek
, who was held out of practice Monday.
O'Sullivan replaces
Charlie Whitehurst
as San Diego's No. 3 quarterback. Whitehurst was traded to Seattle in the offseason. The team cut rookie
Jonathan Crompton
and he was put on the practice squad.
The Chargers chose O'Sullivan over Crompton because of experience. O'Sullivan, 31, has been in the league since 2002 and he has thrown 145 career passes. This is O'Sullivan's ninth NFL team.
April, 24, 2010
4/24/10
5:55
PM ET
I like San Diego's selection of Tennessee quarterback
Jonathan Crompton
in the fifth round.
San Diego is reloading at the quarterback position.
Billy Volek
will soon be a free agent. Crompton could be in line to be Philip Rivers' backup in the next year or two if Volek doesn't come back.
Crompton is a solid prospect in the eyes a lot of scouts I have talked to him. He is talented and he has room to improve. He benefited from getting coaching from Lane Kiffin last year. He was a riser on several draft boards.
At the very least, San Diego coach Norv Turner, a premier quarterback tutor, could groom Crompton and make him a valuable commodity. San Diego groomed former No. 3 quarterback
Charlie Whitehurst
and then flipped him to Seattle for two draft choices. His trade enabled the Chargers to package up and take running back
Ryan Mathews
at No. 12.
Crompton will have a role in San Diego, whether it's as Rivers' backup or as valuable trade bait down the line.
April, 24, 2010
4/24/10
12:11
PM ET
The
Oakland Raiders
are trying to replicate their fourth-round magic from 2009.
It looks like they are off to a good start. Oakland, which has wheeled-and-dealed in the lower portion of this draft, has scored with two fine value picks in the fourth round.
It took Maryland tackle
Bruce Campbell
and Clemson receiver
Jacoby Ford
in the fourth round. Oakland traded a fifth-round pick and linebacker
Kirk Morrison
to Jacksonville for the chance to take Ford.
Both Campbell and Ford were combine stars. Ford was the fastest receiver at the combine. He should have a role as a situational receiver and as a returner in Oakland.
Many league observers thought Oakland would take Campbell very high because of his outstanding combine and because he filled a big need. However, because of his rawness and shaky game film, many league observers thought he was taken at the right place. Along with third-round pick Jared Veldheer, Oakland has two good tackle prospects to develop.
I really like that Oakland took Campbell and Ford. They have a chance to be solid contributors in a couple of years. Last year, Oakland scored in the fourth round with receiver
Louis Murphy
and defensive end
Matt Shaughnessy
.
The Raiders liked Northwestern quarterback Mike Kafka. However, he was taken by Philadelphia in the fourth round. Oakland could look at other quarterbacks
Jonathan Crompton
and
Dan LeFevour
.
April, 23, 2010
4/23/10
10:49
PM ET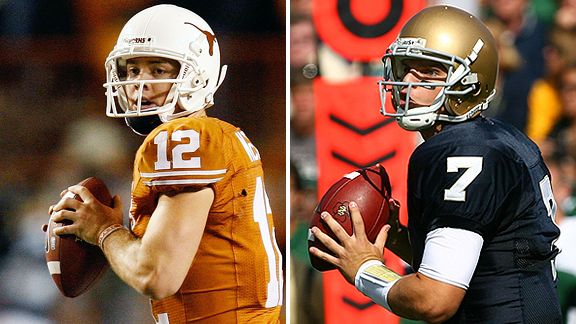 Getty ImagesThe Oakland Raiders had the opportunity to draft quarterbacks Colt McCoy and Jimmy Clausen, but passed on both.
Keep getting in shape,
JaMarcus Russell
. It appears you will be getting another chance.
Unless
Jason Campbell
ends up in Oakland -- and is he really a long-term answer? -- it appears the Raiders are comfortable moving ahead with their current group of quarterbacks for the time being.
To me, the lack of attention the Raiders gave two big-time quarterback prospects Friday night is the story of the second and third rounds in the AFC West.
The Raiders saw both
Jimmy Clausen
and
Colt McCoy
fall into their laps. And they swatted the two youngsters away, ignoring a huge issue. The Raiders have other needs and it wouldn't have bothered me if they entered the draft with the idea of not taking a quarterback early.
But when two potential starters like Clausen and McCoy fall, you have to adjust. Oakland didn't.
The Raiders did a terrific job of landing star-in-waiting middle linebacker
Rolando McClain
at No. 8 on Thursday night. They then traded down from No. 39 to No. 42 to No. 44 in the second round to compile a couple of late-round choices. The Raiders took Texas defensive tackle
Lamarr Houston
at No. 44. No complaints. He is a run-stuffer and he fills a need. He'll team nicely with McClain as Oakland tries to stop being a sieve against the run.
But Clausen was sitting there at No. 44. It could have been a nice gift for Oakland to take the Notre Dame product, who appears to be pro-ready. He went later in the second round to Carolina.
In the third round, Oakland addressed its biggest need with tackle Edwin Veldheer from tiny Hillsdale College. He is an interesting prospect. He could be good, but he is not going to help right away.
A play for McCoy at No. 69 could have been worth the risk.
Yes, I get that McCoy is small and he doesn't have a cannon arm. But guess what? That's exactly the book on
Bruce Gradkowski
, who is currently Oakland's most exciting option.
I know Al Davis loves rocket-armed quarterbacks, but that's what got him this mess with Russell. Winning quarterbacks don't have to have big arms.
The Raiders need to do something. Why didn't they take a shot at Clausen or McCoy? Both players would have been freebies because they weren't expected to be on the board.
Oakland looked into quarterbacks this offseason. They have been linked to
Donovan McNabb
,
Ben Roethlisberger
, Campbell and even
Sage Rosenfels
. Perhaps Oakland will make a play for Campbell, whether he is traded for a late draft pick or if he is released by Washington. But he doesn't create excitement for the future.
You can't blame Oakland for looking. Russell has been a disaster. Gradkowski is a short-term answer at best.
Charlie Frye
and
Kyle Boller
don't exactly stir confidence either.
As of now, it looks like Oakland will actually go to camp with Russell and Gradkowski fighting for the starting job. The Raiders are ready to give Russell one more chance. We all know what is going to happen. Gradkowski will outplay Russell in the preseason and the offense will perform better with Gradkowski than Russell, as was the case last year. Russell will prove he is a failure and the Raiders will have to look for a franchise quarterback in next year's draft.
They could have given themselves a crack at one this year for a cheap price in the form of Clausen or McCoy, who went late in the third round to Cleveland.
Oakland could very well take a quarterback with one of its six picks in the final four rounds. The team likes players such as Mike Kafka of Northwestern and
Jonathan Crompton
of Tennessee. Both are long-term projects.
There are no easy answers. That's why Clausen and McCoy should have been looked at.
February, 25, 2010
2/25/10
12:10
PM ET
INDIANAPOLIS -- At least two teams in the AFC West will be looking for quarterbacks in the NFL draft.
Here's a name to watch: Tennessee's
Jonathan Crompton
. Crompton is listed as a draftable prospect on many pre-draft lists. However, don't plan to hear much about him this weekend at the NFL combine. He wasn't invited.
"He's definitely a guy who you would have liked to see at combine," Scouts Inc's Kevin Weidl said. "He's got a lot of skill set. He really improved in his senior year, which you like to see."
Crompton is 6-4, 225 pounds and he is known for having a rocket arm. Crompton's agent, Joel Turner, is outraged his client is not at the combine.
"I'll know he's my guy and I have to fight for him, but there is no doubt in my mind he'll be the best quarterback in this class in the NFL," Turner said. "He has all the tools. He may not be at the combine, but scouts know about this kid."
Both Denver and Oakland will likely look to add quarterbacks in the draft. Kansas City could look for a young quarterback. San Diego appears set at the position.
It will be interesting to see if Oakland shows interest in Crompton. His last coach could prevent the Raiders from pursuing him. Crompton was coached by Lane Kiffin last season. Do you see Al Davis joining forces with a Kiffin protégée? Me neither.
NFL SCOREBOARD
Thursday, 10/16
Sunday, 10/19
Monday, 10/20
WEEKLY LEADERS