NFL Nation:

Jonathan Franklin
October, 17, 2014
10/17/14
2:45
PM ET
GREEN BAY, Wis. --
Eddie Lacy
says he's the same player who rushed for 1,178 yards last season and was the NFL's offensive rookie of the year.
But the
Green Bay Packers
' offense, well that's different.
Lacy played half of last season without quarterback
Aaron Rodgers
. While teams loaded up to stop the run during that time, Packers coach Mike McCarthy still put the ball in Lacy's hands far more often than he has through six games this season, when Lacy has averaged 13.3 carries per game, more than five and a half fewer than last season.
Is that enough to explain why Lacy has averaged barely more than 50 yards rushing this season -- or nearly 30 fewer yards per game than last year (see chart)?
"Particularly when you have big running backs, I've always felt you gain 1 or 2 yards in the first quarter, 2 or 3 in the second quarter, 3 and 4 yards in the third quarter and then the fourth quarter, man, Katy bar the door," McCarthy said.
Yet McCarthy has defied his own reasoning by relying less on the running game and also splitting time between Lacy and
James Starks
. In Sunday's comeback win over the
Miami Dolphins
, it was Starks -- not Lacy -- who got the call for most of the final two drives. Starks' season average of 4.3 yards per attempt is a half-yard better than Lacy's and Sunday against the Dolphins, Starks' averaged a full yard more (3.9 to 2.9).
So McCarthy finds himself in a bit of a quandary. He would like to use both of his backs in an effort to keep them fresh over the long haul, yet he knows both thrive when their attempts are higher.
"They really haven't been given that opportunity, but it's a long season," McCarthy said. "This is why we have this approach. We're fortunate enough to have two guys, so as far as the way the rotation's gone, I feel good about it."
The results, however, show that the Packers' running game is nowhere close to what it was last season, when it ranked seventh in the league. Through six games, they ranked 24th in rushing yards (94.8 per game) and 21st in rushing average (3.9 yards per carry).
Lacy, whose only 100-yard game came in Week 5 against the
Minnesota Vikings
on a night when he carried the ball only 13 times, insisted it's possible to replicate last year's success even without 20-plus carries, which he received 11 times last season (including playoffs).
"That's your job," Lacy said, "so you have to."
Before he ever saw Lacy play a snap, McCarthy went into last season
looking for a 1-2 running back punch
. But when injuries hit
DuJuan Harris
and Jonathan Franklin, Lacy became the workhorse, while Starks played a complementary role.
Now, the Packers are back to a running-back-by-committee format. The last two games, Lacy and Starks have played almost the exact same number of snaps -- 66 for Lacy and 65 for Starks. In those two games, Lacy has 27 carries to Starks' 20, but Starks has one more catch, four, than Lacy.
"When I came here, my job was to get them ready for all three downs," first-year running backs coach Sam Gash said. "That was kind of the way I was told to do it. It wasn't, Eddie's going to have 300 carries, James is going to have 200. That was never said to me. The only thing that was said to me was, 'We want to win.'"
Lacy has said repeatedly dating to the offseason that he expected this year to be different for two reasons: Opposing defenses know what to expect from him, and a healthy Rodgers means few rushing attempts.
"We're definitely not going to get under center and run the ball every play this year," Lacy said. "It doesn't make sense to do that. You have the best quarterback, why get under center and run the ball every play?"
So the offense is different, but is Lacy?
"I'm the same," he said.
February, 14, 2013
2/14/13
1:00
PM ET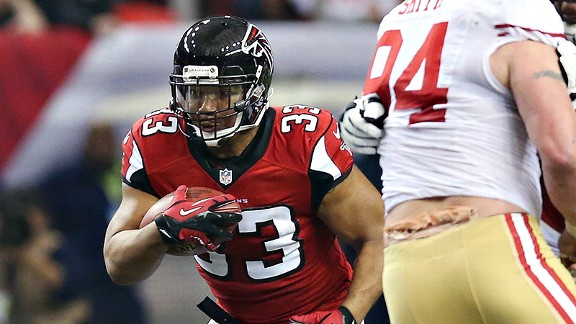 Matthew Emmons/USA TODAY SportsWith his production dropping and a high cap figure, Michael Turner's run in Atlanta may be over.
Let's give
Michael Turner
his props. If he's not the best running back in the history of the
Atlanta Falcons
, he certainly is close to that.
Turner is a major reason why the Falcons made the playoffs in four of the past five seasons. He gave the Falcons four wonderful seasons and one mediocre one.
That last part is why the Falcons need to make the cold, hard business decision and give Turner his walking papers sometime between now and the start of free agency. Yeah, it may sound cruel for a guy that's played so well and been a good teammate, but it clearly is time for a change.
Heck, you can just look back at last season and make a very strong argument that it's past time for a change. Turner was visibly slower in 2012, and that came in a season when the Falcons limited his playing time.
Turner turned 31 on Wednesday, and I think it's safe to say he's not going to get any faster or better. Turner helped get the Falcons to the cusp of being a Super Bowl team, but they're not going to turn things into a Jerome Bettis farewell tour if they let Turner stick around for the final year of his contract. They'll just stand still, or lose ground.
It's time for the Falcons to pull the plug for many reasons.
Let's start where you always should start with this type of situation. Let's start with the money.
Turner is scheduled to count $8.9 million against the 2013 salary cap. Releasing him would instantly free up $6.4 million.
That would be significant money for a team that's barely under the salary cap and needs to make efforts to prevent cornerback
Brent Grimes
, left tackle
Sam Baker
and strong safety
William Moore
from walking away as free agents.
[+] Enlarge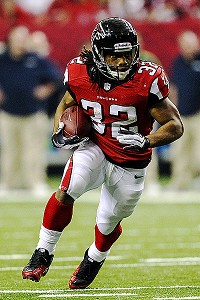 Daniel Shirey/USA TODAY SportsFalcons running back Jacquizz Rodgers could receive an increased role in 2013.
Could the Falcons restructure Turner's contract and make it more cap friendly? Sure, but there's not much point in that.
That's where the football part comes in. Atlanta doesn't run the same offense it did in Turner's first four seasons. When offensive coordinator Dirk Koetter arrived last offseason, he made the Falcons a pass-first team.
That's why fans that are screaming for the Falcons to go out and get
Steven Jackson
,
Ahmad Bradshaw
or
Reggie Bush
are missing the mark by a mile -- or at least visions of a 1,000-yard season. They all come with wear and tear, and they all would come with hefty price tags.
In case you haven't noticed, it's no longer practical in the NFL to pay huge money to running backs. That's especially true when you have an offense that's built around quarterback
Matt Ryan
and receivers
Julio Jones
and
Roddy White
.
The Falcons no longer need a running back that's going to give them 20 to 25 carries a game and rush for 1,300 yards a season.
What Atlanta needs is someone to work in tandem with
Jacquizz Rodgers
, who was paired with Turner last season. Rodgers showed he can do a little bit of everything and can do it pretty well. Rodgers might be able to take on an even bigger role next season.
But Rodgers needs someone to share the backfield duties, and I'm not sure third-stringer
Jason Snelling
will ever be ready to take on a bigger role than he has had.
The best thing the Falcons can do is let Turner walk away (he can contribute somewhere else for a year or two) and go out and get a fresh set of legs for the backfield.
There's an easy and inexpensive way to do that. It's called the NFL draft.
Running back is a position where it's easy to make an instant impact. Just look at what
Doug Martin
did in Tampa Bay last season. And you don't have to be a first-round pick like Martin to have sudden success. Look again to Tampa Bay where
LeGarrette Blount
, who wasn't even drafted, had a 1,000-yard season in 2010.
Blount might have been a one-hit wonder, but the point is you don't need to use a first- or second-round pick to get a running back that can help immediately.
Guys such as Oklahoma State's Joseph Randle, Rutgers' Jawan Jamison, Stanford's Stepfan Taylor, Florida's Mike Gillislee, Michigan State's Le'Veon Bell, Nevada's Stefphon Jefferson, Wisconsin's Montee Ball and UCLA's Jonathan Franklin will likely be available anytime from the late second round on, a place where salaries aren't that high.
They all have their merits, and each has his flaws. But the Falcons don't need a perfect running back.
They just need someone that can complement what Rodgers brings to help them take the next step forward, because they've gone as far as they can with Turner.