January, 10, 2014
1/10/14
5:40
PM ET
RENTON, Wash. -- Being healthy at the right time can make a big difference in the NFL, and it's rare for a team to start the playoffs as healthy as the Seahawks are now.
Outside linebacker
K.J. Wright
is the only starter ruled out for Saturday's playoff game against the
New Orleans Saints
. And Wright, who had foot surgery three weeks ago, could be back for the NFC championship game if the Seahawks advance.
However, rookie defensive tackle
Jordan Hill
is doubtful with a groin injury and backup safety
Chris Maragos
is questionable with a back injury. Hill has played in only four game this season. Maragos is a valuable player with 10 special team tackles and one fumble recovery.
The big news of the week was receiver
Percy Harvin
returning when he came close to being placed on injured reserve two weeks ago.
But the Seahawks also have rookie tight end
Luke Willson
back, a bit of a surprise since he suffered a nasty high ankle sprain in the regular-season finale against St. Louis.
"They checked him out right off the bat and it looked like he had a broken leg," Seattle coach Pete Carroll said. "They checked him out again that night and he didn't. So all I can tell you is that it was remarkable whatever happened in there. There was a laying of hands or something. I don't know what happened, but he jumped right back and had a terrific week and he's ready to play."
September, 25, 2013
9/25/13
7:36
PM ET
RENTON, Wash. -- The
Seattle Seahawks
may be without both starting offensive tackles this weekend, a scary thought going against star defensive linemen
J.J. Watt
and the
Houston Texans'
defense.
Right tackle
Breno Giacomini
did not practice Wednesday because of a knee problem. His status for Sunday's game at Houston is unknown.
"His knee is sore," Seahawks coach Pete Carroll said Wednesday of Giacomini. "We have some more information to get to see where he is. He got nicked a little bit in the [Jacksonville] game."
Pro Bowl left tackle
Russell Okung
is out for at least eight weeks with a torn ligament in a big toe.
Paul McQuistan
moved from guard to Okung's tackle spot.
[+] Enlarge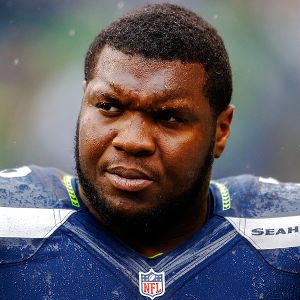 Otto Greule Jr/Getty ImagesRookie tackle Alvin Bailey saw action in Week 3, and could see even more this Sunday for Seattle.
If Giacomini doesn't play, the Seahawks probably will start a rookie at right tackle -- either
Michael Bowie
or
Alvin Bailey
. Bowie (6-foot-4, 330 and a seventh-round draft choice from Northeastern State in Oklahoma) likely would be the starter.
Both Bowie and Bailey (6-foot-3, 320 and undrafted out of Arkansas) played extensively in the second half last weekend after the Seahawks built a big lead against Jacksonville.
"They've made great progress," Carroll said of his rookie tackles. "I went back [Tuesday] night and watched the [Jacksonville] game over again just to watch those guys and see how they're doing. They came off the ball really well and did fine in pass protection. They did a very nice job and they're coming along quickly."
Seahawks offensive line coach Tom Cable also was pleased with what he saw from his young tackles in the Jacksonville game.
"I saw some really cool stuff," Cable said. "I'm really excited about their future. I thought both those kids went in there and knocked people off the ball.
"It was a huge moment of growth for them to know they're OK and can handle an NFL game. It's like gold. If they have to do it, they'll be comfortable to do what they're capable of doing."
But can either handle Watt?
"We don't really focus on him," Cable said. "We focus on doing things right."
The backup tackles will need to do a lot of things right to stop Watt and the attacking Houston defense, which ranks No. 2 in the NFL behind the Seahawks.
"They will pressure us more than any team we play this season," Carroll said of the Texans defense.
Carroll also was asked how he felt McQuistan was doing in Okung's spot.
"Paul survived the first game [when Okung got hurt against the
San Francisco 49ers
] and played better in the second game," Carroll said. "He was sharper on stuff and the communication was better. But that's a big jump for Paul. He has played tackle in his history, but to play up to Russell Okung's level is a lot to ask. He's performed well so far."
Seattle made a roster move Wednesday to add veteran offensive linemen in
Jason Spitz
, who was released by Jacksonville in August. Spitz, (6-foot-3, 300) played five seasons at Green Bay before spending the past two years with the Jaguars, but he was on injured reserve all last season.
Even if Seattle had both its starting tackles, it would be a big task to stop Watt, the NFL defensive player of the year last season with 20.5 sacks.
"He's a fantastic talent," Carroll said of Watt. "I don't think anybody knew he would be this dominant, and I've heard Houston say they didn't know that either. But he's an extraordinary player. He's faster than more guys his size, running a 4.6. That's one thing that separates him. And the guys Houston has around him makes him even better."
One of those guys is inside linebacker
Brian Cushing
, a player Carroll knows well. Cushing played for Carroll at USC.
"Cush was an outside guy for us," Carroll said. "He's one of the best guys we ever recruited as far as all-around ability. He's a great, great player. It's not a surprise to me that he ended up playing inside. He's so instinctive and aggressive and wants to come at you. He lines up right behind Watt, so he's a big issue for us, also."
Injury updates:
Defensive tackle
Red Bryant
(back spasms) did not practice Wednesday, but Carroll expects him back on the field Thursday.
Wide receiver
Jermaine Kearse
(sprained ankle) did not practice, but Carroll is hopeful he can play at Houston.
"He's going to try to go tomorrow," Carroll said of Kearse. "He's making a very quick recovery. We have our fingers crossed that he has a chance to play."
Carroll said rookie fullback
Spencer Ware
is still out with a high-ankle sprain.
Outside linebacker
Malcolm Smith
returned to practice after being inactive against Jacksonville with a hamstring issue. Rookie defensive tackle
Jordan Hill
returned to practice on a limited basis.
September, 4, 2013
9/04/13
7:47
PM ET
In a surprising development,
Seattle Seahawks
starting cornerback
Brandon Browner
was a limited participant in Wednesday's practice because of a strained hamstring. Browner played in all four preseason games without a problem.

Wide receivers
Sidney Rice
(knee) and
Stephen Williams
(concussion) were back as full participants.
Defensive end
Chris Clemons
(knee) and defensive tackle
Jordan Hill
(biceps) did not practice, and neither is expected to play in the season opener Sunday at Carolina. Rookie offensive lineman
Michael Bowie
(shoulder) also did not practice Wednesday.
Defensive tackles
Brandon Mebane
and
Tony McDaniel
(both with groin injuries) were limited participants. They are listed as the two starters on the depth chart. Defensive end
Cliff Avril
(hamstring) also was limited in practice. Avril said before practice that he hopes to play on Sunday.
September, 4, 2013
9/04/13
5:00
AM ET
The
Seattle Seahawks
had 11 draft picks in 2013, but only one of them is likely to get much playing time in the season opener at Carolina.
Back-up tight end
Luke Willson
, a fifth-round selection from Rice, will be on the field in Seattle's two-tight sets and probably have a few passes thrown his way after his impressive showing in the preseason.

But other than Willson, don't look for much action from the other draft picks. That's a big difference from a year ago.
As a rookie,
Russell Wilson
started every game at quarterback. Middle linebacker
Bobby Wagner
started 15 of 16 regular season games at middle linebacker.
J.R. Sweezy
started the season opener at guard.
First-round pick
Bruce Irvin
played in every game at defensive end and led all NFL rookies with eight sacks. Running back
Robert Turbin
played in all 16 games as the backup to
Marshawn Lynch
.
The verdict is out on the 2013 draft choices, but it's clear they won't contribute as much as some of the 2012 picks did at the start of the season.
Three seventh-round picks in 2013 -- offensive linemen
Ryan Seymour
and
Jared Smith
, along with linebacker
Ty Powell
, were placed on the practice squad.
Here's a rundown on the other seven 2013 draft choices:
However, the Seahawks are likely to receive meaningful contributions this weekend from two undrafted rookies.
Benson Mayowa
, a defensive end from Idaho, is expected to see significant playing time Sunday after an impressive preseason when he had 3.5 sacks. And
John Lotulelei
, an outside linebacker from UNLV, probably will see some action backing up
K.J. Wright
.
September, 3, 2013
9/03/13
10:30
AM ET
Eighty-six of the first 88 players drafted in 2013 remain on 53-man rosters entering Week 1. The two exceptions play for NFC West teams.
The
Arizona Cardinals
'
Jonathan Cooper
, chosen seventh overall, suffered a season-ending leg injury during preseason. He is on injured reserve. The
San Francisco 49ers
'
Tank Carradine
, chosen 40th overall, remains on the reserve/non-football injury list while recovering from a knee injury.
Twenty-five of 39 NFC West choices this year remain on their original teams' 53-man rosters. That includes all seven picks for the
St. Louis Rams
and seven of nine for the Cardinals. The 49ers and
Seattle Seahawks
had a higher number of picks arranged lower within each round, and fewer open roster spots to accommodate them.
Injuries have left six picks from the division on various injured lists. Three of the Seahawks' top five picks will not help the team anytime soon. That includes Harper, defensive tackle
Jesse Williams
(injured reserve) and cornerback
Tharold Simon
(reserve/physically unable to perform).
Percy Harvin
, who cost Seattle its 2013 first-round choice, is also injured.
Five 2013 draft choices from the division landed on their original teams' practice squads. One of them, fourth-round choice Chris Harper, subsequently left his original team (Seattle Seahawks) to sign with the 49ers' 53-man roster.
Three picks from the St. Louis Rams and one from the 49ers are scheduled to start in Week 1. Cooper would have started for the Cardinals if healthy.
Harper wasn't the only NFC West draft choice to land on another team. The 49ers'
Marcus Cooper
, a seventh-round choice, wound up with Kansas City after the Chiefs claimed him off waivers.
August, 28, 2013
8/28/13
4:35
PM ET
Eleven days before the season opener, injuries are starting to become a concern for the
Seattle Seahawks
.

Chris Clemons
and
Cliff Avril
, the projected starters at the defensive end spots, probably won't be ready for the opener at Carolina on Sept. 8. Starting fullback
Michael Robinson
, recovering from a virus, also may not play in the opener.
The Seahawks already know defensive end/linebacker
Bruce Irvin
won't play the first four games because of a suspension, reportedly for PEDs.
Two other starters -- defensive tackle
Brandon Mebane
and receiver
Sidney Rice
-- won't play Thursday night against Oakland in the final preseason game. Defensive tackle
Tony McDaniel
, a possible starter at the 3-technique spot, also won't play Thursday because of a groin pull.
Mebane suffered a groin injury in practice Monday. Coach Pete Carroll hopes Mebane and McDaniel will be ready for the opener.
Carroll said Rice will play in the opener, but had an unusual comment: "He'll be ready unless there is a setback next week at practice again."
A setback again? When was the first practice setback? Rice flew to Switzerland four weeks ago for a 20-minute platelet-enriched plasma treatment on his knee. But he later returned to practice and didn't show any problems. He has not played in the preseason.
The biggest concern for the Seahawks is the defensive line. Defensive tackle
Michael Bennett
also won't play Thursday because he having a procedure done on an injured toe. Carroll expects Bennett to play in the opener.
Rookie defensive tackle
Jordan Hill
is out with a shoulder injury and fellow rookie defensive tackle
Jesse Williams
is on injured reserve with a knee injury.
The Seahawks hoped to shore up their pass rush this season, but two key cogs are iffy in Clemons and Avril. Clemons, who led Seattle with 11.5 sacks last year, still is recovering from off-season ACL surgery.
"He's making great progress," Carroll said of Clemons. "We have a big decision to make there."
The decision is whether to place Clemons on the reserve/ physically unable to perform (PUP) list or to place him on the 53-man roster. If Clemons goes to the PUP list, he can't play until Week 6. Either way, it's doubtful he plays in the opener.
Avril, Seattle's top free-agent acquisition in the offseason for the defense, has a hamstring injury and hasn't played in the preseason. His status for the opener is tentative at best.
"As of this morning he's feeling better and we're hoping he will be able to go next week," Carroll said. "But we won't know until we get there."
Even if Avril does play, how effective will he be after missing so much time?
On the bright side, starting tight end
Zach Miller
will play Thursday and guard
James Carpenter
also will see action in the Oakland game.
"It's necessary for him to get out there and play again,'' Carroll said of Carpenter. "He was really making some progress and missed a couple of weeks here, so it will be great to get him out."
But the injury problems, especially on the defensive line, are worrisome. The Seahawks may have to rely on two players who weren't part of the picture a month ago -- free agent defensive ends
Benson Mayowa
and
O'Brien Schofield
.
Both have looked good in the preseason, especially Mayowa, an undrafted rookie from Idaho. He has 2.5 sacks and 10 total tackles in three preseason games. Schofield, who played for the
Arizona Cardinals
the previous three seasons, has a sack, force fumble and fumble recovery in the preseason.
If needed, starting defensive end
Red Bryant
can move inside and play tackle. Bryant has seen quite a bit of action inside during the preseason.
August, 21, 2013
8/21/13
4:58
PM ET
RENTON, Wash. -- The Seahawks continue to stockpile defensive lineman, adding two more in the past two days. Seattle now has 11 defensive lineman who were not with the team one year ago.

The
John Moffitt
trade, which took two tries (first to Cleveland, that was voided, then to Denver the next day) resulted in Seattle acquiring Broncos defensive tackle
Sealver Siliga
.
The Seahawks also added defensive tackle
Dewayne Cherrington
, a rookie free agent from Mississippi, after releasing kicker Carson Wiggs on Monday.
Siliga, 6-2 and 325 pounds, is in his second season out of Utah. He had two assisted tackles against the Seahawks in the preseason game Saturday night at Seattle. Siliga already was at practice Wednesday.
"A true pro in the way he worked,'' defensive coordinator Dan Quinn said of Siliga. "You could see his strength right away."
Cherrington (6-3, 335) played college football at Richmond. Cherrington was not drafted, but signed with New England as a free agent before being released last week.
Both Siliga and Cherrington are longshots to make the 53-man roster, but the Seahawks coaches are trying to make sure they don't come up short with the players on the defensive front.
The others who are new this year include
Cliff Avril
,
Tony McDaniel
,
Michael Bennett
,
O'Brien Schofield
,
Martin Parker
and
Michael Brooks
(veteran players who were signed and brought in), draft choices
Jordan Hill
and
Jesse Williams
, and rookie free agent
Benson Mayowa
.
Obviously, some of these men will be gone when cuts are made to get down to the 53-man roster (and eight possible practice squad players) before the regular season begins.
But a few of the newcomers have stood out, especially Mayowa and Schofield. Mayowa, a rush end from Idaho, has 2.5 sacks and four quarterback pressures in the first two preseason games.
Schofield, a fourth-year player from Wisconsin, has a sack, a forced fumble and a fumble recovery. Schofield knocked the ball out of quarterback
Brock Osweiler
's hands and recovered it in the backfield in the Denver game last weekend.
"We started him at linebacker and then moved him back to Leo (rush defensive end)," Quinn said of Schofield, who played three seasons for the
Arizona Cardinals
. "He's doing well."
Hill, a third-round pick from Penn State, also has looked strong at defensive tackle. He's in the running for the starting spot at the 3-technique defensive tackle, a spot vacated when Seattle lost
Alan Branch
to free agency in the offseason. Quinn said no decision had been made there, but McDaniel and
Jaye Howard
probably have the best chance of earning the first-team spot.
Avril and Bennent, two proven pass-rushers, and McDaniel, a defensive tackle in his eighth season, were the biggest off-season acquisitions on defense. Bennett has played both tackle and defensive end. Avril has yet to get in a game, and missed most of training camp with a hamstring injury. He also missed mini-camp and OTAs with a foot injury, but the Seahawks are counting on him to be a major contributor this season.
It was clear after the 2012 season that the Seattle coaches wanted to upgrade the defensive front and improve their rush. With defensive end
Chris Clemons
still recovering from off-season ACL surgery and defensive end/outside linebacker
Bruce Irvin
suspended for the first four games, the Seahawks are trying to ensure they have enough quality depth to make an improvement in that area.
May, 10, 2013
5/10/13
8:09
PM ET
RENTON, Wash. -- A few notes after watching the
Seattle Seahawks
' rookies practice on a clear, 75-degree day at team headquarters along the Lake Washington shoreline:
Veteran presence: Veterans were not allowed on the field, but Seahawks cornerback Richard Sherman showed up about 20 yards offshore -- on a personal watercraft. For a few minutes, photographers had their backs to practice while they snapped away, their cameras trained on the Seahawks' brashest player. Not that Sherman likes attracting attention. "Was that Sherm?" head coach Pete Carroll quipped, adding in jest that he thought he'd seen workaholic quarterback Russell Wilson peeking over the hill on the other side of the field, away from the water.

[+] Enlarge

AP Photo/Ted S. WarrenBarred from attending, veteran corner Richard Sherman watched Seahawks rookies from the water.

Lots of faces: Seattle had 67 rookies in camp, including 38 players attending on a tryout basis. There were 12 draft choices and 17 players signed as undrafted free agents. Printed rosters have seldom been so helpful.

Wilson's legacy: Carroll opened a morning staff meeting by showing video of Wilson struggling with some of the basics, including center exchanges, during the rookie camp last year. Wilson finished the season with a playoff victory and an appearance in the Pro Bowl. Carroll wanted to put into perspective the first day of rookie minicamp so his coaches wouldn't get down on a young player for struggling early.

Tight end stands out: The recently released tight end Darren Fells was among those trying out. He caught passes consistently, but fifth-round choice Luke Wilson was the tight end standing out most demonstrably. He beat safeties in coverage to make catches on the run and separated from defenders. Carroll singled out Wilson as impressing him. Carroll: "Luke stood out today. He has really good speed and it showed. Caught the ball really well. That was probably the brightest spot that you could really see a guy jump out on. That was a really good first impression."

Inside job: Third-round choice Jordan Hill and fifth-rounder Jesse Williams worked together at defensive tackle, sometimes with seventh-rounder Ty Powell lining up in what appeared to be the "Leo" position. Hill and Williams are roommates. Hill played at Penn State, Williams at Alabama. Both played in tradition-rich programs led by old-school coaches, at least until Bill O'Brien succeeded Joe Paterno at Penn State. Carroll's new-school approach comes through loud and clear in the music playing over speakers during practice. Hill said that "wasn't going on in my first three years" at Penn State. "I just enjoy, you get to be yourself," he said.

Scruggs update: Second-year defensive end Greg Scruggs underwent reconstructive knee surgery Thursday after suffering a non-contact injury while planting awkwardly during a training drill. It's too early to know whether Scruggs could factor at all during the 2013 season.

Not much to go on: Players wore helmets, jerseys and shorts for practice. No tackling or hitting was allowed. Coaches encouraged defenders to make a quick attempt at stripping the ball from runners before letting them proceed upfield. This was not football, in other words. However, coaches were able to see players move. Second-round running back Christine Michael stood out for his quickness, balance and for the primal scream he let out after running to the end zone on one play. Michael also stood out for his biceps. He practiced in a No. 33 jersey with no sleeves.

No vets around: Years ago, before the current labor agreement went into place, teams held mandatory camps for veterans and rookies at this time of year. Only rookies are allowed under the current agreement. That made it impossible to compare rookies to the players they'll challenge for roster spots and playing time.

Smith at center: Seventh-round pick Jared Smith worked at center. He could project at guard, too. The Seahawks are converting him from defensive tackle, a transition J.R. Sweezy made last year. Carroll singled out Smith's quickness. He also praised seventh-round guard Ryan Seymour for having good feet.

Harper's hands: Carroll liked what he saw from fourth-round receiver Chris Harper. Carroll: "He caught the ball beautifully. He really has great hands."
That's it from here. Every team in the NFC West is holding its rookie camp Friday through Sunday. I would expect each team's coaches to come away excited about new players. That's a good thing. Draft choices come as-is, without receipts. There are no refunds.
May, 2, 2013
5/02/13
2:46
PM ET
Our
post-draft amendments
to
pre-draft positional rankings
continue with Matt Williamson, NFL scout for ESPN.com.
Up next: defensive linemen.
NFC West teams drafted four of them if we count the
San Francisco 49ers
'
Corey Lemonier
and the
Arizona Cardinals
'
Alex Okafor
as 3-4 outside linebackers, which we will do for the purposes of this exercise.
The four draftees: Tank Carradine (40th overall choice) and
Quinton Dial
(157th) to the 49ers; and
Jordan Hill
(87th) and
Jesse Williams
(137th) to the
Seattle Seahawks
.
Williamson moved up the 49ers from fourth to second in his defensive line rankings following the draft. Seattle remains No. 1. The
St. Louis Rams
and Cardinals each dropped one spot to accommodate the 49ers' rise.
Then as now, the rankings are close. There's no shame in having the fourth-best line in the NFC West. We pick up the conversation from there.
Williamson:
I love Tank Carradine. Dial, the kid from Alabama, is a worthy addition. Carradine seemed like a really curious fit to me at first because I thought of him more as an outside linebacker, an edge player. But people were calling me out during our draft chat and saying he is going to be a defensive end for them.
Sando:
Yeah, Carradine is in that 275-pound range.
Justin Smith
and
Ray McDonald
were in that range, and they projected to defensive end with the 49ers. All 3-4s are not the same and we know defensive coordinator Vic Fangio likes an active defensive front.
Williamson:
Smith and McDonald are not a whole lot different. The 49ers' defensive ends aren't like
Aaron Smith
was in Pittsburgh. Justin Smith was 4-3 end. I buy that, but I also think
like we talked about
before, it wouldn't blow me away if we saw more 4-3 from them.
Sando:
Yeah, when they added
Glenn Dorsey
, the first thought was that he would be best suited in a 4-3 defense, not a 3-4. And I know the 49ers move around their guys up front. I know they play with a four-man line a decent percentage of the time.
Williamson:
They don't have the pure nose on the team any more. We will see more multiple fronts, which gets more bodies involved. One problem with that defense is they played only 12 guys, 13 guys most of the time. That hurts them late in the season with too many people worn down.
Sando:
That was the case late last season. It's why the 49ers addressed their front seven more than they addressed their cornerback situation. They think the corners can be fine if the front is healthy and deeper. Shifting gears, you left Seattle at No. 1 along the line. The Seahawks also added two defensive linemen in this draft.
Williamson:
Jesse Williams can be a great player. If his knee had checked out better, I had him penciled in for the 49ers in the first round. Hill is a shorter guy, a leverage and quickness player. I'm not sure they really have anyone else like him.
Brandon Mebane
is bigger and stronger. Hill plays the Mebane position or is just an interior pass-rusher. I think Hill is an energy guy. Get him out there 20-30 snaps a game. He is like a curveball. You're used to playing against power with Mebane and then they change it up. Mebane would be much stouter.
Sando:
Hill was drafted before Williams, but he's getting a lot less attention.
Williamson:
Williams is the wild card of this draft. On tape, he is a later first-round player. Big, really strong, moves really well. There have to be legitimate concerns about his health, but we don't always find out the extent of those before the draft. Every year, guys fall two or three rounds further than they should. We sit there saying all these teams should take Jesse Williams, but then after a while, something must be wrong with Jesse Williams.
Sando:
The Seahawks did not sound concerned, but teams don't really express concerns on draft day, either.
Williamson:
Alabama plays a 3-4 and Williams was a defensive end for them when they had
Josh Chapman
. He can play all over the line. He played the nose, but he is not a
Casey Hampton
. He can be
Red Bryant
, but he could also be
Alan Branch
and maybe Mebane, too.
Sando:
The Rams and Cardinals did not draft defensive linemen given that we're counting Okafor at linebacker for now. The Cardinals said they could add a defensive tackle in free agency. Some in the media have linked them to
Sedrick Ellis
.
Williamson:
If they do sign Ellis, that is yet another indication we'll see more 4-3 there as well. The guys they are adding are not true 3-4 guys.
Calais Campbell
can do both.
Darnell Dockett
is better in a 4-3.
Frostee Rucker
and
Matt Shaughnessy
don't really have 3-4 experience. They are better as 4-3 ends. Okafor can be as much 3-4 outside linebacker as 4-3 end if Campbell is your heavier 4-3 end, Dockett is your three-technique and then
Dan Williams
or Ellis would be your one-technique. Okafor would be your open-side guy.
Sando:
The scheme uncertainties in Arizona could lead us to revisit the rankings as we learn more and get a better feel for how specific players fit.
May, 1, 2013
5/01/13
9:46
AM ET
St. Louis Rams
general manager Les Snead recently joined ESPN's Colin Cowherd for
a discussion

on the recently concluded 2013 NFL draft.
Snead noted that the Rams felt vulnerable holding the 16th overall choice for fear they wouldn't be "jacked" about any of the players likely to be available with that pick. That was one reason the team traded up to get
Tavon Austin
.
Cowherd also asked Snead whether the team missed out on any of the players it really wanted. This tends to happen from time to time in a draft. It's refreshing when a GM acknowledges it the way Snead did in this conversation. Why pretend every draft goes 100 percent to plan when that almost invariably is not the case given all the variables at work?
"In this draft, there was one player where probably about four picks before I was like, 'Dang,'" Snead said. "The guys we did pick, they were targeted. But in every draft there's always one or two where you go, 'Ah, I can't believe it. I wish that wouldn't have happened.'"
Snead wasn't going to identify why player the Rams narrowly missed in this draft. We can narrow the list through some amateur sleuthing.
Snead previously said the first round went 100 percent to plan. The Rams traded up for Austin and hoped to get
Alec Ogletree
after trading back from No. 22 to No. 30. We can rule out those two picks.
The Rams also traded up in the fifth round to select running back
Zac Stacy
. We can eliminate from consideration the choices immediately before the team selected Stacy.
Rams coach Jeff Fisher said the team was nervous that safety
T.J. McDonald
would not be available when the team picked at No. 71 in the third round.
"That was a 'hold your breath' pick, because we were a little bit nervous," Fisher told reporters after the draft.
We can eliminate that choice from consideration as well.
I'm guessing the team was targeting wide receiver
Stedman Bailey
with the second of its third-round selections. Bailey played with Austin at West Virginia. Receiver was a position the Rams wanted to address. No receivers were selected with the 12 picks preceding Bailey's selection. The
San Francisco 49ers
chose pass-rusher
Corey Lemonier
four spots before the Rams took Stedman. Seattle took defensive tackle
Jordan Hill
a spot before that.
That would leave the Rams' fourth-round selection of center
Barrett Jones
and fifth-round selection of cornerback
Brandon McGee
as more likely candidates, in my view.
Green Bay selected an offensive lineman,
David Bakhtiari
, four spots before the Rams took Jones. Offensive linemen
Edmund Kugbila
(Carolina) and
Brian Schwenke
(Tennessee) went off the board right before Bakhtiari was selected.
San Diego selected a corner four spots before the Rams took McGee.
The chart below shows the Rams' picks in the final row and the five players selected immediately before each one of them.
If the Rams missed out on only one player they really wanted and it happened somewhere on the third day, they had to consider themselves fortunate.
April, 26, 2013
4/26/13
10:52
PM ET
The second day of the 2013 NFL draft has come and gone. The chart below recaps picks for NFC West teams. I'll have more as the night progresses, of course.


April, 26, 2013
4/26/13
10:09
PM ET

The
Seattle Seahawks
entered the 2013 NFL draft with few (if any) pressing needs.
The team flaunted it a bit, it seemed, by using a second-round selection for a running back even though
Marshawn Lynch
and
Robert Turbin
combine to make that position one of great strength.
Seattle addressed one of its needs in the third round by selecting Penn State defensive tackle
Jordan Hill
with the 87th overall choice. San Francisco traded into the 88th slot to take pass-rusher
Corey Lemonier
from Auburn, and fellow division rival St. Louis was set to be on the clock shortly at No. 92.
The Seahawks will be saving money at defensive tackle in 2013 after letting
Alan Branch
leave in free agency. Seattle added free-agent defensive tackle
Tony McDaniel
in a modest deal. Hill will join the rotation. Scouting reports suggest he's better at rushing the passer than defending the run. We'll hear more from coach Pete Carroll in a bit.