September, 3, 2012
9/03/12
5:10
PM ET
The
Jacksonville Jaguars
may get more of a test of their depth Sunday in Minnesota than they'd like.

Coach Mike Mularkey told Jacksonville reporters after Monday's practice that starting cornerback
Derek Cox
(hamstring) doesn't look likely to play and would be replaced by
William Middleton
.
And starting right guard
Uche Nwaneri
(sprained ankle) got a rest day and will go through full treatment tomorrow.
"We're hoping to get him back Wednesday," Mularkey said. "That's kind of the plan as we speak. If that's not the case we can work with (Mike) Brewster in there or (Josh) Beekman, either one. We are planning on Uche being back."
The Jaguars also suffered a new injury, as Mularkey watched
Brett Brackett
go down right in front of him with a knee injury. Brackett, a tight end, was recently claimed off waivers from the Eagles.
"I was standing right behind him and it did not look like something simple," Mularkey said. "It looked serious. They're checking him out. They were checking him out at one o'clock today, but it did not look good standing behind him."
If he's lost the Jaguars would be shopping for a third tight end after
Marcedes Lewis
and
Zach Potter
.
September, 1, 2012
9/01/12
12:47
AM ET
Click
here
for the complete list of
Jacksonville Jaguars
' roster moves.

Most significant move:
The team kept six wide receivers as it looks to make dramatic strides in the passing game with quarterback
Blaine Gabbert
.
Laurent Robinson
was the big free-agent acquisition and
Justin Blackmon
was the high draft pick.
Brian Robiskie
is a reclamation guy and
Mike Thomas
is a survivor who needs to regain form from early in his career.
Cecil Shorts
seemed to have stage fright a year ago when he got chances.
Kevin Elliott
is an undrafted rookie free agent who often shined and is deserving of a spot and some playing time. Only Thomas and Shorts are holdovers from a year ago.
Onward and upward:
Several underdogs fill in some roster cracks, including three who caught my eye early in training camp -- Elliott, undrafted rookie linebacker
Julian Stanford
and running back
Jalen Parmele
. Parmele is one of four running backs the team kept with
Maurice Jones-Drew
holding out, along with
Rashad Jennings
,
Montell Owens
and
Keith Toston
. They've also got fullback
Greg Jones
. Other underdogs still standing are undrafted rookie safety
Antwon Blake
and defensive end
George Selvie
, who's already spent time with three different teams, including the Jags once before.
What's next:
Guard
Will Rackley
was placed on injured reserve. He suffered a high ankle sprain early in camp and, according to AP's Mark Long, reinjured the ankle.
Eben Britton
, who the team projected as the right tackle all offseason and at the start of the preseason, is now the left guard.
Cameron Bradfield
, undrafted a year ago, is now the right tackle and the backup left tackle. Middling veteran
Guy Whimper
is the backup right tackle, while undrafted rookie
Mike Brewster
and
Josh Beekman
, formerly of the Bears, are the interior backups. It sure looks like the team would benefit from adding someone with more of a resume.
September, 4, 2010
9/04/10
3:17
PM ET
We're planning posts on each NFC North team's cuts once they are official. Announcements could come at any point Saturday afternoon or evening, but for now let's round up some of the bigger names who are already reported to be on the way off their respective rosters.
June, 2, 2010
6/02/10
6:00
PM ET
Three of the four NFC North teams opened their organized team activities Wednesday. You've seen (and quite possibly skipped over)
my reports
from
the
Minnesota Vikings
. Now let's catch up on the
Chicago Bears
and
Green Bay Packers
via media outlets that were in attendance.
Chicago Bears

Defensive tackle
Marcus Harrison
, a possible starter opposite
Tommie Harris
, revealed he lost more than 20 pounds during a recent week-long battle with tonsillitis. According to
Jeff Dickerson of ESPNChicago.com
, Harrison was limited in Wednesday's practice.
"Before I got sick, the offseason was going great," Harrison said. "I just got to get back used to it. I've been out for a long time, so man, my body just has to get used to it. I lost a lot of weight and stuff, so I just have to get it back.
"I know [defensive coordinator Rod Marinelli] is going to pick it up and make sure I get back to where I need to be. I'm not really concerned about that. I want to get in there and do it. I need to get in there and do it. But coach Marinelli is going to have me ready."
Meanwhile, if you're keeping track of the Bears' search for a left guard: Dickerson reports the Bears were using
Josh Beekman
strictly at center. That means
Kevin Shaffer
,
Lance Louis
and
Johan Asiata
rotated at left guard.
Green Bay Packers

For those wondering how the Packers plan to stack their cornerback depth, especially considering the shift of
Will Blackmon
to safety, coach Mike McCarthy
heaped effusive praise
on second-year player
Brandon Underwood
.
"I think Brandon Underwood would definitely be a candidate for most improved player from year one to year two so far from what I've seen," McCarthy said. "I think he's really matured in the weight room. He looks very good right now. I know we're only practicing in shorts and helmets, but I think Brandon Underwood is off to an outstanding spring so far. I've been very pleased with what he has shown on film."
Other candidates to back up the initial starting duo of
Charles Woodson
and
Tramon Williams
include
Pat Lee
and
Jarrett Bush
.
Veteran starter
Al Harris
, meanwhile, said he had shifted his knee rehabilitation from Florida to Green Bay. Harris wouldn't commit to a return date, according to
Rob Demovsky of the Green Bay Press-Gazette
, but said his recovery is on schedule.
"I don't want to give any predictions or anything like that, but I'm going to do my part," Harris said. "So if it's up to me, and it's up to me working to get out there, then I'll be out there. But we've got to go with the protocol and do what's right for the team and what's right for me. I'm going to do my part as far as preparing and working to get better."
May, 4, 2010
5/04/10
1:00
PM ET
»
NFC Big Question
:
East
|
West
|
North
|
South
»
AFC
:
East
|
West
|
North
|
South
What NFC North assistant coach will make the biggest impact in 2010?
[+] Enlarge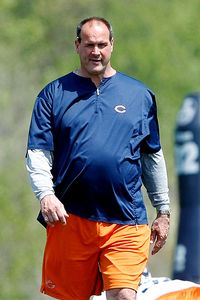 Scott Boehm/Getty ImagesMike Tice's ability to coach up the offensive line could be key to the Bears' success on offense.
I started wondering about that question while reading about the
career and death
of longtime NFL assistant Bob Karmelowicz, who coached Detroit's defensive line last season and carried a well-deserved reputation for improving established players. A number of candidates come to mind, but I can't think of any who sits in the position of Chicago offensive line coach Mike Tice.
Tice has assumed responsibility for a group that admittedly underperformed in 2009 but will still return four of its starters. Center
Olin Kreutz
hopes that
offseason surgery
to remove bone spurs from his ankle will help him return to form. But for the most part, the Bears are counting on Tice to elevate this group based on technical adjustments and a new brand of motivation.
The arrival of new offensive coordinator Mike Martz has been heavily discussed. But for the Bears' offense to improve in 2010, Tice will have to find a way to make
Frank Omiyale
a productive player at right tackle. He'll have to develop a left guard, be it
Josh Beekman
or
Lance Louis
or even journeyman tackle
Kevin Shaffer
. And he'll have to do it in an offense that typically favors the passing game.
Minnesota defensive end
Jared Allen
remembered Karmelowicz as a coach who taught him how to use his natural abilities to play at an elite level. The Bears are hoping for a similar impact from Tice.
April, 26, 2010
4/26/10
2:31
PM ET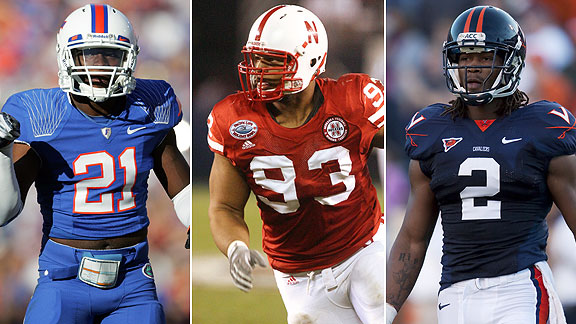 Icon SMIMajor Wright (Chicago), Ndamukong Suh (Detroit) and Chris Cook (Minnesota) all help fill voids for their new teams.
No point in the NFL year is filled with more optimism than the week after the draft, when every team is basking in what it considers undeniable across-the-board improvements. But unless the 2010 season is characterized by a rash of ties, we're going to have the same number of losses as we did last year -- some by chance, a few by strategy and many as a result of flawed team building.
So this is my opportunity to play
Scrooge
. (I believe I was born for the role, but that's another story.) We spent the past four days hyping the additions in Chicago, Detroit, Green Bay and Minnesota. Now, with the draft concluded and the top half of the free-agent market accounted for, we must acquiesce to reality and note where each team still falls short.
(A Scroogism: How shall I ever understand this world? There is nothing on which it is so hard as poverty, and yet, there is nothing it condemns with such severity as the pursuit of wealth.)
[+] Enlarge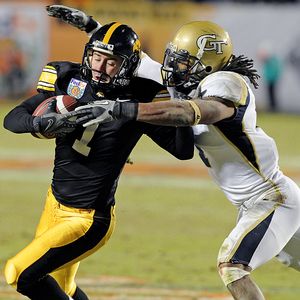 Richard C. Lewis/Icon SMIGeorgia Tech safety Morgan Burnett will have a chance to help improve Green Bay's pass defense.
We took an in-depth look last month at Green Bay's plans to improve its pass defense.
That plan, I think we can safely say, does not include significant personnel changes. In fact, the Packers have added only one player who could impact this segment of their team: Third-round safety
Morgan Burnett
, and that's if he beats out
Atari Bigby
for a starting job.
Many of us thought the Packers would target an outside linebacker at No. 23. I can't blame them for passing up
Sergio Kindle
or
Jerry Hughes
in favor of left tackle
Bryan Bulaga
, who filled what might have been the franchise's biggest single need. But wrapping up the draft without a single player at the position means that, for now, the Packers will look to
Brady Poppinga
and
Brad Jones
at the position manned for much of last year by
Aaron Kampman
.
The Packers also haven't addressed the cornerback position, putting a premium on their belief that veterans
Al Harris
,
Will Blackmon
and
Pat Lee
will all return healthy from major injuries this summer.
"I think we got guys that can come in and make an impact," general manager Ted Thompson said. "I've said all along I think we have a good team. I think we have a team that's going to be competitive week in and week out. And at those positions, we have some guys that are dinged up, but we don't necessarily think that's going to be an ongoing problem."
Thompson added that the Packers are "still doing some work at the outside linebacker spot," but it's uncertain if he meant adding rookie free agents or if he would target a veteran. Often a second wave of free agency occurs after the draft, and New England kicked it off Monday morning by
releasing
veteran
Adalius Thomas
.
Improving a segment of your team doesn't necessarily mean swapping out players. Last month, coach Mike McCarthy detailed some practice changes and new priorities for his pass defense. For the most part, the Packers will do it with the same players they had last year. Take that for what it's worth.
April, 24, 2010
4/24/10
1:21
PM ET
The
New York Jets
just released
Pro Bowl guard
Alan Faneca
. Chicago recently moved left guard
Frank Omiyale
to right tackle. The Bears have no obvious replacement. Could Faneca come into play?

Faneca
That's the question the Bears are no doubt considering as the draft winds down Saturday. Faneca, 33, might not be at the height of his career but is clearly an upgrade over the Bears' current personnel. Still, I don't think it's a slam-dunk the Bears will pursue him.
First, the Bears took a similar approach last season by signing veteran left tackle
Orlando Pace
, whose skill slippage was clear from the start of last season. It took the Bears a while to get him out of the lineup, however, and they will have to make sure Faneca wouldn't put them in the same position.
Second, the Bears have hired an offensive line coach in Mike Tice who excels at developing young players. It's possible they will want to give Tice a chance to work with
Josh Beekman
and
Lance Louis
, among others, before deciding to plug in a veteran. Stay tuned.
April, 21, 2010
4/21/10
1:18
PM ET
»
NFC dream/Plan B
:
East
|
West
|
North
|
South
»
AFC
:
East
|
West
|
North
|
South
»
Draft Watch
:
Biggest needs
(2/17) |
Busts/gems
(2/24) |
Schemes, themes
(3/3) |
Recent history
(3/10) |
Needs revisited
(3/17) |
Under-the-radar needs
(3/26) |
History in that spot
(3/31) |
Draft approach
(4/7) |
Decision-makers
(4/14) |
Dream scenario/Plan B
(4/21)
Each Wednesday leading up to the NFL draft (April 22-24), the ESPN.com blog network will take a division-by-division look at key aspects of the draft. Today's topic: Dream scenario/Plan B.

Chicago Bears
Dream scenario:
Without a first- or second-round pick, Chicago's dreams are pretty muted this week. They have significant needs at guard and cornerback, but nothing would make them happier than having a starting-caliber safety fall to them at No. 75 overall. The nature of the position, and the depth of this draft, makes it possible. They might not get South Florida's
Nate Allen
, who is a likely second-round pick, but there should be other options. Finding a starter without having to sacrifice additional picks in a trade-up would be ideal.
Plan B:
Guards are not highly coveted from a draft perspective, and if the Bears don't like any of the safeties available to them at No. 75, they should be able to find someone to compete for their wide-open spot at left guard. As of now, the only veteran in the mix for that role is
Josh Beekman
.

Detroit Lions
Dream scenario:
This might be too dreamy to actually happen, but here goes: The Lions acquire Washington defensive tackle
Albert Haynesworth
for a third-round pick. They draft Oklahoma State's
Russell Okung
at No. 2 overall and grab Cal running back
Jahvid Best
at No. 34. Although they pass over arguably the two best prospects of the draft -- defensive tackles
Ndamukong Suh
and
Gerald McCoy
-- the Lions still get an elite defensive tackle, a fixture at left tackle and a playmaker in the backfield who would be ready to contribute immediately while starter
Kevin Smith
continues his knee rehabilitation. I've shied away from this scenario, believing the cost for Haynesworth would be too high, but a third-round pick is pretty reasonable here.
Plan B:
Frankly, getting a dynamic defensive playmaker at No. 2 -- Suh or McCoy -- is an awfully nice fallback position.

Green Bay Packers
Dream scenario:
The Packers need a left tackle of the future. As this year's draft class stacks up, there is a significant dropoff between the top four left tackles and whoever you consider to be No. 5. Currently situated at No. 23, the Packers probably aren't going to get a chance at Okung, Oklahoma's
Trent Williams
, Rutgers'
Anthony Davis
or Iowa's
Bryan Bulaga
. But as long as we're in a dream-like state, we can hope that one of those four -- Davis? -- somehow slips to No. 23 or close enough that the Packers can make a reasonable trade up to get him.
Plan B:
In our blog network
mock draft
, I proposed taking a chance on USC left tackle
Charles Brown
. He would probably get at least a year to develop, based on current starter
Chad Clifton
's contract, and would benefit from being in a stable offensive environment.

Minnesota Vikings
Dream scenario:
Vice president of player personnel Rick Spielman said this week that he is confident at least one of his four targeted players will be available with the No. 30 overall pick. I won't hazard a guess at their identities, but ideally one of them would be a quarterback and fall to their spot. More than anything, this franchise needs a young quarterback to build around. More often than not, those quarterbacks are found at the top of the draft and at least in the first round. There are no assurances about waiting for next year. Getting their quarterback of the future is the Vikings' dream scenario.
Plan B:
The Vikings have a relatively strong roster otherwise, and therefore can afford to draft for value at every spot if they choose. If their quarterback of the future isn't available at No. 30, or he can be selected lower in the draft, then they'll benefit from additional depth that the best available player will bring.
November, 29, 2009
11/29/09
11:15
PM ET
MINNEAPOLIS -- I spent a good portion of my upcoming game column examining how and why
Brett Favre
picked apart Chicago's defense. But we shouldn't allow the Bears off the hook for an atrocious offensive performance as well.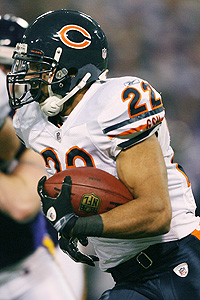 Elsa/Getty ImagesThe Vikings limited Matt Forte to just 27 yards on eight carries.
Chicago held the ball for only 19:05 of the game, managing eight first downs and 169 total yards. All were season lows. ESPN Stats & Information reports that nearly a third of the Bears' total plays went for zero or negative yardage (12 of 38). That figure included seven of their 12 plays in the second half.
"You saw it," Bears coach Lovie Smith said. "Didn't get a lot done."
I walked away thinking that quarterback
Jay Cutler
was to blame for a minimum of the Bears' offensive problems. There's little doubt he underthrew receiver
Johnny Knox
in the end zone for his first interception, but that was the only glaring mistake I saw.
More problematic was the Bears' decision to concede the running game before kickoff, naming
Frank Omiyale
their starting left guard over
Josh Beekman
. Omiyale is a marginally better pass- blocker but has struggled in run sets. Very predictably, the Bears called for a pass on 21 of their first 26 plays. For the game, tailback
Matt Forte
rushed for 27 yards on eight carries.
"It's easy to look at the quarterback and blame the quarterback or whatever you want to blame," offensive coordinator Ron Turner told reporters. "But everybody has to execute. If one guy doesn't do it, it's tough for any quarterback to execute and that's kind of been the story of what we've had."
No one knows what the Bears' endgame will be, but I have a hard time believing Turner will be back as offensive coordinator. That seems a given. The bigger question now is what will happen to the bigger fish.
My feeling for most of the past month has been that Chicago wouldn't to pay Smith some $11 million to walk out the door. But Sunday marked another all-around embarrassment. It was the Bears' third loss by 20 or more points in the past six weeks. A midseason slump has become a flat-out trend in Chicago. Will anyone -- besides Turner -- pay for it?
August, 12, 2009
8/12/09
12:30
AM ET
Posted by ESPN.com's Kevin Seifert
| | |
| --- | --- |
| | |
| | ESPN.com's Kevin Seifert |
| | About 9,100 fans showed up to watch practice. |
BOURBONNAIS, Ill. -- First and as always, make sure you check Jeff Dickerson's blog over at ESPN Chicago. Jeff posts a new report after every Bears practice.
A few things that jumped out to me Tuesday night, both in Bourbonnais and around the division:
I can't tell you how obvious it is that quarterback Jay Cutler's favorite receiver is tight end Greg Olsen. During a two-minute drill to end the practice, Cutler threw two completions to Olsen and then found him in the corner of the end zone for a diving catch. As reporters crowded around Olsen, Cutler walked by and mockingly said: "Do you ever use two hands?" Unless it's a sophisticated act, the pair has genuine chemistry on and off the field.
Bears fans are still showing up in droves. There were 9,100 of them in the stadium at Olivet Nazarene University.
Players were in shoulder pads and shorts, so contact was limited. On the positive side, defensive tackle Tommie Harris was not. Harris participated in all of the practice, but coach Lovie Smith indicated it was unlikely that he would play Saturday at Buffalo. Smith continued to downplay the severity of Harris' sore knee, but facts are facts: This has been going on for 20 months.
Here's a mixed bag if you're a Bears fan. Olsen had five yards on safety Danieal Manning on a 25-yard seam route during 7-on-7 drills. Good if you like Olsen. Bad if you want Manning to be a long-term answer at safety.
Smith said Josh Beekman will start at left guard Saturday at Buffalo. People who have watched practice all summer say Beekman has clearly outplayed newcomer Frank Omiyale. My limited time here leads me to agree. Omiyale's insertion into first-team drills appears to be a courtesy.
Here's an interesting twist in Green Bay: Unsigned rookie B.J. Raji left town Tuesday night, according to the Milwaukee Journal Sentinel, and is headed for Boston, reports the Green Bay Press-Gazette. Raji had been living in Green Bay while awaiting a contract agreement. It's possible he just wants to grab some New England clam chowder, but his departure suggests no deal is imminent.

March, 17, 2009
3/17/09
6:15
PM ET
Posted by ESPN.com's Kevin Seifert
I wonder if anyone within Chicago's front office thought free-agent offensive lineman John St. Clair would fetch the type of contract he signed Tuesday with Cleveland, a surprising development that left the Bears without an obvious successor to retiring right tackle John Tait.
St. Clair got a three-year deal worth $9 million, according to Brad Biggs of the Chicago Sun-Times. The Browns essentially doubled the contract Chicago offered last month, a three-year contract worth $4.5 million.
It has long been assumed that St. Clair would re-sign with the Bears after starting all 16 games at left tackle in 2008. Chris Williams has taken over at left tackle, but Tait's retirement gave St. Clair a natural landing spot on the other side of the line.
St. Clair has been a utility backup for most of his career, and you could argue he is overpriced at $3 million per season. The Bears obviously had a lower value of his skills, but that assessment has left them needing to find a right tackle either in the draft or hope that a more prominent free agent materializes later in the offseason.
The only internal option is to shift newcomer Frank Omiyale to right tackle and re-insert Josh Beekman as the No. 1 left guard. But that would defeat the purpose of originally signing Omiyale, which was to upgrade the left guard position.
The cupboard otherwise is bare. (Pun intended.) At Tuesday's minicamp practice, undrafted rookie Cody Balogh was working with the first team.

NFL SCOREBOARD
Thursday, 12/12
Sunday, 12/15
Monday, 12/16