September, 13, 2014
Sep 13
12:43
PM ET
CHICAGO -- A rash of injuries on the offensive line and at wide receiver prompted the
Chicago Bears
to make a handful of roster moves in advance of Sunday night's road game against the
San Francisco 49ers
.
Sources confirmed the Bears waived quarterback
David Fales
and released veteran cornerback
Kelvin Hayden
and veteran fullback
Tony Fiammetta
.
The Bears announced following Friday's practice that Fales (shoulder) and Fiammetta (hamstring) had been officially ruled out for Week 2.
Hayden was a healthy inactive in Chicago's 23-20 overtime loss to the
Buffalo Bills
in the season opener.
The expectation is the Bears will look to fill some of the open roster spots off the practice squad. With
Brandon Marshall
(ankle) and
Alshon Jeffery
(hamstring) questionable, and
Josh Morgan
(groin) doubtful, the Bears could choose to promote one, or more, of their current practice squad wide receivers: Josh Bellamy, Greg Herd,
Chris Williams
and Rashad Ross. Practice squad center/guard Taylor Boggs is a candidate to help with depth on the offensive line after starters
Roberto Garza
(high-ankle sprain) and
Matt Slauson
(high-ankle sprain) were both declared out for the 49ers game.
December, 9, 2013
12/09/13
8:00
AM ET
LANDOVER, Md. -- A review of four hot topics following the
Washington Redskins
'
45-10 loss
to the
Kansas City Chiefs
:
Shanahan's status:
As Monday began, Redskins coach Mike Shanahan remained employed. He looked exhausted or perhaps resigned to his fate Sunday night when he left FedEx Field nearly 90 minutes after an embarrassing 45-10 loss to the Chiefs. There have been too many recent stories detailing relationships -- Shanahan and
Robert Griffin III
; Shanahan and Griffin/Dan Snyder and Kyle Shanahan and Griffin -- and too many losses on the field to think this situation can be salvaged. Four years into the regime, the roster still needs a lot of work. The salary-cap penalty didn't help, but free agency has been mixed for Redskins anyway, so to think it would have solved everything is incorrect. There are reasons to change regimes other than failed relationships. Aside from Griffin, the team leaders have publicly endorsed Shanahan's return, and privately, players support him as well. But with a 24-37 record, they haven't backed their support up with the sort of success the organization wanted.
Garcon
Morris
Griffin's status:
On any other Sunday, the fact that Shanahan did not commit to Griffin to start the following week would make huge news. But it got lost in the drama of Shanahan's job and the dynamics of various relationships. Shanahan would only say they'll "talk about it later." If there was no doubt, Shanahan would say so. It could be a moot point, as Shanahan might not even be the one making that decision. And it's becoming clear he won't be the one making these decisions in 2014. Still, for now, Shanahan isn't sure whether he wants Griffin or
Kirk Cousins
to start against Atlanta. Shanahan is a strong believer in Cousins, and Griffin has been inconsistent at best. It also makes you wonder whether owner Dan Snyder would stand for something like this, knowing the future implications. Playing Cousins to "see what you have" doesn't make much sense because Griffin remains the future. Just like it doesn't make sense to bench Griffin just to keep him healthy. If he is the future, he needs to play and play a lot. If you're not sold on that, then that's a reason to play Cousins, or maybe also if you want to send a parting shot to the current starter. Regardless, it's just more drama in Washington -- because there wasn't enough already.
Special-teams mishaps:
Niles Paul
was as upset as anyone after Sunday's game because of the special teams' performance. He blamed it in part on players' mindsets, saying that some guys project themselves as future starters, so they don't prepare right for special teams. The thing is, on punt and kickoff coverage, there aren't a lot of young players who are even guaranteed of a roster spot next season, let alone a starting job. On kick return Sunday, there were four players who are in their first or second years --
Bacarri Rambo
,
Jose Gumbs
,
Josh Bellamy
and
Trenton Robinson
. Rambo already is starting (he was knocked for his special-teams play earlier this season). On punt coverage, 10 of the 11 players have been in the NFL for at least three years. The exception: Robinson. No, it's not about young guys who don't get it. Rather, it's about veterans who don't do it well. This unit was put together poorly.
Milestone marker:
In a bad season, two Redskins offensive players have been consistent producers -- receiver
Pierre Garcon
and running back
Alfred Morris
. Both surpassed the 1,000-yard mark Sunday; Morris has now rushed for 1,027 yards, while Garcon has a career-best 1,017 yards receiving. Morris' overall yardage total won't match his 2012 number of 1,613 yards, but that's not his fault. Morris is averaging 4.7 yards per carry and has run the ball only 37 times combined in the past three games, two of which were blowouts. He's also averaged 3.7 yards or fewer in those games as teams focused hard on stopping the Redskins' run game. Still, Morris has had a strong year running the ball in an offense with so much inconsistency. Garcon has posted big numbers, though he doesn't have many big plays and has caught just three touchdown passes among his 89 catches. His longest catch is 44 yards, a function of a passing game that is either inaccurate downfield or doesn't get enough time to throw certain passes. Garcon is averaging 11.4 yards per catch, his lowest figure in his five seasons as a full-time starter. But he's done a good job being able to catch and run, especially on screens, and is the lone receiver who worries a defense.
December, 4, 2013
12/04/13
8:00
AM ET
The
Washington Redskins
should not start playing young guys just because they're out of playoff contention. I'm with coach Mike Shanahan on this one: You can do more harm than good by taking that philosophy.
This isn't baseball where you have September call-ups that you can give at-bats. If you play a guy, say, along the offensive line who isn't ready, then your quarterback could be in jeopardy. It makes no sense. Not every young guy projects to being part of the roster in the future, either.
Some young guys are just on the roster because of injuries to others. And just because fans or media want to see a guy doesn't matter; the coaches analyze every practice tape and have a good sense of what players can do or what they know. Others can see athleticism or talent, but it's often what you know and are capable of learning that makes the difference.
Some young players -- I'm looking at guys who are rookies, first- or second-year players -- already are getting time:
Robert Griffin
III,
Alfred Morris
,
Jordan Reed
,
Chris Baker
,
Aldrick Robinson
(technically his second year because he spent almost all of his rookie year on the practice squad),
Bacarri Rambo
and
David Amerson
.
Here's a look at the young guys who aren't getting a lot of time right now and whether or not they should:
[+] Enlarge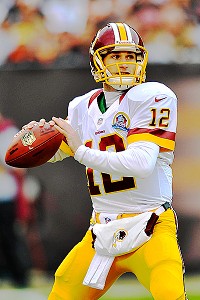 David Richard/USA TODAY SportsKirk Cousins has attempted only nine passes this season.
Quarterback Kirk Cousins
: The coaches like him a lot, but he should only play if Griffin gets hurt. That is, unless you don't think Griffin is the future. I don't think that's the case. If they do play Cousins, then you'll get to enjoy an entire offseason of you know what. What about drumming up trade value? Personally, I'd hang onto him another year; keep him as long as possible for insurance purposes. If you like him, why rush a trade? I have a hard time seeing anyone trade a high pick for Cousins based on his first two years, but as they say, it only takes one.
Wide receiver Lance Lewis
: He shouldn't play more than he is; he's still relatively raw and needs more time to develop in practice and in the offseason.
Wide receiver Josh Bellamy
: Recently signed off the practice squad. Not ready.
Wide receiver Nick Williams
: I could see him being a factor in the future, depending on who's coaching. With
Santana Moss
likely in his final four games in Washington, I'd continue to work Williams into the lineup as the Redskins have been doing.
Left guard Josh LeRibeus
: He's a young lineman and former third-round draft pick. That should add up to playing time in a lost season. But after a disastrous offseason and poor showing in the preseason, there's nothing to suggest he should be playing. Which is not a good sign. He needs a strong offseason.
Right guard Adam Gettis
: I'd love to see him get some snaps. At 292 pounds, the undersized Gettis has excellent lower body strength, which somehow allows him to anchor despite getting moved back in protection. He was an improved run-blocker this summer.
Chris Chester
has not played as well as last season. Still, I'd be careful here. If there's a coaching change, I'm not sure either player would return: Chester because he'll turn 31 in January and Gettis because he's smaller and would not fit every system.
Offensive tackle Tom Compton
: Another guy I'd like to see get some snaps.
Tyler Polumbus
has been better than last year but has had issues recently and certainly shouldn't have a stronghold on the position. Compton looked better this summer than as a rookie and, ideally, in Year 3 he'd be ready to become a contributor. Regardless, the Redskins need to upgrade the line.
Linebacker Brandon Jenkins
: For now he's just a pass-rusher and there are others clearly better than him. He has work to do in the offseason.
Safety Jose Gumbs
: Future special-teamer. I don't see any reason he should be playing right now.
Corner Chase Minnifield
: He shouldn't be playing ahead of the other corners and really needs to be better on special teams. Even if they clean house at this position, I wouldn't see him as anything more than a guy fighting for a roster spot in 2014. I love his attitude and physical style, but he needs to show he can play a variety of coverages. He's a smaller press corner. Another offseason of work with no knee issues should help him.
Safety Trenton Robinson
: Special-teamer. He's gotten some snaps, but there's nothing to suggest he should be muscling his way into more time.
August, 31, 2012
8/31/12
10:38
PM ET
Click
here
for the complete list of
Kansas City Chiefs
' roster moves.

Most significant move:
I found it interesting that defensive tackle
Amon Gordon
was cut. Gordon is solid, but far from special. But it could open a spot for
Shaun Smith
. Smith, who was recently cut by the Titans, tried out for the Chiefs on Tuesday. He played for Romeo Crennel in both Cleveland and in Kansas City. Smith could be added to a defensive-tackle group that includes first-round pick
Dontari Poe
,
Anthony Toribio
and
Jerrell Powe
. It was also significant that rookie defensive back
DeQuan Menzie
was put on injured reserve. The Chiefs have a lot of injuries in the secondary (they also cut veteran
Donald Washington
) and will need to do something. Young running backs
Cyrus Gray
,
Nate Eachus
and
Shaun Draughn
all made the team, giving Kansas City some intriguing youth in the backfield. Interestingly, the Chiefs kept five tailbacks, but no fullbacks. What does it mean? The will be doing a lot of multiple-tight-end and -receiver sets. It'd also be nice to see
Jamaal Charles
and
Peyton Hillis
share a backfield on occasion.
Onward and upward:
The Chiefs cut rookie receivers
Junior Hemingway
and
Josh Bellamy
. The Chiefs like both of those players, but they are deep at the position. Both should be headed to the practice squad. As expected, second-year quarterback
Ricky Stanzi
made the team. He will be the No. 3 quarterback and given another chance to develop. Defensive lineman
Jerome Long
, a draft pick, could also be headed to the practice squad.
What's next:
Whether or not the Chiefs sign Smith (doing so after Week 1 would avoid guaranteeing his 2012 contract), I think they could add to the defensive line. I think they certainly will look at help for the secondary because of injuries, and if the right linebacker becomes available, the Chiefs could add some depth. I also think the offensive line might be an area in which Kansas City looks for depth -- it has been trying to add a veteran all summer. One name to keep an eye on is former New England offensive lineman
Dan Koppen
. He has a history with Chiefs general manager Scott Pioli.
August, 18, 2012
8/18/12
12:00
PM ET
ST. JOSEPH, Mo. -- This isn't a training camp for the leisurely.

Armed with the best roster this franchise has seen in years, the
Kansas City Chiefs
are moving quickly under new coach Romeo Crennel. For those who visited the Chiefs camp last year, this pace is foreign.
"There are no wasted moments," said quarterback
Matt Cassel
.
The final training camp of the Todd Haley era will live in infamy in the Heartland. The Chiefs' training camp last season was essentially a three-week walk-through exercise. Haley chose to go that route because he wanted to ease the players back into the program after a lost offseason due the lockout. The plan didn't work as the Chiefs were physically and mentally behind the rest of the league. The Chiefs, who suffered several major injuries early in the season, were clubbed early in the season and it set the tone for a disappointing season.
However, speed is back in vogue as Crennel tries for head-coaching success in the NFL in his second go-around. The tempo change has paid off so far. The Chiefs have looked crisp in practices and they were dominant on both sides of the ball against Arizona in the preseason opener last week.
The idea is to keep the forward tempo moving into the season as the Chiefs try to win the AFC West for the second time in three seasons.
"It's exciting to see what is happening here," Cassel said. "We have a lot of work to do, but we are all on the same page and all want to have success together."
THREE HOT ISSUES
1. The ACL Club:
In addition to bringing in several free agents, the Chiefs are getting back three standouts. Safety
Eric Berry
, running back
Jamaal Charles
and tight end
Tony Moeaki
all blew out the ACLs in their knee last September. All of the players are back and on pace to be major contributors this season.
"All of those guys look great," Cassel said. "They're going to help us a lot."
2. Dwayne Bowe's absence:
The Pro Bowl receiver did not participate in the offseason workouts and he was not present for the entire training camp in Kansas City. Bowe has not signed his franchise tender. The general consensus is Bowe will report in early September, just before the season. But there are issues. Bowe has had trouble staying in football shape in the past, so coming in late could be a problem. Plus, he has to learn a new offensive system. The Chiefs want Bowe back, but they are moving forward without him. They know he makes them better, but the team likes its roster and won't wait for anyone.
[+] Enlarge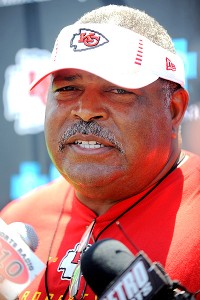 Denny Medley/US PRESSWIREChiefs coach Romeo Crennel has the respect of his players.
3. Good vibrations:
This team is in a good place. The players love playing for Crennel. One of the reasons why Crennel was promoted from interim coach was the players' respect for him. It has continued now that he is the permanent coach. He is a polar opposite of former coach Todd Haley, who was known as somewhat of loose cannon. Crennel is a calm, steady hand. Players love that he's organized and up front. There is a lot of trust going on in this club.
"They've worked hard and they know the possibilities this team has," Crennel said. "Every team feels good about itself this time of year, but this team's attitude is in the right place."
REASON FOR OPTIMISM
This is the best overall roster in the AFC West. It is one of the deepest rosters in the AFC. There is proven talent throughout the roster and the team has the right mix of veteran and young players. Still, the Chiefs are the youngest team in the NFL. They are the only team in the league not to have a player over the age of 30.
"When I was on my visit, I just looked up and down this roster and saw so much talent," free-agent pickup, tight end
Kevin Boss
said. "It is just loaded with talent."
You look at this roster, and there isn't much not to like.
REASON FOR PESSIMISM
The Chiefs will be banged for not being a playoff contender this year until Cassel proves otherwise. The big reason why many people don't believe in the Chiefs is because they don't believe in Cassel, even though he has already delivered a division title in Kansas City. Many scouts don't think he can be a difference maker and because he is the least talented of the four quarterbacks in the AFC West, he will not be able to overcome the other teams in the division. I am of the belief there is enough talent on the roster to help Cassel lead the Chiefs deep into the playoffs. But he must prove it.
OBVERSATION DECK
The rap on No. 11 overall pick Dontari Poe is that the defensive tackle wasn't productive at Memphis. The Chiefs didn't feel that way. They reviewed every college snap he ever played and they were impressed that he played 60 percent of the snaps at 346 pounds. For what it's worth, Poe's college statistics and combine measuruables compare favorably to Green Bay's B.J. Raji. He has become a star after being the No. 9 overall pick in 2009. Poe is two inches taller and nine pounds heavier than Raji, yet he ran a 4.9 40-yard dash at the combine compared to Raji's 5.23. Poe had nine more tackles and four more quarterback hurries than Raji in college despite the fact Raji played 16 more college games. This is not to suggest Poe is going to be a better NFL player than Raji, but it does take away some of the steam out of the argument that Poe wasn't a productive college player.

[+] Enlarge

John Rieger/US PRESSWIREThe Chiefs like what they've seen from first-round pick Dontari Poe so far.

With Bowe holding out, Jon Baldwin has been thriving under the professional guidance of veteran receivers Steve Breaston and Terrance Copper. Some folks in camp think Baldwin is making strides, because he is taking cues from Copper and Breaston.

Defensive ends Tyson Jackson and Glenn Dorsey are plus players for the Chiefs. No, neither is spectacular and they will always get grief for not living up to their draft billing. Dorsey was the No. 5 overall pick in 2008 and Jackson went No. 3 a year later. But both players are excellent run stuffers and are at their top of the game in that area.

While the focus is on Poe at nose tackle, Anthony Toribio and 2011 draft choice Jerrell Powe are also in the mix.

Inside linebacker Brandon Siler looks good after missing all of last season with an Achilles injury. He could push Jovan Belcher for playing time.

While Haley was known for his ranting and raving on the field, new offensive boss Brian Daboll is also fiery. He scoots around the field, barking instruction.

His new teammates love running back Peyton Hillis. His toughness and competitiveness have been a talk of camp.

Very quietly, left tackle Branden Albert is becoming the player the former Kansas City regime thought they were getting when they took him No. 15 overall in 2008. I expect the Chiefs to try to extend the pending free-agent at some point. He's been stellar.

I wouldn't be surprised if the Brady Quinn-Ricky Stanzi battle to be Cassel's backup continues all season, but with Quinn winning the job initially. The Chiefs like where they stand with both players.

The Chiefs are excited about the potential of tight ends Moeaki and Boss. Expect both to have high profiles in the offense.

Second-year pass-rusher Justin Houston has been terrific and the Chiefs are bubbling over at what kind of pass-rush combination Tamba Hali and Houston can become.

The team appreciates the flexibility of third-year player Dexter McCluster , who has bounced from receiver to running back to receiver again. McCluster may never have a classically defined role, but he will have a role in this offense.

Undrafted rookie receiver Josh Bellamy still has a chance to make the 53-man roster, but in a numbers game, he could be practice-squad bound.

So far, so good for new center Rodney Hudson. The second-year player looks comfortable playing with Cassel and vice versa.

Camp observers believe kicker Ryan Succop has gotten bigger and stronger, which will help with his field-goal range.

The team's fourth-round pick, receiver/returner Devon Wylie, is explosive. He will be given a chance to contribute.

Keep an eye on defensive end Ropati Pitoitua. He has outplayed 2011 third-round pick Allen Bailey and he may be a keeper.

Brandon Flowers' foot injury has allowed second-year cornerback Jalil Brown to blossom. I expect Brown to be on the field often in the regular season.
June, 27, 2012
6/27/12
8:00
AM ET
Two players to keep an eye on in training camp and in the preseason are undrafted receivers
Josh Bellamy
and
Rod Streater
.
Bellamy, from Louisville, signed with the
Kansas City Chiefs
, while Streater, a Temple product, is with Oakland. Both players stood out during organized team activities.
Still, each has an uphill battle to make his respective 53-man roster, and might need a dominant camp and preseason to avoid the practice squad.
Still, these youngsters have shown they deserve a look after not being drafted. In his pre-draft rankings, Mel Kiper Jr. had Bellamy as the 122nd-best receiver available, Streater the 162nd. Bellamy is 6-foot, 205 pounds and runs a 4.57 40-yard dash. Streater is 6-foot-3, 193 pounds and runs a 4.58.
I asked Steve Muench of Scouts Inc. what he thought of both players. He is cautious because he knows OTAs are designed to make receivers shine. Still, he said both deserve a look.
"Streater and Bellamy, they are both junior-college transfers that didn't put up big numbers in college but had strong pro days and show the requisite natural ability to make it in the NFL on film," Muench said. "On the other hand, they need to earn the trust of their respective quarterbacks by grasping the offense and showing they can make sound adjustments based on the coverage. They also have to take advantage of their chances to make plays and show they can handle the pressure of playing for a job when the preseason opens."
Muench likes both players. He thinks Streater has enough speed and length to stretch the field. However, he gives Bellamy the edge as the better overall prospect. Muench thinks Bellamy separates from defenders better and he has more savvy as a route runner.
Either way, it will be fun to watch these two young spring heroes develop once training camp begins.
UPDATE:
Bellamy's agent said he ran a 4.42 40 at his pro day.