August, 31, 2013
8/31/13
6:32
PM ET
There were no real surprises among the 20 Rams released Saturday evening to bring the roster down to the league-mandated total of 53.(Note: The Rams have roster exemptions for suspended running back Isaiah Pead and linebacker Jo-Lonn Dunbar, both of whom were placed on the reserve/suspended list.)

Most significant move:
Releasing linebacker
Josh Hull
. It's not that letting Hull go was a surprise so much as where it leaves the team in his absence.
Removing Hull from the picture, the six linebackers the Rams currently have include four rookies, three of whom are undrafted free agents.
Alec Ogletree
is an expected starter, but for now is backed up only by rookie free agents
Ray-Ray Armstrong
,
Daren Bates
and
Jonathan Stewart
.
Veteran Dunbar is still around, too, but the Rams have a four-week exemption for his roster spot following his suspension for violating the league's policy on performance-enhancing substances.
Rams coach Jeff Fisher and general manager Les Snead are not afraid to trend younger, but they have left themselves with a quartet of unproven rookies behind veterans
James Laurinaitis
and
Will Witherspoon
.
Hull spent three seasons with the Rams, playing in 28 games, with most of that work coming as a core piece on special teams.
Armstrong, in particular, flashed the upside of a future starter, but unless the Rams add another veteran, they'll go a quarter of the season without experienced depth against teams such as Atlanta and San Francisco.
Keeping Clemens:
Last year, the Rams surprised many by cutting veteran quarterback
Kellen Clemens
in favor of undrafted rookie
Austin Davis
. Davis played well in the preseason and the Rams were concerned they wouldn't be able to get him to the practice squad. They had the added benefit of bringing Clemens back after week one, making his contract non-guaranteed. This year, Clemens and Davis competed for the job throughout camp and neither really set himself apart until Clemens' strong performance in the preseason finale. The Rams opted to release Davis, leaving Clemens as the backup for now and eschewing the chance to execute the same plan as last year.
What's next?
Probably a lot of scouring the waiver wire and looking for more help at the bottom of the roster. Fisher and Snead didn't hesitate to take advantage of waivers last year, making four roster moves within 48 hours of the initial cut to 53. It wouldn't be much of a surprise if they were equally active this year, though they don't have the benefit of the No. 2 spot on the waiver wire this time around.
In addition to linebacker, the Rams are light on experience on the offensive line and could look to bolster those areas with some veterans. Backup quarterback and safety are two more positions where they could do some tweaking.
Rams cuts:
QB:
Austin Davis
FB:
Eric Stevens
TE:
Philip Lutzenkirchen
,
Zach Potter
OL:
D.J. Young
,
Ty Nsekhe
(waived/injured),
Sean Hooey
WR:
Nick Johnson
,
Emory Blake
,
Justin Veltung
DL:
Garrett Goebel
,
Sammy Brown
,
R.J. Washington
,
Mason Brodine
LB:
Josh Hull
S:
Rashard Hall
,
Cody Davis
CB:
Drew Thomas
,
Andre Martin
,
Darren Woodard
August, 17, 2013
8/17/13
12:17
PM ET
EARTH CITY, Mo. -- The Rams and Packers kick off tonight at 8 ET at the Edward Jones Dome.


St. Louis is coming off a 27-19 loss in the preseason opener at Cleveland and makes its home debut for 2013.
Hometown fans hoping to see the Rams unveil some of the new weapons they acquired in the offseason will likely leave disappointed as all indications are that the team will again stick to the vanilla game plan it used last week.
With that in mind, here are five things that are worth keeping an eye on as the Rams host Green Bay.
Right tackle redux:
Projected starting right tackle
Rodger Saffold
suffered a dislocated left shoulder two plays into the opener in Cleveland. He hasn't practiced all week and won't play against the Packers.
Joe Barksdale
, who replaced Saffold last week, has taken almost all of the work with the first-team offense in practice this week and will make the start in Saffold's place.
Barksdale fared pretty well in Saffold's stead last week and the chance to start could give him some valuable reps for a group of backup offensive linemen that doesn't have much in the way of experience.
Behind Barksdale, the Rams don't have much in the way of tackles.
Chris Williams
, who started last week at left guard, could get a look at right tackle. The same can be said for rookie
Barrett Jones
and
Brandon Washington
, both of whom are projected to play on the interior but have filled in at right tackle this week.
Spread it around
: The majority of the starting offense played just 14 snaps last week, leaving for another week the long anticipated first looks at tight end
Jared Cook
and receiver
Tavon Austin
. Neither caught a pass against the Browns as Austin was targeted once and Cook did not get a look.
Starting wideout
Chris Givens
stole the show last week with three catches for 82 yards and will again be involved, but the Rams would like to at least get the likes of Austin and Cook an opportunity or two to contribute.
Going deeper:
All week, Rams coach Jeff Fisher has made it known that the first units will play a little longer on both sides of the ball. Part of that is to get the primary starters a few more reps than they had last week, but the other reason is he wants to get some of his younger players who are down the depth chart a chance to play with the top units.
Namely at running back and receiver, don't be surprised if youngsters such as
Zac Stacy
,
Terrance Ganaway
,
Benny Cunningham
,
Brian Quick
and
Stedman Bailey
see a few snaps with the first-team offense.
Looking at linebackers
: Veteran
Will Witherspoon
is all but certain to step into the starting role in place of suspended starter
Jo-Lonn Dunbar
. Dunbar is eligible to play but Fisher made it clear he wants to use the main workload to prepare the players who will start on the season on Sept. 8.
Witherspoon is a known commodity as he enters his 12th season in the league. Rookie starter
Alec Ogletree
will also look to bounce back from a rough start last week in Cleveland.
What might be more intriguing in this area is the hunt for talented depth that can serve as reliable backups for the starting group.
Josh Hull
is the only backup linebacker with any game experience but the Rams have some intriguing options that figure to get work with the No. 2 defense.
The three undrafted rookies --
Ray Ray Armstrong
,
Daren Bates
and
Jonathan Stewart
-- have flashed potential during camp and proved to be potential long-term contributors on special teams. It seems likely at least one of those three will make the active roster and tonight's game serves as the next chance to make a strong impression.
Corner three
:
Cortland Finnegan
and
Janoris Jenkins
are pretty well entrenched as the starters at cornerback.
Trumaine Johnson
entered camp as the likely third corner in nickel packages after he finished the 2012 season as the team's third corner.
Johnson is probably still in the lead to fill that role again this year, but rookie
Brandon McGee
seems to be at least stating his case for the job.
McGee got some reps with the first-team defense as the third corner in practice this week and it's worth monitoring to see if he gets a shot to do it in the game. Considering Fisher's statement that he wants to give some different young guys a chance to play with the first team, it's entirely possible McGee will at least get a few reps in that role.
August, 14, 2013
8/14/13
7:56
PM ET
EARTH CITY, Mo. -- Although nobody came out and said it outright Wednesday, including
Will Witherspoon
himself, it's the 12th-year veteran that seems most likely to replace suspended starter
Jo-Lonn Dunbar
in the Rams' lineup.
Coach Jeff Fisher did not comment on Dunbar's suspension for violation of the league's policy on performance-enhancing drugs, but given the team's lack of experience behind Dunbar, Witherspoon is the most logical option to fill the void.
Following a special-teams practice Wednesday afternoon, Witherspoon did speak to the media about his potential new role.
"I don't make those assumptions and those are decisions way out of my pay grade," Witherspoon said, laughing.
[+] Enlarge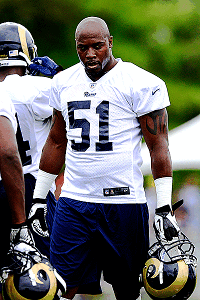 Jeff Curry/USA TODAY SportsThe Rams will be counting on LB Will Witherspoon for being more than just a veteran presence.
Considering that Witherspoon is the only backup linebacker on the depth chart with any meaningful playing experience in the league, he's the guy many expect to start on the right side opposite
Alec Ogletree
. Witherspoon has started 150 games and played in 173 in his 11-year career.
Josh Hull
, who is entering his fourth year, is the only other linebacker to make a start in the NFL and he has just one to his credit. Second-year LB
Jabara Williams
has appeared in seven games with no starts. The four other linebackers on the depth chart are undrafted rookies.
"With everything that is going on, it really comes down to the simple fact that we've all got to step up so no matter where you are asked to do it, what you are asked to do, we've all got to pick up our game, we've all got to make sure that we fill that hole when it happens," Witherspoon said. "If I'm asked to step in and start, that's what I'll do. And if not, then I'm still going to be the same veteran leader that I've always wanted to be."
The Rams signed Witherspoon on July 22, just three days before the veterans were to report for training camp. That he was brought in more than three weeks ago was not a coincidence given the nature of how suspension information flows in the NFL.
More often than not, teams are informed of suspensions long before they become public. Further, players often go through an appeals process should they opt to go that route before a suspension is announced.
This case was no different, as the Rams knew Dunbar's suspension was coming before signing Witherspoon.
The Rams needed some veteran depth at linebacker anyway and they opted to add someone who is familiar with the defense and the franchise in Witherspoon.
Witherspoon played for Fisher when the two were in Tennessee in 2010. There, Witherspoon started all 16 games on the outside, finishing with 99 tackles and a pair of interceptions.
Before his time with the Titans, Witherspoon played for the Rams from 2006-09.
Upon arrival in St. Louis, Witherspoon said his familiarity with the defense has made for an easy transition though some of the terminology, positioning and the way certain calls are played out have changed.
"What's required of me, that's what I'm willing to do," Witherspoon said. "Step in. I'm very familiar with the defense in a lot of its aspects and some of the little nuances and changes that have happened, those are things that are readily adaptable."
In the Rams' defensive scheme the outside linebacker positions are essentially interchangeable, so the loss of Dunbar likely won't require any more shuffling than simply bumping someone up the depth chart to take his place.
Witherspoon has played all three linebacker positions at various points in his career, but he's played outside exclusively since his first stint with the Rams in 2008.
"Left and right side really doesn't make that big of a difference to you," Witherspoon said. "We'll just take everything in stride and keep going with it."
Witherspoon's 33rd birthday is Sunday but he's remained productive in recent seasons though his role was diminished for the first time in 2012 with the Titans.
For the first time since his rookie season with Carolina in 2002, Witherspoon didn't start the majority of his team's games last year. He played in 14 with five starts in posting 47 tackles, a sack and an interception.
Despite the opportunity that looms, Witherspoon said he feels bad for Dunbar regardless of the circumstances of the suspension.
"You always feel bad any time a guy is going to miss any particular part of the season, no matter what," Witherspoon said. "But we are all going to support him and say, 'Hey, as soon as you get back, let's get back to rolling and going forward with what we know we can do.'"
June, 11, 2013
6/11/13
8:59
PM ET
ST. LOUIS -- The
St. Louis Rams
own the NFL's youngest roster by average age. They could be interested in adding some veteran seasoning at linebacker, it appears.
Takeo Spikes
, 36, was seen at Rams headquarters Tuesday night and was reportedly
there for a free-agent visit
.
Spikes started all 32 games for the
San Diego Chargers
over the past two seasons. Before that, he started 44 of 48 games during a three-year run with the
San Francisco 49ers
. He would presumably play middle linebacker in the Rams' 4-3 scheme, backing up James Laurinaitis, if St. Louis were to sign him.
Spikes has been a starter every season since entering the NFL with Cincinnati in 1998. He has started 215 games overall, averaging 14.3 starts per season during a 15-year career. He missed 13 games in 2005 while with Buffalo, but otherwise he has been remarkably durable and consistent at a physically demanding position.
Spikes played 66.9 percent of the defensive snaps for San Diego last season. He was the starter in San Francisco previously until the team decided
NaVorro Bowman
was ready to take the job. Bowman became an Associated Press All-Pro selection. Spikes signed with the Chargers after San Diego hired the 49ers' former defensive coordinator, Greg Manusky.
Jo-Lonn Dunbar, Laurinaitis and rookie first-round choice Alec Ogletree are expected to start for the Rams at linebacker. The team is remarkably young and inexperienced at the position beyond Dunbar and Laurinaitis, however. Spikes' 215 starts are about double the combined total for the Rams' current linebackers (108).
May, 3, 2012
5/03/12
12:00
PM ET
What are the St. Louis Rams going to do at outside linebacker?
The team faces other questions coming off a 2-14 season, of course, but that position went largely unaddressed in the draft. St. Louis emerged from the draft with five linebackers on its roster, leaving roughly six or seven spots to fill for training camp.

The Rams used a seventh-round choice for
Aaron Brown
, a weakside linebacker from Hawaii, but linebackers selected that late would generally project only as special-teams contributors if they earned roster spots at all.
Veteran
Jo-Lonn Dunbar
, signed from New Orleans in free agency, projects as one starter.
Josh Hull
, a seventh-round choice in 2010, projects as the other starter until the Rams can further address the position.
James Laurinaitis
is a solid starter in the middle. He should fare better in 2012 playing behind recently acquired tackles
Kendall Langford
(
Miami Dolphins
) and
Michael Brockers
(first-round draft choice). He cannot make every play from sideline to sideline, however. He needs help. The Rams desperately need speed on the outside.
After struggling through last season with aging stopgap options ranging from
Ben Leber
to
Brady Poppinga
, the Rams have gotten younger at the position. But they have not yet gotten appreciably better. Some of the players they cast aside in previous seasons --
Paris Lenon
,
Pisa Tinoisamoa
and
Will Witherspoon
come to mind -- would have been better than the players St. Louis wound up relying upon.
At one point in the draft, the Rams traded down from the 45th spot, coming away with running back
Isaiah Pead
, plus the 150th choice. Philadelphia and Seattle took inside linebackers with the 46th and 47th overall picks. The Rams could have drafted Nebraska's Lavonte David, who went to Tampa Bay at No. 58. But they obviously thought Pead would bring greater value at another position of need.
Teams running 4-3 defenses selected only four projected outside linebackers from the third through fifth rounds, with Jacksonville selecting Nevada's
Brandon Marshall
at No. 142, eight spots before the Rams chose South Carolina guard
Rokevious Watkins
.
The bottom line was that St. Louis entered this draft with more needs than the Rams could address with the available picks. Outside linebacker moves nearer the top of their priority list as the roster rebuild enters its next phase.
December, 4, 2011
12/04/11
3:16
PM ET
SAN FRANCISCO -- Picture-perfect California weather only marginally improved the
St. Louis Rams
' view from the visitor's sideline at Candlestick Park.
Bradford
The Rams watched backup quarterbacks
A.J. Feeley
and Tom Brandstater warm up, but there was no sign of starter
Sam Bradford
. The more time passed, the clearer it became Bradford would not play Sunday against the
San Francisco 49ers
.
Bradford, slowed by an ankle injury, was among the players St. Louis declared inactive 90 minutes before the 4:15 p.m. ET kickoff. Feeley, 1-1 as a starter for the Rams this season, will start against San Francisco. The Rams also declared safety
Darian Stewart
, running back
Cadillac Williams
, linebacker
Josh Hull
, guard
Kevin Hughes
, tackle
Mark LeVoir
and defensive end C.J. Ah You inactive.
The 49ers' list featured quarterback
Scott Tolzien
, receiver
Braylon Edwards
, cornerback
Shawntae Spencer
, fullback
Moran Norris
, guard
Daniel Kilgore
, guard
Mike Person
and nose tackle
Ian Williams
.
Bradford missed practice during the week after aggravating the high-ankle sprain he suffered this season. There was no sense risking his physical well-being behind an offensive line playing without both starting tackles, in my view.
October, 28, 2011
10/28/11
10:20
AM ET
The
St. Louis Rams
are not the first team to flop miserably amid expectations for improvement.
[+] Enlarge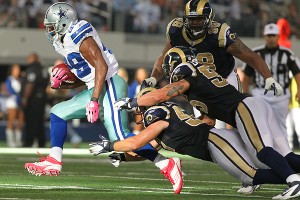 Tim Heitman/US PresswireThe Rams have struggled to stop the run this season. Dallas' DeMarco Murray torched them for 253 yards on 25 carries.
At 0-6 heading into a seemingly impossible matchup with New Orleans, the Rams have almost no shot at contending for the NFC West title this season.
Their best bet could be trying to emulate the
Detroit Lions
and
San Francisco 49ers
. Both teams flopped early last season despite elevated expectations. Both teams also recovered, and both have played well enough to post winning records heading into Week 8 this season.
The Lions opened 2-10 last season. The 49ers were 0-5. Both finished 6-10. They are a combined 10-3 this season (9-2 if we discard the game they played against one another).
The Rams still have two game against 1-5 Arizona, two against 2-4 Seattle and one against a Cleveland team that has gotten to 3-3 with victories over winless Miami and Indianapolis.
Sam Bradford
's injury is complicating efforts to build on a 424-yard performance at Green Bay two weeks ago. I think the offense will improve and build momentum once he returns, particularly with
Steven Jackson
healthy and
Brandon Lloyd
in the lineup at wide receiver.
The problems on defense are what could drag down the Rams and possibly even precipitate sweeping organizational changes, in my view.
The inability of coach Steve Spagnuolo to coax better play from that side of the ball has been surprising. The problems go beyond injuries at cornerback. The inability to acquire and develop young defensive players for the future stands out when analyzing the roster.
As the chart shows, the Rams have allowed more rushing yards through six games than all but two teams since the 2000 season. Worse, they have very few ascending young players to develop on that side of the ball.
James Butler
and
Craig Dahl
are their backup safeties.
Ben Leber
,
Josh Hull
and
Bryan Kehl
are their backup linebackers.
Darell Scott
and
Gary Gibson
are their backup defensive tackles.
Of all the backups on defense, only rookie defensive end
Robert Quinn
projects as a potential front-line player for the future. That would be OK if the defense were playing at a high level and featured ascending young players. But starters
James Hall
,
Fred Robbins
,
Justin Bannan
,
Brady Poppinga
,
Chris Chamberlain
and
Al Harris
are either nearing the end or qualify as veteran stopgaps.
The prospects for sustained long-term improvement on defense appear limited as a result.
April, 26, 2011
4/26/11
8:21
PM ET
Drafting Texas A&M linebacker
Von Miller
fifth overall would help the
Arizona Cardinals
catch up with their division rivals in at least one category.
Since 2005, linebackers drafted by Arizona have combined to start only 16 games for the team, with 2010 second-round choice
Daryl Washington
starting 11 of them.
Cody Brown
(2009),
Buster Davis
(2007) and
Darryl Blackstock
(2005) combined to start two games for the team, both by Blackstock, despite entering the NFL as second- or third-round selections. Only Brown remains in the NFL.
The
Seattle Seahawks
have gotten 145 starts from second- and third-round linebackers during the same span. Overall, linebackers drafted by NFC West teams since 2005 have combined to start 423 games for their original teams: 180 for Seattle, 173 for San Francisco, 54 for St. Louis and 16 for Arizona.
Washington showed last season he's likely to help Arizona close the gap. The 49ers could lose 57-game starter
Manny Lawson
in free agency. Seattle could move on without 61-game starter
Leroy Hill
while teammate
Lofa Tatupu
, a three-time Pro Bowl choice with 84 starts, is coming off surgeries on both knees.
With that in mind, I'll continue our
position-by-position series
on relatively recent NFC West draft choices with a look at linebackers.
Italics identify what teams might have been thinking as they entered various stages of the draft.
In the charts, I've used the term "not active" to describe, in most cases, players who weren't on regular-season rosters recently, including
Jon Alston
, recently cut by Tampa Bay.
Some players described as "starters" or "backups" could see their roles change pending free agency, roster changes and other dynamics.
We'd better find perennial Pro Bowlers in this range ...
Feeling safe drafting linebackers in this range ...
Not really sure what we're getting here ...
More questions than answers, but worth a shot ...
Not too late to find special-teams contributors, and possibly more ...
October, 8, 2010
10/08/10
12:29
PM ET
St. Louis Rams
quarterback
Sam Bradford
is
commanding most of the attention
among NFC West rookies.
A quick look at Bradford and the division's other 2010 draft choices through Week 4:
Arizona Cardinals:
First-round nose tackle
Dan Williams
was named inactive Sunday after failing to make weight requirements. Coach Ken Whisenhunt said Williams got the message. Arizona has drafted its share of disappointing nose tackles. It's too early to know whether Williams will break the trend.
St. Louis Rams:
The Rams' offensive line struggled in its only road game this season. Let's see whether rookie left tackle
Rodger Saffold
fares better at Detroit in Week 5. Tight end
Michael Hoomanawanui
practiced some this week for the first time since suffering a high-ankle sprain. He could become a factor if the ankle allows.
San Francisco 49ers:
The 49ers' top six picks are already making positive contributions. Coaches trusted
Anthony Dixon
on a third-and-1 carry against Atlanta in Week 4. Dixon picked up the first down. He scored a touchdown against New Orleans on his first carry this season.
Seattle Seahawks:
Left tackle
Russell Okung
started but did not finish the St. Louis game. He's still working his way back from a high-ankle sprain.
Walter Thurmond
did not play even in a nickel or dime role when
Marcus Trufant
was cleared following an ankle injury, a bit of a surprise. Thurmond had worked as the starter in practice, so he might have faced a difficult adjustment to a more specialized role on game day.
September, 11, 2010
9/11/10
2:54
PM ET
NFC West teams are relying on 2010 draft choices to varying degrees.
I'll update their statuses here before heading to the airport for a longer-than-usual travel day (no direct flights to St. Louis).
Will check back on the blog as time permits.
Enjoy your Saturday.
Let's start with the Cardinals. They've got one starter from their rookie class. Seventh-rounder
Jim Dray
earned a spot in part because he factors on special teams, making him a better value than
Anthony Becht
in the team's eyes, particularly with
Stephen Spach
contributing.
Andre Roberts
struggled, as rookie receivers often do, and it's unclear how much Arizona will get from him as a return specialist. Williams should play right away.
The Rams are counting on their first two 2010 picks to man the two most important positions on offense. No pressure,
Sam Bradford
or
Rodger Saffold
. I'm interested in seeing how much the rookie tight ends transform that position this season. The team needs life at tight end, no question.
The 49ers have moved both first-round offensive linemen into the starting lineup. Neither has disappointed. There will be growing pains, most likely, but the 49ers upgraded the talent level of their line from Week 1.
Losing Okung indefinitely to an ankle injury was a downer for Seattle, but the team will likely get him back early in the season. Okung was looking good and should stabilize the position. Thurmond outperformed expectations, making
Josh Wilson
expendable in the Seahawks' eyes. This rookie class should play more extensively than most.
September, 8, 2010
9/08/10
2:21
PM ET
Roster turnover is a leading topic for discussion in Seattle following the release of
T.J. Houshmandzadeh
in particular.
I've addressed the subject in depth across the division -- first
May 26
and again
July 30
-- and it's worth another look now that teams have reduced to 53 players for the regular season.
This time, I'm going to break down the changes by position, listing players no longer on the active roster at each main position group (with new players in parenthesis). Departures outnumber replacements because some players finished last season on injured reserve, meaning they were not part of the 53-man roster.
Some players no longer on the active roster remain with the team (they could be suspended, deemed physically unable to perform or part of the practice squad).
St. Louis Rams (34 off roster)

Defensive back:
Eric Bassey
,
Quincy Butler
,
Danny Gorrer
,
Clinton Hart
, Cordelius Parks,
David Roach
,
Jonathan Wade
(added
Kevin Dockery
,
Jerome Murphy
,
Darian Stewart
)
Defensive line:
Victor Adeyanju
,
Adam Carriker
,
Leger Douzable
,
Leonard Little
,
LaJuan Ramsey
,
James Wyche
(added
Jermelle Cudjo
,
Fred Robbins
,
George Selvie
,
Eugene Sims
)
Linebacker:
K.C. Asiodu
,
Paris Lenon
(added
Na'il Diggs
,
Josh Hull
)
Offensive line:
Roger Allen
,
Alex Barron
,
Ryan McKee
,
Mark Setterstrom
,
Phillip Trautwein
,
Eric Young
(added
Renardo Foster
,
Hank Fraley
,
Rodger Saffold
)
Quarterback:
Kyle Boller
,
Marc Bulger
,
Keith Null
,
Mike Reilly
(added
Sam Bradford
,
A.J. Feeley
,
Thaddeus Lewis
)
Running back:
Samkon Gado
,
Chris Ogbonnaya
(added
Keith Toston
)
Special teams:
Ryan Neill
Tight end:
Randy McMichael
(added
Mike Hoomanawanui
,
Fendi Onobun
)
Wide receiver:
Donnie Avery
,
Keenan Burton
,
Brooks Foster
,
Jordan Kent
,
Ruvell Martin
(added
Mark Clayton
,
Dominique Curry
,
Mardy Gilyard
)
---
Seattle Seahawks (33 off roster)

Defensive back:
Jamar Adams
,
Deon Grant
,
Ken Lucas
,
Josh Wilson
(added
Kam Chancellor
,
Kennard Cox
,
Nate Ness
,
Earl Thomas
,
Walter Thurmond
)
Defensive line:
Lawrence Jackson
,
Patrick Kerney
,
Cory Redding
,
Nick Reed
,
Darryl Tapp
,
Craig Terrill
(added
Kentwan Balmer
,
Raheem Brock
,
Chris Clemons
,
Dexter Davis
,
Junior Siavii
,
E.J. Wilson
)
Linebacker:
Leroy Hill
,
Lance Laury
,
D.D. Lewis
(added
Matt McCoy
; note that Hill is suspended for the first regular-season game)
Offensive line:
Trevor Canfield
,
Brandon Frye
,
Walter Jones
,
Damion McIntosh
,
Rob Sims
,
Steve Vallos
,
Ray Willis
,
Mansfield Wrotto
(added
Stacy Andrews
,
Evan Dietrich-Smith
,
Ben Hamilton
,
Russell Okung
,
Chester Pitts
,
Tyler Polumbus
)
Quarterback:
Mike Teel
,
Seneca Wallace
(added
Charlie Whitehurst
)
Running back:
Justin Griffith
,
Louis Rankin
,
Tyler Roehl
,
Owen Schmitt
(added
Quinton Ganther
,
Michael Robinson
,
Leon Washington
)
Special teams:
Kevin Houser
,
Jeff Robinson
(added
Clint Gresham
)
Tight end:
John Owens
(added
Chris Baker
,
Anthony McCoy
)
Wide receiver:
Nate Burleson
, T.J. Houshmandzadeh (added
Golden Tate
,
Mike Williams
)
---
Arizona Cardinals (24 off roster)

Defensive backs:
Ralph Brown
,
Bryant McFadden
,
Antrel Rolle
(added
A.J. Jefferson
,
Trumaine McBride
,
Brandon McDonald
,
Kerry Rhodes
)
Defensive line:
Jason Banks
(added
Dan Williams
)
Linebacker:
Monty Beisel
,
Bertrand Berry
,
Cody Brown
,
Karlos Dansby
,
Gerald Hayes
,
Chike Okeafor
,
Pago Togafau
(added
Paris Lenon
,
Cyril Obiozor
,
Joey Porter
,
Daryl Washington
; Hayes can return from the physically unable to perform list after six games)
Offensive line:
Mike Gandy
,
Herman Johnson
,
Reggie Wells
(added
Alan Faneca
,
Rex Hadnot
)
Quarterback:
Matt Leinart
,
Brian St. Pierre
,
Kurt Warner
(added
Derek Anderson
,
Max Hall
,
John Skelton
)
Running back:
Justin Green
,
Dan Kreider
(added
Jerome Johnson
)
Special teams:
Neil Rackers
(added
Jay Feely
)
Tight end:
Anthony Becht
(added
Jim Dray
)
Wide receiver:
Anquan Boldin
,
Sean Morey
,
Jerheme Urban
(added
Andre Roberts
,
Stephen Williams
)
---
San Francisco 49ers (24 off roster)

Defensive backs:
Dre' Bly
,
Walt Harris
,
Marcus Hudson
,
Mark Roman
(added
Phillip Adams
,
Tramaine Brock
,
William James
,
Taylor Mays
)
Defensive line:
Kentwan Balmer, Derek Walker
Linebacker:
Scott McKillop
,
Jeff Ulbrich
,
Matt Wilhelm
(added
NaVorro Bowman
,
Travis LaBoy
)
Offensive line:
Tony Pashos
,
Chris Patrick
,
Cody Wallace
(added
Alex Boone
,
Anthony Davis
,
Mike Iupati
)
Quarterback:
Nate Davis
,
Shaun Hill
(added
David Carr
,
Troy Smith
)
Running back:
Thomas Clayton,
Glen Coffee
,
Brit Miller
, Michael Robinson (added
Anthony Dixon
,
Brian Westbrook
)
Special teams:
Shane Andrus
,
Ricky Schmitt
Wide receiver:
Arnaz Battle
,
Isaac Bruce
,
Jason Hill
,
Brandon Jones
(added
Ted Ginn Jr.
,
Kyle Williams
,
Dominique Zeigler
)
---
The first chart shows how many players are back -- at least for now -- from Week 17 rosters and injured reserve lists. Seattle has the fewest number back with 26.
The second chart shows how many players each team has shed since Week 17 last season. This counts players who were on injured reserve. Teams with lots of players on injured reserve had more players to lose.
July, 28, 2010
7/28/10
11:21
AM ET
Experience teaches restraint when deciding how much energy to spend worrying about when NFL draft choices will sign.
Most sign before training camps open. Some sign shortly after training camps open. A few sign later.
Sam Bradford
's signing status is the one that matters most in the NFC West -- and in the NFL -- this season. But as Bryan Burwell of the St. Louis Post-Dispatch says in the video, it's an upset if he's not in camp soon.
NFL SCOREBOARD
Sunday, 2/2
WEEKLY LEADERS