NFL Nation:

josh leribeus
December, 4, 2013
Dec 4
8:00
AM ET
The
Washington Redskins
should not start playing young guys just because they're out of playoff contention. I'm with coach Mike Shanahan on this one: You can do more harm than good by taking that philosophy.
This isn't baseball where you have September call-ups that you can give at-bats. If you play a guy, say, along the offensive line who isn't ready, then your quarterback could be in jeopardy. It makes no sense. Not every young guy projects to being part of the roster in the future, either.
Some young guys are just on the roster because of injuries to others. And just because fans or media want to see a guy doesn't matter; the coaches analyze every practice tape and have a good sense of what players can do or what they know. Others can see athleticism or talent, but it's often what you know and are capable of learning that makes the difference.
Some young players -- I'm looking at guys who are rookies, first- or second-year players -- already are getting time:
Robert Griffin
III,
Alfred Morris
,
Jordan Reed
,
Chris Baker
,
Aldrick Robinson
(technically his second year because he spent almost all of his rookie year on the practice squad),
Bacarri Rambo
and
David Amerson
.
Here's a look at the young guys who aren't getting a lot of time right now and whether or not they should:
[+] Enlarge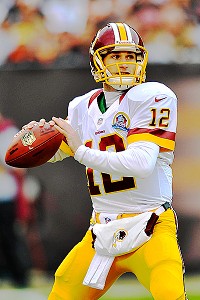 David Richard/USA TODAY SportsKirk Cousins has attempted only nine passes this season.
Quarterback Kirk Cousins
: The coaches like him a lot, but he should only play if Griffin gets hurt. That is, unless you don't think Griffin is the future. I don't think that's the case. If they do play Cousins, then you'll get to enjoy an entire offseason of you know what. What about drumming up trade value? Personally, I'd hang onto him another year; keep him as long as possible for insurance purposes. If you like him, why rush a trade? I have a hard time seeing anyone trade a high pick for Cousins based on his first two years, but as they say, it only takes one.
Wide receiver Lance Lewis
: He shouldn't play more than he is; he's still relatively raw and needs more time to develop in practice and in the offseason.
Wide receiver Josh Bellamy
: Recently signed off the practice squad. Not ready.
Wide receiver Nick Williams
: I could see him being a factor in the future, depending on who's coaching. With
Santana Moss
likely in his final four games in Washington, I'd continue to work Williams into the lineup as the Redskins have been doing.
Left guard Josh LeRibeus
: He's a young lineman and former third-round draft pick. That should add up to playing time in a lost season. But after a disastrous offseason and poor showing in the preseason, there's nothing to suggest he should be playing. Which is not a good sign. He needs a strong offseason.
Right guard Adam Gettis
: I'd love to see him get some snaps. At 292 pounds, the undersized Gettis has excellent lower body strength, which somehow allows him to anchor despite getting moved back in protection. He was an improved run-blocker this summer.
Chris Chester
has not played as well as last season. Still, I'd be careful here. If there's a coaching change, I'm not sure either player would return: Chester because he'll turn 31 in January and Gettis because he's smaller and would not fit every system.
Offensive tackle Tom Compton
: Another guy I'd like to see get some snaps.
Tyler Polumbus
has been better than last year but has had issues recently and certainly shouldn't have a stronghold on the position. Compton looked better this summer than as a rookie and, ideally, in Year 3 he'd be ready to become a contributor. Regardless, the Redskins need to upgrade the line.
Linebacker Brandon Jenkins
: For now he's just a pass-rusher and there are others clearly better than him. He has work to do in the offseason.
Safety Jose Gumbs
: Future special-teamer. I don't see any reason he should be playing right now.
Corner Chase Minnifield
: He shouldn't be playing ahead of the other corners and really needs to be better on special teams. Even if they clean house at this position, I wouldn't see him as anything more than a guy fighting for a roster spot in 2014. I love his attitude and physical style, but he needs to show he can play a variety of coverages. He's a smaller press corner. Another offseason of work with no knee issues should help him.
Safety Trenton Robinson
: Special-teamer. He's gotten some snaps, but there's nothing to suggest he should be muscling his way into more time.
December, 1, 2013
Dec 1
7:25
PM ET
The
Washington Redskins
expected tight end
Jordan Reed
to play Sunday night against the
New York Giants
, but a pregame headache will sideline the rookie for a second consecutive game. Earlier in the day, a team official told ESPN's Adam Schefter that Reed would play. But after warming up the Redskins decided he would be inactive.
Reed
Fullback
Darrel Young
also will be inactive for a second consecutive game because of a hamstring injury. Young expressed optimism throughout the week that he would play. Compounding matters at this position is that tight end
Niles Paul
will be inactive after missing three practices this week with an undisclosed illness.
Paul served as Young's replacement last week, but now when the Redskins need a fullback they'll have to use one of the two tight ends active Sunday night:
Logan Paulsen
or
Fred Davis
. They'll also miss Paul and Young on special teams. However, it will be a good chance for Davis to show what he can still do. The problem is, quarterback
Robert Griffin III
had developed a strong level of trust in Reed, especially on third down.
The other Redskins inactives: quarterback
Rex Grossman
, cornerback
Chase Minnifield
, linebacker
Brandon Jenkins
and guard
Josh LeRibeus
.
The Giants' inactives: quarterback
Ryan Nassib
, cornerback
Corey Webster
, running back
Brandon Jacobs
, cornerback
Trumaine McBride
, tight end
Adrien Robinson
, defensive end
Jason Pierre-Paul
and offensive lineman
Stephen Goodin
. Also,
James Brewer
will start at left guard for
Kevin Boothe
, who shifts to center to replace injured
Jim Cordle
. With McBride and Webster out,
Jayron Hosley
will start at corner.
November, 17, 2013
Nov 17
11:40
AM ET
PHILADELPHIA -- The
Washington Redskins
hoped wide receiver
Josh Morgan
could develop into a solid No. 2 receiver. Then they hoped he could fill in as a kick and punt returner. But Morgan hasn't accomplished any of that and, Sunday, he was made inactive.
Morgan
The Redskins placed Morgan on their seven-man inactive list for their game against the
Philadelphia Eagles
. Morgan, in the final year of his contract, had not made an impact at receiver or as a returner. The latter isn't surprising because Morgan had not returned punts in the NFL -- and only returned seven while at Virginia Tech. Morgan was surpassed as the starting Z receiver by third-year
Leonard Hankerson
, who is not a big playmaker but has been more productive than Morgan.
This also means undrafted rookie free agent
Nick Williams
will return punts in his NFL debut. He was signed off the practice squad during the week. Williams returned four punts for a touchdown in college.
Also inactive for Washington: quarterback
Rex Grossman
, guard
Josh LeRibeus
, safety
Jose Gumbs
, linebacker
Brandon Jenkins
, tight end
Fred Davis
and nose tackle
Chris Neild
. Jenkins was active in the first game against Philadelphia as the Redskins wanted more speed in their rush
For the Eagles, the inactives are quarterback
Michael Vick
, safety
Earl Wolff
, linebacker
Mychal Kendricks
, cornerback
Bradley Fletcher
, linebacker
Jake Knott
, receiver Damaris Johnson and tackle
Dennis Kelly
. Banged-up left tackle
Jason Peters
will start.
October, 27, 2013
Oct 27
3:25
PM ET
DENVER -- The
Washington Redskins
opted for inexperience at safety -- not that they had much of a choice.
Meriweather
Jose Gumbs
will start at strong safety and
Bacarri Rambo
will start at free safety, a youthful and inexperienced combination against one of the NFL's all-time best quarterbacks in
Peyton Manning
.
Reed Doughty
(concussion) and
Brandon Meriweather
(suspension) are out.
The Redskins could have opted for
E.J. Biggers
to start at free safety, in essence giving the Redskins four cornerbacks on the field. But that's not the best alternative either, though in passing situations his speed would help.
Rambo, a rookie sixth-round pick, started the first two games of the season, but was benched in part because of his tackling, then was inactive the past three games because of his inability to stand out on special teams. One thing he did well during training camp and when he started is not get beat deep. That will be an important factor Sunday.
Gumbs, a first-year player, has played nine career snaps, but has shown the ability to hit. However, this game will also be as much about discipline and making sure to play the right coverages.
The Redskins will start
Jarvis Jenkins
at left end, moving
Kedric Golston
into a reserve role. Jenkins played the past two weeks as a backup following his four-game drug suspension. His ability to collapse the pocket will be pivotal.
Meanwhile, tight end
Fred Davis
is a healthy inactive for a second consecutive game. The Redskins keep
Niles Paul
active for his special teams play. Their other inactives: quarterback
Rex Grossman
, guard
Josh LeRibeus
, running back
Chris Thompson
, linebacker
Brandon Jenkins
and nose tackle
Chris Neild
.
August, 20, 2013
Aug 20
5:55
PM ET
After watching the Redskins' 24-13 win over Pittsburgh, here's what stood out:
It's too bad the Redskins' offense didn't play more than one quarter against Pittsburgh's starters. It's not like it would have provided a better picture -- the Redskins were explosive last year and didn't do a whole lot versus that defense, except drop passes. But the Steelers force you to execute well because of their discipline. They move fast and at times it was difficult for the Redskins' linemen to stay on their men or to even get to them. The Redskins managed a combined 23 yards and one first down against Pittsburgh's starters. Quarterback Kirk Cousins completed 2 of 3 passes for 19 yards. Left tackle Trent Williams managed well with his sprained left wrist and never really was in trouble in pass protection, though he did not get to a couple blocks in the run game.

The offensive lineman who really stood out, at least with the second unit, was left tackle Tom Compton. That's the best I've seen him play (granted, the sample size isn't huge, but I'll include practices as well). I liked that he was facing rookie Jarvis Jones, who has a thing or two to learn but who is a talented first-round draft pick. The sort of guy Compton needs to do well against. Compton showed excellent balance and technique. On one rush, he was aggressive with his punch but Jones got into him a little. However, Compton was able to reset and anchor. That happened on another occasion as well. Later, Jones beat him off the snap another time, but Compton recovered to shove him off his path. His run-blocking was fine, too. All in all, a solid night.

[+] Enlarge

Brad Mills/USA TODAY SportsReceiver Leonard Hankerson was a bright spot for Washington on Monday night, recording a TD catch.

Rookie tight end Jordan Reed had some mistakes that were evident Monday night and therefore didn't seem to have a good game. It didn't get better watching the game again. I think you know I like Reed's athleticism and potential, but his preseason debut was a tough one. Reed didn't finish his route on a Rex Grossman pass, leading to an interception. He also had a drop. Reed's blocking was uneven. In some cases it was technique -- his arms were a bit too extended on one block and he lost his man. Next play, he whiffed on his block. He did show good technique on a block on one run and also moved his man out on another. Reed was able to get outside in a pulling action (though he failed to hold his block). The good part for Reed is that he moves well. He just needs to improve.

This is where not having the All-22 available yet hurts because on the first-quarter sack of Cousins, I'd love to see what he was looking at on the right side. Cousins had time to look off and could have dumped the ball over the middle for a first down. But it's tough to ping him for that without knowing what he saw. I do know he was sacked in 2.8 seconds so there was enough time to find another option (if that was even an issue).

There were a couple runs by running back Alfred Morris, and others, in which one more block would have resulted in a gain of 10 or more yards. That's football, of course, but it was evident on a handful of plays. Fred Davis was the culprit on one such play, leading to a 4-yard Morris run. The path should have been more outside, but Davis lost his block, forcing a quicker than anticipated cut upfield. He cut just as the hole closed. Morris' best run, an 11-yard dash, was negated by a Tyler Polumbus hold. But Morris showed some of what was visible at camp: his quick cuts (don't remember them being this fast last year). On this play, Morris should have been tackled for a short gain at best yet managed a good gain because he cut so sharply in a tight area.

Polumbus worked against a starting defensive player for one quarter and allowed a sack and was called for holding. Not every play was bad; early on he handled LaMarr Woodley; Polumbus' shoulders were square as he rode out the linebacker to the outside. But Polumbus was beaten for the sack, a result of Woodley's quick and powerful hands. Later, Polumbus' hands were wider than desired as he was driven back by Woodley. Next play: hold. Polumbus' run blocking was fine and he did a good job shoving blitzing safety Ryan Clark out wide. He was OK against the Steelers' second string, but needs to become more consistent.

Receiver Leonard Hankerson did a good job against man coverage. Got open on the touchdown with a hard stem to the outside, selling the corner route, then cutting inside. He got free against the linebacker on the first play from scrimmage with a similar step, selling an out cut. That's what you call a mismatch. Hankerson could have caught a pass down the right hash -- it was a tougher, but far from impossible catch. The sort a guy makes if he wants to become more than just a fourth receiver with occasional flashes. Like he did on the touchdown, with the one-handed grab. Now, let's see it again next week.

Saw some good and bad with Josh LeRibeus, getting driven back on a couple occasions where he seemed slow with his hands. But after the past week I anticipated worse. LeRibeus really did himself no favors with his offseason work. At the end of last season he seemed close; that's not the case right now. Right guard Adam Gettis was fine; there's definitely something to build on there.

Running back Chris Thompson showed some of his burst on his first carry, a quick cut on an outside zone to the right. He was able to burrow through the opening for seven yards. Obviously his big issue was the fumble, but he also needed to show a little more patience on his next carry. He got within maybe two yards of his linemen before cutting back and never sold the linebackers that he might stay on his original path. So when he cut, there was no room. When the offense works right, and he's patient, the defense's movement will be used against them -- and that prevents many clean shots on the petite running back.

Did like Jawan Jamison's patience. He's a good fit in this sort of system, though it would be nice if he were a couple inches and 15 pounds heavier. He gained 20 yards on five runs; I liked a 6-yard run in the fourth quarter where he exhibited patience and cutting ability. Jamison looked like he was headed wide and the linebacker flowed that way, creating a cutback lane for a 6-yard gain. It wasn't some highlight run, but it was an example of a good one. Thompson's explosiveness still bears watching, but Jamison knows how to run. If only…

Receiver Aldrick Robinson didn't take a vicious hit after his deep catch near the end of the first half. But it was a tough grab. One thing I've been impressed by him this summer is his ability to hold onto the ball after a big hit.
August, 18, 2013
Aug 18
9:22
AM ET
It's hard to imagine Redskins coach Mike Shanahan ignoring a recommendation from Dr. James Andrews to sit Robert Griffin III until after the Week 5 bye, as a report from Philadelphia TV and radio reporter Howard Eskin suggested. Eskin tweeted Saturday that sources told him Shanahan would play Griffin in Week 1 despite Andrews' recommendation. A high-ranking team official had told ESPN earlier in the week that they're still not sure if Griffin will play in the opener. So their minds are not yet made up about his return. Multiple Redskins sources, including a high-ranking team official, denied that Andrews had recommended Griffin sit out the first four games and return after the Week 5 bye.

[+] Enlarge

Frederick Breedon/Getty ImagesAll indications show that Redskins coach Mike Shanahan is not rushing quarterback Robert Griffin III to the field.

Of course, the Redskins have reason to debunk that report. But part of it doesn't mesh with how this situation has unfolded. Shanahan has been cautious throughout Griffin's recovery, making sure he's not doing too much and that he's sticking by his plan -- hence Griffin's frustration. Shanahan was burned last year by placing too much trust in Griffin when it comes to his injuries. And if Shanahan went against the doctor's orders on this one and something happened to Griffin's knee, he'd be out of a job. One factor to note in all this: The coaches have a lot of confidence in second-year quarterback Kirk Cousins. If Griffin is not ready they won't be shy about turning to Cousins. It decreases the need to rush Griffin, too.

The best rookie in camp was corner David Amerson. That shouldn't be a surprise considering he was a second-round pick, but he had flaws in his game last year that made him, in some minds, a questionable choice. I know Bacarri Rambo is the one rookie projected to start and he's done a nice job being in the right spot most of the time. But Amerson is the one who looks like he could be really good, if he continues to play with more discipline than he showed at NC State last year.

Here's what ESPN NFL Insider Louis Riddick, who played six years in the NFL and served as a scout and then executive for both Washington and Philadelphia, said of Amerson after watching him in the preseason opener: "David Amerson jumped out at me. I struggled with David as far as college evaluations were concerned, as many did. In 2012 he looked like a very undisciplined, gambling, take-chances player that wasn't playing to the integrity of the defense. A guy who I didn't think showed the testing numbers that he had, as far as 40-time, vertical ability and short-area closing quickness, in 2012. That stuff showed up against Tennessee. I saw a very aggressive kid." Amerson did not look nearly as physical at NC State as he was in the preseason opener. If he continues to play this way and keeps progressing, as he has throughout camp, it will be hard to eventually keep him out of the starting lineup.

It's hard to say who really jumped out on offense because some players won't get much of a chance to in the preseason games (Alfred Morris, for example, because running backs are tested far more in games). But what was noticeable was how much Cousins is throwing with confidence. There are throws Cousins won't hesitate on that others would be afraid to make -- seam routes into tight windows, for example. This can get him into trouble at times, too, with interceptions. But he's definitely made progress.

I was disappointed that receiver Leonard Hankerson did not show more progress in camp as far as consistently catching the ball. Seemed like there were too many drops by him, often because he's turning his head too soon to get upfield. The starting receivers are rather firm with Pierre Garcon and Josh Morgan. Santana Moss is a quality slot receiver. After that? Inconsistency.

Here's what defensive coordinator Jim Haslett said about corner Chase Minnifield on Thursday: "Chase Minnifield really has come on. He's played well. I feel good about Chase, obviously for missing two years of football with two ACLs. You can tell his dad played football and he's been around it his whole life. He's just kind of a natural football player. I kind of like him because the guy missed two years and came back and he's going to get better and better every day." If you're wondering about Minnifield's chances of making the team, read that quote again. He has the feistiness coaches like and plays with no fear. With starters DeAngelo Hall and Josh Wilson unsigned for next season, it's good to have young options. The big question remains: Will they keep six corners and, perhaps, five safeties? They might need to keep five safeties just because of Brandon Meriweather's health. But 11 defensive backs is a lot. They could get away with that, however, for the first four weeks with two defensive players -- end Jarvis Jenkins and linebacker Rob Jackson -- suspended. That gives the Redskins flexibility early, and four more weeks to sort out the roster. Their versatility at corner helps: in various looks players such as DeAngelo Hall can play a safety role. Sometimes it's as the strong safety in a cover-3 look, for example. It gives them more speed on the field.

And another one from Haslett, this time on veteran linebacker Darryl Tapp, making the transition from defensive end: "Darryl is getting better every day for a guy that's played with his hand down in the dirt his whole life? All of the sudden he's standing up now, he's dropping, he's covering, he's rushing, he's doing a number of different things -- It's kind of amazing that he can pick things up this fast. He is a force in the run game. I feel sorry for tight ends when they practice against him because he just beats the heck out of tight ends -- he's awesome that way. And he's getting better in coverage. Loves the game, studies, doesn't like making mistakes, great to be around. I mean, I love the guy. If he makes a mistake, he gives you that look like he's going to kill you [laughs]. I love being around the guy I think the guy's going to be a heck of a player -- already has been, but will be in this system."

So, yeah, Tapp appears to be in good shape, too (though it will be interesting to see what they do when Rob Jackson returns from his four-game suspension). Tapp will rush from a four-point stance on occasion and, like rookie Brandon Jenkins, I'd expect him to focus more on rushing. Tapp does play with strength vs. tight ends, though I did see rookie Jordan Reed drive him back on one block in practice. Perhaps that says more about Reed's development as a blocker. Tapp did steamroll pulling guard Josh LeRibeus on one play this week, running him over en route to the ball. LeRibeus, though, had one of the more disappointing camps.

It'll be interesting to see what Chip Kelly will do in Philadelphia. Story after story from Philly suggests that quarterback Michael Vick is looking more like he did in 2010 -- when he played at a high level -- just from a comfort level in the pocket. Of course, nobody has yet game planned for the Eagles' offense so let's please keep things in check just a little bit. Kelly's system simplifies life for the quarterback, but what will happen when not facing a vanilla defense and the choices for the quarterback aren't as simple? That's when you'll learn whether the offense and the quarterback truly are operating at a high level. And what has landed Vick in trouble in the past are blitzes and holding onto the ball too long thanks to creative coverage schemes.

That said, Kelly is not afraid to be creative with alignments, having already shown four tight end sets in the preseason and from various formations. It'll force defenses into interesting dilemmas with how they cover that look -- and because of the speed at which they want to play, a defense could be stuck with that same grouping for a couple plays.

The more I see of Jordan Reed the more I like. He simply makes catches many other tight ends can't because of his athleticism. With Reed, Fred Davis and Niles Paul, the Redskins have three tight ends with versatility and speed. The Eagles won't be the only ones who can create mismatches with more than two tight ends on the field.

I know the Redskins under Mike Shanahan have always kept at least six receivers on the 53-man roster, but can they afford to do so again? It's hard to make a case that they have six receivers who warrant a spot -- Dez Briscoe has been inconsistent here; Donte Stallworth banged up. Three years ago the Redskins kept six wideouts, but one was return specialist Brandon Banks. The past two years they kept eight and seven, respectively. A lot will depend on what they must do at other positions. But with multiple receiving threats at tight end, increasing the versatility of the offense, it lessens the need to keep more at receiver. I'm still not sold they'll only keep five, but there are reasons it could -- and perhaps should -- happen.

By the way, how far have them come at upgrading this position? One of their starting wideouts in 2010 was a cashing-the-paycheck Joey Galloway. They also had Devin Thomas, Roydell Williams, Anthony Armstrong and Santana Moss. Only Moss remains. And, since the 2010 season, those other four wideouts have combined for 13 catches.
August, 9, 2013
Aug 9
4:26
PM ET
After rewatching the Redskins' 22-21 win over Tennessee, a few opinions were solidified, some shifted a little and a few discoveries were made:
Initially I wondered if Roy Helu was a little too fast to the hole, not setting up his blockers enough. Not sure that was the case, though his quickness to the hole was noticeable. He had a good night, but against the Titans' starters he managed only 20 yards on seven carries. He had two runs that totaled 23 of his 57 yards. One area he differs with Alfred Morris is yards after contact. Morris excels in this area for two reasons: He lowers his pads and lets his legs drive him through the defender. Helu too often fails to lower his pads enough to enable him to run through a defender. He did lower his pads in a red zone run, picking up an extra four yards. But, typically, he was picking up the yards that were available.

Helu's two longest runs occurred in the second quarter. Another one, a 19-yarder, was wiped out because of a Josh LeRibeus penalty. But Helu's effort was outstanding. Tight end Logan Paulsen got moved back a few yards, taking Helu off his intended path. He had to swerve around Paulsen. Helu bounced wide and picked up 18 yards, including six after contact. Two plays earlier, Helu pressed the hole well, getting a yard behind the line. He chopped his feet on the cut, but because he's quick it didn't slow him down en route to 11 yards.

Not a lot more on Kirk Cousins. What I saw re-watching the game is exactly what I saw last night: A young, poised quarterback who is comfortable running this offense. Nothing more to add.

[+] Enlarge

Don McPeak/USA TODAY SportsPat White, in his first NFL action since 2010, completed 5 of 8 passes and ran for 33 yards and a score.

Quarterback Pat White has come a long way from when we first saw him in the spring, when he looked like someone who wouldn't get an invite to training camp. But he has improved since then and will occasionally make an impressive pass in practice, driving the ball to the receiver. Accuracy has been an issue in camp. But for a guy in his first NFL action (albeit against many players who will get cut) since 2010 it was a nice return. Enough to warrant a roster spot? Not after one good fourth quarter of a preseason game. White made three clutch plays (one of which would have resulted in a touchdown if receiver Lance Lewis hadn't fumbled the ball into the end zone. White did a nice job rolling to his right and throwing downfield across his body with accuracy. And his ability to extend a play in the red zone always is a bonus.

But the majority of his reads were quick followed by short throws and he has a long way to go before he masters this offense enough to play in a game and read defenses at a necessary level. He has not looked sharp all the time in camp and often holds the ball too long. Still, he has a good outing to build upon and it's something he should feel good about. It could lead to more action in future games and, perhaps, tempt another team to sign him whenever he comes free.

Right tackle Tyler Polumbus is working on keeping his hands tighter and shoulders more square. At times you see it working. But in camp he struggled when he'd allow Ryan Kerrigan to get his hands into his chest first. Saw it happen against Tennessee, too. He was a bit slow getting his hands in place and Derrick Morgan get into his chest. Not that it mattered: The Redskins gained 10 yards on the play. But this is an area Polumbus must continue to perfect. The Redskins want him to -- need him to -- reduce the amount of pressure he allowed last year.

Aldrick Robinson struggled as a blocker last year and still gets driven back too much, sometimes causing him to unintentionally pinch the hole. But he did hold onto some blocks. This is an area he needs to do well in considering it's a key part of the stretch zone system. Robinson was inconsistent catching the ball, though I liked how he hung onto the ball when safety Bernard Pollard drilled him out of bounds after a catch. But the Redskins lack strong challengers to the top five. One of them, Dez Briscoe, had the trifecta: He dropped a pass, lost his block that led to a tackle, and was called for a false start. Leonard Hankerson had one of his good nights. He's had those before -- the key is having several of those in a row. I liked how patient he was on his receiver screen, causing the defense to commit outside while he took off inside behind center Kevin Matthews and LeRibeus. Hankerson ran a good in-and-out route as well.

Left tackle Tom Compton isn't ready to be a starter, but he showed some positive signs. Last season Redskins line coach Chris Foerster talked about the need for him to get stronger, needing to knock rushers off their path so when a counter move occurs, Compton can react quickly and in time. He did just that on one first-quarter block against the defensive end, getting him off-balance on his initial move, which enabled Compton to react in time to the counter. Compton allowed pressure, getting bailed out by Helu on one edge rush and losing his man inside on another. But he had his good moments, too.

Wrote this after the game and will do so again: LeRibeus needs to pick it up. He struggled too much Thursday night for a player picked in the third round a year ago. He also has talent, as he showed in relief during the playoff loss to Seattle -- and on some plays Thursday. But LeRibeus gets himself in trouble by lunging and getting off-balance. It led to a whiff on one attempt and pressure on others. He also had a hold that negated an 18-yard run by Helu. LeRibeus knows he has to play better.

It had to be encouraging for the Redskins when Josh Morgan caught an in-route on third-and-5 and then, because of a quick catch-and-cut, add seven yards after the reception for a total of 13 yards. It wasn't a huge play but it could be a positive sign. His ankle, which had seven screws in it last year, is healthy now and he said it will result in more explosion. It's been tough to see it in camp, but he did it last night in a tight window, sandwiched between two defenders. Curious to see how this evolves for him.

I'll be honest: I don't always know how right guard Adam Gettis anchors against bigger linemen. The 292-pound Gettis gets stood up a lot, yet doesn't always get driven back. His college coach, Kirk Ferentz, once told me how freakishly strong Gettis was and he's right. Still, the Redskins coaches don't like seeing him get stood up like that. But for the most part he was fine (he did allow a pressure). Really, it wasn't bad for a guy who missed several days recently with a hamstring strain.

Finally, we learned that, by going for two points late in the game, Redskins coach Mike Shanahan is not a fan of overtime in preseason games. To which we say: Thank you.
April, 29, 2013
Apr 29
10:12
AM ET
There are two things to keep in mind when assessing the
Washington Redskins
' 2013 draft. First, their first-round pick was spent as part of last year's
Robert Griffin
III deal about which they have no regrets. And second, the work they did in free agency to bring their 2012 roster back almost completely intact meant that they didn't feel compelled to use the draft to address immediate needs. They returned their entire starting offensive line intact, they retained their starting cornerbacks at reduced salaries, and linebacker
London Fletcher
put off retirement for a year. The only position at which they may have felt the need to find a Week 1 starter was free safety.
That's not to say positions like right tackle or cornerback couldn't use an upgrade. But given the constraints imposed by the second year of the salary-cap penalties, the Redskins did enter this year's draft with relatively few obvious holes to fill. So instead, they took players with upside -- guys they think have a chance to be great in the long term as opposed to adequate in the short.
[+] Enlarge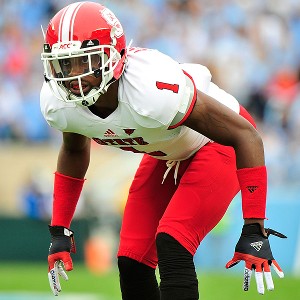 Grant Halverson/Getty ImagesCornerback David Amerson was drafted with the future of the Redskins' secondary in mind.
Cornerback
David Amerson
, selected in the second round with the Redskins' first pick of this year's draft, needs help staying disciplined in coverage and must work on his tackling. But he knows how to make a play on the ball, and Mike Shanahan believes that's a lot harder to coach into someone than those first two things are. Amerson doesn't need to play much this year, with
Josh Wilson
and
DeAngelo Hall
starting and
E.J. Biggers
as the No. 3 corner. Get him with secondary coach Raheem Morris and see if he can shore up the trouble areas and make him into something special.
Tight end
Jordan Reed
, the third-rounder, is basically a great big wide receiver who can line up as a "move" tight end the likes of which more teams are using these days. It's odd that Shanahan took such a poor blocking tight end, since he prioritizes blocking even among his wide receivers, but Reed is another guy who's shown an ability to make big plays and create mismatches in opposing secondaries. Deployed correctly, he could help make the offense more explosive.
Safeties
Phillip Thomas
and
Bacarri Rambo
were fourth-round and sixth-round selections, respectively. Because the position is vacant, it's not crazy to think either or both could compete for the starting free safety spot this year. But that's not the main reason they were picked. Shanahan took these players because they represented good value at their slots and played a position at which his roster is thin. He's playing the percentages with guys who were playmakers in college, and if one of these two ends up being a starter, that'll help this look like a good draft in retrospect. If both do, he's struck gold.
Running back
Chris Thompson
and pass-rushing outside linebacker
Brandon Jenkins
, both taken in the fifth round, were good college players whose value dropped due to injury. Seventh-round running back
Jawan Jamison
played through an ankle injury last year at Rutgers and left school early to try to help pay the medical bills for his mother, who was diagnosed with breast cancer last year. These three represent depth (with upside potential) at positions where there's no such thing, in Shanahan's eyes, as too much depth.
This Redskins draft is a perfect example for those who say you can't grade a draft until three years down the road. It's possible that literally none of these picks pan out. But most of them were picked because they carry at least a chance of becoming stars, and when you can find potential stars in the middle and late rounds (and you already feel you have a deep roster), that's what your draft goal becomes.
Redskins fans might feel better if they'd grabbed an immediate starter at safety in the second or third round.
D.J. Swearinger
may have fit that description and was still on the board when they took Amerson. The fact that no offensive linemen were taken has stirred some concern, but the Redskins drafted mid-round offensive linemen last year and are still developing guys like
Tom Compton
and
Josh LeRibeus
. No crying need to add to that depth just yet. The Redskins approached this draft like a confident division champion that likes its roster and was looking for high-end talent it felt was being drafted too late. That's what they took, and now it's on their coaching staff to make this 2013 draft look good.
January, 6, 2013
Jan 6
3:40
PM ET
LANDOVER, Md. --
Washington Redskins
left guard
Kory Lichtensteiger
, who missed practice all week with an ankle injury, is nonetheless active and expected to start Sunday's playoff game against the
Seattle Seahawks
here at FedEx Field. This is good news for the Redskins, who likely hope to combat Seattle's defensive speed with the help of cutback runs by running back
Alfred Morris
. As we discussed in
this morning's matchups post
, substituting rookie
Josh LeRibeus
in that spot could have affected the timing of the blocking on the cutbacks and made that more difficult. Of course, if Lichtensteiger is playing with an ankle injury, that could affect things in the run game as well as well as in the pass protection in front of quarterback
Robert Griffin
III. But the Redskins appear satisfied, after watching him work out prior to the game, that he can be effective.
Also active for the game are safety
DeJon Gomes
, who missed last week's game with a knee injury, and cornerback
Cedric Griffin
, who missed the final four games of the regular season due to a drug suspension.
Wide receiver/return man
Brandon Banks
is inactive, as has become custom. The Redskins say
Niles Paul
will return kickoffs and
Richard Crawford
will return punts. Also inactive is quarterback
Rex Grossman
, who was active last week when the Redskins activated three quarterbacks for the first time all season.
I'm here in the press box at FedEx Field, sitting next to the great John Clayton and a few seats over from our fine NFC West blogger, Mike Sando. We'll have plenty for you all day and into the night, and it'd be swell if you could join
our Countdown Live chat
during the game.
Meantime, the full list of inactives:
REDSKINS
SEAHAWKS
Enjoy the game, everyone. Talk to you again real soon.
January, 6, 2013
Jan 6
9:00
AM ET
WASHINGTON, D.C. -- Good morning. Lovely weekend here in our nation's capital. And a great deal of excitement about the
Washington Redskins
' first home playoff game since 1999. The Redskins will take on the
Seattle Seahawks
at 4:30 pm at FedEx Field, and here are a few matchup-related notes I have left over from the time I spent with the Redskins earlier in the week.
[+] Enlarge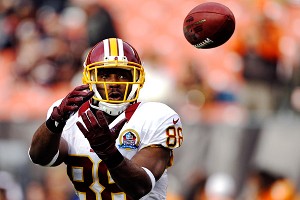 AP Photo/Mark DuncanPierre Garcon and the Redskins receivers will be challenged by a big, physical Seahawks secondary.
1. Redskins WRs vs. Seahawks DBs
: The Redskins' wide receivers are big and physical types who love to block, but Seattle's secondary has unusual size. Of the six defensive backs 6-foot-3 or taller who started at least 10 games in the NFL this season, three of them --
Richard Sherman
,
Brandon Browner
and
Kam Chancellor
-- play for the Seahawks. Lots of talk this week in Ashburn about how physical those defensive backs are. Redskins offensive coordinator Kyle Shanahan said, "They try to beat you up all the way down the field."
"We just have to keep their hands off of us and make sure we're allowed to run our routes," Redskins wide receiver
Pierre Garcon
said. "Just have to get into their shoulder pads and block them like you would anybody else. They can try to jam us, that's part of the game. We have to be physical. We've shown a lot of physicality this year."
One possible thing to look for is tighter splits, with the wide receivers playing tighter to the line and further from the sideline than they normally do. Washington showed this in last year's game against Seattle (with less physical wideouts), and there are a couple of potential benefits. It allows the receivers more space in which to operate -- forcing the defensive back to guess which direction they're going, whereas when they're wide the sideline limits their range. And it might give a safety at least some hesitation, wondering if the play is a run or a pass, and whether those receivers are in tight to run-block. If the Seahawks hesitate in coverage,
Robert Griffin III
has shown he has the ability to make them pay with his downfield accuracy.
2. Redskins' interior offensive line vs. Seahawks DT Brandon Mebane
: Watch Mebane's ability to generate pressure up the middle, especially to the "play side," where the run play appears as though it will go. The Redskins' best way of countering the speed of the Seattle defense is likely with cutback runs by running back
Alfred Morris
(as well as play-action passing, but that goes without saying). If Mebane can penetrate and get to Morris before he cuts back, the Redskins could find their run game limited and their play-action game negatively affected as a result.
The left guard situation is particularly worrisome for Washington. Either starter
Kory Lichtensteiger
is going to be playing hurt or backup
Josh LeRibeus
will be starting in his place. If LeRibeus plays, the Redskins must worry about the timing of the blocks on the cutbacks. Washington started the same five offensive linemen in 15 of its 16 regular-season games, and the ability of that line to work together with comfort and familiarity had a lot to do with the success of the Redskins' top-ranked run game. If LeRibeus isn't in sync with the guys who've been there all season, that could create problems.
3. Redskins' DBs vs. Seahawks WRs
: Seattle doesn't have a top-flight, game-breaking type at wide receiver, though
Sidney Rice
and
Golden Tate
have been more than serviceable for rookie quarterback
Russell Wilson
. Last week against the Cowboys, Washington used an unusual number of "zero" blitzes that left cornerbacks on wide receivers one-on-one. The ability of
DeAngelo Hall
to handle
Dez Bryant
in solo man coverage was one of the more surprising aspects of that game, and Redskins coaches say they spent the week challenging Hall to step up his game because of how hot Bryant was. Will Hall be able to muster that same kind of intensity to play Rice or Tate? Will the return of
Cedric Griffin
from his drug suspension change the Redskins' coverages and reduce the need for Hall to play man all game? Wilson runs around outside the pocket like
Ben Roethlisberger
, keeping plays alive for a long time with his legs. So the coverage by the Redskins' secondary needs not only to be tight, but persistent. The cornerbacks have to stay with the receivers longer than they're used to doing, due to Wilson's ability to extend plays. A new challenge for a defense that has been able to overcome a lot of issues here in recent weeks.
April, 27, 2012
4/27/12
9:59
PM ET
The
Washington Redskins
had to wait a long time between their first and second picks of this year's draft. They had the No. 6 pick of the third round and traded it to Buffalo for the No. 8 pick of the third round (71 overall) and a seventh-round pick (No. 217 overall), and than with that No. 71 pick they drafted SMU guard
Josh LeRibeus
.

LeRibeus
Not among the highest-ranked guards on the Scouts Inc. draft list, LeRibeus appears to be a pick the Redskins took for scheme-specific reasons rather than because of particularly good measurables. He's had some issues with his weight and has had to lose dozens of pounds to get down to his current 312. And he didn't great out especially well as a blocker. But the Redskins look for specific characteristics in their offensive linemen because their running game relies on a zone-blocking scheme. And LeRibeus' strengths, according to the scouting reports, are his initial quickness, his awareness of what's going on around him and his ability to pick up and direct scheme changes. He was a team captain at SMU and, given the right amount of time to develop in and learn the scheme, could be the kind of guy who's a leader on the offensive line.
Would Redskins fans have rather seen a tackle such as
Bobby Massie
here? Probably. But the Redskins need to add depth on the offensive line. Their free-agency efforts this year have been focused on wide receiver and the defensive secondary, which means the first few picks after they took
Robert Griffin III
in the first round needed to be focused on building some protection in front of their rookie quarterback. They obviously like the guy and believe they can coach and use him, and he plays the position to which the Redskins need to be paying attention at this point.

NFL SCOREBOARD
Sunday, 12/22
Monday, 12/23