NFL Nation:

Junior Seau dies
May, 6, 2012
5/06/12
12:50
PM ET
The San Diego Chargers are planning one final tribute for one of their greatest players of all-time.
The team announced it will host a celebration of life in honor of legendary linebacker Junior Seau. Seau, a star on the field and in the community, died Wednesday. He was 43. The death was ruled a suicide.
The event, which is open to the public, will be held at Qualcomm Stadium on Friday at 6:30 p.m. PT. Admission and parking are free. There will be special guest speakers and the events will focus on the positive impact Seau made in San Diego (he grew up nearby, in Oceanside).
The parking lot at the stadium will open at 2 and the stadium gates will open at 4:30. It is open seating and a large crowd is expected to attend.
I commend the Chargers for holding this event. I know Seau's death has devastated a lot of people and this will help the healing process.
The team also announced donations in Seau's honor can be mailed to the Junior Seau Foundation, 5275 Market Street, Suite B, San Diego, CA 92114. Donations can also be made online at www.juniorseau.org.
Meanwhile, Seau's family is now
reconsidering whether to donate his brain
to researchers who study the impact of football violence on the brain.
May, 4, 2012
5/04/12
9:44
AM ET
The San Diego County
medical examiner's office has officially ruled
that San Diego legendary linebacker Junior Seau committed suicide.
The office ruled that Seau died of a self-inflicted gunshot wound to the chest on Wednesday morning in his hometown of Oceanside, Calif. He was 43.
Now that Seau's death has been officially ruled a suicide, I feel comfortable expressing a couple of thoughts.
I hope this terrible situation can help save other lives.
What struck me most Wednesday, as reaction to Seau's death poured in, was the raw pain and love his family and friends had for Seau. Listening to interviews with his mother and former teammates Marcellus Wiley, Tedy Bruschi and Lorenzo Neal, it was clear that Seau would have been helped if only he had told his loved ones that he was hurting.
No one knew how bad he needed help. Folks, I'm not trying to get on a soapbox here, but if people need help, they just need to ask someone. If Seau could have seen the reaction to the death, I'd like to think there's no way he would have killed himself.
The Seau family has decided to donate his brain for research studies on the effects of violent football hits. The brain of former NFL player Dave Duerson was donated for research, per Duerson's request in a suicide note before he killed himself is a similar fashion as Seau.
I think any research to prevent further tragedies is worthwhile. But to automatically believe Seau and Duerson had the same issues may be taking the easy way out and it may be a coping mechanism.
No one knows what kind of pain Seau was enduring and to speculate may be a useless exercise. The question why Junior Seau took his own life will eternally be asked.
May, 3, 2012
5/03/12
4:33
PM ET
Bill Belichick of the
New England Patriots
was the last person to coach future Hall of Fame linebacker
Junior Seau
. Belichick signed Seau at the tail end of his career and was Seau's coach for his final four seasons in the NFL.
Seau died Wednesday at the age of 43. Belichick released a statement on Seau Thursday:
"A day later, it is still hard to believe. Of all the players I have coached, nobody was more full of energy and vitality than Junior Seau. He respected and inspired every single person he came in contact with -- players, coaches and support staff. His defied the odds by playing two decades in the NFL at a level and with a youthful spirit rarely seen but appreciated by everyone. Junior will always be remembered as a intense Hall of Fame player from the old school. He was a charismatic icon. At the same time, as a human being he was as caring, warm and lovable as they come. That's what I will miss most of all. It was a privilege to have coached Junior Seau. My condolences to his family."
May, 3, 2012
5/03/12
2:00
PM ET
The aftereffects of legendary linebacker Junior Seau's stunning death on Wednesday are developing quickly.
Sports Illustrated reported
Boston University's Center for Traumatic Encephalopathy, which has famously studied the brains of several dead football players for injuries consistent with blows to the head, wants to take a look at Seau's brain.
Seau died at his Oceanside, Calif., home due to a gunshot wound to the chest, according to police. It is being investigated as a suicide. Seau was 43.
Former NFL player Dave Duerson killed himself with a gunshot to the chest and he left a suicide note asking for his brain to be examined. Reportedly, Seau did not leave a suicide note.
Meanwhile, former Oakland receiver Tim Brown told Bay Area radio station
957The Game
to not jump to any conclusions about Seau's death.
On a related note, one ESPN.com columnist reflects on
football's involvement in Seau's death
.
May, 2, 2012
5/02/12
7:06
PM ET
Jim Harbaugh and Junior Seau were teammates on the
San Diego Chargers
during the 1999 and 2000 seasons.
Harbaugh, entering his second season as the
San Francisco 49ers
' head coach, offered thoughts on Seau following the linebacker's passing Wednesday:
"I, along with the entire NFL family, the San Diego community and those who shared a life with Junior, grieve the loss of the ultimate teammate and friend. I am saddened that I was not there for Junior as he had always been for his teammates and friends.

"The qualities I most respected in Junior were the caring and respect he showed to all those with whom he came in contact. One of my fondest remembrances as a professional football player was looking across the locker room after playing my last career game with the Chargers and knowing that I had shared that moment with one of the greatest teammates and competitors the game has ever known. The moment moved me to get off my stool, approach Junior and ask him to trade jerseys. It's the only time I had done that in my career.

"My thoughts and prayers go out to Junior's family."
Harbaugh signed with Detroit and Carolina after his stint with San Diego, but he played his final game with the Chargers.
May, 2, 2012
5/02/12
6:06
PM ET
Two of the Miami Dolphins' top defenders in franchise history -- former defensive end Jason Taylor and former linebacker Zach Thomas -- reacted to the death of linebacker Junior Seau. Taylor and Thomas were teammates with Seau for three seasons in Miami.

Taylor: "I'm shocked and saddened. Devastated, really. Junior was one of the most positive, uplifting people I have ever known. He was always full of life and energy and had an infectious spirit that lifted everyone around him. Junior called everyone 'buddy' and treated them like he had known them forever. It would be easy for me to say he was a great friend and teammate, and a tremendous competitor, but that would be selling Junior short. Junior Seau was an individual of great honor and integrity, a leader of men and someone with a deep rooted passion for giving of himself to make the people, the community and especially the children around him better. This is an immeasurable loss for so many. My heart and prayers go out to Junior's family, Gina and their children. I'm going to miss you buddy."

Thomas: "I have never been around a man with more love and passion for the game of football than Junior Seau, and he lived life the same way. Junior was always fun to be around, always positive and made every person who knew him feel like he was their best friend. You never heard one negative word come out of his mouth. Junior just had this energy that followed him around wherever he went, almost like theme music. It was like he never had a bad day. As a young linebacker, Junior was my hero growing up and once I had the opportunity meet him I saw that he was everything I hoped he would be and more. Getting the chance to play alongside of Junior Seau, the greatest linebacker to ever play the game, made my dreams come true. I am absolutely devastated to hear this news. Today I lost my hero, my friend, my buddy."
May, 2, 2012
5/02/12
5:30
PM ET
Here are more tributes and statements of about t he death of Chargers superstar linebacker Junior Seau. He was 43:

The Oakland Raiders:

"We are deeply saddened by the news of the passing of Junior Seau. Junior's great passion, intensity and love for the game were evident every time he stepped on the football field. He was a formidable competitor who left an indelible mark on the game of football. We extend our most sincere condolences to his family and the Charger organization."

Tweets from Denver executive vice president John Elway:

I had the pleasure of playing against Junior for many years. He played the game the way it was meant to be played.

We shared a lot of laughs from our AFC West battles when I saw Junior before he was inducted into the Chargers HOF in November.

Junior was a true competitor and a special player. My heartfelt condolences go out to the Seau family.

The NFL Players Association

The NFL Players Association is saddened to hear of the passing of Junior Seau, a terrific player and teammate. The 12-time Pro Bowler achieved a level of success on the field that is unparalleled and his off-the-field service accomplishments are beyond admirable. The All-Decade Team linebacker's career spanned an incredible 20 seasons, and Junior Seau's determination and passion for the game will always be remembered in the hearts and minds of the fans. The NFLPA player family today joins with the Seau family to mourn a brother lost too soon.

Statement from Bills GM Buddy Nix:

"I am deeply saddened to hear the news of the passing of Junior Seau. This is such a tragedy and his passing will be felt by many. Junior was a great player in this league for so many years and he embodied that competitive spirit that all the great linebackers possess. My deepest sympathies and heartfelt condolences go out to his children and his entire family, his friends, the Spanos family and the Chargers organization."

Statement from Bills defensive coordinator Junior Seau:

"Hearing this news about Junior...it's just so tragic…it's hard to believe. I still to this day remember the day that Junior joined our family at the Dolphins. He brought a sense of renewed energy and a spirit to the field, off the field, in the weight room, just everywhere that Junior went and everyone that Junior was associated with. He instilled a belief that we hadn't reached our potential and that we could be better and he would find a way to help make that happen. I just feel terrible but I know how much he loved his kids. I remember him coming to me and the first thing we talked about was what the offseason schedule would be and what was going to be our bye week schedule. Everything he was doing was centered around getting back to San Diego from Miami to be able to spend quality time with his kids. I don't think there's a better way a man could be remembered than in those terms."
May, 2, 2012
5/02/12
4:57
PM ET
San Diego couldn't keep its eyes off of
Junior Seau
.
There were a few minutes remaining in the first half of the Chargers' home game against the
Denver Broncos
last November when the entire stadium roared.
It was for Junior.
Seau and his family emerged from a tunnel and stood near the home sideline he used to rule. Seau looked regal in a suit adorned with a traditional Samoan money lei, which marked moments of celebration. This was one of the biggest parties of Seau's life. The Oceanside kid was being inducted into the Chargers' Hall of Fame and he was being presented by Dan Fouts, another face of the franchise.
[+] Enlarge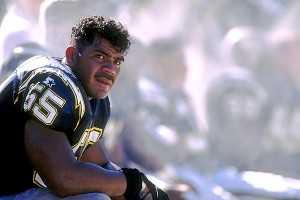 J.D. Cuban/Allsport/Getty ImagesJunior Seau was the face of the Chargers for many seasons and is their greatest sports icon.
It was as if the Chargers and Broncos didn't matter. All eyes were on Seau and the stadium rocked with chants of "Junior."
It was the last time Seau shined in Qualcomm Stadium. However, the memory of Tiana Baul "Junior" Seau will never fade in San Diego.
Handsome, vibrant, and caring, Seau was the perfect role model for a self-assured, laid-back beach town. He laughed. He surfed. He helped. He was San Diego.
San Diego stopped Wednesday morning.
Seau died at the age of 43
at his Oceanside home. Police are investigating his death as a suicide.
I have been on the phone with some people in San Diego and the news of Seau's death has been a devastating blow to the city. News video shows a large group of people crying in front of Seau's home. Seau's mother tearfully addressed media. At Chargers Park Wednesday, the team's flag flew at half staff.
Even though Seau last played in San Diego in 2002, he remains its greatest sports icon. The San Diego sports Mt. Rushmore starts with Seau.
He was from San Diego and he stayed in San Diego even though he finished his NFL career in Miami and New England. The sight of No. 55 jerseys has been an every-Sunday occurrence at Qualcomm Stadium. I expect it to remain that way. Seau's restaurant (which is a couple miles from the stadium) remains one of the most popular eateries in San Diego.
Adding a chilling factor to this devastating story is that Seau is the eighth member of San Diego's only Super Bowl team, the 1994 Chargers, to die. The others are running back Rodney Culver, linebackers Dave Griggs, Lew Bush and Doug Miller, defensive tackle Shawn Lee, defensive end Chris Mims and center Curtis Whitley.
The deaths of so many young men have haunted the memory of that team. Now the face of the team joins that sad list.
Seau has been a hero in San Diego for 25 years. He was a nationally known high school football and basketball star in Oceanside. When his hometown Chargers took Seau from USC with the No. 5 pick in 1990, the city, hungry for NFL success, rejoiced. The party lasted for 13 years.
Seau -- who probably will make the Pro Football Hall of Fame in three years -- was named to the 1990s All-Decade team and to 12 Pro Bowls.
He was a fierce playmaker with unmatched emotion and passion. Off the field, he was a major fundraiser for his hometown charities. He recently held his annual golf tournament.
There have been some recent tough times for Seau. He was divorced. In 2010, he was arrested after his girlfriend accused him of abuse. He was never charged. Hours after the incident, he drove his vehicle off a cliff. Seau denied it was a suicide attempt. He said he fell asleep.
If Seau's death is ultimately ruled a suicide, so many questions will remain. But this fact is unquestioned: Seau was a San Diego legend. That will never change.
May, 2, 2012
5/02/12
4:47
PM ET
The
Miami Dolphins
and
New England Patriots
were
two of the three teams
future Hall of Fame linebacker
Junior Seau
played for. Seau, 43, died on Wednesday.
Here are two issued statements from the Dolphins and Patriots:
Dolphins CEO Mike Dee:
"We are stunned and saddened at the passing of Junior Seau. During his time with the Dolphins he made a unique contribution to the team and the South Florida community. Junior was a fierce competitor whose passion and work ethic lifted his teammates to greater heights. His enthusiasm for the game was infectious and he passed that on to everyone who was around him. He loved the game so much, and no one played with more sheer joy. Beyond his accomplishments on the field, though, he was as well known for his charitable accomplishments to help those less fortunate than himself, especially kids. Whether it was in San Diego, South Florida, New England or everywhere else in between, Junior loved putting a smile on a child's face during his 'Shop with a Jock' program or during one of his countless school visits. He made a difference to so many people in so many places. Junior was one-of-a-kind. The league will never see anyone like him again. He will be missed, and on behalf of the Miami Dolphins we want to extend our condolences to his family."
Patriots team statement:
"We were shocked to hear of the initial reports regarding Junior Seau earlier today and are deeply saddened by the news of his death. We were fortunate to have had Junior join the Patriots in 2006 and are thankful for his many contributions to the team over the next four years. He had a legendary NFL career and his unrivaled passion for the game quickly made him a fan favorite here in New England. This is a sad day for the entire Patriots organization, our coaches and his many Patriots teammates. Our heartfelt thoughts and prayers go out to his family and his many friends who will mourn this loss."
May, 2, 2012
5/02/12
3:53
PM ET
Junior Seau's 20-year career made a widespread impact. That included the AFC East, where the future Hall of Fame linebacker spent the final seven years of his stellar career with the
Miami Dolphins
and
New England Patriots
.
[+] Enlarge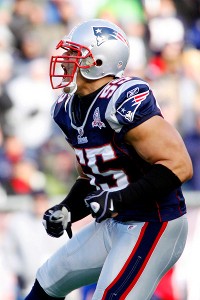 Stew Milne/US PresswireJunior Seau played 20 seasons in the NFL with the Chargers, Dolphins and Patriots.
Seau died on Wednesday
, which is a huge loss for the Patriots, Dolphins,
San Diego Chargers
and the entire NFL community. In the AFC East, Seau will be remembered most for his tremendous work ethic, passion and ability to play a demanding position until he was 40.
Seau came to Miami as a 34-year-old linebacker. It was unknown at that time how much more he had left in the tank. But Seau was one of the studs on Miami's defense, played 15 games in 2003 and led the Dolphins to a 10-6 record. In fact, Miami had winning records in two of Seau's three seasons. The Dolphins have had just one winning season since Seau left Miami in 2006.
Seau came to New England the following season in '06 with even more questions. He was 37. But Seau quickly acclimated himself to the "Patriot way" and played 27 games his first two seasons in New England.
In 2007, Seau was a prominent member of New England's undefeated regular-season team. He recorded 74 tackles, 3.5 sacks and three interceptions for those Patriots, who came up just short in the Super Bowl and remain one of the greatest teams to not win a Super Bowl.
That undefeated regular season and Super Bowl run in '07 turned out to be one of Seau's last great moments as a player. He stuck around for two more seasons in New England but started just two games in that span.
Seau will be remembered as a Charger, first and foremost. But the Patriots and Dolphins will never forget his contributions.
May, 2, 2012
5/02/12
3:25
PM ET

The San Diego Chargers just released a statement on the death of longtime Chargers linebacker Junior Seau.

"Everyone at the Chargers is in complete shock and disbelief right now. We ask everyone to stop what they're doing and send their prayers to Junior and his family."

Seau was 43.

The news will rock San Diego. Seau was a native of Oceanside and one of the most well-known people in San Diego until his death Wednesday morning.

I will be back later with more reaction to this heart-wrenching story.
NFL SCOREBOARD
Sunday, 2/2
WEEKLY LEADERS