NFL Nation:

Justin Hartwig
March, 11, 2014
Mar 11
8:50
PM ET
PITTSBURGH -- The Steelers made an earlier-than-usual foray into free agency.
In the process they got younger and faster in the secondary and found a new running mate for
Troy Polamalu
on the back end of their defense.
The signing of
Mike Mitchell
-- the former Panthers safety agreed to a five-year, $25 million contract per ESPN NFL Insider Adam Schefter -- confirms that the Steelers weren't just willing to address their defensive backfield through the draft.
[+] Enlarge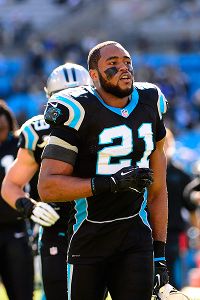 Bob Donnan/USA TODAY SportsMike Mitchell will replace Ryan Clark in Pittsburgh's secondary.
Mitchell, who turns 27 in June, fits the profile of the defensive backs that the Steelers had inquired about prior to the start of free agency. He is young but has starting experience and will help the Steelers immediately, something they are loathe to expect out of rookies.
Mitchell spent his first four seasons with the Raiders but came into his own after signing a one-year deal with the Panthers last year. Starting on a regular basis for the first time in his career, Mitchell recorded 66 tackles while intercepting four passes and forcing a pair of fumbles in 15 games.
The 6-foot, 215-pounder will take over at free safety for
Ryan Clark
, and the Steelers hope they get a return from Mitchell similar to what they received from Clark after signing him to a four-year, $7 million contract in 2006.
Clark started eight seasons after signing with the Steelers as an unrestricted free agent, and he and Polamalu became close friends and played as well off one another as any safety tandem in the NFL before age starting catching up with the duo.
The Mitchell signing drops the curtain on Clark's Steelers career though he said on ESPN's "NFL Live" on Tuesday that he intends to keep playing.
It is also the latest move that will shape the Steelers' secondary in 2014 and the first one that should provide stability beyond next season.
The Steelers had previously re-signed Polamalu to a three-year contract and restructured cornerback
Ike Taylor
's contact with the 11th-year veteran accepting a $4.5 million pay cut.
Taylor's new deal put the Steelers around $7 million under the salary cap, allowing them to sign the biggest free agent from a financial standpoint since Mike Tomlin took over as head coach in 2007.
The Steelers generally wait until after the frenzied first wave of free agency before going shopping.
They have made exceptions as far as pursuing higher-profile free agents, and the Steelers hit pay dirt in the early 2000s when they signed center
Jeff Hartings
and linebacker
James Farrior
in back-to-back years.
Hartings, who signed with the Steelers in 2001, continued the line of excellence that the Steelers have enjoyed at center. Farrior, who signed with the Steelers the year after Hartings, blossomed into one of the best inside linebackers in the NFL and became one of the driving forces behind a run in which the Steelers won a pair of Super Bowls and played in three of them from 2005-10.
The Steelers didn't do nearly as well in 2007 when they signed former Buccaneers center
Sean Mahan
to a five-year, $17 million contract. Mahan lasted just one season in Pittsburgh, and the Steelers traded him to the Buccaneers in 2008 after he lost his starting job to
Justin Hartwig
.
April, 15, 2011
4/15/11
2:19
PM ET
In general, we expect too much from late-round picks. (
And from overall draft batting averages.
)
In a recent conversation with former Denver general manager Ted Sundquist, he pointed to an article he once read in Ourlads by Joe Landers. Apologies, I couldn't find the link.
"Using some common sense and a little investigative research, you'll find that it's rare, at least according to Landers' study, to find a cornerback or running back or wide receiver that's really going to help you in the last three rounds," Sundquist said. "And yet you'll find teams constantly take a reach on one of these positions.
"Evidence shows you're more likely to find a defensive tackle, offensive lineman, safety or tight end in the later rounds. Why? Most conventional wisdom says don't draft a safety or tight end high due to escalating rookie salaries and the going market at the position. As for defensive tackles or offensive linemen, it's probably because of the greater numbers at the position. Both circumstances force down talented players at those positions."
I went back and combed over the AFC South drafts since 2002, to see how many picks they spent on each side of the ledger Sundquist sets forth and how often the Colts, Jaguars, Texans and Titans did well with a fifth-, sixth- or seventh-round pick at those spots. This is, of course, highly unscientific. Metrics guys can probably shred it. But I thought it worth fiddling with.
Notables are players who played significantly, even if it's been with another team, or recent picks who appear on track to contribute.

Houston Texans
WRs, RBs. CBs: 9
DTs, OL, S, TEs: 14
Most: Six safeties, four receivers, corners and defensive tackle
Notables:

Colts
WRs, RBs. CBs: 7
DTs, OL, S, TEs: 13
Most: 13 offensive linemen
Notables:

Jaguars
WRs, RBs. CBs: 12
DTs, OL, S, TEs: 9
Most: Five receivers, four offensive linemen
Notables:

Titans
WRs, RBs. CBs: 14
DTs, OL, S, TEs: 16
Most: Seven offensive linemen, six wide receivers
Notables:
Of the notables from the division drafted since 2002, 73 percent (19) have been from the positions Sundquist says teams should concentrate on late while 27 percent (seven) play positions he believes should generally be avoided.
I'd be fine with the Titans not wasting yet another late pick on a receiver and with the Texans using late-rounders on something other than corners and receivers for sure. But it's not like Houston's spending late picks on safeties or the Colts use of such selections on offensive linemen have paid huge dividends either.
I'd love to read your thoughts.
February, 5, 2011
2/05/11
2:45
PM ET
»
Super Bowl XLV Final Word
:
Steelers
|
Packers
Five nuggets of knowledge about Super Bowl XLV:
[+] Enlarge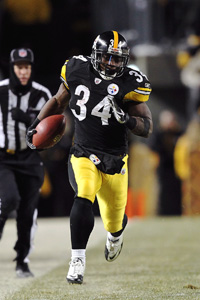 Al Bello/Getty ImagesRashard Mendenhall has been a potent weapon for the Steelers, rushing for 167 yards in two playoff games.
Big stage for Mendenhall:
The play of
Pittsburgh Steelers
tailback
Rashard Mendenhall
has been
under the radar
throughout the playoffs. But Mendenhall's performance will be very important for Pittsburgh to beat the Packers. Mendenhall has rushed for 167 yards and three touchdowns in Pittsburgh's two playoff games. Playing in his first Super Bowl, Mendenhall has the ability to keep the chains moving and keep Green Bay quarterback
Aaron Rodgers
off the field. The Packers' run defense has struggled at times, ranking just No. 18 in the NFL this season.
Win one for Flozell:
Nearly all the veteran players on the Steelers own at least one Super Bowl ring. But one veteran who doesn't own any jewelry is starting right tackle
Flozell Adams
. He played a dozen years for the
Dallas Cowboys
and
signed with the Steelers
before training camp. With Adams returning to his old stomping grounds, Pittsburgh is taking the approach to "Win one for Flozell." Offensive linemen all wore throwback Michigan State jerseys of Adams on the flight to Dallas on Monday as a show of solidarity.
Keeping the streak:
One of the safest bets in sports has been the Steelers in Super Bowls. Pittsburgh is 6-1 all time in the big game, with the only loss coming to the Dallas Cowboys following the 1995 season. (Credit
Neil O'Donnell
.) Pittsburgh's current group of veterans such as receiver
Hines Ward
, quarterback
Ben Roethlisberger
, safety
Troy Polamalu
and linebacker
James Farrior
are looking to go
3-0 in Super Bowls
. Experience definitely favors Pittsburgh and may play a factor in this game.
Taking shots:
Steelers receiver
Mike Wallace
hasn't made many big plays in the postseason, as defenses have been geared to stop him. But Super Bowl XLV could be an opportunity for Wallace to get back to making those game-changing plays. Packers defensive coordinators Dom Capers blitzes often, and that will present chances for Wallace to go over the top of the defense against single coverage. Much has been said about Green Bay's speed advantage indoors. But Wallace will undoubtedly be the fastest player in this game.
The big Legursky:
It was questionable if
Doug Legursky
would make Pittsburgh's roster out of training camp last summer.
Now he's
replacing
Maurkice Pouncey
as the Steelers' starting center in the Super Bowl. It has been a wild ride this season for Legursky, who made the team once veteran center and former starter
Justin Hartwig
was cut. Legursky filled in at various positions this season. He feels center is his best position, and the Steelers hope he's correct when he faces the Packers on the biggest stage.
January, 14, 2011
1/14/11
10:34
AM ET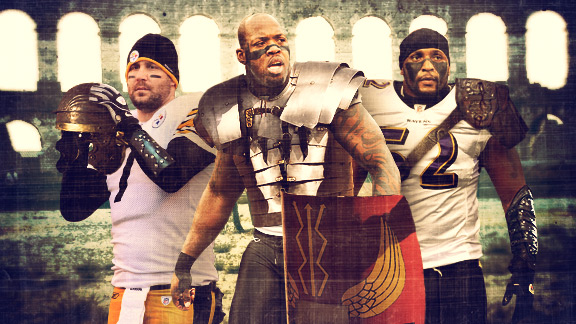 ESPN.com IllustrationAre you not entertained? The Steelers and Ravens split their two earlier meetings this season.
PITTSBURGH -- The Ravens-Steelers rivalry is easily the most intense in the NFL.
Baltimore defensive end/linebacker
Terrell Suggs
wasted little time after the Ravens defeated the
Kansas City Chiefs
on Sunday to start talking about the hated Steelers. He likened the teams' third meeting this season Saturday to "Armageddon" and even "World War III" and called the players "modern-day gladiators."
Why, of course.
The Steelers toned down the rhetoric this week, but they're just as eager for the divisional-round game at Heinz Field.
You know some of the basics -- each team defeated the other on the road this season, Pittsburgh leads the all-time series 20-12 (counting two playoff wins) and the Steelers defeated the Ravens in the AFC Championship Game two years ago in one of the hardest-hitting games I've seen.
Here are 10 things you may not know as Ravens-Steelers III looms:
1. Even old ladies despise Ravens
A fan's craft project hangs in the Steelers' locker room, in between the lockers of offensive tackle
Max Starks
and rookie center
Maurkice Pouncey
. Made of cotton and knitted with purple and black thread, it has a large "X" through the name "Ray" in the center.
A Steelers fan from Ohio created the piece and sent it to the team along with a lengthy letter explaining how much she despises the Ravens and Baltimore linebacker
Ray Lewis
.
"We thought it was funny because it was an elderly lady, like a grandma, but she had enough guts to knit that together," Steelers offensive lineman
Willie Colon
said. "That's a real tribute to her."
Former Pittsburgh starting center
Justin Hartwig
saw it, loved it, and put it up on the wall next to his locker. The Ray Lewis quilt has been in the vicinity of the offensive linemen's lockers for nearly two years, regardless of who the Steelers are playing that week. It serves as a nice little reminder all season of the Ravens' linebacker.
"That's been our rival and Ray Lewis is definitely the heart of that team and the heart of that organization," Colon said. "Any time you want to kill a monster you have to go for the heart."
[+] Enlarge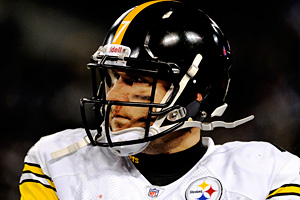 AP Photo/David DrapkinThe Ravens bloodied the nose of Steelers quarterback Ben Roethlisberger on Dec. 5.
2. Ben Roethlisberger 'hates' playing the Ravens
You would think that, with an 8-2 career record against Baltimore, Pittsburgh quarterback Ben Roethlisberger would love playing against the Ravens.
You would be wrong.
"I hate playing these guys because they are so good, especially on defense," Roethlisberger said.
And they hurt people, especially Roethlisberger.
Roethlisberger owns six straight wins over Baltimore, but the wins rarely come without a price. In the last meeting between the teams on Dec. 5, Roethlisberger suffered a broken nose after taking a shot to the face by Ravens Pro Bowl defensive lineman
Haloti Ngata
.
The NFL fined Ngata $15,000 for the hit. But Roethlisberger played through the pain and led the Steelers to a come-from-behind win in Baltimore, which helped secure the AFC North division title and a first-round bye.
[+] Enlarge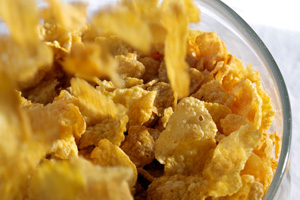 AP Photo/Carolyn KasterDoctors said the broken nose Ben Roethlisberger suffered against the Ravens looked like "Corn Flakes."
Roethlisberger did interviews after the game with a crooked nose that a doctor later said looked like "Corn Flakes." Roethlisberger had surgery to repair it the next day.
"He actually looks better now," Steelers receiver
Hines Ward
joked this week. "They broke his nose, but he's a warrior."
In 11 games against the Ravens, Roethlisberger has been sacked 38 times, by far the most times he has been sacked by any team in the NFL. In a Week 12 game at Baltimore in 2006, Roethlisberger was sacked a career-high nine times. In the second quarter of that game, then-Ravens linebacker
Bart Scott
ran around left end untouched and splattered Roethlisberger with a huge hit to the chest.
"That's probably the hardest I've ever been hit in my life," Roethlisberger told reporters afterward.
3. But look out, Ravens
Roethlisberger finished the season strongly, throwing for 600 yards in the final two games. According to Steelers offensive coordinator Bruce Arians, he's playing the best football of his career.
"He's as good as I've ever been around," Arians said this week. "He just continues to grow."
During his four-game suspension to start the season, Roethlisberger worked on several parts of his game, including improving his accuracy and throwing motion.
"He's shortened his delivery a little bit. … It's kind of like a golfer changing his stroke a little bit. It was minor, but it really gets the ball out of his hands faster," Arians explained.
The quicker delivery has contributed to Roethlisberger's reduced sack total. Last season, Roethlisberger was sacked 3.12 times per game. This season, he was sacked 2.66 times per game, almost a half of a sack less per game.
4. A rivalry within the rivalry
There will be a time when stalwarts such as Ward, Lewis,
Ed Reed
,
Aaron Smith
and
James Farrior
won't be a part of this great rivalry. But one matchup you can expect to see for the next 5 to 10 years involves Ngata, 26, and Steelers rookie center Pouncey, 21.
Both Pro Bowlers, Ngata and Pouncey will play a large role this weekend -- and beyond -- in which team controls the line of scrimmage in this series. Each is a first-round pick, Ngata in 2006 and Pouncey in 2010.
The 6-4, 305-pound Pouncey had a great rookie season, starting all 16 games, but Ngata was easily his stiffest test. In the first two meetings, Ngata was dominant with 15 tackles and 1.5 sacks. There's no shame in that because Ngata -- called "The NFL's version of the the Incredible Hulk" by
Carolina Panthers
center
Ryan Kalil
-- dominates a lot of players.
"The thing about Pouncey is I think his weakness today is big power guys," Scouts Inc.'s Matt Williamson said. "His movement skills are so good, and you have to remember few interior offensive linemen come out of school as a junior. So he's a very young person, and I don't think his strength and bulk have quite caught up with his frame and athleticism."
Williamson said that the 6-4, 350-pound Ngata is several years ahead of Pouncey in his development. But Williamson also said that he wouldn't be surprised if in two or three years Pouncey develops into the NFL's best center and catches up with Ngata, who may be the best interior lineman in football.
[+] Enlarge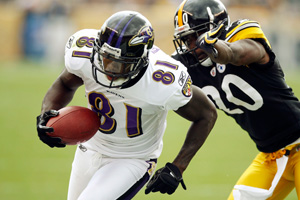 AP Photo/Keith SrakocicAnquan Boldin caught 12 passes for 184 yards and a TD in two games against the Steelers this season.
5. Looking for an X factor?
Ravens receiver
Anquan Boldin
is new to this rivalry, but he's always been a handful for the Steelers.
Boldin was acquired by Baltimore in an offseason trade with the
Arizona Cardinals
for key games like this. In four career games against Pittsburgh, Boldin has two 100-yard performances and 28 receptions for 388 yards and two touchdowns.
In the Super Bowl XLIII loss to the Steelers, Boldin had eight receptions for 84 yards. He caught 12 passes in two games against the Steelers this season.
Of the Steelers, Williamson said, "... quick stuff can be an issue for them," because of their coverages and blitzes. "Boldin is very smart, and he's often the hot receiver when opponents blitz. You can move him all over the formation, and he's especially good in the slot. He's the type of guy who can give the Steelers problems because he can nickel-and-dime you to death."
6. Once a Raven? Pffffft!
The Ravens once had a chance to pair 2008 Defensive Player of the Year
James Harrison
with future Hall of Famer Lewis at linebacker. Baltimore signed Harrison to a free-agent contract in 2003. But Baltimore had so much depth at linebacker with players such as Lewis, Peter Boulware, Adalius Thomas, Ed Hartwell and Scott, it cut the undrafted Harrison soon after.
Harrison
"He was just one of those guys who slowly developed," former Ravens coach Brian Billick said. "But he's developed and is obviously a great player. I think he fits [the Steelers'] scheme perfectly.
"We had a number of guys and he was a little bit one-dimensional in terms of what he did at the time. But he's obviously matured and grown in his game."
This week, Harrison scoffed at the idea that he was ever a Raven.
"Everybody has a misconception that I was there for a while; I was there for eight days," Harrison said. "Everything happens for a reason, whether it's good, bad or indifferent. There is a reason I was there, and there's a reason that I'm here now. … I'm happy."
7. The Professor says…
ESPN's John Clayton, who has covered the NFL for more than three decades, has seen his share of bad blood between teams. "The Professor" said he thinks Ravens-Steelers is the NFL's most heated rivalry, but said it doesn't measure up to the Raiders-Steelers rivalry of the 1970s.
"The Ravens-Steelers rivalry now is kind of like the Houston Oilers-Steelers rivalry of the 1970s," Clayton said. "There was truly animosity between the Oilers and Steelers, but there was always that respect. They wouldn't diss each other much because they knew there might be a punch coming back." The Steelers beat the Oilers in AFC Championship games in 1978 and 1979.
"The old Steelers' rivalry with the Raiders was simply brutal, some of the most physical football I have ever seen. Steelers receiver Lynn Swann used to get squashed in a Raiders secondary that included Jack Tatum and George Atkinson. Now, if they allowed defensive backs today to smack receivers all the way down the field the way they allowed them to back then, maybe Steelers-Ravens would approach that level of intensity."
8. This series is this close
Since 2003, Baltimore and Pittsburgh have played each other 17 times and each team has scored 302 points. During that span, Pittsburgh has nine wins, Baltimore eight.
According to ESPN Stats & Information, the Ravens and Steelers are the most dominant and consistent defenses over the past decade. Since 2000, Baltimore has allowed an NFL-low 2,992 points in the regular season (17 points per game). Pittsburgh is second in that span, allowing 3,011 total points (17.1 ppg). No other NFL teams have allowed fewer than 3,200 points since 2000.
9. Lewis, Ward don't cross trash-talking line
In an effort to spread the love in this rivalry, we asked Steelers veteran receiver Ward this week to name his favorite Ravens player.

Ward

Lewis
"Ha ha, I don't have a favorite Raven, to be honest with you," Ward said.
Not even a little bit, Hines?
"Nah," Ward responded. "I respect them. They're great ballplayers, and to say I played against Ray Lewis, Ed Reed and those guys, it's a huge honor because I know what type of competitors they are. But you won't see me and Ray texting each other before the game wishing him good luck."
OK, we tried. Ward and Lewis have been in the middle of a lot of confrontations over the years, and they usually involve hitting and trash-talking. Ever wondered what is said between these two Future Hall of Famers?
"I'm not going to talk about his mom, and he's not going to talk about my mom," Ward said. "Stuff like that we will keep in perspective, but it's heated. I'm not out there looking to start anything. But over the course of the game, I'm blocking him or somebody's blocking him and we're getting into scuffles where I'm kind of in the middle of things. He's still Ray Ray. People don't know him like we know him."
Lewis, of course, weighed in on the subject of the Steelers and Ward this week.
"Listen, I like pizza. I like a lot of things, and then there's a lot of things I don't like," he told reporters. "It's OK to use that word, 'like.' But it's always good when you don't get that other word. And that is, when you don't respect somebody. [Ward] gives us the same respect that we give them."
10. Hate to break it to you, but …
This rivalry isn't all bruises and trash-talking.

Oher

Wallace
Steelers wide receiver
Mike Wallace
is friendly with Ravens left tackle
Michael Oher
, whose life story was told in the hit movie "The Blind Side." Oher famously was adopted by a Memphis, Tenn., family and became a first-round pick of the Ravens in 2009.
Wallace and Oher both went to the University of Mississippi and instantly hit it off. In three of their four years together in college, Wallace visited Memphis to be with Oher and the Tuohy family for Thanksgiving. Unfortunately for Wallace, he wasn't portrayed in the movie.
"We ate some good food, but I think his mom bought it, though," Wallace said, laughing. "She may have bought it, but nevertheless, it was still good. We had chicken, mashed potatoes, stuff I wasn't really used to eating. Being from New Orleans, I ate gumbo and stuff, but this was different."
Still best friends, Oher and Wallace communicate regularly and spend time together during the offseason.
August, 26, 2010
8/26/10
3:36
PM ET
Less than three weeks before the start of the regular season, the
Pittsburgh Steelers
are making significant changes on the offensive line.
[+] Enlarge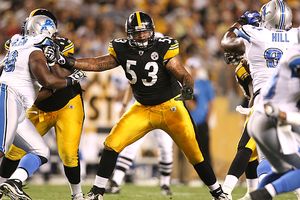 Jason Bridge/US PresswireRookie Maurkice Pouncey is taking over the starting center spot from Justin Hartwig.
This week first-round pick
Maurkice Pouncey
was
promoted to first-team center
after spending most of the spring and training camp at right guard. Although the move isn't shocking -- center is Pouncey's natural position -- this will have an impact on Pittsburgh's entire offensive line.
It's clear this move benefits Pouncey. But will it improve the Steelers' offensive line?
The AFC North blog checked in with Matt Williamson of Scouts Inc. to get some answers.
Matt, let's start with Pouncey's switch to center. Good idea or bad idea?
Williamson:
Tremendous idea. It's a no-brainer. Pouncey is going to be a fixture there for the next 10-12 years, and he can potentially be a special player. He's already their best player on the offensive line, in my opinion, and he will prove it quickly this season. Before long, I think Pouncey will be one of the better centers in this league this time next year. Can he handle all the O-line calls? That we don't know. But he is smart, he has a lot of experience at the college level and at a really high level, and athletically he's way past
Justin Hartwig
. I don't think you can allow those other guys with potential short-term problems get in the way of Pouncey, because he's a fixture.
So what's next at right guard for Pittsburgh? Hartwig? Trai Essex?
Williamson:
There's not an easy answer, because you can't turn them into better football players. Unless somebody like
Kraig Urbik
would step up, which doesn't seem like it will happen, I guess you have to live with Essex. He's a little more experienced there, and he played guard last year. I think you give Hartwig a chance in these last two preseason games to see if he shows up as a guard. But I kind of think he won't. Both [Hartwig and Essex] were major liabilities last year. I'm not sure how that will change if you have Hartwig do something he's not as good at. I don't know if there's an answer.
With Ben Roethlisberger's suspension, Pittsburgh will start either Byron Leftwich or Dennis Dixon. Is Pouncey's move worth the risk of having a rookie center teaming with a new quarterback early in the season?
Williamson:
I think it is. Pouncey is a way better football player. Maybe you get one or two more mental errors. But in the end, I think Pouncey is going to help your run game more, your pass game and ability to block
Shaun Rogers
,
Haloti Ngata
, those type of players. Pouncey is athletically and physically superior, and it's all in front of him. You can't hold back the long-term development of this line just because you're worried about the short-term mental thing. That's why you have coaches coach him up to what needs to be done. There probably will be some growing pains, but he still needs to be in the center of the O-line starting for the next 10 years.
July, 9, 2009
7/09/09
9:12
PM ET
Posted by ESPN.com's Paul Kuharsky
| | |
| --- | --- |
| | |
| | AP Photo/Mark Humphrey |
| | Eddie George, right, and Craig Hentrich were among the former teammates to attend Steve McNair's memorial. |
WHITES CREEK, Tenn. -- Lance Schulters arrived at Steve McNair's memorial with another former teammate of the fallen Titans quarterback, Robaire Smith.
The two also saw Samari Rolle and Eddie George.
Those four friends always thought they'd be reunited with McNair for happier times.
"That's our seats right there, playing cards all day on the plane," Schulters said, gesturing the circle they'd comprise. "Steve always won the big hands. All the big pots he won. We just joked about that, like 'Man, this is crazy.'"
Instead, they gathered in this suburb north of Nashville, not to shuffle and deal, but to join more than 5,000 others to mourn McNair, who was shot and killed Saturday in a murder-suicide.
"We might feel indestructible and indispensable on the field, but the reality of it is we're all human, and we all have an end," said Kevin Mawae, Titans center and president of the NFL Players Association. "We just don't know when that end is going to come.
"It's a difficult thing to be here. But we're all NFL players and there are not very many of us and when one of us passes under these circumstances or any circumstances, you mourn the loss of that guy. He was a brother in the locker room to many of us."
More than 30 teammates -- Titans past and present -- attended the memorial, as did the franchise's owner, Bud Adams, Tennessee Governor Phil Bredesen and Nashville Mayor Karl Dean.
The list of current and former players also includes Derrick Mason, Samari Rolle, Jevon Kearse, Kevin Carter, Frank Wycheck, Yancey Thigpen, Benji Olson, Blaine Bishop, Kyle Vanden Bosch, Jon Runyan, Josh Evans, Justin Hartwig, Al Del Greco, Erron Kinney, Zach Piller, Craig Hentrich, Gary Walker, Joe Nedney, Chris Sanders, Al Smith, Chris Hope and Vincent Fuller.
Current Titans assistant coaches Dave McGinnis, Mike Munchak and Marcus Robertson (who was also a teammate) are also here, as is the team's starting quarterback, Kerry Collins. McNair was drafted third by the Oilers in 1995; Collins fifth by Carolina.
Jeff Fisher will speak during the memorial and is set to talk with the media after it's over.
George said he gathered with 15 or 20 former teammates to remember McNair Wednesday night at The Palm in downtown Nashville
McNair was killed on July 4, which led different players to different thoughts of future Independence Days.
"Here's an opportunity for us to get together every Fourth of July and celebrate his life," George said.
"I know from this point on, my July 4 will never be the same," Kearse said. "I may not even celebrate July 4 from this point on. Instead it will be on July 9 or something like that."
George wrote a poem -- entitled "Where Do Warriors Go?" -- in recent days as he tried to sort through his feelings about McNair's death.
"It was a great question, and based off of that question, these words just started coming out of me and I tried to put it into form," said George, who read the poem at the memorial service. "It was something that I wanted to send off to him, directly speak to him and send him off in the right way. Maybe one day I can recite it for you.
"It's a special place they go to. I don't know the exact place, and that was the question. In it all, he's done his best, right or wrong, and basically it was a message to say, 'You know what, you're free to go into that life, without any judgment. You've done the best you can do and we're going to hold it down here for you.'"
Posted by ESPN.com's James Walker
PITTSBURGH -- It happens to every parent, and right now it's happening to Lawrence Timmons.
The Steelers backup linebacker and former first-round pick caught an illness from his young child, according to coach Mike Tomlin. Timmons was held out of his second straight day of practice Thursday and may not return until next week.
"He's going to be fine," Tomlin said. "He's a little weak today. He lost a few pounds, but we wanted to keep him away from the rest of the guys, to be quite honest."
Also missing practice Thursday for the Steelers were linebacker Patrick Bailey (hamstring), center Justin Hartwig (knee), offensive tackle Max Starks (knee) and receiver Hines Ward (knee).
December, 17, 2008
12/17/08
1:05
PM ET
Posted by ESPN.com's Paul Kuharsky and James Walker
The Steelers' visit to Nashville Sunday for a game against the Titans is just the kind of late-season game the league, and the networks, love. On the line, the No. 1 seed and home-field advantage throughout the AFC playoffs.


Our AFC South blogger, Paul Kuharsky and AFC North blogger, James Walker, will both be at the game. As part of the build-up, they went back and forth on a variety of game-related topics for a joint venture shared by their two pages.
Paul Kuharsky: Sunday's giant AFC showdown features two starting quarterbacks I'd call tough, but Ben Roethlisberger and Kerry Collins are different kinds of tough. Every time I've seen pieces of Steelers games this year, I've seen Big Ben throwing passes with defenders hanging off his limbs or dusting himself off as he gathered himself after a hit. Kerry Collins isn't so sturdy tough; he's more life-experience and game-smart tough. Where Roethlisberger will stand in as long as it takes, sometimes too long, Collins' internal clock tells him to get rid of the ball or give up on a play and live for the next. Watching them and how they react to what two very good defenses throw at them will be one of the best story lines of this game.
James Walker: The physical ailments that Roethlisberger (shoulder, thumb) have dealt with this season are well-documented. But his mental toughness should be noted as well. Roethlisberger never gets down. I've seen several games this year where he cannot make a significant play for three-and-a-half quarters but keeps his head in the game for the key moments in the fourth quarter. That was the case in the two wins against the Dallas Cowboys and Baltimore Ravens. Roethlisberger has a certain mental toughness and clutch factor that permeates Pittsburgh's entire team. The Steelers play very well from behind and they never feel they are out of it.
PK: I've been thinking in the weeks leading up to this matchup that while the Titans would have problems moving the ball against the Steelers, Tennessee's biggest strength -- its ability to rush the passer with only its front four -- would line up well with the one thing Pittsburgh isn't very good at -- protecting Roethlisberger. I really expected Albert Haynesworth, while he'd also see one of the guards -- Chris Kemoeatu or Darnell Stapleton -- to make life extremely difficult on center Justin Hartwig. At a much different stage of his career when the two were both Titans, Haynesworth kicked Hartwig in a training-camp fight. Alas, we don't get to see the matchup as Haynesworth is out for the remainder of the regular season. And with end Kyle Vanden Bosch also out, the Titans' pass rush can't be as good as it would have been at full strength. It's a big break for the Steelers.
JW: I agree, Paul. A week ago this would have been a much tougher matchup, but this is no longer a big mismatch. As you mentioned, Tennessee's defense hinges on getting pressure with its front four, and without Haynesworth and Vanden Bosch, it could force the Titans to alter their scheme and compensate by bringing extra defenders more often than they would like. That could compromise the back end and leave more room for Roethlisberger to make plays in the passing game against man-to-man coverage. The absence of Haynesworth and Vanden Bosch also helps Pittsburgh's running game, which hasn't been consistent all season.

August, 26, 2008
8/26/08
9:13
AM ET
Posted by ESPN.com's James Walker
Morning take: The Steelers signed Hartwig in free agency to do exactly that. The only question is what took him so long?
Baltimore Ravens left tackle Jared Gaither (ankle) returned to practice Monday and should be ready for the regular season.
Morning take: Finally, the Ravens got some good injury news. The inexperienced Gaither is returning just in time to get enough reps to be ready for the season opener Sept. 7.
ESPN.com's John Clayton reports Cincinnati Bengals receiver Chad Johnson has a partially-torn labrum, which is more severe than the shoulder sprained the team originally described.
Morning take: Johnson will have to manage this injury all season to make sure there is no re-aggravation of his left shoulder. For more insight click here.
August, 5, 2008
8/05/08
8:34
AM ET
Posted by ESPN.com's James Walker
Here is your one-stop shopping for the most interesting storylines in the AFC North:
Morning take: Devin Hester's deal (four years, $40 million, $15 million guaranteed) with the Chicago Bears caught the attention of many, including Cribbs. Now the AFC's version of Hester is reconsidering his value.
Morning take: This is great news for Bengals fans, who can only hope Johnson's happiness lasts throughout a full 16-game season.
Morning take: If Hartwig proves to be an upgrade over Sean Mahan this year, which many expect, Pittsburgh's offensive line could improve.
Morning take: Baltimore should continue an AFC North tradition and flip a coin. It worked in Cleveland.
NFL SCOREBOARD
Thursday, 11/27
Sunday, 11/30
Monday, 12/1
WEEKLY LEADERS