August, 1, 2014
Aug 1
6:15
PM ET
ENGLEWOOD, Colo. -- A daily review of the hot topics coming out of
Denver Broncos
training camp:
Backup quarterback Brock Osweiler will get a rather tidy training camp exam Saturday morning. The Broncos will hold their annual practice/summer scrimmage at Sports Authority Field at Mile High. And after some of their usual drills to open the workout they will send the No. 1 offense against the No. 2 defense for 12 plays of live tackling. And that means Osweiler and the No. 2 offense will try its hand against the No. 1 defense. "Brock is really going to have to be smart and moving the ball well against the 1s," Broncos offensive coordinator Adam Gase said. The combination to keep an eye on, at least if the last few days of practice are any indication, is Osweiler and undrafted rookie Bennie Fowler. The two have connected on several big plays, including touchdown throws Thursday and Friday. Fowler has worked with the second-team offense lately and if he's on the field Osweiler will look his way.
The running back rotation in the scrimmage will bear watching, especially how things go with the second and third units. Montee Ball figures to get most, or all, of the carries with the starters with Ronnie Hillman working as his backup right now. C.J. Anderson is expected to run with the second team while Juwan Thompson, Kapri Bibbs and Brennan Clay will likely mix and match with the third-team offense. Thompson, however, has taken second-team snaps in camp in short-yardage work.
Following Friday's practice, Broncos defensive coordinator Jack Del Rio had high praise for cornerback Chris Harris Jr.'s work in coming back from ACL surgery in February. Harris was cleared to return to practice this week, less than six months following his surgery. "I've been around guys that have rehabbed and come back from injury, but I don't know if I've ever seen a guy more determined every day with great energy attacking it the way he did," Del Rio said. "He's really stayed engaged mentally in the meetings. He's worked extremely hard and been very diligent, and it's gone well -- no setbacks or anything."
Linebacker Jamar Chaney, who started 23 games for the Philadelphia Eagles earlier in his career and had a three-interception season in 2011, had a leaping pick on a Zac Dysert pass in Friday's red-zone drills. Chaney leaped high to tip the ball up and then caught the tipped ball. Chaney, who has worked with the third-team defense the majority of the time, faces a tight battle at linebacker for the last few spots. The team kept seven linebackers in the cut to 53 players in 2011 and 2012 to go with six at the position last season.
The Broncos' practice/scrimmage at 11 a.m. at Sports Authority Field at Mile High will be their only practice Saturday.
Odds and ends: Defensive end Derek Wolfe, who left Thursday's practice with stiffness in his lower back, was back on the field Friday ... Safety Quinton Carter, who is on track to make the roster after two missed seasons with knee troubles, finished his work in a team drill at one point in Friday's practice and jumped on a stationary bike to ride for a few minutes. He then returned to practice ... Wide receiver Emmanuel Sanders reached high for a scoring grab in the back of the end zone in team drills, getting his feet down just before crossing the end line ... Hillman got a few carries with the starting offense in run-game work.
May, 23, 2014
May 23
10:00
AM ET
»
NFC Wrap:
East
|
West
|
North
|
South
»
AFC:
East
|
West
|
North
|
South
»
Grades

With free agency and the NFL draft in the rearview mirror and training camp just a couple of months away, we assess the
Denver Broncos
' offseason moves.
Ware
Best move:
The Broncos dove into free agency with purpose and handled their draft board with discipline, but the best move was a Canton repeat of sorts for football boss John Elway. When Elway signed quarterback
Peyton Manning
in 2012, he said: "I like to get Hall of Fame players with a chip on their shoulders."
Elway repeated that phrase this past March, when the team signed defensive end
DeMarcus Ware
. The former Cowboy, set to enter his 10th season, is coming off an injury-marred year in which he finished with a career-low six sacks.
But this is a 100-sack player over his career who has missed just three games in the past nine years. The Broncos' defense -- in addition to their locker room -- is far better with him in it.
Riskiest move:
First, the Broncos let their leading rusher,
Knowshon Moreno
, test the market. Frankly, any offer Moreno would get from another team was going to be more than anything the Broncos would have considered.
Ball
Then, Denver let seven rounds of the draft pass without selecting a running back. And while the Broncos still have Manning at quarterback, their running back depth chart has a significant dropoff after
Montee Ball
. Especially if
Ronnie Hillman
can't regain his momentum -- at least at the moment -- as the team's primary backup. It's also why running backs
Kapri Bibbs
and
Juwan Thompson
-- both undrafted rookies -- have a legit chance to make the roster.
Most surprising move:
The Broncos had worked toward getting an agreement with free-agent cornerback
Dominique Rodgers-Cromartie
as the offseason got underway. Proposals and counter-proposals were made, and at one point the Broncos put forth an offer they thought was as high as they were willing to go -- $54 million over six years. The deal was really more like three years, $24 million, with Rodgers-Cromartie unlikely to see the final $30 million unless he was on the roster.
Talib
Rodgers-Cromartie balked and the Broncos moved on. The team moved so quickly that in the space of roughly four hours,
Aqib Talib
went from not hearing from the Broncos to agreeing to terms on a six-year deal with the team.
Get ready:
Wide receiver
Emmanuel Sanders
was the last of the top-tier free agents to sign with the Broncos in the initial wave of spending in March.
But Sanders, who can play on the outside or in the slot and is explosive after the catch, projects for a career year in this offense. Already in workouts, Manning has commented on Sanders' explosiveness and how the Broncos will be creative to get their newest wideout the ball.
May, 22, 2014
May 22
7:30
AM ET
ENGLEWOOD, Colo. – In a vocation where scouting matters a lot,
Juwan Thompson
has had a better up-close-and-personal look at what the
Denver Broncos
' offense has to offer than almost any other undrafted rookie.
Thompson is a former Duke running back and one of many first-year hopefuls being put through the offseason paces in Denver. Duke University happens to be where, because of head coach David Cutcliffe's presence, Broncos quarterback
Peyton Manning
and the team's pass catchers have gathered in each of the past two offseasons to get a head start on their work.
[+] Enlarge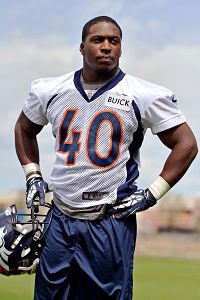 AP Photo/Jack DempseyThe depth chart behind Montee Ball is wide open and Juwan Thompson looks to claim a spot.
"I was able to see those guys, see their practice habits, see how it correlated back to them," Thompson said. "Those guys going full out, they went twice a day, they made sure they got their rehab in so they were good to go the next day. ...
"I met the guys a couple times when I saw them around. But just to watch them, it was a great feeling. It would kind of like a home fit for me at the end of the day. There is opportunity here ... and I know my special teams ability can help."
And while there are few job openings on a fairly young team that also had the salary cap room to dive into free agency, the running back position is another story. This past week offensive coordinator Adam Gase threw open the doors on competition for each of the slots after starter
Montee Ball
.
"Right now, it's an open competition for that spot -- all those spots," Gase said. "So we need to see who is going to be the guy to step up."
That's because the Broncos allowed
Knowshon Moreno
-- who finished with his first career 1,000-yard rushing season in 2013 to go with 60 receptions -- to test the market. Moreno signed a one-year deal with the
Miami Dolphins
. The Broncos also did not select a running back in the draft.
Ronnie Hillman
, a third-round pick in 2012 who went from starter last offseason to a game day inactive much of the time, faces a get-it-done summer to keep his roster spot.
C.J. Anderson
, who made the Broncos roster as an undrafted rookie last season, and this year's class of undrafted players make up the rest of the depth chart at the position -- Thompson,
Jerodis Williams
, Oklahoma's
Brennan Clay
and Colorado State's Kapri Bibbs.
In some ways Thompson is a little bit an outlier in that group. Williams, who went to training camp with the
Minnesota Vikings
last season, Clay and Bibbs were all work-horses in college. Thompson, in Cutcliffe's spread-it-around philosophy, was one of six players on the Duke roster to have at least 60 carries last season.
And none of those Blue Devils had more than 113 carries.
"But at the end of the day we had one goal and that was just winning," Thompson said. "I had to put that selfishness in the backseat so we could have that record we had."
Cutcliffe, who was Manning's offensive coordinator at Tennessee and one of Manning's closest confidants in football, spoke highly of Thompson to the Broncos coaches when it was time to sign rookies who were not selected in the seven-round draft. At 225 pounds Thompson is the biggest back on the roster. He ran a 4.57 40-yard dash at his pro day to go with a double-take worthy 35 1/2-inch vertical jump. He also played plenty of special teams in his career at Duke and is well-versed in pass protection.
Last season Moreno went from a shaky roster spot to starter for the Broncos because, at least initially, he was the most reliable in pass protection. Moreno then kept the job because of the way he handled his business running the ball as well.
Thompson says, having seen Manning and the team's receivers work up close, he also understands just how detail-oriented things are in the Broncos' offense.
"They wanted to make sure they were precise at the end of the day," Thompson said. "It will be very beneficial to me … . Most importantly in pass protection."
Gase said Ball is slotted as the starter as the Broncos work through their offseason team workouts, just as Hillman was this time last year. Ball went on to pass Hillman on the depth chart and carry the ball 120 times for 559 yards as a rookie in the highest-scoring offense in league history. The Broncos will share the work at least some in the running game this time around as well, but who gets those carries after Ball is still to be sorted out.
"We drafted [Ball] to be a guy that was going to be a big contributor for us," Gase said. "But at the running back spot, it's hard to just have one guy and say, 'Hey, we're going with him for 350 carries.' It's really not what we're looking for. We're looking for a guy that can start those games out, be consistent all year, make sure that he's great in pass protection, great in route concepts, which he's shown us that he has the ability to do. We just need to make sure that he continues that through this season."
May, 12, 2014
May 12
7:30
AM ET
Before a pick had been made in this year's NFL draft, John Elway knew that it was going to be a tough sell to get some of the better undrafted players who remained on the team's draft board to sign with the
Denver Broncos
.
After all, the Broncos were a Super Bowl team last season with fairly young players on the depth chart. Denver also was one of the league's most active teams in free agency, making for limited spots to keep the team's undrafted player streak alive.
The Broncos were able to convince 15 undrafted players to agree to terms Saturday night. And for the past 10 seasons at least one undrafted rookie has made the team's cut to 53 players before the season opener. Last year it was running back
C.J. Anderson
who made the roster.
[+] Enlarge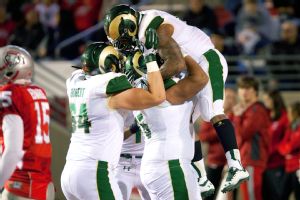 AP Photo/Eric DraperColorado State celebrated touchdowns by Kapri Bibbs on a regular basis in 2013.
"It got much harder last year, and I'm sure it'll be harder this year once the draft is over and we do start calling the college free agents," Elway said last week. "But there's no question, it makes it more difficult when you have a real good football team, because those kids are looking for opportunities and trying to go to the places where they're best going to be able to make a roster. So it makes it more difficult for us … it's a good problem to have."
This year's road figures to be bumpy for those undrafteds because the Broncos simply don't have much room for any of them on the roster. But there are some possibilities.
There are three players who were invited to the scouting combine this past February in the group – Colorado State running back Kapri Bibbs, Fresno State wide receiver/returner Isaiah Burse and Michigan State wide receiver Bennie Fowler.
The Broncos are a little thin at running back, so there is some room for Bibbs to make a push. Bibbs entered the draft as a redshirt sophomore after a 1,741-yard, 31-touchdown season. In a quirky bit of production Bibbs, who had 603 yards rushing combined in back-to-back games last season, had more games with fewer than 100 yards rushing last season (eight) than he did with more than 100 yards rushing (six).
But the Broncos are on the hunt for another back in the rotation, so Bibbs has a shot as does another undrafted player signed Saturday -- Duke's Juwan Thompson. Thompson played for David Cutcliffe at Duke -- Cutcliffe was
Peyton Manning
's offensive coordinator at Tennessee -- and he came with a quality recommendation from Cutcliffe to the Broncos.
Manning and the Broncos pass-catchers were at Duke for some workouts earlier in the offseason. At 5-foot-10 ½ inches tall and 226 pounds, Thompson is a big back well versed in the passing game. He ran a 4.57 in the 40-yard dash at his pro day.
He'll be a player to keep an eye on in training camp. Duke had six players carry the ball at least 62 times last season and none of the players had more than 113 carries. Thompson finished the season with 64 carries for 355 yards to go with seven receptions.
Burse, too, will have a quality chance because of his ability as a returner. At 5-10 3/8, 188 pounds, Burse was an undersized receiver in a draft class filled with tall, big and fast wideouts. But Burse was one of the better punt returners on the board, averaging 12.5 yards on punt returns with two touchdowns this past season.
"Obviously with Burse he's a good slot, productive receiver,'' Broncos coach John Fox said. "[Return work] obviously helps his chance, but his skill set is something we were impressed with.''
For Fowler's part, he ran 4.35 (hand-timed) at his pro day to go with an attention-grabbing 17.3 yards per catch last season, but he has suffered fractures in both feet during his career.
Colorado State linebacker Shaquil Barrett was the Mountain West's Defensive Player of the Year last season and set the conference's record for tackles for loss (20.5). His play speed is far better than his workout numbers, so he could find a way on the roster if he makes a quick impact on special teams.
The Broncos did take two linebackers in the draft -- LSU's
Lamin Barrow
and Oklahoma's
Corey Nelson
-- so it will be an uphill trek, but there is a slim opportunity available.
Also, Mister Cobble, a 333-pound defensive tackle from Kentucky, shows quick feet for a player his size in his game video. Cobble missed time in the 2012 season with an infection, had shoulder surgery in 2011 to repair a torn labrum and missed most of the 2010 season with academic issues.
But the Broncos like that kind of bulk in the middle of the defensive line, so Cobble will get a long look.
NFL SCOREBOARD
Thursday, 10/2
Sunday, 10/5
Monday, 10/6