NFL Nation:

Kareem Huggins
July, 21, 2011
7/21/11
8:00
AM ET
Tiki Barber
, along with twin brother, Ronde, talked about his planned attempt at a comeback after sitting out the last four NFL seasons.
Tiki Barber has said he wants to play again and the running back should have some potential suitors around the league once the lockout is over. But don't look for Tampa Bay to be one of them.
Although
Ronde Barber
is a cornerback for the Bucs and has some influence with coach Raheem Morris, it's an extreme long shot that the Bucs would pursue Tiki Barber. They're deep in a youth movement and
LeGarrette Blount
is set as the No. 1 back.
Cadillac Williams
is eligible to be a free agent, but the Bucs are expected to make an attempt to keep him.
If Williams leaves, the Bucs also have
Kareem Huggins
, who is coming back from a knee injury, as a third-down back. But the Bucs also could go out and pursue a younger running back in free agency.
June, 28, 2011
6/28/11
7:58
PM ET
We've had some system-wide technical problems much of the day, so I haven't been able to provide a report from the Bucs' "minicamp" in Bradenton, Fla. -- until now. Some other items that were delayed by the technical problems also should be popping up. We'll keep this one to the basics and will share some other Tampa Bay stuff with you down the road.


The Bucs began a series of three-day workouts at IMG Academies Tuesday morning, organized largely by quarterback Josh Freeman. IMG football director Chris Weinke, a former member of the Carolina Panthers, and some members of his staff supervised the on-field activities and IMG strength and conditioning coach Jeff Dillman supervised the weight-lifting session and the stretching session before the players began workouts.
Approximately 50 players were in attendance, highlighted by cornerback Aqib Talib. He's been in the news this offseason as he faces an assault charge in a March incident in Texas. But it's not that big a surprise that Talib attended the session. He took part in some of Freeman's earlier workouts in Tampa, according to teammates. Talib is awaiting trial and also could face discipline from the Bucs or the NFL. But, as long as the lockout remains in place, the league and the team can't issue any punishment for Talib. He talked briefly with reporters on his way to the practice field and again as he walked off. He declined to discuss his case and said he wanted to simply focus on football.
Although IMG also is hosting the National Football League Players Association rookie event that has been called the NFL's rookie symposium in previous years, at least two of Tampa Bay's draft picks took part in the morning session. Defensive end Adrian Clayborn and linebacker Mason Foster went through drills with their new teammates. Some others apparently elected to attend the rookie event.
The notable players not on the field for the morning session included running back Cadillac Williams, linebacker Barrett Ruud, cornerback Ronde Barber and defensive end Stylez G. White. Williams, Ruud and White are expected to be unrestricted free agents when the lockout ends. Freeman said some players stayed away because of their contract situations and others ran into scheduling conflicts or travel problems. Freeman said some more players could be joining the workouts this afternoon or Wednesday.
When asked who was paying for the use of the facilities and lodging for the players, Freeman said that IMG had been very generous in making the event possible. He then added that he and several veterans are chipping in to pick up the tab.
Several players recovering from major injuries were in attendance but not taking part in the on-field activities. They included running back Kareem Huggins, defensive tackle Brian Price and wide receiver Arrelious Benn.
April, 14, 2011
4/14/11
2:18
PM ET
To all those who think the four NFC South teams are so set at running back they don't need to touch that position in the upcoming draft, I give you
DeShawn Wynn
.
In the second half of the
New Orleans Saints
' playoff loss to Seattle, Wynn was getting much of the playing time and serving as the last-resort blocker for
Drew Brees
as the Saints tried to come from behind and keep their dream of back-to-back Super Bowls alive. It didn't happen, and that's largely because the Saints simply ran out of running backs.
[+] Enlarge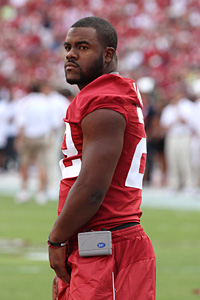 Marvin Gentry/US PresswireThe Bucs and Saints brought in Alabama's Mark Ingram for a pre-draft visit.
Wynn, who had been with the Saints earlier in the season, had been re-signed in the week leading into the game. Same for
Joique Bell
, who didn't make the active roster that day, but the Saints could have used him. They went into the game with
Julius Jones
and
Reggie Bush
as their running backs.
Jones was a retread from coach Sean Payton's Dallas days and was with the Saints only because there already were problems at running back. Bush spent much of last season on the sideline, but was healthy enough to at least set foot on Qwest Field. That's more than can be said for
Pierre Thomas
and
Chris Ivory
, who weren't available because of injuries.
Jones and Bush quickly got banged up by a Seattle defense that didn't scare too many people last season. That left the Saints with Wynn and a loss.
There's a lesson in that for the entire NFC South. No matter how set you think you are at running back, you're probably not as well off as you think. As they head into the draft, the Falcons, Buccaneers and Panthers all seem to have at least an immediate feature back, and the Saints look to have plenty of options in an offense that relies on playing a variety of running backs.
But none of the NFC South teams can afford to ignore running back in this draft. Here's a team-by-team look at why:
Falcons.
Michael Turner
's coming off a season in which he ran for 1,371 yards and 12 touchdowns and
Jason Snelling
's a solid backup with the ability to function as a power runner and catch passes out of the backfield. But that's not enough.
The Falcons got only two games out of
Jerious Norwood
before he went down with a season-ending injury. Norwood is the guy the Falcons always have envisioned as their speed back, but he's never been able to stay healthy, and his time in Atlanta looks to be over.
[+] Enlarge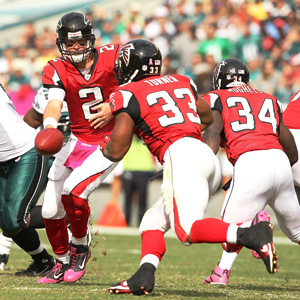 Al Bello/Getty ImagesMichael Turner logged over 700 carries combined during the 2008 and 2010 seasons and could be wearing down.
The Falcons could look for a pure speed back like Kentucky's
Derrick Locke
or North Carolina's
Johnny White
in the middle rounds. But there's been talk in mock-draft circles that Alabama running back
Mark Ingram
could be available when the Falcons pick at No. 27. There are seemingly larger needs at defensive end and wide receiver, but would the Falcons be wise to pass on Ingram if he's available?
Ingram's not a pure speed back and he's not a true power back. He's somewhere in between, and he's the closest thing to a surefire feature back in this year's draft. The Falcons have been pushing their luck with Turner. He carried 334 times last season and 376 times in 2008. He missed five games because of injury in 2009. There were times last season when Turner seemed to lack the pop he showed early in his Atlanta days, and you have to wonder if he's starting to wear down.
It might be time to get an heir apparent in Atlanta. Even if Turner stays healthy, the Falcons could use someone to pick up some of his carries or else they might end up with an empty backfield like the Saints in Seattle.
Buccaneers.
Tampa Bay fans are excited about
LeGarrette Blount
and rightfully so. The undrafted rookie was cut by the Titans in training camp, and Tampa Bay took a shot by picking him up. By midseason, Blount was Tampa Bay's feature back. He ran for 1,007 yards on just 201 carries.
Blount's role and statistics should only continue to improve next season. But it's tough to look objectively at Tampa Bay's backfield situation and say the Bucs are just fine.
Cadillac Williams
is a potential free agent. If he returns, it will be only in the role of third-down back he filled the second half of last season. There's a chorus of fans in Tampa Bay who believe
Kareem Huggins
is the perfect complement to Blount.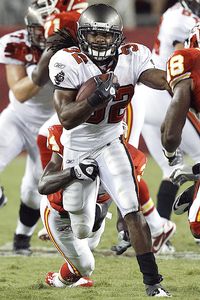 AP Photo/Chris O'MearaKareem Huggins, who figures to be LaGarrette Blount's backup, is coming off a major knee injury.
He might be. Huggins is one of those guys who flashes promise in the preseason. But he has only four regular-season carries in his career and he's coming off a major knee injury. Before the lockout, the Bucs weren't overly optimistic Huggins would be ready for the start of training camp.
Then, there is Blount. His physical style and habit of trying to hurdle defenders could leave him open to injury. Also, Blount went undrafted for a reason. He had a violent altercation with an opponent after a college game, and questions remain about his ability to keep his emotions in check over the long haul. Maybe that's why the Bucs had Ingram in for a pre-draft visit earlier this week.
Panthers
. On paper, they've got the best backfield in the division. They've got
DeAngelo Williams
and
Jonathan Stewart
, and either one could be the feature back for most teams. They also have
Mike Goodson
, who emerged last season when there were injuries in the backfield.
But, depending on how the labor situation plays out, Williams will be either a restricted or unrestricted free agent. Stewart came into the league with foot problems and rarely has been completely healthy. If Williams goes, the Panthers suddenly are on thin ice. They'd be one Stewart injury away from having to use Goodson, who is ideal as a part-time player, as their full-time running back.
Saints.
This circle started and will end with New Orleans. The Saints re-signed Thomas before the lockout. They've given indications they plan to extend Bush's contract and keep him. All signs are that Thomas, Bush and Ivory should be recovered from their injuries. Promising young running back
Lynell Hamilton
also is coming back from injury.
The numbers say the Saints are just fine at running back. But recent history tells another story. The Saints also had Ingram in for a visit, and he has to be a consideration if he's available at No. 24. Even if it's not Ingram, the Saints need to add a running back somewhere in the draft.
Of all the NFC South teams, the Saints know best that you never can have enough good running backs. If they had one more last year, they might have gone back to the Super Bowl.
October, 8, 2010
10/08/10
4:03
PM ET
»
NFC Final Word
:
East
|
West
|
North
|
South
»
AFC
:
East
|
West
|
North
|
South
Five nuggets of knowledge about Week 5:
[+] Enlarge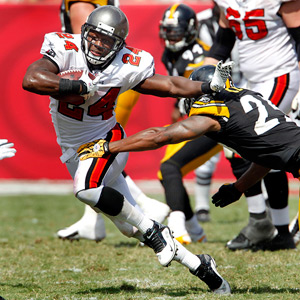 Cliff Welch/Icon SMICadillac Williams will still be the starter and get the majority of the carries for Tampa Bay.
Not ready to trade in the Caddy.
I think there's been a bit of overreaction to Tampa Bay coach Raheem Morris saying running backs
Kareem Huggins
and
LeGarrette Blount
are going to get increased playing time. Yeah, that's going to happen. But Morris never has said
Cadillac Williams
is being benched or anything close to that. He's still the starter and he's still going to get the bulk of the carries. Huggins and Blount will get some carries and part of the reason for this is the Bucs think a little lighter load might make Williams more effective.
The homecoming.
Chicago defensive end
Julius Peppers
returns to Bank of America Stadium on Sunday. A lot of people used to say Peppers didn't show up all the time when he played for the Panthers. I think it's a given that he'll show up for this one because he wants to make a statement. That's going to put the heat on Carolina tackle
Jordan Gross
. But if the hapless Panthers have one thing going for them, it's that Peppers and Gross spent most of their careers practicing against each other. Gross is a pretty strong blocker and he might be able to keep Peppers from rubbing too much salt into the wounds of his former team. But the Bears have been giving Peppers the freedom to line up wherever he wants. He may avoid Gross some of the time and go after Geoff Schwartz on the right side.
The slumping Saints?
There's been all sorts of talk about how the Saints are winning ugly. I don't dispute that, but they are 3-1 and loaded with talent. At some point, things are going to click and the Saints are going to put together a pretty win. I think it comes Sunday in Arizona. The Saints aren't going to play down to the level of competition in this one.
A new MVP.
Pretty much since we started the Blog Network in the summer of 2008, I've been saying
Drew Brees
is the best current player in the NFC South. At least for the moment, I'm going to back off that. I still think Brees is one heck of a quarterback and I'm not all that concerned that his numbers are down a bit so far this year. But, after four games, I feel very strongly that Atlanta receiver
Roddy White
has been the NFC South's Most Valuable Player. Time for this guy to start getting the league-wide recognition he deserves.
Mismatch?
Even with the Rays in the playoffs and the Bucs coming off a bye week, there's a pretty good buzz in Tampa Bay about how the Bucs are going to handle Cincinnati receivers
Chad Ochocinco
and
Terrell Owens
(too bad
Antonio Bryant
's not part of the mix). With rookie
Cody Grimm
getting his second start at free safety, that's a legitimate concern. But the rest of Tampa Bay's secondary is pretty good.
Aqib Talib
,
Ronde Barber
and
Sean Jones
need to help Grimm out a bit. But, here's an idea: If the Bucs can start generating just a little bit of a consistent pass rush, the secondary can survive this one.
October, 6, 2010
10/06/10
10:19
AM ET
»
NFC Stock Watch
:
East
|
West
|
North
|
South
»
AFC
:
East
|
West
|
North
|
South
FALLING
[+] Enlarge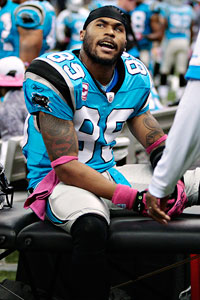 AP Photo/Bill HaberSteve Smith's injury leaves the Carolina Panthers with no established big-play threats at wide receiver.
1. Cadillac Williams, running back, Tampa Bay.
One thing about coach Raheem Morris that sets him apart from most other coaches is he's not afraid to telegraph his moves. During the bye week, he made it pretty clear that the Bucs are going to cut down on Williams' carries and try to insert
LeGarrette Blount
and
Kareem Huggins
more often.
2. Carolina's wide receivers.
With
Steve Smith
likely out with an ankle injury and
Dwayne Jarrett
released after he was charged with driving while impaired, the Panthers are down to rookie receivers
Brandon LaFell
,
David Gettis
and
Armanti Edwards
. They also claimed
David Clowney
off waivers Tuesday. Edwards has yet to be active on game day. Rookie quarterback
Jimmy Clausen
doesn't exactly have a stellar cast to throw to.
3. New Orleans' offensive line.
It's not what it was a year ago. That's a little disappointing because the line returned intact, but it hasn't been dominant.
Drew Brees
is getting pressured more than usual, the running game's been only ordinary and All-Pro guard
Jahri Evans
has developed a sudden knack for getting called for holding penalties.
RISING
1. Curtis Lofton, linebacker, Falcons.
He's been a pretty good middle linebacker in his first two seasons. But the knock on Lofton was that he didn't make big plays, and he talked this summer about how he wanted to change that. It's happening. In Sunday's victory against San Francisco, Lofton had nine tackles, a sack and an interception. A few more big plays and Lofton could be a strong candidate for the Pro Bowl.
2. Roddy White, receiver, Falcons.
It's hard to put White's stock much higher than it already was. We declared him the best receiver in the NFC South last week. But White went out and took his game to a higher level Sunday. He made one of the most incredible plays of his career and it didn't even involve him catching the ball. After
Nate Clements
had a late interception, White ran him down from behind and popped the ball loose to cause a fumble that the Falcons recovered. Atlanta then went on a drive and kicked the game-winning field goal.
3. Usama Young, safety, Saints.
He's usually just a special-teams player. But a series of injuries forced him into the strong safety spot in Sunday's victory against Carolina. With the Panthers close to the range where they could kick a game-winning field goal, Young stepped up and had a tackle where he dropped
DeAngelo Williams
for a four-yard loss. That and a sack by free safety
Malcolm Jenkins
on the next play took the Panthers definitively out of field-goal range.
September, 19, 2010
9/19/10
11:44
AM ET
CHARLOTTE, N.C. – Tight end
Kellen Winslow
, who missed practice with a knee injury all week, will be active today and is expected to start.
Get used to it. That's the way the Bucs expect it be throughout much of the season. Winslow's not going to get a lot of practice time as the Bucs try to keep his knee healthy enough to get him on the field Sundays.
The inactives for the Bucs are running back
Kareem Huggins
, cornerback
Myron Lewis
, running back
LeGarrette Blount
, linebacker
Niko Koutouvides
, offensive lineman
Ted Larsen
, defensive lineman
Michael Bennett
and receiver
Preston Parker
.
September, 8, 2010
9/08/10
8:42
AM ET
We're going to wrap up the NFC South position rankings with the running backs. I saved that position for last because I think it probably is the most intriguing of all the groups in the division.
There are three guys who can make a legitimate claim to being No. 1 based just on their past résumés and a few other guys who could enter the argument if they stay healthy and catch a few breaks. On to the list.
[+] Enlarge

Marvin Gentry/US PresswireMichael Turner is determined to prove his breakthrough season in 2008 was not a fluke.
August, 31, 2010
8/31/10
2:28
PM ET
Whether you realize it or not, the
Tampa Bay Buccaneers
just made a pretty strong statement to their entire roster.
Coach Raheem Morris
announced after Tuesday's practice
that running back
Derrick Ward
has been released.
[+] Enlarge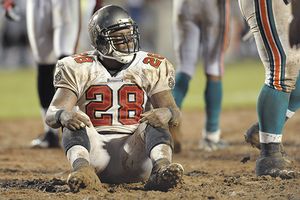 Steve Mitchell/US PresswireDerrick Ward rushed for 409 yards during his one season in Tampa.
"After practice today we were able to notify Mr. Ward," Morris said. "It's just like any other profession when it is time for you to depart. It's not a surprise anytime in our profession anytime we tell you to go -- can't say you're surprised. You have every day to go out there and prove yourself. "
I think the last part of that quote, about proving yourself, is hugely significant. Ward was signed to a big free-agent deal last year and the initial plan was for him to be the No. 1 running back. But Ward really didn't do much last season as
Cadillac Williams
came back from injury and firmly grabbed the starting job. Much like former receiver
Antonio Bryant
, Ward didn't always handle things the way the Bucs would have liked.
In a dismal preseason, he didn't score any points with the coaches by pouting. The Bucs have a healthy Williams, a promising prospect in
Kareem Huggins
and they always can fall back on
Earnest Graham
, who can play fullback or tailback.
Yes, they could have hung onto Ward as insurance in case anything happened to Williams. It would have at least given them a veteran alternative that wouldn't force a change at fullback. But Ward didn't do anything to show the Bucs he was a guy they wanted on the field, and he put up a pretty convincing case that he wasn't a guy they wanted in their locker room either.
Morris was hired last year and took a lot of criticism for being too friendly with his players and that label might have had some truth to it. He put up with some things last year that other coaches wouldn't have. But it's pretty clear Morris has learned from some mistakes in this area.
Last year, maybe he spent a little too much time trying to be everyone's buddy. With moves like cutting Ward (and there could be some more veterans following soon), Morris is establishing himself as everyone's coach.
August, 17, 2010
8/17/10
1:06
PM ET
ESPN.com NFL Power Ranking
(pre-camp): 30
TAMPA, Fla. -- New construction in these parts largely has halted due to the economic situation over the past couple of years. So what's that structure going up on the practice fields right behind One Buccaneer Place?
It's the new
Tampa Bay Buccaneers
. There still is a lot of work to be done. But, unlike last year, you can see a foundation. Just look at the quarterback,
Josh Freeman
. When it comes right down to it, he really is all the Buccaneers are looking at. Yeah, guys like
Gerald McCoy
,
Donald Penn
,
Barrett Ruud
and
Aqib Talib
might also be viewed as possible cornerstones in the blueprints. But Freeman is the 6-foot-6 beam the Bucs are counting on to support this entire franchise.
Count last year as a redshirt season for Freeman and the Bucs. The team went 3-13 and Freeman really didn't get to play until the second half of the season. Now, he's been through an entire offseason. Now, the offense is his. Now, it's time for Freeman and the Bucs to grow and make some sense out of the youth movement the franchise decided to begin last year.
"The most obvious thing that I hope people are noticing is we are giving Josh Freeman tools around him that he can grow with,'' general manager Mark Dominik said. "We have
Kellen Winslow
and the tight end is important whether you have a young quarterback or an experienced one. And we wanted to put in a receiving corps that can grow together so their timing can be consistent. When you look back through NFL history, you see that consistently with the successful teams. You put two or three receivers together with the same quarterback for five, six or seven years and they become a timing machine and that's what we wanted to do.''
To that end, the Bucs drafted receivers
Arrelious Benn
and
Mike Williams
in the first four rounds. They also traded for receiver
Reggie Brown
and they still have
Sammie Stroughter
, who might have been the steal of last year's draft class.
Yeah, the Bucs also did some work on the defense. They used their top two draft picks on defensive tackles McCoy and
Brian Price
in an attempt to stop getting abused by running games. Their linebackers aren't bad and the secondary has some potential. This defense isn't anything close to the defense of Tampa Bay's glory days, but it has possibilities.
The offense isn't anything like in the glory days and that's the way the Bucs want it. With Freeman, the Bucs believe the offense can be better than it ever has been. The belief is Freeman can be the first true franchise quarterback this team has had since Doug Williams.
The potential is there and the Bucs have put some parts around Freeman. Now it's time for him to put this franchise on his back.
"Nothing can replace game time,'' Dominik said. "But I will say, for an offseason, for a young quarterback, I could not have asked for more. He did everything we expected and more. I don't remember him missing an offseason day and he was a sponge in the meeting rooms. His leadership has come through in that way. He's got a natural charisma that you see guys want to bond with him and follow him.''
THREE HOT ISSUES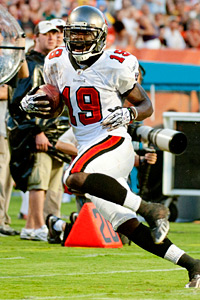 Gary Rothstein/Icon SMIRookie Mike Williams appears to be on track to earn a starting job.
1. What's the receiving corps going to look like?
That still is being sorted out, but Williams, the fourth-round draft pick, appears to be on his way to a starting job. He's shown a knack for big plays ever since his arrival and seems to have developed a quick chemistry with Freeman. Benn started a little slower, but has come on of late. But Brown might open the season as the other starter.
Pair Williams and Brown with Winslow and Freeman suddenly might have a better cast of receivers than he did late last year when No. 1 receiver
Antonio Bryant
was pouting his way out of Tampa Bay. The Bucs have been cautious with Winslow and his knee throughout camp, but the belief is he'll be ready for the regular season and that will provide Freeman with a go-to guy.
But the Bucs aren't going to be running the West Coast offense they did with Jon Gruden and they certainly aren't going to use the ball-control system that Tony Dungy ran. They've got a quarterback with big-play ability and they're going to take their shots down the field. Williams, Brown and Benn all can go downfield and make catches in the possession game. But the real downfield threat might be Stroughter. He had an excellent rookie season, already has a rapport with Freeman and can make a lot of things happen as the slot receiver.
2. How much will the arrival of the two rookie defensive tackles help?
McCoy and Price should be an instant upgrade over former starters
Chris Hovan
and
Ryan Sims
, who got pushed all over the field last year. The Bucs also plan to use
Roy Miller
in the rotation. That's a pretty promising trio of young defensive tackles.
But it remains to be seen if this group can be dominant right from the start. The standard for defensive tackles in Tampa Bay is Warren Sapp. He might be ticketed for the Hall of Fame, but the fact is Sapp struggled as a rookie and took time to develop into a force.
The Bucs think McCoy should be fine from the start. Price got off to a great start in camp, but an injury has forced him to miss some time and that may set him back a bit. The Bucs are going to ask a lot of McCoy, Price and Miller. They want them to clog things up against the run and free up Ruud to make plays. They also need a strong interior pass rush because there's no real force on the outside. Ready or not, McCoy and Price will have the opportunity to shine right from the start.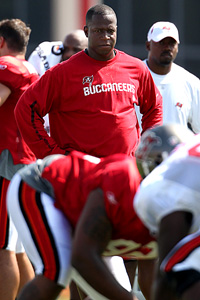 Cliff Welch/Icon SMIThings have been quieter in Raheem Morris' second offseason as the Bucs head coach.
3. Is this team headed in the right direction with coach Raheem Morris?
The Bucs were in a state of chaos through much of last year. Morris fired coordinators Jeff Jagodzinski and Jim Bates early, changed defensive schemes early in the year and ran a quarterback competition that's only real purpose was to make sure Freeman didn't get on the field too soon. The results weren't pretty.
But Morris' second offseason has been one of peace and quiet and it only takes a few brief glances out at the practice field to see that the Bucs are much more organized than last year. Morris knows he made mistakes last season and he's learned from that.
He's running the defense now and believes he put Freeman in good hands with offensive coordinator Greg Olson and quarterbacks coach Alex Van Pelt. The Bucs still may need another offseason to get the talent level to where they really want it, but there are some parts in place and Morris needs to start showing some progress.
BIGGEST SURPRISE
Aqib Talib, cornerback.
The physical talent always has been there with Talib. But his first two seasons were rocky because of off-field issues and a feeling that he wasn't always focused on football. However, the coaching staff is quietly buzzing because a new side of Talib has emerged throughout the offseason and carried over into camp. He's more focused and more mature. The Bucs are keeping their fingers crossed on this one, but there is a belief that Talib can become a Pro Bowler very quickly if he stays on his current path.
BIGGEST DISAPPOINTMENT
Stylez G. White, defensive end.
The Bucs know White never has been a very good practice player. But they thought he might come in with some inspiration this camp because he has a chance to be the top pass-rusher on team that doesn't have any proven star in that area. That hasn't happened. White's been very ordinary in practice and doesn't seem interested in being a leader for a young defensive line. Is that enough to cost him a starting job? Probably not because the Bucs really don't have much behind him. They're hoping White steps things up when the regular season arrives, but they're a little worried that might not happen.
[+] Enlarge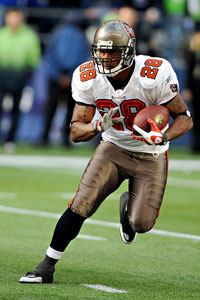 Steve Dykes/US PresswireDerrick Ward has struggled to make an impact since his arrival in Tampa.
OBSERVATION DECK
August, 15, 2010
8/15/10
10:50
AM ET
Some quick observations on Tampa Bay after the Buccaneers lost their preseason opener to Miami,
10-7
, on Saturday night.
Forget the final score. This one was a victory for the Buccaneers. They controlled the game when the starters were in, and even through a long stretch with the second teams playing. It wasn't until the benches really got cleared that the Dolphins won the game.
I thought quarterback Josh Freeman had a very strong outing. He completed all four of his passes, and his touchdown throw to Sammie Stroughter showed how much his patience and maturity have grown. It's also obvious that he has developed chemistry with rookie receiver Mike Williams. Freeman also ran the ball a couple times, which is nice and certainly will help in the regular season. But I'm not so sure it was such a great idea to have him scrambling around on a rainy and muddy night in Miami.
Tampa Bay's defense did something it couldn't do last season. It got the Dolphins off the field. Geno Hayes busted up a screen pass, E.J. Biggers made a nice play against receiver Brandon Marshall and Sabby Piscitelli came through with pressure on a blitz to force the Dolphins to punt on their first three drives.
Backup quarterback Josh Johnson threw an interception and lost a fumble on a sack. But he threw the ball pretty well overall. I've questioned why the Bucs haven't brought in an experienced backup. But I'm going to back off that a bit. Johnson has some talent, and might be able to be effective if he can take better care of the ball.
I know the playbook is a lot more sophisticated with offensive coordinator Greg Olson. But there was one moment when I had to laugh out loud as the Bucs ran a play that reminded me of the mid-1990s. Derrick Ward took a handoff and ran straight into fullback Chris Pressley's back. It was just a one-time thing. But there was a time back in the dreary old days when Errict Rhett taking a handoff, running into Mike Alstott's back and plowing for a yard or two was Tampa Bay's signature play.
Speaking of Ward, who's fighting to earn more carries, he looked good at times. He even was having a nice run on a third-down draw play, until he fumbled. Turning the ball over probably will wipe out the rest of the good stuff he did Saturday. The Bucs aren't going to be a team with a big margin for error, so they're not going to give a lot of carries to a guy who puts the ball on the ground.
Running back Kareem Huggins, who has had a nice camp, continued to impress. This guy's going to make the roster, but he's going to do more than that. He's got a shot at some playing time in the backfield and on special teams.

NFL SCOREBOARD
Sunday, 12/22
Monday, 12/23