April, 4, 2014
Apr 4
7:45
PM ET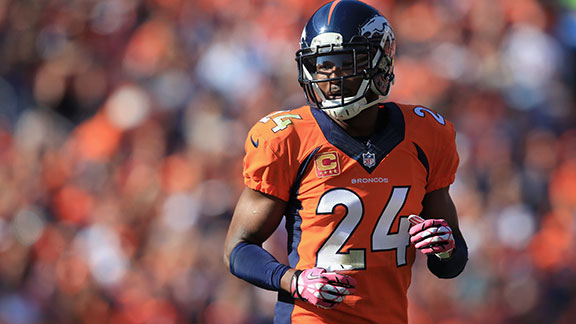 Doug Pensinger/Getty ImagesChamp Bailey is looking to bounce back from an injury-riddled 2013 season.
Sure,
Champ Bailey
might be over the hill.
But that doesn't mean he can't help the
New Orleans Saints
get over the hump.
Of course, you have to be skeptical about how much Bailey has left in the tank at age 35. And it's hard to ignore the fact that the
Denver Broncos
decided to let him go at a time when they're all-in to win while
Peyton Manning
is still their quarterback.
But it's also hard to argue with the Saints' decision to sign Bailey on Friday for two reasons above all others:
1. Bailey is one of the greatest cornerbacks in NFL history. Not just a guy who made one or two Pro Bowls in his prime. A guy who made 12 of them -- one shy of the record for all defensive players in league history.
2. The Saints have proven time and again this offseason that they're looking forward, not in the past. They've cut ties with six of their own all-time great veterans this offseason. They've pored over every player on the roster with a cold, calculating eye because of their salary-cap constraints and their desire to win another Super Bowl as soon as possible.
[+] Enlarge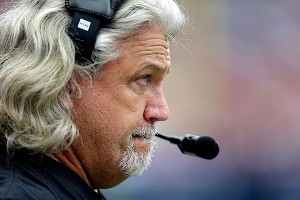 AP Photo/Eric GayIt will be up to Rob Ryan to see what kind of production he can still get out of Bailey.
And the Saints believe Bailey is
worth a two-year contract
that is worth up to $7 million, according to a report by ESPN NFL Insider Adam Schefter.
The Saints believe that creative defensive coordinator Rob Ryan can find a role for the 6-foot, 192-pound cornerback, who has always excelled in press coverage -- even as recently as 2012, before a foot injury plagued his disappointing 2013 season.
So count me among the optimists in this deal.
If nothing else, it's no small matter to add a future Hall of Famer to the locker room, film room and practice field. I'm not sure I've ever seen such an overwhelming response from Saints players about a new addition
as we saw on Twitter
following the news of Bailey's deal.
I spoke with ESPN scouting insiders Matt Williams and KC Joyner about Bailey. Both were turned off by Bailey's struggles in 2013 (when he was limited to five regular-season games because of the injury before returning for the playoffs). And Williamson said, "I hate to say it, but I think he's pretty close to done."
Joyner was a little higher on Bailey, though, since he was impressed with Bailey's 2012 performance.
Joyner has a metric he calls "good coverage" rating for defensive backs. He said Bailey's rating of 29 percent in 2012 ranked 21
st
among NFL cornerbacks that year. And he said he was a "shut-down" corner when he was in press coverage that year, when he allowed only four short completions and one contact penalty in 15 passes thrown his way.
Last year, however, Joyner said that Bailey allowed nine completions for 123 yards on a total of 11 passes thrown his way in all one-on-one coverage situations.
"If the cornerback of 2013 shows up, that's not gonna be a good sign," Joyner said. "You want to see him revert back to an earlier version. But that depends on how much injuries were impacting him last year."
Bailey, for one, believes he can bounce back.
He told the Saints' website that he tried to "grind my way" through the injury last year but couldn't quite get over it.
"I have a little more to my game, I believe, especially mentally," Bailey said.
Joyner is also optimistic.
"I'll bet he can get back to what he was in 2012," Joyner said. "If they get that Champ Bailey, the 2012 version, you've got a solid cornerback. He's not gonna be the shut-down guy he was in his prime. … But I would think he's one of those players who can bounce back.
"I wouldn't be surprised to see him, even if he takes a quarter-step back from 2012, that's still a very good No. 3 corner or a solid starter. You wouldn't be afraid to put the guy on the field if he's at that level."
Bailey will compete for that No. 2 starter job with
Corey White
and
Patrick Robinson
, two younger corners with some starting experience but also inconsistent track records.
Bailey could also play some sort of hybrid safety-cornerback role in nickel and dime packages. That's what a handful of defensive coaches and personnel executives told ESPN.com Broncos reporter Jeff Legwold when he asked around about Bailey's prospects in recent weeks.
But Bailey told USA Today that the Saints never approached him about the idea of switching to safety, and that he will have a chance to compete for the starting corner job.
"I still think corner is their No. 1 need. Yesterday and today," Williamson said. "I guess the Saints are in win-now mode. And I don't think they're super worried about looking to the future right now, and they're taking their shot. [Bailey] didn't play very well, though.
"He had a tough season [in 2013]. And I hate to say it, but I think he's pretty close to done. But maybe he sticks around for one year.
"The thing I thought most was, from where [the Saints] are picking in the draft, there should be some corners to pick from in the top two rounds. Maybe Bailey is just their mentor."
Williamson also pointed to the Broncos' season-ending playoff loss after the 2012 season, when Bailey struggled in coverage against
Baltimore Ravens
speed receiver
Torrey Smith
, as another sign of Bailey's gradual decline.
Williamson said the Saints will want to avoid having Bailey in single coverage against speed receivers. But he did agree that Bailey's press coverage and tackling ability can still be strengths. And Williamson is confident in Ryan's ability to put players in the right positions.
"He's such a great athlete and a rare specimen and a great player," Williamson said. "I'm not sure exactly how he fits. But it was obviously a weakness, and if you get a little out of him, great. He's still a good tackling corner. He's a physical corner still. Knowledge of the game. He can still compete for the football in the air for sure."
Clearly, the Saints are making a little bit of a gamble here. But I believe in Bailey's long track record. I believe in what I saw from Ryan's abilities as an aggressive chess-master last year. I believe in the talent that's now stacked around Bailey in the Saints' secondary.
And I believe, if nothing else, the Saints' 2014 season just became even more interesting.
April, 28, 2012
4/28/12
10:11
AM ET
Earlier, we gave you
the rundown
on what picks each NFC South team currently holds heading into the last day of the draft.
Let's also take a quick look at what players are still available. Mel Kiper Jr. has this
Insider list

of the best players remaining and it has some names that many expected to be off the board long ago.
Mississippi tackle
Bobby Massie
and Miami running back
Lamar Miller
are easily the two biggest surprises on the list and people are starting to wonder if they have medical or other issues. I'm also shocked Oklahoma linebacker/defensive back
Ronnell Lewis
and Florida State offensive tackle
Zebrie Sanders
still are available.
Saturday's portion of the draft starts at noon ET and it's going to move very rapidly. If you're able to, join us in Countdown Live, the interactive chat in which you can talk with the eight divisional bloggers, Scouts Inc.'s Matt Williamson, Football Scientist KC Joyner and others.
I'm not even going to try to give you instant analysis on every one of Saturday's NFC South picks on the blog. That's what our Insider
Draft Tracker
is for. I'll weigh in on picks of note and maybe provide a quick summary of each round or every couple of rounds.
But my main assignment Saturday is to write a division-wide draft wrap-up and I'll be working on that through much of the day. That should post on this blog soon after the draft ends.
June, 7, 2011
6/07/11
4:00
PM ET
KC Joyner isn't sure we'll see a repeat playoff performance by the
Kansas City Chiefs
in 2011.
[+] Enlarge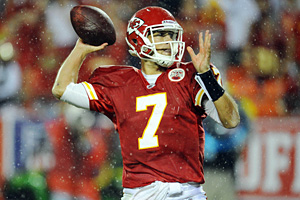 John Rieger/US PresswireThe Chiefs need Matt Cassel to hit more deep passes if they hope to return to the playoffs next season.
In an ESPN.com Insider piece,
Joyner points to quarterback Matt Cassel's struggles to complete long passes as a major reason why he thinks the Chiefs -- who went 10-6 and won the 2011 AFC West title after winning a grand total of 10 games in the previous three seasons combined -- could slip this season.
Here is some of what worries Joyner about Cassel: His metrics in this category range from mediocre to abysmal. His 10.2 vertical YPA (vertical being defined as passes thrown 11 or more yards downfield) ranked 20th in the league last season. His 9.0 stretch vertical YPA (defined as passes thrown 20 or more yards) was even worse, as it ranked next to last among qualifying quarterbacks (175 pass attempts needed to qualify). (Note: these numbers include attempts and yardage totals posted on pass penalties such as defensive holding, illegal contact, pass interference, etc.)
Many might come to Cassel's defense by pointing out the subpar state of the Kansas City wide receiver/tight ends corps last season. It would seem awfully difficult to put together an effective vertical passing game when mediocre pass catchers such as
Chris Chambers
,
Terrance Copper
,
Verran Tucker
,
Leonard Pope
and
Tim Castille
all post at least 10 targets, as was the case last season.
Some will point to the addition of former Pitt wide receiver
Jonathan Baldwin
in the first round of the 2011 draft as a reason for optimism here.
However, the primary counter to that statement would be that Baldwin's first-year learning curve could be steep, given that a) the lockout could prevent him from getting much practice time prior to the start of the season and b) Scouts Inc. said that he is inconsistent and erratic in many areas.
Throw in the fact that Baldwin's 15.51 yards per reception average last season ranked him 68th among FBS pass catchers and it shows just how far he has to go before he can be considered an answer to the Chiefs' vertical receiving woes.
My thoughts? Cassel's inability to complete the deep pass is clearly an issue. That's why Baldwin was drafted in the first round. Kansas City recognized the issue and tried to fix it. That's what good teams do.
The key is how fast Baldwin can make a difference in this area. Joyner points out the learning curve and he's right, but he will be given every chance to succeed.
This season surely will not be easy for Kansas City. It is now the hunted. It has a tougher schedule than it did in 2010. But, in the end, this is a balanced team with good coaching. The Chiefs appear to be headed in the right direction, regardless of potential obstacles.
March, 3, 2011
3/03/11
4:15
PM ET
KC Joyner, who is one of our guys who really follows football on a scientific level, has a pretty strong opinion on Auburn quarterback
Cam Newton
.
I'm not a real scientific guy. I generally try to balance what my eyes and ears (talking to coaches, scouts and players) and factoring in how various guys might fit in various situations. But Joyner and I are in agreement on Newton.
Joyner is saying Newton is not worth the No. 1 overall pick for the
Carolina Panthers
. I think Newton's got tremendous upside, but I also don't think he's the right fit for Carolina at this particular moment. I think there is too much downside with Newton, and any other quarterback in this draft, for Carolina to take a plunge with a very valuable pick.
I think they can get their quarterback via trade or as a free agent and address other needs with the No. 1 pick.
Click
here and you can see all of Joyner's logic on Newton
.

July, 22, 2010
7/22/10
2:05
PM ET
By
Matt Mosley
| ESPN.com
Most of you know that the Beast doesn't write a word without looking at every available metric. But we're no match for ESPN.com's KC Joyner, aka the Football Scientist, a man who crunches numbers for a living. This time, Joyner's outdone himself by suggesting that Houston's
Andre Johnson
isn't even the best wide receiver in the state of Texas.

Johnson

Austin
After looking at 10 categories and making a deft reference to Bear Bryant, Joyner has concluded that
Miles Austin
is perhaps the best receiver in the league. If you're an ESPN Insider,
you can read the entire story
. If not, I've decided to circumvent company policy and reveal a couple of paragraphs.
Joyner says Austin has a "better set of metrics" than
Larry Fitzgerald
,
Randy Moss
and
Reggie Wayne
, too. He uses the wildly popular yards per attempt (YPA) metric in the Johnson-Austin showdown. The 10 categories included short, medium and bomb-length passes. Joyner also took a long look at how the two wide receivers did against some of the league's top cornerbacks.
Long-suffering Texans fans had clung to the perception that Johnson was the best receiver in the league, but with one mighty column, Joyner has broken their spirit. Let's take a peek at one of the most interesting portions of the column:
Another way to measure receiving excellence is to see how well each wideout did when facing varying levels of competition," writes Joyner. "I went through the breakdown charts I did on every game from the 2009 season and pulled out the plays where a receiver faced a cornerback. I then assigned color-coded grades to the cornerbacks based on their 2009 YPA totals (which can be found in the KC Joyner Metricmania section in the 2010 ESPN The Magazine fantasy football preview).

Against cornerbacks who yield YPAs of 7 yards or fewer on average (red-rated CBs): Austin was hardly fazed by elite competition, as he posted 12.0 YPA against them. Johnson's 8.0 YPA in this category ranked 18th in the league but didn't keep up with Austin's total.
There's a lot more where that came from if you're an Insider. If you're not a paying customer at this point, just know that Joyner's metrics indicate that Austin may be the most underpaid wide receiver in the history of the league. Jerry Jones is hoping Austin's agent, David Dunn, is not an ESPN Insider.
It's actually pretty fascinating stuff, but everyone's waiting to see if Austin can repeat his performance now that he's not sneaking up on anyone. Oh, and there's the whole SI jinx thing to worry about if
you've seen this week's issue
. So do you guys put any stock in the Football Scientist's discovery? Did Austin actually have a better season than Johnson?
Can't we allow Texans fans to have at least one claim to fame since they're still waiting on that first playoff appearance? I'll try to find some metrics that suggest
Matt Schaub
had a better '09 than
Tony Romo
. Maybe that will smooth things over.
May, 28, 2010
5/28/10
9:01
AM ET
By
Matt Mosley
| ESPN.com
As most of you know, I've never let empirical data stand in the way of dismissing a player. I watched
Washington Redskins
defensive tackle
Albert Haynesworth
several times last season, and quite frankly, wasn't all that impressed. His apologists pointed to the fact that
Brian Orakpo
and
Andre Carter
put up large sack totals in '09.
They say that Haynesworth's very presence allowed his teammates to make plays. I agree with some of that, but too many times the defensive tackle was staggering to the sideline in the fourth quarter of games. But just when you thought everyone had turned on Haynesworth, KC Joyner, aka the Football Scientist,
launched a defense of the player
based on numerical data from his summer charting adventure. Joyner writes for ESPN Insider, but I received permission (not really) to share some of his thoughts with you:
"In the two seasons prior to signing with Washington, Haynesworth posted point of attack (POA) win totals of 32.3 percent (2007) and 23.8 percent (2008)," writes Joyner. "Those totals are the baseline against which Haynesworth's 2009 run-stuffing performance should be gauged.

"Let's check out his POA numbers from last season. He had 81 POA attempts and 27 POA wins. That equates to a 33.3 percent POA win rate, or a total that was actually higher than both his 2007 and 2008 figures."
But wait: there's some additional information that Joyner sent over Thursday evening. This didn't make it into the column, but we've deemed it worthy of the Beast.
"There is one overwhelming compelling reason [Haynesworth] should be kept as an under tackle -- he is nigh near unblockable in a one-on-one situation," writes Joyner. "To illustrate this, consider that he was single team blocked 49 times and won 22 of those blocks, or a single team win rate of 44.9 percent. That by far is the highest single team POA win rate I have seen thus far (the double team blocking review is my summer tape watching project). To put it in perspective, consider that it ranks higher than Casey Hampton (17.1%), Vince Wilfork (29.6%) and Kris Jenkins (44.4%). Teams simply cannot leave Haynesworth in a one-on-one situation if they want to run the ball his way."
So there you have it. Mike Shanahan should be begging for Haynesworth to return to Redskins Park. But something tells me the only number Shanahan's interested in is one, which is the number of days Haynesworth has spent with his new coaching staff this offseason.

Posted by ESPN.com's Bill Williamson
Five nuggets of knowledge about Sunday's games:
| | |
| --- | --- |
| | |
| | Ezra Shaw/Getty Images |
| | The Raiders need defensive end Richard Seymour to break out this week against Houston. |
Seymour needs to make an impact:
The
Oakland Raiders
need a spark and the perfect player to give it is
Richard Seymour
. The Raiders traded a first-round pick in 2011 to New England to get Seymour because they wanted the potential hall of famer to bring the team to the next level. The defensive end looked like he'd be that player in the season opener when he had two sacks against San Diego. In the two games since, Seymour has been quiet. Yes, he's been double teamed, but he hasn't produced much. The only noise he made was when he pulled the hair of Denver tackle
Ryan Clady
. He was penalized 15 yards for it. The Raiders are slumping into Houston. They need their veteran star to bring new life.
Rivers needs to go deep:
San Diego quarterback
Philip Rivers
is becoming one of the premier deep-ball passers in the NFL. His deep passes are a thing of beauty. They are text book. Rivers has arrived as an elite player and he does few things wrong. But he has mastered the long ball and used it to his advantage in each game this season. Expect him to fire away Sunday at Pittsburgh. The early-season MVP candidate will try to take advantage of the likelyabsence of Pittsburgh star safety
Troy Polamalu
and try to shred the Steelers with a deep pass or two.
Time for the Broncos to show they are for real:
The Broncos are one of seven unbeaten teams in the NFL and are the early surprise. Not much was expected from Denver in the first year of the Josh McDaniels' era. But the team has been menacing on defense and timely on offense. Still, there are skeptics. Denver has beat Cincinnati, Cleveland and Oakland. But the easy ride is over. Denver starts a 10-game stretch in which they play eight sure playoff contenders. The rough road begins Sunday at home against Dallas. If the Broncos can dispatch the Cowboys, they will start to get respect and be considered a true playoff contender. If Denver loses to the visiting Cowboys, they will be cast as a pretender.
Chiefs have to compete in second leg of NFC East tour:
Chiefs coach Todd Haley was criticized after last week's 20-point loss at Philadelphia. Haley started to run the ball more in the second half instead of passing the ball even though the Chiefs were down by more than two touchdowns. The Chiefs have to find a way to stay in the game this week against the visiting Giants. Just like against the Eagles, the Chiefs will be badly overmatched. But this team, which competed well in the first two games under Haley, has to find a way to compete as they play their second of four straight games against NFC East competition.
This is the time for Russell to shine:
I spoke to ESPN's KC Joyner, the Football Scientist, this week. Joyner, a number cruncher supreme, said he believes Oakland quarterback
JaMarcus Russell
could have a decent game against Houston. If not, Joyner surmised, Russell really may be on his way to becoming a bust. Joyner thinks Houston has one of the worst defensive backfields in the league based on his computing. Houston's cornerbacks are allowing big plays at an alarming rate. It's a perfect opportunity for Russell to break out. If not, Russell (who has a 39.8 passers' rating this season) may never break out.
October, 2, 2009
10/02/09
1:59
PM ET
| | |
| --- | --- |
| | |
| | AP Photo/Paul Sakuma |
| | Oakland quarterback JaMarcus Russell just hasn't progressed enough for the Raiders. |

Posted by ESPN.com's Bill Williamson
There is no more pressing on-field issue in the AFC West than what is happening in Oakland. Actually, it's all about what's not happening in Oakland.
JaMarcus Russell
is not getting better. That's a big problem for the Raiders.
"Really, he's getting worse," Scouts Inc.'s Matt Williamson said.
In a pivotal season, the No. 1 overall pick in the 2007 draft is struggling mightily. The Raiders hoped and expected Russell would make week-by-week improvement, but the opposite is happening.
In the opener against San Diego, he threw for 208 yards. In Week 2 at Kansas City, he passed for 109 yards and then he bottomed out at 61 yards against Denver as Oakland fell to 1-2. Russell's passer rating is 39.8 -- the worst in the NFL.
But Russell's numbers aren't just bad. They're historically bad. According to ESPN's Stats & Information, Russell's passer rating is the second lowest by a quarterback who played in his team's first three games of a season this decade (minimum 60 attempts). The only quarterback in the past 10 years who had a lower rating through three games with at least 60 attempts was Ryan Leaf in 2000.
(Ouch. Ryan Leaf. Russell is entering the Leaf zone. The Leaf comparison is certainly not what Oakland was aiming for when this year began.)
The numbers only get worse. Russell has completed just 41.3 percent of his passes. He had 35 incompletions in the first two games of the season.
According to ESPN's Stats & Information, Russell's completion percentage through three games is the fourth lowest by a quarterback who played in his team's first three games of a season in the last 25 seasons (minimum 60 attempts). The only quarterbacks with at least 60 attempts who had lower completion percentages through three games over that span are John Fourcade in 1990, Akili Smith in 2000 and
David Carr
in 2002.
Leaf. Smith. Carr.
Get the picture? Russell is matching numbers with some of the great quarterback busts of our time. It may be premature to categorize Russell as an official bust. However, he may be wise to shop for property in Bustville. His time is running out.
What's most bothersome about Russell is that he has failed to make virtually any improvements since he entered the NFL. The same questions remain. When he entered the league, the strong-armed, massive Russell was said to have all the measurables. Before the 2007 draft, Oakland owner Al Davis compared Russell to John Elway.
But Russell was far from a finished product. He needed to work on his accuracy, his footwork, his penchant for locking in on receivers, his vision, his work ethic and his body language.
After 35 NFL games, the same questions remain. In his second full season as a starter, Russell looks as lost as ever.
What's the answer, though? If Oakland bails on Russell and benches him, it would be an admission the team made a huge mistake and must start over at the most important position on the field.
The team's current backups,
Bruce Gradkowski
and
Charlie Frye
, are not long-term answers. The Raiders could call
Jeff Garcia
again if they feel like they can make a playoff run without Russell.
Russell probably needs more time to develop. But he is killing any chance Oakland has of being a contender this season. For now, the Raiders are standing by Russell.
"I have to have faith in the guy going out there playing quarterback for us, and I do have that faith," Raiders coach Tom Cable said Monday.
Williamson said he believes Russell is one of the more physically gifted quarterbacks in the NFL.
"I put him right up there with
Jay Cutler
and
Joe Flacco
as far as gifts go. I can see why he was the top pick in the draft," Williamson said. "But he's atrocious. He really is. He needs a lot of work, and I don't know if he'll ever get there. Right now he looks like an incredible bust."
KC Joyner, the Football Scientist, went out on a limb in the preseason and stumped for Russell. Joyner liked the way Russell finished last season. In the final six games of the 2008 season, Joyner found that Russell had a better passer rating than
Matt Ryan
and Flacco.
Joyner figured Russell would continue to improve. So, after Russell's first three games of 2009, is Joyner still a Russell believer?
"No," Joyner said. "I was on the bandwagon, but he is not doing anything well right now. He has completely regressed."
That's the problem with Russell. There are no signs that he's getting better. All of the signs are pointing in the wrong direction.
March, 4, 2009
3/04/09
4:16
PM ET
| | |
| --- | --- |
| | |
| | US Presswire/Icon SMI |
| | The New York Jets signed free agent safety Jim Leonhard and traded for two-time Pro Bowl cornerback Lito Sheppard. |
Posted by ESPN.com's Tim Graham
Bart Scott told an entertaining tale about how the New York Jets arrived in his driveway shortly after midnight Friday morning.
Scott's two German shepherds were barking their heads off at the impromptu visit, but it was their master who delivered the rabid comments upon signing with the Jets. The linebacker spoke about how vicious the defense would be. You could almost see the saliva dripping from his fangs.
Less dramatic were a pair of other Jets defensive acquisitions. They might, however, turn out to be the most impactful.
The Jets, anxious to revamp a pass defense that was among the most awful in the NFL last season, have added a pair of newcomers to a secondary that already featured two terrific defenders.
"I love what I see at every position," said ESPN analyst Darren Woodson, a five-time Pro Bowler at strong safety for the Dallas Cowboys. "You got four guys that can match up with anybody across the league."
New head coach Rex Ryan is implementing radical change to the defense's philosophy, and improving the secondary was critical to the process.
The Jets traded for two-time Pro Bowl cornerback Lito Sheppard and signed free agent safety Jim Leonhard to bolster a pass defense that should have performed much better than it did last year.
Left cornerback Darrelle Revis went to his first Pro Bowl last season, and safety Kerry Rhodes is wildly talented.
The rest of the Jets' secondary was sloppy and inconsistent. As a result, the Jets ranked 29th in pass defense despite a pass rush that produced the seventh-most sacks.
The Jets allowed 234.5 passing yards per game. They also gave up 23 touchdown strikes. Only seven teams gave up more.
But the entire defensive paradigm has changed since the Jets fired Eric Mangini and hired Ryan, mastermind of the Baltimore Ravens' formidable defense.
"I know their sack numbers weren't bad last year, but they weren't a consistent pass-rushing team," Scouts Inc. analyst Matt Williamson said. "If you're a 3-4 defense and not bringing those edge guys consistently, you're not doing what that defense is designed to do.
"As the season went on, they were predictable. Everyone knew where the pressure was coming from. They played a lot more coverage instead of coming after quarterbacks. That was crucial mistake. It won't be now.
"The last coaching staff put too much stress on a bad secondary, whereas this coaching staff is going to play to the secondary's strength, and the secondary's stronger."

NFL SCOREBOARD
Thursday, 8/21
Friday, 8/22
Saturday, 8/23
Sunday, 8/24
WEEKLY LEADERS