NFL Nation:

Kelley Washington
November, 4, 2010
11/04/10
6:07
PM ET
The
San Diego Chargers
gave themselves some much-needed help at receiver in the form of receiver
Kelley Washington
.
He is expected to be in uniform Sunday at Houston. He is a big receiver at 6-foot-3, 217 pounds. He has played eight NFL season and had 34 catches for 431 yards for Baltimore last season. He can also help on special teams.
Prior to signing Washington, San Diego had just three healthy receivers – Patrick Cratyon,
Gary Banks
and Seji Ajirotutu. Starters
Malcom Floyd
and
Legedu Naanee
are not expected to play at Houston because of hamstring injuries. Pro Bowl receiver
Vincent Jackson
won't be eligible to play until Week 12 after ending his holdout last week.
Also, star tight end
Antonio Gates
is dealing with foot injuries and will be severely hampered if he plays at Houston. So, the Washington signing makes sense.
March, 4, 2010
3/04/10
9:49
AM ET

Baltimore Ravens
Potential unrestricted free agents
: DL
Justin Bannan
, DL
Dwan Edwards
, CB
Corey Ivy
, WR
Derrick Mason
, TE
L.J. Smith
, WR
David Tyree
, CB
Frank Walker
, WR
Kelley Washington
Potential restricted free agents:
OT
Jared Gaither
, K
Billy Cundiff
, S
Dawan Landry
, CB
Fabian Washington
, P
Sam Koch
, OG
Chris Chester
, QB
John Beck
, QB
Troy Smith
, OT
Tony Moll
, FB
Le'Ron McClain
, LB
Prescott Burgess
, WR
Mark Clayton
, WR
Demetrius Williams
Franchise tag:
None
What to expect:
The Ravens have a ton of quality free agents. It will be interesting because Baltimore is the only division team which has to abide by the "
Final Eight Plan
" for making the divisional playoffs. This will restrict Baltimore from making a lot of moves. Therefore, expect the team to keep most of its key restricted free agents while trying to explore the trade market. On the unrestricted side, the Ravens are negotiating with receiver Derrick Mason and are expected to keep him. But two players who could get some interest in the open market are defensive linemen Dwan Edwards and Justin Bannan. Baltimore likes both players but could lose at least one.

Cincinnati Bengals
Potential unrestricted free agents
: K
Shayne Graham
, FB
Jeremi Johnson
, RB
Larry Johnson
, DT
Tank Johnson
, TE
Reggie Kelly
, OG
Bobbie Williams
, S
Roy Williams
, TE
J.P. Foschi
Potential restricted free agents:
LB
Brandon Johnson
, LB
Rashad Jeanty
, OL
Evan Mathis
, C
Kyle Cook
, DE
Frostee Rucker
, CB
David Jones
, LB
Abdul Hodge
, QB
Jordan Palmer
, TE
Daniel Coats
, DT
Shaun Smith
Franchise tag:
None
What to expect:
The Bengals have yet to announce their tenders, so this list could change by Thursday evening. But traditionally they are not big spenders in free agency and will stay true to that even with an uncapped year. Cincinnati could make one or two decent outside signings that may help the team. Finding a receiver would be the most likely target. The most interesting in-house name is offensive guard Bobbie Williams, who likely will test the market. Bengals defensive coordinator Mike Zimmer also would like to keep veteran Roy Williams and Tank Johnson. But the team hasn't made a major push for either player before they're let loose Friday.

Cleveland Browns
Potential unrestricted free agents:
WR
Mike Furrey
, TE
Michael Gaines
, OG
Rex Hadnot
, CB
Hank Poteat
, OL
Ryan Tucker
, OG
Billy Yates
Potential restricted free agents:
RB
Jerome Harrison
, LB
D'Qwell Jackson
, FB
Lawrence Vickers
, S
Brodney Pool
, S
Abram Elam
, DE
Matt Roth
Franchise tag:
None
What to expect:
Cleveland has the money to spend and the biggest talent deficit. So look for the Browns to attempt to make up ground in free agency. Major names like defensive end
Julius Peppers
and tailback
Thomas Jones
have been mentioned as possibilities for Cleveland, but that remains to be seen. Internally, the Browns should be interested in keeping Harrison and Vickers in their backfield. Jackson also has value. None of their unrestricted players are priorities for the team and will be allowed to hit free agency.

Pittsburgh Steelers
Potential unrestricted free agents:
QB
Charlie Batch
, LB
Rocky Boiman
, S
Tyrone Carter
, S
Ryan Clark
, DE
Nick Eason
, WR
Joey Galloway
, DE
Travis Kirschke
, RB
Willie Parker
, CB
Deshea Townsend
, FB
Carey Davis
, OG
Darnell Stapleton
Potential restricted free agents:
OT
Willie Colon
, CB
William Gay
, P
Daniel Sepulveda
, TE
Matt Spaeth
Franchise tag:
K
Jeff Reed
What to expect:
The Steelers are pretty predictable. Pittsburgh intends to keep all of its restricted free agents, get a long-term deal complete with Reed, who has the franchise tag, and let nearly all of their unrestricted free agents test the market. The exception is Clark, who the Steelers targeted as a priority but has yet to reach a long-term extension before Friday's deadline. Negotiations have been ongoing and should go to the final hour to decide whether both sides can come to an agreement or allow Clark to test the market.
February, 15, 2010
2/15/10
1:00
PM ET
»
AFC Free Agency
:
East
|
West
|
North
|
South
»
NFC
:
East
|
West
|
North
|
South
An early look at the free-agent situation in the AFC North.
Note
: These projected lists reflect notable unrestricted free agents for each team. The NFL will not issue an official list of free agents until the signing period begins March 5.
Baltimore Ravens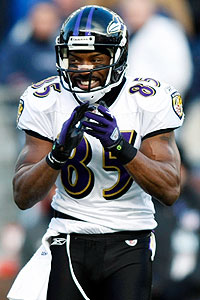 Greg M. Cooper/US PresswireThe Ravens' already-thin receiving corps will take a big hit if Derrick Mason retires.
Unrestricted free agents: DL
Justin Bannan
, K
Billy Cundiff
, DL
Dwan Edwards
, CB
Corey Ivy
, WR
Derrick Mason
, TE
L.J. Smith
, WR
David Tyree
, CB
Frank Walker
, WR
Kelley Washington
Key figures:
Derrick Mason is contemplating retirement. But if he wants to play, the Ravens have every intention of keeping their leading receiver. Look for Baltimore also to make a push for another significant addition at receiver to assist the development of budding quarterback
Joe Flacco
. Sleeper players on this list include the two defensive linemen: Justin Bannan and Dwan Edwards. The Ravens like both players and will probably make a push to keep at least one on the roster. Baltimore also lacks cornerback depth and might elect to bring back Frank Walker, despite his penchant for giving up big plays and committing penalties.
Cincinnati Bengals
Unrestricted free agents:
K
Shayne Graham
, FB
Jeremi Johnson
, RB
Larry Johnson
, DT
Tank Johnson
, TE
Reggie Kelly
, DT
Shaun Smith
, OG
Bobbie Williams
, S
Roy Williams
Key figures:
Bobbie Williams is an interesting name. He's one of Cincinnati's most consistent offensive linemen over the last several years, but he turns 34 in September. Kicker Shayne Graham, who was franchised last season, had a solid career in Cincinnati. But he missed kicks in big spots, potentially ending his run with the Bengals. Running back Larry Johnson was third string in Cincinnati and should get more playing time elsewhere in 2010.
Cleveland Browns
Unrestricted free agents:
WR
Mike Furrey
, TE
Michael Gaines
, OG
Rex Hadnot
, CB
Hank Poteat
, OL
Ryan Tucker
, OG
Billy Yates
Key figures:
This is not an impressive list as most of Cleveland's key free agents -- such as
Jerome Harrison
,
Lawrence Vickers
and
D'Qwell Jackson
-- are restricted. Mike Furrey is a high-character player that coach Eric Mangini likes on his football team, and he might be retained. The remaining players on this list likely will hit the open market. The Browns have an interesting decision to make with Harrison, who led the team in rushing after a tremendous second half of the 2009 season. Harrison could garner some interest as a restricted free agent if the Browns do not offer a high enough tender.
Pittsburgh Steelers
Unrestricted free agents:
QB
Charlie Batch
, LB
Rocky Boiman
, S
Tyrone Carter
, S
Ryan Clark
, DE
Nick Eason
, WR
Joey Galloway
, NT
Casey Hampton
, DE
Travis Kirschke
, RB
Willie Parker
, K
Jeff Reed
, CB
Deshea Townsend
Key figures:
The Steelers are aiming to keep most of their key veterans, while infusing some youth through the draft. All indications are the team will offer extensions to safety Ryan Clark and kicker Jeff Reed. Pro Bowl nose tackle Casey Hampton is the biggest name on this list. But he's a strong candidate for the franchise tag, because there is no full-time replacement on the roster. This offseason probably will mark the end of tailback Willie Parker's tenure in Pittsburgh. Parker, 29, helped lead the Steelers to two Super Bowl wins during his career. But various ailments since initially breaking his leg in 2007 hampered his production.
October, 18, 2009
10/18/09
8:05
PM ET
| | |
| --- | --- |
| | |
| | Bruce Kluckhohn/US Presswire |
| | Brett Favre and the Vikings escaped with a 33-31 win over the Ravens on Sunday. |

Posted by ESPN.com's Kevin Seifert
MINNEAPOLIS -- The clock showed two seconds remaining Sunday afternoon as Brad Childress leaned to his left. Childress looked at a grim-faced
Adrian Peterson
and spoke in confident tones.
"I just told him we're going to win this football game right here," Childress recounted. Television replays showed Peterson nodding his head, accepting if not agreeing with the prediction.
Pressed on what made him believe that Baltimore place-kicker
Steven Hauschka
would miss a 44-yard field goal as time expired, Childress smiled.
"What else am I going to say?" Childress said after Minnesota survived a wild fourth quarter to take a
33-31 victory
. "What am I going to tell them? 'They're going to beat us right here?' I'm not going to say that. I stay on the positive side all the time."
There are times when you know and there are times when you hope. Childress clearly fell in the latter category after nothing more than chance prevented his team from losing its first game of the season. You can credit quarterback
Brett Favre
's 58-yard pass to
Sidney Rice
, which set up
Ryan Longwell
's 31-yard field goal with 1:56 remaining. You can acknowledge that Childress' conservative approach forced the Ravens to exhaust their timeouts before taking over for their final possession.
But the truth was evident to anyone who sat through this one: The Ravens simply ran out of time. They exploded for 21 points over the final 10 minutes of the game after falling behind 27-10. If they had a few more seconds, I'm quite sure they would have reached the end zone rather than trotting Hauschka onto the field at the end.
His kick sailed wide left, sparking a wild celebration. But you didn't find many people -- players, coaches or otherwise -- crowing about a victory that nearly slipped from their hands.
"This is a game where in every facet we were dominant before the fourth quarter," defensive end
Jared Allen
said. "It wasn't a meltdown, because we didn't lose. But it was pretty damn close. ... Sometimes it's
better to be lucky than good
."
Remember, the Vikings led 27-10 with 10:03 remaining. Longwell's 29-yard field goal made it 30-17 with 6:01 left. After that, everything happened so fast that Allen looked blank when asked to explain how the Vikings suddenly found themselves trailing 31-30.
"I'm not even going to try to comment until I watch the film," Allen said. Sometimes players say that to avoid making critical statements. In this case, however, I don't think Allen or anyone else really grasped why they got steamrolled in the latter stages of this game.
The Ravens did their damage -- 222 total yards and nine first downs -- despite possessing the ball for only 4 minutes, 25 seconds of the fourth quarter. Here's how their three touchdown drives went down:
Minnesota's fourth-quarter defense Sunday

Points allowed: 21
Yards allowed: 222
First downs allowed: 9
Time of poss.: 4 min., 25 sec.
Passes of 28 yards to Kelley Washington and 17 yards to Demetrius Williams set up a 32-yard score to Mark Clayton. Total time of possession: 1:33.
A pass of 63 yards to tailback Ray Rice set up a 12-yard score to Derrick Mason. Total time of possession: 49 seconds.
Chris Kluwe's 39-yard punt, and Ed Reed's 9-yard return, set up the Ravens at the Vikings' 33-yard line. Rice goes untouched on a draw play for the go-ahead touchdown. Total time of possession: Nine seconds.
It's only fair to mention the Vikings were playing without cornerback
Antoine Winfield
, who suffered a right foot injury in the first half and did not return. But Sunday's collapse went way beyond questionable depth at cornerback. It sure seemed the Vikings relaxed against a team that's too good to be relaxed upon. Once the genie was out of the bottle, the Vikings never stuffed it back in.
Perhaps that's why a Metrodome crowd of 63,689 roundly booed when Childress played for a field goal after Rice's catch set them up at the Ravens' 18-yard line with 2:46 left. Did anyone think a two-point lead would hold?
"I felt like we needed to score a touchdown," Favre said. "They were feeling it at that stage of the game. I think everyone in the building felt the same way. They had kind of hit their stride. ... We knew they needed to get to the 30, 35-yard line. ... I hate to say that I was not real confident, because I'm confident in our team, period. But I felt like maybe, for the first time this year, offensively they felt like they could probably do whatever."
In hindsight, Favre said, "it's easy to say we should have thrown it" on the third-down play before Longwell's final kick. Childress, however, ordered three consecutive running plays, forcing the Ravens to take their final two timeouts. That left Baltimore with 1:56 to move into field goal range -- an eternity in terms of this game. Remember, Baltimore had completed three touchdown drives in less time in the fourth quarter alone.
In the end, Childress took the lesser of two evils. The Ravens likely were going to get the ball back one way or the other. So when I asked him about it afterward, Childress said that forcing the Ravens to take their timeouts was of prime importance.
"We knew we were going to get down inside of two [minutes]," Childress said. "That's why [Ravens coach John Harbaugh] used his timeouts."
Sorry to say, this victory won't tone down harsh analysis of the Vikings' 6-0 start. Three of their wins have come against Cleveland (1-5), Detroit (1-5) and St. Louis (0-6). Two other victories, Sunday and Sept. 26 against San Francisco, came only after a wild and unlikely turn of fourth-quarter events.
Allen called Sunday's victory a "wake-up call," if there is such a thing. But Allen vowed: "There's enough character on this team that that's not going to happen anymore."
Afterward, Favre said he consoled linebacker
Chad Greenway
-- who seemed particularly upset after the game.
"They deserved to win and I think we deserved to win as well," Favre said. "That's the way you have to look at it. Who knows how you're going to win them sometimes. It's like the San Francisco game. ... All I know is we're 6-0, I think. Pretty proud of that. There's a long way to go but I think that's a good start."
Lucky or otherwise.
October, 8, 2009
10/08/09
1:51
PM ET

Posted by ESPN.com's James Walker
The start to the 2009 season has a different feel for
Baltimore Ravens
receiver
Kelley Washington
.
| | |
| --- | --- |
| | |
| | AP Photo/Elise Amendola |
| | Kelley Washington hopes to show the Cincinnati Bengals what they're missing out on. |
First, the seven-year veteran is on pace for career highs in catches and receiving yards in Baltimore's high-scoring offense. Second, after experiencing three non-winning seasons in four years in Cincinnati, Washington is facing his former team for first place in the AFC North Sunday when the Ravens (3-1) host the Bengals (3-1).
This game is personal for Washington.
From 2003 to 2006, Washington played behind receivers
Chad Ochocinco
,
T.J. Houshmandzadeh
and later
Chris Henry
in Cincinnati and felt he was lost in the mix. Now thriving in Baltimore, Washington wants to show his former team what its missing.
"I definitely want to show them what I'm about," Washington told ESPN.com Thursday. "I know they know it. But I definitely want to put a beating on the defensive backs and show the coaches there, the owners and all the personnel people what I'm about."
Washington has been one of the top success stories in the AFC North this season. He accepted an invitation from Baltimore on a tryout basis in the spring and beat out receivers such as
Jerry Porter
and
Tab Perry
.
A strong training camp and preseason helped Washington get early opportunities in the offense and he hasn't slowed down since. He is second on the Ravens with 16 catches for 198 yards and has quickly developed the trust of second-year quarterback
Joe Flacco
.
Washington said former teammate
Randy Moss
taught him a lot while the two were with the
New England Patriots
. Washington watched how Moss operated when he first arrived in New England and quickly forged a dominant duo with Patriots quarterback
Tom Brady
.
"[Moss] just constantly talked to [Brady] on what he likes and what he expects," Washington said. "That's what I'm doing with Joe."
The results are showing on the field as Washington has become Flacco's third-down specialist.
Washington also is known for his dancing. His moves have excited crowds in all three stops in Baltimore, Cincinnati and New England. (We recommend checking out "The Squirrel" from Washington on YouTube.)
Ochocinco also is known for his celebrations and says he has something special planned Sunday. So there could be an entertaining competition within the game between two former teammates.
But who's the better dancer?
"I know he knows deep down who the better dancer is," Washington said of Ochocinco. "He might have a little bit more things up his sleeve. But as far as quality of a dancer, he knows who's better."
Only one player will be dancing in first place after Sunday's game.
Posted by ESPN.com's James Walker
The veteran tryout the Baltimore Ravens were most impressed by turned out to be receiver Kelley Washington. The former Cincinnati Bengal and New England Patriot agreed to a one-year deal with Baltimore Wednesday afternoon, according to ESPN.com's Len Pasquarelli.
Washington out-dueled receivers Jerry Porter and Tab Perry in Baltimore's search for receiver help. He made numerous plays in minicamp and showed good hands and size.
Washington could play a bigger role than expected in training camp. Top receiver Derrick Mason could be out until September following major shoulder surgery, which should provide Washington more opportunities for playing time in the preseason. Washington also is solid on special teams and could help Baltimore in that area.
May, 13, 2009
5/13/09
9:39
AM ET
Posted by ESPN.com's James Walker
Here are the most interesting stories Wednesday in the AFC North:
Morning take: If there is one high-profile rookie who doesn't need any more bad publicity this offseason, it's Smith. This is baffling if reports turn out to be correct.
Morning take: In last week's minicamp, Washington clearly outperformed Jerry Porter and Tab Perry in an effort to earn a contract. Porter had the big name, but Washington made most of the plays.
Morning take: Fill in the blank: Vikings tailback Adrian Peterson rushes for ____ yards in Week 1.
Morning take: Tomlin, who will not attend the ceremony, joins an interesting and star-studded class that includes Usher and Ashanti from the world of music.
July, 31, 2008
7/31/08
8:40
AM ET
Posted by ESPN.com's Tim Graham
New York Jets
Buffalo Bills
Miami Dolphins
New England Patriots

NFL SCOREBOARD
Thursday, 12/18
Saturday, 12/20
Sunday, 12/21
Monday, 12/22