October, 3, 2014
10/03/14
9:00
AM ET
IRVING, Texas -- Now that the
Dallas Cowboys
have developed one of the NFL's best offensive lines, coach Jason Garrett and the front office have started the same process with the defensive line.
In many ways, they are using the same approach they did to re-shape their offensive line.
Since the start of the 2013 season, the Cowboys have released Jay Ratliff and
DeMarcus Ware
, and let
Jason Hatcher
leave via free agency. Of the 11 defensive linemen on the roster, eight joined the Cowboys this season.
McClain
Melton
Defensive end
DeMarcus Lawrence
(second round), who broke his leg in training camp and should return this month, and
Ken Bishop
(seventh round) were draft picks.
Henry Melton
, who missed the last 13 games last season with a torn ACL, signed a one-year deal with a club option for three years and was the only big-dollar defensive player they acquired.
They also signed free agents
Jeremy Mincey
(30),
Terrell McClain
(26) and Amobi Okoye (27), who is eligible to come off the non-football illness list for Week 7 before training camp. Mincey signed a two-year deal for $3 million, McClain signed a three-year deal for $3.05 million, and Okoye received a two-year deal worth $1.6 million.
They added
Jack Crawford
(26) after the
Oakland Raiders
released him on the final cut, and traded a late-round draft pick to Tennessee for
Lavar Edwards
(24) the same weekend.
"You're always trying to bring good players in," Garrett said. "We had some big decisions to make last year from an organizational and salary-cap structure. Those are hard decisions when guys have been good players and you have to move on from them.
"I think we've done a good job, both in the draft with young players, but also with some veteran players and the guys already on the team to create that competition and challenge those guys."
The Cowboys have used an eight-man defensive line rotation during their first four games, which means three players sit each week. It wasn't that tough the first couple of weeks, because the Cowboys had one or two defensive linemen who couldn't play because of injury.
That is not the case this week, when just about everyone is healthy enough to play.
"We have an eight-man rotation. Who are going to be the eight? It's up for debate every week," Garrett said. "You want guys to have to earn those spots. You have to earn it on Sunday, and you have to earn the right to dress on Sunday."
July, 18, 2014
7/18/14
11:00
AM ET
IRVING, Texas -- Examining the
Dallas Cowboys
' roster:
QUARTERBACKS (2)
The
Kyle Orton
watch is over now that the Cowboys released the veteran backup. The timing of it is a surprise, and Jason Garrett spoke optimistically all offseason about Orton's return. Now the Cowboys turn their attention to Weeden as Romo's backup. Weeden had a productive spring, running the first-team offense as Romo recovered from back surgery. The Cowboys haven't kept a third quarterback since 2011, and
Caleb Hanie
and
Dustin Vaughan
will have work to do to crack the 53-man roster
RUNNING BACKS (4)

The last two spots could be up in the air. Randle, a fifth-round choice, will be pushed by free-agent pickup
Ryan Williams
in the preseason. Williams, a former second-round pick, was not able to stay healthy in Arizona. The Cowboys have given him a chance to win a backup job. Clutts did a nice job as a late-season pickup in 2013. He is more versatile than undrafted rookie
J.C. Copeland
, but I don't think having a fullback on the 53-man roster is set in stone.
WIDE RECEIVERS (5)

I debated whether to go with a sixth, but later on you will see why I stuck with five. It is possible the Cowboys will look for a veteran in the final cuts if they feel limited by their depth because of injury, but I think they like the overall group. They will work their No. 3 receiver role on a rotation basis, but Beasley could emerge as a bigger threat on third down. There will be a lot of eyes on Williams, who takes over the No. 2 role on a full-time basis. Bryant is set for another Pro Bowl-type season.
TIGHT ENDS (3)

Witten remains near the top of the game at his position. His total catches were down last year, but his touchdowns were up. Escobar's role figures to expand, especially as a No. 3-type receiver. Hanna has the inside track on the third spot, but I have a feeling the Cowboys will be looking for more of a traditional blocker, especially if they want to get away from the fullback spot to open up a role elsewhere.
OFFENSIVE LINE (9)
The top six are set, with Bernadeau or Leary fighting it out for the left guard position and the loser becoming the top backup on the interior. Parnell is in the final year of his deal, and if Weems develops, I wonder if the Cowboys would look for a trading partner. They have invested a lot in Parnell in time and money for him to be a backup, so it would be a risk, but perhaps one worth taking. Weems had a decent offseason. Clarke gets the nod as the No. 9 guy right now, but veteran
Uche Nwaneri
could work his way into the mix.
DEFENSIVE LINE (10)
I think the Cowboys will go heavy here, especially considering what happened last year and the numbers they have thrown at the position this year. Four of them are rookies -- Lawrence, Gardner, Bishop and Coleman. I believe
Anthony Spencer
and possibly
Amobi Okoye
will start the year on the physically unable to perform list, so they don't make this 53-man roster with the idea that they join the team after the sixth game of the season. Wilson garnered the last spot over a 2013 starter,
Nick Hayden
, but there will be a few players in the mix for the final few spots, including
Ben Bass
.
LINEBACKER (7)
Carrying seven linebackers might be a little heavy, but I have special teams in mind when it comes to Will Smith. He benefits from having only two quarterbacks on the 53-man roster. The Cowboys spent the offseason telling us games are won and lost up front, so carrying an extra offensive or defensive linemen could get in this mix as well. McClain gets a spot only because of his experience. Backups of Holloman, Hitchens and Smith would be tough considering their youth, and I can see the Cowboys looking for veteran backup help around the final cut dates.
CORNERBACK (5)

Carr and Claiborne have to play exceptionally well for this defense to have a chance, and they might have to do it without much help from a consistent pass rush. Scandrick is coming off his best season, and Claiborne will have to beat him out to reclaim the starting spot. Moore can play inside and out. Mitchell showed in his limited offseason work that he can make plays. Last year's fourth-round pick,
B.W. Webb
, will have to fight for a spot. Based on his offseason work, he did not make the cut for this roster.
SAFETY (5)
Church is the only player without questions. The Cowboys are projecting the other four with their biggest bet on Wilcox. He enters camp as the starter, but he could be pushed by Heath and Hamilton. Dixon will be more of a special-teams threat if he is to make the roster. Hamilton showed some playmaking in the offseason. No
Matt Johnson
? Not right now, especially after he couldn't practice -- again -- for most of the offseason.
SPECIALISTS (3)

Perhaps
Cody Mandell
can push Jones, but Jones is the more consistent punter and has a good rapport as a holder for Bailey. Ladouceur remains one of the best long-snappers in the game. This group won't change during the summer unless there is an injury.
May, 31, 2014
5/31/14
12:00
PM ET
IRVING, Texas -- Part 2 of the
Dallas Cowboys
' Twitter mailbag is ready.
In it we discuss:
If you want to read Part 1 of the mailbag,
click here.
Away we go:
May, 12, 2014
5/12/14
11:50
AM ET
IRVING, Texas -- The
Dallas Cowboys
entered 2014 knowing they had to drastically improve their defensive line.
A better defensive line means a better Cowboys defense.

Garrett
"This defensive scheme has been at its best when they've had good defensive lines," coach Jason Garrett said. "Last year we felt the effects of the injuries we had. We were decimated up there, and it affected how we played defense all the way back through the linebackers and the secondary, and felt like we had to address it and get it right."
The Cowboys played 20 different defensive linemen in 2013. Some of them practiced for the first time on a Wednesday and played on a Sunday. The defense never received a down from
Tyrone Crawford
and
Jeremiah "Jay" Ratliff
. They received 34 snaps from
Anthony Spencer
.
DeMarcus Ware
missed the first three games of his career and had just six sacks.
Jason Hatcher
, who led the Cowboys with 11 sacks, missed one game.
Ware was cut and has signed with the
Denver Broncos
. The Cowboys made no real effort to keep Hatcher, who joined the
Washington Redskins
.
After the draft and college free agency, the Cowboys have 17 defensive linemen on the roster, and they might cut that number down soon. Last year, they did not draft a defensive lineman or add one as an undrafted free agent. Call this a market correction, if you want.
They signed
Jeremy Mincey
,
Terrell McClain
and
Henry Melton
in free agency. They re-signed Spencer to a one-year deal. They gave up their third-round pick to draft
Demarcus Lawrence
in the second round. In the seventh round, they added
Ben Gardner
and
Ken Bishop
.
"The obvious is the obvious," owner and general manager Jerry Jones said. "We were trying to emphasize defense in terms of numbers. We think that one of the ways to mitigate some of the big challenge that we have in our defensive front is numbers. Actual numbers on the field."
Melton
The Cowboys love what
George Selvie
, a training camp pickup last summer, did in 2013 (seven sacks). They think he'll be better if he plays fewer snaps. They love what
Nick Hayden
did as a starter in 2013, but they think he'll be better if he plays fewer snaps.
While the Cowboys have thrown numbers at the D-line, they have not thrown cost. Melton carries the biggest cap number at $1.734 million.
But are the Cowboys better on the line? Spencer and Melton are not guaranteed to be ready for the start of training camp; both are recovering from knee injuries. McClain and Mincey have been complementary players. Selvie has to prove he is more than a one-year wonder. Crawford is coming off a torn Achilles. Lawrence will be making a big adjustment to the NFL.
A year ago at this time, on paper, Jones believed the Cowboys were stocked to make the switch to the 4-3. Then the season happened and the Cowboys were "a team that just flat was bankrupt in the defensive line last year," Jones said. "We're much better than what we played with."
Now, at least the Cowboys have given defensive coordinator Rod Marinelli options.
"We certainly know that is Rod's goal, having those players biting at each other's heels, fighting and competing," Jones said. "Our plan is to get numbers on the field."
May, 10, 2014
5/10/14
7:46
PM ET
»
NFC wrap-ups
:
East
|
West
|
North
|
South
»
AFC
:
East
|
West
|
North
|
South
IRVING, Texas – A wrap-up of the
Dallas Cowboys
draft.
Click here
for a full list of Cowboys' draftees.
[+] Enlarge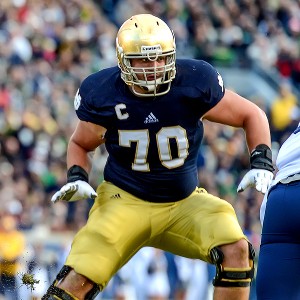 Robin Alam/Icon SMIZack Martin was the right choice for the Dallas Cowboys in the first round.
Best move:
In taking
Zack Martin
with the 16th pick in the first round with
Johnny Manziel
staring at them in the face, the Cowboys made a football decision. Bravo. It did not directly help a defense that ended last in the NFL in 2013, but indirectly it could make the defense better. If the Cowboys are better along the offensive line, they can do a better job closing out games by running the ball and the defense would be on the sidelines watching. Martin started 52 games at left tackle at Notre Dame but will move to guard, most likely for
Mackenzy Bernadeau
, this year. He is the third offensive linemen the Cowboys have drafted in the first round in the last four seasons. The Cowboys hit on tackle
Tyron Smith
(2011) and center
Travis Frederick
(2013) and if they hit on Martin, they will make Tony Romo's life much easier. Jason Garrett said teams win games up front, but he has been reluctant to run the ball and Scott Linehan's offense in Detroit was pass happy. The Cowboys do not have to become a ground-and-pound team but they will have to do a better job of finishing games with the run.
Riskiest move:
The Cowboys entered the draft knowing they needed a right defensive end. When they went with Martin in the first round, the need increased, so they were willing to overpay some by giving the
Washington Redskins
their second (47th) and third (78) picks in order to move to the 34th pick to take Boise State defensive end
Demarcus Lawrence
. With how the draft fell, they had a chance to stick at their picks and take defensive linemen anyway, but none with the elite talent they believe Lawrence has to affect the quarterback. Moving up is always dangerous. The last time the Cowboys moved up significantly in a round was in 2012 when they took
Morris Claiborne
in the first round. Through his first two seasons, the Claiborne move has not paid off.
Most surprising move:
Most of the draft experts had linebacker
Anthony Hitchens
as a late-round pick, but the Cowboys took him in the fourth round, No. 119 overall. He was Iowa's defensive MVP in 2013 and led the team in tackles for two seasons with 112. He could play inside linebacker as Sean Lee's backup and be a special teams stalwart early on. The Cowboys defense is predicated on speed and he ran a 4.7 at the scouting combine. But he was productive. He had an eye-catching 13.5 tackles for loss as a senior.
File it away:
The Cowboys came into the draft needing to find help for a defense that finished last in the NFL in 2013. The Cowboys ended up with nine picks and took seven defenders to potentially help Rod Marinelli make over the unit in 2014. Five of those picks came in the seventh round, so some expectations need to be tempered, but the Cowboys were able to find a defensive end in
Ben Gardner
, a linebacker in
Will Smith
, a safety in
Ahmad Dixon
, a defensive tackle in
Ken Bishop
and defensive back
Terrance Mitchell
. If the Cowboys can find three players to fill roles out of that group, they should be happy.