September, 8, 2011
9/08/11
11:09
AM ET
Cool note from ESPN Stats & Information: First-year
San Francisco 49ers
coach Jim Harbaugh is the last quarterback other than
Peyton Manning
to start a regular-season game for the
Indianapolis Colts
.
That will change when
Kerry Collins
replaces an injured Manning in the Colts' lineup for Week 1.
The first preseason game I covered as an NFL beat reporter featured Manning making his first start against the
Seattle Seahawks
in the Kingdome. His very first pass found
Marvin Harrison
for a 49-yard touchdown. Preseason games are generally without much meaning, but could there have been a more fitting beginning for Manning?
For a fuller appreciation of Manning's durability and consistency in starting 227 consecutive games, I went through Pro Football Reference counting how many quarterbacks had started for current NFC West teams since Manning made his regular-season debut. There have been 48. That figure includes 14 for the
St. Louis Rams
, 13 for the 49ers, 11 for the
Arizona Cardinals
and 10 for the Seahawks.
A few notes on the 48 players to start for current NFC West teams since 1998:
There have been two Brocks (Berlin, Huard), two Charlies (Frye, Whitehurst), two named Chris (Chandler, Weinke), two Jeffs (Plummer, Martin), three Johns (Friesz, Navarre, Skelton), one Jon (Kitna), two Matts (Hasselbeck, Leinart), two Shauns (Hill, King), three Steves (Young, Bono, Stenstrom) and two Trents (Dilfer, Green).
Two, Young and Warren Moon, have been enshrined in the Pro Football Hall of Fame since Manning's streak began.
Dilfer and Warner started for more than one current NFC West team since Manning's streak began. Warner started 57 games for Arizona and 50 for St. Louis. Dilfer started 12 for Seattle and six for San Francisco.
Hasselbeck has the most total starts for current NFC West teams with 131, followed by Marc Bulger (95 for St. Louis), Jake Plummer (73 for the Cardinals) and Jeff Garcia (71 for the 49ers).
Smith -- Alex, not Troy -- owns the most starts among current NFC West players with 50, all for San Francisco.
Eight of the 48 were one-and-done as starters: Berlin, Scott Covington, Ty Detmer, Glenn Foley, Friesz, Frye, Navarre and Weinke. Nineteen have made at least 10 starts.
The NFC West will have two starters new to the division in Week 1:
Tarvaris Jackson
and
Kevin Kolb
.
The chart shows start totals by team for the 48. The NFC West changed membership with realignment in 2002. I'm going back to 1998 for the four teams currently in the division.
October, 29, 2010
10/29/10
4:00
PM ET
»
NFC Final Word
:
East
|
West
|
North
|
South
»
AFC
:
East
|
West
|
North
|
South
Five nuggets of knowledge about Week 8:
Too early to sit down Hall.
Kurt Warner
generously said he saw a little of himself in new
Arizona Cardinals
quarterback
Max Hall
. That was before Hall played in a game. Hall hasn't led a touchdown drive in any of
his 25 possessions
. Warner, meanwhile, tossed 21 touchdown passes with only three interceptions in his first eight NFL starts. Even so, the Cardinals are right to stick with Hall in Week 8 amid
negative reviews
. Once the Cardinals made the decision to give Hall a chance, they needed to give him more than two games. Hall does own a 1-1 starting record. There's a decent chance that record will hit 2-1 after facing Tampa Bay. Plenty of time remains to bench Hall if he doesn't improve. It could happen Sunday if Hall falters.
[+] Enlarge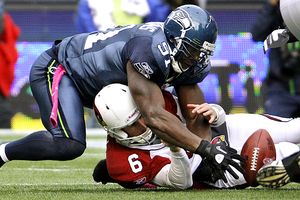 AP Photo/Elaine ThompsonChris Clemons returned to Oakland, where he had his best season as a pass-rusher in 2007.
Oakland homecomings.
The Seahawks' game at Oakland could mean a little more to three of Seattle's most significant players. Running back
Marshawn Lynch
, acquired from Buffalo, grew up in Oakland and sports an "OAKLAND" tattoo across his chest.
Mike Williams
, the Seahawks' leading receiver, started one of the six games he played for the Raiders in 2007. Defensive end
Chris Clemons
set a career season high with eight sacks for the Raiders, also in 2007. Clemons already has 5.5 sacks in six games since the Seahawks acquired him from Philadelphia. That puts Clemons on pace for 14.5 sacks. Oakland has allowed seven in its past two home games (and only four in its past two road games).
Troy Smith, come on down.
Nine quarterbacks have started games for the
San Francisco 49ers
since the team last posted a winning record in 2002. Troy Smith becomes the 10th when the 49ers face the
Denver Broncos
in London. The others, ranked by most starts:
Alex Smith
,
Shaun Hill
,
Tim Rattay
,
Jeff Garcia
,
Ken Dorsey
,
J.T. O'Sullivan
,
Trent Dilfer
,
Chris Weinke
and
Cody Pickett
. Four threw more touchdowns than interceptions during that time: Hill (23-11), Rattay (22-18), Garcia (18-13) and Weinke (1-0). None owns a higher rating in those games than Hill (87.3). Carr is the only 49ers quarterback since 2003 to attempt passes for the team without starting a game, according to
Pro Football Reference
.
Saluting Isaac Bruce.
The Rams are honoring one of their all-time greats, Isaac Bruce, during a ceremony before the game. Unfortunately for rookie quarterback
Sam Bradford
, Bruce might be good enough in retirement to help the Rams against Carolina in Week 8. Bradford badly missed injured receiver
Mark Clayton
when the Rams needed to make a play in the second half against Tampa Bay.
Danario Alexander
provided a short-term spark, but his knee is bothering him and he might not play Sunday.
Danny Amendola
has turned into a solid option from the slot, but Bradford needs more targets. With Bruce in the building and
Steve Smith
returning to the Panthers' lineup last week, top-flight receivers will be everywhere in the Edward Jones Dome except where the Rams need one most: in a St. Louis uniform.
Must-win for the Rams.
Sure, it's only Week 8, but after squandering opportunities in close defeats to beatable opponents (Arizona, Oakland and Tampa Bay), the Rams are just about finished with the easier portion of their schedule. Losing at home to the 1-5 Panthers could send this team plummeting following its bye week. The Rams play four of five games on the road following their Week 9 bye. The lone home game falls against Atlanta, arguably the best team in the NFC.
April, 29, 2009
4/29/09
12:31
PM ET
| | |
| --- | --- |
| | |
| | Dave Stephenson/Icon/SMI |
| | Cleveland spent its first-round draft pick on California center Alex Mack. |
Posted by ESPN.com's James Walker
BEREA, Ohio -- There are two primary reasons center Alex Mack became the first pick of the Eric Mangini era with the Cleveland Browns.
Casey Hampton is one reason; Haloti Ngata is the other.
As the Browns try to play catch-up in the AFC North, they must first close the gap in the trenches with the defending Super Bowl champion Pittsburgh Steelers and AFC rival Baltimore. Cleveland was 0-4 against those two teams last season, losing by a combined score of 106-43, primarily because they were physically manhandled on offense.
Realizing this, the new regime in Cleveland had no reservations making a center its signature pick of the 2009 NFL draft. Mack was widely regarded as the best interior lineman available. The Browns coveted him so much that they opted to trade out of the No. 5 overall pick, then trade two more times before taking the University of California product at No. 21 -- a little higher than most projected.
If Mack begins his pro career by pushing around huge 3-4 nose tackles such as Ngata and Hampton next season and instantly brings smashmouth football back to Cleveland, no one will care how early he was picked.
"I pride myself at being an aggressive run blocker," said Mack, who is listed as 6 feet 4, 311 pounds. "I think that's a fun thing to do when you get to run the ball and really get to impose your will on a defense."
February, 10, 2009
2/10/09
8:30
AM ET
Posted by ESPN.com's James Walker
Here are the most interesting stories Tuesday in the AFC North:
Morning take: This is the first sign of change for new coach Eric Mangini. Perhaps more are on the way.
Morning take: This is just the business side of football. Lewis has options and he knows it. It doesn't mean he wouldn't love to return to Baltimore.
Morning take: If Cincinnati loses kicker and pending free agent Shayne Graham, it could get even worse.
Morning take: I'm not sure why Roethlisberger would say this now, especially since the team is denying knowledge of it. But it could also be a subtle cry for help.
December, 16, 2008
12/16/08
12:36
AM ET
Posted by ESPN.com's Matt Mosley


Don't underestimate what the Eagles did Monday night against the Browns. They've had a penchant for allowing inferior teams to stay in games with them -- or even tie them. But in a 30-10 victory, the Eagles imposed their will on the Browns from the start.
They exposed backup quarterback Ken Dorsey early and were able to keep the ball for nearly 38 minutes. Last week, Andy Reid depended on the running game to beat the Giants. But on Monday, he turned Donovan McNabb loose, and the quarterback responded with a superb effort. He was 26 of 35 for 290 yards, two touchdowns and an interception. McNabb has thrown seven touchdowns and only the one interception in the three games since he was benched against the Ravens.
After Monday's game, he told ESPN once again that he didn't like being the "scapegoat" three weeks ago, but you can't argue with the results following the benching. Against a pretty good secondary, McNabb was able to fit the ball into some very tight spots. He completed passes to nine different players and Jason Avant had 101 yards receiving. McNabb waited for the Browns to line up in Cover 3 and then he started working the cornerbacks over.
Westbrook only had 16 carries for 53 yards -- and that may have been by design. Coming off a 33-carry game, Reid didn't want to push Westbrook. With the Eagles up 17-3 at halftime, the Browns didn't have a legitimate shot at a comeback.
The Browns have no running game and their passing game relies too heavily on Braylon Edwards. In the past, the Eagles have messed around against bad teams. On Monday, they scored on five of their first seven drives and didn't have to punt until the game had already been decided. If Philadelphia can get past a fading Redskins team at FedEx Field on Sunday, they'll be 9-5-1 heading into the final game of the season against the Cowboys.
We often complain about teams tanking games at the end of the season in order to avoid injuries. It would be nice to see the Cowboys and the Eagles playing for a single playoff spot.
On defense, linebacker Stewart Bradley had a big game with six tackles and a key interception and Asante Samuel had an interception and his first touchdown as an Eagle. Trent Cole and Quintin Demps each had sacks, but the Eagles' defense didn't spend much time on the field.
The Browns were 3 of 12 on third downs and were held to 196 total yards. It was a dominating performance for the Eagles. Now, it's time to focus on the Redskins.
December, 15, 2008
12/15/08
11:37
PM ET
Posted by ESPN.com's James Walker


PHILADELPHIA -- If the players are still fighting for Cleveland Browns head coach Romeo Crennel, it's very difficult to tell.
The Browns put together their fourth consecutive listless performance during a 30-10 loss to the Philadelphia Eagles on "Monday Night Football." A nationwide audience got to see the train wreck Cleveland (4-10) has become since its head coach and many others within the organization have come under fire.
Cleveland had no chance against the surging Eagles (8-5-1) with a porous defense and a third-string quarterback in Ken Dorsey (156 yards, two interceptions). The Browns have gone four consecutive weeks without an offensive touchdown, as cornerback Brandon McDonald recorded a "pick six" in the fourth quarter.
The loss broke Cleveland's two-game winning streak on "Monday Night Football." The Browns will finish their season against two division rivals in the Cincinnati Bengals and Pittsburgh Steelers.
December, 15, 2008
12/15/08
10:00
PM ET
Posted by ESPN.com's James Walker
PHILADELPHIA -- The rout is on at Lincoln Financial Field.
The Philadelphia Eagles have been dominant, marching up and down the field and taking a 17-3 lead in the second quarter.
Cleveland Browns quarterback Ken Dorsey is being battered for the second straight week. He gave up a "pick six" to Eagles cornerback Asante Samuel, has been sacked once, and hit several more times.
You wonder if the Browns are due for a quarterback change in the second half? The team signed Bruce Gradkowski recently and hasn't scored an offensive touchdown since Nov. 17.
Posted by ESPN.com's James Walker
| | |
| --- | --- |
| | |
| | Geoff Burke/US Presswire |
| | Ed Reed created three turnovers in Sunday's 24-10 win over the Redskins. |
It was an exciting weekend of games in the AFC North.
Here are seven observations from Week 14:
This could be the finest season to date for Pittsburgh Steelers cornerback Ike Taylor. He had another great game, often with help over the top, in holding Dallas Cowboys Pro Bowler Terrell Owens to just three catches for 32 yards and a touchdown in Sunday's 20-13 victory for Pittsburgh. Even on the touchdown Taylor allowed to Owens, Taylor covered well until quarterback Tony Romo bought a lot of time and made a terrific throw on the run to beat the coverage.
The biggest concern for Pittsburgh right now has to be the team's struggles to find a consistent running game. That was something the Steelers always could rely on in the past. But now tailbacks Willie Parker, Mewelde Moore and Gary Russell are joining the rest of the offense as hot-and-cold players. Against Dallas, all three tailbacks combined for just 53 yards on 21 carries. It was particularly uncharacteristic to see Pittsburgh not punch it in on third-and-goal and fourth-and-goal from Dallas' 1-yard line. This is something to monitor closely as the Steelers attempt to make a deep postseason run.
With the physical ailments Baltimore Ravens safety Ed Reed (shoulder, neck) is dealing with this year, he is making it up twofold in mental ability. Reed is arguably the smartest defensive player in the NFL and known as a gambler in the secondary. This year, Reed seems to guess right on most chances he takes. Reed single-handedly created three turnovers in a 24-10 win over the Washington Redskins by going in for a strip, which caused a fumble, and picking off two passes by reading the eyes of Redskins quarterback Jason Campbell.
Despite its offensive turnaround this year, Baltimore is not running the ball as effectively as it would like. The three-headed monster of Willis McGahee, Le'Ron McClain and Ray Rice has had breakout games, but as a team the Ravens are averaging just 3.8 yards per carry. Only Rice (4.1) is above four yards per carry this season, which is ideal for a running back.
After one start this year, it is clear that Cleveland Browns starting quarterback Ken Dorsey's lack of arm strength is his biggest weakness. Dorsey is a smart quarterback who knows the offense as well as any player on the team. He knows the play and where to go with the football. But there were so many occasions in Sunday's 28-9 loss to the Tennessee Titans where Dorsey didn't have the physical ability to make the proper throws that Cleveland needed to score points. The Browns had short fields on several occasions against Tennessee and settled for field goals.
Speaking of field goals, in our estimation Browns head coach Romeo Crennel showed another lapse in game-management Sunday. The Browns were down 15 points in the fourth quarter, which makes it a two-possession game. They were on Tennessee's 22-yard line on fourth down and elected to kick a field goal to make the score 21-9. This essentially makes a two-possession game a three-possession game because the Browns still need two scores. In fact, Cleveland needed a pair of touchdowns whether the team kicked the field goal or not. So why not go for the touchdown while deep in Titans territory?
The Bengals are clearly outmanned, but in the NFL it is difficult to be outscored 69-6 in two games. You wonder if there is any fight left in this team? There are other basement teams around the league like the Seattle Seahawks (2-11), Kansas City Chiefs (2-11) and Detroit Lions (0-13) that are still fighting week to week. But Cincinnati appears to be the most disinterested team in the league down the stretch.
December, 7, 2008
12/07/08
4:27
PM ET
Posted by ESPN.com's James Walker


New quarterback, same old results.
The Ken Dorsey era got underway for the Cleveland Browns Sunday but he, too, looked shaky in Sunday's 28-9 loss to the Tennessee Titans. Dorsey is the third starting quarterback for Cleveland this season and he completed 22-of-43 passes for 150 yards and one interception.
With its remaining schedule, Cleveland (4-9) would be fortunate to win more than one game the rest of the season. The Browns play the Philadelphia Eagles (7-5-1) on "Monday Night Football," followed by AFC North division games against the Cincinnati Bengals and Pittsburgh Steelers.
Another double-digit losing season would be the third in four years under the regime of head coach Romeo Crennel and general manager Phil Savage. It is expected that Crennel is already out after this season. Savage's status continues to be up in the air.
But the way the Browns are finishing out the season doesn't help either party in the eyes of owner Randy Lerner.
December, 7, 2008
12/07/08
2:41
PM ET
Posted by ESPN.com's Paul Kuharsky
NASHVILLE, Tenn. -- The crowd at LP Field is a little drowsy as they've watched a quick but largely uneventful first half. The Titans haven't been very flashy, but they'll take methodical any time they have a choice.
The crowd has perked up a little at halftime as contestants are trying to throw footballs through a giant tire at midfield.
It's 14-6 at the half and certainly feels as if the home team has taken control.
My biggest impression: The Titans are clearly comfortable allowing their defensive backs to cover without a lot of help. Tennessee has brought additional rushers at quarterback Ken Dorsey as much as I've seen this season. (That's especially encouraging when you consider both Cortland Finnegan and Nick Harper were limited by leg injuries this week).
Tennessee's pass rush has been effective as the third-string quarterback forced into action by injuries to the team's two primary quarterbacks hasn't had time to establish any sort of real rhythm. He's 8-for-16 for 61 yards.
Titans quarterback Kerry Collins, too, has faced a pretty consistent rush, but the Titans' ability to run the ball and use play action has helped neutralize it. He is 9-for-16 for 127 with a pick and a TD on a great fourth-down call.
December, 5, 2008
12/05/08
4:58
PM ET
Posted by ESPN.com's Paul Kuharsky
Cincinnati Bengals (1-10-1) at Indianapolis Colts (8-4), 1 p.m. ET



Peyton Manning didn't throw a touchdown pass last week in Cleveland.
That's bad news for the Bengals.
Since 2000, and not counting games at the end of the season that didn't have meaning because the Colts had sewn up their playoff position, Manning is 11-1 in games after he didn't throw a touchdown pass, with 29 touchdown passes and only six interceptions.
The Colts have won five in a row, all by six points or fewer. If they win this one by six or fewer, they'll be the first team ever with such a six-game streak.
Can the Bengals put up that sort of resistance? They've been outscored by an average of 13.2 points a game.
Tidbits: Bengals tight end Ben Utecht spent the last three seasons with the Colts ... Playing for the Titans, Antwan Odom had two sacks in his most recent game against the Colts, both of Jim Sorgi ... Odom (shoulder) and Utecht (foot) will be miss Sunday's game ... Marvin Harrison caught three touchdown passes the last time he played against the Bengals, on Dec. 18, 2006.
Houston Texans (5-7) at Green Bay Packers (5-7), 1 p.m. ET



The Packers are 1-4 since their bye week and have allowed 86 points and eight rushing touchdowns over the last two weeks.
Those numbers could bode well for Houston. Rookie running back Steve Slaton has been super-productive in his last three games with 56 carries for 359 yards -- that's 6.4 yards per carry -- to go with three touchdowns. He's 96 yards away from 1,000. He'll be taking handoffs from Matt Schaub, back at quarterback after a four-game layoff recovering from a knee injury.
Houston has won two in a row and looks for its second three-game win streak of the season.
Tidbits: In his only game against the Packers, receiver Andre Johnson caught six passes for 107 yards ... Mario Williams is third in the NFL since 2007 with 25 sacks ... Houston was 3-1 in December last year, while the Packers have won seven of their last eight games in the month.
Jacksonville Jaguars (4-8) at Chicago Bears (6-6), 1 p.m. ET



Since 2000, running back Fred Taylor leads the NFL with 13 100-yard rushing games against the NFC. But he's averaging less than 42 yards a game this year and the way the Bears have played the run, it seems unlikely Taylor or Maurice Jones-Drew, who has six rushing TDs in his last five games, will break out. In nine games against teams other than the Vikings or Packers, Chicago has allowed 59.2 ground yards a game and 2.6 yards a carry.
Jacksonville quarterback David Garrard hasn't been on the injury report this week, but he has been banged up. He's fared well in his career against NFC teams with a 7-1 record, and in his last four he has a 96.8 passer rating. However, he's been sacked 11 times in his last three games.
Tidbits: The Jaguars will start Drayton Florence at cornerback in place of Rashean Mathis, who's out for the season with a knee injury, and William James could play as the nickelback ... Chicago leads the NFL with 26 takeaways and Jacksonville has 18 giveaways ... When he last played against Jacksonville, as a Miami Dolphin in 2003, defensive end Adewale Ogunleye had three sacks and a forced fumble.
Cleveland Browns (4-8) at Tennessee Titans (11-1), 1 p.m. ET



The Titans clinch the AFC South with a win or a Colts loss to Cincinnati, and clinch a first-round bye with a win and a Jets loss at San Francisco.
At plus-13, Tennessee is the league's best takeaway/giveaway team and Cleveland is tied for fifth at plus-6.
December football for the Titans means forcing the issue with the run. Against Cleveland's 3-4 and nose tackle Shaun Rogers, they will look to build on this: Since 2007, the Titans are 18-3 in games where they record 30 or more rushes. Rookie Chris Johnson will key the attack.
Most rushes of 10 or more yards in 2008:
1) Michael Turner, Atlanta, 33
2) Adrian Peterson, Minnesota, 32
3) Clinton Portis, Washington, 29
4) Thomas Jones, NY Jets, 27
5) Chris Johnson, Tennessee, 25
6) Marion Barber, Dallas, 23
Brandon Jacobs, NY Giants, 23
Marshawn Lynch, Buffalo, 23
Derrick Ward, NY Giants, 23
DeAngelo Williams, Carolina, 23
The Browns will start Ken Dorsey at quarterback, their third different starter this season. The only other teams to use three starters this year -- Kansas City, Seattle and Detroit are a combined 4-32.
Tidbits: The Browns have won the last three meetings ... Titans linebacker Keith Bulluck will start his 110th consecutive game. He needs five tackles for his seventh consecutive season over 100 ... Rob Bironas has a league-high 14 field goals from 40 yards or longer this season, but not one attempt from 50 or longer.
December, 2, 2008
12/02/08
10:35
AM ET
Posted by ESPN.com's Paul Kuharsky
Good morning from Houston, where I have sifted through the headlines to give you an easy click-and-read opportunity to see what's been written.
The AFC South blog will soon be on the way back to Nashville and I'll bring you more from the division when I get back.
We've had a two-week hiatus on the chat, so put Thursday's in your date book: 3:00 p.m. right here.
Houston Texans
Indianapolis Colts
Jacksonville Jaguars
Tennessee Titans
November, 30, 2008
11/30/08
5:40
PM ET
Posted by ESPN.com's James Walker
| | |
| --- | --- |
| | |
| | Tony Dejak/AP Photo |
| | Cleveland quarterback Derek Anderson is helped off the field in the fourth quarter of the Browns 10-6 loss to Indianapolis after suffering a season-ending knee injury. |
CLEVELAND -- For those who think Browns quarterback Derek Anderson's season-ending knee injury in Sunday's loss to the Indianapolis Colts was no big deal, think again.
Yes, the Browns season is over. Yes, Anderson was not the long-term solution. But this injury hurts both his trade value and the job status of Cleveland's coaching staff and front office.
With Brady Quinn penciled in as the starter in 2009, the Browns are expected to entertain trade offers for Anderson this offseason. He is owed a $5 million roster bonus in March, which is an expensive cost for a backup.
But now Anderson is damaged goods, coming off a knee injury and a bad year, which means the Browns won't get much for him. Right now a second- or third-rounder is optimistic. Maybe a fourth- or fifth-round pick is more likely.
Just several months ago the Browns could have sold high and traded Anderson for a first- and third-round pick. But the front office and the coaching staff desperately wanted Anderson to return for at least one more season.
Now those same coaches and front office workers who made that decision could be facing a stiff penalty.
The harsh truth is the Browns (4-8) are not going to win many games with third-string quarterback Ken Dorsey. Cleveland could be in line now for a 4-12 season, which for a team with playoff expectations, could force Browns owner Randy Lerner to make major changes in 2009.