July, 11, 2014
Jul 11
10:00
AM ET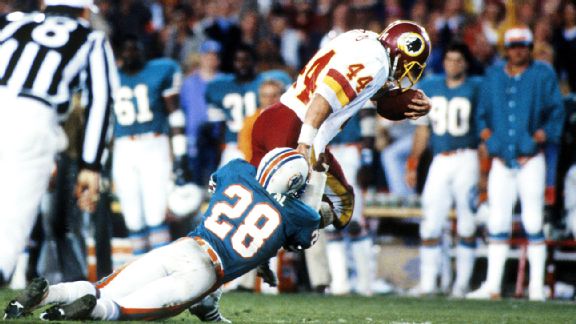 Manny Rubio/USA TODAY Sports
Score:
Redskins 27, Dolphins 17
Date:
Jan. 30, 1983.
Site:
The Rose Bowl, Pasadena, California
From the moment this project was announced, and before I tweeted a word on it, there was only one play in my mind that deserved top billing. When a team hasn't won an NFL title in more than 40 years ... and it trails by four points in the ultimate game ... and it's fourth-and-1 ... and the running back goes the distance? How exactly do you top that?
Fortunately and wisely, the fans agreed with my take. Which is why John Riggins' touchdown run against Miami in Super Bowl XVII was the runaway choice for the top spot. Riggins' run received 76 percent of the more than 30,000 votes and was solidly ahead shortly after the choices appeared on the blog.

Thing is, there were a few choices that didn't even make the list: Mark Moseley's 42-yard field goal in the snow to clinch a playoff spot in 1982; Clint Longley's bomb on Thanksgiving Day (not all memories are good ones); Sean Taylor's return of a blocked field goal attempt in the final seconds that led to a winning Redskins field goal over Dallas; Ken Houston's stop of Dallas running back Walt Garrison at the goal line; Joe Theismann's broken leg; and either of the two Santana Moss touchdown catches in the Monday night comeback win over Dallas. There are others as well.
But the right three were on the board. A Hall of Famer in Darrell Green making one of the biggest plays of a 20-year career. That garnered 16 percent of the vote. A clinching touchdown on an unlikely play -- an interception return by defensive tackle Darryl Grant -- to win the NFC Championship Game at home, providing a moment that likely still brings chills to those in attendance. But it wasn't big enough, receiving just 8 percent of the votes.
Riggins' run happened in the ultimate game. It happened on a fourth down. It gave Washington the lead. Shall I keep going? Based on the votes, the answer is no. You got it. And you got it right.
@john_keim These are great memories, but the list is (1) 70 Chip with John Riggins in Super Bowl and (2) everything else :)

— Dave Scarangella (@DullesDistrict) July 10, 2014
May, 19, 2012
5/19/12
9:00
AM ET
There's little sense in taking the bait when
San Francisco 49ers
coach Jim Harbaugh tells a radio program
Michael Crabtree
"
has the best hands I've ever seen
on a wide receiver."
Anyone with a strong grasp of NFL history would place Cris Carter, Raymond Berry and Steve Largent on a short list for receivers with the surest hands.
Hall of Famer Ken Houston, speaking for
a 2008 piece
on all-time great wideouts, stood up for AFL stars Otis Taylor and Lionel Taylor.
"Lionel Taylor, I mean, he would catch a BB," Houston said.
Green Bay Packers
general manager Ted Thompson, speaking for the same piece, said
Randy Moss
, then with New England, had the best hands in the NFL at that time (2008).
"A lot of guys can catch," Thompson said then. "He can catch on any platform, as we say in scouting. He can adjust and catch it over the top of somebody's head, catch it falling down, and it doesn't matter if he is covered."
With Moss now on the 49ers, it is possible Crabtree does not posses the best hands among wide receivers on his own team.
Oops. I wasn't going to take the bait on this one, but now it's too late. Time to regroup.
Bottom line, I suspect Crabtree has impressed Harbaugh this offseason, and Harbaugh would like that to continue for as long as possible. By offering such strong public praise for Crabtree, Harbaugh is setting a standard for Crabtree to meet this season. He realizes Crabtree has the ability to meet that standard, or else he wouldn't make the statement.
We should all recall Harbaugh's calling quarterback
Alex Smith
"elite" and promoting him for the Pro Bowl last season. Then as now, Harbaugh was standing up for his guy. Smith enjoyed the finest season of his career and even outplayed the truly elite
Drew Brees
at times during the 49ers' playoff victory over New Orleans. The way Harbaugh backed Smith played a role in that performance, in my view.
Back to Crabtree. He has the ability to rank among the most sure-handed receivers in the game. He has not yet earned that status, but now he has little choice, right?
As the chart shows, Crabtree finished the 2011 season with 12.2 receptions per drop, which ranked 28th in the NFL among players targeted at least 100 times.
Larry Fitzgerald
led the NFL with 80 receptions and only one drop. Those numbers are according to ESPN Stats & Information, which
defines drops
as "incomplete passes where the receiver should have caught the pass with ordinary effort."
Crabtree suffered six drops last season by that standard, a few too many for the player with the best hands his head coach has ever seen on a wide receiver.
August, 1, 2011
8/01/11
3:57
PM ET
ESPN's famous NFC West alumnus, Steve Young, calls the retiring Randy Moss one of the all-time greats ... but also someone who should have challenged Jerry Rice.
"Jerry got every ounce out of everything that he had, every day," Young said. "If we had gotten all of Randy Moss every year, all his whole career, I think he'd be knocking on the door of Jerry Rice."
Moss ranked second only to
Rice
in
the 2008 piece
we put together ranking the greatest receivers. Raymond Berry, Boyd Dowler, Mike Holmgren, Ken Houston, Warren Moon, Keyshawn Johnson and Ted Thompson were panelists.
July, 8, 2010
7/08/10
12:00
PM ET
A weeklong look at current or former players or coaches with Hall of Fame potential in the division.
Buffalo Bills:
Steve Tasker
, special teams.
Claim to fame:
Tasker perhaps is the greatest special-teams ace in NFL history. He was a notable weapon on Buffalo's four consecutive AFC championship teams in the 1990s.
Case for enshrinement:
Tasker was so dominant in his role, the NFL changed its Pro Bowl rules to include special-teamers on rosters. He went to seven Pro Bowls, putting him in select company, and was named the MVP in 1993. He has been a semifinalist on the Hall of Fame ballot four times. The NFL Network named him the
ninth-best player -- of any position -- not in the Hall of Fame
.
Tasker blocked seven punts and made 204 special-teams tackles. He forced seven fumbles and recovered six. He returned kickoffs, punts and held on extra points and field goals. As a receiver, he caught 51 passes for 779 yards and nine touchdowns.
Case against enshrinement:
Special-teamers just don't get enshrined. Kicker Jan Stenerud is the only pure special-teamer with a bust. Legendary punter Ray Guy isn't in. No return specialist has been honored, either.
The common retort to that is one of the silliest sayings in football: Special teams are one-third of the game. Sorry, but that's not true. If each team plays a perfect defensive game and forces the opponent to go three-and-out on every possession, then special teams are needed once every four plays. And if football people truly believed special teams were that integral to the game, they would draft special teamers rather than fill out those units with offensive and defensive reserves.
Parting shot:
I'd like to see more special-teamers recognized in Canton. But unless there's a substantial change in selection philosophies, Tasker won't make it into the Hall of Fame.
Miami Dolphins:
Jake Scott, safety.
[+] Enlarge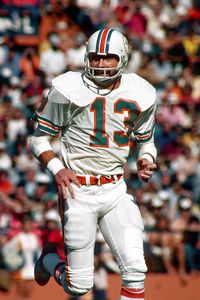 Malcolm Emmons/US PresswireMiami's Jake Scott was the MVP of Super Bowl VII.
Claim to fame:
Scott was among the greatest safeties and most dangerous punt returners of the 1970s. He was voted MVP of Super Bowl VII, when the Dolphins closed out their undefeated season.
Case for enshrinement:
Scott is one of the most overlooked players in NFL history. His career was relatively short, but it burned brightly. For five years in a row, starting with his second season, Scott went to the Pro Bowl and was named first- or second-team All-Pro.
Despite playing only nine NFL seasons, Scott recorded 49 interceptions, a total that ranked 18th all time when he retired. Hall of Fame safety Ken Houston played 14 seasons and finished with the same total. Scott still holds the Dolphins record with 35 interceptions. He added 14 more in three seasons with the
Washington Redskins
. Scott recovered 13 fumbles in his career.
He also was a slick punt returner. He holds Miami career records in returns and yardage and ranks third in average.
Case against enshrinement:
There's a stigma that comes with playing on the No-Name Defense. Only one player from that great unit, linebacker Nick Buoniconti, is in the Hall of Fame, and his cause certainly was helped by previous work with the Boston Patriots and by remaining in public view as a broadcaster.
Scott, meanwhile, became a recluse. He moved to Hawaii and for a time avoided attention at all costs. He reportedly declined the chance to be inducted into the College Football Hall of Fame because he wouldn't commit to attending the ceremony.
Also working against Scott, who never has made the cut to 15 modern-day finalists, is the dearth of safeties enshrined in Canton. Only seven have been inducted.
Parting shot:
Scott didn't play long enough to get traditional consideration. His best hope would be through the senior committee.
New England Patriots:
Adam Vinatieri
, kicker.
Claim to fame:
If Vinatieri is not the greatest clutch kicker in NFL history, then he's in a short conversation. He won the Patriots' first two Super Bowls with field goals in the final seconds.
Case for enshrinement:
Vinatieri has kicked for six Super Bowl teams, played in five Super Bowls and won four rings -- three with the Patriots and one with the
Indianapolis Colts
. He directly delivered a pair of Lombardi Trophies for the Patriots. He kicked a 48-yarder as time expired to win Super Bowl XXXVI and a 41-yarder with four seconds left to win Super Bowl XXXVIII.
In blizzard conditions at the end of the infamous Tuck Rule game, Vinatieri kicked a 45-yard field goal with 1:39 left in regulation to force overtime and then won it with a 23-yard field goal.
Vinatieri has been an All-Pro twice. He has kicked a record-tying five field goals in a postseason game twice and owns multiple playoff and Super Bowl records. He has scored the most points for a kicker (34) in Super Bowl history and converted the most field goals (seven) and extra points (13). His 177 postseason points rank first.
Case against enshrinement:
Stenerud is the only true kicker in the Hall of Fame.
Morten Andersen
and
Gary Anderson
will have to get in first, and the idea of quadrupling the number of kickers (if you consider Vinatieri the next one inducted after Andersen and Anderson) won't be an easy sell to the voters.
Vinatieri has led the NFL in scoring and field goals once and probably won't finish with attractive enough career stats. At 37 years old and showing signs of slowing down -- he played six games for the Colts last season because of hip and knee surgeries -- and he ranks 15th in scoring and 13th in field goals made. Players such as
John Carney
,
Matt Stover
and
John Kasay
have more. Vinatieri has kicked almost 100 fewer field goals than
Jason Elam
. Nobody envisions Canton when they think of those guys.
Parting shot:
Vinatieri provided two of the most indelible memories in Patriots history. As his career stands now, however, two big kicks won't overcome the circumstances of his position.
New York Jets:
Joe Klecko, defensive lineman.
[+] Enlarge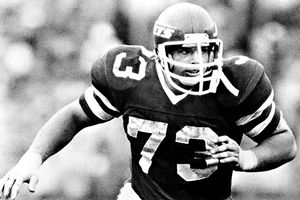 TSN/Icon SMIUnofficially, Joe Klecko recorded 20.5 sacks in 1981 as part of the New York Sack Exchange.
Claim to fame:
Klecko was a key member of the New York Sack Exchange defensive line. Many consider him the greatest Jet not in the Hall of Fame and one of the best sixth-round draft picks of all time.
Case for enshrinement:
Klecko was the first player to make the Pro Bowl at three positions. He went as a defensive end in 1981, a defensive tackle in '83 and '84 and a nose tackle in '85. To illustrate his importance, the Jets made his No. 73 the third number retired in club history after Joe Namath and Don Maynard.
Unlike the Fearsome Foursome or Purple People Eaters, the Sack Exchange doesn't have a single Hall of Fame representative. While Mark Gastineau's histrionics garnered the most attention, Klecko was the most complete player of the four. He was a dangerous pass-rusher and nasty against the run.
Klecko unofficially recorded 20.5 sacks in 1981 and notched at least one sack in 10 straight games, a franchise record.
Case against enshrinement:
What hurts Klecko is that he somehow remained relatively anonymous in New York. He was overlooked because he played thankless positions and was trumped by Gastineau's sack dances.
Klecko also played on some lousy teams. The Jets went to the playoffs only four times during his tenure (1977 through 1987). Once was in the strike-shortened 1982 season and he was hurt for the 1986 postseason.
Parting shot:
Klecko never has made the cut of 15 modern-era finalists. He might need to rely on the senior committee.
July, 8, 2010
7/08/10
12:00
PM ET
By
Matt Mosley
| ESPN.com
A weeklong look at current or former players or coaches with Hall of Fame potential in the division.
Cowboys
: Cliff Harris, free safety
[+] Enlarge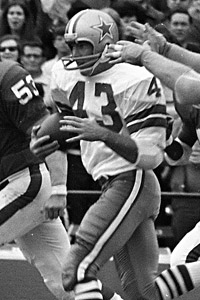 AP PhotoCliff Harris was the safety by which others were measured for years after he retired.
Claim to fame
: Member of the 1970s all-decade team. Wasn't drafted out of Ouachita Baptist University in Arkansas, but immediately won the free safety role. Nicknamed "Captain Crash," he was one of the most feared defenders in the game.
Case for enshrinement
: He was a finalist in 2004 and certainly deserves to be in the Hall. For years, safeties entering the league were compared to Cliff Harris. He was the rare player who was excellent against the pass but could also blow up running plays. He took Tom Landry's complicated flex defense and added his own spin. Harris, a highly intelligent player, finally made it into the club's hallowed Ring of Honor in 2004.
Harris studied opponents for hours at a time and he punished wide receivers who ventured over the middle. Cardinals great Larry Wilson, who's in the Hall of Fame, has said that Harris was the best safety he'd ever watched. Harris went to six Pro Bowls and he and Ken Houston were considered the best safeties from the '70s.
Case against enshrinement
: It's tough to build a case against Harris. But the fact that he had only 29 career interceptions probably works against him. Wilson had 52 and Houston finished with 49. Harris walked away from the game after the '79 season when he was still going to Pro Bowls (age 31). I'm sure he could have collected 10 to 15 more interceptions.
And those Super Bowl losses to the Steelers in the '70s didn't help matters. If the Cowboys win one of those games, they probably would have two or three more players in the Hall than they have. I think Harris would've been one of those players.
Bottom line:
In a lot of ways, Harris redefined how the safety position was played, and that should be rewarded by the selection committee.
Best player who will never make it:
For my money, it's Drew Pearson. His stats don't hold up in this era, but he played a huge role in Roger Staubach's success. And though he had only a couple of 1,000-yard seasons, he made clutch catches seemingly all the time. Ask Redskins fans from the '70s if they think Pearson belongs in the Hall of Fame.
Eagles:
Donovan McNabb
, quarterback
Claim to fame:
Took over as the full-time starter in 2000 and took the Eagles to five NFC title games and one Super Bowl in that decade. Has been selected to six Pro Bowls and has the fourth lowest interception percentage of all time. Became the first NFL quarterback to throw 30 touchdowns and fewer than 10 interceptions in 2004. The best quarterback in the history of the Eagles.
Case for enshrinement:
His numbers compare favorably to Hall of Famer
Jim Kelly
, who never won a Super Bowl. And McNabb put up monster numbers with average to subpar wide receivers (except for
Terrell Owens
).
DeSean Jackson
was a rookie when McNabb led the Eagles to the NFC title game in '08. Other than the Patriots, the Eagles were the most dominant team of the past decade and McNabb played a huge role in their success. McNabb also compares favorably to Hall of Famer
Steve Young
, although he's missing one very important piece of jewelry. McNabb's one of only six quarterbacks to pass for 25,000 yards and rush for 3,000. And his lower-body strength still makes him one of the most difficult quarterbacks in the league to sack. McNabb's lost some of his athleticism, but he still has a cannon for an arm.
Case against enshrinement:
Those five NFC title games we discussed? Well, the Eagles lost four of them. And it's not as if McNabb strung together excellent performances in those games. He'll also be remembered for throwing three interceptions against the Patriots in the Super Bowl following the '04 season. It was the beginning of the end of the McNabb-T.O. relationship.
I think McNabb will always be appreciated more by the national media more than the folks in Philly. Every game has been dissected, so Eagles fans simply got to know him a little too well. His career has honestly been more consistent than
Kurt Warner
's. But Warner has the ring and he finished strong with the Cardinals.
Bottom line:
Another trip to the Super Bowl would help his cause immensely, but he's already in the Canton conversation.
Best player who will never make it:
Wide receiver Harold Carmichael's numbers might not look special compared to
Randy Moss
and Owens, but he was an elite receiver from his era. His numbers completely trump Hall of Famer Lynn Swann's. Carmichael finished with 254 more receptions and 28 more touchdowns than Swann. Of course, Swann has the four rings and that's the biggest reason he's in Canton.
Giants:
Tiki Barber
, running back
[+] Enlarge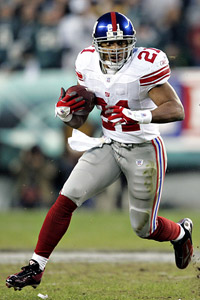 James Lang/US PresswireTiki Barber finished his career with five consecutive seasons of at least 1,200 yards rushing.
Claim to fame:
For the record, I'd originally chosen former defensive end
Michael Strahan
, but his "no-brainer" status for the Hall doesn't lend itself to a good argument. Barber may have left a sour taste with his early retirement, but he put up some impressive numbers. As Daily News columnist Gary Myers once pointed out, Barber may have left 3,000 yards on the table. He's the greatest running back for one of the most storied franchises in the league. Doesn't that count for something?
Case for enshrinement:
He finished strong with five consecutive seasons of at least 1,200 yards rushing. And his 15,632 yards from scrimmage (rushing and receiving) ranked him 10th on the league's all-time list upon his retirement following the '06 season. In 154 regular-season games, Barber averaged 101.5 yards from scrimmage per game. That puts him in an elite group with the likes of Walter Payton and
Barry Sanders
.
Barber led the franchise in all-time receptions with 586 at the time of his retirement. And he was still on top of his game when he walked away after '06 -- as evidenced by a 200-yard performance against the Redskins. He was the Giants' leading rusher in 80 consecutive games from 2002 until 2006, which speaks to his consistency.
Case against enshrinement:
Super Bowl rings talk, and Barber retired a season before the Giants broke through in '07. And he certainly left a lot of yards on the table when he walked away at age 31. There's a chance that he could've had at least two more highly productive seasons. Like
Emmitt Smith
, he had the ability to avoid the big hits that knock running backs out of games. Barber was one of the best backs in the league over his final five seasons, but I suspect that won't be enough. And it doesn't help that
Ricky Watters
is ahead of him on the all-time rushing list. Watters isn't getting in the Hall -- and Barber probably will meet the same fate. By the way, can any of you make a case against Strahan? I'd be interested to see what that looks like. I guess you could point out the fact that
Kevin Greene
has nearly 20 more career sacks. But that's about as far as I got.
Bottom line:
Barber's early retirement probably cost him a shot at the Hall.
Best player who will never make it:
I realize that
Phil Simms
has said he wouldn't elect himself, but I think he deserves honorable mention. He took a beating his first few years in the league and then had to deal with Bill Parcells, a man who chews up quarterbacks. What Simms did in Super Bowl XXI was remarkable. His 22-of-25 performance earned him the Super Bowl MVP. Simms was a huge part of Parcells' success with the Giants, so I'd have no problem with him being in the Hall of Fame.
Redskins:
Gary Clark
, wide receiver
[+] Enlarge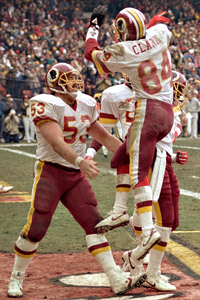 AP Photo/Scott StewartGary Clark caught 65 touchdowns during 11 NFL seasons.
Claim to fame:
He didn't have the longevity of
Art Monk
, but he was brilliant during his eight seasons with the Redskins. In the late '80s and early '90s, I thought he overtook Monk as the best receiver on the team. He could stretch the field with his speed, but he was also willing to go across the middle -- as evidenced by his annual appearances on the All-Madden team.
Case for enshrinement:
The thing that always jumps out at me is that Clark had 65 touchdowns in only 167 games. Art Monk's in the Hall of Fame with 68 touchdowns in 224 games. But I don't want to turn this into an anti-Monk argument. I think they probably both deserve to be in the Hall.
The fact that Clark was the top receiver on what I thought was the best Redskins team ever ('91) holds a lot of weight with me. He caught 70 passes for 1,340 yards and 10 touchdowns that season. Clark also had seven catches for 114 yards and a touchdown in the Super Bowl win over the Bills.
Clark was a player who inspired all of his teammates. And as of a couple of years ago, he was still inspiring the Redskins.
Santana Moss
told me about a time when Clark showed up to practice and told him to kick it into gear. Moss went on to finish the season strong after that talk in '07. Of all those great players from the Gibbs I era, Clark's the guy who always stands out to me. Perhaps he's hurt by the fact that Monk and
Ricky Sanders
were both so good.
Case against enshrinement:
He simply didn't do it for long enough. And one of his Super Bowl rings came in a strike-shortened season. If he'd played 16 games in the strike-shortened '87 season, I believe Clark would have had another 1,300-yard season. Those were pretty rare in those days, but he made it look easy.
Clark got a late start because he spent a couple of seasons in the USFL. Those are two years he could've put up big numbers for the Redskins in the mid-'80s. But to nearly reach 11,000 yards in a relatively short career (compared to Monk's) is pretty remarkable.
Bottom line:
Despite his brilliance, he just doesn't have the numbers to get in.
Best player who will never make it:
I hope I'm wrong about this one, but it's unlikely left tackle
Joe Jacoby
will enter the Hall. The Hogs finally have a representative with Russ Grimm. I think those dominant teams of the '80s that blew open holes for John Riggins deserve more, but it probably won't happen. Jacoby was a trailblazer of sorts because he didn't get in a three-point stance on obvious passing situations. He was one of the first players to do that, and it soon caught on around the league. I think it's pretty much a wash when you put Grimm and Jacoby next to each other, but that's just me. I'm also a big fan of defensive end
Charles Mann
's work in the '80s and early '90s.
Now, let's hear some of your arguments.
March, 11, 2010
3/11/10
12:04
PM ET
Merlin Olsen was a 14-time Pro Bowl choice in 15 NFL seasons, all with the Rams.

Olsen
No one in league history went to more Pro Bowls, and none went to as many in as few seasons.
His passing Wednesday
from cancer at age 69 provides an opportunity to appreciate his career and contributions.
I'm making some calls and will have more as the day progresses. In the meantime, here's a chart showing where Olsen fits among players with the most Pro Bowl appearances, courtesy of Pro Football Reference.
November, 7, 2008
11/07/08
11:00
AM ET
Posted by ESPN.com's Paul Kuharsky
As it pours in Nashville, I'm making it rain stories from around the AFC South ...
Houston Texans
Indianapolis Colts
Jacksonville Jaguars
Tennessee Titans

NFL SCOREBOARD
Thursday, 9/4
Sunday, 9/7
Monday, 9/8