June, 11, 2014
6/11/14
6:00
PM ET
CINCINNATI -- Since his Queen City arrival about a month ago,
AJ McCarron
's nights have followed a distinct pattern.
If the rookie quarterback is not at a Cincinnati Reds baseball game or taking in a quick meal at a local eatery, he is in his new Ohio River Valley abode with his nose buried in a
Cincinnati Bengals
-issued iPad until past midnight while his famous fiance looks on.
Still six weeks and one day shy of the start of training camp, it's all about learning for the first-year player. It's not about trying to supplant the veteran starter from Day 1 of training camp, or taking first- or second-team reps throughout the preseason. For the foreseeable future, it's about learning the Bengals' offense, adapting to it and playing as well within it as he can.
[+] Enlarge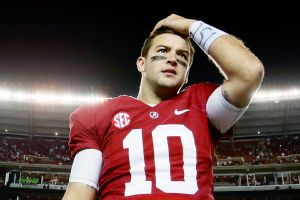 Kevin C. Cox/Getty ImagesAJ McCarron is spending his early days with the Bengals just trying to get a handle on the playbook.
All of that means it's also about subjecting his partner, Sports Illustrated model and former Miss Alabama Katherine Webb, to hours upon hours of football.
"She's having to sit there and watch the game when she probably didn't want to," McCarron said Wednesday, adding that he felt bad for subjecting her to it. "But right now, it's just a lot of studying and trying to make everything like it's natural and I don't have to think about it."
McCarron added that part of his Sunday night was spent watching the Miss USA beauty pageant with Webb.
Tuesday night, though, it was back to football. McCarron said he stayed up to 12:30 a.m. breaking down protections, coverages and blitzes as he sifted through offensive coordinator Hue Jackson's new system. He thinks the study has been paying off.
"I feel like I'm in a good groove right now, and I feel like I'm in a good place," McCarron said. "I'm catching on."
He's also healing. After being forced to only hand off the football during the first two weeks of voluntary organized team activities, McCarron has been throwing during the minicamp all this week. On both Tuesday and Wednesday, he was mostly firing shorter passes to running backs tucked at the bottom of coverage patterns. After dealing with so-called "arm tightness" the first two weeks, he's been cleared to at least throw in a limited capacity. Eventually, the Bengals will work up to allowing him to make longer throws.
Still, he was glad to have a chance to make the ones he did.
"Just to get back in the swing of things and being able to have reps throwing the ball instead of just run plays the whole time; it's definitely good," McCarron said.
In addition to his late-night film study, McCarron credited Jackson and quarterbacks coach Ken Zampese for helping him quicken his pace of learning.
"It's Coach Zamp. We're really close," McCarron said. "He's a really good friend and a great coach. He's helped me a ton. We've spent a lot of hours together going over everything. He's been a huge help to me so far, and he pushes me. That's what I like. I want somebody where, if I don't do right, they get on me and just throw me in the fire. Coach Hue and Zamp have done that."
January, 15, 2014
1/15/14
4:25
PM ET
EDEN PRAIRIE, Minn. -- Before the
Minnesota Vikings
fired Leslie Frazier on Dec. 30, there might not have been any player more outspoken in his desire for Frazier to stay than running back
Adrian Peterson
. The 2012 NFL MVP said after both of the Vikings' last two games that he wanted Frazier back as the coach, adding he planned to talk to ownership about his desire for Frazier to remain in charge.
Peterson got a chance to do that in a brief conversation before Frazier was fired, he told ESPN.com on Wednesday, but he quickly knew his input wasn't going to steer the Vikings' decision-makers in a different direction. Now that Peterson's had a chance to process the Vikings' decision to fire Frazier -- whom he called "a guy I trusted, a guy I believed in," -- the running back said he's moving forward with cautious optimism after the Vikings' decision to hire former
Cincinnati Bengals
defensive coordinator Mike Zimmer.
[+] Enlarge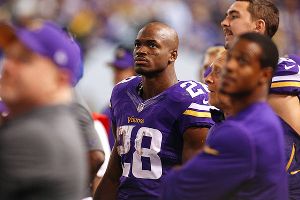 Adam Bettcher/Getty ImagesAdrian Peterson is anxious to see how Mike Zimmer will handle the Vikings offense.
"Trust me, I'm watching. I'm watching to see exactly what we're doing, just to see exactly what direction we're headed in," Peterson said. "I've been keeping my eyes open with the head coach; I knew he was probably the guy they were going to go with. It wasn't too much of a surprise. I've been watching for the coordinators -- are they going to keep Bill Musgrave around or what direction they're going to go with. With a new coach, that's when things start happening, too, that's all part of the process."
The running back hadn't talked to Zimmer as of Wednesday afternoon, but expected he would be in touch with the new coach shortly. He met one-on-one with general manager Rick Spielman after Frazier was fired, as many players did, to give him an idea of what he wanted to see from a new coach. But Peterson -- who'd been stunned the offseason before by the Vikings' decision to trade receiver
Percy Harvin
-- maintained a sober understanding of the business side of things.
"I've seen players come in with the Vikings -- guys I figured I'd probably play with until I finished playing with the Vikings -- and they're gone," Peterson said. "At first, it was, 'How could they let that person go?' It didn't really take me too long to kind of get over it and accept it for what it was. He (Frazier) is out, so we start a new chapter. My personal feelings, I didn't let it get in the way with business."
Now that Zimmer is in place, Peterson said he'll anxiously await news about what the Vikings will do on offense. ESPN NFL Insider Adam Schefter reported the team has received permission to talk with
Cleveland Browns
offensive coordinator Norv Turner, and Zimmer has been linked to offensive coordinator candidates like former
Jacksonville Jaguars
head coach Mike Mularkey, former
Detroit Lions
offensive coordinator Scott Linehan and Bengals quarterbacks coach Ken Zampese.
Whatever the Vikings do, Peterson said, he wants to see a game plan that will keep defenses honest. The Vikings have seen eight men or more in the box on 383 snaps during the last two seasons -- the second-most in the league, according to ESPN Stats and Information -- as teams have lined up to stop Peterson, effectively daring the Vikings' woeful passing game to beat them.
"When I play offense, I want to be able to have you on your toes, where you're not really expecting what's coming," Peterson said. "Being versatile offensively [is the biggest thing I'm looking for]."
Peterson called Musgrave a "good guy, a great mind," but said he hadn't given much thought to whether Zimmer would keep Musgrave on the staff.
The running back, who carried just 18 times in the Vikings' last four games, was replaced on the Pro Bowl roster by
Eddie Lacy
on Wednesday. He made the decision to let his body heal up after spraining his right foot and straining his groin during the 2013 season, but one thing in particular made it hard to skip the Pro Bowl -- the possibility that
Deion Sanders
might play.
"That's the only thing I was going to regret," he said. "Not the cash, not winning the Pro Bowl, not winning MVP. That's the only thing I was going to regret -- not getting the chance to line up against Deion."
August, 16, 2010
8/16/10
12:32
AM ET
CINCINNATI --
Denver Broncos
rookie quarterback
Tim Tebow
made his highly anticipated NFL debut Sunday night in a
33-24 loss
to the
Cincinnati Bengals
. Entering the game in the third quarter, the first-round pick produced a mixed bag. Tebow led the Broncos with 105 yards on 8-of-13 passing.
Here are five things we learned:
[+] Enlarge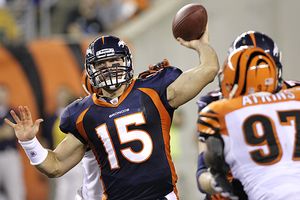 AP Photo/Ed ReinkeTim Tebow completed 8 of 13 passes for 105 yards and ran for a touchdown in his NFL debut, a 33-24 preseason loss at Cincinnati.
1. Tebow's mechanics must improve.
Tebow spent countless hours with coaches this offseason working to improve his mechanics. But his throwing motion looked similar to what we saw in college at Florida. Tebow held the ball very low at times and he still has a long, winding delivery. Tebow had some success Sunday against Cincinnati's third-stringers, but he may have a difficult time against better competition without shortening his delivery.
"There are a lot of things I can get better at," Tebow said. "I really went out there and tried to compete. We did some pretty decent things, but we still have a long way to go. I have a long way to go."
2. The arm strength is there.
Although his throwing motion isn't textbook, Tebow displayed NFL-caliber arm strength. He displayed good zip and velocity. Sometimes it was too fast, as Broncos receiver Matthew Willis dropped a potential third-down completion along the sideline. Tebow also made a couple throws that were nearly intercepted, but Bengals defenders couldn't handle his fastballs.
"He has a strong arm. It's a different technique, but he gets it there," said Jonathan Long, who was scouting Tebow and the Broncos for AFC West rival
Oakland Raiders
. "But arm strength doesn't mean much if you can't hit the wide receiver. You gotta have accuracy in this league ... and that's something he has to work on. But he can do it because he's got a great work ethic."
3. Tebow isn't used to the speed and feel of the NFL yet.
Perhaps the most telling play of the night occurred in the fourth quarter when Bengals safety
Jeromy Miles
put a big hit on Tebow at the 34-yard line. Tebow held the ball too long, and despite being lefthanded, he failed to see or feel the safety blitz coming from his front side and paid for it. The initial ruling was a sack and fumble, but the call was overturned and ruled an incomplete pass.
"It felt great," said Miles, who was congratulated in the locker room by teammates for his big hit on Tebow. "I think he was just locked into his receivers. He probably saw something out there and just never really looked or seen me coming, and I just ran through him."
4. Tebow is resilient.
Following the big hit by Miles, Tebow didn't get down on himself. Instead, he showed his toughness by coming back to lead a touchdown drive on the Broncos' next possession. With 1:09 remaining, Tebow led Denver 73 yards and finished the drive with a 7-yard touchdown run. Tebow's biggest play on the drive was a 33-yard strike to his right to receiver
Britt Davis
.
"It shows resilience, and I like him for that," Bengals quarterback coach Ken Zampese said. "He's got toughness, and he's got the leadership skills, and he sure showed me something tonight after he got hit."
5. The No. 2 quarterback job could be Tebow's for the taking.
Backup quarterback
Brady Quinn
, also playing in his first game with Denver, struggled. Quinn completed 6 of 16 passes for 68 yards and threw an interception that was returned for a touchdown. Tebow looked more sure of himself and the offense than Quinn, whose accuracy was off and was bothered by Cincinnati's pressure. If this trend continues, Tebow could move up the depth chart quickly and become backup to starter
Kyle Orton
.
AFC West blogger Bill Williamson agrees.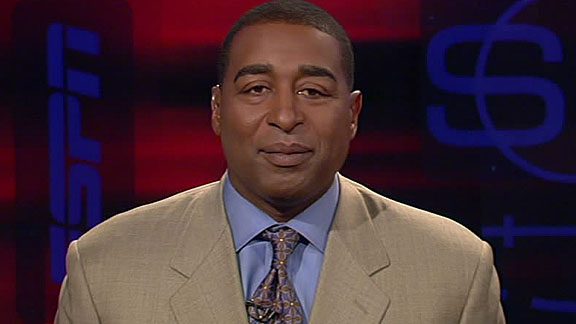 January, 31, 2010
1/31/10
5:59
PM ET
MIAMI -- As we await word on the conclusion of Chicago's search for an offensive coordinator -- Mike Martz? Kevin Rogers? -- Brandon of Huntington Beach, Calif., brings up an interesting point.
[+] Enlarge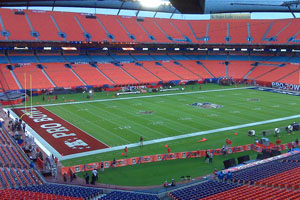 Kevin Seifert/ESPN.comNFC North blogger Kevin Seifert's view from the baseball press box at Sun Life Stadium.
Would you compare the Bears' potential hiring of Mike Martz to the Packers search last year that lead to the hiring of Dom Capers? Both seem to be/have been controversial, big-name hires. If the Bears pull the trigger on Martz, do you think he can have similar, immediate results?
My short answer, Brandon, is that I think Martz is the best candidate the Bears have interviewed to produce immediate results. And there are some similarities between the way the Packers decided on Capers and the way the Bears have meandered to Martz.
The Packers interviewed at least three other candidates -- Mike Nolan, Gregg Williams and Jim Haslett -- before hiring Capers. The Bears interviewed Rogers, Ken Zampese and Rob Chudzinski before giving Martz his interview.
Capers' defense is based on being unpredictable and coming at the quarterback from all angles, making big plays through forced turnovers and lost yardage. It was flexible enough to cover for some personnel mismatches in his 3-4 scheme.
The same is true for Martz's offense. Martz is by no means perfect, and there is a reason his services are available. But of all the candidates the Bears have interviewed, I think Martz has the best chance to effect a quick turnaround.
That's my take from the baseball press box here at Sun Life Stadium. Don't believe I'm actually at the Pro Bowl? Take a look at the byline on the picture above.
January, 26, 2010
1/26/10
10:24
AM ET
Chicago fans, forget our Hue Jackson discussion from this morning.
ESPN's Michael Smith
reports Jackson won't interview for the Bears' offensive coordinator job because he will accept a similar position with Oakland.
To this point, that leaves the Bears 0-for-5 on candidates they are known to have either sought out or have interviewed for the job. A quick summary:
Jeremy Bates
Previous position:
USC offensive coordinator
Decision:
Canceled interview to become Seattle's offensive coordinator
Tom Clements
Previous position:
Green Bay quarterbacks coach
Decision:
Packers denied permission to interview
Ken Zampese
Previous position:
Cincinnati quarterbacks coach
Decision:
Bengals closed hiring window
Rob Chudzinski
Previous position:
San Diego assistant head coach/tight ends
Decision:
Unclear, but apparently will remain with Chargers
Hue Jackson
Previous position:
Baltimore quarterbacks coach
Decision:
Will become Oakland's offensive coordinator
January, 14, 2010
1/14/10
7:56
AM ET
Jacksonville assistant head coach/tight ends coach Mike Tice interviewed Wednesday for a job on Chicago's coaching staff. There are conflicting reports, however, about whether it was for offensive coordinator or offensive line coach.

Jeff Dickerson of ESPN Chicago
reports it was to be the Bears' offensive coordinator.
Jason LaCanfora of NFL.com
reports it was for their line job, while
Dan Pompei of the Chicago Tribune
suggests the Bears are mulling multiple scenarios, one of which would be to divide coordinator duties among more than one person.
Tice, who was Minnesota's head coach from 2002 to 2005, has never been a coordinator or called plays. He established himself as an excellent line coach and has spent the past three seasons coaching tight ends in Jacksonville. He is a disciple of the offense Dennis Green installed with the Vikings in the mid-1990s, featuring power running and vertical passing.
Tice and Cincinnati quarterbacks coach Ken Zampese are the only known interviews the Bears have conducted for their multiple offensive positions. Coach Lovie Smith has also spoken generally with former St. Louis coach Mike Martz.
Continuing around the NFC North:
January, 30, 2009
1/30/09
9:00
AM ET
Posted by ESPN.com's James Walker
Here are the most interesting stories Friday in the AFC North:
Morning take: This article is correct. These are the games that create stars. If Taylor shuts down Arizona Cardinals' receiver Larry Fitzgerald -- a tall order -- Taylor would quickly become a household name.
Morning take: Lewis learned a lot under Sharpe when the two were together in Baltimore. At the very least, Lewis will pay attention to Sharpe's words.
Morning take: It looks like the Bengals will get both their quarterbacks coach (Zampese) and quarterback (Carson Palmer) next season.
Morning take: This is the time of year when every player says this. My guess is, with a new coaching staff, Adams and many other in-house free agents will not return.