NFL Nation:

Kendall James
July, 31, 2014
Jul 31
4:59
PM ET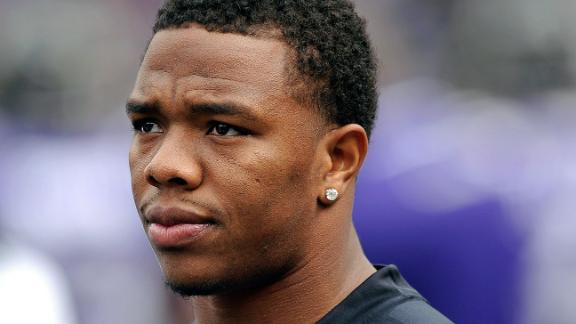 OWINGS MILLS, Md. -- In stark contrast to
Ray Rice
's awkward news conference in May, the
Baltimore Ravens
running back showed Thursday that he finally understood the weight of his actions from the alleged altercation with his then-fiancée in February.
He delivered the correct message, one the NFL failed to do last week with the two-game suspension, by not only apologizing to his wife, Janay Palmer, but also expressing a desire to become an advocate for domestic-violence causes.
Rice was compelling in his contrition, calling it the biggest mistake of his life. He stood in front of the microphone alone, without his wife standing by his side, and took full responsibility for the incident. Perhaps more importantly, Rice actually said the words "domestic violence," which weren't heard in his statement two months ago.
"My actions were inexcusable," Rice said. "That's something I have to live with the rest of my life."
Before anyone pats Rice on the back, this is what he should have said the first time when he broke his silence in May. Instead, Rice nervously fumbled through notes on his phone and apologized to team officials and his sponsors. That debacle of a news conference came across as damage control to his image.
His 17-minute news conference Thursday hit the right tones. He apologized to all women affected by domestic violence. He accepted the blame for losing the respect of fans. Rice came across as genuinely sorry.
"I let my wife down, I let my daughter down, I let my wife's parents down, I let the whole Baltimore community down," Rice said.
Rice's biggest misstep was not talking about what happened in the elevator. He was asked twice about it and declined to answer both times. His stance against domestic violence would have resonated stronger if he had explained his transgressions.
"I'll be honest: Like I said, I own my actions," Rice said. "I just don't want to keep reliving the incident. It doesn't bring any good to me. I'm just trying to move forward from it. I don't condone it. I take full responsibility for my actions. What happened that night is something that I'm going to pay for the rest of my life."
The only way Rice can move forward from this incident and show he's truly sincere is through his actions. It's not by his words. It's not by a hefty donation, which is merely a gesture. It's by proving this will remain a "one-time incident" and by supporting domestic-violence causes.
Thursday represented a small step forward for Rice. But it was an important one.
May, 16, 2014
May 16
11:45
AM ET
MINNEAPOLIS -- The
Minnesota Vikings
continue their rookie camp Friday at their facility in Eden Prairie, Minn., getting their first chance to work with their 10 draft picks, 15 undrafted free agents and more than a dozen players from around the region who will receive tryouts.
Friday is the only day of media access to the Vikings' rookie camp. Here are a few things I'm particularly interested in seeing:

Bridgewater
Bridgewater's debut:
The Vikings are getting their first extended chance to coach first-round pick
Teddy Bridgewater
, and in light of how well the former Louisville quarterback responded to a little coaching at his private workout (according to general manager Rick Spielman), I'll be curious to see how he looks in his initial trips through the Vikings' playbook. He won't have any of the receivers he'll eventually be working with -- he'll be able to start throwing to them in the coming weeks -- but Friday will offer the first glimpse into Bridgewater's early development as a NFL quarterback.
Competition at corner:
The Vikings didn't add a defensive back in the draft until the sixth round, and the three they drafted in the final two rounds (Virginia Tech safety
Antone Exum
, Maine cornerback
Kendall James
and North Carolina cornerback
Jabari Price
) will have to fight for roster spots. But Spielman sounded optimistic about James (who called himself an "all-around great cover corner" in a conference call with reporters), and Exum could be an intriguing fit at safety. He's big and physical enough to play the position, but the Vikings also want to be able to do some of what we've seen Seattle do with their safeties, putting them in coverage against inside receivers and allowing their linebackers to stay on the field in passing situations. Defensive backs coach
Jerry Gray
talked about that with
Harrison Smith
last month, and Spielman mentioned that as a possibility for Exum, too. "What is intriguing about him, as we sit there and talk with our coaches, is that they also want guys at the safety position that can be cover guys," Spielman said. "This was kind of a unique player for us because he is physical on support. He has played corner, but because of his size and his physicality in the run game we feel he can maybe transition to safety."
Barr
Breaking in Barr:
Linebacker
Anthony Barr
's pass-rushing skills are what earned him headlines at UCLA, but the Vikings wouldn't have taken him ninth overall if they didn't think he could be a complete linebacker that can stay on the field for three downs. He's only been at linebacker for two years after switching from the running back position, and has shown good instincts at the position, but he'll need to get stronger and refine his technique at the NFL level. That begins this weekend, and as much as coach Mike Zimmer pays attention to details on defense, he'll likely spend plenty of time with Barr. "It's not that he is so raw that he is not a good football player, because he is a really good football player," Zimmer said. "I don't want anybody to think that because he is inexperienced that he is not a good football player. He will be good. I'm excited about the chance to take him and mold him into what I really envision him to be, which I think will be good."
Target at tight end:
Tennessee State tight end
AC Leonard
, whom the Vikings signed as an undrafted free agent, has the athletic ability to be an interesting option in Norv Turner's offense. He's only 6-foot-2 and 252 pounds, and could get swallowed up by defensive ends, but his 40 time (4.50), high jump (34 inches) and broad jump (128 inches) were the best of any tight end at the NFL scouting combine. Leonard played all over the field in college, and though he'll need plenty of work, both on and off the field (he was arrested for misdemeanor battery in 2012 and cited for driving with a suspended license three months later), his athletic ability could keep him around for an extended look.
Garoppolo's receiver tries to catch on
: You'll hear plenty of talk about former Northwestern quarterback
Kain Colter
, who signed with the Vikings as a receiver after leading the efforts for Northwestern players to unionize, but of the Vikings' three undrafted receiver additions, former Eastern Illinois receiver
Erik Lora
might have the best chance of sticking around. He caught 136 passes in 2012, setting a FCS record as
Jimmy Garoppolo
's favorite target, and scored 19 touchdowns in 2013. He's only 5-foot-10, and will have to show he can produce against better competition -- and in a more complex offense than he had in college -- but Lora might have potential as a slot receiver.
May, 11, 2014
May 11
1:35
PM ET
MINNEAPOLIS -- For the third straight year, the
Minnesota Vikings
' draft was marked by a bold first round, as the team traded back into the first round to take Louisville quarterback
Teddy Bridgewater
after selecting
Anthony Barr
ninth overall. The rest of the Vikings' draft, however, was all about projection, which means immediate draft grades -- like the one ESPN NFL Draft expert Mel Kiper Jr. gave the Vikings on Sunday -- could be underwhelming.
Kiper
gave the Vikings a B-minus

for their efforts over the past three days, wondering why they didn't do more to address their middle linebacker situation or add depth at receiver. I'll admit I was a tad surprised not to see the Vikings add a wideout, given how many solid receivers were available in this draft, and there are still going to be questions about the Vikings' linebacker group despite the addition of Barr. But cornerback was the Vikings' biggest defensive need on the final two days of the draft, and Kiper thought sixth-rounder
Kendall James
could be a good value pick. The Vikings have two young middle linebacker candidates in
Audie Cole
and
Michael Mauti
, in addition to
Jasper Brinkley
, and I'm not sure how much more another late-round linebacker would change the situation there.
Gerald Hodges
, a fourth-round pick a year ago, could also help at outside linebacker, and I liked the seventh-round pick of Georgia Tech's
Brandon Watts
, who seems like the kind of speedy linebacker that might fit well in Mike Zimmer's defense.
As we discussed yesterday, the
Vikings bet on upside with their approach
to this draft, and the return on their 10 picks will probably take several years to realize (especially since their top pick, Barr, has only played linebacker for two years). But as Kiper wrote, the grade on the Vikings' draft could look much higher in a year or two, and the ability of this group to improve the Vikings' defense will matter much more than the immediate reaction to what the team did this weekend.