NFL Nation:

Kendrell Bell
September, 4, 2014
9/04/14
12:00
PM ET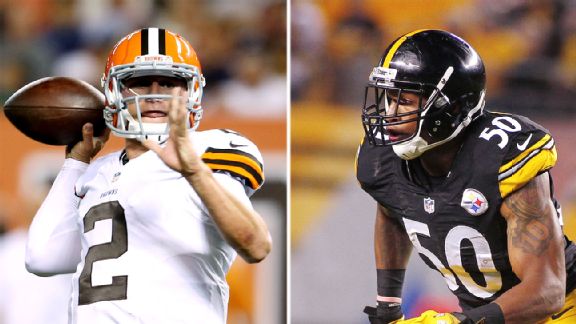 USA TODAY Sports, Getty ImagesAll eyes will be on these rookies in Week 1: Cleveland's Johnny Manziel and Pittsburgh's Ryan Shazier.
The
Cleveland Browns
and
Pittsburgh Steelers
renew their long-standing rivalry Sunday at Heinz Field.
And something has to give in the game in which
Johnny Manziel
is expected to make his NFL debut. The Browns have lost 10 consecutive games at Heinz Field, while the Steelers haven't won a season opener since 2010.
ESPN NFL Nation Browns reporter Pat McManamon and ESPN NFL Nation Steelers reporter Scott Brown take a closer look at the 1 p.m. ET game.
Brown:
Pat, how many times have you written the surname Manziel since the Browns drafted Johnny Football in early May? Well, let's get the obligatory Manziel chatter out of the way. How do you see the Browns using Manziel on Sunday and how much do you expect him to play?
McManamon:
As for the first part, Scott, let's say more than five and less than 10,000, but just barely less. I would be surprised if Manziel does not see the field for a play or a series in each half. The Browns and coach Mike Pettine have been coy about how he'll be used, but he does bring a different element than
Brian Hoyer
, and the Browns could put him on the field the same way the Steelers first used Kordell Stewart. Certain down-and-distance situations might be good for the read-option, or certain spots on the field might be good for a quarterback who can move. I don't think Manziel will play a lot, but I do think he'll play in the right spot, as judged by the coaching staff.
Scott, a slow start doomed the Steelers last season. How determined are they to avoid that slow start again, and how much bad luck is it for the Browns to draw the Steelers in the opener?
Brown:
For the record, I am not going to start calling you Pat McFootball no matter how many times you privately lobby me to do so. Take a picture with the Biebs in it and we will talk. With that order of business out of the way, I will say the schedule-makers did not do the Browns any favors by having them open in Pittsburgh. I suspect the Steelers will publicly downplay the notion that this is a must-win game, but in reality it is. The Steelers cannot start slow again this season, and with road games against the Ravens and the Panthers looming, they have to beat the Browns. As hard as it is to win in the NFL, nothing is more served on a platter than an opponent that hasn't won in Pittsburgh in more than a decade and has an offense riddled with question marks. Did I mention
Ben Roethlisberger
, who has never forgiven the Browns for passing on him in the 2004 NFL draft, has lost just one time to Cleveland?
Getting back to the Browns' offense, who do the Steelers have to worry about beating them with wide receiver
Josh Gordon
out for the season?
McManamon:
Nobody, really. The Browns will try to run the ball and use tight end
Jordan Cameron
creatively, but there is no real outside threat even close to the threat Gordon provided. And Cameron better get used to consistent double coverage. It's almost unfair to throw a quarterback into a game with these circumstances. Running back
Ben Tate
probably will be the offensive bell cow. He'll be featured prominently in the game plan. But the Steelers stop the run in their sleep. This game will be a serious challenge for the Browns' offense and offensive coaches.
Speaking of offense, how has and how will the marijuana possession charges against
Le'Veon Bell
and
LeGarrette Blount
affect the team, if at all, this weekend?
Brown:
It is a footnote to this game. Not to minimize the stupidity that the Steelers' top two running backs showed -- and they are worthy of all of the unflattering nicknames that have surfaced on social media, among other places -- but the issue has presumably been dealt with from the Steelers' end. If Bell and Blount had been suspended for the season opener, we would have seen Roethlisberger throwing a ton of passes and a one-dimensional offense. But with both Bell and Blount slated to play against the Browns, the Steelers' offense will be at full strength.
I am real interested in seeing whether the Steelers try to set up the pass through the run or vice versa. Steelers coach Mike Tomlin predictably gushed about Cleveland's defense at his news conference earlier this week, and certainly that unit is the strength of the Browns. Will that defense be as good as advertised?
McManamon:
Let's tap the brakes on this "good defense." Nobody knows yet. The defense has new names -- and they are good names to have -- but they might not be improved. Also, a defense that was supposed to be good a season ago made a habit of blowing late leads. The weak spot this season is the same as last -- cornerback opposite
Joe Haden
. First-round pick
Justin Gilbert
is going through significant growing pains, and
Buster Skrine
is coming off a thumb injury. The Browns wanted
Isaiah Trufant
to be the nickelback, but he's on injured reserve. Smart teams pick at weaknesses; it would be surprising if the Steelers don't pick on the second corner. The other concern, which has been an ongoing issue: Will the defense wear down because it's on the field too much due to the offense struggling?
Staying with defense, Steelers rookie linebacker
Ryan Shazier
is an Ohio State guy, and there's been a lot of positive press on him throughout preseason. Has he been that good?
Brown:
He has, but the caveat, of course, is that Shazier has yet to play in an NFL game that counts. That changes Sunday, and most telling about the progress Shazier has made is the fact he will become the first Steelers defensive rookie to start a season opener since Kendrell Bell in 2001. There will be the inevitable growing pains as the first-round pick adjusts to the speed of the game at this level. Probably the biggest concern with Shazier is whether he will consistently be able to shed blocks since the 6-1, 237-pounder is not the biggest linebacker. The Browns' offensive line is one of their biggest strengths, so it will be a good opening test for Shazier. I think the kid is going to be a star, and I predict he will win the NFL Defensive Rookie of the Year Award.
June, 13, 2013
6/13/13
12:00
PM ET
I was aware of how the
Pittsburgh Steelers
rarely start rookies. Since the Steelers selected tight end
Heath Miller
eight years ago, only one first-round pick (center
Maurkice Pouncey
) was an immediate starter for Pittsburgh.
But I didn't realize how long it's been since the Steelers put a rookie in the starting lineup on defense. The
Pittsburgh Post-Gazette
's Ed Bouchette provided an eye-opening history lesson on this subject.
The last rookies to start on the Steelers' defense were nose tackle
Casey Hampton
and inside linebacker
Kendrell Bell
, both of whom did it in 2001. Hampton became a five-time Pro Bowl player while Bell only lasted four seasons in Pittsburgh.
The only rookie to start at outside linebacker for the Steelers since 1970 has been Jack Ham. That was in 1971. To put it in perspective, that was the second year for Three Rivers Stadium, which is currently a parking lot.
While the odds seem stacked against
Jarvis Jones
, he isn't battling history. He just has to beat out
Jason Worilds
, an underachieving second-round pick from 2010. The Steelers didn't show much faith in Worilds when they tried to restructure
James Harrison
's contract (instead of just cutting him immediately) and used the No. 17 overall pick on Jones in April.
As the Steelers wrap up their offseason spring workouts today, Jones has stood out to the coaching staff.
"He's showing us things, and, if he keeps showing those things he's going to be a big part of that, hopefully," linebackers coach Keith Butler said. "The best thing for him is his background, he played linebacker at Georgia, so he understands concepts as opposed to being a defensive end who doesn't know anything. He's picked some things up. There's a lot we're throwing at him right now, as we do everybody. He's still learning, but he's learning at a quicker pace than most guys we drafted at that position as a defensive end."