NFL Nation:

Kenechi Udeze
July, 1, 2013
7/01/13
2:00
PM ET
During the 2011 NFL lockout, it seemed a day wouldn't go by without a retired player ripping the league and its Players Association for both for what was perceived as inadequate medical, insurance and disability treatment. And while all sides have taken steps to address the issues involved more forcefully, there are currently more than 4,800 former players involved in concussion-related lawsuits, according to
NFLConcussionLitigation.com
.
And to be clear, there are still plenty of individual players who feel slighted on principle if not specific grounds. In the video, former Green Bay Packers tight end Gary Knafelc suggested the league is just waiting for those who complain to "die off." Knafelc played for the Packers from 1954-62 and went on to serve as the public address announcer at Lambeau Field from 1964 to 2004.
Related:
Former Minnesota Vikings defensive end Kenechi Udeze shared
his stark experience
in transitioning from being an active to retired player under NFL rules after a leukemia diagnosis.
April, 7, 2011
4/07/11
12:00
PM ET
»
NFC Draft Watch
:
East
|
West
|
North
|
South
»
AFC
:
East
|
West
|
North
|
South
Each Thursday leading up to the NFL draft (April 28-30), the ESPN.com NFL blog network will take a division-by-division look at key aspects of the draft. Today's topic: history in that spot.

Carolina Panthers
The Panthers' top pick is No. 1 overall. Here are the last seven players taken in that spot, with their NFL team in parentheses:
2010 QB
Sam Bradford
(Rams)
2009: QB
Matthew Stafford
(Lions)
2008: OT
Jake Long
(Dolphins)
2007: QB
JaMarcus Russell
(Raiders)
2006: DE
Mario Williams
(Texans)
2005: QB
Alex Smith
(49ers)
2004: QB
Eli Manning
(Giants via Chargers)
Analysis:
It's still early, but indications are the Panthers are seriously considering taking a quarterback, and that probably narrows it down to Auburn's
Cam Newton
and Missouri's
Blaine Gabbert
. Part of the reason the Panthers are looking down this road is because they saw what the Rams got in Bradford last year. The early results from Bradford and Stafford have been encouraging. But Russell was a tremendous flop, and Smith hasn't been much better. Manning is the only quarterback taken No. 1 overall in this time period to make a Pro Bowl. Even before Manning, the history of quarterbacks at No. 1 is shaky for a long time.
Carson Palmer
and
Michael Vick
have had some good years and some bad ones.
David Carr
and
Tim Couch
rank right up there with Russell. To find a quarterback drafted first overall who has been an unquestioned success you have to go all the way back to
Peyton Manning
in 1998, and there were some people at the time who thought
Ryan Leaf
could be just as good. Long story short: there might not be such a thing as a sure-fire quarterback, even with the No. 1 pick.

Tampa Bay Buccaneers
The Buccaneers' top pick is No. 20 overall. Here are the last seven players taken in that spot, with their NFL team in parentheses:
2010: CB
Kareem Jackson
(Texans)
2009: TE
Brandon Pettigrew
(Lions)
2008: CB
Aqib Talib
(Buccaneers)
2007: CB
Aaron Ross
(Giants)
2006: DE
Tamba Hali
(Chiefs)
2005: DE
Marcus Spears
(Cowboys)
2004: DE
Kenechi Udeze
(Vikings)
Analysis:
The Bucs have been in this territory recently and have had tremendous results and one very big complication. The Bucs were at No. 19 heading into the 2009 draft, which was the first for general manager Mark Dominik and coach Raheem Morris. They feared missing out on a chance to get the guy they believed would be their franchise quarterback. That's why they traded up to No. 17 and took
Josh Freeman
. You can't question that move, because Freeman single-handedly turned the franchise around last season. Even taking Talib at No. 20 -- and it should be pointed out that move was made by former general manager Bruce Allen and coach Jon Gruden -- brought some positive results. When on the field, Talib showed flashes of being one of the best young cover corners in the game. But the latest in a series of off-field troubles means Talib is probably on his way out of Tampa Bay. The lesson to be learned here is that you can get big-time talent in the draft, but it's wise to do your homework on the character and attitudes of players. It's common knowledge the Bucs desperately need a defensive end. Look at Hali and Spears. They represent two ends of the spectrum. Hali came with some questions about being undersized but had no character issues, and he's turned out to be a solid pass-rusher. Spears came with some questions about attitude and never has panned out.

New Orleans Saints
The Saints' top pick is No. 24 overall. Here are the last seven players taken in that spot, with their NFL team in parentheses:
2010: WR
Dez Bryant
(Cowboys)
2009: DT
Peria Jerry
(Falcons)
2008: RB
Chris Johnson
(Titans)
2007: DB
Brandon Meriweather
(Patriots)
2006: CB
Johnathan Joseph
(Bengals)
2005: QB
Aaron Rodgers
(Packers)
2004: RB
Steven Jackson
(Rams)
Analysis:
Johnson, Rodgers and Jackson are proof that you can get a big-time player this late in the draft. The Saints aren't looking for a quarterback because they have
Drew Brees
. But running back isn't out of the realm of possibility, and when you see guys like Johnson and Jackson have been available at this spot, it makes you wonder about the Saints taking a shot if Alabama's
Mark Ingram
is there. Yes, defensive end and outside linebacker might be greater needs, and those positions are possibilities.
Pierre Thomas
re-signed,
Reggie Bush
is expected to stay and
Chris Ivory
is recovering from injury, but the Saints still have to think back to the end of last year when they basically ran out of running backs.

Atlanta Falcons
The Falcons' top pick is No. 27 overall. Here are the last seven players taken in that spot, with their NFL team in parentheses:
2010: CB
Devin McCourty
(Patriots)
2009: RB
Donald Brown
(Colts)
2008: CB
Antoine Cason
(Cardinals)
2007: WR
Robert Meachem
(Saints)
2006: RB
DeAngelo Williams
(Panthers)
2005: WR
Roddy White
(Falcons)
2004: OLB/DE
Jason Babin
(Texans)
Analysis:
Although nearly every draft guru is projecting that the Falcons will take a defensive end, it's not out of the question that a wide receiver or running back could be the pick here. General manager Thomas Dimitroff and coach Mike Smith have talked a lot about wanting to add explosive players. If they look at their own history and the recent history of NFC South teams who have been in this spot, the idea of going with a receiver or running back could get stronger. Although it took some time for him to develop, White has turned into one of the game's top receivers. Meachem also took some time and dealt with some injuries but has emerged as a force in the New Orleans passing game. Williams had some explosiveness as soon as he joined the Panthers.
March, 29, 2011
3/29/11
1:47
PM ET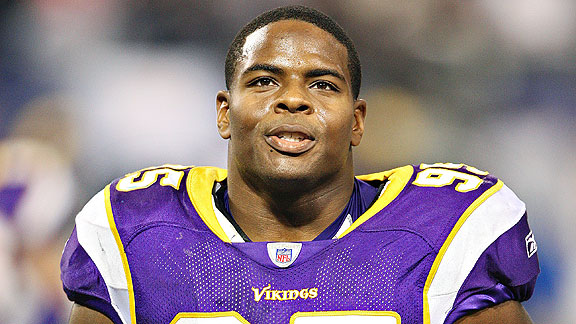 Tom Dahlin/Getty ImagesKenechi Udeze, who retired due to leukemia, was denied eligibility for the NFL's disability program.
Every time he watches an NFL game,
Kenechi Udeze
wonders who is next. When will the next retired player absorb a bitter truth about an industry he once considered a brotherhood?
"You hope what happened to me doesn't happen to anyone else," Udeze said. "But if it does, will they ever be consoled or comforted by anyone in the league office that employed them? I doubt it. The only way they can profit off you is if you're a commodity. You're not a commodity if you're injured or ill."
You might remember Udeze as the
Minnesota Vikings
' first-round draft pick in 2004, a solid four-year contributor who was diagnosed with leukemia in 2008. He is in remission thanks to
a bone-marrow transplant
we chronicled that summer, but side effects of chemotherapy
forced him to retire in 2009
.
In the years that followed, the NFL has twice denied Udeze eligibility for its disability program, which requires 100 percent incapacity in cases of non-football illnesses. Udeze has a flexible job as an assistant strength coach at the University of Washington, where Huskies coach Steve Sarkisian -- an assistant on the USC teams Udeze played on from 2001-03 -- allows him to work around his frequent bouts with a
condition known as neuropathy
.
On his worst days, the neuropathy "makes my legs feel like they're about to snap," Udeze said, describing it as a pencil poking his feet and then an involuntary pull of the muscles downward. It's a common side effect of chemotherapy; some episodes force him off his feet until they subside.
I've spoken with Udeze a number of times over the past year, long before it became clear that the NFL would lock out its players and before it became fashionable for players -- active and retired -- to bash the league for its work environment and the long-term health implications of playing the game. During our conversations, it was clear Udeze wasn't looking to join that chorus. He doesn't lament his shortened career, he doesn't blame his health on football and feels nothing but gratitude for how the Vikings handled his final years with the team.
Mostly, he is hoping current players will shed any naivete they might carry about the transient nature of their jobs. For Udeze, that lesson hit home during the months and years after his diagnosis. He can remember one period in particular, as he sat hospitalized in the spring of 2008, when, Udeze said, several team officials told him to expect a phone call from NFL commissioner Roger Goodell. The call never came.
[+] Enlarge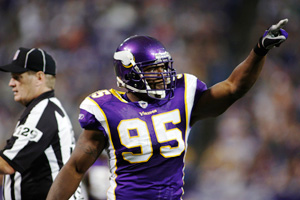 Bruce Kluckhohn/US PresswireKenechi Udeze's best season was his last in 2007 when he notched 47 tackles and five sacks.
"They sell you on the so-called brotherhood of the NFL," Udeze said. "And at the time, I'm watching [Goodell] on TV talking with Adam 'Pacman' Jones and then meeting with him. That was upsetting at the time. I've let that go. I don't hold grudges that long. But after I was denied disability, there is no way on earth that anyone can sit up there and say the NFL will do what's best for players."
To be fair, Udeze remains a part of the NFL's health insurance policy, which gives him discounts on medical services after he pays a deductible. He says those payments are "not a problem," and after earning more than $6 million in his career, he knows he is more fortunate than most cancer survivors and even many disabled former players.
Some of you might wonder why Udeze feels entitled to disability payments from the NFL when his leukemia was by all accounts unrelated to the game, as tragic as it was. From talking to Udeze, I think it goes back to a pair of concerns:
He just turned 28 this month. What will his condition be like when he's 35? At 40? And by what standard would "100 percent incapacity" be measured under the NFL's program?
The simple discrepancy of a culture that routinely asks players to bend and push and struggle through physical barriers for team success. When the tables were turned, however, Udeze ran into a rigid wall.
I don't want to spend too much time discussing the labyrinth of the NFL's disability program, other than to say that players are entitled to benefits based on line-of-duty ailments, "football degenerative" ailments and "total and permanent" incapacity. If Udeze were to qualify, it would be under the third category.
But Udeze, and doubtlessly countless others, refuse to consider the issue in such black and white terms. He thinks back to the summer of 2007, when he noticed sores under his tongue during what would be his final training camp with the Vikings. He remembers that fall, when his barber noticed large spots on his head where hair was no longer growing, a medical condition known as alopecia. And he remembers the increasingly painful headaches he endured in December 2007, about two months before debilitating migraines sent him to the hospital for a final diagnosis.
He played through that odd collection of ailments because that's what the NFL asks its players to do. He attributed the headaches to nothing more than the normal wear and tear of a season. In his mind, and I think this adequately describes an NFL player's mindset, he subconsciously subordinated some warning signs in service of a team effort.
"I played that season with blood cancer growing in me," Udeze said. "Looking back, that's what happened. You would think that the NFL would take some initiative in that kind of case, to realize I was playing with severe headaches that I never thought would be leukemia and feel somewhat attached to the situation. When you play, they always tell you that they will take care of their own."
The Vikings did their part. Owner Zygi Wilf paid the final year of Udeze's contract, a salary of $807,000, even though NFL rules didn't require him to. The Vikings' legal staff also supported Udeze's disability claim, but in the end the decision was not in their hands.
My conversations with Udeze left me convinced he isn't trying to publicly pressure the NFL into reversing its decision on his case. For now, he knows he has a better work arrangement than many people in his position. If anything, I think Udeze cringes when he thinks of less fortunate (or sicker) retired players who could run into a similar wall.
"I've had people tell me that if I don't qualify, who would?" Udeze said. "I just think people have to know and realize what's out there. As a player, you're told if you have to retire because of an injury or an illness, there are things the NFL has in place to help you. That's not the case for everyone."
July, 21, 2009
7/21/09
11:08
AM ET
Posted by ESPN.com's Kevin Seifert
| | |
| --- | --- |
| | |
| | AP Photo/Nam Y. Huh |
| | Quarterback Jay Cutler and the Bears will need a young receiver to step up in camp. |
Chicago Bears
Training camp site: Olivet Nazarene University (Bourbonnais, Ill.)
Campfires
The only Bears receiver with a guaranteed job is Devin Hester. Otherwise, the position is wide open. Veterans Earl Bennett and Rashied Davis will compete with rookies Juaquin Iglesias and Johnny Knox for the Nos. 2, 3 and 4 receiver positions. If general manager Jerry Angelo doesn't like what he sees, the Bears could pursue a proven veteran later this summer.
The free safety position is also wide open as the Bears replace the departed Mike Brown. Craig Steltz ended spring practice atop the depth chart, but he'll have to battle converted cornerback Corey Graham. Former New Orleans starter Josh Bullocks is also on the roster as a third, if distant, option.
Although the Bears hope it never matters, they'll have to sort out their depth behind new quarterback Jay Cutler. Unproven Caleb Hanie is set to battle free agent Brett Basanez in a competition that, like receiver, could ultimately give way to a veteran from outside the organization. Hanie, however, is a favorite of coach Lovie Smith and will get every opportunity to win the job.
Camp will be a downer if ...
... the Bears realize this summer that they haven't given Cutler enough weapons. While young players don't always develop on a convenient timetable, it should be pretty clear by mid-August if the Bears have enough mature depth at the receiver position. Adding a veteran at the end of the summer is an imperfect solution and would limit his chances to develop a rapport with the new quarterback.
The best-case scenario is if Bennett can parlay his familiarity with Cutler -- they were college teammates at Vanderbilt -- into a quick claim on the No. 2 job. That would lessen the pressure on the rookies and relieve the need to rely on Davis, who isn't a starting-caliber receiver. But if Bennett stumbles, the domino effect could significantly diminish the Bears' passing attack early in the season.
Camp will be a success if ...
... Smith can lay the groundwork for a revived defense. Smith has taken over as the de facto defensive coordinator and will call most defensive signals during games. He'll need to restore the Bears' core values -- producing a pass rush with the front four and making big plays in the secondary -- in order to meet the standard his defenses set earlier this decade.
It might be difficult to judge the success of this venture during camp and even in the preseason; Smith isn't likely to give away too much from a schematic standpoint before the regular season begins. But make no mistake: The origin of any improvement must come during technique and drill work in training camp.
O-verhaul
Quietly, the Bears shook up 60 percent of their offensive line this offseason. Center Olin Kreutz and right guard Roberto Garza are the only returning starters. Chicago is hoping that left tackle Orlando Pace, left guard Frank Omiyale and right tackle Chris Williams can breathe some life into a group that grew stale last season.
Pace is the short-term key. Injuries have caused him to miss 25 games over the past three seasons. His health and conditioning will be monitored carefully in training camp. It will be interesting to see if the Bears also work Williams at left tackle -- his natural position -- as a contingency should Pace suffer another injury.
---
Detroit Lions
Training camp site: Team facility in Allen Park, Mich.
| | |
| --- | --- |
| | |
| | Rashaun Rucker/zuma/Icon SMI |
| | The Lions would like Daunte Culpepper to earn the starting quarterback job ahead of Matthew Stafford to start the season. |
Campfires
No Black and Blue battle will be more scrutinized than the competition between Lions quarterbacks Daunte Culpepper and Matthew Stafford. Conventional wisdom suggests Culpepper will win the job as long as he maintains his offseason conditioning level. But coach Jim Schwartz has said Stafford will start as soon as he meets two criteria: when he is ready and when he surpasses Culpepper as the team's best option.
Stafford's status as an underclassman suggests he faces a steep learning curve this season. That, along with Culpepper's familiarity with offensive coordinator Scott Linehan's scheme, imposes a two-pronged challenge for Stafford to win the job in training camp.
Another rookie, safety Louis Delmas, appears to be one of the few locks to start in the secondary. You would assume Phillip Buchanon will win one cornerback spot, but the other two starting roles seem wide open.
Anthony Henry could start at cornerback, or he could move to safety. Other safety candidates include Daniel Bullocks, Marquand Manuel, Kalvin Pearson and Stuart Schweigert. The competition will be wide open as the Lions look for defensive backs who are aggressive and eager for contact.
Camp will be a downer if ...
... every player on the roster suffers a season-ending injury on the first day of camp. Otherwise, there is nowhere to go but up for a team that went 0-16 last season.
Seriously, there is one position where Detroit is keeping its fingers crossed. The Lions signed 36-year-old nose tackle Grady Jackson to help tighten their run defense and also keep offensive linemen off their talented trio of linebackers. But Jackson missed all of spring practice after undergoing knee surgery in February. Jackson is as important as any player the Lions acquired this winter and he needs to get at least some practice time in training camp to ensure he will be ready for the season.
Camp will be a success if ...
... Culpepper can win the job outright, rather than become the starter simply because Stafford isn't ready. If Culpepper can recapture some of his previous magic with Linehan, the Lions will have a much better chance to be credible in Schwartz's first season.
And despite the protestations of modern-day thinkers, Stafford can only benefit from some time on the sidelines. That doesn't mean he should sit for three years. But rare is the quarterback who can start -- and succeed -- on day one. A rejuvenated Culpepper is the first step in the Lions' rebuilding project.
Linebacker city
Through trade and free agency, the Lions have put together a competent group of linebackers in Julian Peterson, Larry Foote and Ernie Sims. It will be interesting to watch defensive coordinator Gunther Cunningham experiment with ways to utilize their playmaking skills.
Cunningham has said he plans to blitz 40 percent of the time this season. Peterson could make some big plays if he has maintained the athletic skills of his prime. The same goes for Foote. We'll get a good idea of how much each player has left in the tank this summer.
June, 2, 2009
6/02/09
1:00
PM ET
| | |
| --- | --- |
| | |
| | Bruce Kluckhohn/US Presswire |
| | Minnesota Vikings defensive end Kenechi Udeze is making the long journey back from leukemia and is hoping to make the 53-man roster. |
Posted by ESPN.com's Kevin Seifert
EDEN PRAIRIE, Minn. -- His leukemia was in remission. Doctors had given him permission, albeit grudgingly, to embark on an NFL comeback. So Kenechi Udeze lined up to run this winter with a group of athletes near his home in Los Angeles.
He wasn't prepared for what happened next.
"I took two steps," Udeze said. "And I fell."
Neuropathy, a debilitating side effect of chemotherapy, "made my feet feel like they were in concrete," he said. "It was hard just to get them to move."
Yes, Udeze began this journey from the most humbling of places: flat on the ground. He got up, learned to push through numbness in his feet and worked himself into good-enough shape to participate in Minnesota's minicamp last weekend. Sixteen months after being diagnosed with acute lymphoblastic leukemia (ALL), Udeze made it through all four practices and remains on track in his improbable voyage toward an NFL return.
He is far removed from his peak physical condition, and his former position has been filled. But with the quiet confidence that has marked his fight with leukemia, Udeze vowed to be ready for training camp and to make the Vikings' 53-man roster.
"There's only one more thing to do and that's to keep going," he said. "I can't take a day off. I can't take a second off. I'm still miles away from where I was before, compared to other guys out here. ... I'm not in the same playing field now. But that's what I'm striving to do. That's what I'm working to do."
You might recall we profiled Udeze last June as he wrapped up chemotherapy and prepared to undergo a bone-marrow transplant from his brother, Thomas Barnes. He spent three weeks in the hospital and the next 100 days wearing a mask to prevent infection. When we last visited with him in November, Udeze was beginning to attend Vikings home games -- where he watched from a suite to limit exposure and give him a place to rest.
Udeze went on to spend a good portion of the winter in Los Angeles, his hometown. He took a full semester's courseload toward his sociology degree at USC, leaving him one class short of a diploma, and began working out with a long-term goal of being fully rehabilitated in time for training camp.
Udeze has been in remission since April 2008, but his doctors at the University of Minnesota urged him to take a second year off from football. Limiting physical activity for a full year after bone-marrow transplant is the typical medical course, but Udeze said: "I'm not like everybody else."
Indeed. And so I wonder how many people on the Vikings' practice field last weekend grasped how rare the experience was. Did they know Udeze had only a 25 percent chance of finding a bone-marrow match within his family? Would they have known the five-year survival rate of people who can't find a match (40 percent)? How many knew Udeze was so weak after surgery that he often took five naps a day?
"I don't believe that the younger guys have a complete grasp or understanding of what a difficult journey the last year and three or four months have been," Vikings coach Brad Childress said. "I don't think they possibly could."
Once you get past Udeze's medical improvement, however, you realize he faces a challenge to make the Vikings' regular-season roster. You figure at least three defensive ends are locks to earn roster spots ahead of him -- Jared Allen, Ray Edwards and Brian Robison -- and there is no telling how the team will have to configure its depth chart to compensate for the possible suspensions of defensive tackles Kevin Williams and Pat Williams.
There is also the simple fact that no one knows how long it will take Udeze's body to bounce back fully from the disease. It's one thing to achieve remission and regain health. It's another to establish professional-level conditioning. His biggest obstacle is the neuropathy, which makes his feet feel numb on some occasions and sensitive on others.
"That's the only thing that I'm really suffering from," he said. "That's why I really can't complain about much. I took small steps at first and, to where I am now, I can't complain. My brother said, 'For neuropathy to be the only thing that's slowing you down, you really have a lot to be thankful for.' I just wish it would kind of hurry up and take a leave of absence. It's going to be tough [but] I'm going to get through it."
No one is betting against him. Udeze once lost 100 pounds to earn a starting job at USC, and he is approaching this challenge with a similarly ferocious mindset.
"From the standpoint of being a contributing member of this football team," Childress said, "he wants that desperately. I think he certainly has attacked it that way after he attacked his illness. To be able to put himself back into a position [to play] speaks volumes to him."
May, 29, 2009
5/29/09
8:45
PM ET
Posted by ESPN.com's Kevin Seifert
EDEN PRAIRIE, Minn. -- Cornerback Antoine Winfield's absence dominated the headlines from the first day of Minnesota's minicamp, but I wanted to circle back with a few more observations. In no particular order:
That's it for now. Check back throughout the weekend for more.
March, 31, 2009
3/31/09
6:53
AM ET
Posted by ESPN.com's Kevin Seifert
A crew of Detroit Lions executives, scouts and coaches will be in Athens, Ga., on Tuesday for the most anticipated private workout of this year's NFL draft.

Quarterback Matthew Stafford will follow a throwing regimen set by the Lions to determine once and for all whether he's worthy of the Lions' No. 1 overall pick. While it's likely they are well on their way to making that decision, this will be Stafford's final opportunity to impact their thinking.
The Lions attended Stafford's pro day on March 19, but the difference is that they can direct this workout, coach Jim Schwartz said last week at the NFL owners meeting.
Schwartz: "We can direct it. We can tell him exactly what to do on a play. We can make him throw into the wind. We can say, 'Hey, these are the throws we want to see.' When somebody else is scripting it, they can accentuate a positive. I can't sing, but probably a good producer could put me in a studio and at least hide it a little bit."
John Niyo of the Detroit News suggests the Lions are putting more stock in Stafford's performance last season for Georgia than they are in any of his draft-season workouts. But the opportunity to put him through a drill that emphasizes their own offense is too good of an opportunity to pass up.
Continuing around the NFC North:
March, 11, 2009
3/11/09
7:52
AM ET
Posted by ESPN.com's Kevin Seifert
Fans of at least two NFC North teams were no doubt intrigued by Tuesday night's developments regarding Denver quarterback Jay Cutler, whose conference call with Broncos officials left some wondering whether he will show up for the team's offseason program next Monday. If he doesn't and begins pushing for a trade, you would think Detroit and Minnesota will at least be entered into the public discussion for his services.

The Lions reportedly were involved in talk of a three-way deal last month that would have sent Matt Cassel to Denver and, presumably, Cutler to Detroit. David Birkett of the Oakland Press notes that Cutler and Lions receiver Calvin Johnson have the same agent (Bus Cook). Acquiring Cutler would leave the Lions free to draft an offensive tackle with the No. 1 overall pick, presuming they don't give it away in the trade.

It's important not to get ahead of ourselves. According to my ESPN.com colleague Bill Williamson, the Broncos re-emphasized to Cutler on Tuesday that they will not trade him. And even if that stance changes, there would still be plenty of work to do before he might land in Detroit.
Or Minnesota, for that matter. Vikings vice president Rick Spielman didn't rule out further additions last week, but he also said it would set the franchise back to gut another draft a year after giving up three high picks for defensive end Jared Allen. As always, stay tuned.
Now for a jaunt around the division:
February, 6, 2009
2/06/09
8:45
AM ET
Posted by ESPN.com's Kevin Seifert
I get regular requests for updates on the health of Minnesota defensive end Kenechi Udeze, who missed last season while fighting an acute form of leukemia.
Minnesota coach Brad Childress told local reporters Thursday night that Udeze remains on track to participate in the Vikings' Organized Training Activities when they begin this spring. Those drills typically are scheduled for after the draft.
Udeze was declared to be in remission early last summer and then underwent a bone marrow transplant. He remains under contract, and the Vikings will give him every opportunity to make the team in 2009. Here is Rick Alonzo and Sean Jensen's report in the St. Paul Pioneer Press.
Continuing around the NFC North on this Friday morning:
January, 27, 2009
1/27/09
7:50
AM ET
Posted by ESPN.com's Kevin Seifert
Minnesota defensive end Kenechi Udeze met with members of the local media Monday and said his goal remains to re-join the team when its offseason program begins in April.
Udeze had a bone marrow transplant six months ago to assist his fight against an aggressive form of leukemia that caused him to miss the 2008 season. Udeze has an important biopsy scheduled for Tuesday, and he said: "It's been nothing but good news [so far], so let's hope for the best," Udeze said.
Udeze's weight topped out at around 320 pounds during part of the recovery process, but he is back down to around 260 pounds. The Vikings tolled his contract for 2008, which pushed the terms back to the 2009 season and allow him to remain under contract. They plan to give him every opportunity to prove he can still play the game after doctors clear him to try.
Wearing a "Cancer Sucks" T-shirt, Udeze spoke to a group of middle school students Monday and said: "Yes, I'm coming back, and I'm going to be better than I was before."
Here is Judd Zulgad's report in the Star Tribune and Rick Alonzo's in the St. Paul Pioneer Press.
Continuing around the NFC North on kind of a busy Tuesday:
Former NFL linebacker Kevin Greene said he is "fired up" to join Green Bay's coaching staff, according to Tom Silverstein of the Milwaukee Journal Sentinel. Greene, who will coach outside linebackers, added: "I played fired up as you probably know. I played with passion and desire. I have 15 years of on-field experience and my knowledge of how to play this position is second to none."
Plenty of Bears fans would like to see Arizona receiver Anquan Boldin in Chicago next season, writes David Haugh of the Chicago Tribune. Said Boldin: "That is always flattering. But as far as thinking about next year or the future, it doesn't help me right now. My only goal is to win the Super Bowl."
David Birkett of the Oakland Press spent Monday night at Ford Field at one of the Lions' "town hall" sessions with season-ticket holders. One asked coach Jim Schwartz why he should keep his tickets. Schwartz's response: "Don't get rid of your tickets because if you do, in a couple years you won't be able to get them back."

Posted by ESPN.com's Kevin Seifert
MINNEAPOLIS -- Many of you have asked me for updates on the health of Minnesota defensive end Kenechi Udeze, who underwent a bone-marrow transplant over the summer as part of his fight against leukemia.

Udeze
A few reporters ran into Udeze here Sunday morning at the Metrodome, where Udeze is scheduled to be the Vikings' honorary captain for the opening coin toss. Udeze said he is on track in his recovery and left no doubt about his future plans.
"I'll be back next year," Udeze said. "Everything is going to be fine for next year."
Udeze spent three weeks in the hospital during July for the procedure. The transplant came from his brother, Thomas Barnes.
Udeze was released July 24. He was required to wear a mask in public for the next 100 days to limit his exposure to infection, and Sunday is the first Vikings game he has been able to attend.
Udeze has already started upper-body workouts and said he hopes to begin jogging soon once the threat of swelling in his feet subsides.
Overall, Udeze's prospects look very strong.
For background, here is a link to our story this summer on Udeze's fight.
August, 24, 2008
8/24/08
2:12
PM ET
Posted by ESPN.com's Kevin Seifert
Extra! Extra! THE DETROIT LIONS ARE 3-0 IN THE PRESEASON!
You might not be moved to spit out your morning coffee -- or your midmorning iced tea, since we're posting a bit later than usual. But the fact of the matter is the Lions haven't opened the preseason with three consecutive victories since 1995. (They made the playoffs that season with a 10-6 record, behind Barry Sanders, Herman Moore, Scott Mitchell and the rest of the gang.)
We're not suggesting the Lions' sharp preseason means they'll earn a postseason berth in 2008. But it's nevertheless added to the growing optimism around their chances this season. After a 26-6 victory Saturday over the Cleveland Browns, in fact, Detroit News columnist Bob Wojnowski wrote: "The Lions have a chance to show more progress than we anticipated." That's about as optimistic as things can get this time of year in Detroit.
The primary reason for excitement has been the play of quarterback Jon Kitna, who completed nine of 11 passes against the Browns and has a 150.5 passer rating this preseason.
In addition to Kitna, however, the Lions got a 35-yard touchdown run Saturday night from rookie running back Kevin Smith and their defense held the Derek Anderson-less Brown offense to three plays in each of its first three series.
The running game has been a point of emphasis all summer long as coach Rod Marinelli tries to mold the team closer to his tough-guy image. So it was fun to read his comments Sunday morning in the Detroit Free Press. It sounded like a guy who smells blood and is going for more. (That was kind of a mixed metaphor, but it works.)
"It's got to get better," Marinelli said of the running game, according to the Free Press. "It's got to be more consistent. We had a couple that broke, which is good. But what I want is a punishment. I want to punish a defense. I want to take their legs out of them so they can't rush. That's what I'm trying to do. Will we run for 2,000 yards? I don't know. But I want to be physical."
Elsewhere around the NFC North:
Chicago Bears running back Kevin Jones appears no worse for the wear after making his preseason debut last Thursday against San Francisco. Jones ran three times for 30 yards less than nine months after undergoing surgery to repair a torn anterior cruciate ligament. If all goes well, he will enter the season as a change-of-pace option for starter Matt Forte while continuing to build strength.
Green Bay Packers General Manager Ted Thompson wouldn't reveal the severity of rookie guard Josh Sitton's knee injury and it's not clear how much time Sitton will miss. He was the odds-on favorite to start at right guard, and with center Scott Wells sidelined by a lower back injury, the Packers' line remains in flux. One opening night possibility could be Jason Spitz at center, with Daryn Colledge and Allen Barbre at guards.
We brought you the highlights Saturday night of the Minnesota Vikings' 12-10 loss to Pittsburgh, but here's one more story to add: Defensive end Kenechi Udeze was released from the hospital about three weeks ago after undergoing bone-marrow transplant surgery to combat leukemia. He will have to wear a mask for three months whenever he leaves his home to guard against infection.