October, 9, 2013
10/09/13
8:30
PM ET
When the
Arizona Cardinals
' injury report came out late Wednesday, the list of limited players was long.
Only rookie linebacker
Kenny Demens
(hamstring) didn't practice but that was expected. Limited, however, were linebackers
John Abraham
(shoulder),
Daryl Washington
(knee),
Jasper Brinkley
(groin) and
Kevin Minter
(hamstring), defensive tackle
Darnell Dockett
(groin), wide receiver
Larry Fitzgerald
(hamstring), safety
Rashad Johnson
(finger) and defensive end
Ronald Talley
(wrist).
Left guard
Daryn Colledge
(shin) practiced in full.
A few players stood out on the report. Washington played in his first game of the season Sunday and was all over the field. As long as that knee doesn't bother him, he can continue to have a Pro Bowl-caliber season. Cardinals fans -- and players -- never like seeing Fitzgerald on the list. He was hampered by his hamstring during the Detroit game earlier this season.
On Monday, Cardinals coach Bruce Arians said Dockett "was not close to being himself" in Sunday's 22-6 win over the Panthers. The Cardinals' training staff initially expected Dockett's groin injury, which caused him to leave the Tampa Bay game, to be a two-week injury but he returned in just a week.
Johnson returned to the practice field Wednesday for the first time since losing the tip of his left middle finger Sept. 22 in New Orleans. He practiced with a splint wrapped in black tape.
September, 26, 2013
9/26/13
6:57
PM ET
SARASOTA, Fla. -- Amos Jones has been around for a long time and he's seen his fair share of oddities in football.
And that includes Arizona coach Bruce Arians with hair.
But Jones, the
Arizona Cardinals
'special teams coordinator, had never seen 11 substitutions on special teams in one game, the number Arizona totaled last weekend against New Orleans because of injuries. Jones' previous high was nine.
Already down one special teams starter, rookie linebacker
Kevin Minter
(hamstring injury), Jones lost one of his special teams captains, linebacker
Lorenzo Alexander
, who ruptured his Lisfranc ligament, and another stalwart, linebacker
Sam Acho
, who broke his fibula. If that wasn't enough, backup rookie linebacker
Alex Okafor
tore his left biceps and is out for the season. He played the second-most snaps on special teams against the Saints.
"I compared it to coaching in the Canadian League or coaching in high school ball where somebody gets hurt, you gotta go," Jones said. "Same thing in the NFL when you only have 53 men. You just got to be prepared for those scenarios. Luckily our guys have accepted that from Day 1."
It didn't take long for their losses to impact the Cardinals.
Without Alexander and Acho, Arizona's punt-return defense suffered. It came into Sunday's game allowing 0.8 yards, in large part because of second-year gunner
Justin Bethel
. But without Alexander, who would command a double team, thus opening lanes for his teammates to streak down field, the Saints could focus more on Bethel and slow the downfield stampede. After their 31-7 loss to the Saints, the Cardinals are allowing eight yards per punt return, still impressive, but 10 times what they were previously giving up.
Assuming the roles vacated by Alexander, Acho and Okafor will be the Cardinals' three most recent additions:
Dontay Moch
,
Vic So'oto
and
Kenny Demens
.
Their first challenge will be a top-10 punt return unit and the third-best kickoff return team. Tampa Bay averages 7.8 yards per punt return and 31.3 per kickoff return. The Bucs have had three players return kicks this season and all averaging at least 25 yards per return.
Arizona, meanwhile, has allowed 17.3 per kick return.
"We [are] ready with the backups," Jones said. "Some of those backups will be starting this week. We went out and acquired three guys that have unique skill sets so we'll utilize them the best we can.
"So, it'll be a bunch of unselfish guys who'll step up and fill in. Some guys will get a little bit more playing time at other positions, and some of these guys we just acquired will come in and put a hand in the pile."
Alexander was the NFC's Pro Bowl special teams representative last year with the
Washington Redskins
and Acho was starting to hit a stride on special teams, but it's not their physical skills Amos will miss most.
It was their leadership, their dependability, their experience. Amos could look at Alexander and bounce ideas off him.
"Those guys had great presence in the room," Jones said. "We have other guys. We're not just about one or two guys, that's not how we're built, but it was always a pleasure."
September, 25, 2013
9/25/13
8:00
AM ET
SARASOTA, Fla. -- Handling a loss is part of the game. And waiting on a star to return from an injury also comes with the territory.
Having to rebuild an entire position because of injuries, well, that might have been coach Bruce Arians' "Welcome to the NFL" moment. And how he responds could spell out the rest of the season for the
Arizona Cardinals
.
A depth chart is built with this type of situation in mind. Both of Arizona's starting outside linebackers,
Lorenzo Alexander
(Lisfranc) and
Sam Acho
(fibula), left Sunday's 31-7 loss to the
New Orleans Saints
with season-ending injuries. It was a blow to the defense, but it's not the end of the world. Enter the backups. Rookie
Alex Okafor
filled in for Acho, but saw only five plays. Which, Arians said on national radio Tuesday night, was all he needed to tear a biceps tendon.
Okafor is out for the season, too.
Enter … well, nobody.
Teams aren't built to back up the backup. Anyone who posits otherwise simply doesn't understand the dynamics of football. With a 53-man roster, 22 spots are slotted for starters. Give each one a backup and that's 44 players, with nine openings left for special teams and specialists.
[+] Enlarge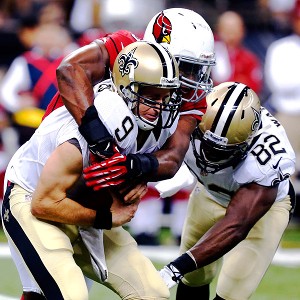 AP Photo/Bill HaberSam Acho recorded a sack of Saints QB Drew Brees before leaving with a broken fibula.
The only two outside linebackers to survive Sunday were
John Abraham
and
Matt Shaughnessy
, both of whom tend to play as outside rushers off the line, or, in Shaughnessy's case, sometimes in the middle of the line.
Losing three of a unit's five players, no matter what team it is, can bring panic. But the Cardinals have reacted swiftly, trying to piece together a competitive outside-linebacking unit.
They filled out the roster with a couple of internal promotions,
Dontay Moch
and rookie Kenny Demens, from the practice squad (the latter move according to Arians) and signed
Vic So'oto
to the active roster. It's a solid start to a process that may last the rest of the season. The outside linebackers could be liability until at least two of the injured players return next year.
Arians likes Moch's speed, which can help this defense improve its pass rush. Arizona has recorded just one sack off the edge this season, by Acho, against the Saints.
The Cardinals have three primary options at this point: Stay with the new outside linebackers, revamp the entire unit -- inside and out -- when
Daryl Washington
returns Monday or change the defense, putting more men at the line of scrimmage and keeping the inside guys at their natural position.
If Arizona stays in a 3-4 with its current players, there's a good chance the outside backers will be rotated throughout the season because of general manager Steve Keim's penchant to comb the waiver wire. If Moch produces, he can earn himself a consistent starting job because of how Arians operates. Arians works with who's in front of him, and if Moch can prove he's worthy of staying on the field, Arians will leave him there.
But if the Cardinals decide to revamp the entire unit, the new faces on the roster may be relegated to the sideline. There'd be a learning curve, however. With Washington returning, Arians and defensive coordinator Todd Bowles could play him,
Karlos Dansby
and
Jasper Brinkley
together. Herein lies the problem. All three are inside backers -- and so is rookie
Kevin Minter
, who's out with a hamstring injury and isn't expected back for a few weeks. If one is willing to convert to outside and the Cardinals want to keep their 3-4 scheme, they could move Moch or another addition to the outside until Minter returns.
If Arizona decides to change schemes, it could keep Washington, Dansby and Brinkley as the linebackers, although two would have to learn outside-LB tendencies. Then the Cardinals could bring Abraham off the edge more often, especially against pass-happy offenses -- of which the NFC West is full. According to Pro Football Focus, Abraham led Arizona with five quarterback hurries on 29 pass rushes.
There's a lot to be decided in the next couple weeks, although most of the major decisions that would affect the rest of the season won't likely happen until Washington returns.
This is the equivalent of a vacation gone wrong but you can't leave. The weather is bad. Nothing seems to go right. But the Cardinals are just trying to get through this week, miles away from home, and salvage their trip by getting back to .500.

NFL SCOREBOARD
Thursday, 9/4
Sunday, 9/7
Monday, 9/8