NFL Nation:

Kenny McKinley
April, 29, 2011
4/29/11
9:44
PM ET
The chart shows the wide receivers Josh McDaniels' teams have drafted over the years, including the
St. Louis Rams
' latest selection,
Austin Pettis
.
Note that most of the receivers are at least 6 feet tall and 200 pounds.
April, 29, 2011
4/29/11
1:11
AM ET
ENGLEWOOD, Colo. -- Wrapping up the first night of the NFL draft.
Denver's No. 2 pick,
Von Miller
, was the only rookie on the 10-player plaintiff list that used the NFL to start the lockout. Thursday night, Miller gave NFL Commissioner Roger Goodell a hearty hug after he was drafted. Miller said he has nothing personal against Goodell.
Denver coach John Fox said Miller was No. 1 on the team's draft board.
The Broncos' second- and third-round picks will be introduced to the media Saturday. They will wear No. 11 jerseys to symbolize the year they were picked. No one wore that number in Denver last year after injured receiver Kenny McKinley committed suicide early in the season. The team talked to McKinley's family about it and the family is on board with the idea.
Denver has not drafted a defensive tackle since 1997 when it took Trevor Pryce at No. 28.
Check out
Jeffri Chadida's pre-draft column on Miller
. He's a high-character kid.
Fox said the team did not receive any calls to move down from No. 2. The No. 2 pick hasn't been traded since 2000. Fox did say he expects to get many calls about the No. 36 pick.
Fox said he is thrilled to get the veteran players back in the building Friday.
Fox said defensive end Jason Hunter's stab wounds should not affect his ability to play in 2011. He was reportedly stabbed in the shoulder Wednesday.
San Diego No. 1 pick,
Corey Luiget
,
will play defensive end in the 3-4 defense
.
September, 26, 2010
9/26/10
10:52
PM ET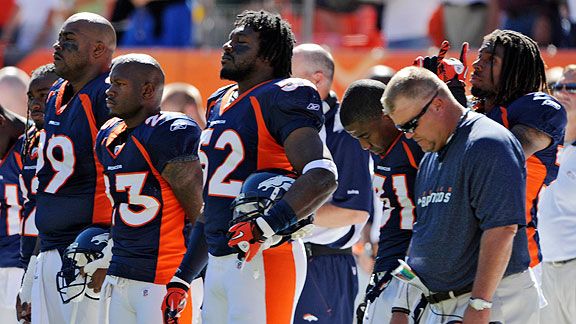 AP Photo/ Jack DempseyThe Denver Broncos observe a moment of silence for Kenny McKinley.
DENVER –- Two days after he spoke at a memorial service for the first time in his life and following a week of being a key part of the support system for the girlfriend and family of one his closest friends,
Matt Prater
had to prepare for an NFL game.
Just like the rest of the confusing, heartbreaking days since he received a phone call that
Kenny McKinley
had died Monday afternoon, Sunday wasn't easy for the Denver Broncos' kicker.
Six minutes before he had to kick off against the
Indianapolis Colts
in
a 27-13 loss
, Prater and his Broncos teammates had to stand through a moment of silence for McKinley.
"Here it is, just before the game and I'm crying," Prater said. "I had to focus on a game and that was happening. I'm sure I wasn't the only guy [crying]. ... I'm tearing up just talking about it now. It was a horrible week."
McKinley died of an apparent suicide Monday. He was 23. The second-year receiver had been on injured reserve since early August because of a knee injury.
Since learning of McKinley's death, the Broncos -- who had to deal with the deaths of 24-year-old players
Darrent Williams
and
Damien Nash
in 2007 -- have been burdened by grief and confusion over the death of a seemingly happy young man. Prater talked to McKinley on Sunday night and the two made plans to see each other Tuesday. Instead, Prater spent the day consoling McKinley's girlfriend.
The Broncos had a team meeting Tuesday morning, during which coach Josh McDaniels and grief counselors addressed the team. The team had an emotional memorial service, which was attended by McKinley's family, Friday. The team on Sunday wore McKinley's No. 11 decal on the back of their helmets, as they will for the rest of the season.
During the moment of silence, Broncos special teams captain
Wesley Woodyard
pointed both arms high into the sky. As soon as the game ended, McKinley's image graced the big screen at Invesco Field at Mile High.
Monday, a contingent of front-office members and players will attend McKinley's funeral in Georgia.
Early last week, Broncos coach Josh McDaniels admitted that it wouldn't be a normal week as the 1-1 Broncos had to prepare for
Peyton Manning
and the Colts.
And it wasn't normal at all.
"It had a big effect on this team this week," Prater said. "There was sadness. We felt it all week."
[+] Enlarge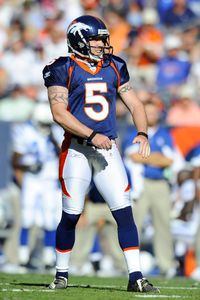 Ron Chenoy/US PresswireKicker Matt Prater, a close friend of Kenny McKinley, was able to connect for a 25-yard field goal in the first quarter.
Prater said Denver's pregame locker room was much quieter than usual, though he did hear a few teammates say the Broncos needed to "win it for Kenny."
After the game, Broncos officials privately lauded McDaniels -- who also spoke at the memorial service -- for allowing himself and his players to grieve while still keeping them focused on the game plan.
The following are some key aspects to the loss for Denver:
Too many mistakes:
The
Broncos hung with the Colts
in this game. Yet, they were doomed by critical mistakes throughout the game. The Colts didn't make big mistakes and that's why they won.
Denver lost a fumbled punt at its 10. Quarterback
Kyle Orton
, despite putting up big numbers, was intercepted in Colts territory. Denver was stopped four straight times from the Colts' 1.
With just over nine minutes to play and the Colts leading 20-13, Denver went for it on fourth down and 3 from the Colts' 12. Orton couldn't hook up with receiver
Brandon Lloyd
.
That play surely will be talk-radio fodder this week in the Rockies. McDaniels said he thought about going for a field goal, but stood by his decision.
"You kick a field goal and you're down four and you go on," McDaniels said. "You make a decision and you live with it. ... We'd probably do it again."
Orton has a big day:
Orton continued to show immense improvement. He threw for 476 yards, which was the second most passing yards in Denver history. Orton has 1,078 yards in three games.
Still, Orton, who completed 37 of 57 passes, had trouble in the red zone, completing 3 of 13. That's where Denver last the game.
"We have to get better there," Orton said.
Manning does enough to win:
At times, Colts superstar Peyton Manning looked like the second-best quarterback on the field. But Manning made enough plays when it counted.
With Denver bottling up the Colts' running game for much of the day, Manning was forced to win the game with his arm. No problem there.
After McDaniels' failed gamble, Manning led the Colts on an impressive drive, including hitting receiver
Austin Collie
on a third-and-15 play to seal the game.
"We just didn't make enough plays," said Denver cornerback
Champ Bailey
, who played despite missing most of the practice week with a foot injury. "We just didn't do enough."
September, 21, 2010
9/21/10
4:49
PM ET
Denver Broncos
coach Josh McDaniels knows this will be a difficult week for his team as it prepares to host Indianapolis on Sunday.
An emotional McDaniels addressed the media Tuesday, a day after second-year receiver
Kenny McKinley
died in an apparent suicide. McKinley, 23, was on the injured reserve. He was a fifth-round pick in 2009. McDaniels declined to discuss the circumstances or details of the death. Yet, he was very open about his feelings toward McKinley and how it will weigh on the team.
"You know, it's not going to be a normal week," McDaniels said. "We are not going to try and pretend that it's a normal week. We are going to do our work and get ready to go and like I said, I think really respect everybody's ability to go through this differently. We are not going to ask everybody to be the same, and we are not all going to be the same. I think the players will understand that the week is going to go forward and we are going to have to handle that as well as get ready for the Colts and be ready to play on Sunday. It will be different, but I think our group will continue to so what they have done, which is prepare hard and get ready to play."
McDaniels called a team meeting for Tuesday morning, which was the team's day off. McDaniels updated the players on the situation and grief counselors addressed the team as well.
The Broncos are experienced with dealing with tragedy. Hours after the 2006 season ended, popular right cornerback
Darrent Williams
was shot and killed in a drive-by shooting in downtown Denver. Fifty-five days later, reserve running back
Damien Nash
died of a heart attack after hosting a charity basketball game. Williams and Nash were both 24.
This situation is somewhat different, because Denver has to play a game in the days after the death of a teammate.
McDaniels said there will be a moment of silence prior to Sunday's game and players will wear a decal with McKinley's No. 11 on it. The team has also decided to keep McKinley's locker intact for the rest of the season. McDaniels said the team is in the progress of working on the details of a memorial service with McKinley's family.
September, 20, 2010
9/20/10
11:30
PM ET
Several
Denver Broncos
were spending the night after their first win of the season honoring the memory of a fallen teammate.
The Broncos have gotten used to dealing with death, if that is even possible. Sadly, they must face the death of a teammate for the third time in less than four years
Second-year receiver
Kenny McKinley
was found dead Monday of an apparent suicide. He was 23. McKinley was a receiver who was a fifth-round pick in 2009. He was on the injured reserve.
Once again, Denver will be saddled with heavy hearts.
Hours after the 2006 season ended, popular starting right cornerback Darrent Williams was shot and killed in a drive-by shooting after a New Year's Eve party in downtown Denver hosted by Denver Nuggets forward Kenyon Martin. Fifty-five days later, reserve running back Damien Nash died of a heart attack after hosting a charity basketball event. Williams and Nash were both 24.
Monday night, Denver star cornerback
Champ Bailey
and former safety
John Lynch
hosted an event to benefit the memorial center named in Williams' honor. Several current Denver players were scheduled to be at the event.
Nearly four years after Williams' senseless death, the event was supposed to be joyous as the team and the Denver community remembered Williams.
Now this news.
The deaths of Williams and Nash understandably affected the 2007 Broncos. There were funerals, tributes and the team wore helmet decals in memory of the two men. As time passed, it seemed Denver found a way to move on, although the team never forgot Williams and Nash.
Now, there will be more memorials and tributes to deal with.
Unlike Williams and Nash, I had never met McKinley. By all accounts, he was pleasant young man who was quick with a smile. This is a tragedy that the Broncos are all too familiar with.
September, 20, 2010
9/20/10
10:36
PM ET
The
Denver Broncos
have released statements on the death of second-year receiver
Kenny McKinley
.

McKinley
McKinley, 23, was found dead on Monday. He was a fifth-round pick in 2009 out of South Carolina, and played eight games as a rookie, but had been on the injured reserve list this season.
Denver coach Josh McDaniels is set to talk to the media Tuesday at noon to discuss McKinley's death.
Here is McDaniels' statement, released by the team Monday:
"Kenny had a promising future on the football field, but more importantly, he was a great teammate whose smile and personality could light up the room. This is a tragic loss for our football team, and his family is in all of our thoughts and prayers during this difficult time."
Here is a statement form Denver owner Pat Bowlen:
"Everyone with the Broncos is shocked and saddened by the loss of Kenny McKinley. He was part of the Broncos' family and will be greatly missed by our organization. My most heartfelt condolences go out to Kenny's family and friends."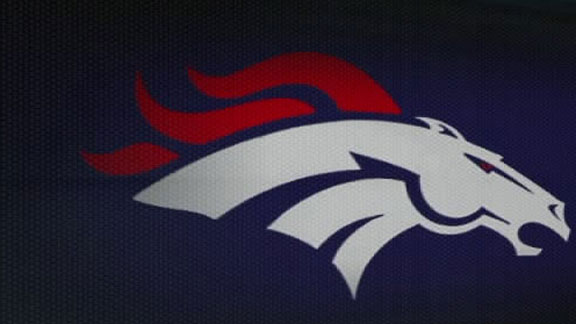 June, 23, 2010
6/23/10
12:04
PM ET
The
Denver Broncos
had the type of draft in 2009 that was supposed to give the team a nucleus.
Thanks to several trades (including one that sent Pro Bowl quarterback
Jay Cutler
to Chicago), the Broncos finagled five picks in the first two rounds. It was an impressive display of draft chip building by first-year Denver coach Josh McDaniels and general manager Brian Xanders.
There's no doubt that if the Broncos become a premier team in the near future it will be because of the development of the 2009 draft class. However, it appears solid production from this class is not a foregone conclusion. The class produced very little last year for Denver, which also wheel-and-dealed this year and produced five players in the top No. 87 picks, including receiver
Demaryius Thomas
and quarterback
Tim Tebow
in the first round.
"I like how Denver has found ways to acquire picks and it's a good way of building a great foundation," said Matt Williamson of Scouts Inc. "I'm just not sold on the players they have taken."
While the 2010 class prepares to begin their rookie season, the 2009 class in Denver is preparing to make progress from a disappointing NFL start. Denver also has hope fourth-round picks
David Bruton
and
Seth Olsen
(guard) and fifth-round pick
Kenny McKinley
(receiver) will contribute as well. But the attention is on the five picks in the first two rounds.
The following is a look at those top five picks from Denver's 2009 class:
No. 12, Knowshon Moreno, running back

Moreno
Recapping 2009:
Moreno had 947 yards and averaged 3.8 yards per carry. His production dipped terribly as the season wore on. He had a total of 173 yards in the final four games as the Broncos, who started the season 6-0, fell out of playoff contention and finished 8-8. Moreno's 2.7 per carry average in that time span was alarming. Overall, he didn't show much explosiveness at all. His longest carry of the season was 27 yards.
What's expected in 2010:
The Broncos have been pleased what they have seen from Moreno this offseason and he seems to be more prepared for the long NFL season. He will be the starter and Denver hopes that he can get in the 1,200-1,400-yard range as the Broncos move to a more traditional power-blocking scheme.
A scout's view:
"I liked Moreno as a late-first round pick but not at No. 12. You don't take a running back that high unless he is
Adrian Peterson
, a superstar. I don't think Moreno will be a superstar, but he should be better in Year 2. He's a good player, but not an elite player." -- Matt Williamson
No. 18, Robert Ayers, linebacker:

Ayers
Recapping 2009:
Ayers started just one game last season, finishing the year with 19 tackles. He didn't have any sacks. That was disappointing for Denver since it drafted him to be a pass-rusher. He was moved to linebacker to utilize his explosiveness, but he didn't show it as a rookie. Ayers was a late draft riser after a so-so college career.
What's expected in 2010:
It hasn't started great. After being lauded by McDaniels for much of the offseason, Ayers didn't practice for the first two days of the mandatory minicamp earlier this month. Finally, on the third day, Ayers did some work and McDaniels said the problem had been resolved. Ayers can't have any more setbacks. He will get a chance to start at linebacker, but he will have to earn his keep.
A scout's view:
"I think he's more of a 4-3 defensive end than a 3-4 linebacker. I don't know if he is a good fit for Denver's scheme. I'd be reluctant to write him off because he is adjusting to a new scheme." -- Matt Williamson
No. 37, Alphonso Smith, cornerback

Smith
Recapping 2009:
Smith's rookie season was as a disaster partly because of how he was acquired. That's not his fault, but he has to deal with it. When Smith, who was expected to be a late first-round pick, fell to No.37, Denver jumped up and traded its 2010 top pick (which turned out to be No. 14) to Seattle for him. Smith didn't live up to the price tag. He couldn't keep his nickel cornerback job as he was beaten out by veteran pickup
Ty Law
and undrafted rookie
Tony Carter
.
What's expected in 2010:
The Broncos expect Smith to be the nickel cornerback. If he doesn't keep the job this year, the alarms will sound loudly.
A scout's view:
"I liked the move to get him at No. 37; I'm not so sure about giving up a first-round pick. He is tough as nails and he is a good player. I'm not sure why he had a slow start." -- Matt Williamson
No. 48, Darcel McBath, safety

McBath
Recapping 2009:
McBath was decent when he played, but for now, he is just a backup safety. He was a good special-teams player, but his season was cut short because of injuries.
What's expected in 2010:
To continue to develop and help on defense when needed and be a special-teams standout. He will eventually replace
Brian Dawkins
when he retires.
A scout's view:
"I thought he was a good pick and he could be a good player. But he's backup for now." -- Matt Williamson
No. 64, Richard Quinn, tight end:

Quinn
Recapping 2009:
Like Smith, Denver gave up a lot to get Quinn. He was the centerpiece of a trade in which Denver sent two third-rounds picks away in 2009. Quinn was clearly targeted. Yet, on draft day, Quinn admitted that he expected to be selected much lower in the draft. Denver took him because of his blocking. He played in 15 games and didn't have a catch. He made noticeable mistakes in games and in training-camp practices.
What's expected in 2010:
He needs to develop. The team is using more of a power-blocking scheme so he may be on the field with
Daniel Graham
more in double-tight end sets.
A scout's view:
"He's a blocking tight end. He's not dynamic enough to use that high of a pick on. The Broncos already have Graham and Quinn is a Graham clone. It's clear that's what they want out of the position, but I'm not sure he'll give them the production that's expected because of what they gave up to get him."
-- Matt Williamson
August, 23, 2009
8/23/09
2:53
PM ET
Posted by ESPN.com's Bill Williamson
Random thoughts from Denver's 27-13 loss at Seattle on Saturday night:
Kyle Orton wasn't perfect, but he was much better against Seattle than he was against San Francisco, where he threw interceptions on three straight series.
Orton completed 18 of 26 passes for 182 yards. He threw one interception. Orton played into the third quarter. It is clear Orton will be given every opportunity to keep his starting job.
Defensive lineman Kenny Peterson had two sacks and now has three sacks in two games.
Newly acquired defensive lineman Le Kevin Smith played extensively. The former New England backup has a chance for major playing time.
Speaking of New England, former Patriots backup Jabar Gaffney is becoming a favorite target of Orton's. The longer the Brandon Marshall saga goes on, the more opportunities Gaffney will get with the first team.
Rookie Kenny McKinley has been good in the receiving game, but he had issues keeping his hands on the ball in the return game against Seattle.
Struggling kicker Matt Prater came through with a 53-yard field goal. That could go a long way in helping him make the team.
Denver's run defense bounced back and allowed Seattle just 72 yards. The run defense has been one of Denver's biggest problems.
August, 12, 2009
8/12/09
11:06
AM ET
| | |
| --- | --- |
| | |
| | Ron Chenoy/US Presswire |
| | Josh McDaniels plans on doing things his way as head coach of the Broncos. |
Posted by ESPN.com's Bill Williamson
ENGLEWOOD, Colo. -- There's no doubt: Josh McDaniels means business in Denver. At 33, the former New England golden child is the man in charge.
"It's his team," said receiver Eddie Royal.
We found that out very early in McDaniels' regime, after the former New England offensive coordinator was hired to replace Mike Shanahan following a 14-year run in Denver. Even though both are regarded as offensive masters, Shanahan and McDaniels see the football world differently.
McDaniels shook up the roster, including the offense, which was ranked second in the NFL last year. Of course, the biggest shake-up of the entire NFL offseason was McDaniels' public feud with Pro Bowl quarterback Jay Cutler, one that resulted in the Broncos trading Cutler to Chicago.
The Cutler trade and several other offseason moves showed McDaniels is bent on doing things his way. It has continued on the practice field in training camp.
McDaniels is a man with his own plan and he believes in his way. Players are amazed by the swift and precise manner in which practices are held. Under Shanahan, camp practices were fairly relaxed. Shanahan believed in making sure his troops were ready for Sundays.
Every day is Sunday for McDaniels, who often keeps his team on the field for 30 minutes more than the practice is scheduled for.
"He really spends a lot of time in game situations," Royal said. "We are practicing real game stuff all the time. He doesn't want us to panic when we get to a situation. It's all very well prepared."
McDaniels can't wait to see how his practice ploys play out in the Broncos' preseason opener Friday in San Francisco.
"I hope there are six or eight of these [situations] that come up in the game on Friday night," McDaniels said. "Because then, we will get to actually go out there and see what we learned from all of these practices."
| | |
| --- | --- |
| | |
| | AP Photo/David Zalubowski |
| | The Broncos are counting on quarterback Kyle Orton to lead the offense this season. |
Some veterans this week said that Shanahan's way got stale. They are willing to give the McDaniels way a whirl. They have no choice, however. He's going to do it anyway -- whether they like it or not.
Key Questions
1. Is Kyle Orton the answer at quarterback?
Orton was given the starting job over Chris Simms in June. It gave him extra time to learn McDaniels' intricate system. Still, Orton is having his ups and downs. He was booed by fans at a scrimmage last week but has since bounced back. Orton is never going to wow anyone, but if he can get a handle on McDaniels' system, he may be a decent game manager. But don't expect anything spectacular.
2. Can the defense turn it around?
The Broncos' fortune may depend on whether the defense can rebound. The team has compiled a sold back eight, if everyone stays healthy. But the key in defensive coordinator Mike Nolan's 3-4 defense is the front three, and the unit is inexperienced. The current starters -- Kenny Peterson and Ryan McBean at end and Ronald Fields at nose tackle -- have two combined starts in the past two NFL seasons. The three starters are big and stout, but none is a proven starter yet.
3. Will Brandon Marshall be ready to contribute?
| | |
| --- | --- |
| | |
| | AP Photo/David Zalubowski |
| | Denver needs Brandon Marshall to be healthy and focused. |
Ultimately, I believe he will. Marshall has been a big story this offseason. First, he had hip surgery in March, and then in June he asked to be traded. Still, he reported to training camp. Yet, he hasn't practiced in 10 days because of an apparent hamstring injury. Marshall is expected to be fully ready to go by the season opener in Cincinnati on Sept. 13. If Marshall is mentally and physically prepared, he is one of Denver's best players.
Market watch
Orton may be a question mark and there are unknowns about Marshall as well. But we know this: The Denver receiving crew is going to be good.
Orton will have plenty of weapons to work with. The offense will be even more stacked if Marshall is physically and mentally into the game.
Let's face it: Marshall is the jewel of this group and Denver needs him. But the Broncos are very excited about their other receivers.
It starts with R
oyal, who may play several roles in McDaniels' offense. Royal caught 91 passes as a rookie and he could have a Wes Welker-type role in McDaniels' offense.
The Broncos will also find a way to get mileage out of veterans Brandon Stokley and Jabar Gaffney. The savvy veterans could be perfect fits in McDaniels' system that sprays the ball around the field.
Newcomer to watch
There are a ton of newcomers on this team and players like Orton and rookie tailback Knowshon Moreno will be watched closely, but here is a player to watch who could help determine if the defense is going to be improved or not: Andre' Goodman.
The right cornerback was signed as a free agent from Miami. The Broncos released the overpriced and underproductive Dre' Bly and believe they got a much better player in Goodman. After a wild free-agent signing spree, Goodman could be one of the best buys. Along with star left cornerback Champ Bailey, Goodman could complete a nice cornerback tandem in Denver.
Goodman has excelled in training camp. He is a ball magnet. Plus, he is a bright player and a leader who is not afraid to take chances. The only real question about Goodman in his career is if he can stay healthy. If Goodman has a big year, it will go a long way in this defense making strides.
Observation deck
The Broncos are sticking with kicker Matt Prater even though he struggled at the end of last season and he has been inconsistent in camp. Prater has a strong leg and he is good on kickoffs. Still, if he struggles in the preseason, Denver may be forced to look elsewhere. ... First-round pick Robert Ayers has shown good pass-rush burst thus far. ... Moreno has been returning kickoffs in camp. McDaniels said on draft weekend that Moreno could be used as a returner as well as a three-down back. It's clear Denver will get its money's worth from him. ... Linebacker Andra Davis has looked good in camp. The Broncos believe their linebacker crew will be much improved as a unit. ... Elvis Dumervil is coming along as a linebacker in the 3-4 defense. He has natural pass-rush skills and the Broncos think he can be a terror in their scheme. ... Rookie receiver Kenny McKinley, a fifth-round pick, has looked impressive. ... The Broncos are pleased with the caliber of people the team has brought in this offseason. The last few years of the Shanahan era were marred by several players having legal issues.
April, 22, 2009
4/22/09
10:20
AM ET
Posted by ESPN.com's Mike Sando

Jim Thomas of the St. Louis Post-Dispatch says the Rams could use defensive tackles, but the team does not appear interested in Boston College's B.J. Raji. Thomas: "There has been next to nothing in terms of hints that the Rams are interested in Raji. Perhaps most telling was the fact that he was not invited to Rams Park last week for a pre-draft visit. About half the projected first round was invited among the 23 players at Rams Park, but not Raji." General manager Billy Devaney says the Rams have a "zero tolerance" policy for players convicted of crimes or known to be involved with illegal substances. Sports Illustrated retracted a story claiming Raji had failed a drug test at the combine.
Bill Coats of the St. Louis Post-Dispatch says Rams legend Deacon Jones used the word "asinine" to describe the team's failure to retire his jersey number.
Mike Garafalo of the Newark Star-Ledger profiles Rams general manager and New Jersey native Billy Devaney, who once told Don Shula he would play in the NFL. Devaney was wrong, of course. He would become a baggage handler at Newark Airport before breaking into the NFL as a scout for the Chargers in 1990.
Steve Korte of the Belleville News-Democrat says the Rams are valuing their scouts' opinions more heavily.

Dan Bickley of the Arizona Republic says Cardinals coach Ken Whisenhunt gives the team needed credibility. Bickley: "Look at Rod Graves. The compliant general manager is sitting at a table softly explaining his draft philosophies, and given his record at this sort of thing it is a sight that should strike terror in the hearts of all Cardinals fans. But they are calm because Whisenhunt is sitting there, too, and somehow, he'll figure it out."
Kent Somers of the Arizona Republic quotes Whisenhunt as saying NFL teams have a relatively easy time evaluating defensive linemen. There simply aren't as many good ones as teams would prefer, and so sometimes teams reach for them in the draft.
Also from Somers: The Cardinals denied reports they have asked for first- and third-round draft choices in return for receiver Anquan Boldin.
More from Somers: Highlights from a pre-draft news conference featuring Whisenhunt and Graves.
Darren Urban of azcardinals.com quotes Whisenhunt as saying the Cardinals are not "proactively" trying to trade Boldin.
Scott Bordow of the East Valley Tribune thinks the Cardinals should trade up in the draft to select running back Knowshon Moreno, even if it means parting with a third-round choice. I think Arizona can probably find a starter at No. 31.
Revenge of the Birds' Hawkwind says the Cardinals might need to consider drafting an inside linebacker given Karlos Dansby's apparent desire to hit the market after the 2009 season.

John Crumpacker of the San Francisco Chronicle says the 49ers' plans for the second through fourth rounds of the draft could mean more than what they do with the 10th overall choice.
Matt Barrows of the Sacramento Bee sent Brian Orakpo to the 49ers at No. 10 in a mock draft for the Sporting News.
Danny O'Neil of the Seattle Times quotes Sports Illustrated's Jim Trotter as saying Seahawks coach Jim Mora has a "man crush" on receiver Michael Crabtree.

Eric D. Williams of the Tacoma News Tribune doesn't expect the Seahawks to draft an offensive lineman in the first round.
Also from Williams: He checks in with Rob Rang for a round-by-round list of running backs and tight ends the Seahawks might consider in the draft. Receivers: Michael Crabtree, Hakeem Nicks, Mike Wallace, Kenny McKinley, Brandon Gibson, Markko Mitchell and Quan Cosby. The tight ends: Brandon Pettigrew, Jared Cook, James Casey, Richard Quinn, Cameron Morrah, Kory Sperry and Jared Bronson.
John Morgan of Field Gulls sizes up the Seahawks' needs at fullback. He calls Owen Schmitt a "highlight-reel" run-blocker, although it's a pretty short reel at this stage of Schmitt's career.
Also from Morgan: Seahawks center Chris Spencer isn't as bad as advertised, but he might be injury prone. Morgan looks at centers available in the draft.
Michael Steffes of Seahawk Addicts doesn't expect the Seahawks to draft Eugene Monroe after reading that Seattle was one of two teams not to attend the Virginia tackle's pro day.
Chris Sullivan of Seahawk Addicts breaks down at which point each Seattle player was drafted.
Clark Judge of CBSSports.com considers the Seahawks' decision with the fourth overall choice pivotal to how the draft will fall.