NFL Nation:

Kenny Peterson
March, 9, 2010
3/09/10
4:46
PM ET
After relying heavily on players from his former team (New England) last year, second-year Denver coach Josh McDaniels went back to the Patriot well Tuesday as he remakes his defensive line.
The Broncos signed New England defensive end
Jarvis Green
. He signed for four years in a deal that
will be worth
a maximum of $20 million. Denver signed Baltimore defensive tackle
Justin Bannan
last week.
Both Green and Bannan should play significantly. Last year, Denver's starting defensive ends were
Kenny Peterson
and
Ryan McBean
, and the nose tackle was
Ronald Fields
.
The Broncos are still trying to get a deal done with former San Diego nose tackle
Jamal Williams
to play him in a rotation.
Green is a solid but not a spectacular player. He started 12 games and he had one sack last season. Green, a veteran in the 3-4 scheme, has 28 sacks in eight seasons.
With all of the moves Denver is making on the defensive line, it may mean the Broncos will not use an early-round pick on a defensive lineman.
Meanwhile,
it is being reported
Denver could make a run at Tennessee veteran center
Kevin Mawae
.
November, 20, 2009
11/20/09
12:00
PM ET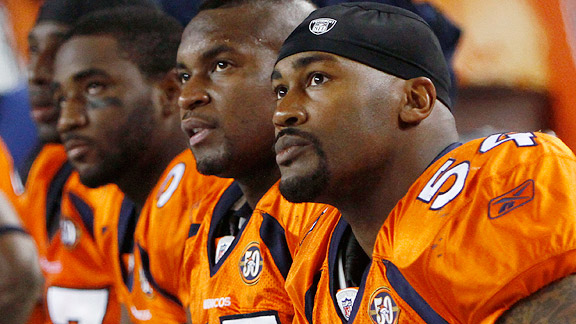 AP Photo/Jack DempseyAndra Davis (54), D.J. Williams (55) and the Broncos D were among the best in the league through the first six games, but the unit has given up substantially more yards and points in the last three.
How do the
Denver Broncos
regain their magic?
That question has been posed all week in the Rocky Mountains as the team is on the cusp of blowing a monumental lead in the AFC West.
The reeling Broncos somehow have to find the answer Sunday as they play host to San Diego in a matchup for sole possession of first place in the division. Both Denver and San Diego are 6-3. That tie seemed highly unlikely on the night of Oct. 19, when the Broncos beat the Chargers to improve to 6-0 and drop San Diego to 2-3.
However, Denver has lost three straight games, most recently at lowly Washington, since its bye. While Denver has come crashing back to earth, San Diego has won four straight games.
The Broncos have had a number of problems the past three weeks. They have looked more like the team many league observers expected them to be, with issues on both sides of the ball.
Here is a look at Denver's problems and what it must fix to get back on the winning track:
No pressure from the defensive front:
This area was considered one of Denver's biggest question marks going into the season. Starters
Kenny Peterson
,
Ryan McBean
and
Ronald Fields
had two combined NFL starts prior to the season.
The group played well in the first six games but has been pushed around lately. Pittsburgh and Washington ran all over the Broncos. After the 6-0 start, the Broncos were third in the NFL in rushing yards allowed, yielding 79.7 yards per game. Now, they're 12th in the league, allowing 105.6 yards per game. According to ESPN's Stats & Information, Denver has allowed 157.3 yards rushing, 26th in the league, over the past three games.
The problem clearly starts up front.
"It seems like it's the group we expected it to be prior to the season," Matt Williamson of Scouts Inc. said. "That unit does not control the line of scrimmage anymore."
It will be interesting to see how Denver's defense plays the run against San Diego. The Chargers had the worst rushing offense in the NFL most of the season. But
LaDainian Tomlinson
got going a bit Sunday against Philadelphia, rushing for 96 yards and taking the pressure off San Diego's outstanding passing game. Denver must stop the run to keep San Diego's offense one-dimensional.
The entire defense is wearing down:
The Denver defense sparked its hot start. The unit didn't allow more than 17 points in the first six games. It was timely and punishing.
Yet, over the past three games, the defense has looked tired, and it has fallen apart late. Denver has allowed 85 points in the past three games after allowing only 66 points in the first six games. According to ESPN Stats & Information, Denver allowed 262.5 yards per game in the first six games. In the past three games, it allowed 351.7.
The change is startling.
"[We are playing] not very good team defense," Denver coach Josh McDaniels said. "We know that we can be successful when we play good team defense. We've shown that ability. We've done it in the past against good teams. For a number of reasons, we've kind of forgotten what got us to that point. We've got to go back to work, and we've got to all understand that we're not 11 individuals out there. We're one group that has to play our responsibility the way that it needs to be played and do our job the way that it needs to be done, and that is many times done without glory individually, but what happens is the ball ends up going back to the guy that it's supposed to go back to and he's there to make the tackle. If he does, then you usually play decent run defense. Once you start jumping around blocks and [are] trying to make a play here and there, it kind of spreads throughout the defense and becomes a problem."
The longer the drives go, the worse Denver gets. According to ESPN Stats & Information, offenses were converting third downs only 26.9 percent of the time against Denver. In the past three games, offenses are converting on third down 56.5 percent of the time.
Williamson isn't sure Denver is going to improve defensively with older players such as safety
Brian Dawkins
, cornerback
Andre' Goodman
and linebacker
Andra Davis
.
"It worked for a while, but the defense looks worn down and tired," Williamson said. "Can it get better? I'm not sure because it's not going to get any younger."
Deep ball:
The offense was, for the most part, along for the ride during Denver's hot start. The defense was leading the way.
But the offense made it count when it needed to. Led by quarterback
Kyle Orton
, Denver made the right plays when it had to on offense against Dallas, New England and San Diego.
But Denver's offense derailed in its seventh game, a
30-7 loss
at Baltimore. The Ravens forced the Broncos to throw deep, which is not Orton's strength. The Ravens played one safety and stacked the box to take away the running game and the short passing game. The Ravens kept Denver's receivers in front of them and took away the big play. The Steelers mimicked that plan.
In the first half against Washington, Orton had success throwing deep before he hurt his ankle.
[+] Enlarge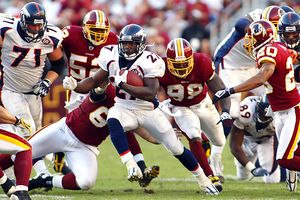 Geoff Burke/US PresswireKnowshon Moreno had his best game of the season against Washington, gaining 97 yards on 18 carries.
"Still, I don't see that happening on a regular basis," Williamson said. "Without the deep ball being a constant threat, this offense gets limited."
For Denver to get more success on offense, it will have to run the ball better. Rookie
Knowshon Moreno
broke out of a slump with 97 yards against the Redskins. His improved play has to continue. If the Broncos aren't going to be able to throw deep, they will at least have to complement the short passing game with a legitimate running game.
Special teams:
One of the nagging problems of the Mike Shanahan era in Denver was poor special-teams play. Under McDaniels, special-teams play improved early in the season.
However, it has been an issue recently.
Against San Diego and Baltimore, Denver allowed a punt and kickoff return for a score. Against Washington, the Redskins got back into the game with a touchdown on a fake field goal.
These are the types of problems that can kill a team. With problems finding their identity on offense and defense, Denver can't afford to deal with major failures on special teams. This should be a fairly easy problem to remedy. And it has to be solved. Giving away points on special teams is a sure way to lose games.
All of these issues need to clear up immediately. McDaniels knows his team can execute. Still, the past three weeks are clearly poking holes into Denver's legitimacy.
"I am not sure where the psyche of our team is," McDaniels said. "I know where I'm at. We need to get better. We need to play better. We can coach better. We're 6-3. We're playing San Diego, who is also 6-3. It's a huge division game at home. I don't know why we wouldn't like to be in this situation.
"I wish we had won the last three games. I think everybody in this building does, but we didn't, and there are reasons why we didn't. We've got to go fix the problems and play good football from here on out, starting with this week against a great team coming from San Diego in our division."
Asked if he thinks Denver can regain its early-season form, Williamson was noncommittal.
"I really don't know about this team," Williamson said. "I didn't expect them to start 6-0 and when they did I was impressed. But they have not looked like they can be a winning team in the past three weeks. They're a very hard team to read. But they better get it together soon, or they are going to be in trouble. It has to start now against San Diego."
November, 9, 2009
11/09/09
10:24
PM ET
Posted by ESPN.com's Bill Williamson
DENVER -- The Broncos and Steelers have traded defensive touchdowns.
Denver took a
10-7 lead
when rookie linebacker
Robert Ayers
picked up a
Ben Roethlisberger
fumble and ran 54 yards for a touchdown with 11:16 to go in the third quarter. Denver defensive lineman
Kenny Peterson
caused the fumble on a sack. Ayers was a first-round pick acquired in the
Jay Cutler
trade with Chicago.
In the first half, Pittsburgh scored on an interception return following one of the few mistakes Denver has made all game.
August, 23, 2009
8/23/09
2:53
PM ET
Posted by ESPN.com's Bill Williamson
Random thoughts from Denver's 27-13 loss at Seattle on Saturday night:
Kyle Orton wasn't perfect, but he was much better against Seattle than he was against San Francisco, where he threw interceptions on three straight series.
Orton completed 18 of 26 passes for 182 yards. He threw one interception. Orton played into the third quarter. It is clear Orton will be given every opportunity to keep his starting job.
Defensive lineman Kenny Peterson had two sacks and now has three sacks in two games.
Newly acquired defensive lineman Le Kevin Smith played extensively. The former New England backup has a chance for major playing time.
Speaking of New England, former Patriots backup Jabar Gaffney is becoming a favorite target of Orton's. The longer the Brandon Marshall saga goes on, the more opportunities Gaffney will get with the first team.
Rookie Kenny McKinley has been good in the receiving game, but he had issues keeping his hands on the ball in the return game against Seattle.
Struggling kicker Matt Prater came through with a 53-yard field goal. That could go a long way in helping him make the team.
Denver's run defense bounced back and allowed Seattle just 72 yards. The run defense has been one of Denver's biggest problems.
August, 23, 2009
8/23/09
1:35
PM ET
Posted by ESPN.com's Mike Sando
SEATTLE -- Thoughts and observations at halftime of the Seahawks' exhibition game against the Broncos on Saturday night:
Matt Hasselbeck survived his first hit. And a few more after that. Seattle's quarterback hadn't taken punishment since suffering back trouble last season. The Broncos hit him in the back more than once. Hasselbeck appeared to be OK and he finished the half with a 120.0 rating despite three sacks.
Walter Jones is badly missed. The Broncos aren't the most dynamic pass rushing team around, but they're getting to Hasselbeck. Left tackle Sean Locklear, subbing for the injured Jones, has had significant problems so far. Kenny Peterson drove Locklear into Hasselbeck for one sack. Locklear has a penalty for a false start. He got away with holding on a screen pass. Elvis Dumervil also got pressure on Hasselbeck through Locklear.
Deon Butler looks good. There has never been doubt about the rookie's status as one of the Seahawks' top four receivers this season. The team thinks the third-round choice from Penn State can provide a speed element that has been lacking on the outside. Butler showed that speed on the Seahawks' first drive, catching a 34-yard touchdown pass from Hasselbeck. Butler made another catch over the middle to convert on third down.
Hasselbeck, 'Housh' warming up: Hasselbeck just missed connecting with T.J. Houshmandzadeh in the end zone on a long pass. He found Houshmandzadeh for a short touchdown pass right before halftime. Houshmandzadeh averaged only 8.2 yards per catch in the half, but his catches were important ones.
Screen game revived. The Seahawks' long-lost screen game is showing signs of life. Hasselbeck found running back Justin Forsett for a 30-yard gain on a screen.
Chris Spencer still is not durable. The Seahawks' center left the game after suffering an injury to his left quadriceps. No word yet on severity, but Spencer's health remains a big question mark. With Max Unger and Steve Vallos around, the Seahawks have other options at the position.
Pass rush non-existent. Denver's Kyle Orton dropped back 23 times without taking a sack against the Seahawks' first-team defense. Patrick Kerney had no tackles and his name did not appear on the defensive stat sheet.
I'll be watching the Chargers-Cardinals and Raiders-49ers games on NFL Network replays. Might also file more notes from this Broncos-Seahawks game, as warranted.
August, 14, 2009
8/14/09
11:38
PM ET
Posted by ESPN.com's Mike Sando
A few thoughts and observations through the first half of the 49ers' exhibition opener against the Broncos at Candlestick Park:
Those were some of the things I noticed. The 49ers' offensive line seemed to play well for the most part.
Joe Staley
(of all people) did have a problem at one point, with the Broncos'
Kenny Peterson
coming off Staley's block to drop Coffee for a loss. The bottom line right now is that Smith needs to show more to win this quarterback competition.
August, 12, 2009
8/12/09
11:06
AM ET
| | |
| --- | --- |
| | |
| | Ron Chenoy/US Presswire |
| | Josh McDaniels plans on doing things his way as head coach of the Broncos. |
Posted by ESPN.com's Bill Williamson
ENGLEWOOD, Colo. -- There's no doubt: Josh McDaniels means business in Denver. At 33, the former New England golden child is the man in charge.
"It's his team," said receiver Eddie Royal.
We found that out very early in McDaniels' regime, after the former New England offensive coordinator was hired to replace Mike Shanahan following a 14-year run in Denver. Even though both are regarded as offensive masters, Shanahan and McDaniels see the football world differently.
McDaniels shook up the roster, including the offense, which was ranked second in the NFL last year. Of course, the biggest shake-up of the entire NFL offseason was McDaniels' public feud with Pro Bowl quarterback Jay Cutler, one that resulted in the Broncos trading Cutler to Chicago.
The Cutler trade and several other offseason moves showed McDaniels is bent on doing things his way. It has continued on the practice field in training camp.
McDaniels is a man with his own plan and he believes in his way. Players are amazed by the swift and precise manner in which practices are held. Under Shanahan, camp practices were fairly relaxed. Shanahan believed in making sure his troops were ready for Sundays.
Every day is Sunday for McDaniels, who often keeps his team on the field for 30 minutes more than the practice is scheduled for.
"He really spends a lot of time in game situations," Royal said. "We are practicing real game stuff all the time. He doesn't want us to panic when we get to a situation. It's all very well prepared."
McDaniels can't wait to see how his practice ploys play out in the Broncos' preseason opener Friday in San Francisco.
"I hope there are six or eight of these [situations] that come up in the game on Friday night," McDaniels said. "Because then, we will get to actually go out there and see what we learned from all of these practices."
| | |
| --- | --- |
| | |
| | AP Photo/David Zalubowski |
| | The Broncos are counting on quarterback Kyle Orton to lead the offense this season. |
Some veterans this week said that Shanahan's way got stale. They are willing to give the McDaniels way a whirl. They have no choice, however. He's going to do it anyway -- whether they like it or not.
Key Questions
1. Is Kyle Orton the answer at quarterback?
Orton was given the starting job over Chris Simms in June. It gave him extra time to learn McDaniels' intricate system. Still, Orton is having his ups and downs. He was booed by fans at a scrimmage last week but has since bounced back. Orton is never going to wow anyone, but if he can get a handle on McDaniels' system, he may be a decent game manager. But don't expect anything spectacular.
2. Can the defense turn it around?
The Broncos' fortune may depend on whether the defense can rebound. The team has compiled a sold back eight, if everyone stays healthy. But the key in defensive coordinator Mike Nolan's 3-4 defense is the front three, and the unit is inexperienced. The current starters -- Kenny Peterson and Ryan McBean at end and Ronald Fields at nose tackle -- have two combined starts in the past two NFL seasons. The three starters are big and stout, but none is a proven starter yet.
3. Will Brandon Marshall be ready to contribute?
| | |
| --- | --- |
| | |
| | AP Photo/David Zalubowski |
| | Denver needs Brandon Marshall to be healthy and focused. |
Ultimately, I believe he will. Marshall has been a big story this offseason. First, he had hip surgery in March, and then in June he asked to be traded. Still, he reported to training camp. Yet, he hasn't practiced in 10 days because of an apparent hamstring injury. Marshall is expected to be fully ready to go by the season opener in Cincinnati on Sept. 13. If Marshall is mentally and physically prepared, he is one of Denver's best players.
Market watch
Orton may be a question mark and there are unknowns about Marshall as well. But we know this: The Denver receiving crew is going to be good.
Orton will have plenty of weapons to work with. The offense will be even more stacked if Marshall is physically and mentally into the game.
Let's face it: Marshall is the jewel of this group and Denver needs him. But the Broncos are very excited about their other receivers.
It starts with R
oyal, who may play several roles in McDaniels' offense. Royal caught 91 passes as a rookie and he could have a Wes Welker-type role in McDaniels' offense.
The Broncos will also find a way to get mileage out of veterans Brandon Stokley and Jabar Gaffney. The savvy veterans could be perfect fits in McDaniels' system that sprays the ball around the field.
Newcomer to watch
There are a ton of newcomers on this team and players like Orton and rookie tailback Knowshon Moreno will be watched closely, but here is a player to watch who could help determine if the defense is going to be improved or not: Andre' Goodman.
The right cornerback was signed as a free agent from Miami. The Broncos released the overpriced and underproductive Dre' Bly and believe they got a much better player in Goodman. After a wild free-agent signing spree, Goodman could be one of the best buys. Along with star left cornerback Champ Bailey, Goodman could complete a nice cornerback tandem in Denver.
Goodman has excelled in training camp. He is a ball magnet. Plus, he is a bright player and a leader who is not afraid to take chances. The only real question about Goodman in his career is if he can stay healthy. If Goodman has a big year, it will go a long way in this defense making strides.
Observation deck
The Broncos are sticking with kicker Matt Prater even though he struggled at the end of last season and he has been inconsistent in camp. Prater has a strong leg and he is good on kickoffs. Still, if he struggles in the preseason, Denver may be forced to look elsewhere. ... First-round pick Robert Ayers has shown good pass-rush burst thus far. ... Moreno has been returning kickoffs in camp. McDaniels said on draft weekend that Moreno could be used as a returner as well as a three-down back. It's clear Denver will get its money's worth from him. ... Linebacker Andra Davis has looked good in camp. The Broncos believe their linebacker crew will be much improved as a unit. ... Elvis Dumervil is coming along as a linebacker in the 3-4 defense. He has natural pass-rush skills and the Broncos think he can be a terror in their scheme. ... Rookie receiver Kenny McKinley, a fifth-round pick, has looked impressive. ... The Broncos are pleased with the caliber of people the team has brought in this offseason. The last few years of the Shanahan era were marred by several players having legal issues.
Posted by ESPN.com's Bill Williamson
Three quick hits on the Denver Broncos:

Can Orton get the job done: We knew Kyle Orton was going to be under pressure in Denver this year. You don't replace a player the caliber of Jay Cutler and not have pressure on you. But we didn't expect the heat to be on Orton so soon. But it is. Orton struggled at an open scrimmage at Invesco Field on Thursday night and was booed roundly by the crowd. If Orton doesn't improve, fans are going to get increasingly impatient with him. Denver got used to Cutler's strong arm very quickly. Orton's much less impressive arm is making folks in Denver nervous.
Football Outsiders
The Football Outsiders use their unique brand of analysis to break down each of the league's 32 teams.
Denver Broncos

Knowshon needs to get to know the offense: Denver top pick Knowshon Moreno signed Friday after missing a week of training camp. It was paramount the running back, who was the No. 12 overall draft choice in April, sign his deal. He is expected to be a vital part of the Denver offense. If he can catch on quickly, Moreno should become Denver's primary back soon. Denver didn't use the No. 12 pick in the draft for a part-time player -- not with all of those needs on defense. Denver coach Josh McDaniels thinks Moreno can be a three-down back. He will be pushed into serious playing time soon now that he is signed.
The defensive line is green: Denver's defense needed major repairing this offseason and the Broncos worked hard to improve the secondary and linebacking crew. But the defensive line remains a major weak spot. The team's current three starting defensive linemen are ends Kenny Peterson and Ryan McBean and nose tackle Ronnie Fields. These three players may become quality players, but they aren't yet. The group has combined for just two NFL starts in the past two seasons. Denver's defense can't be counted on until this group proves itself.
May, 15, 2009
5/15/09
12:04
PM ET
Posted by ESPN.com's Bill Williamson
Earlier this offseason we looked at the progress being made by the AFC West teams. With the draft in the books and all four rosters virtually set (other than a few tweaks) for training camp, here is a major reason for optimism and a major reason for pessimism for each AFC West team:
Reason to be optimistic: The running game should be strong. The team drafted Georgia's Knowshon Moreno with the No. 12 pick despite a crowded backfield.

It is clear Denver is going to be a running team after the Jay Cutler trade. It looks like Kyle Orton, acquired in the Cutler trade, will lead the offense, but the run will set up the pass in Denver.
New Denver coach Josh McDaniels said that Moreno can be a three-down back. McDaniels also said he believes Moreno can help the entire offense. Watch for Denver to try to incorporate veteran pickups J.J. Arrington and Correll Buckhalter and perhaps holdover Peyton Hillis into the running game.
Each player offers a different aspect to the offense. With a strong offensive line and good receivers and tight ends, Denver's offense has a chance to succeed. And it will begin with the run.
Reason to be pessimistic: The front seven is weak.
It was Denver's biggest question mark going into the draft and it remains the biggest issue afterward. With 10 picks, Denver dedicated only one pick to the front seven: Tennessee's Robert Ayers at No. 18. And the team really doesn't know what it is going to do with him. He'll probably be a hybrid defensive end-linebacker.
The Broncos really needed a legitimate defensive lineman as they transition to a 3-4 scheme. If Ayers is going to bounce around, he isn't the anchor the team needs. The linebacking crew had a chance to be decent, but the front three is going to be very inexperienced and very unintimidating with the trio Kenny Peterson, Matthias Askew and Ronnie Fields having a chance to be the starters.
Reason to be optimistic: I am not thrilled with the trade of Tony Gonzalez to Atlanta, but the offense has some decent pieces.

There is good leadership on the unit and it starts with new head coach Todd Haley. He proved as the offensive coordinator in Arizona that he is an innovator and a leader.
Then there is new quarterback Matt Cassel, who was stolen from New England along with linebacker Mike Vrabel for a second-round pick. Cassel has yet to prove he is anything more than a one-year wonder. But he will be put in a position to succeed in Kansas City and will be running a similar system to what he ran with the Patriots. If Cassel can develop a fast chemistry with receiver Dwayne Bowe, the offensive line comes together and Larry Johnson, assuming he is on the team, still has something in the tank, the offense has a chance to decent.
Reason to be pessimistic: Statistically speaking, the Chiefs are the worst pass-rushing defense the NFL has ever seen. Kansas City set an NFL record for the fewest sacks in 2008 with 10.
One would think finding pass-rushers would be a priority through free agency and the draft, but the Chiefs have been very quiet. Yes, they added defensive end Tyson Jackson with the No. 3 pick in the draft. However, Jackson is known as a better run-stuffer than a pass-rusher. Thus, on paper, little has been done to improve an anemic pass rush.

Reason to be optimistic: The foundation to most successful offenses is a supreme running game. This gives Oakland a chance to break a six-year downturn. The Raiders have potentially one of the most dynamic running games in the NFL. They certainly have one of the most varied running attacks in the league.
The three-headed monster of Darren McFadden, Justin Fargas and Michael Bush will keep teams off balance. McFadden is a game-breaker who is most effective if he is not overused. Fargas is a tough-yardage getter. He is very rugged. Bush is good in short-yardage situations and he is explosive. None of these players will carry an offense alone, but together they can do some damage.
If this group can stay healthy (which has been an issue), it will give Oakland a strong identity on offense.
Reason to be pessimistic: While the running game is looking primed in Oakland, the passing game could hold back the offense.
Last week during the Raiders' minicamp, quarterback JaMarcus Russell suggested that Oakland's offense will be relying on the run first. That's all well and good, but Russell needs to help the running game or defenses will concentrate on stopping the run and neutralize Oakland's biggest strength.
Russell has been inconsistent in his young career and he must make strides this season. There is no questioning Russell has some skills, but he needs to do a better job of showing it.
He also needs help from his receivers. The team drafted Darrius Heyward-Bey with the No. 7 pick to make an immediate impact. However, if his collegiate inconsistencies continue, he may not be able to help right away.

Reason to be optimistic: It's simple: The Chargers are the best team in the division -- by a long shot. That's why the Chargers should feel good about themselves.
Because of all of the upheaval with the other three AFC West teams this offseason, San Diego is entering 2009 bigger favorites than last season.
San Diego did very little tinkering this offseason, but it did add some interesting pieces on defense in the form of linebackers Kevin Burnett (free agency) and Larry English (first-round pick in the draft). San Diego didn't need much to continue to have the best roster in the division.
Reason to be pessimistic: If there is a chance for San Diego to falter in this division, it will be the pass defense. The pass defense struggled for much of last season, even though it did improve some when Ron Rivera became the defensive coordinator.
Improving the pass defense has been the focus of the entire team in 2009. San Diego general manager A.J. Smith said at the team's minicamp earlier this month that if the pass rush doesn't improve, the Chargers, who had to rally at the end of the season to win the AFC West title in 2008, could struggle again.
Still, the team is hopeful that the return of Shawne Merriman and the drafting of English will help the pass rush and, in turn, help the secondary.
March, 4, 2009
3/04/09
6:00
PM ET
Posted by ESPN.com's Bill Williamson

News is popping in the AFC West:
The Denver Post is reporting that the Broncos have resolved their contract issues with running back J.J. Arrington and have agreed to terms again. The team and Arrington had agreed to a deal on Friday but it fell apart on Saturday.
Denver now has three new running backs in Arrington, Correll Buckhalter and LaMont Jordan. The addition of the veterans may mean it will be difficult for youngsters Ryan Torain and Peyton Hillis to get extensive playing time.
Expect Buckhalter, Arrington and Jordan all to play fairly extensive roles. Jordan may be the short-yardage back and Arrington the third-down back.
The Houston Chronicle reports that Houston matched the offer restricted free agent receiver David Anderson received from Denver last week. Anderson likely would have been a No. 5 receiver with Denver.
Former Kansas City quarterback Damon Huard is headed to San Francisco. The Chiefs had no plans of bringing back Huard, who was a starter at times the past few seasons.
Denver has kept defensive lineman Kenny Peterson. He may be the only in-house free agent new Broncos coach Josh McDaniels keeps. The team thinks Peterson will fit in Denver's new 3-4 defensive alignment.
Interestingly, Peterson is the only holdover who knows McDaniels. The two were actually high school teammates in Canton, Ohio. McDaniels was a senior and Peterson was a freshman.

NFL SCOREBOARD
Thursday, 9/18
Sunday, 9/21
Monday, 9/22
WEEKLY LEADERS