August, 27, 2013
8/27/13
6:15
PM ET
GREEN BAY, Wis. -- Less than three hours after his woeful performance in practice, kicker
Zach Ramirez
was released by the
Green Bay Packers
.

Ramirez, who missed 10-of-16 kicks during Tuesday's practice, was the only cut among the Packers' nine roster moves that got them down to 75 players. Their remaining moves were injury related.
Just two days earlier, the Packers had three kickers on their roster. But after releasing
Giorgio Tavecchio
on Monday and Ramirez on Tuesday, they had only veteran
Mason Crosby
.
I'll have more on whether Crosby nailed down the job or not in my practice report, which will be posted shortly.
To get down to the NFL-mandated 75 players by 4 p.m., the Packers placed four players on season-ending injured reserve: tackle
Bryan Bulaga
(knee), receiver
Kevin Dorsey
(toe), running back
DuJuan Harris
(knee) and linebacker
Jarvis Reed
(ankle). And they moved four players to reserve/physically unable to perform: safety
Sean Richardson
(neck), tackle
Derek Sherrod
(leg), tackle
JC Tretter
(ankle) and defensive end
Jerel Worthy
(knee).
Players on PUP can begin practicing after Week 6 of the regular season and then have a five-week window during which they can return to practice. Once they begin practicing, teams have three weeks to decide whether to activate them. ESPN's Mike Sando has
the full explanation of the PUP rules
.
UPDATE:
Per the NFL's official transaction wire, both Dorsey and Reed were waived/injured. That means the team will eventually work out injury settlements with both players, which would pay them for a portion of the regular season that they would have missed due to their injuries. While it's possible the Packers could re-sign them, injury settlements often mean the end of a player's career with that team.
August, 26, 2013
8/26/13
8:52
PM ET
GREEN BAY, Wis. -- The
Green Bay Packers
needed some good news in their secondary, and it came on Monday in the form of cornerback
Tramon Williams
' return to practice after missing nearly a month because of a knee injury.

For the first time since July 30, the fourth practice of training camp, Williams was back in action, clearing the way for him to be ready for the Sept. 8 regular-season opener at San Francisco.
It was not a full-pads practice, so Williams couldn't put his knee through a complete test. But he took part in most of the practice drills and even took a few reps as a punt returner. Williams described his injury as a bone bruise, and he wore a protective wrap on his knee.
"Coaches limited my reps, obviously, but it felt good for the most part, moving around against different guys," Williams said. "I wondered how that would feel. It held up."
With only one more practice remaining before Thursday's preseason finale at Kansas City, it looks like Williams won't get any exhibition snaps before the opener.
"I still don't want to go out and say that I will be there Week 1," Williams said. "But for me to be out there now, I think it's definitely a possibility."
Even with Williams back, the Packers were still missing two key players in the secondary -- safety
Morgan Burnett
and cornerback
Casey Hayward
. Both sustained hamstring injuries on Friday against Seattle and have been ruled out against the Chiefs.
In other developments on Monday:
Tight end Brandon Bostick saw his role increase on special teams. He was on the No. 1 punt return, the No. 1 kickoff return and No. 1 punt coverage units. If a player is on several of the top special teams units, it can be a sign he's in good shape to make the roster. However, on the final play of practice, Bostick dropped a touchdown pass from Aaron Rodgers. It came on the same day in which ESPN's Ed Werder reported the Packers are fielding trade calls about their tight ends, including Bostick.
Rookie linebacker Nate Palmer made one of his best plays of training camp, when he broke up a deep pass to tight end Jermichael Finley. Palmer, a sixth-round pick from Illinois State who is on the bubble to make the roster, had good coverage on Finley's seam route and knocked the ball away.
Vince Young threw a pair of interceptions, one by safety M.D. Jennings and one by cornerback Micah Hyde.
Receiver Tyrone Walker had perhaps the catch of the day on a back-shoulder fade from Rodgers.
Heavy rain forced the Packers indoors for the first time during training camp.
Medical report:
Rookie receiver
Kevin Dorsey
was back on the sidelines because of a toe injury. Dorsey missed 10 practices and two preseason games earlier this summer because of a leg injury.
Linebacker
Dezman Moses
dropped out of practice halfway through because of a toe injury.
The Packers were still waiting for the results of more tests on running back
DuJuan Harris
' knee injury.
Linebacker
Brad Jones
(hamstring) was added to the list of players who would not play against the Chiefs.
A total of 12 players did not suit up for practice. They were CB
Jarrett Bush
(ankle), CB
James Nixon
(ankle, knee), S
Sean Richardson
(neck), LB
Jarvis Reed
(ankle), OL
J.C. Tretter
(ankle), T
Bryan Bulaga
(knee), T
Derek Sherrod
(leg), DE
Jerel Worthy
(knee) Hayward, Harris, Burnett and Jones.
What's next
: The final practice of training camp is Tuesday at 11 a.m. local time.
August, 23, 2013
8/23/13
12:45
PM ET
GREEN BAY, Wis. -- Expect to see replay after replay of
Golden Tate
and
M.D. Jennings
fighting for the ball on the final play of last year's Week 3 game between the
Green Bay Packers
and
Seattle Seahawks
during the television broadcast of Friday night's preseason game at Lambeau Field.

But that's old news, at least to the Packers, who have two preseason games and just three more practices remaining before final roster cuts are due Aug. 31.
Here are five things to watch for from the Packers' perspective:
1. Playing time for the starters:
Coach Mike McCarthy has typically used the third preseason game as a dress rehearsal for the regular-season opener, playing his starters at least the full first half and resting them in the exhibition finale. This year could be different. McCarthy and general manager Ted Thompson still have a long list of young players they want to see in extended game action to get a better evaluation. To do so, they might have to cut back on playing time for some of the starters. "I talked to Ted about some things, so once again we're trying to get as much information as we can," McCarthy said. "We want to play very well, we want to win the game, but we've got guys who have been injured the whole camp. We have guys who have been injured from the spring all the way through camp that are finally maybe playing."
2. Young receivers:
Among the players McCarthy was referring to are rookie receivers
Kevin Dorsey
and
Charles Johnson
. Both missed most of training camp and the offseason program. Dorsey returned last week from a hamstring injury but did not play in Saturday's game at St. Louis. Johnson returned this week from a knee injury. The seventh-round draft picks were expected to challenge for the Nos. 4 and 5 receiver spots but have fallen way behind. "I think they have a good grasp of our offense, our concepts, what we do," receivers coach Edgar Bennett said this week. "But unfortunately, a big part of what we do is taking it from the classroom and going out on the practice field and working our fundamentals to improve, and that's the area that, unfortunately due to injury, they haven't been able to take full advantage of. Will they get some opportunities in these next two preseason games? We'll see."
3. Cornerback carousel:
Casey Hayward
was arguably the biggest playmaker for the Packers defense last season. As a rookie, he intercepted six passes while playing the slot position in the nickel package. He missed the first month of training camp because of a pulled hamstring he sustained while working out over the summer. During his absence, rookie
Micah Hyde
has played well in the slot position.
Sam Shields
and
Davon House
have manned the outside spots while
Tramon Williams
remains out with a knee injury. Hayward returned to practice this week and could see some action against the Seahawks. "You have Sam and House outside, Micah is right there, so [Hayward] is fourth right now," cornerbacks coach Joe Whitt said. "So until Casey moves either him or House out of the way, he's not going to get as many reps. You have to be deserving of your reps, and really what you did last year is last year."
4. Harris' return:
Despite the emergence of rookie
Eddie Lacy
, McCarthy insists that
DuJuan Harris
remains his starting running back
. Harris might get one chance to prove that. He will make his preseason debut after finally returning from a knee injury he sustained in the offseason. Harris, who was signed to the practice squad in October and wasn't promoted to the roster until Dec. 1, finished last season as the starter and averaged 4.6 yards per carry over the final four regular-season games. "He did great things for us, I thought, down the stretch in the last part of the season," running backs coach Alex Van Pelt said. "Unfortunately, he had the injury there in OTAs that kept him out of the first part of training camp, but all that being said, he did his job when he was asked to do it last year and he's going to continue to get the first chances to do it now that he's back."
5. Crosby … again:
It wouldn't be a Packers preseason game if there wasn't some drama surrounding the kickers. Just when
Mason Crosby
looked like his struggles were behind him after he made all three of his kicks against the Rams,
he had a horrible practice Wednesday
. He missed three straight field goals before finally knocking a fourth through the uprights. Crosby was scheduled to kick only one or two balls, but special-teams coach Shawn Slocum made him keep kicking until he finally made one. Just one day earlier, Slocum had praised Crosby. "I thought Mason kicked the ball well all week, and he did it in the game and did it again yesterday," Slocum said Tuesday. All eyes will be on Crosby to see if he falters again and re-opens the door for challenger
Giorgio Tavecchio
to beat him out.
August, 13, 2013
8/13/13
7:32
PM ET
GREEN BAY, Wis. --
Ryan Longwell
had to know the question would come: What if his old team, the
Green Bay Packers
, called him back for a tryout?
"I'm done," Longwell said Tuesday when he returned to Green Bay
to retire as a member of the Packers
. "I'm done kicking."
But that doesn't mean he won't help the team he played for from 1997-2005 with their kicking situation. Longwell stuck around long enough after his retirement news conference to watch practice and talk with veteran kicker
Mason Crosby
and his challenger for the job,
Giorgio Tavecchio
.
[+] Enlarge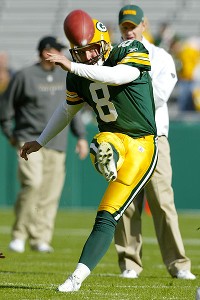 Sporting News/Sporting News/Getty ImagesKicker Ryan Longwell retired from the NFL on Tuesday as a member of the Green Bay Packers.
Longwell has connections to both kickers. He befriended Crosby after he left Green Bay and signed with the
Minnesota Vikings
in 2006. The two have kept in regular contact, and Longwell has been a public supporter of Crosby even throughout Crosby's struggles last season, when he made a league-worst 63.6 percent of his field goals. Meanwhile, Longwell and Tavecchio share the same alma mater, the University of California.
"I've been fortunate to be able to talk to Ryan throughout my career and obviously followed him before I got here," Crosby said. "It's awesome today that he got to retire as a Packer. … I pick his brain sometimes on different things, but at the same time today was really awesome for him."
When asked if he had any advice for Crosby, Longwell said: "I think as long as his rhythm is fine, he's one of the best in the league."
Longwell saw the Packers' kickers at their best. Both went 8-for-8 in practice, converting field goals of 33, 34, 39, 43, 45, 48, 50 and 54 yards. Crosby got off to a horrible start in camp, missing five of eight field goals during the Family Night scrimmage but has gone 15-for-16 the past two days in practice and is 30-of-39 this summer. Tavecchio went 16-for-16 the past two days to improve to 35-of-39.
Crosby's problems have been described as mental, and Longwell agreed.
"Kicking is, I've always said, 10 percent physical and 90 percent mental," Longwell said. "I think the good Lord gave me an above average ability to swing my right leg and a really, really strong mind and faith. That's what it takes to kick in this league. I think [Crosby and Tavecchio] need live kicks, and they need the live situation. As long as they both have the right mindset, I see it working out the way it should."
Here were some other developments from Tuesday's practice
:
Rookie receiver Kevin Dorsey practiced for the first time since July 27, when he dropped out because of a hamstring injury. It was the first time in full pads for the seventh-round pick from Maryland, but he did not take any snaps during team (11-on-11) periods. Dorsey also missed most of the offseason workouts because of injuries and is facing an uphill battle to make the team. "There's a lot of football left," Packers coach Mike McCarthy said. "We have three [preseason] games left. There have been no decisions that have been made this week. We tell our players all the time your most important ability is availability. It's something we need to do a better job [of as] a football team. I'm just glad to see him back out there."

With Ryan Pickett attending to a family matter, Mike Daniels worked at left defensive end in the base defense with the starters.

Running backs DuJuan Harris (knee) and Eddie Lacy (hamstring) both were limited to individual drills.
Medical report
: Cornerback
Casey Hayward
, who led all NFL rookies last season with six interceptions, will miss at least another week of training camp. Hayward remains on the physically unable to perform list because of the hamstring injury he sustained while working out prior to camp.
"Casey Hayward's injury is going to take time," McCarthy said. "Communication from Casey and the medical staff is he's made a lot of progress in the last five or six days. As far as a timeline, I think we'll have a better understanding next week how close he is."
Others who missed practice were WR
Charles Johnson
(knee), S
Sean Richardson
(neck), CB
Tramon Williams
(knee), G
T.J. Lang
(back), OL JC Tretter (ankle), T
Bryan Bulaga
(knee), T
Andrew Datko
(concussion), T
Derek Sherrod
(leg), TE
Andrew Quarless
(quad), TE
Ryan Taylor
(knee), WR
Jordy Nelson
(knee), DE
Datone Jones
(ankle) and DE
Jerel Worthy
(knee).
What's next
: Wednesday's practice is at 11:15 a.m. CT.
August, 2, 2013
8/02/13
11:55
PM ET
GREEN BAY, Wis. -- A week into training camp, the
Green Bay Packers
don't know much more about rookie receivers
Kevin Dorsey
and
Charles Johnson
than they did when they drafted them back in April.

The two seventh-round picks missed most of the offseason program because of injuries, and they dropped out again during the second practice of training camp last Saturday. Neither has returned.
Though there's plenty of time for them to make a run at the fourth and fifth receiver spots, those positions are no longer as wide open as they first appeared thanks to the play of
Jarrett Boykin
and
Jeremy Ross
.
Boykin was the last receiver to make the team last season but was used sparingly. He has caught just about everything thrown his way in the first week of camp. That continued Friday night, when he had perhaps his best practice to date. In a team period early in practice, he stretched out to make a tough catch on a deep ball from
Aaron Rodgers
. Two plays later, Rodgers hit Boykin on a hitch that he quickly took up the field.
Ross, who was promoted from the practice squad last season but was used primarily on special teams, stood out during the two-minute period that ended practice. On a four-play scoring drive, Ross had catches of 15 yards on consecutive plays.
Boykin and Ross also have been given extensive roles on special teams.
"They've definitely created a value for themselves individually and continue to improve and make plays," Packers coach Mike McCarthy said after practice.
Daniels dominates:
Defensive tackle
Mike Daniels
continued to shine in pass-rushing drills. The second-year pro won three of his four reps Friday to improve his camp-long record to 9-8 in a drill that heavily favors the offensive player.
At just 6-foot and 291 pounds, Daniels probably isn't big enough to be an every-down player, but he might be carving out a significant role in the sub packages. In a limited role last season, he had two sacks.
Odds and ends:
Defensive tackle
Johnny Jolly
, who is attempting to make an NFL roster for the first time since the 2009 season after serving a three-year suspension for violating the league's substance abuse policy, stripped the ball from
Alex Green
during a team run period. It was believed to be the first fumble by a running back in an 11-on-11 period this camp. However, Jolly still hasn't made much of an impression in the one-on-one drills. He lost all five of his reps in the pass-rushing drill on Friday and only one was against a projected starting offensive lineman. ... Outside linebacker
Nick Perry
, whose rookie year ended last season after only six games because of surgery on his left wrist, has been practicing with a large protective brace that covers most of his left forearm. ... Practice ended with the most efficient no-huddle period of camp by the offense, which needed just 36 seconds to go 70 yards on four plays. It ended with tight end
Jermichael Finley
's best catch of camp, a 15-yard touchdown on a seam route against tight coverage by safety
Jerron McMillian
. ... Friday's session was the only night practice of training camp, and it drew perhaps the largest crowd of the summer.
Medical report:
Receiver
Jordy Nelson
missed his first practice of the summer because he had a recurrence of an old knee injury, McCarthy said. Another starter, linebacker
Brad Jones
, dropped out midway through practice because of a finger injury. Rookie linebacker
Nate Palmer
returned after missing two practices because of a shoulder injury.
Others who missed practice were WRs
Sederrik Cunningham
(wrist), Dorsey (leg), Johnson (knee); RB
DuJuan Harris
(knee); S
Sean Richardson
(neck); CB
Casey Hayward
(hamstring); CB
Tramon Williams
(knee); S
David Fulton
(knee); OLB
Dezman Moses
(toe); LB
Jamari Lattimore
(illness); OL
JC Tretter
(ankle); DE
Mike Neal
(abdominal); T
Derek Sherrod
(leg); TE
Andrew Quarless
; and DE
Jerel Worthy
(knee).
What's next:
The annual Family Night scrimmage at Lambeau Field is Saturday at 7:30 p.m. ET.
July, 24, 2013
7/24/13
12:00
PM ET
NFL players are never healthier than on the first day of training camp, or so goes conventional wisdom. As the first NFC North veterans report to training camp Wednesday --
Chicago Bears
players are headed to Bourbonnais, Ill., as we speak -- it's worth revisiting players who spent a significant portion of the offseason injured and project their status for training camp.
We'll take it team by team, of course:

Chicago Bears
Veteran report date:
Wednesday
Analysis:
Receiver
Brandon Marshall
missed almost the entire offseason program because of hip surgery, getting on the field for one day of mandatory minicamp. Place-kicker
Robbie Gould
also missed time as his surgically-repaired calf healed. Receivers
Marquess Wilson
and
Alshon Jeffery
also missed time with hamstring injuries, but there are no indications that any of them will be significantly limited when practice begins Friday.

Detroit Lions
Veteran report date:
Thursday
Analysis:
One of the biggest stories in Detroit this week will be whether safety
Louis Delmas
is ready to practice, and if so, whether the Lions let him do everything or if he is limited. Delmas missed the entire offseason because of ongoing knee issues, even after signing a contract extension that will pay him $1.715 million if he can't play this season. Receiver
Ryan Broyles
, meanwhile, is just under eight months removed from tearing his ACL. The Lions could put him on the physically unable to perform (PUP) list, or they could pass him on his physical and let him ease into practice. The assumption is that two other veterans who did little this offseason, place-kicker
David Akers
(sports hernia/hip) and running back
Mikel Leshoure
(hamstring) will be ready to practice.

Green Bay Packers
Veteran report date:
Thursday
Analysis:
Many of you have asked about offensive lineman
Derek Sherrod
, who hasn't had any football activity since suffering a gruesome leg injury in December 2011. The Packers had hoped he would be in the mix at right tackle this offseason, but that never materialized. If Sherrod still isn't ready to practice when camp opens, you wonder if he ever will be. Meanwhile, it's tough to expect defensive tackle
Jerel Worthy
to be ready anytime soon after he tore his ACL in Week 17 last season. The same goes for rookie offensive lineman
J.C. Tretter
(broken ankle). On the other hand, we're assuming that cornerback
Davon House
(shoulder) and running back
DuJuan Harris
(cyst) will be ready. The status of rookie receivers
Charles Johnson
and
Kevin Dorsey
, both of whom missed the entire offseason, is not clear.

Minnesota Vikings
Veteran report date:
Thursday
Analysis:
Center
John Sullivan
sat out the offseason after having microfracture surgery on his knee. Coach Leslie Frazier said at the end of minicamp that Sullivan was on track to be ready when camp opens. There have been no reports of a setback. Linebacker
Desmond Bishop
(hamstring) didn't participate in the Packers' offseason, but he has said he will be ready for camp. Defensive end
Jared Allen
did not participate this offseason because of surgery to repair a torn labrum but has said he will be cleared for practice. Receiver
Greg Childs
was doing light running during the offseason and is now a year removed from tearing both patellar tendons, but he could be a candidate for the PUP list. Linebacker
Chad Greenway
's minor offseason knee surgery isn't expected to slow him in training camp. Cornerback
Jacob Lacey
broke his thumb in June, and his status merits observation. Rookie linebacker
Michael Mauti
(knee) got in some light work late in the offseason, but it's worth watching whether the Vikings deem him ready for contact drills.

NFL SCOREBOARD
Sunday, 2/2
WEEKLY LEADERS