May, 19, 2011
5/19/11
11:57
AM ET
Examining the most crucial event in the history of every team in the division.
A longtime
Cincinnati Bengals
assistant named Bill Walsh was having a hard time convincing NFL teams to hire him as a head coach.
The Bengals had promoted another assistant, Bill "Tiger" Johnson, when Paul Brown retired after the 1975 season. Walsh spent 1976 as offensive coordinator with the
San Diego Chargers
before leaving the NFL entirely for the best head-coaching job he could get. Years later,
Walsh accused Brown
of conspiring to keep him from advancing.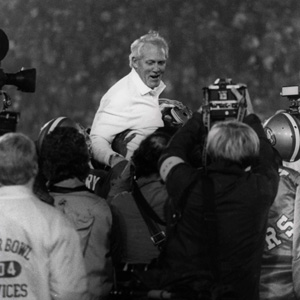 Malcolm Emmons/.US PresswireThe 49ers won three Super Bowls under coach Bill Walsh.
While Walsh was building a winner at Stanford, the sputtering
San Francisco 49ers
were running through four head coaches in less than two calendar years. Young owner Eddie DeBartolo Jr. made Walsh the fifth in 1979.
"Caution should be exercised in proclaiming Bill Walsh the savior of the 49er franchise," Bay Area columnist Ed Jacoubowsky wrote at the time. "But the selection of Walsh as director of the club's football operations probably is the best step the young owner could have taken."
Probably? Let's make that a "definitely" in hindsight.
The organization would never be the same. Offensive football would never be the same. The balance of power in the league itself would shift for a decade, and then some. This was the most crucial event in 49ers history and more significant than any the team's current division rivals have experienced.
That message came through clearly at the SportsNation ballot box, where Walsh's hiring received significantly more votes than any other NFC West Flash Point among the more than 129,000 ballots cast across the division. The 49ers' Flash Points drew more than 44,000 votes, most in the NFC West, and Walsh's hiring commanded better than half of them.
"If the 49ers never hired Bill Walsh, they would not have changed the organizational structure of the team, how players are graded and drafted, how to prepare those players for the season and utilize them on the field of play,"
razzberry80
wrote. "Bill changed EVERYTHING.
Joe Montana
was the best, but without Bill Walsh, Joe is probably not drafted by the 49ers."
Another 49ers fan,
servegmo
, credited Walsh for drawing him in as a fan living in Costa Rica.
"He is the reason people from all over the world started watching football,"
servegmo
wrote. "He put the 49ers in a position where they changed football as a whole -- the offseason preparation, the inclusion of black coaches, the practices, the West Coast offense, how he managed the draft (drafting the best players EVER at quarterback, wide receiver and safety). How many coaches can say that?"
The 49ers won three Super Bowls in 10 seasons under Walsh, who qualified as a football visionary in strategy, philosophy and personnel evaluation. Walsh became famous for scripting plays to separate in-game emotions from the decision-making process. His personnel moves and broader philosophy scripted more lasting success: five Super Bowls, including two won after Walsh retired from the sideline.
With full support from DeBartolo, who had learned from past mistakes, Walsh showed an exceptional eye for talent. Has any coach possessed a superior vision?
"When he drafted
Ronnie Lott
, he thought, 'He's a corner now, but he'll be a longtime All-Pro safety,'" former Walsh assistant and two-time NFL head coach Dennis Green said for this project. "When he drafted
Roger Craig
, he saw him as a fullback now, but a little small for the fullback we really needed, so we would draft a fullback and Craig would make the transition to running back.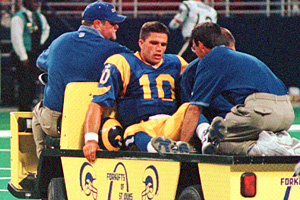 AP Photo/Harold JenkinsTrent Green's knee injury paved the way for Kurt Warner to step in at quarterback.
"Bill did that sort of thing constantly when he thought players could fit in a certain way and be very unique players."
Walsh's hiring commanded 53 percent of votes cast for the 49ers' Flash Points, with "The Catch" ranking second at 37 percent. Of course, there never would have been such a signature play if Walsh hadn't put together a 1979 draft class featuring Montana in the third round and Dwight Clark in the 10th.
RAMS: Trent Green's injury pivotal
The
Kurt Warner
story might never have been told if the San Diego Chargers'
Rodney Harrison
hadn't knocked out Green with a severe knee injury during the 1999 preseason.
Fans voted that moment supreme with 49 percent of more than 28,000 votes. Only
Mike Jones
' Super Bowl-saving tackle against
Kevin Dyson
(36 percent) came close to challenging.
The comments section of the Rams-related item drew barely more than a dozen contributions, however. So much for exit polling.
[+] Enlarge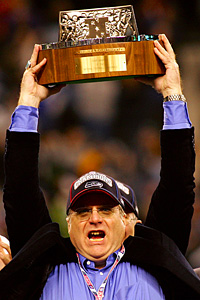 Robert Giroux/Getty ImagesPaul Allen helped bring an NFC title to Seattle.
"The ownership change [in 1972] precipitated everything that has happened to the Rams in 'modern' times,"
patdpenguin
wrote. "The true answer to the question would be the ownership change, but as a lifelong fan, speaking with my heart, I would choose the Trent Green injury. Prior to that, the team had not proven anything, and was spinning its wheels."
SEAHAWKS: Paul Allen trumps all
The Seahawks were planning
a move to Los Angeles
during their darkest days of the 1990s, at one point even conducting free agency from an elementary school parking lot in Southern California.
Allen wasn't much of an NFL fan at the time, but he rallied to the cause of keeping the team in Seattle. Allen led a push to secure a new stadium, contributing $130 million of his own money in exchange for $300 million in public funding, as part of a deal to purchase the team.
Within a couple years, the team had landed Mike Holmgren as coach and general manager. Multiple division titles and the first Super Bowl in franchise history followed.
"I went with Allen buying the team,"
DiLune2
wrote. "It is hard to point to any one of those [other] moments as the one point where it all changed. They were part of a long, ugly slide. Allen buying the team, though, was the one point in time where you can look and say, 'It all changed right there.'"
[+] Enlarge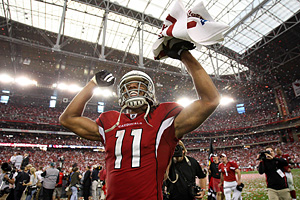 Jed Jacobsohn/Getty Images Larry Fitzgerald caught nine passes for 152 yards and three TDs in the NFC Championship Game.
CARDINALS: Beating Eagles to reach Super Bowl
Sixty-eight percent of more than 26,000 Cardinals voters pointed to the team's victory over Philadelphia in the NFC Championship Game. No option for any team drew a higher percentage.
The runner-up for the Cardinals -- securing a new stadium in 2006 -- lagged with only 16 percent. But some felt strongly it should have prevailed.
"Wow, this is a slam dunk," longtime blog contributor
Leesters
wrote. "The stadium changed this team overnight. It went from the least competitive financial situation in the league to one of the best, in one year. Free agents could be afforded, better coaches, better home-field advantage. If it wasn't for this stadium, there would be no NFC Championship win."
May, 10, 2011
5/10/11
1:00
PM ET
What key event significantly changed the fortunes of the Rams -- for better or worse? Give us your take and we'll give you our definitive moment on May 19.
Long before
Kurt Warner
was directing the Greatest Show on Turf, Bob Waterfield and Norm Van Brocklin were connecting with Elroy "Crazy Legs" Hirsch and Tom Fears for the Los Angeles Rams of the 1950s. They won a championship, too.
The Rams' 1951 title team sustained an 11-year stretch without a losing season. The Rams would remain successful for years under Sid Gillman, George Allen, Chuck Knox and Ray Malavasi, but none of those teams would win a championship.
The biggest trade in franchise history also earned a spot on the ballot. This swap involved owners, not players. The Rams and Colts traded ownership in 1972. Carroll Rosenbloom's death in 1979 left the Rams to his wife, Georgia Frontiere, who would later move the franchise to her native St. Louis. Her passing in 2008 precipitated the team's latest ownership change.
The Rams' 16 seasons in St. Louis have been eventful. Hiring Dick Vermeil, drafting
Orlando Pace
, acquiring
Marshall Faulk
and turning to Warner could all earn spots on the ballot. These were among the defining moments as the Rams brought a championship to St. Louis.
The drama associated with quarterback
Trent Green
's 1999 preseason injury and
Mike Jones
' Super Bowl tackle conferred special status to those two events. Green's injury was supposed to doom the Rams' season, but Warner intervened. And when Jones brought down
Tennessee Titans
receiver
Kevin Dyson
at the 1-yard line on the final play of Super Bowl XXXIV, the Rams were champions again.
If you vote Other, give us your suggestion in the comments area below.
June, 24, 2010
6/24/10
9:15
AM ET
Notable players:
QB
Kurt Warner
, RB
Marshall Faulk
, WR
Isaac Bruce
, WR
Torry Holt
, LT
Orlando Pace
, WR/PR
Az-Zahir Hakim
, DE
Kevin Carter
, DE
Grant Wistrom
, DT
D'Marco Farr
, CB
Todd Lyght
.
[+] Enlarge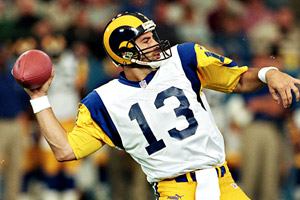 Tom Pidgeon/Getty ImagesKurt Warner threw for 4,353 yards and 41 touchdowns during the 1999 season.
Analysis:
The 1999
St. Louis Rams
were tied with the
Tennessee Titans
in the final minutes of the Super Bowl.
Conventional wisdom called for a clock-killing drive to the winning field goal, but convention didn't appeal to the 1999 Rams. They had shrugged off losing their starting quarterback during the preseason. They had knowingly backed Warner without much evidence to suggest he would succeed. They passed the ball first when tradition called for establishing the run. They pushed the ball downfield when West Coast schemes were favoring shorter timing throws.
And so with the 2-minute warning approaching in a 16-16 game, the Rams went deep to Bruce for a 73-yard touchdown. The aggressiveness came with a price when the Titans, armed with plenty of time, moved within a yard of the tying touchdown. But the Rams won their way -- defiantly and with an offense few teams in NFL history could challenge for pure multidimensional flair.
The only team in Rams history to win a Super Bowl gets my vote for best team in franchise history. The 1951 version also won an NFL title, but that team finished the regular season with an 8-4 record. It played only one postseason game. Chuck Knox's Rams of the early 1970s were very good. John Robinson had some solid Rams teams in the 1980s. The 2001 Rams had a chance to be the best in franchise history, but the 1999 team separated itself by becoming the only Rams team to win a Super Bowl.
Dick Vermeil was coach of the year. Warner was MVP and Super Bowl MVP. Faulk was offensive player of the year.
This was a team of signature players and also signature plays:
Ricky Proehl's dramatic juggling catch to beat the Tampa Bay Buccaneers in the NFC title game (he hadn't caught a touchdown pass all season);

Bruce's daring 73-yard touchdown grab in the Super Bowl;

Mike Jones' game-saving tackle of the Titans' Kevin Dyson at the 1-yard line as time ran out in the Super Bowl.
Most impressive win:
For years the Rams had watched the
San Francisco 49ers
dominate them and the NFC West. That's what made the Rams' Week 5 victory over the 49ers so meaningful that season. Bruce caught four touchdown passes during a 42-20 victory as the Rams improved to 4-0. Fans wanted to believe after a 38-10 victory over the
Cincinnati Bengals
a week earlier. The blowout against San Francisco provided validation (no one knew the 49ers would finish with a 4-12 record that season).
Return to sender:
Offense wasn't the only way the 1999 Rams found the end zone. Hakim averaged 10.5 yards per punt return with one touchdown.
Tony Horne
averaged 29.7 yards per kickoff return with two touchdowns. The Rams scored seven touchdowns on interception returns and one more on a fumble return.
Honorable mention
2001:
The Rams rebuilt their defense and made another run to the Super Bowl.
Tom Brady
and the
New England Patriots
kept St. Louis from winning another title and challenging for the title of best team in Rams history.
1973:
First-year head coach Chuck Knox turned around the Rams quickly, leading them to a 12-2 record with No. 1 rankings in total offense and total defense. John Hadl tossed 22 touchdown passes with 11 interceptions in his only full season as the Rams' starter.
1951:
The Rams won a championship for Los Angeles thanks to Bob Waterfield, Norm Van Brocklin and Elroy Hirsch. Four-time Pro Bowl fullback Dan Towler averaged 6.8 yards per attempt.
December, 24, 2009
12/24/09
4:12
PM ET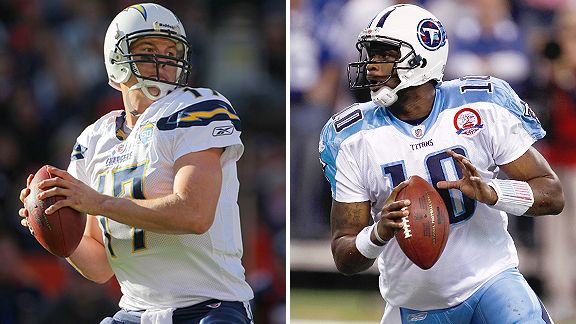 Getty ImagesThere's no love lost between Philip Rivers' San Diego Chargers and Vince Young's Tennessee Titans.
NASHVILLE, Tenn. -- Most teams have a historical trouble spot, and for the Titans' entire life in Tennessee it's been receiver.
They've struck out with high draft picks. They've failed to develop mid- and low- round guys they've selected in droves. They've missed on free agents. They've been unlucky with injuries.
In 2005 they liked
Vincent Jackson
, but watched him go late in the second round to San Diego, where he's developed into a consistent threat. Eight picks later they took
Courtney Roby
in their third round. He's now returning kicks in New Orleans while the Titans will have to defend Jackson Christmas night in a crucial game at LP Field.
ESPN Stats & Information says Jackson has been the targeted on more throws that have been in the air for at least 15 yards than any other receiver in the NFL. On those 52 chances, he had 27 catches for 715 yards, a 26.5 average and four scores.
The Titans try to spread it out and veteran
Justin Gage
has missed time with a back injury. Still, they don't have a pass-catcher close to Jackson in terms of long-pass situational production, let alone overall output (63 catches, 1,097 yards, 9 touchdowns). Rookie receiver
Kenny Britt
leads the Titans wideouts in both receptions (40) and receiving yards (674).
The hit rate's been low, but Tennessee has produced some receivers,
Derrick Mason
most notable among them. And Mike Heimerdinger thinks a trio of Mason,
Kevin Dyson
and
Drew Bennett
at their peak together might have been his best group in his two terms as the Titans coordinator.
His trio now is productive with upside and seems to have a bright future with quarterback
Vince Young
, who replaced
Kerry Collins
as starter eight games ago.
Britt appears to be worth every bit of the first-round pick they spent on him; the inconsistent Gage has made more plays since the quarterback switch but has only caught 45 percent of the passes thrown his way according to ESPN Stats & Information; and though drops are a significant issue as well for free-agent addition
Nate Washington
, he has produced a team-best six touchdown catches. (Gage and Britt are tied for second on the team with three touchdown receptions each.)
In the eight games with Young as the starter, the Titans have the second-most prolific offense in the NFL. Their 398 yards-per-game average trails only the Saints (413.9). Tennessee's 29.5 points-per-game average is tied with Philadelphia for second behind New Orleans (30.6).
When those receivers have made plays for Young, it's opened things up for the team's featured player,
Chris Johnson
. That's the goal No. 1 for the Titans, who are 7-7 and need to win out and get help to keep their AFC wild-card playoff hopes alive.
San Diego's starting corners
Antonio Cromartie
and
Quentin Jammer
have three picks apiece for the league's 13th-rated pass defense. They're both 6-feet tall, but the Titans' three primary wideouts are bigger. Britt and Gage are certainly capable of going up over them to get passes.
A nationally televised game is a good place for Britt, Gage and Washington to perform if they want a broad audience to believe the Titans are figuring things out at the position.
Four other things I'll be watching or wondering about Christmas night as Chargers-Titans unfolds:
Bad blood
:
Shawne Merriman
is still, um, annoyed about a play in a 2007 game where he felt
Kevin Mawae
and
David Stewart
teamed up
to try to hurt him
. Two physical fronts here hardly have a love affair from their two games that season, Chargers wins in the regular season and the first round of the playoffs.
Mawae doesn't mind when opponents are worrying about him, and he will use it to try to use psychology as an aid on at least a couple plays.
Controlling Gates:
Chargers tight end
Antonio Gates
causes a matchup problem for everyone. He can run over DBs and past linebackers. The Titans best coverage linebacker,
Keith Bulluck
, is out for the season. The Titans would be nuts to ask
Gerald McRath
or
Colin Allred
to handle him much. Nickel back Vincent Fuller's physical, tough and responsible, but he gives up 70 pounds and three inches to Gates. I expect he will spend a lot of time on Gates, doing what he can to hold him up. Help better arrive quickly for gang tackling.
Making it hard for Rivers:
Philip Rivers
is gaining traction as the quarterback who should be talked about right after
Peyton Manning
and
Drew Brees
. How might the Titans have their best chance to limit the league's third-rated passer who carries a league-high 8.76 average gain into the game?
Get him out of situations where he's excelled.
Rivers is gettable -- the Chargers have given up 24 sacks, which puts them in the bottom half of the league. The Titans need to rush well with their front four, because with the two kid backers on the field they can't afford to bring any help.
Other pieces of the recipe for potential success against a good quarterback are hardly unpredictable: Get Rivers in third and long, because he's got a 91.9 rating on third down. And don't allow him to work with a lead in the fourth quarter. His passer rating in the fourth period is 98.8.
Punting contest:
Brett Kern's been a wonderful find for Tennessee, and his punts have helped out a great deal with field position. His 37.8 yard net isn't among the league's best numbers, but he's been timely. His counterpart,
Mike Scifres
, is capable of controlling a game, as he did in the Chargers' win over the Colts in the playoffs last season. The Titans' return game has been an abomination this year, so don't expect it to handle Scifres' boomers very well. Remember, every fair catch amounts to a play that wasn't a turnover. Chargers punt returner
Darren Sproles
, meanwhile, can be a major threat.
December, 23, 2009
12/23/09
3:00
PM ET
»
NFC Draft Rewind
:
East
|
West
|
North
|
South
»
AFC
:
East
|
West
|
North
|
South
»
Draft class lists
:
Indianapolis
|
Jacksonville
|
Houston
|
Tennessee
Houston Texans

Cushing
Best get:
Not everyone was sold on
Brian Cushing
coming out of USC, often because of his injury history at USC. He missed most of camp hurt and has missed a lot of practices, but none of it has gotten in the way of his being an impact player every Sunday. The Texans need more defenders and more players in his mold. He's a legitimate defensive player of the year candidate.
Worst unaddressed spot:
The Texans had plenty of reason to expect they had a feature back in
Steve Slaton
, but completely misread their situation after that. Interior line injuries and a second-year slump for Slaton have made a second back even more important, and
Chris Brown
,
Ryan Moats
and
Arian Foster
all have proved incapable of handling the pressures of the work. A second running back ranks as one of the team's highest priorities in free agency or the 2010 draft.
Still uninvolved:
Tight end
James Casey
came in as a versatile fifth-rounder who was going to be a unique weapon for head coach Gary Kubiak and offensive coordinator Kyle Shanahan to tinker with. He's got six catches for 64 yards in 11 games. He needs to have more of an impact, given that the Texans lost top-flight tight end
Owen Daniels
to a season-ending knee injury.
Indianapolis Colts

Brown
Still to be determined:
First-rounder
Donald Brown
has shown he will be a good NFL player. But he's missed five games with injuries, including the last three. He's more capable than
Joseph Addai
of breaking off a big run. The question: Does Brown understand that looking for the big gain isn't worth risking a play resulting in second-and-12. If Brown is healthy, he could see a lot of touches in the last two games. The Colts are 14-0 with just 59 carries, 263 yards and two TDs from their top pick. (They haven't gotten much out of second-round defensive tackle
Fili Moala
, either.)
A perfect fit:
Fourth-round receiver
Austin Collie
, not Minnesota's
Percy Harvin
, leads all rookie receivers in catches. Collie's nabbed 53 passes for 567 yards and seven touchdowns. He's a perfect fit for the Colts' system, and adopted the necessary work ethic to win over and work with
Peyton Manning
. Whether
Anthony Gonzalez
re-emerges for the post season push or not, Collie's crucial to it.
Best special teams addition:
The Colts had eight touchbacks in 2008. With rookie punter
Pat McAfee
taking over kickoffs from
Adam Vinatieri
, they have 18 with two games remaining. Better kickoffs are a big factor in coverage improvements under new special teams coach Ray Rychleski. McAfee's also got a net punting average of 38.0 yards, less than a yard off former Colts' veteran
Hunter Smith's
number from last season.
Jacksonville Jaguars

Monroe
Long-term solutions:
Eugene Monroe
and
Eben Britton
were the top two picks and have played the bulk of the season at left and right tackle, respectively. They have not been consistent, but the team loves their skill sets and upside. And early work means they'll get to the levels the team projected when spending such high picks on them sooner rather than later.
Eighth-rounders:
First-year general manager Gene Smith needed additions beyond his draft class and found a couple: Cornerback
William Middleton
out of Furman and linebacker
Russell Allen
from San Diego State are undrafted free agents who made the team and have been contributors. In the nationally televised Week 15 Thursday night loss to the Colts, Allen led the team with 12 tackles. Smith is down a second and seventh rounder in 2010 because of trades, and he hopes to hit on some undrafteds again, and annually.
Three is key:
Smith did great work in the third round, landing two small school players who've established themselves as productive starters with upside. Cornerback
Derek Cox
from William & Mary has not been intimidated by anything or anyone. Defensive tackle
Terrance Knighton
from Temple has been a stout and reliable run stopper.
Tennessee Titans

Britt
Biggest breakthrough:
Since 1998, the Titans have spent draft picks in the top three rounds on
Kevin Dyson
,
Tyrone Calico
,
Courtney Roby
,
Brandon Jones
and
Paul Williams
. Dyson was involved in two of the franchise's biggest plays in 1999 and did OK otherwise, but none of them solved the team's long-standing woes at receiver. First-rounder
Kenny Britt
is a great combination of size, power and speed who goes and gets the ball. Britt seems like he can be a consistently productive weapon.
Disappearing act:
The Titans gave away a second-rounder to draft tight end
Jared Cook
in the third, and in camp he seemed like a great addition. Then he suffered an ankle injury, faded and never really re-emerged. Long-term he's still very compelling. But the Titans sure could have used a jolt from him during their 0-6 start.
An heir:
Gerald McRath
seems comfortable and been effective as an outside linebacker when needed. He will start the rest of the way and, after bulking up in the offseason, stands to inherit the spot of either
David Thornton
(breaking down) or
Keith Bulluck
(free agent who tore an ACL in Week 15) next year. If both veterans are gone (a likely scenario), the second replacement needs to be a free agent or a draft pick.
August, 7, 2009
8/07/09
11:23
PM ET
Posted by ESPN.com's Tim Graham
CANTON, Ohio -- Bruce Smith's final game in a Buffalo Bills uniform was a doozy. He broke the NFL record for most postseason sacks. It was the last time the Bills were in the playoffs.
| | |
| --- | --- |
| | |
| | AP Photo/Wade Payne |
| | Kevin Dyson and the Tennessee Titans broke the hearts of Bills fans everywhere with the Jan. 8, 2000, "Music City Miracle." |
The game also went down as the Music City Miracle, when the Tennessee Titans broke the Bills' hearts on a trick kickoff return.
With the Bills and Titans meeting Sunday in the Hall of Fame Game, reporters from Nashville are in town and stopped by Friday afternoon's interview sessions at the McKinley Grand Hotel.
A Nashville television reporter asked Smith what he remembered from that game.
"I remember it was a forward pass," said Smith, who will be inducted into the Pro Football Hall of Fame on Saturday night along with Bills owner Ralph Wilson. "That's all I remember."
The game shouldn't have been Smith's last with Buffalo. In the first round of the 1999 playoffs against the Tennessee Titans, Steve Christie kicked a field goal to put the Bills ahead by a point with 16 seconds left.
Then came the infamous kickoff return known as Home Run Throwback. Fullback Lorenzo Neal fielded the short kick and handed off to tight end Frank Wycheck fired the ball across the field to Kevin Dyson, who ran for a 75-yard touchdown to stun the Bills.
To the naked eye, it appeared the ball traveled forward. Replays were inconclusive. The ball looked like it might have traveled on a perfectly parallel line from Wycheck to Dyson.
Smith had a polite smile on his face Friday, but he didn't seem to pleased to be asked about the Music City Miracle.
"Certainly, it's something that's worth a conversation," Smith said. "But it's in the past. It's history."
For Bills fans, who have endured nine straight years without the playoffs, that kick-in-the-gut game must feel like ancient history.
May, 1, 2009
5/01/09
11:59
AM ET
Posted by ESPN.com's Paul Kuharsky
I'll see the Titans' rookies on the field late this afternoon and bring you some observations from their orientation practice.
Pete Prisco re-grades the 2006 draft and joins the applause for Charley Casserly's work.
Alex Marvez spells out the seven deadly sins for an NFL rookie.
Houston Texans
Indianapolis Colts
Jacksonville Jaguars
Tennessee Titans
April, 25, 2009
4/25/09
8:34
PM ET
Posted by ESPN.com's Paul Kuharsky
NASHVILLE -- Kenny Britt's not going to face Matthew Stafford style scrutiny, don't get me wrong.
But this is a city where the last first-round receiver selected was when the team was still called the Tennessee Oilers -- Kevin Dyson in 1998. And this is a place where fans have asked for constant progress reports, hoping for something, anything, regarding prospects like Paul Williams and Courtney Roby and Tyrone Calico.
The expectations of Titans' fans for Britt may exceed the expectation of the Titans themselves, and based on what the Titans brass just told us, that's saying something.
Jeff Fisher, Mike Heimerdinger and Richard Shelton just talked about Britt, emphasizing his tough and physical qualities and praising his ability to beat bump and run coverage -- something they said is often the toughest thing for a receiver coming into the league to learn to handle.
"We're going to try to get him on the field as quick as we can and catch passes for us and make big plays for us," Fisher said. "We feel like he's what we've been missing in our passing game."
At 6-3, 215 pounds, Britt is a physical specimen who should boost the Titans prospects for passing touchdowns in the red zone.
Heimerdinger, in the second year of his second stint in the post, has now been given a first-round weapon in consecutive years -- running back Chris Johnson was a revelation last season and the Titans have similar hopes for Britt.
"It's different than the first time around," Heimerdinger said with a laugh of 2000-04, when the Titans took two offensive skill position players in nine picks in the first and second rounds.
March, 26, 2009
3/26/09
6:08
PM ET
| | |
| --- | --- |
| | |
| | Getty Images |
| | Indianapolis Colts wide receiver Reggie Wayne and Jacksonville Jaguars wide receiver Reggie Williams: the Reggie that worked and the Reggie that didn't. |
Posted by ESPN.com's Paul Kuharsky
The Colts have an all-time great at quarterback. The Jaguars and Titans do not.
No. of WRs Drafted Since 1997, By Team
Team
No. of WRs drafted
Avg. overall draft choice
Green Bay
19
144.5
Tennessee
17
121.1
Atlanta
16
143.6
Denver
16
127.6
Chicago
15
121.5
Cincinnati
15
125.0
Pittsburgh
15
111.4
Baltimore
14
123.9
Buffalo
14
141.3
N.Y. Giants
14
118.7
Kansas City
13
120.9
New Orleans
13
151.9
Tampa Bay
13
140.8
Minnesota
12
137.5
Oakland
12
166.6
Philadelphia
12
106.5
San Francisco
12
142.9
Seattle
12
153.7
St. Louis
12
119.7
Arizona
12
116.3
Cleveland
11
102.0
Jacksonville
11
137.9
Detroit
10
102.2
N.Y. Jets
10
135.6
Washington
10
113.7
Carolina
9
116.6
Dallas
9
153.3
Miami
9
109.1
New England
9
133.4
San Diego
8
107.1
Indianapolis
7
98.4
Houston
6
114.2
Source: Keith Hawkins of ESPN Research
The Colts drafted a Hall of Fame receiver in 1996. The Jaguars and Titans did not.
Look at the history of those three teams in the AFC South at wide receiver over the last dozen years, and Peyton Manning and Marvin Harrison have done a lot to skew the comparison.
Even so, just over a month before the 2009 draft, it's hard not to try to sort through the different approaches at receiver by the division's three receiver-needy teams.
Harrison was in Indy before Manning, but the Colts have made it a priority to provide weapons for their quarterback. The Jaguars and Titans, meanwhile, are run-based teams that have failed to find the downfield threats that would open things up.
Jacksonville and Tennessee have missed in different ways.
The Jaguars swung and missed three times when they spent first-round picks on receivers -- R. Jay Soward, Reggie Williams and Matt Jones all busted -- while the Titans spent high picks on other positions while managing to develop only one Pro Bowler, Derrick Mason, out of 17 drafted wideouts.
We're leaving the Texans mostly out of this conversation for two reasons -- they don't have as much of a draft history to examine and receiver doesn't rank as one of their big needs heading into this draft.
But Houston is included in these capsules, in order of the number of receivers drafted since 1997, for context:
Tennessee:
Receivers drafted
: 17 (Second in NFL)
Average overall pick
: 121.1 (15th)
Average round
: 4.06
Average draft value pick
: 86th
First-rounders
: 1
Passing offense since 1997
: 17th
Philosophical summation
: The Titans haven't spent a first-rounder on a receiver since they passed on
Randy Moss
for
Kevin Dyson
in 1998. They've thrown a lot of mid- and late-round picks at the position and hope to make things work with willing blockers in a run-first offense that has not consistently stretched the field on the outside under Jeff Fisher. They won't usually play kids who don't know the entire offense early on and like to talk about how they
don't need
an All-Pro caliber No. 1 guy to succeed.
Jacksonville:
Receivers drafted: 11 (Tied for 21st)
Average overall pick: 137.9 (23rd)
Average round: 4.55
Average draft value pick: 62nd
First-rounders: 3
Passing offense since 1997: 14th
Philosophical summation: They've not been afraid to spend first-round picks on receivers and haven't found a star in three stabs with R. Jay Soward, Reggie Williams and Matt Jones. Indications are, however, they aren't afraid to swing again. They want a big-time weapon for David Garrard to be the quarterback they envision and may well grab Michael Crabtree or Jeremy Maclin at No. 8 in the first round if one of them is available. Veteran Torry Holt, a free agent, is visiting the team Thursday.
Indianapolis:
Receivers drafted: 7 (28th in the league)
Average overall pick: 98.4 (First)
Average round: 3.29
Average draft value pick: 60th
First rounders: 2
Passing offense since 1997: First
Philosophical summation: Surrounding Manning with weapons is always a priority. The Colts got an all-time great in 1996 with Marvin Harrison, and rather than thinking they could supplement him with bit players, they spent more resources to surround him -- with Reggie Wayne in round one of the 2001 draft, with free agent Brandon Stokley in 2003 and by drafting Anthony Gonzalez in round one in 2007. They could well grab another at No. 27 in this draft.
Houston:*
Receivers drafted
: 6 (32nd)
Average overall pick
: 114.2 (Ninth)
Average round
: 4.00
Average draft value pick
: 39th
First rounders
: 1
Passing offense since 2002
: 28th
Philosophical summation
: They hit a home run with
Andre Johnson
in the first round in 2003 and have worked to build an offense around an unassuming, hard-working talent. The Texans have done r
easonably well developing Johnson's supporting cast with free agent additions
Kevin Walter
and
Andre Davis
and 2006 seventh-rounder
David Anderson
. With an improved line and run game, if quarterback
Matt Schaub
stays healthy, Johnson will remain one of the league's most feared weapons.
*--Since 2002
In the graphic below, Aaron Schatz from footballoutsiders.com suggested I look at the differences in approach at wide receiver by using a "draft value chart." A general average of draft position assumes the difference between each draft spot is the same, while the sort of value chart teams use for trading picks takes into account just how different the value is between a first-rounder and a sixth-rounder.
Average Value of WRs Drafted Since 1997 By AFC South Teams
Team
WRs drafted
Total points value
AVG
Draft value of AVG
Houston
6
3079.65
513.3
39th pick
Indianapolis
7
2101.7
300.2
60th pick
Jacksonville
11
3095
281.4
62nd pick
Tennessee
17
2701.5
158.9
86th pick
Two assessments of what this all means:
Schatz of footballoutsiders.com:
"It's a different issue with each team. The Colts have hit on their first-round receivers, the Jaguars have not. Marvin Harrison, Reggie Wayne, Anthony Gonzalez. Honestly, what else have the Colts had to do to find receivers? Those three play so well that everything else they look for is slot guys and depth.

"On the other hand, the Jags have blown first-rounders on Reggie Williams, R. Jay Soward, and Matt Jones. Williams is sort of a good second guy, Soward sucked, and Jones is a mess who was totally overdrafted."

"I don't think the Titans have spent a first on a receiver since Kevin Dyson. They did a great job of drafting Derrick Mason, and have been stumbling along otherwise with lower picks that didn't work out and free agents. That's different from the Colts, though -- the Colts didn't have a chance to have lower picks not work out because their first-rounders are so good. And the starter before Wayne was drafted was [Jerome] Pathon, who was a second-rounder who had a career that was about equal to what you would expect from a guy taken with an early pick in the second round."
ESPN analyst Herm Edwards former coach of the Jets and Chiefs:
"It depends on what your philosophy is on offense, it has a lot to do with what you are trying to do. Receivers, it's always a tough deal when you draft those guys, especially high. Because the expectations on them are so enormous. It sometimes takes those guys two or three years to really get going into the system.

"If you look at Indy, they've got a system with a quarterback where all they have to do it fit the pieces they want, like the kid Gonzalez they drafted from Ohio State. You look at him now, they used him a lot in the slot, so they kind of brought him along. I think now with Marvin being gone Gonzalez will probably replace Marvin outside. When they moved him to the slot, they really took away Dallas Clark, because Clark is really their slot guy in three wideouts, they put him in the slot a lot. Now they've got a speed guy in Gonzalez, they can move him back outside and now what they'll probably do is look for another guy. They are always a year or two ahead of what they want to do.

"Tennessee, in my opinion, is more of a team that's going to try to run the ball and play physical on defense, do it that way. So their receivers are a little bit different than the guys in Indianapolis. Those guys have got to be able to block. If you look at Tennessee's receivers, they're pretty big. Jacksonville has the same kind of guys. They're more of a play-action team, they're going to try to hit the home runs. Those teams are going to pound you with their running games, try to get eight guys in the box, get one on one outside, and then from there try to hit you with the home run.

"Jacksonville, they've had some guy but none of them have really turned out. But that's a lot of teams, though. They are so hard to figure out. This year in this class is kind of unique. Five or six of the top guys are juniors. That's what makes the class so good... Now you're talking about bringing a young guy in that's going to take a little time to develop.

"The Colts, if they miss on a guy it's almost not on the radar screen, because when you think about it, he ain't going to play anyway, he's not pressed to play right now. It's been the same starters every year. Now they need one."
March, 17, 2009
3/17/09
9:30
AM ET
Posted by ESPN.com's Paul Kuharsky
Team needs: Receiver, cornerback, outside linebacker, offensive tackle
| | |
| --- | --- |
| | |
| | Charles Sonnenblick/Getty Images |
| | The Titans could take a wide receiver like Florida's Percy Harvin if he falls to them at No. 30. |
Dream scenario
: This is a team that could be poised for a first round like 2000, when
Keith Bulluck
fell to them at No. 30 when they weren't hunting for linebackers. The good player who falls could be their man, regardless of position.
The Titans have a long history of holding off on receivers; they have not drafted one in the first round since Kevin Dyson in 1998. But here is a draft in which they are not desperate for help at any spot, so the best-case scenario would be they are enamored with one of the receivers who could still be around at No. 30 -- Hakeem Nicks of North Carolina, Kenny Britt of Rutgers or Percy Harvin of Florida. Tennessee doesn't traditionally give rookie receivers a lot of work, and if the Titans go against tradition and pick one here, they'd likely give him the time he needs to develop while counting on Justin Gage, free-agent addition Nate Washington and second-year man Lavelle Hawkins in 2009. Whether a first-round receiver would be in line to help now or later, the goal is to threaten down the field and keep teams honest, opening some room for running back Chris Johnson.
Plan B: The Titans are run by a couple of former NFL defensive backs in GM Mike Reinfeldt and coach Jeff Fisher and are of the belief they can never have enough quality cornerbacks. Cortland Finnegan should be a fixture for years and Vincent Fuller is a solid nickel back. But Nick Harper is getting older and having a quality replacement on board for beyond 2009 would be a sound move. Prospects such as Wake Forest's Alphonso Smith, Vanderbilt's D.J. Moore and Connecticut's Darius Butler all lack height, but may be possibilities as quality cover guys.
Scouts Inc. take: "While they have long-term questions at the quarterback position, the Titans need to take a win-now approach to this draft and have to find a wideout with both short-term and long-term potential on the edge. Signing Nate Washington wasn't a bad maneuver, but they still very much lack anyone resembling a No. 1 wideout. Finding someone of that caliber will not be easy with the 30th overall selection, but a player like Rutgers' Kenny Britt or North Carolina's Hakeem Nicks would be a great addition. Losing Albert Haynesworth will not be easy to overcome, so it wouldn't be out of the question for Tennessee to look at a defensive tackle like Boston College's Ron Brace or Missouri's Ziggy Hood if a suitable wideout isn't available. The Titans' goal will be to find one top playmaker on offense and some players to contribute and compete for playing time along the defensive line, at middle linebacker and cornerback on defense." -- Matt Williamson of Scouts Inc.
Who has final say: Fisher isn't going to find himself with draft picks he didn't want, but Reinfeldt runs the draft room.
Now On the Clock: New York Giants, March 18.
Previous On the Clock: Arizona Cardinals. The team-by-team series.
February, 18, 2009
2/18/09
8:55
PM ET
Posted by ESPN.com's Paul Kuharsky
They are easy matches for mock drafters.
Give the Colts the best defensive tackle you can find at 27. Insert the top remaining wide receiver next to the Titans' line at 30.
But presuming those picks is a mistake on both counts, unless you are banking on those teams breaking from their staunch recent histories.
Indianapolis looks to draft the best player available early on, and after a couple top interior linemen go early, team president Bill Polian said defensive tackle value doesn't usually re-emerge until the later rounds.
And the Titans, who once passed on Randy Moss, haven't touched a receiver in the first round since they took Kevin Dyson ahead of Moss in 1998, giving off a vibe since that it's just too unpredictable a position to value so highly.
| | |
| --- | --- |
| | |
| | Matthew Sharpe/Getty Images |
| | The Colts would be bucking a trend by picking Ole Miss DT Peria Jerry in the first round. |
Indianapolis suffered on the interior defensive line last season, not because it had planned poorly, but because of two surprises: Quinn Pitcock, a fourth rounder out of Ohio State in 2007, decided to quit football before training camp last year. Ed Johnson, who'd been an impact player as an undrafted free agent in 2007, was on a zero tolerance policy, got in some trouble after one game in 2008 and was let go.
The Colts will add multiple interior linemen between now and training camp, but they will likely come with a pick or two later in the draft, and inevitably, with a potential diamond in the rough they don't even need to spend a pick on. Besides Pitcock, Polian hasn't drafted a defensive tackle since 2002, when Larry Triplett was a second rounder and David Pugh a sixth rounder. In 11 years, Polian's drafted five players at the position, only Triplett higher than the fourth round.
"I've always approached the draft as take the best player no matter what the position is," Polian said. "Don't worry about filling a need, you can do that later in the draft. Take the best player in the first two rounds, whoever he is."
So it's fair to say through much of his tenure he hasn't seen a lot of defensive tackles of value available with his highest picks?
"Yeah, that's probably correct," he said. "They go in the first 15 usually, then you see them resurface in the latter rounds -- five, six, seven."

NFL SCOREBOARD
Thursday, 9/11
Sunday, 9/14
Monday, 9/15
WEEKLY LEADERS