NFL Nation:

Kevin Everett
April, 21, 2011
4/21/11
5:01
PM ET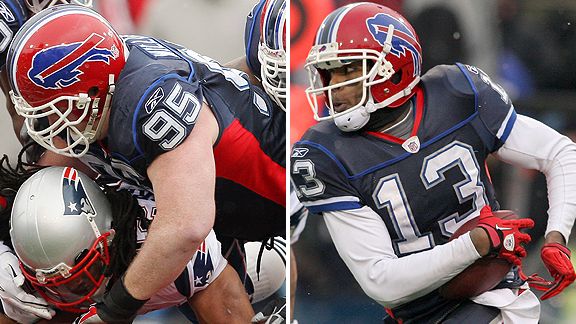 US PresswirePro Bowler Kyle Williams (left) and receiver Steve Johnson were both drafted in the later rounds.
ORCHARD PARK, N.Y. --
Buffalo Bills
fans have pondered some persistent questions over the years.
How would life have changed if Scott Norwood made that kick?
What will happen to the team when Ralph Wilson passes away?
Was the Music City Miracle really a forward lateral?
How on earth does Tom Modrak still have a job?
Modrak is Buffalo's vice president of college scouting. Modrak, formerly a
Pittsburgh Steelers
scout during their Steel Curtain years and director of football operations with the
Philadelphia Eagles
, has held the Bills' top scouting job since May 2001 and worked his first draft for them in 2002.
In that time, the Bills' streak of seasons without a playoff appearance has extended to 11 and counting. Despite holding prime draft-order slots, they have repeatedly squandered them with maddening first-round decisions.
The list is enough to make the most optimistic Bills fan groan: pass-rusher
Aaron Maybin
(zero sacks) 11th overall instead of
Brian Orakpo
(19.5 sacks) two years ago; small-school cornerback
Leodis McKelvin
11th overall instead of Pro Bowl left tackle
Ryan Clady
in 2008; safety
Donte Whitner
with the eighth pick in 2006 and then trading up for defensive tackle
John McCargo
; trading up for quarterback
J.P. Losman
in 2004; useless tackle
Mike Williams
fifth in 2002.
"Certainly we've had our misses up at the top," Modrak said Tuesday at a news conference to preview next week's draft. "We've done pretty well in the middle and at the end, the non-glamour kind of picks. But we've missed some. That is regrettable."
There are additional selections one can criticize: wide receiver
James Hardy
in the second round; running back
C.J. Spiller
ninth overall even though the Bills had a pair of 1,000-yard rushers already ...
[+] Enlarge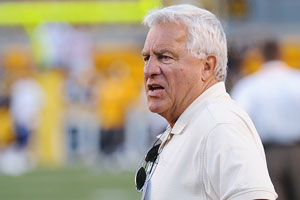 George Gojkovich/Getty ImagesDespite some high-profile misses, Tom Modrak's draftees have performed well on the whole.
OK. I'll stop now. That's enough to illustrate why there's frustration over Modrak and his scouting department's evaluation skills.
The fact Modrak joined the Bills to serve under former president Tom Donahoe -- an executive Wilson and Bills fans came to despise -- only adds to fascination of Modrak's continued employment.
Now that I've set the table, let's yank the tablecloth out from underneath the plasticware.
Draft data suggest the Bills haven't drafted much worse than the average NFL team since 2002.
ESPN researcher John Fisher -- he claims no relation to St. John Fisher, the namesake of the college where the Bills hold their training camp -- shuffled some spreadsheets and came up with some information that's not particularly damning when compared to the rest of the NFL.
The Bills have drafted five Pro Bowlers with Modrak in charge of scouting. That's tied for 14th in the league. One of those Pro Bowlers was Willis McGahee for the Baltimore Ravens, but Modrak was the chief scout who drafted him. What the Bills did with McGahee afterward that isn't his fault. Same goes for Marshawn Lynch.

Although a game started for the Bills isn't as impressive as a game started for the New England Patriots the past nine years, Bills draftees from the first through third rounds have started 804 games, 15th in the league.

Bills draftees from the fourth round or later have started 417 games, eighth in the league.

When it comes to individual statistics accumulated with the teams that drafted them, Bills taken from 2002 onward have ranked third in 1,000-yard rushing seasons, tied for seventh in 1,000-yard receiving seasons, 20th in total sacks and 19th in total interceptions.
While the Bills have missed badly on several of their prominent selections, they have done quite well in the latter part of the draft with gems such as cornerback and Pro Bowl kick returner
Terrence McGee
(fourth round in 2003), Pro Bowl defensive lineman
Kyle Williams
(fifth round in 2006), receiver
Steve Johnson
(seventh round in 2008) and left tackle
Demetrius Bell
(seventh round in 2008).
Top running back
Fred Jackson
and perennial Pro Bowl left tackle
Jason Peters
-- traded to Philly two years ago -- weren't drafted at all.
"If you look at other teams, they do it. They miss at the top," Modrak said. "When you don't win, it's magnified. It looks bad.
"But I think from a strictly homer point-of-view [late-round success] is the work and the labor that goes into it and the detail that's paid to those kinds of things. That does not say that other teams don't do the same thing, but we have a good group, and we fortunately have done that."
The Bills have had some obvious blind spots in the draft.
A refusal to pick a tackle earlier than the fifth round since 2002 has hurt them. Peters' success as a converted tight end is a factor in that trend, but the Bills were having contract problems with him while he still was on the roster. Foresight would've been helpful. But that's an organizational philosophy more than Modrak's domain.
The Bills' track record at tight end is miserable, too. They've drafted five:
Tim Euhus
,
Kevin Everett
,
Derek Schouman
,
Derek Fine
and
Shawn Nelson
. Everett was the lone selection sooner than the fourth round. A broken neck while covering a kickoff on opening day in 2007 ended his career.
That tight end quintet has combined to score five NFL touchdowns. Of the 143 tight ends drafted since Modrak joined the Bills, 43 of them have scored more than five touchdowns individually.
Some might also say finding a quarterback has been a failure. Starting quarterbacks, however, aren't easy for any team to locate.
Forty-seven quarterbacks have been drafted within the first three rounds since 2002. The only three teams not included in this pursuit have been the
Indianapolis Colts
,
New Orleans Saints
and
Dallas Cowboys
. The Bills took two within the first three rounds, Losman 22nd overall in 2004 and
Trent Edwards
92nd in 2007.
That league-wide group yielded nine Pro Bowlers, but just two of them -- 24th overall pick
Aaron Rodgers
and third-rounder
Matt Schaub
-- weren't selected in the top 11. Rodgers and Schaub served as backups for three seasons before they became starters.
Bills general manager Buddy Nix explained that scouting is only one of three critical phases that determine whether a draft pick explodes or fizzles.
"You've got to pick the right guy," Nix said Tuesday. "He's got to have enough athletic ability and enough intelligence, production to do the job, which is what you spend the year doing. We're scouts and personnel guys.
"The second phase, now -- and don't make light of it because it's just as important -- is coaching, strength coaches, trainers. That's the second phase, and both of those things have to be in place. If not, the development of the guy is retarded.
"I'm not going to name teams, but you can name teams every year that get top guys and they don't get any better. They actually may go the other way, and it's the developmental part."
Chan Gailey is Buffalo's fourth head coach -- fifth if you count interim coach Perry Fewell -- since Modrak came aboard. Coordinators have passed through a revolving door. The Bills also have overhauled their strength and conditioning program a couple times.
Nix then stressed that even if the precisely correct draft choice is made and the proper infrastructure is in place, a third phase still can torpedo development. The player can ruin his future if he's "not willing to be a professional and do everything it takes."
"You can go back and look at the so-called busts, and it's one of these three phases," Nix said. "You've got to have it all for them to be really good.
"So even though we put it all on one thing -- 'That was a terrible draft. That was a bust. Those idiots don't know.' -- that's just about a third of it."
Another element that must be considered when discussing Buffalo drafts is the question of who makes the final pick.
Nix and Gailey have been clear Nix makes the final call
, although Wilson still can exercise his ownership privilege.
Before Nix became GM last year, trying to decipher who was to credit or blame for a Bills draft choice was like a "Three Stooges" scene. The irate boss hears a commotion, storms into the room and asks "Say! What's the wise idea? Who did this?" Moe pointed at Larry. Curly pointed at Moe. Larry pointed at Curly.
Modrak has been a constant since 2002, but there have been many voices in the Bills' draft room in that period, from Donahoe to GM Marv Levy to chief operating officer Russ Brandon to the various opinionated head coaches who lobbied for prospects they hotly desired.
The Bills' scouting department clearly needs to step its game up to help turn around the franchise. They'll never be the kind of team that lures top free agents because of their market conditions. Buffalo simply isn't as sexy as Miami or San Diego or New York and doesn't offer a perennial chance to win like New England or Pittsburgh does.
But, believe it or not, the Bills' drafts could have been substantially worse since Modrak arrived.
January, 9, 2009
1/09/09
8:55
AM ET
Posted by ESPN.com's Matt Mosley
New York Giants wide receiver Domenik Hixon has made peace with the fact that one painful moment in his career will follow him forever. No matter how much he continues to blossom as a starting receiver for the reigning world champs, the afternoon of Sept. 9, 2007, will be etched in his memory.
| | |
| --- | --- |
| | |
| | Icon SMI |
| | Although they were already deep at receiver, the Giants saw enough in Domenik Hixon to claim him off waivers from Denver. |
After a remarkable senior season at Akron in 2005, Hixon was devastated when he wasn't invited to the NFL combine. He flew to Phoenix to enroll in a performance academy, and then ran a 4.34 in the 40-yard dash and recorded a vertical of 39.5 inches on pro day. Hixon felt something pinch in his left foot before he ran, but waited a couple of weeks to get it checked out. Turns out it was a broken foot, which didn't do wonders for his draft status, although a 4.34 with a broken foot seems impressive enough.
The Denver Broncos took Hixon in the fourth round and ended up putting him on the non-football injury list (didn't happen on their watch) for the 2006 season. Hixon won the kickoff return job coming out of training camp in 2007 and that's why he found himself racing up the field with the ball on Sept. 9. He remembers the collision that left Buffalo Bills tight end Kevin Everett motionless on the ground for what seemed like hours.
"It was a hard hit," the 24-year-old Hixon told me Thursday. "I got up real slow and my shoulder felt like it was on fire."
He retreated to the sideline, where his best friend on the team, Brian Clark, kept asking him if he was OK. Meanwhile, Everett was fighting for his life. We later learned that doctors on the scene used heroic measures so that Everett would have the opportunity to walk again. At that point, though, there was a real possibility that Everett would be paralyzed for the rest of his life.
Hixon's parents were in the stadium that day. Son looked at his father and told him that he'd heard Everett wasn't moving. When Hixon returned home that night, he turned on the TV and saw a replay of the collision. He promised himself that he'd never watch it again. And though his friends kept telling him it wasn't his fault, Hixon still had pangs of guilt.
"I prayed every day for him," Hixon said. "You don't want to be part of something negative like that. People were really supportive, but things didn't feel right."
The fearless player suddenly lost his stomach for contact. A few games later, he was racing toward an opening during a kickoff return when he spotted a defender bearing down on him.
"I turned the hit down," said Hixon. "And then I coughed up the ball. For a second, I thought the guy just made a nice play. But when I looked back at it, I said, 'That's not me!'"
Unfortunately, fourth-round picks from Akron aren't afforded time off for mental healing. Hixon and Clark were out looking at motorcycles when Broncos coach Mike Shanahan summoned Hixon to his office to release him. Hixon wondered if his career was over, but a day later, the Giants claimed him off waivers.
"My agent called to tell me, so I immediately pulled up a Giants roster," said Hixon. "I saw Plaxico [Burress], Amani [Toomer], Steve [Smith] and Sinorice [Moss] and I said, 'Why in the world do they want me?' I decided right then to give it everything I had."
Hixon immediately joined the Giants' coverage units, and when Ahmad Bradshaw was injured, he took over his return duties in the regular-season finale against the Patriots. Hixon returned a kick 74 yards for a touchdown in the second quarter, which helped the Giants nearly pull off the upset against undefeated New England.
"One reporter told me that as Kevin kept getting better, he felt like I was getting better," said Hixon. "My dad kept updating me on [Everett's] progress, and hearing those positive reports seemed to make playing football a little easier."
Hixon had told members of the Giants' public relations staff that he wanted to visit with Everett, but he wanted the conversation to happen on Everett's terms. After the Giants clinched a playoff berth on the road against the Bills, Everett invited Hixon to visit the owner's suite where he'd been watching the game. Hixon said he was nervous as he walked through the stadium to see Everett. He wasn't sure what to say.
"We just had a casual conversation," Hixon said. "I'd heard from some of his teammates at [the University of] Miami that he was a great guy. I just kept thanking him for taking the time to see me, and we've continued to stay in touch."
Hixon showed up in Albany, N.Y., for the 2008 training camp with a new mindset. He wanted to prove that he was more than a return man, and Plaxico Burress' absence due to injury opened the door for a lot more repetitions. Hixon said he tried to "get a couple of wins" each day against top cornerbacks such as Corey Webster, Aaron Ross and Sam Madison. Fortunately, quarterback Eli Manning saw potential in Hixon from Day 1. Hixon remembers catching an in-route from Manning in his first practice with the team.
Domenik Hixon
Wide receiver
New York Giants




2008 Season Stats

REC
YDS
AVG
LNG
TD
43
596
13.9
41
2
"He's sitting there coaching me up," said Hixon, "and I'm looking at him thinking, 'I'm the last guy you're going to throw to.'"
Turns out Manning was onto something. When Burress was suspended for a game against Seattle on Oct. 5, Hixon replaced him and had four catches for 102 yards and a touchdown before leaving the game at halftime with a concussion. He replaced Burress for good following Burress' infamous shooting incident, which led to his suspension by the Giants and placement on the non-football injury list. Hixon said that Burress was one of the first players to greet him in the training room following a 23-7 win over the Redskins on Nov. 30. Burress gave Hixon a list of things to work on. That was probably the last time Burress will ever be in the Giants' locker room.
What looked like a seamless transition, though, hit a snag a week later against the Eagles. Hixon dropped a sure touchdown on a perfectly thrown deep ball from Manning, and the Giants went on to lose a home game. Even though he's bounced back in recent weeks, Hixon knows that the dropped pass is still a popular topic.
"I completely took my eyes off the ball," he said of the drop. "It wasn't about putting too much pressure on myself, though. It was just me dropping the ball."
Hixon said veteran Amani Toomer was one of the first players to offer encouragement. He advised the young receiver to "see what you did wrong, but don't let it snowball."
Former linebacker Harry Carson saw Hixon at an event a few nights later and told him about a time in the Super Bowl when he allowed a touchdown. Running back Derrick Ward wasn't quite as sensitive. During a dinner, he repeatedly said, "Catch the ball, Hixon!"
Hixon's still trying to adjust to not being able to sneak up on teams. He used to come in for one play every other series or so and go deep. Now, he's lost the element of surprise. He thinks his time in Denver going against Champ Bailey and his daily sessions with Corey Webster and Aaron Ross have been invaluable. Hixon recognizes that he's involved in a pretty stressful audition right now.
"Absolutely it's an audition," he said. "You're putting your résumé together."
Something tells me that Hixon could find room on that résumé for "starting wide receiver in a Super Bowl."

NFL SCOREBOARD
Thursday, 8/28
WEEKLY LEADERS