NFL Nation:

kevin kowalski
August, 29, 2013
Aug 29
12:30
PM ET
IRVING, Texas -- The
Dallas Cowboys
meet the
Houston Texans
in the preseason for the first time since 2010 at AT&T Stadium. Intrastate pride might be on the line for the fans of both teams, but little else.


With 75 players on the roster, some jobs remain but most are filled. Here's what we'll be looking at tonight:
Job fair:
With 18 roster moves to make by Saturday's cut-down date, most of the decisions have likely been made. There are perhaps two open spots with as many as eight guys looking to fit the square peg. Would the Cowboys carry five tight ends? How about six receivers? Nine defensive linemen?
Defensive tackle
Sean Lissemore
, tight end
Andre Smith
, wide receiver
Anthony Armstrong
, cornerback
Micah Pellerin
, tackle
DeMetress Bell
, guard
David Arkin
and guard
Kevin Kowalski
can make their cases tonight. Linebacker
Brandon Magee
(concussion), safeties
Eric Frampton
(calf),
Danny McCray
(hamstring) and
Matt Johnson
(foot) will have to watch and sweat out the final decisions.
Tanney time:
Maybe
Kyle Orton
opens the game, but the Cowboys will give
Alex Tanney
most of the work.
With needs at other positions and injury questions going into the opener, Tanney is looking more like a practice-squad fit than a 53-man roster fit. If he plays lights out, he could change the equation or at the very least get another team to keep him on the 53-man roster the way
Matt Moore
did a few years ago.
Check out the Texans:
Last year the Cowboys closed the preseason against Miami and traded for veteran offensive lineman
Ryan Cook
a few days later based on what they saw in that game.
With the Cowboys moving to a pure zone blocking scheme this year, check out the Texans' offensive linemen. Assistant offensive line coach
Frank Pollack
spent five years with the Texans (2007-11) and will have a good idea of what would be a good fit with the Cowboys.
As unsettled as the Cowboys are with their starting offensive line they're more unsettled with the backups. A case could be made they don't have a ninth or 10th guy (if they choose to reach double digits) on their current roster to fill out the line.
Earning practice squad jobs:
Tanney has been talked about, but there will be seven other spots to fill. The Cowboys like to keep receivers and defensive backs on the practice squad because of the amount of running in practice, so guys like
Danny Coale
,
Tim Benford
and Pellerin bear watching.
And the line play will have candidates to, like defensive end
Jerome Long
and offensive tackle
Darrion Weems
. Linebacker could be another spot of interest with
Cameron Lawrence
and
Taylor Reed
.
The digital board:
Chris Jones
hit it last week with a punt against Cincinnati and the Bengals returned the re-kick 75 yards for a touchdown, continuing a preseason-long issue of special teams' miscues. Jones is unlikely to hit it again, but watching it to see the clock tick down will be more important because it brings us closer to the start of the regular season.
August, 17, 2013
Aug 17
3:15
PM ET
PHOENIX -- The Cowboys play their third preseason game Saturday at Arizona against the
Cardinals
.


Here are five players to keep an eye on:
David Arkin:
He's going to start at left guard with
Ronald Leary
possibly out for the rest of the preseason recovering from knee surgery. Arkin battled
Kevin Kowalski
for playing time at the right guard spot when
Mackenzy Bernadeau
was down with an injury. Arkin is going to get a chance to show the coaches he can be a productive player, which is important because the Cowboys like to run off the left side where
Tyron Smith
resides.
George Selvie:
After a productive first preseason game where he picked up two sacks and six tackles, Selvie was inserted into a starting role at defensive end in the second game but slowed down with just two tackles. Selvie will start again against the Cardinals, and a solid game should help his chances of remaining with the club.
B.W. Webb:
He wants to forget about what happened in the second preseason game at Oakland where he muffed a punt, missed a tackle and had a few mental errors. In practices after the Raiders game, Webb handled punts with no issues and is doing a better job in pass coverage with the second and third teams. Webb should make the roster, but it's unclear if the Cowboys would try to release him and maybe get him through waivers and place him on the practice squad.
Terrance Williams:
The third-round pick from Baylor missed the first two preseason games while recovering from a concussion. He makes his debut here as the No. 3 receiver. Williams has looked good in practices and is developing a strong command of the playbook. He is turning into a pretty good threat in the deep passing game.
Gavin Escobar:
It's been a tough two weeks for the rookie tight end. Escobar is still behind
James Hanna
on the depth chart and continues to struggle as a blocker. He's a good receiver, but the Cowboys need their tight ends to block if they're going to increase the number of attempts in the run game.
February, 25, 2013
Feb 25
12:38
PM ET
Dallas Cowboys
owner and general manager Jerry Jones spoke to reporters over the weekend at the scouting combine in Indianapolis, and obviously one of the topics of interest was
the team's offensive line
. The line was horrible in 2012, as has been thoroughly chronicled here, and though I agree with Jones' opinion that it showed improvement as the year went on, I submit that it had no other direction in which to go.
The question is what to do now. Jones mentioned that quarterback
Tony Romo
's ability to move around and make plays on the run helps, as he doesn't require a top-flight offensive line to be productive. But I'm certain that Romo would enjoy it if he were better protected, and obviously the Cowboys should not be making their offensive line plans based on the idea that their quarterback can succeed behind a substandard one. They need to get better. Jones suggests that they can get better with continued development from the guys they have:
Left tackle Tyron Smith is Jones' only sure bet, but he liked what he saw at the end of the year from Doug Free and Jermey Parnell. Jones acknowledged the Cowboys "need more," from free-agent pickups Nate Livings and Mackenzy Bernadeau in 2013, and he could see center Phil Costa as the starter "for several years." He also touted the futures of Kevin Kowalski and Ronald Leary.

"Now does that make you sleep at night because you know you need depth? We might be talking about your depth there when I'm really alluding two five or six guys, which could be your starters," Jones said. "I think we've got a chance to have a plus from a couple of these young guys, and we're very likely, through a combination of free agency or this draft to get serious about another guard-center type there."
Well, I think that last thing he said is the most encouraging if you're a Cowboys fan, because what the Cowboys really need is more elite-level talent on the line. Smith is the only current member of the Dallas line who appears to have elite-level talent, and part of the problem in 2012 was that he needed time to transition from right tackle to left tackle. I think he's a franchise-caliber player on the left side and will be more than fine there for years to come.
But while it's foolish to think the Cowboys could assemble a line on which all five positions had that kind of talent (Smith was, after all, a top-10 draft pick), they need at least one more. If they could draft or sign a top-shelf "guard-center type," of which there are a few in this year's draft, the whole thing would start to look at lot better. Then they'd be trying to fill three spots with the guys they already have on the roster instead of four, and that's feels a lot more manageable. I don't know if they'll be in position to pick someone like Chance Warmack or Jonathan Cooper in the first round, but if they're thinking along those lines I think they're doing themselves a favor. Finding someone besides Smith they can plug into their line and not have to worry about him for the next decade would be a fine use of that first-round pick.
August, 7, 2012
8/07/12
9:33
PM ET
OXNARD, Calif. -- I was going to start off writing about the
Dallas Cowboys
' center position, but it's such a beautiful night here I just feel too good to start off with a negative. So we'll get to center, but I'm going to start with the defensive line.
I was critical of the Cowboys' draft in general, and my feelings on third-round pick
Tyrone Crawford
were that they'd picked a guy who couldn't help them this year -- a project defensive end for a 3-4 defense when they'd already traded their second-round pick and still had 2012 needs to address. But watching Crawford practice -- watching him in drills against the likes of
Tyron Smith
-- it's easy to see how the Cowboys could indeed find a role for him this year as a situational pass-rusher in nickel or dime packages. I asked Cowboys coach Jason Garrett about Crawford and this year, and this is what he told me:
[+] Enlarge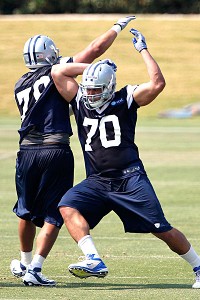 AP Photo/Tony GutierrezThird-round pick Tyrone Crawford has impressed during training camp.
"The vision we had for him in Year 1 was, 'Come in here and be a contributor as a pass-rush guy, and then we feel like you can be big enough to play the five-technique in our base defense.' We loved his relentless nature. Passionate kid still learning the game of football. His body's going to get bigger. He's going to get stronger. He has position traits to be a starter in the future, and right now he can have a role for us because we potentially like how he can rush the passer in a third-down situation."
Crawford is listed at 285 pounds, and most of the rest of the defensive linemen on the Cowboys' roster exceed 300. So they will need to see him bulk up before he can be a starter for them. But rushing the passer is a lot about speed, instinct and determination, and Crawford doesn't need to bulk up in order to deliver in that aspect of the game. So keep an eye out for how they deploy him on third downs. Could be that I was (hope you're sitting down!) wrong about that one.
Some other things I saw/heard/noticed/surmised during my second and final day at Cowboys training camp:
As great as the Cowboys' skill-position players are, they're going to have a hard time being productive if the center can't get the ball to the quarterback. And the Cowboys' centers... well, they struggle with that. Starter Phil Costa had trouble with it last year. The guys they thought would push Costa for the job this camp -- Mackenzy Bernadeau, Bill Nagy and Kevin Kowalski -- are all hurt. David Arkin, a guard who's never played center before, has been getting snaps there, but he was so bad Tuesday that they had to take him out of his spot as the second-team center, replace him with Harland Gunn (another guard they're trying out at center) and use Costa, the starter, as the third-team center. It was, to use a highly technical football term, not good. Bernadeau did do some work early in position drills and could start practicing later in the week, but Kowalski and Nagy don't look as though they'll factor into this mix in the preseason. Cowboys player personnel director Stephen Jones acknowledged after the practice that it was ugly, but he said he has high hopes for Bernadeau as a real option and that they weren't yet in the market for a free-agent center.

Bernadeau and Gunn stayed after practice to work on snaps on the side.

Fifth-round pick Danny Coale did a lot of work in individual wide receiver drills as well as punt return drills, though he was still held out of 11-on-11s as he recovers from his injury. He also could return to practice later in the week. Garrett didn't list him among the No. 3 wide receiver candidates earlier in the day, but it's possible he could work his way into the mix as the year goes along.

The guys Garrett did list were Kevin Ogletree, Andre Holmes and Dwayne Harris. He was making a point that Miles Austin's ability to play an inside slot position as well as play on the outside gives the Cowboys leeway when picking their No. 3, as they don't need it to be one or the other. He said they look at Ogletree and Harris as guys who can play both inside and outside while Holmes profiles more as an outside guy.

Austin, incidentally, is still out with a hamstring injury, but this is not being deemed serious because it's not as though Austin has a history of missing time with hamstring injuries. Wait. What? Oh.

After briefly leaving camp and coming back at the team's request, Cole Beasley continued to look good as a wide receiver and catching punts. Not sure if he can push himself into the mix, but he's playing very well.

DeMarco Murray looks fantastic, running with vision and power and showing no signs of the ankle injury that ended his 2011 season early.

And yeah, I could gush some more about how good Dez Bryant looks, but I feel like I've done enough of that. Just... I mean... if you don't want to draft him for your fantasy team, I'll be happy to scoop him up one pick later, is all I'm saying.

I head home to New Jersey on Wednesday, but Cowboys Camp Confidential is scheduled to run Friday and I have a bunch more stuff from Cowboys camp to share with you over the coming days and probably into next week. If the posts are a little light tomorrow, you'll know my plane doesn't have WiFi.
July, 25, 2012
7/25/12
3:52
PM ET
The
Dallas Cowboys
opened training camp for rookies and selected veterans Wednesday, and there are a few newsy tidbits courtesy of my good friends over at ESPNDallas.com.

Cornerback
Mike Jenkins
is one of
five players
opening camp on the Cowboys' physically unable to perform list. He's in camp, continuing his recovery from shoulder surgery, but as
Calvin Watkins wrote this morning
, his situation is very much in flux. He's not happy about being the No. 3 corner behind
Brandon Carr
and rookie
Morris Claiborne
, and he's asked for a new contract or a trade, neither of which the team wants to give him. The Cowboys don't know when they'll see Jenkins on the field, in part because he doesn't seem in a hurry to get there. The rest of the PUP crew -- guard
Mackenzy Bernadeau
, wide receiver
Danny Coale
, guard/center
Kevin Kowalski
and safety
Matt Johnson
-- are all expected back in the coming weeks.
All five players matter. Bernadeau and Kowalski are in contention for starting spots on the interior of the offensive line, the team wants to see if Coale can be a real candidate for the No. 3 wide receiver spot as a rookie, Johnson has a chance to beat out
Brodney Pool
for a starting safety job but needs to be on the field to do it, and Jenkins is of course part of the Cowboys' plan to be as deep as possible at the position that devastated them last year.
Most eyes Wednesday were on top draft pick Claiborne, the rookie cornerback who missed OTAs and minicamp while recovering from wrist surgery but was on the field for the first training camp practice. Todd Archer thought
he looked aggressive
("maybe too aggressive at times, but it's better to be that way and coach it out of a cornerback"), and I think everyone's eager to get to Oxnard next week and see how he looks against
Dez Bryant
and
Miles Austin
. Claiborne also returned some punts, but
the reviews on that
don't indicate that you should expect to see it once games start.
And rookie
Tyrone Crawford
is
a bit behind
due to the calf injury that limited him this spring and summer, but he's working at it. Crawford's a long-term project anyway, and unlikely to play a major role early in 2012.
So there's your Cowboys update for the day. They'll be my final training camp stop, and I won't see them until Aug. 6, so I'll do my best to keep you posted in the meantime, even if that just means referring you to the exhaustive and perpetually excellent work of Calvin, Todd and Tim MacMahon.
March, 28, 2012
3/28/12
11:38
AM ET
PALM BEACH, Fla. --
Dallas Cowboys
coach Jason Garrett is aware that his team didn't sign the biggest-name, highest-pedigreed offensive linemen available on this year's free-agent market. That wasn't the goal.
"None of these guys were brought in and told, 'You are the anointed starter,'" Garrett said Wednesday morning at the NFL owners meetings. "They're here to create competition on our team, and we feel like they're the right kinds of guys, individually as people but also with their talent. They can come in and compete for those spots and make us a better football team."
The newcomers are guards. The Cowboys like both of their starting tackles, though they are switching their roles, with
Tyron Smith
slated to move to left tackle and
Doug Free
back to right tackle in 2012. But where they really struggled last year was on the interior of the line. So they signed
Mackenzy Bernadeau
from Carolina and
Nate Livings
from Cincinnati, and they're throwing them into the mix with the two guards --
David Arkin
and
Bill Nagy
-- they drafted last year along with centers
Phil Costa
and
Kevin Kowalski
, and they're going to see what happens.
On Bernadeau, Garrett had this to say:
"He's a guy that we liked coming out. He's a young guy from a small school who we feel has the physical traits to be a really good player in this league. He has not been a consistent starter for [Carolina]. He has been a starter, but he's had some injuries and some different things that he's dealt with. We're just excited about the kind of kid he is and the upside that he has. So we feel like putting him into the mix will help our team."
And on Livings, this:
"Nate had been a started the last couple of years in Cincinnati. He's a big guy. He played at LSU. And he's one of those guys who was a college free agent and who had to really earn his way in the NFL. When we put the tape on, we just liked how he played. And we feel like, if you bring a guy like that in as well, he can get infused into our roster and hopefully create some competition up there."
Neither of the new guys is looked at as a potential solution at center, so that position is likely to come down to Costa and Kowalski and possibly Nagy if they don't add anyone else. But Garrett's point is that the Cowboys have enough bodies at those interior positions that it's fair to expect a strong offensive line to emerge. The players are young enough that, assuming they do find the right five-man mix, the line can grow together over the coming season and seasons and become a strength of the team. There are no guarantees, of course, but that's the hope and the plan, and the Cowboy have hand-picked some guys they believe can help produce those kinds of results.
Garrett also echoed the sentiment that owner Jerry Jones articulated
the day before
in a session with Dallas-area reporters here -- namely, that the work they've done on the offensive line through last year's draft and this year's free agency makes it more likely that they'd take a defensive player in next month's first round than an offensive lineman such as Stanford guard David DeCastro.
"We'd have to take into consideration that we've done pretty well in free agency relative to our offensive line," Garrett said. "We'd have to take that into consideration if we had the alternative of taking defense. So you're not off-base if you ask whether it's likely that we would take a defensive player."
March, 16, 2012
3/16/12
10:40
PM ET
Todd Archer of ESPNDallas.com (who's been an absolute animal this week, by the way) is reporting that the
Dallas Cowboys
plan
to cut ties
with veteran guard
Kyle Kosier
:
The move has not been made officially yet. Kosier had started 80 straight games in which he was active since joining the Cowboys as a free agent in 2006. He signed a three-year deal last summer after the lockout ended and started every game.

The move would save the Cowboys $1.55 million in salary cap space and continue the overhaul of the offensive line. Right tackle Doug Free is now the longest-tenured offensive linemen having joined the team in 2007. The second-longest tenured is center Phil Costa, who joined the team as an undrafted free agent in 2010.

Kosier earned a $1 million escalator that would have jumped his base salary in 2012 to $2.25 million.
I'm surprised. I know he's 33 years old and had some injury issues in 2011. And I know they drafted two guards last year and signed two guards this week. And yeah, I know the NFL is a tough, cold business. But whenever I was around the Cowboys the last couple of years, I heard someone tell me how important Kosier was as a leader among the offensive linemen. He got a lot of credit for Free's big year at left tackle when he played next to him at left guard in 2010, and he got a lot of credit for
Tyron Smith
's very quick transition to the pros at right tackle when he played right guard next to him in 2011.
So while they have a new offensive line coach in Dallas, and they have every right to believe they can find two starting interior linemen from the group that now includes Costa,
Bill Nagy
,
David Arkin
,
Nate Livings
,
Mackenzy Bernadeau
and
Kevin Kowalski
, this can't have been an easy decision for the Cowboys. Whoever else was on the line as they slid guys in and out over the past two seasons benefited from the fact that Kosier was there. And while the move seems to make sense from a business and numbers standpoint, Kosier brought something to the table that they can't be sure anyone in the remaining group does. It's something they could, theoretically, end up missing at some point this season.
February, 13, 2012
2/13/12
2:46
PM ET
The latest in ESPNDallas.com's position-by-position look at the Cowboys is the one for which I've been waiting -- the one about the
interior offensive line
. Calvin Watkins breaks down who they've got, what they need and what things could look like at guard and center for the Cowboys in 2012. Coupled with Tim MacMahon's installment on the
offensive tackles
from last week, this addresses one of the most important aspects of the roster:
Jerry Jones said the evaluation process of these two positions needs to get better. The Cowboys overestimated the talent level of the guards after training camp, going with younger players who proved to be inconsistent. The health of three veteran guards raised more questions.
[+] Enlarge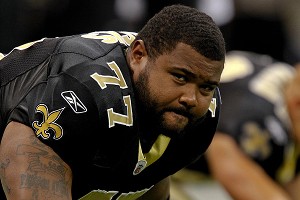 Derick E. Hingle/US PresswireSigning a veteran guard like Carl Nicks in free agency would be a good move for the Cowboys.
This is the key, as it is with every team this time of year: self-evaluation. The Cowboys need to make an honest assessment of what they have at guard and center, and whether it's what they need going forward. We seem to have just witnessed a season's worth of evidence that
Phil Costa
isn't the answer at center, so the question then becomes whether
Kevin Kowalski
or
Bill Nagy
or
David Arkin
can be, and if so, how soon? It seems likely they'll bring back
Kyle Kosier
, since he's a leader on the line and has, in recent years, been a big part of the development of
Tyron Smith
and
Doug Free
, but what of the other guard spot? Can someone from last year's group of rookies slide in and play right away in 2012? Or do they need to find answers on the free-agent market or in the draft.
Personally, if I were the Cowboys, I wouldn't take an interior lineman in the first round. I just feel like there's value to be had at those spots in later rounds (the Eagles, for example, found their starting center in last year's sixth) and Dallas' needs at cornerback and pass-rusher are pressing enough to warrant first-round action.
Once they're done restructuring contracts, the Cowboys could have about $20 million in cap space, and if I were them I'd try and bring in a veteran guard like
Carl Nicks
or
Ben Grubbs
-- or a center if they feel that's a more pressing need -- and then mix and match with that Arkin/Nagy/Kowalski/Costa group in the offseason to figure out exactly what they have there. It's not unrealistic to believe they have a starting center and potential Kosier replacement in that group, and adding someone like Nicks or Grubbs would reduce the pressure on all of the youngsters to perform right away.
I agree with Tim that they're fine at starting tackle. Smith is a stud, and I think Free is a good player who had a bad season. Whether they keep Free at left tackle and Smith at right or whether they switch them up, they should be okay at those spots. But they need to lock some things down in the middle of that line, where they struggled in 2011. And I think free agency might be the best place to start.
December, 26, 2011
12/26/11
11:52
AM ET
Todd Archer of ESPNDallas.com is reporting that
Dallas Cowboys
guard
Montrae Holland
has a torn biceps and
could be done for the season
. If that's the case, the chances of the Cowboys' season lasting beyond Sunday night get a bit slimmer.
Holland isn't anything close to a big name or a superstar. He was actually one of the Cowboys' final roster cuts at the end of training camp and wasn't picked up by anyone else. But the Cowboys re-signed him in October after rookie
Bill Nagy
suffered a season-ending injury, and Holland's insertion into the lineup coincided with a revival of the Dallas running game. In the five games they played without him, the Cowboys averaged 84.8 rush yards per game. In the 10 games they've played with him as their starting left guard, the Cowboys are averaging 133.4 rush yards per game.
Of course there are a number of other factors there. Holland's first game was also rookie
DeMarco Murray
's first as the Cowboys' feature running game, and Dallas ran for 294 yards against the Rams in that game alone, skewing the numbers. That game also saw the emergence of
Tony Fiammetta
as a blocking force at fullback, and Dallas' rushing numbers did dip back down to 83 yards per game during the three-game stretch Fiammetta missed in Weeks 11-13.
But Holland was helpful in stabilizing the run game, and more importantly, he was clearly better than their other options.
Derrick Dockery
or
Kevin Kowalski
are likely to fill in Sunday in the game against the Giants that will decide the NFC East title. So while this is an injury the Cowboys likely can survive better than they could one to
Tony Romo
or
DeMarcus Ware
, it's one that has the potential to hurt them, because it strikes at something they've been able to do much better over the second half of this season -- run the ball and control the game.
September, 2, 2011
9/02/11
11:29
AM ET
With the
Dallas Cowboys
' and
New York Giants
' games still to go, I picked the Cowboys to watch first because I wanted to see rookie running back
DeMarco Murray
. So it was nice of the kid to catch a 48-yard screen pass up the left side on the team's first play from scrimmage. We've seen the Cowboys use the screen game a lot this preseason, with
Tony Romo
throwing to starting running back
Felix Jones
, and it appears as though the Cowboys would like to use the weapons they have on offense to spread out the defense when possible and trade on their speed.


Murray looks like a guy who can help with that. He looked excellent when they got him on the outside, in space, around the edge, able to pick up big chunks of yardage in those spots. That speaks to his athletic ability, which surely showed up on pre-draft tape, and wasn't really a surprise. What the Cowboys and their fans wanted to see from Murray on Thursday night was how Murray looked running between the tackles. With a little more than a minute to go in the first quarter, after picking up 9 yards on first down on a run to the outside, Murray drove hard through the middle to pick up the first down on second-and-1.
A few plays later, on a first-and-15, he showed good patience and made a critical cut at the line to pick up 3 yards when it looked as if he wouldn't get any. So he showed speed, power and judgment. Maybe a little more of a straight-line guy than you'd like him to be, but he clearly brings a lot to the table and should be a more than adequate replacement for
Marion Barber
as a changeup guy who can give Jones a breather here and there. I was impressed, and if the Cowboys decide to commit to the run game this year, it looks as though they'll have good options.
Some other stuff I saw in the Cowboys' final preseason game, a meaningless
17-3 loss to the Dolphins
in Miami:
1. Speaking of running backs ... Phillip Tanner!
This guy has been one of my favorite breakout preseason studs, and it was nice to hear Jerry Jones say on the broadcast that Tanner had made the team. I don't know what it means for
Tashard Choice
, and it sounds as though the Cowboys have yet to sort all of that out, but Tanner has played well enough to earn his spot. I just really like the way he runs -- strong, determined, feet constantly moving. He already has down some technique aspects of the running back position that coaches have to work to teach more talented guys. Interesting deep bench option for them, and he's good enough to make Choice wonder where he stands in terms of playing time, if not roster spot.
2. Rookie offensive linemen.
Right tackle
Tyron Smith
didn't have his best game, getting beaten around the edge early in the game and picking up a false-start penalty later in the first half. But there are times -- more often than not, actually -- when he looks like an unstoppable mauler on that right side. I believe he'll be fine. Left guard
Bill Nagy
had a couple of tough moments as well (I believe the sack of
Stephen McGee
with 5:00 left in the half was on Nagy), but it says a lot to me that he seemed to be the one on the left side making the line calls with the starters (specifically
Kyle Kosier
) not in the game. The Cowboys consider Nagy a relatively seasoned rookie who knows a lot about how to play the position -- and a lot about the responsibilities of the other linemen as well. It wasn't surprising to see him with extra responsibility in a game full of backups, but I wonder if it affected his own play. Still looks like he could stand to get stronger. And finally, rookie center
Kevin Kowalski
, who I guess is now
Phil Costa
's backup at center, lost his helmet on a play early in the second quarter and kept mixing it up. Which isn't super-smart, but if you're looking for tough, crazy offensive linemen it's the kind of thing you like to see.
3. Montrae Holland surprised.
He's been reduced to a backup role, but it's going to be an important one given the relative uncertainty with the starters on the offensive line. Holland came to camp overweight and had some injury issues that kept him out of action, so the Cowboys didn't know how much he'd be able to play Thursday night. But he played the whole first half and looked good, and that helps Dallas feel better about the depth it has on the line.
4. Defense? I don't know.
Again, backups all over the field.
Bryan McCann
got beat by
Brian Hartline
when he tried to jump a route. Guys like
Alan Ball
and
Barry Church
missed tackles on
Larry Johnson
on Johnson's 22-yard touchdown run. Church made a couple of nice plays otherwise. I was a little more locked in on the offense in this one. Not sure there's much about the defense that bears serious analysis.
5. Receivers.
Kevin Ogletree
made a nifty after-catch move to pick up a first down near the goal line on a third-down play in the first quarter.
Dwayne Harris
showed some shiftiness on punt returns. And
Michael Irvin
, who was once a receiver, was pretty impressive in the broadcast booth! I thought he did a nice job of focusing on serious analysis even when the guys in the booth with him (including Jerry Jones) seemed more interested in trying to talk about Irvin and his career. Felt like he was trying to educate, which good color analysts who played the game at a high level should be doing.
Anyway, next game counts. See ya.
August, 27, 2011
8/27/11
7:48
PM ET
Assuming my power stays on long enough here in Northern New Jersey Saturday night, I will be watching the
Dallas Cowboys
' preseason game against the
Minnesota Vikings
. But even if the power does stay on, I won't be seeing center
Andre Gurode
, who is apparently healthy but won't be playing as
the team ponders his future
, his salary and his spot on the roster. Gurode has a $5.5 million base salary and a $7.2 million cap number this season, and it appears as though the team would like him to take a pay cut.
Seems like odd timing, but it apparently speaks to how impressed the Cowboys have been with the play of
Phil Costa
, who's been filling in at center this preseason while Gurode has been hurt. Costa won't play Saturday either, since he's out with a knee injury. But Jerry Jones told reporters in Minneapolis that they expect Costa to be back by the season opener. If Gurode is gone (or even if he stays and takes that pay cut), Costa looks like the likely starter at center to begin the season as long as he's healthy.
This likely also says a lot about what the team thinks of rookie
Bill Nagy
, the seventh-rounder who's been starting at left guard lately in place of the injured
Montrae Holland
. The starting left guard job is still probably Holland's if he gets back and healthy, but the team has been impressed with Nagy, who can play guard or center, and his strong showing thus far improves their position in these talks with Gurode.
With rookie
Tyron Smith
already set to start at right tackle, the Cowboys' offensive line is clearly in flux with a couple of weeks left before the season starts. Keep a close eye on Nagy Saturday night to see how he holds up.
Kevin Kowalski
's going to start at center Saturday, but he's not likely to be a factor during the regular season.

NFL SCOREBOARD
Sunday, 12/22
Monday, 12/23