January, 9, 2013
1/09/13
4:58
PM ET
In their news release announcing Tom Telesco as their new GM, the San Diego Chargers included comments from Bill Polian and Tony Dungy who worked with the Colts.

"I'm thrilled that Tom has been named the general manager of the Chargers," said Polian, now an ESPN analyst. "He is a first-rate executive, a first-rate football man and a first-rate person. I've had the pleasure of working with him for over 20 years. I can assure you and assure all Chargers fans that he will do a great job for them."
"I had the privilege of working with Tom for seven years in Indianapolis," said Dungy, who works for NBC. "He is a great football man, but also a great person. He understands the game. He knows what good players look like. He is just very adept at identifying them and finding them. More than that, I think he understands what makes a good organization. I think he is going to be fantastic for the Chargers. I'm excited for Tom and excited for the Chargers organization."
It's not yet clear what Colts general manager Ryan Grigson will do to replace Telesco, who was promoted to vice president of football operations last year.
The four highest-ranking men under Grigson now are director of football administration Mike Bluem, director of college scouting T.J. McCreight, associate director of pro personnel Kevin Rogers and pro scouting coordinator Andrew Berry.
In a news release from the Colts, Grigson was also effusive in his praise of Telesco.
"I cannot say enough about Tom Telesco and I speak for everyone in this building," Grigson said. "Despite him being here for 14 seasons prior to our new regime, Tom bought in from Day 1, and the professionalism he showed on a daily basis never wavered. We developed a strong bond during this special season and I will forever be grateful for having him at my side since Jan. 11th. He was instrumental in our success this year, and I couldn't have asked for a better right-hand man.
"He helped lay our foundation of a new era, and was a living example in every area of his duties of the mantra Coach (Chuck) Pagano preached from Day 1 in terms of 'Trust, Loyalty & Respect.' I don't know a finer football man/person than Tom Telesco. He is very deserving of this privilege, and the San Diego Chargers are in great hands. On behalf of the entire Colts organization we wish Tom, Larah and his children nothing but the best as they begin this new journey together."
December, 20, 2010
12/20/10
6:41
PM ET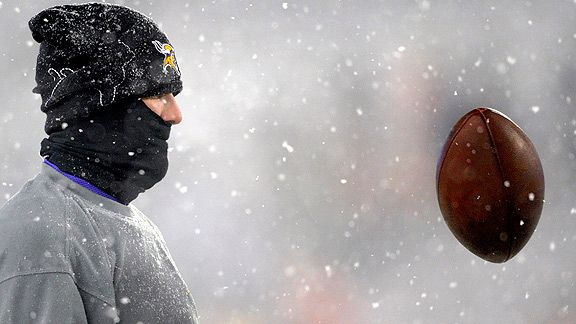 AP Photo/Hannah FoslienMinnesota Vikings quarterback Brett Favre took a few warm-up snaps on the TCF Bank field a few hours before the game.
MINNEAPOLIS -- Just returned from my third and final trip to the field at TCF Bank Stadium. A few observations:
Quarterback Brett Favre took the field shortly after 6 p.m. ET to begin lightly throwing and testing the sprained SC joint near his right shoulder. Favre threw at intervals of 10 and 15 yards, throwing harder than he did 10 days ago in his last practice appearance but not nearly as hard as he would need to for a game. Athletic trainer Eric Sugarman, offensive coordinator Darrell Bevell and quarterbacks coach Kevin Rogers were all in attendance. If Favre plays Monday night, it won't be based on the throwing session I watched.

There are absolutely some icy parts of the field. As I watched Favre, several members of the grounds crew were using sledgehammers to try to break up a patch of ice about five yards away from the sideline.

The field itself is not frozen but is definitely hard. I'm not sure what this means, but snowplows are kicking up the rubber portions of the Field Turf that are in place to soften the material. The snow piles surrounding the perimeter of the field have turned gray because they have so many rubber bits embedded in them.

The Vikings will have to declare Favre's status around 7 p.m. ET.

Entrance of fans into the stadium has been orderly. From what I can see, the bleacher seats have several inches of snow piled on them.
March, 25, 2010
3/25/10
2:00
PM ET
It appears we'll soon reach a moment of truth in the long-standing speculative connection between
Donovan McNabb
and Minnesota.

Favre

McNabb
First, the facts:
Reporters who attended Philadelphia coach Andy Reid's interview session this week left believing McNabb is available via trade.
The Philadelphia Inquirer reported the Eagles have lowered their asking price to a second-round draft pick.
McNabb's first NFL quarterbacks coach was current Vikings coach Brad Childress, who has never hid his admiration for McNabb's development into a perennial Pro Bowl player.
McNabb's position coach at Syracuse, Kevin Rogers, is the Vikings' quarterbacks coach.
Although many of us expect Brett Favre to return to the Vikings this season, he has made no formal commitment. At age 40, Favre's status is always year-to-year.
There are some members of the Vikings organization who consider McNabb a natural successor to Favre, especially on a veteran team ready to challenge for the Super Bowl. So the Vikings have a decision to make, if they haven't already made it: Do they sit tight and assume Favre will return? Or do they eliminate the risk by trading for McNabb, in the process solidifying the position for more than one year?
To this point, there is no evidence the Vikings have inquired formally about a trade. Childress and Reid are close friends, so it's possible they have kept any conversations about the topic to themselves.
We know from past experience that Favre doesn't react well when pressed for offseason answers on his future. If the Vikings go to him now and say they will trade for McNabb unless he commits to playing, history tells us he will announce his retirement. If (and when) he reconsiders, it will be too late for the Vikings.
There are no obvious answers here. What say you?
January, 31, 2010
1/31/10
5:59
PM ET
MIAMI -- As we await word on the conclusion of Chicago's search for an offensive coordinator -- Mike Martz? Kevin Rogers? -- Brandon of Huntington Beach, Calif., brings up an interesting point.
[+] Enlarge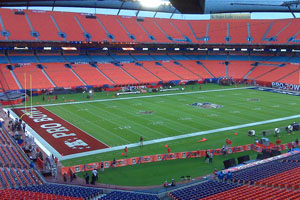 Kevin Seifert/ESPN.comNFC North blogger Kevin Seifert's view from the baseball press box at Sun Life Stadium.
Would you compare the Bears' potential hiring of Mike Martz to the Packers search last year that lead to the hiring of Dom Capers? Both seem to be/have been controversial, big-name hires. If the Bears pull the trigger on Martz, do you think he can have similar, immediate results?
My short answer, Brandon, is that I think Martz is the best candidate the Bears have interviewed to produce immediate results. And there are some similarities between the way the Packers decided on Capers and the way the Bears have meandered to Martz.
The Packers interviewed at least three other candidates -- Mike Nolan, Gregg Williams and Jim Haslett -- before hiring Capers. The Bears interviewed Rogers, Ken Zampese and Rob Chudzinski before giving Martz his interview.
Capers' defense is based on being unpredictable and coming at the quarterback from all angles, making big plays through forced turnovers and lost yardage. It was flexible enough to cover for some personnel mismatches in his 3-4 scheme.
The same is true for Martz's offense. Martz is by no means perfect, and there is a reason his services are available. But of all the candidates the Bears have interviewed, I think Martz has the best chance to effect a quick turnaround.
That's my take from the baseball press box here at Sun Life Stadium. Don't believe I'm actually at the Pro Bowl? Take a look at the byline on the picture above.
| | |
| --- | --- |
| | |
| | Drew Hallowell/Getty Images |
| | There will be plenty of similarities on display when Brad Childress' Vikings and Andy Reid's Eagles square off Sunday. |
Posted by ESPN.com's Kevin Seifert
When it came time to make his first big decision as Minnesota's new owner, Zygi Wilf looked east and hatched a plan. He would figure out a way to spell "Vikings" using "E-A-G-L-E-S."
In January 2006, Wilf made plans to hire Philadelphia's offensive coordinator as the Vikings' head coach and its linebackers coach as his new defensive coordinator. He wanted the Eagles' top personnel man as his general manager, and he was sold on the personnel and schematic approach -- draft a young quarterback to run the West Coast offense, upgrade the offensive line and blitz the bejeezus out of opponents -- that has made the Eagles a playoff team in seven of the past nine seasons.
"What we wanted was to be a first-class organization," Wilf said. "We wanted an organization that was patient and did things the right way with a goal of being a consistent winner that could challenge first for the division championship, and then for the Super Bowl, every season. We still have improvements to make, but that's always been what we have strived for."
As it turned out, Wilf hired Brad Childress as his head coach but couldn't lure talent evaluator Tom Heckert to be his general manager. The Eagles blocked Childress from hiring Steve Spagnuolo as his defensive coordinator, but a year later Childress tapped another former Philadelphia assistant -- Leslie Frazier -- for the job.
And in building the team that will host the Eagles on Sunday at the Metrodome, Childress has emulated his former employers on a number of levels. Among them:
Signing a prominent free agent offensive lineman to a mega-deal with hopes he would add a level of nastiness to the offense. The Eagles did it in 2000 with right tackle Jon Runyan. The Vikings followed in 2006 by acquiring left guard Steve Hutchinson.
Drafting a quarterback early in his tenure and put him on the developmental fast track. The Eagles had Donovan McNabb in the starting lineup by Week 10 of his rookie season. Tarvaris Jackson started the final two games as a rookie in 2006.
Hiring all of his athletic trainers as well as his strength and conditioning staff from Philadelphia. Eagles coach Andy Reid blocked Childress from taking any position coaches to Minnesota, but several Vikings assistants nevertheless have Eagles ties. Running backs coach Eric Bieniemy played for them in 1999, Childress' first year as an assistant in Philadelphia. The Vikings' current quarterbacks coach, Kevin Rogers, was McNabb's position coach at Syracuse. And tight ends coach Jimmie Johnson was once an Eagles intern.
Authorizing Frazier to mix creative blitz packages into the Vikings' cover-2 base defense. Frazier played in Chicago's "46" defense of the 1980s, but he learned the fundamentals of blitz schemes from Eagles defensive coordinator Jim Johnson while serving as Philadelphia's defensive backs coach from 1999-02.
Calling his own plays during the 2006 season, as Reid always did in Philadelphia. And coincidence or otherwise, Childress handed those duties to offensive coordinator Darrell Bevell not long after Reid gave that role to Eagles offensive coordinator Marty Mornhinweg.
NFL SCOREBOARD
Sunday, 2/2
WEEKLY LEADERS