August, 13, 2012
8/13/12
6:17
PM ET
The Colts big preseason win against the Rams came with a significant loss.
Inside linebacker
Pat Angerer
will miss about six weeks with a fractured foot that needs surgery, Chuck Pagano told Indianapolis reporters Monday.

Angerer emerged last season as a play-making force, shifting to the starting middle linebacker job in the Colts' 4-3 after
Gary Brackett
was lost in the first game of 2011.
In Pagano's 3-4 hybrid, Angerer was to be a key cog in the middle, working with
Kavell Conner
.
"(Angerer) is the signal caller, he's the guy that stands in front of the huddle," Pagano said. "He has the respect of all those guys in the huddle. So when you lose your signal caller, you lose your middle backer, for an extended period of time, it means a lot. The guy's productive, he's a playmaker, he's a warrior, he's a Colt. He's got all the Colt traits that you're looking for, you know. So now it'll be up to somebody else to step up and fill that void until we get him back."
I thought Conner was effective against the Rams even after Angerer was hurt.
Jerrell Freeman
was first in line as Angerer's replacement.
Undrafted in 2008, he signed with the Titans out of Mary Hardin-Baylor, but didn't stick. Ultimately he landed with Saskatchewan of the CFL. In three years with the Roughriders, he totaled 144 tackles, 13 sacks, four fumble recoveries and three interceptions.
Pagano also mentioned
Greg Lloyd
and
Moise Fokou
, recently acquired from Philadelphia in a trade for cornerback
Kevin Thomas
, and
Mario Harvey
when asked about Angerer replacements.
The Colts will keep looking for possibilities, too.
Pagano was politically polite when asked about Brackett. But the former Colts linebacker doesn't bring the team the sort of size it wants in the new scheme, and the team is in the midst of a youth movement.
Don't expect them to call on the old guard. I think Fokou might be the guy to challenge Freeman, and they'll be happy with the backer who emerges until Angerer is back.
July, 3, 2012
7/03/12
2:00
PM ET
»
AFC camp battles
:
West
|
North
|
South
|
East
»
NFC
:
West
|
North
|
South
|
East
An early look at the biggest training camp position battles:

HOUSTON TEXANS
Right tackle:
Rashad Butler
versus
Derek Newton
Right guard:
Antoine Caldwell
versus
Brandon Brooks
The Texans are reshaping the right side of their offensive line after releasing right tackle
Eric Winston
to save money and watching right guard
Mike Brisiel
take a free-agent deal with the
Oakland Raiders
.
Butler and Caldwell have experience in the system and go into training camp as favorites to win the starting jobs. But it won't be a giant upset if one of them loses out to the promising kid in position to make a push. The team is high on Newton, who appeared in 14 games as a rookie in 2011, and Brooks, a third-round pick who was listed at 343 pounds when he was drafted and would be the team's biggest lineman even if he slims down. We won't see Newton and Brooks as starters, but we could see one of them pull an upset.

INDIANAPOLIS COLTS
Cornerback:
Kevin Thomas
versus all comers at left cornerback
The secondary is the Colts' biggest issue, and depth beyond starting right cornerback
Jerraud Powers
is very questionable at corner. Thomas lined up as the second starter during spring and summer work. But the team did a lot to give itself other options for that slot as well as nickel and dime.
The Colts traded for
Cassius Vaughn
, claimed
Korey Lindsey
off waivers and signed free agent
Justin King
, previously of St. Louis. Those three plus holdovers
Chris Rucker
,
Terrence Johnson
and
Brandon King
will look to earn roles during training camp. The team could continue to seek help at corner, too.

JACKSONVILLE JAGUARS
Cornerback:
Rashean Mathis
vs.
Aaron Ross
While
Derek Cox
will man right cornerback, veterans Mathis and Ross will compete for the starting job on the left side.
Mathis is a true pro who's been a good leader for the Jaguars for nine seasons. He's made great progress in a comeback from a shredded knee suffered in November. Ross was part of two Super Bowl-winning teams with the
New York Giants
and will also offer leadership. The guy who doesn't get the starting job will still be an important player on defense, lining up in the slot in the nickel package.

TENNESSEE TITANS
Quarterback:
Matt Hasselbeck
versus
Jake Locker
It's experience versus potential in what will be one of the most watched training camp battles in the NFL. Don't believe Hasselbeck can't lose the job. Coach Mike Munchak wouldn't be setting it up as a competition for show.
To me, the question is whether Locker can be accurate enough to make his mobility too appealing to pass up. If so, he's got a chance. If not, then Hasselbeck should retain the job. In the long run, it would be far easier to pull Hasselbeck along the way than it would be to take Locker out of the lineup. That could be a factor in what the Titans say will likely boil down to a gut feeling on whom they are better off with under center.
May, 24, 2012
5/24/12
11:20
AM ET
»
AFC Scenarios
:
East
|
West
|
North
|
South
»
NFC
:
East
|
West
|
North
|
South
Yes, the start of training camps is two months away, but it's never too early to consider the coming season. A look at the best-case and worst-case scenarios for the Colts in 2012.

Dream scenario (8-8):
I consider this a pretty optimistic dream, but since we're dreaming …
This one would require exemplary rookie seasons from quarterback
Andrew Luck
, tight ends
Coby Fleener
and
Dwayne Allen
and at least a few others from the new regime's first class.
But beyond that, they'll need several guys from the old regime to play far better in a new system than they did in the old one for which they were better suited.
Donald Brown
or
Delone Carter
will have to run effectively, for example. From a pool of returning cornerbacks including
Chris Rucker
,
Kevin Thomas
,
Terrence Johnson
and
Brandon King
, they need to find at least a nickel, and that presumes the guy they just traded for,
Cassius Vaughn
, will be the second starter. (If I am playing against the Colts, with that collection of defensive backs, I'm trying to get them in dime.)
Dwight Freeney
and
Robert Mathis
prove to be pass-rushing demons as outside linebackers in a 3-4 base set, where they are coming from less predictable spots and forcing quarterbacks into all kind of mistakes. Their play offsets the questions at other spots for the defense, and helps set Luck and the offense up with good field position.
Nightmare scenario (2-14):
Yes, it's possible the first year of the Ryan Grigson-Chuck Pagano regime matches the last year of the Bill Polian-Jim Caldwell one.
The Colts will face
Aaron Rodgers
,
Tom Brady
,
Matthew Stafford
and
Jay Cutler
in 2012. But if things go badly, plenty of second- and third-tier quarterbacks will also shred a patchwork secondary that added only safety
Tom Zbikowski
in free agency and Vaughn in a trade and got no help in the draft.
The defense can prove to have too few quality pieces to run a 3-4 or a 4-3 effectively, and if it's giving up a lot of points, Luck will be dropping back a lot to try to lead comebacks. If a line of leftovers and castoffs can't consistently fend off rushers, there will be trouble.
And should Luck get hurt and miss any time, the team will look to
Drew Stanton
or seventh-round pick
Chandler Harnish
. Either one is likely to leave fans pining for the halcyon days of
Dan Orlovsky
.
Also damaging would be the Texans ability to stay good and improvements from Tennessee and Jacksonville. The Colts got their two wins last season against the Titans and Texans late in the year.
April, 30, 2012
4/30/12
11:06
AM ET
The draft is over, the rosters are filled up.
But what areas weren't sufficiently addressed and where can we expect to see the teams of the AFC South continue to seek help?
Some thoughts.

Houston Texans
Veteran corner
Jason Allen
left as a free agent. He helped the Texans cover for
Kareem Jackson
, who played just 55.73 percent of the team's defensive snaps in 2011.
Brandon Harris
was a second-round pick out of Miami last year, but didn't show anything. The Texans look to be counting on him to contribute more. They like
Brice McCain
, but he's a situational guy.
But corner is a spot where the Texans need some additional depth at the very least.

Indianapolis Colts
The Colts loaded their roster with offensive players -- eight of 10 draft picks went on that side of the ball.
The defensive picks were on the defensive line.
Which means the Colts still have a ton of work to do in the defensive backfield.
Jerraud Powers
is a quality corner and a good leader. But after him, there are no proven corners on the roster. Is the second starter
Chris Rucker
?
Kevin Thomas
?
Mike Holmes
?
Brandon King
?
That's not a great group to be choosing from. Look for team to give some undrafted rookies a chance and grab a veteran or two as guys come free during camp cuts.

Jacksonville Jaguars
The Jaguars believe a healthy
Eben Britton
will help fortify their offensive line and he should.
But they don't have sufficient depth on the offensive line and should create a situation where there is more real competition.
They re-signed
Guy Whimper
, who is a swing tackle at best and had some bad stretches last season. They like
John Estes
as a reserve center, but it would be nice to have someone to compete with him for the right to take over for
Brad Meester
.

Tennessee Titans
The team has sent major mixed signals about its offensive line.
Tennessee courted all the top centers in free agency but did not land one. And then they didn't draft an offensive lineman. Coach Mike Munchak said it wasn't a dire need and the team can win with what it has.
Jim Wyatt of The Tennessean reports that among the team's undrafted rookies is
William Vlachos
. Perhaps the center from Alabama can scramble the mix. But the Titans should still be adding options on the interior.
October, 30, 2011
10/30/11
12:05
PM ET
NASHVILLE, Tenn. -- After crossing off inactives and drawing lines to move guys around and up the depth chart, my flip card for the Colts' offense looks silly.
Ryan Diem
,
Anthony Castonzo
and
Joe Reitz
all didn't travel.
So the line will look like this:
LT Jeff Linkenbach, LG
Seth Olsen
, C
Jeff Saturday
, RG
Mike Tepper
, RT
Quinn Ojinnaka
.
Three of those players -- Olsen, Tepper and Ojinnaka – were not on the Colts' opening day roster.
The group will start out blocking for running back
Delone Carter
, who is starting ahead of the injured
Joseph Addai
, who is dressed.
On defense, cornerback
Jacob Lacey
is a scratch and will be replaced by
Kevin Thomas
.
The Titans suffer one big lineup loss. Their primary blocking tight end,
Craig Stevens
, is out with a rib injury and
Daniel Graham
will start in his place.
The full lists…
Indianapolis:
CB Jacob Lacey
G Ryan Diem
T Anthony Castonzo
G Joe Reitz
DT Drake Nevis
Tennessee:
October, 27, 2011
10/27/11
12:06
PM ET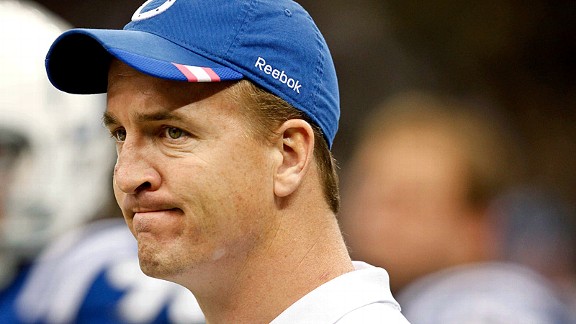 Derick E. Hingle/US PresswireThe Colts were clearly ill-prepared for life without star quarterback Peyton Manning.
It's ugly in Indianapolis.
At 0-7, the Colts are talking about sticking together, improving and giving themselves a chance to win.
But as they prepare for a trip to Nashville for a Sunday meeting with the Titans at LP Field, they are a severely broken team. Where they
would be
with
Peyton Manning
is an interesting hypothetical question, but we're dealing with realities. And those realities are the sort that will test the franchise's stitching -- seamwork that might not hold together when this is all over.
Who's at fault? Everyone's got a hand in it, but let's look at the Colts from a couple different angles.
A big cover-up:
It's not a secret that Manning has helped cover up a lot of flaws and allowed the franchise to under-address certain areas.
The Colts during the Manning era have never been much concerned with size, always valuing speed and instincts more. They've never worried about stocking special teams with any veteran backups, in part because they spend their money on stars, or adding a high-quality return man. They've settled for being below average running the ball. And they've won despite a general inability to stop the run.
Without their four-time MVP running the offense, all of those things are magnified in ways they've never been before.
It shouldn't be a surprise. They're built to have Manning at the controls, and he's been there all the time from the very beginning in 1998 until opening day this season.
There are maybe two teams and markets in the league that would not trade for what the Colts have done since 1999. Twelve consecutive playoff seasons followed by one complete dud? Where do I sign up for that?
[+] Enlarge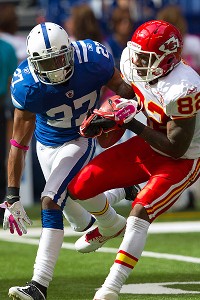 Michael Hickey/US PresswirePersonnel decisions by the Colts put cornerback Jacob Lacey, 27, in a prominent role in a secondary that has struggled this season.
Construct questions:
That said, regardless of a serious neck surgery to the star quarterback, what exactly was the plan in the secondary? Is an evaluation that leaves
Jacob Lacey
,
Terrence Johnson
,
Kevin Thomas
and
Chris Rucker
as cornerbacks No. 2 through 5 good enough? Absolutely not.
The Colts get credit for adding a couple outside veterans this season -- linebacker
Ernie Sims
and defensive ends
Jamaal Anderson
and
Tyler Brayton
. But the drafting has dropped off.
Set aside the most recent class, as it's too early to judge.
The Colts drafted 41 players from 2005 through 2010. I count one star, safety
Antoine Bethea
, and two guys who can become stars, linebacker
Pat Angerer
and receiver
Austin Collie
(if he's working with Manning). Running back
Joseph Addai
is a good fit who does more than people think. And receiver
Pierre Garcon
and cornerback
Jerraud Powers
have been pretty solid starters.
Sure, the Colts drafted higher in the five years before. Still, those classes produced five guys who rank among the best players of their generation at their positions: tight end
Dallas Clark
, defensive ends
Dwight Freeney
and
Robert Mathis
, safety
Bob Sanders
and receiver
Reggie Wayne
. The next tier provided steady starters on the offensive line (
Jake Scott
,
Ryan Diem
) and linebacker (
David Thornton
).
That list is more than a third of a starting team, a big-time core. As those guys age or disappear, I'm not seeing a core in waiting.
Colts president turned vice chairman Bill Polian said recently on his radio show that they needed to have done better recently, particularly at defensive tackle and cornerback.
And there is a domino effect to the problem. Find Tarik Glenn's ultimate replacement at left tackle in 2007, and then you don't need to use your top pick in 2011 on
Anthony Castonzo
. Hit on
Donald Brown
in the first round in 2009, and
Delone Carter
might not be necessary in the fourth round in 2011.
The Polians:
Bill Polian has been pulling back and yielding responsibility to his son, GM Chris Polian. (Chris politely declined to be interviewed for this piece.)
We don't yet have much tape on Chris Polian, so to speak. Bill Polian is a good talent evaluator who's had success in three NFL stops and has done well to build a team Manning has won with. But Bill Polian has also overseen those recent draft drop-offs.
His strong-willed personality is part of what has made him good at his job, and his big-picture assessment of important league issues is as intelligent as anyone's. He's got clout and influence that extends beyond Indianapolis.
Stylistically, he's a stubborn and demanding boss. There are indications from within that, without the steady stream of personnel hits he provided earlier in his tenure, some inside the building are tiring of the way things are run.
Polian talked recently about how
Curtis Painter
's play vindicates the team for having faith in him, but failed to mention that the faith was so strong that the team signed
Kerry Collins
to a $4 million contract shortly before the season started and handed him the starting job.
I suspect Bill Polian's got the backing of owner Jim Irsay for as long as he wants it. That would ensure safety for Chris Polian, too.
Bill Polian made the Manning-over-Ryan Leaf call in 1998. Because of the way Leaf busted, people forget that was a coin flip at the time, that Leaf was regarded as a big-time prospect just as much as Manning was. Polian called it correctly, built a team that's been to two Super Bowls and won one, got a new stadium built and greatly enhanced the value of Irsay's franchise.
Cryptic messages:
Further complicating things is Irsay, who clearly gets a kick out of being the center of NFL attention in the Twitter-verse but has undermined some of his people with it.
He announced
the team added Collins while coach Jim Caldwell was conducting his daily news conference. It did Caldwell no favors, as he appeared completely out of the loop.
Most recently, following the 62-7 loss in New Orleans on Sunday night, Irsay provided this gem:
"Titanic collapse, apologies 2 all ColtsNation...problems identifiable;solutions in progress but complex in nature/ better days will rise again"
A day later, he added:
"Just because you perceive problems on the horizon,and you possess solutions..doesn't mean they are avoidable and implementation is instant"
Solutions in progress, but complex in nature. That sounds to me like what would be written in big silver letters on the lobby wall of a consulting company on a TV show. Or a clever, but far-too-long name for a band.
It also sounds like change is going to come.

Caldwell
Coaching questions:
While Bill Polian recently said that adding Jim Tressel to the staff as a replay consultant was
Caldwell's idea
, it's a weird looking move that's made some of us wonder if a bigger role awaits the former Ohio State coach.
Caldwell does a nice job managing personalities, looking at things philosophically and staying on message. I believe he's a good teacher and his patient, quiet style is generally healthy for a team with a good share of veteran stars.
But he's got blind spots, too, and is hardly a strategy master. There are bound to be significant changes at the conclusion of what's sure to be a dreadful season, and he'll be at the front of the line.
If he does the best job we can remember at holding a terrible, ineffective team together, is that enough? I'd guess not.
Injuries:
This team gets hurt too much. There is a huge element of bad luck to it, of course. But is there something bigger at work as well?
Last season as quality players went down, Manning helped some role players like tight end
Jacob Tamme
and receiver
Blair White
emerge. This season, guys like linebacker
Gary Brackett
and safety
Melvin Bullitt
were lost for the season early, and there's been a revolving door on the offensive line because of injuries.
The Colts are constantly testing their depth and shuffling the back end of their roster. There is only so much shuffling a depth chart can handle.
I believe they need to attempt some change that might have a positive effect on their overall health -- whether it be adopting new training philosophies, altering how they evaluate prospects or changing personnel philosophies.
It's easy to ask them to figure out why they tend to suffer so many injuries and hard to find an answer. But some sort of shift is due, even as we know it comes with no guarantee of better health.
When the current approach is failing, it's OK to try something else. It's not admitting some sort of failure, it's merely part of a necessary process of evaluating and revising operations.
Suck for Luck:
Given a chance to draft Stanford quarterback Andrew Luck, I think the Colts would. Bill Polian can give Chris Polian the guy expected to be the NFL's next great quarterback, and Chris Polian's legacy would be built on a fantastic cornerstone.
But there is no losing on purpose to get in position for Luck. You think Wayne or Mathis is interested in such a master plan?
Said veteran center and team tone-setter
Jeff Saturday
: "'I'll steal a Robert Mathis quote: I ain't sucking for anybody."
October, 23, 2011
10/23/11
11:56
PM ET
Thoughts on the
Indianapolis Colts
'
62-7 loss
to the
New Orleans Saints
at the Mercedes-Benz Superdome:


What it means:
Indianapolis remained winless in gigantic fashion, with a performance that likely drove some TV viewers to the World Series. The 0-7 Colts are one of three teams that have not won yet, along with Miami and St. Louis. But the Dolphins and Rams have already had their byes, so they've lost six each while the Colts have lost seven.
Just how bad:
The 62 points were the most allowed in an NFL game since 1985 and the most allowed in Colts franchise history, topping the 58 Baltimore gave up in Chicago on Oct. 21, 1956. The margin of victory for the Saints was the second-largest ever against the Colts, trailing only a 57-point loss to Chicago in 1962. According to NBC, Drew Brees' 88.6 completion percentage was the second-highest in history for a quarterback with at least 30 attempts. New Orleans' 36 first downs tied the record for the most the Colts have surrendered in a game.
Would it have made a difference?
Quarterback
Curtis Painter
just missed receiver
Pierre Garcon
on a home run ball deep down the middle on the first play from scrimmage, letting it go a touch late against single coverage by
Jabari Greer
.
First start:
Kevin Thomas
started at left cornerback ahead of
Jacob Lacey
. One notable moment was when he was faked out by
Lance Moore
after a catch, allowing for plenty of yards after the catch. The Colts will likely not be able to judge where Thomas stands off his role in this blowout.
Injury info:
Running back
Joseph Addai
, who made a surprising return from a hamstring injury, did not last very long and tight end
Jacob Tamme
was checked for a concussion.
What's next:
The Colts travel to Nashville to face the Titans at LP Field. It's just the second AFC South game of the season for Indianapolis.
October, 3, 2011
10/03/11
7:31
PM ET
TAMPA, Fla. – As expected, Curtis Painter will start at quarterback for the Indianapolis Colts.
Peyton Manning and Kerry Collins are both on the inactive list. Also inactive for the Colts are receiver
Anthony Gonzalez
, defensive back
Kevin Thomas
, linebacker Ernie Sims, guard Ryan Diem and defensive tackle Fili Moala.
The Colts said Eric Foster will start in Moala's place. Mike Pollack will start at right guard in Diem's place.
January, 5, 2011
1/05/11
1:02
PM ET
»
NFC Wrap-ups
:
East
|
West
|
North
|
South
»
AFC
:
East
|
West
|
North
|
South
Arrow indicates direction team is trending.

Final Power Ranking:
10
Preseason Power Ranking:
1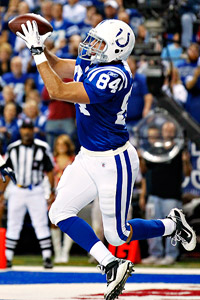 AP Photo/AJ MastJacob Tamme stepped in for an injured Dallas Clark and caught 67 passes in 10 games.
Biggest surprise:
Substitutes called into action because of injuries played very well.
Jacob Tamme
is not the player
Dallas Clark
is. But once Clark was done with a wrist injury, Tamme was a consistently productive piece of the offense. He was better than plenty of No. 1 tight ends in the league in terms of his work as a receiver.
Justin Tryon
was a find, rookie linebackers
Pat Angerer
and
Kavell Conner
are good players,
Aaron Francisco
was better than serviceable,
Blair White
was a contributor, and
Dominic Rhodes
was a smart late add. When all those guys and a lot more who were slated to be spot starters are in the mix, you're not supposed to win your division.
Biggest disappointment:
The injuries. The Colts finished the season with 17 players on injured reserve. They started 14 different players on offense and 19 on defense. By my count, 14 key players missed at least two games. The guys on that list --
Gary Brackett
,
Melvin Bullitt
, Clark,
Austin Collie
,
Brody Eldridge
,
Pierre Garcon
,
Anthony Gonzalez
,
Kelvin Hayden
,
Antonio Johnson
,
Jacob Lacey
,
Daniel Muir
,
Jerraud Powers
,
Bob Sanders
and
Clint Session
-- sat out 44.2 percent of games they could have played. Sure, every team deals with issues, but these were extreme and few teams could have survived them and made the playoffs.
Biggest need:
The offensive line. Team president Bill Polian admitted he underestimated
Rodger Saffold
in the draft and the
St. Louis Rams
left tackle could have been a nice piece for Indianapolis. The Colts made do, again, and the group they've gone with in recent weeks has shown marked improvement and has been getting very nice push in the run game. Still,
Peyton Manning
needs more time and a more reliable run game from Day 1. The Colts must invest in upgrading the offensive line through the draft, free agency or both.
Team MVP:
Manning. He had a poor stretch during a losing streak. But the Colts needed him to throw, and he set a new league record for pass completions with 450 while helping turn some less-than-ideal targets into viable options.
Decisions loom:
The Colts generally hang on to their people, but as they evaluate the injury issue and try to move forward, it may be time to conclude they can't depend on guys such as Sanders and Gonzalez. You can't blame a player for getting hurt and you can't forecast bad luck. But you can get a sense of who may be more likely to get hurt than the average guy. How do you plan when you have little reasonable expectation of getting a long-term contribution from a player? They spent a third-round pick on USC corner
Kevin Thomas
, who had an injury history. He immediately got hurt and was not available at all his rookie year.
August, 12, 2010
8/12/10
12:09
PM ET
ESPN.com NFL Power Ranking
(pre-camp): 1
ANDERSON, Ind. -- They could have made a bid at an undefeated regular season and their hopes for a Super Bowl win were snuffed out by an onside kick and an untimely pick.
So it should concern the rest of the AFC South that the 2010
Indianapolis Colts
appear to be better than last year's version.
They get two high-quality players, who were injured for most of last year, back in safety
Bob Sanders
and receiver
Anthony Gonzalez
. The Colts added a third edge rusher and a blocking tight end in the draft.
"Coach [Jim] Caldwell wants us to be a consistent team and not one that plays really well one week and not one that goes into a slump the next couple of games and then comes back,"
Peyton Manning
said. "I think we have been pretty consistent. Our offseason work, our execution and our attention to detail in training camp make a difference.
"But what has happened in the past doesn't guarantee you anything for this 2010 season. We have some new players, new coaches and it is up to us to go out and form the identity of his team and to go out and try to win games this season."
THREE HOT ISSUES
[+] Enlarge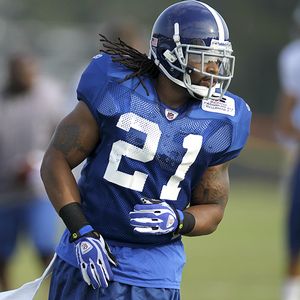 AP Photo/Darron CummingsBob Sanders doesn't plan on changing his style to avoid injuries. "It's a physical game," he said. "I make tackles."
1. Can Sanders stay on the field?
The thing that makes him so good is the same thing that makes him so injury prone. He throws himself around like a torpedo, and suffers the consequences. He's upbeat and happy right now to be spending his time on the field and with coaches and teammates instead of in the training room with medical staff.
"I don't think you can put yourself in less danger on the field," Sanders said when I asked if there was any way he could be less reckless to try to preserve himself. "We're football players so we're going to be physical. It's a physical game. I make tackles. You just never know what's going to happen. You just have to play your best, hope for the best, I pray and put it in God's hands and just try to do my job."
When he's out there, he'll be more creative than when we last saw him playing consistently. Second-year defensive coordinator Larry Coyer is much more willing to blitz than Ron Meeks was.
As good as
Melvin Bullitt
's been as Sanders' replacement, Sanders is a game-altering presence when he's out there. Sanders is making plays in camp. If he's out there, the Colts' defense could be fantastic.
2. Will offensive line changes amount to an upgrade?
Left guard
Ryan Lilja
was let go, so at least one spot will be filled by someone new.
Tony Ugoh
looked like the early choice, but he's been pulled back to tackle to work for the injured
Charlie Johnson
, so
Jamey Richard
is in play. Richard might shift to center while
Jeff Saturday
recovers from a knee scope, which could open the door for rookie
Jacques McClendon
, if he's healthy, or someone like
Jaimie Thomas
.
The talent pool now includes McClendon and tackle
Adam Terry
, but there was no overhaul. Pass protection combined with Manning's ability to get the ball out quick meant few sacks, but the team needs to run better for balance. Short-yardage bugaboos have been a factor in season-ending losses the past two years.
New offensive line coach Pete Metzelaars has a chance to make minor alterations that could have a bearing, and a quality-blocking tight end like
Brody Eldridge
could even help revive the once bread-and-butter stretch play.
[+] Enlarge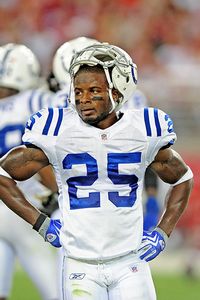 Mark J. Rebilas/US PresswireSecond-year cornerback Jerraud Powers had 66 tackles, a forced fumble and an interception during his rookie season.
3. Will secondary depth hold up?
Bill Polian purged the roster of some injury-prone corners, then saw third-round pick
Kevin Thomas
go down shortly after the draft with a serious knee injury.
Kelvin Hayden
,
Jerraud Powers
and
Jacob Lacey
should be a fine top three, but if one gets hurt,
Deshea Townsend
or
Marcus McCauley
, who were available recently, could be the next option.
If the Colts have to go that deep down the depth chart, their pass rush will be even more vital. But how many teams would love for the fourth cornerback to be a primary issue heading into a season?
BIGGEST SURPRISE
It's hard to find them with a very low-key team that drafts and grooms the bulk of its players. Polian's harped on short-yardage failures, but then the team didn't add a sure fire starter to the line with
Andy Alleman
(already gone), Terry and McClendon.
BIGGEST DISAPPOINTMENT
Before the Colts could start to sort things out, injuries dictated they move offensive linemen around. Saturday is out 2-6 weeks after a knee scope, and Johnson and McClendon are sidelined. It would have been nice to see Metzelaars have a full deck for a long stretch in order to best hold competitions and compare and contrast players. The sooner they resolve the lineup and start to build cohesion, the better. Now it's probably going to be later than would be ideal.
OBSERVATION DECK
[+] Enlarge

AP Photo/Darron CummingsExpect more surprises out of Larry Coyer's defense this season.

In Year 2 of Coyer's tenure as defensive coordinator, I expect the Colts will be more exotic with an occasional surprise look or package -- perhaps most often utilizing their depth at safety where Sanders, Antoine Bethea and Bullitt make for three starting-caliber players.

While the defensive line shows fantastic speed and strength, Mitch King looked the least smooth during the drill in which linemen weave through blocking dummies, turn a corner and try to strip a quarterback. For those excited about him, an adjusted timetable might be advisable.

As the punter and kickoff man, Pat McAfee is electric. But teams in the market for a kickoff specialist might want to keep an eye on Garrett Lindholm, who looks like he can regularly put the ball in the end zone.

Powers carries himself exceptionally well. During a break in one practice, as most guys went to the cool-down tent or took themselves out of football mentality for a minute, he picked the brain of Reggie Wayne. Powers already has become a media favorite, too.

Manning could make good money if his only job was to put on clinics about how to best loft red-zone passes to the pylons in the back corners of the end zones.

Joseph Addai knows what he's doing on every play, and Donald Brown is smart enough to follow his lead, though Brown doesn't shine in pass protection one-on-ones versus linebackers. The Colts will be just fine if the line can block for the runners, and maybe even if it can't. Brown's had more than a year to get pass protections down. If that keeps him off the field any this year, it's no one's fault but his.

Better didn't mean great for the interior defensive line in 2009. Daniel Muir and Antonio Johnson continue to improve, and Fili Moala will make for a third 300-pounder in there. He appears to be comfortable and ready to contribute.

The Colts haven't emphasized the return game and, at times, it's felt almost like they de-emphasized it. But undrafted rookie Brandon James is a miniature speedster who is in position to win at least the punt-return job. He could give Manning and the offense a short field once in a while.

John Chick, who joined the Colts from the Canadian Football League, could win the fourth defensive end spot if he shows a good learning curve and durability.
April, 25, 2010
4/25/10
10:17
AM ET
Mel Kiper's draft
grades are in
.

Here's my standard draft grade disclaimer. Yes, grades before a guy sets foot on an NFL practice field are a silly concept. Still, they are what a huge percentage of fans will be looking for Sunday. So here are my notes from Kiper's Insider file.
Texans
He calls first-round corner
Kareem Jackson
"a predictable, safe pick" and said
Ben Tate
looks even better as a value at 58 considering Minnesota traded up to take
Toby Gerhart
at 51. Sixth-rounder
Trindon Holliday
"could be the next
Dante Hall
." Even seventh-rounder
Dorin Dickerson
"has promise at tight end if he can add strength." (The Texans are going with him as a wide receiver to start.) "Nothing amazing, but plenty of promise."
Kiper's grade: B
Titans
No end has the "polish and versatility" of
Derrick Morgan
and he fills the hole left by
Kyle Vanden Bosch
. He questions
Damian Williams
' speed, and while he likes
Rennie Curran
, he called him "a slight reach" in the third. And "between math whiz
Alterraun Verner
and Rhodes Scholar
Myron Rolle
, they'll have the smartest secondary in football if both stick."
Kiper's grade: C+
Colts
He likes
Jerry Hughes
but thought Pat Angerer was a reach in Round 2 and "could have been around even at that No. 94 slot where Indy picked
Kevin Thomas
." He rates Thomas a risk because of injury history. In general, nothing flashy. "But I'm never going to believe Bill Polian won't prove me wrong on at least one of these guys."
Kiper's grade: C
Jaguars
Kiper calls GM Gene Smith's second draft disappointing, starting with the over-valuing of
Tyson Alualu
at No. 10. "To take a guy you could conceivably get 15 to 25 slots later, you're cheating yourself not just out of sixth- and seventh-round guys, but potentially a late second- or third-rounder. You have to know not just the pick, but the relative value." Of the Jags' six picks, only Alualu rated in Kiper's Top 100.
Kiper's grade: D
April, 24, 2010
4/24/10
12:35
AM ET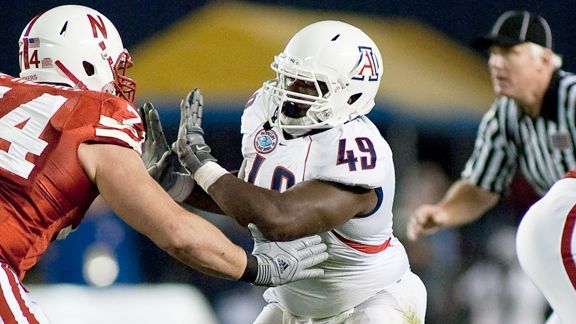 Derrick Tuskan/Icon SMIArizona's Earl Mitchell was one of nine defensive players taken by AFC South teams.
Priorities are clear in the AFC South: Gear up to slow down
Peyton Manning
and
Matt Schaub
, prepare to track
Chris Johnson
and knock heads with
Maurice Jones-Drew
.
And if a pool of the first 98 college prospects happens to feed that by being defense-heavy, well that's great.
Through the first three rounds of the NFL draft, the division has spent nine of 11 picks on defense: three defensive tackles, two defensive ends, two cornerbacks and two linebackers.
The lone offensive offenders: Houston second-round running back
Ben Tate
and Titans third-round receiver
Damian Williams
, whose first chances will come as a returner.
Overall, 54 players were drafted on defense, 44 on offense.
In the AFC it was 29-25 offense. Take the AFC South numbers out, and the rest of the conference actually drafted more on offense: 23-18
The Colts wanted to address their offensive line. But the defending AFC Champions and Bill Polian always strive to stick to their board, and it directed them to three defenders with their first three picks: end
Jerry Hughes
, linebacker
Pat Angerer
and cornerback
Kevin Thomas
.
"We always have a bias towards defensive players high in the draft because athleticism is so important to us, and in the early rounds what you find is athleticism," Polian told Indianapolis reporters. "That's where those guys go … If you like a defensive player and you think he can help your team, you better get him up in the early rounds because they are not going to last. In that sense, there is a bit of a bias.
"We would have taken plenty of offensive players that went off before we picked had they been available to us, but they just weren't … Obviously, these were players that we are happy to have and wanted on our football team, no question about that. I wouldn't say we started out specifically saying, 'We want defense.' As I say, it tends to fall that way. If you're at the back part of the early rounds the odds are pretty good that defensive players are what is going to be there."
In Nashville, GM Mike Reinfeldt and coach Jeff Fisher took end
Derrick Morgan
in the first round, didn't have a second-rounder, and followed Williams with linebacker
Rennie Curran
late in the third.
The defensive leaning seemed like it fit with the draft as a whole, Fisher said.
"It seemed like the case across the board, we knew going in it was going to be a strong defensive draft, one probably better than we can remember," he said. "It seemed like the defensive players just kept coming off the board. Teams in the division identified needs, are trying to bolster their defense. I know there are needs in the division [on offense] but the appropriate players weren't there when the pick came, we saw that several times."
Reinfeldt said the draft is top-heavy on the defensive side, and while he doesn't expect things to even out over Rounds 4 through 7 Saturday, "it will flow back the other way."
For the Colts that could mean an offensive lineman or two, and the Titans, Texans and Jaguars may all look for an interior offensive lineman. Tennessee could go with a developmental quarterback and Jacksonville would also love to add a playmaker at wide receiver.
They'll all feel better making those selections knowing they've bolstered things on defense already.
April, 23, 2010
4/23/10
11:02
PM ET
The
Indianapolis Colts
began restocking their secondary with a third-round selection of USC cornerback
Kevin Thomas
, who could rank as high as fourth at corner after a purge of the guys at the tail end of the group.
Indy nabbed Thomas with the 94th pick overall, right in the same range it found
Jerraud Powers
last season. Powers stepped in when injuries cut into the availability of
Marlin Jackson
and
Kelvin Hayden
last year and was a key piece in a Super Bowl run.
With Jackson,
Tim Jennings
,
T.J. Rushing
and
Aaron Francisco
gone from the 2009 team, Thomas should get a chance to show he can function in the defensive backfield if one of the Colts top three -- Hayden, Powers or
Jacob Lacey
-- goes down.
Some write-ups like Thomas's long arms, athleticism and instincts, while others see him as an underachiever lacking polish. A tough training camp working against
Peyton Manning
and a stacked crew of receivers could certainly help accelerate the growth process.

NFL SCOREBOARD
Sunday, 2/2
WEEKLY LEADERS