April, 2, 2014
Apr 2
8:00
AM ET
It's no secret that the
San Francisco 49ers
are a strong candidate to draft a wide receiver early.
The position is one of the team's few needs. They have looked at receivers throughout free agency, and there is a report that the team is trying to arrange a visit with receiver
DeSean Jackson
, who is, by far, the best receiver currently on the market.
So, it's not a surprise that, in this Insider piece,
ESPN draft analyst Kevin Weidl identifies the 49ers

as one of the teams who most need to address the receiver position in the draft. Here is what Weidl had to say about the 49ers' needs:
[+] Enlarge

Tyler Smith/Getty ImagesThe 49ers would offer a low-pressure environment for Clemson receiver Martavis Bryant.

The Niners were able to work out a two-year deal to keep WR Anquan Boldin in San Francisco. Combined with Michael Crabtree, San Francisco has a pair of strong, reliable pass-catchers on the perimeter. However, there is a need to add a receiver who can pose a legitimate vertical threat outside the hashes. This not only would take pressure off Boldin and Crabtree but also free up TE Vernon Davis, who is one of the top pass-catchers at the position in the league.

With six picks within the top 100, general manager Trent Baalke will have plenty of draft options in May. Baalke can address the depth along the defensive line or take a cornerback with the 30th pick in the first round and still have plenty of ammunition to find a receiver on Day 2.

San Francisco has three picks in the third round, and Clemson's Martavis Bryant is an intriguing fit at that point. The 6-foot-4, 211-pound receiver has a loose, flexible frame and the speed to stretch the field vertically. He wasn't an ideal fit within Clemson's offense, has dealt with drops and comes with some immaturity concerns. However, his flashes on tape and upside are hard to ignore.

I've said for a few months that Bryant compares favorably to the late Chris Henry, who was a receiver for the Bengals. Much like Henry, who was a vertical complement to Chad Johnson and T.J. Houshmandzadeh in the late 2000s, Bryant could serve in a similar role to Boldin and Crabtree.

This would be an ideal situation for Bryant to land. He won't have the pressure of stepping in as a No. 2 receiver right away, which could end in him disappointing a team that drafts him earlier with those types of expectations. In this scenario, Bryant would have time to develop and mature while providing strong-armed quarterback Colin Kaepernick with a vertical threat on the perimeter.

Other Day 2 options for San Francisco could include Florida State's Kelvin Benjamin (should he fall), Vanderbilt's Jordan Matthews and Rutgers' Brandon Coleman, who currently sits with a fringe Day 2 grade.
Weidl is right. The position is stacked and the 49ers have options. Somewhere early, they will be able to address the position. In another Insider piece, Todd McShay looks at some draft prospects
who could fit on the 49ers' defensive line.

February, 24, 2014
Feb 24
3:45
PM ET
PITTSBURGH -- The
Pittsburgh Steelers
almost certainly won't get a chance to draft
Sammy Watkins
.
But the other wide receiver from Clemson could be a possibility in the second round if the Steelers address a different position with the 15th overall pick.
[+] Enlarge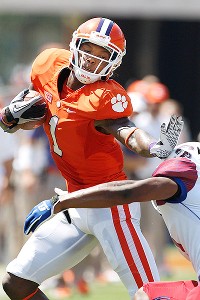 Tyler Smith/Getty ImagesWR Martavis Bryant finished his three-year Clemson career with 1,354 yards and 13 touchdowns.
ESPN draft analysts Steve Muench and Kevin Weidl wrote that
Martavis Bryant
was among the wide receivers who helped themselves at the NFL combine, and indeed he posted impressive measurables across the board.
Bryant checked in at 6-4 and 211 pounds, and he ran an official 40-yard dash time of 4.42 seconds, tied for fifth and a tick better than the more celebrated Watkins.
Bryant further flashed his athleticism by tying for sixth among wide receivers in the vertical jump (39 inches) and tying for eighth in the broad jump (10 feet, 4 inches).
Here is what Muench and Weidl
wrote as part of a report

on the running backs and wide receivers following the physical tests:
Bryant dealt with a few focus drops throughout the season, and being more of straight-line receiver, he wasn't an ideal fit within the Clemson offense. However, he has an intriguing skill set that translates well and could bring strong return in the fringe Day 2 range for teams like the Ravens, Steelers, Lions and Panthers who are looking for a vertical threat to team up with a strong-armed quarterback.
Bryant appears to have a ton of upside, and he set a Clemson record by averaging 22.2 yards per reception during his career. But he played sparingly his first two seasons at Clemson and didn't start until 2013 when he caught 42 passes for 828 yards and seven touchdowns.
Questions teams such as the Steelers will have to answer when evaluating Bryant: Did his supreme physical skills not translate into more production at Clemson because he was overshadowed by
DeAndre Hopkins
, a first-round pick last year, and Watkins?
Also is Bryant's best football ahead of him or are his measurables more of a tease than an indicator of success in the NFL?
Bryant, who has been training with Pro Football Hall of Famer
Cris Carter
in Florida, was asked by reporters in Indianapolis what strengths he will take to the next level.
"Great speed off the ball. Good hands," he said. "I love to run past defenses after catching the ball."
September, 2, 2011
9/02/11
11:55
AM ET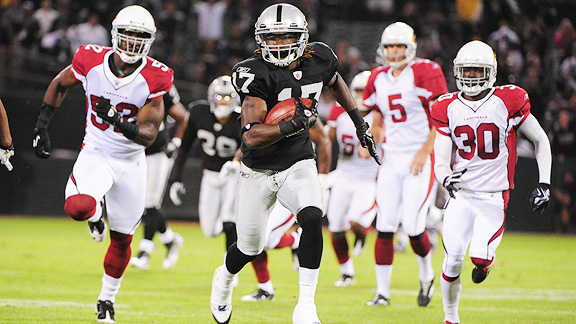 Kyle Terada/US PresswireWill Denarius Moore's training camp success carry over into the regular season?
OAKLAND, Calif. --
Jason Campbell
knew the
Oakland Raiders
had a draft steal before the team's coaching staff did.
A month after the Raiders took the intriguing, but perhaps inconsistent,
Denarius Moore
in the fifth round of the draft, he quickly drew attention from his new quarterback at a player-organized camp in Georgia during the lockout. As soon as he started throwing passes to his assembled receivers, Campbell wanted to know more about Moore, a 5-foot-11, 194-pound Tennessee product.
"He immediately caught my eye," Campbell said this week. "I said 'we need to get some plays for this kid.' From the first day, it was effortless for him."
Moore has been the story of Oakland's camp. He went from being a late-round project with long-term possibilities to a player who looks ready to help the team right away. There is a chance he will start for Oakland in the regular-season opener Sept. 12 at Denver in the second half of ESPN's "Monday Night Football" doubleheader. If Moore is not starting for the Silver and Black early in the season, he will certainly be in the top of part of the Raiders' receiving rotation.
[+] Enlarge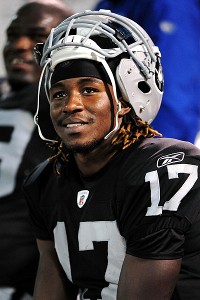 Kyle Terada/US PresswireThe Raiders have been impressed with Denarius Moore's ability to adapt to the NFL.
The Raiders are going to ride Moore until he proves him he was a training-camp fluke. There's a growing sense that will never happen.
"He's been tremendous," Oakland coach Hue Jackson said. "He belongs."
Moore has impressed the Raiders with his top-notch hands and his crisp route-running ability. He opened eyes early in camp by making every possible catch. Then, it happened on a daily basis. Local reporters have written that Moore is often the best player on the practice field, regardless of position. Now it is a major happening in practice if Moore actually drops a pass.
More importantly, the preseason has not proven to be too much for Moore. Performing well in camp is one thing. Doing it against other first-string defenses is another. Moore has made an impact in all three of Oakland's preseason games.
"The game isn't too big for him," Campbell said. "He's been just as good in games as he has in practice. Again, the word that comes up most to me is 'effortless.' He's just so smooth for a rookie."
I watched Moore closely last week against New Orleans. He looks like a complete player. He ran perfect routes and was active in the run game, delivering some nice blocks, which is not always a given for a young receiver. He looked like a complete, confident player.
Oakland's potential for fast success is ironic. The team gave
Darrius Heyward-Bey
$23 million guaranteed when it drafted him with the No. 7 overall pick in 2009. Heyward-Bey has yet to develop and is in danger of falling behind this potential draft mega-steal.
So how does a talent like Moore slip all the way to the fifth round?
Moore was inconsistent at Tennessee. He had two 200-yard-plus games, but there were games in which he didn't make an impact. Still, he averaged 20.9 yards per catch on 47 catches last season and finished strong.
Scouts Inc. gave him a sixth-round grade. In Mel Kiper's draft book, he rated Moore as the 20th best prospect at receiver. NFL teams clearly agreed with those assessments, and he lasted all the way until the No. 148 overall pick.
"A lot of times success depends on the fit and I like this fit," Kevin Weidl of Scouts Inc, said. "He is a Raider-like receiver. He fits the system. It doesn't surprise me that he is having success. He has great hands and he runs good routes. There have been questions about consistency and the tightness with the way he runs and questions about his toughness, but we looked at him as a guy with big potential. Sometimes, it just happens quickly."
Added Steve Muench of Scouts Inc.: "There were things that he did very well, so I can see why the team is excited about him. The question has and will be can he do it on a regular basis."
Of course, we won't know that answer until Moore plays in the regular season, but, so far, he is on our radar and that's not always the case for a fifth-round pick. Moore, a soft-spoken player who had a reputation at Tennessee as being coachable and a good teammate, deserves credit for not allowing his preseason success to get to his head. He is simply going out to practice each day with improvement on his mind.
"Coaches say I'm doing a good job, players say I'm doing a good job," Moore said. "So, I guess I'm fitting in pretty well with the team right now."
Actually, Denarius, you've fit in since May.
August, 22, 2011
8/22/11
6:27
PM ET
There is a lot of reaction to Oakland's decision to take former Ohio Sate quarterback Terrelle Pryor in the
third round of the supplemental draft
on Monday. It was the first time Oakland has taken a player in the supplemental draft since it began in 1977.
Pryor is a project who has blazing speed at 6-foot-6 and 240 pounds, and could eventually play receiver. He has said he is open to playing other positions, but he would like to remain a quarterback. I wrote earlier Monday that Pryor fits Oakland's profile, so his selection is not a surprise, yet I think taking him in the third round
was too high.
[+] Enlarge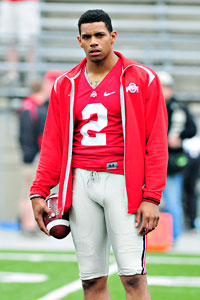 David Dermer/Getty ImagesTerrelle Pryor's speed would have made him among the fastest receivers at April's combine.
Let's take a look at some other the reactions on Oakland's selection of Pryor:
This is some of what Steve Muench of Scouts Inc. wrote in an Insider piece: Indications are Oakland is looking at Pryor more as a wide receiver than a quarterback in the NFL, and while that's an encouraging sign, given his deficiencies as a passer, the third round is still very early for a player who is a developmental project at wideout. Pryor lined up at receiver a few times at Ohio State, but there's a huge difference between getting by on athletic ability and knowing the position well enough to succeed against NFL defenders.
Mel Kiper, however, is more inspired by the pick and he thinks Pryor could successfully make a position switch. Here are some of his thoughts in an Insider piece: I have said for literally months that Pryor would be smart to consider a position switch to either wide receiver or tight end, and that if he was willing to make that move, his value could be far greater, even as a developmental prospect. Well, based on what John Clayton is reporting, that the Raiders are likely to have Pryor switch positions after taking him in Round 3 of the supplemental draft, there are reasons to believe Pryor can make the switch and become an impact player. All the jokes about Al Davis and 40 times aside, consider some factors. First, let's remember that this wasn't just a really good 40 time. At the NFL combine before the draft, Edmond Gates was the fastest wide receiver, and he checked in with a 4.37 40, a fantastic time. But Gates is also about 6-feet tall and a little more than 190 pounds. Pryor ran a 4.38 to a 4.41 based on which stopwatch you believe, but think about that: at six inches taller and almost 40 pounds heavier, he is showing the same speed as the fastest receiver at the combine. In fact, this kind of performance may well have been the story of Indy. Even the greatest of skeptics can't scoff at that kind of showing. Guys have jumped up draft boards for years based on this. If Pryor was in the conversation all along as a catcher of passes, and not a thrower, it's not inconceivable to think he could have been taken even higher.
I talked to Kevin Weidl of Scouts Inc. on Monday to get his thoughts. He said he could see Pryor develop into a Brad Smith-type player who can help in Wildcat situations. Weidl said he doesn't think Pryor is necessarily a sure thing as a quarterback or as a receiver prospect. He said Pryor is inaccurate and unpolished as a passer and he looks tight as a route runner. But he understands the Raiders taking a chance on him because he fits what they want. "He was the Raiders' guy and they jumped on him," Weidl said. "It's a little high, but they see something in him … Still, he has a long way to go."
March, 25, 2010
3/25/10
2:16
PM ET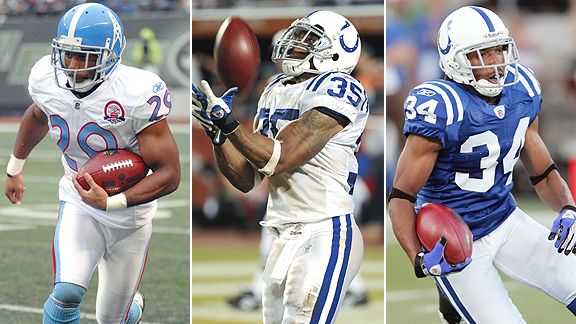 Icon SMIAFC South return men Ryan Mouton of the Titans and Chad Simpson and TJ Rushing of the Colts failed to get their teams the yards they needed.
The Titans' 2009 search for a returner was a failure. In recent years, the Colts haven't shown a lot of interest in finding a dynamic one.
Universal thinking is each team can solve the issue in the upcoming draft, though it would take a change in Indianapolis' approach for the Colts to focus on it.
So what does it take to unearth a quality return man?
I set out this week to address this from several angles, and I'm going to let some smart people with informative takes carry the day.
So without further ado…
Baltimore Ravens coach John Harbaugh
has a big background in special teams.
What's he want to see out of a prospective returner?

"Punt and kickoff return are completely different. In punt return, the bottom line is he's got to be a natural catcher. So catching a punt is a unique thing. If they can't catch, you can forget about it. Kick return is a little easier to catch, but some of these guys struggle to catch kicks. To me, a kick returner has to be a north-south runner. He's got to have a burst of acceleration and/or power, and he's got to have vision. It's usually more of a running back-type guy who can read the hole and cut off blocks. Punt return is a guy that can catch the ball naturally, has great body control and he can do two things at once. He's got to be able to catch the ball and feel the pressure around him. Make the guy miss, whether it's make or miss with the body control to slip through there, or be able to change speed and change angles."

Does he need to see a college player do that or can he project it?

"It's a good question. You'd rather see it because then you know. But if you don't see it, you can project it. But you've got to go work the guy out and see if he can catch. So you can take a guy that maybe wasn't a college punt returner, and maybe turn him into a pro punt returner. Maybe you find out that he has been catching punts every day but they didn't put him back there because he was their primary receiver or whatever. It's pretty rare to see a great pro punt returner who wasn't a pretty good college punt returner."

Matt Williamson of Scouts Inc. says he wants to see courage and toughness in a return man:

"It's funny. When looking/reading prospect reports on draft prospects this time of year, many scouts rightfully put something along the lines of, 'Also can contribute as a return man' as part of a young man's scouting report. That is all well and good, but like kickers and punters, is he one of the best 32 (or so) at this skill in the world? It is not for the faint of heart and while speed, elusiveness and vision are all paramount for either punt or kickoff returns, I think guts/fearlessness/toughness is maybe the most important. If you are going to keep a pure returner, he had better be outstanding-by NFL standards. Otherwise, he has to do something else. Be the fourth cornerback or wide receiver or be a core special teams player on coverage teams."

Keith Hawkins of ESPN Stats & Information took a look at some of the best returners in league history and some of the most productive guys in recent history to see if there were any commonalities:

"The one 'similarity' of the best returner historically (Brian Mitchell) and the best return man in 2009 (Joshua Cribbs) is that they were both college QBs.

"The other common denominator is that of the players below, only three were defensive backs in college: Darrien Gordon, Devin Hester, Deion Sanders.

"Another common denominator (with the exception of the 6-foot-1 Cribbs) is that they are all under six feet tall."
Finally,
Kevin Weidl of Scouts Inc
. was kind enough to run through the best return prospects in the draft:
Return Specialists

These guys will either be drafted or signed as free agents strictly for their return skills. Due to lack of size, they will need a creative offensive coordinator to contribute offensively at the next level.

Brandon Banks, Kansas State (5-7, 159) -- Banks is the top pure returner in this years' class. He possesses a nice combination of vision, quickness, speed and elusiveness to consistently set offenses up with favorable field position.

Brandon James, Florida (5-6, 176) -- James possesses great vision to locate and the short-area burst to quickly get through first line of defense. He also displays a quick stop and start and is very reliable tracking and fielding punts. Questionable overall long speed to outrun defenders when they have favorable angle in pursuit.

Trindon Holliday, LSU (5-5, 172) -- World-class track speed, and has the ability to exploit even the slimmest of creases. He is shifty but lacks elite elusiveness to make defenders miss in confined areas.

Other prospects that bring added value as returners (sorted by position);

Running backs

C.J. Spiller, Clemson -- The most dynamic and versatile offensive weapon in this year's class. Explosive short-area burst and elite top-end and long speed give him ability to rip off a big gain at any point in both phases of the return game.

Dexter McCluster, Ole Miss -- McCluster is pint sized (5-8) but shows great versatility and quickness to contribute as a change-of-pace back and wide receiver at the next level. Elite open-field capabilities make him dangerous as a punt returner.

Other RBs with returning experience: Joe McKnight, USC; Ben Tate, Auburn; Andre Dixon, UConn

Cornerbacks

Javier Arenas, Alabama -- Instinctive and tough football player who should step in and contribute immediately as a sub-package nickel back. Despite lack of elite top-end speed, Arenas is one of the more effective returners in this year's class. I love his vision, balance and quick stop and start as a returner.

Kyle Wilson, Boise State -- Physical press corner who shows great anticipation and ball skills out on an island. Wilson brings added value as a reliable punt returner with good speed and open-field capabilities.

Devin McCourty, Rutgers -- Not many holes in McCourty as a cornerback. Easy change of direction, strong overall ball skills, plays bigger than size indicates and not afraid to get jersey dirty in run support. McCourty is one of the most versatile special teams prospect in this year's class, an effective kick returner and outstanding gunner with punt coverage.

Akwasi Owusu-Ansah, IUP -- Possesses a nice combination of size, speed and ball skills teams covet as either a press corner or free safety at the next level. Owusu-Ansahis a strong open-field runner who has experience as both a kickoff and punt returner.

Other cornerbacks with returning experience: Perrish Cox, Oklahoma State; Syd'Quan Thompson, Cal; Walter Thurmond, Oregon; Dennis Rogan, Tennessee

Wide receivers

Golden Tate, Notre Dame -- Aggressive, savvy and sure-handed and should develop into at least a strong No. 3 WR at the next level. Reliable punt returner with good vision, balance and deceiving top-end speed.

Damian Williams, USC -- Smooth athlete and one of the most polished route runners in this year's receiver class. Despite lack of top-end speed, Williams will consistently field punts cleanly and has enough elusiveness to pick up positive yardage.

Mardy Gilyard, Cincinnati -- Instinctive and passionate playmaker on the field who should develop into a solid No. 3 WR. By no means a burner, but a difference-maker as a returner in both phases as he shows elite body control and never slows down out of cuts.

Jacoby Ford, Clemson -- World class track speed and should be a nice vertical threat at the next level. Elite top-end speed gives him ability to hit the home run at any point as both a kick and punt returner.

Antonio Brown, Central Michigan -- Quicker than fast, and should contribute working out of the slot at the next level. Brown brings added value as both a kick and punt returner with his open field capabilities and overall elusiveness.

Other receivers with returning experience: Jordan Shipley, Texas; Emmanuel Sanders, SMU; Andre Roberts, Citadel; David Reed, Utah

And a bonus
link
to a Pro Football Weekly story on the best special teamers in the draft, including three return specialists.
Final thoughts from me having taken all this in: Things always get twisted up with return guys. If the Colts or Titans draft a guy they intend to be a contributor as a cornerback or running back or receiver, there is a point at which they won't want to overload them with the extra job or expose them to injury on special teams. How long would we see Spiller or Wilson or McCourty or Tate be a special teamer? First-round receiver
Kenny Britt
returned kicks for the Titans late last season, but the team can't want him there much longer.
So I'd like to see both teams commit a pick to a return specialist, dedicating a roster spot to him.
Consistent fielding of punts and kicks was an issue for the Titans last year, and it's time for the team to actually have bigger expectations for its returner than an ability to fair catch.
Ryan Mouton
couldn't even do that reliably when things were at their worst.
The Colts have always seemed to figure they'd simply get the yards the return game doesn't provide from
Peyton Manning
and the offense. Their issues on special teams extend beyond the returners -- primarily
T.J. Rushing
on punts and
Chad Simpson
on kicks in 2009 -- and their blocking, and got magnified in the Super Bowl loss to New Orleans. But with offensive line and depth at corner and linebacker as the major needs in a draft where the Colts have eight picks, it appears a good time to try to add a dynamic piece.

NFL SCOREBOARD
Thursday, 12/18
Saturday, 12/20
Sunday, 12/21
Monday, 12/22
WEEKLY LEADERS