NFL Nation:

Keydrick Vincent
December, 2, 2010
12/02/10
5:13
PM ET
We've talked all year about how the
Tampa Bay Buccaneers
might be a little frugal when it comes to paying out big salaries for players.
There's no denying that. But, now that the Bucs are 7-4, I'm wondering if being frugal is necessarily a bad thing. In fact, the gap between the Bucs and the rest of the league has widened even more than it was at the beginning of the season. With the releases of some veterans like
Sabby Piscitelli
and
Keydrick Vincent
, Tampa Bay's payroll has been trimmed even more.
A few months ago, the Bucs were up around $85 million in money committed to this year's salary cap. Of course, we must note there is no salary cap this year. But these figures are still the best way to gauge how teams are spending. These numbers aren't actual salaries. They include salaries, but also included pro-rated signing bonuses, other bonuses and, in some cases, cap hits for guys no longer on the team.
According to the latest numbers obtained by ESPN.com, Tampa Bay is by far the league's lowest team in this category. The Bucs are on the books for $80.8 million this year. I'm looking around the rest of the league and the only other teams that are at less than $100 million are Arizona ($98.1 million), Jacksonville ($91.5 million) and Kansas City ($93.7 million). The league average is $124.2 million.
I'm also looking at the two highest figures around the league. Washington leads at $192.2 million and Dallas is next at $167.3 million. Gee, they're not really thriving, which makes me wonder if you have to spend huge money to succeed.
Beyond the Bucs, there is plenty of evidence that you don't need a high payroll to win. The
Atlanta Falcons
are tied for the best record in the league and they're committed to $118.8 million this year.
New Orleans is on the upper end of things, but they're not quite with the big boys. The Saints are at about $147 million. Then, there are the
Carolina Panthers
, who are in a league of their own. They are right at $110 million. But more than $30 million of that is "dead money'', which counts for players no longer on the team. If you factored in only the guys on Carolina's roster, the Panthers would have a lower figure than the Buccaneers.
October, 29, 2010
10/29/10
4:00
PM ET
»
NFC Final Word
:
East
|
West
|
North
|
South
»
AFC
:
East
|
West
|
North
|
South
Five nuggets of knowledge about Week 8:
Passing the torch.
Tampa Bay's
release Friday of starting guard
Keydrick Vincent
is yet another reminder of how serious the Buccaneers are about building with youth. With that in mind, keep a close eye on how the Bucs, who play Arizona on Sunday, handle their running back situation. I'm not saying
Cadillac Williams
is ready to be shipped off. He did catch the game-winning touchdown pass last week, and he probably will remain the starter. But the Bucs started giving undrafted rookie
LeGarrette Blount
carries last week and he responded nicely. That's going to earn him more time on the field and more carries.
[+] Enlarge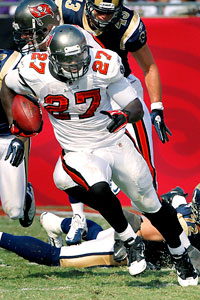 Cliff Welch/Icon SMIBucs running back LeGarrette Blount appears ready to assume an increased role in the offense.
Torch already has passed.
Speaking of changes at running back, the situation in New Orleans bears watching. Whenever
Reggie Bush
returns, he'll be back in his old role as a jack-of-all-trades. But the guy sharing time with Bush probably is going to be
Chris Ivory
, another undrafted rookie. Ivory's played well in recent weeks. There was a television report last week that the Saints weren't happy with how running back
Pierre Thomas
, who was back on crutches Thursday, was handling his rehabilitation from an ankle injury. There's no reason to doubt that report, and the powers in New Orleans appear to be thinking that Thomas, who doesn't have a contract beyond this season, might be expendable. The Saints play host to the Steelers on Sunday night in a game that features the past two Super Bowl winners.
Coming straight at them.
I generally don't give fantasy football advice, but I'm going to make an exception here. If you have St. Louis running back
Steven Jackson
, start him. He's going up against a Carolina run defense that allows 128 yards a game and has allowed a running back to rush for 100 yards in each of the past two games.
Rookie receivers rising.
In light of Carolina's win last week, I don't want to pile on the Panthers. In fact, let's look at something positive. They got very nice games from rookie receivers
David Gettis
and
Brandon LaFell
last week. Those guys are definitely catching on, which is nice. But let's take it one step further. Back during training camp, Carolina officials hinted that it probably would be around midseason before we saw
Armanti Edwards
, another rookie receiver, get a chance to do much of anything. That's turned out to be true as Edwards has played only sparingly and has been inactive more often than not. But we're real close to that midseason point. The Panthers clearly are looking for answers for the future this season, so it might be time to get Edwards on the field.
Carolina on a roll?
Since the Falcons are off, we're going to give the Panthers a little extra space this week. I'm not saying they will win against St. Louis, but I think it's at least possible that they can reach a two-game winning streak. As bad as things are in Carolina, nobody has quit. A lot of guys are playing for jobs or contracts for next season. More importantly, coach John Fox still has reason to be motivated. He's auditioning for a new job. His resume is going to look a lot better if he can get about five wins this season.
September, 19, 2010
9/19/10
2:22
PM ET
CHARLOTTE, N.C. -- Some observations on the Buccaneers from their first half against the Panthers.
So much for the talk over the past few days that Tampa Bay left guard Keydrick Vincent would be replaced in the starting lineup. That didn't happen as Vincent got another start and a $78,000 bonus (his contract calls for him to get that for every game he starts). But the talk about getting backup guard Jeremy Zuttah some playing time was real. Vincent got most of the early playing time, but Zuttah came in for a series early in the second quarter. Look for this continue. The Bucs want to keep Vincent fresh.
As long as we're talking about trends, let's go ahead and accept the fact that it's going to be a trend for tight end Kellen Winslow to miss a lot of practice time during the week, but be ready to play on Sundays. That's the way it's worked the first two weeks and that's probably the way it will work all season. Winslow's got a chronic knee injury and the Bucs are going to protect him and make Sundays the only day that really matters for him.
I'm not usually one who thinks it's a good idea for a quarterback to run much. But I think Josh Freeman's the exception. He doesn't look to run. But, when it's there, he takes it. When you're as big and strong as Freeman, and have a willingness to slide like he does, the chances of getting hurt aren't all that great.
Speaking of Freeman and Winslow, if you didn't see the pass they hooked up on just about midway through the second quarter, go find it on a highlight somewhere. Freeman broke out of two potential sacks then threw an absolute rope to Winslow, who was pretty well covered, about 50 yards down the sideline.
I'll be back in a few minutes with some first-half observations on the Panthers.
August, 17, 2010
8/17/10
1:06
PM ET
ESPN.com NFL Power Ranking
(pre-camp): 30
TAMPA, Fla. -- New construction in these parts largely has halted due to the economic situation over the past couple of years. So what's that structure going up on the practice fields right behind One Buccaneer Place?
It's the new
Tampa Bay Buccaneers
. There still is a lot of work to be done. But, unlike last year, you can see a foundation. Just look at the quarterback,
Josh Freeman
. When it comes right down to it, he really is all the Buccaneers are looking at. Yeah, guys like
Gerald McCoy
,
Donald Penn
,
Barrett Ruud
and
Aqib Talib
might also be viewed as possible cornerstones in the blueprints. But Freeman is the 6-foot-6 beam the Bucs are counting on to support this entire franchise.
Count last year as a redshirt season for Freeman and the Bucs. The team went 3-13 and Freeman really didn't get to play until the second half of the season. Now, he's been through an entire offseason. Now, the offense is his. Now, it's time for Freeman and the Bucs to grow and make some sense out of the youth movement the franchise decided to begin last year.
"The most obvious thing that I hope people are noticing is we are giving Josh Freeman tools around him that he can grow with,'' general manager Mark Dominik said. "We have
Kellen Winslow
and the tight end is important whether you have a young quarterback or an experienced one. And we wanted to put in a receiving corps that can grow together so their timing can be consistent. When you look back through NFL history, you see that consistently with the successful teams. You put two or three receivers together with the same quarterback for five, six or seven years and they become a timing machine and that's what we wanted to do.''
To that end, the Bucs drafted receivers
Arrelious Benn
and
Mike Williams
in the first four rounds. They also traded for receiver
Reggie Brown
and they still have
Sammie Stroughter
, who might have been the steal of last year's draft class.
Yeah, the Bucs also did some work on the defense. They used their top two draft picks on defensive tackles McCoy and
Brian Price
in an attempt to stop getting abused by running games. Their linebackers aren't bad and the secondary has some potential. This defense isn't anything close to the defense of Tampa Bay's glory days, but it has possibilities.
The offense isn't anything like in the glory days and that's the way the Bucs want it. With Freeman, the Bucs believe the offense can be better than it ever has been. The belief is Freeman can be the first true franchise quarterback this team has had since Doug Williams.
The potential is there and the Bucs have put some parts around Freeman. Now it's time for him to put this franchise on his back.
"Nothing can replace game time,'' Dominik said. "But I will say, for an offseason, for a young quarterback, I could not have asked for more. He did everything we expected and more. I don't remember him missing an offseason day and he was a sponge in the meeting rooms. His leadership has come through in that way. He's got a natural charisma that you see guys want to bond with him and follow him.''
THREE HOT ISSUES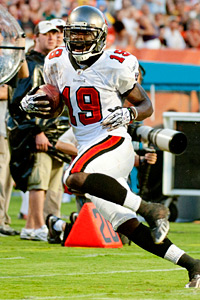 Gary Rothstein/Icon SMIRookie Mike Williams appears to be on track to earn a starting job.
1. What's the receiving corps going to look like?
That still is being sorted out, but Williams, the fourth-round draft pick, appears to be on his way to a starting job. He's shown a knack for big plays ever since his arrival and seems to have developed a quick chemistry with Freeman. Benn started a little slower, but has come on of late. But Brown might open the season as the other starter.
Pair Williams and Brown with Winslow and Freeman suddenly might have a better cast of receivers than he did late last year when No. 1 receiver
Antonio Bryant
was pouting his way out of Tampa Bay. The Bucs have been cautious with Winslow and his knee throughout camp, but the belief is he'll be ready for the regular season and that will provide Freeman with a go-to guy.
But the Bucs aren't going to be running the West Coast offense they did with Jon Gruden and they certainly aren't going to use the ball-control system that Tony Dungy ran. They've got a quarterback with big-play ability and they're going to take their shots down the field. Williams, Brown and Benn all can go downfield and make catches in the possession game. But the real downfield threat might be Stroughter. He had an excellent rookie season, already has a rapport with Freeman and can make a lot of things happen as the slot receiver.
2. How much will the arrival of the two rookie defensive tackles help?
McCoy and Price should be an instant upgrade over former starters
Chris Hovan
and
Ryan Sims
, who got pushed all over the field last year. The Bucs also plan to use
Roy Miller
in the rotation. That's a pretty promising trio of young defensive tackles.
But it remains to be seen if this group can be dominant right from the start. The standard for defensive tackles in Tampa Bay is Warren Sapp. He might be ticketed for the Hall of Fame, but the fact is Sapp struggled as a rookie and took time to develop into a force.
The Bucs think McCoy should be fine from the start. Price got off to a great start in camp, but an injury has forced him to miss some time and that may set him back a bit. The Bucs are going to ask a lot of McCoy, Price and Miller. They want them to clog things up against the run and free up Ruud to make plays. They also need a strong interior pass rush because there's no real force on the outside. Ready or not, McCoy and Price will have the opportunity to shine right from the start.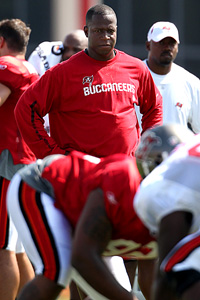 Cliff Welch/Icon SMIThings have been quieter in Raheem Morris' second offseason as the Bucs head coach.
3. Is this team headed in the right direction with coach Raheem Morris?
The Bucs were in a state of chaos through much of last year. Morris fired coordinators Jeff Jagodzinski and Jim Bates early, changed defensive schemes early in the year and ran a quarterback competition that's only real purpose was to make sure Freeman didn't get on the field too soon. The results weren't pretty.
But Morris' second offseason has been one of peace and quiet and it only takes a few brief glances out at the practice field to see that the Bucs are much more organized than last year. Morris knows he made mistakes last season and he's learned from that.
He's running the defense now and believes he put Freeman in good hands with offensive coordinator Greg Olson and quarterbacks coach Alex Van Pelt. The Bucs still may need another offseason to get the talent level to where they really want it, but there are some parts in place and Morris needs to start showing some progress.
BIGGEST SURPRISE
Aqib Talib, cornerback.
The physical talent always has been there with Talib. But his first two seasons were rocky because of off-field issues and a feeling that he wasn't always focused on football. However, the coaching staff is quietly buzzing because a new side of Talib has emerged throughout the offseason and carried over into camp. He's more focused and more mature. The Bucs are keeping their fingers crossed on this one, but there is a belief that Talib can become a Pro Bowler very quickly if he stays on his current path.
BIGGEST DISAPPOINTMENT
Stylez G. White, defensive end.
The Bucs know White never has been a very good practice player. But they thought he might come in with some inspiration this camp because he has a chance to be the top pass-rusher on team that doesn't have any proven star in that area. That hasn't happened. White's been very ordinary in practice and doesn't seem interested in being a leader for a young defensive line. Is that enough to cost him a starting job? Probably not because the Bucs really don't have much behind him. They're hoping White steps things up when the regular season arrives, but they're a little worried that might not happen.
[+] Enlarge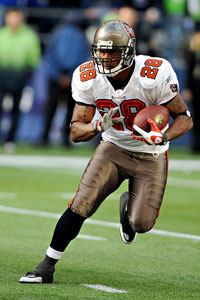 Steve Dykes/US PresswireDerrick Ward has struggled to make an impact since his arrival in Tampa.
OBSERVATION DECK
August, 5, 2010
8/05/10
3:03
PM ET
ESPN.com NFL Power Ranking (pre-camp): 22
SPARTANBURG, S.C. -- In the kindest of terms, fans and media are referring to the
Carolina Panthers
as a team in a youth movement.
There's some basis for that as they opened camp with the league's third-youngest roster after saying farewell to popular veterans such as
Julius Peppers
,
Jake Delhomme
and
Brad Hoover
.
In the harshest of terms, fans and media have referred to those departures as a "bloodletting'' and are talking about the Panthers as a team without an identity, a team that's not going to be very good.
Now, let's turn to two guys who beg to differ.
"How do you say we're going through a youth movement, when we beat those teams late in the season using the same key components?'' running back
DeAngelo Williams
said. "People can say what they want to say. But we know what it takes to win and we have what it takes to win.''
"The way I look at it is, I like our core guys,'' linebacker
Jon Beason
said. "I think we have a great nucleus. Now we're looking for a few good men, a few young guys who are talented. For those young guys, it's an opportunity to come in and do great things.''
Maybe Beason and Williams have valid points. They're two team leaders with a pretty good feel for the pulse of the locker room. They also have impressive résumés. Williams was one of two Carolina running backs (
Jonathan Stewart
was the other) to run for 1,100 yards last season. Scouts, coaches and players everywhere will tell you Beason is one of the best linebackers in the NFL.
Can you really call the Panthers a team without a face?
That's kind of a difficult statement to make when you look at Carolina's roster and see Beason and Williams. Then, keep looking and you see Stewart, left tackle
Jordan Gross
, center
Ryan Kalil
, right tackle
Jeff Otah
, receiver
Steve Smith
and cornerbacks
Chris Gamble
and
Richard Marshall
. Those are all guys the Panthers view as core players. Look around the league and see how many teams have that many core players in place.
"There are question marks, sure,'' coach John Fox said. "Anytime you have question marks, the expectations on the outside might not be that high. But on the inside, we know we've got some very good core players and those core players are going to have to have big seasons.
THREE HOT ISSUES
[+] Enlarge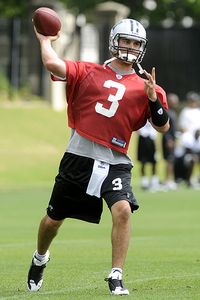 Sam Sharpe/US PresswireThe Panthers' confidence in quarterback Matt Moore appears to be growing.
1. Can this team win with Matt Moore as the quarterback?
Let's cut to the chase. This team already has won with Moore as the quarterback. Moore started the final five games of last season after Delhomme was injured. The Panthers won four of those games and Moore looked sharp the entire time.
Sure, that's not the longest of track records and the Panthers did draft
Jimmy Clausen
in the second round. But this isn't the Carolina camp of 2001, where the Panthers were kind of expecting Jeff Lewis to fail and to hand the job to rookie Chris Weinke.
Williams' point about the youth movement taking place last year might be right. Moore won this job with his play down the stretch and, so far in camp, the team's confidence in him is only growing.
"Matt Moore is a gamer,'' Williams said. "When he mentally locks in, the game comes easy for him. All quarterbacks in the league are pretty much the same. They can all throw the ball or they wouldn't be here. The thing that separates the good ones from the bad ones is decision making. Matt Moore can make decisions. Matt's going to be fine.''
Let's keep one other thing in mind. With an excellent offensive line, two very good running backs and Smith at wide receiver, Moore has a pretty strong supporting cast. He doesn't need to be
Peyton Manning
or
Drew Brees
. He just needs to keep mistakes to a minimum and the job can be his as long as he wants.
2. Can the defensive line be any good?
For much of Fox's tenure, the defensive line has been the foundation of the team. But Peppers was the last in a line of supernovas that used to include
Mike Rucker
,
Kris Jenkins
and
Brentson Buckner
. There are no current stars on this defensive front.
But Fox and the Panthers don't appear to view that as a bad thing. They're not expecting any single guy to come in and replace Peppers. They believe they can get quality out of quantity and are hoping the defensive front can attack in waves. They've got high hopes for
Charles Johnson
and
Everette Brown
, and rookies
Eric Norwood
and
Greg Hardy
have been very impressive in camp. They brought back
Tyler Brayton
for a bit of continuity, but they feel they've got some pass-rushers who can emerge.
They also have a better feeling about defensive tackles
Louis Leonard
,
Tank Tyler
and
Ed Johnson
than a lot of people realize. This might not be the traditional Fox defensive front with a huge run-stuffer in the middle and a big name on the outside. But, keep in mind, the Panthers brought in Ron Meeks as defensive coordinator last year and his system is based more on speed than power up front.
"We were eighth in the league in defense a year ago with a new scheme,'' Fox said. "It's kind of early to tell, but we should be better with our scheme the second time around.''
[+] Enlarge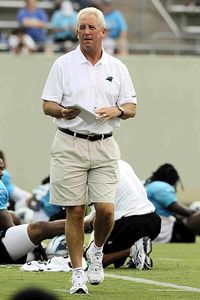 AP Photo/Chuck BurtonJohn Fox owns a 71-57 record in eight seasons with the Panthers.
3. Does all this talk about Fox being in the last year of his contract really make a difference?
Not at all. Fox is a creature of habit and he's going to coach the way he always has coached.
He's a confident guy with a pretty solid résumé. He's not losing sleep because he knows he can get another job if it comes to that. But he wants to make it work in Carolina, a place where his family has set down roots. Keep in mind, Fox never has had a truly bad season. There have been some disappointing years, but the record's always been close to or above .500. He's sometimes stumbled a bit when expectations were high, but he always has done his best job when people weren't counting on much out of the Panthers.
BIGGEST SURPRISE
Greg Hardy. The defensive end was a sixth-round draft pick because his college career didn't end all that well. But the Panthers took a shot because they thought there was uncommon physical talent sitting out there late in the draft. So far, they feel as if they might have hit a home run. Hardy has looked great in camp. Coaches are noticing him and so are other players. There were some questions about Hardy's ability to focus on football at the pro level. But so far, so good on that end. Brayton, Johnson and Brown are competing for the starting jobs, but Hardy appears to be carving out some playing time.
BIGGEST DISAPPOINTMENT
Dwayne Jarrett
. As they've been doing for his entire career, the Panthers are hoping the light suddenly comes on for this wide receiver. He's still running with the first team, but all indications are it's just not happening for Jarrett. There's still some work to be done and polish to be added, but the Panthers are starting to think rookie
Brandon LaFell
is their best option at the starting position opposite Smith. Jarrett basically is fighting for a roster spot at this point. The fact he's still making mental mistakes this far into his career means there's a good chance he's gone before the preseason is over.
[+] Enlarge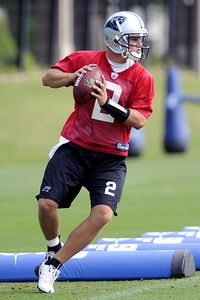 Sam Sharpe/US PresswireCarolina has been pleased with how Jimmy Clausen has looked in the early part of camp.
OBSERVATION DECK
As mentioned above, the Panthers are singing Moore's praises and that's all very legitimate. But behind the scenes, the Panthers also are thrilled with what they've seen from Clausen. His physical skills and mechanics are as solid as expected and Clausen's doing everything right on and off the field. There's not a sense of urgency to play him because Moore has looked so solid. But the Panthers believe they got a steal when they took Clausen in the second round.

There's been a lot of hype about third-round draft pick Armanti Edwards. Understandable because he was a college quarterback and came from Appalachian State, which automatically makes him popular in the Carolinas. The Panthers aren't disappointed with Edwards by any means, but the reality is he's just feeling his way as a receiver and a return man. Don't look for him to be a huge contributor instantly. There's big upside here because Edwards is so dynamic and he might be in a few packages early on. But it's going to take some time for him to become a staple in this offense.

The Panthers let go of Keydrick Vincent, who played every snap at right guard last season, for a reason. He was older and they had Duke Robinson waiting in the wings. Coaches, players and the front office believe Robinson can be a punishing run-blocker. Put him on the right side with Otah and the Panthers believe that side of the line can be just as good as the left, where Gross and Travelle Wharton are outstanding.

If you're looking for a long shot to make the roster, I'll throw out Trent Guy's name. This is a tiny wide receiver, but every time I looked up during my visit to Wofford College, Guy seemed to be making a play. He's got rare speed and good hands, and also could be a factor in the return game.

Thomas Davis, who had major knee surgery in June, has been hanging around at camp and working hard at his rehab. The Panthers haven't ruled out a possible return for him later this season, but I don't see that happening for a guy who has torn his ACL twice in less than a year. The Panthers wouldn't have moved Beason from the middle to the weak side unless they thought he'd stay there for the long haul. At the moment, they're happy with what they've seen from Dan Connor in the middle and James Anderson on the strong side. That better stay that way because, aside from Jamar Williams, there's no real depth at linebacker.

A lot of people have questioned why the Panthers would take Beason out of the middle where he's been such a dominant player. The answer is simple. Under Meeks, the Panthers run the "Tampa 2'' defense. In that scheme, everything goes through the Will linebacker. Think Derrick Brooks.
January, 8, 2009
1/08/09
4:15
PM ET
Posted by ESPN.com's Pat Yasinskas
We've noted this trend before, but it's worth repeating. Carolina running back DeAngelo Williams is at his best going up the middle or to the right.
That's kind of interesting because tackle Jordan Gross and guard Travelle Wharton, probably Carolina's two best linemen, play on the left side. Williams has been effective on that side, too.
But his success up the middle speaks volumes about the play of second-year center Ryan Kalil and rookie right tackle Jeff Otah (as well as right guard Keydrick Vincent, who was injured late in the year and probably will be replaced by Jeremy Bridges in Saturday's playoff game against Arizona).
Here's a breakdown of what happens when Williams has carried the ball in each direction:
DeAngelo Williams
Left
Middle
Right
Attempts
86
104
83
Yards
381
599
535
Average
4.4
5.8
6.4
TD
5
5
8
First Downs
16
25
25
-- ESPN Stats & Information
January, 7, 2009
1/07/09
3:32
PM ET
Posted by ESPN.com's Pat Yasinskas
For months now, Marty Hurney and John Fox have been getting credit for some of their big moves (their handling of the Steve Smith-Ken Lucas fight in training camp and the drafting of Jonathan Stewart and Jeff Otah), but those weren't the only key moves the Carolina general manager and coach have made.
| | |
| --- | --- |
| | |
| | Kevin Terrell/Getty Images |
| | John Fox and the Panthers host the Cardinals Saturday night. |
Time for a look at four other (some subtle, some pretty major) moves Fox and Hurney have made to put the Panthers where they're at:
1. They blew up the offensive line and made it better. Drafting Otah was only one in a series of moves the Panthers made as they ended up with new starters at each of the five positions. They started by trying to play to strengths -- putting Jordan Gross at left tackle and Travelle Wharton at left guard, the spots where they're most effective. They plugged in Otah at right tackle, cleared the way for second-year pro Ryan Kalil to take over at center and let Keydrick Vincent arise from a handful of candidates for the right guard spot. It's all worked out with Carolina having the most physical offensive line in franchise history.
2. They didn't try to overdo it when the defensive line blew up. Mike Rucker retired and Kris Jenkins wanted out of Charlotte more than the Panthers wanted to get rid of him. Fox and Hurney didn't panic as a defensive line once filled with big names dwindled down to Julius Peppers. They stuck with defensive tackles Maake Kemoeatu and Damione Lewis, who already on the roster and went out and signed end Tyler Brayton, who had been a bust in Oakland. Throw in second-year pro Charles Johnson and the Panthers found strength in numbers, instead of names. Of course, it also helped that Peppers bounced back from whatever slowed him last year.
3. They took a chance. Fox and Hurney are two of the most by-the-book guys in the NFL. That's why it was more than a little surprising when they burned a roster spot by keeping kickoff specialist Rhys Lloyd. But that's turned out to be an excellent move. Lloyd set a record (at least in the K-ball era) with 30 touchbacks.
4. They went for the sure thing. Faced with the annual rite of finding a receiver to complement Smith, the Panthers reached back into their past and signed Muhsin Muhammad. Deduct a point for also signing D.J. Hackett, who's been worthless, but give them at least two points for bringing back Muhammad. He's been a solid possession receiver and has brought a strong veteran presence to the locker room.
December, 19, 2008
12/19/08
12:26
PM ET
Posted by ESPN.com's Pat Yasinskas
Let's get this out of the way at the start: The Carolina Panthers are the best team the NFC has to offer right now.
Kind of ironic because that's the kind of attention their fans have been begging for all season. It's also ironic because that's exactly the same type of attention their coach, general manager and owner absolutely despise.
| | |
| --- | --- |
| | |
| | Kevin Terrell/Getty Images |
| | John Fox has the Panthers poised for the top spot in the NFC playoffs. |
If John Fox, Marty Hurney and Jerry Richardson were piloting a plane up to New York for Sunday night's showdown with the New York Giants, they'd be scraping the ground all the way. These guys didn't invent flying under the radar -- they just have mastered it.
Tell Fox his team is 11-3 and he instantly will tell you the only thing guaranteed is the Panthers will finish with 11 wins. Pick up a phone in the Giants Stadium press box in the final moments of a 2005 playoff shutout of New York and start making hotel reservations in Chicago for the following week's game and Hurney, the bizarrely-superstitious general manager, will start screaming at a reporter, "Stan, hang up that phone right now. This game's not over. You're going to jinx us."
Richardson, the owner who brought the franchise to the Carolinas, gets bashed on talk radio for not giving any interviews. In recent years, he's sat down with a beat writer or columnist from The Charlotte Observer once or twice a year for one-on-one chats. In those settings, Richardson shows a tremendous mind and a brilliant common touch. He'll give good answers and, inevitably, the beat writer or the columnist would look at him and say, "See it's not so hard. Why don't you do this more often?" Richardson would then say he prefers not to because it's not about him, it's about the team.
Then, Richardson would sit for an hour or two and talk off the record, asking the columnist about his family or asking the beat reporter what parts of the team could be run better. Part of it was a genuine care about the person he was talking to and part of it was to take the attention off himself.
But it's no longer possible for Fox, Hurney and Richardson to stay under the radar. Their team is playing the defending Super Bowl champions in a prime-time slot -- nobody's overlooking the Panthers anymore.
Maybe those fans who have been beating their chests and sounding like helicopters can stop. The Panthers are getting attention and respect.
As I said at the start, the Panthers are the best team in the NFC right now. And I'll take it one step further and say the Panthers are the NFC's best bet to get to the Super Bowl.
December, 17, 2008
12/17/08
4:57
PM ET
Posted by ESPN.com's Pat Yasinskas
Some notes from around the NFC South.
BUCCANEERS
Tampa Bay coach Jon Gruden said the Bucs got some good news on linebacker Derrick Brooks, who suffered a rib injury Sunday. Gruden said Brooks' injury isn't as serious as first thought. Brooks didn't practice, but Gruden said he's hopeful the linebacker can continue his streak of playing in every game since coming to the NFL in 1995.
Gruden also said he hopes Jeff Garcia (calf) will be ready to start Sunday. Garcia practiced on a limited basis, but the Bucs changed up their practice schedule a bit to get backups Brian Griese and Luke McCown some work with the first team. Defensive ends Gaines Adams and Stylez (formerly Greg) White and offensive lineman Jeremy Zuttah were limited in practice. Defensive tackles Jovan Haye and Chris Hovan, who had been bothered by injuries, were able to practice. Punter Josh Bidwell did not practice because of an illness.
PANTHERS
Carolina's in danger of having a defensive starter miss a game for the first time this season. Defensive tackle Maake Kemoeatu (ankle) missed Wednesday's practice. Offensive guard Keydrick Vincent (groin) also missed practice. Darwin Walker would be the likely starter if Kemoeatu can't go and Geoff Hangartner is the top backup at guard.
ESPN Stats & Information passed along some notes on Carolina's road record. The Panthers are 3-3 on the road, but the wins have come against teams (Chargers, Raiders and Packers) that currently are a combined 14-28. Carolina's three losses (all on the road) are against teams (Vikings, Bucs and Falcons) that currently have winning records. Carolina's losses have all been by double digits and quarterback Jake Delhomme has thrown just one touchdown in those three games. Delhomme's passer rating at home is 100.8. On the road, it's 63.3.
SAINTS
Left tackle Jammal Brown returned to practice after missing last week's game with an injury. The Saints also signed cornerback Michael Lehan off Miami's practice squad to fill the roster spot that came open after the Saints placed Reggie Bush on the injured reserve list.
FALCONS
For those who have been asking for Atlanta's playoff scenarios since about Week 10, the NFL finally has sent out an official list of ways the Falcons can get into the playoffs this week.
December, 9, 2008
12/09/08
1:47
AM ET
| | |
| --- | --- |
| | |
| | Streeter Lecka/Getty Images |
| | DeAngelo Williams and the Panthers steam past the Buccaneers, 38-23, to take the lead in the NFC South. Williams carried 19 times for 186 yards and two touchdowns. |
Posted by ESPN.com's Pat Yasinskas
CHARLOTTE, N.C. -- If it looked like the Carolina Panthers' offensive line played the perfect game Monday night, think again.
The good news for the Panthers is they rushed for 299 yards in a 38-23 victory over Tampa Bay and their offensive line may have not hit its peak. Seriously.
"The best part about it is even with all the success, all the stats and all the touchdowns we got tonight, there's still a lot of room for improvement,'' center Ryan Kalil said. "We came out against a really good defense and did what we did and we know there's room to keep getting better.''
Think about what Kalil's saying and it makes a lot of sense. Carolina's offensive line really hasn't played together very much. Kalil and right tackle Jeff Otah each missed significant time with injuries and the Panthers were forced to shuffle in reserves Geoff Hangartner and Jeremy Bridges. It's only been in the last three games the intended starting offensive line has gotten back to being together.
Kalil and Otah both missed an earlier loss to Tampa Bay, a game that Tampa Bay's defense dominated.
"It was really embarrassing,'' left guard Travelle Wharton said. "40 yards rushing or whatever. They really put it to us.''
The Panthers really put it to the Bucs this time around and the offensive line deserves most of the credit. DeAngelo Williams carried 19 times for 186 yards and two touchdowns and Jonathan Stewart had 115 yards and two touchdowns on 15 carries.
The Panthers (10-3) pushed past the Bucs (9-4) to take control of first place in the NFC South and it's because Carolina pushed Tampa Bay all around at the line of scrimmage. The stamp on it all was a four-play, 90-yard drive in the middle of the fourth quarter. The Panthers ran on all four downs and built a 31-17 lead.
Carolina's running game was so good late in the game the Panthers attempted only two passes in the fourth quarter. That was precisely what the Panthers were hoping to build up front when they blew up their offensive line after last season.
"It's kind of what we're built around,'' coach John Fox said. "Props to [general manager] Marty Hurney, [director of scouting] Don Gregory and the personnel department. I think we got bigger and more physical up front and those two backs are pretty special. We've got the people to do it and now it's going to be if we can do it consistently moving forward.''
After two non-winning seasons, the Panthers felt they had to get more physical up front. They let guard Mike Wahle and center Justin Hartwig, a pair of high-priced former free agents, go. They then assembled an offensive line that wouldn't feature any of the regular starters from last year's line in the same spot.
The Panthers took Wharton, who played left tackle last season, and moved him inside to guard. They took veteran right tackle Jordan Gross, the team's best offensive lineman, and put him at left tackle. They brought in Keydrick Vincent as a free agent and he won a training camp battle for the right guard job.
The biggest piece of all might have come when the Panthers, after drafting Stewart, traded back into the first round to draft Otah out of Pittsburgh. They also took a bit of a leap of faith on Kalil, who had played only sparingly as a rookie last year, and made him the centerpiece of the line.
The injuries may have slowed the line a bit early on, but everything was clicking against the Bucs.
"I don't think Jeff and I by ourselves make that much of a difference,'' Kalil said. "But the rhythm and continuity of having the same guys in there is the biggest part. It was rough early on with not having a lot of stability. But these last couple of games have helped us get in a rhythm. When you get comfortable as a group, you know what the call is going to be and don't have to call it, you can play a lot faster and do what we did tonight.''
The Panthers totally dominated up front. They caught a bit of a break because Tampa Bay defensive tackle Jovan Haye was out with a knee injury. His replacement, Ryan Sims, showed why he was a first-round flop with Kansas City. The Panthers consistently drove Sims off the ball. In the process, they also gave the other starting defensive tackle, veteran Chris Hovan, a tough time.
Williams went over 1,000 yards for the season and became the first Carolina running back since Stephen Davis in 2003 to reach that milestone. Think about this for a second: 2003 was Carolina's Super Bowl season.
With the New York Giants only a game ahead in the battle for the top seed in the NFC and the offensive line suddenly playing extremely well, anything is possible. The Panthers, who host Denver in Week 15, travel to New York to play the Giants on Dec. 21.
"People remember what you do in December,'' Fox said. "This was a big stage. I like the way our guys met this challenge.''
If Carolina's offensive line keeps getting better, people might remember what the Panthers do in January -- and February.
August, 20, 2008
8/20/08
10:45
AM ET
Posted by ESPN.com's Pat Yasinskas
A quick morning trip around the NFC South.
SAINTS
FALCONS
PANTHERS
BUCS
August, 13, 2008
8/13/08
7:14
PM ET
Posted by ESPN.com's Pat Yasinskas

Five questions to ponder as the Carolina Panthers wrap up training camp:
1. Is Jake Delhomme's elbow ready for a full season? It had better because the Panthers have put pretty much all their chips behind their quarterback. They didn't go looking for help and they're going with the promising, but inexperienced Matt Moore as their backup. Delhomme looked good all through camp and says his elbow feels better than it has in several years. Having to go with revolving quarterbacks last year, the Panthers missed the playoffs. With Delhomme back, they should be a contender.
2. Will Julius Peppers show up? After a horrendous slump last season, Peppers had a great camp and looked dominant in the preseason opener. He's switched from left to right end and he's playing for a new contract. The motivation should be there and the physical skills never have been a question. If Peppers plays like he did earlier in his career, Carolina's overhauled defensive line has a chance to be good.
3. How much will Steve Smith's suspension hurt? Plenty. Smith will be out for the first two games after beating up teammate Ken Lucas on the sideline in training camp. Without their best player, the Panthers run the risk of starting 0-2. They open at San Diego before hosting Chicago and they need to at least split those games or else they'll start the season in a hole that's tough to dig out of.
4. Where can they turn for big plays while Smith is out? The Panthers have a lot more options than they did a year ago when Smith was the whole offense. Veteran Muhsin Muhammad gives them a steady possession receiver, but they need free agent D.J. Hackett or second-year pro Dwayne Jarrett to come up big in the first two games. Jarrett showed improvement in camp and Hackett has downfield speed. And don't forget DeAngelo Williams at running back. Rookie Jonathan Stewart may end up as the starter, but the Panthers are going to try to get Williams on the field a lot and he can make things happen in the passing game.
5. Will all the changes on the offensive line help? Yes, the Panthers made a major overhaul, but it should all be for the better. Center Justin Hartwig and guard Mike Wahle are gone. Both were living off past reputation and weren't overly effective last year. Second-year pro Ryan Kalil takes over at center and he has the intelligence and quickness to do a lot of different things. Travelle Wharton has moved from left tackle to left guard, where he's a better fit. Jordan Gross moved from right tackle to left tackle, where he's an upgrade over Wharton. Rookie Jeff Otah will be the right tackle and the Panthers think he's already very solid. The right guard spot is still open, but it looks like Keydrick Vincent is the leading candidate.

NFL SCOREBOARD
Sunday, 12/28
WEEKLY LEADERS