September, 8, 2011
9/08/11
12:11
PM ET
The
New Orleans Saints
won Super Bowl XLIV.
The
Green Bay Packers
were crowned champions after Super Bowl XLV.
They'll meet Thursday night to begin the NFL's march to Super Bowl XLVI.
So let's honor a whole bunch of Roman Numerals with XXV thoughts on this game. Why XXV? It's a nice, round Roman Numeral. And I didn't think you wanted XLVI of my thoughts on this game or any other.
1.
The Packers have been downright defensive this week about their decision
not to conduct players-only workouts
during the lockout. Quarterback
Aaron Rodgers
refused to discuss it, possibly fearing his words would be interpreted as criticism of the New Orleans Saints' highly public workouts. Here's the truth: Many people around the NFL thought the Saints' efforts were more for public show than to get in actual football work. I can't see this issue being a factor in tonight's outcome.
[+] Enlarge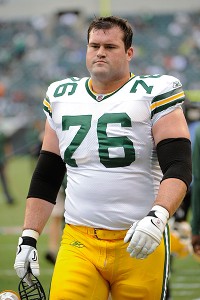 Howard Smith/US PresswirePackers left tackle Chad Clifton returns for another season protecting quarterback Aaron Rodgers' blind side.
II.
Here's one issue that could: Rodgers' pass protection was spotty this preseason, and the Saints' rebuilt defensive line will force some matchup problems.
III.
Every year at this time, we're asking whether Packers left tackle
Chad Clifton
, 35, has hit the wall. Every year, he answers the bell. But we're still asking the same thing.
IV.
You think your stomach is twisted into knots? Here's what Packers guard
Josh Sitton
tweeted this morning
: "Gameday. ... nervous as poop." And Sitton just signed a new $33 million contract extension!
V.
It was surprising to see Sitton give up a couple of sacks in the preseason. The Saints' defensive tackle rotation of
Shaun Rogers
,
Sedrick Ellis
and
Aubrayo Franklin
no doubt noticed.
VI.
No one blitzed more than the Saints last season, sending five or more rushers on 49.5 percent of the time in 2010. Sitton, Clifton and company can feel confident knowing that Rodgers has been the NFL's second-best quarterback against the blitz (based on Total Quarterback Rating) over the past three seasons.
VII.
Trevor Ebaugh of ESPN Stats & Information has
a cool scouting report
on a play the Packers could use Thursday night against the Saints' defense.
VIII.
If you're in transit to the game today, know that snack options are limited.
Follow this link
to see what I found Wednesday night.
IX.
The Saints will be making some difficult guesses about the Packers' offensive approach.
X.
With no regular-season running game to speak of last season, the Packers focused on their passing game. They ran more empty-backfield sets than any other NFL team (91). Will the Packers focus on that formation, allowing them to maximize their talented group of five receivers?
XI.
Or will the Packers re-balance their offense now that
Ryan Grant
is healthy and
James Starks
is re-established?
XII.
Or will the Saints see more of the no-huddle offense that Rodgers directed to near-perfection in the preseason? And will they work to get receiver
Donald Driver
the 42 yards he needs to be the team's all-time leading receiver by yardage?
XIII.
It's hard to be ready for such a varied menu of options. Which is just the way the Packers like it.
XIV.
Grant is the Packers' likely starter at running back, but it wouldn't be at all surprising if Starks finishes the game with more carries.
XV.
If one relatively unknown player makes a name for himself in this game, I'm betting it will be Packers returner/receiver
Randall Cobb
.
XVI.
If you think Packers fans are excited about Cobb's debut, imagine how they feel about the return of tight end
Jermichael Finley
. Never in NFL history has a tight end with 82 career catches gotten so much hype. ESPN's Rachel Nichols reports Finley got a pedicure Wednesday. Why wouldn't he?
XVII.
Saints quarterback
Drew Brees
threw at least one interception in each of his final 12 regular season games last season and had an NFL-high 22 over that span. Just saying.
XVIII:
Kid Rock is a notorious
Detroit Lions
fan but will be singing Thursday night in the Lambeau Field parking lot. Hey, business is business.
XIX:
Couldn't Rodgers book
"The Make"
for an opening act Thursday night?
XX:
One of the more confusing stories recently to get national attention: Rodgers' claim that
New York Jets
quarterback
Mark Sanchez
's GQ photospread was
"embarrassing."
And?
XXI:
The Saints' running game is in much better hands with
Pierre Thomas
,
Darren Sproles
and
Mark Ingram
than it was with Thomas and
Reggie Bush
.
XXII:
I can't say for sure that Packers defensive end
Mike Neal
(knee) won't play, but limited practice for three days after two weeks of inactivity caused by a knee injury means he probably won't make a huge contribution even if he does get on the field. The Packers have been counting on him to be a dual run-stopper and playmaker against the pass.
XXIII:
This game has been billed as a battle between two elite quarterbacks, but I know which team I like if both backups were forced on the field. And no, it's not the Saints and
Chase Daniel
.
XXIV:
There will be a lot of really good coaches on the field Thursday night, from McCarthy to Sean Peyton to Greg Williams to Dom Capers. But every team in the NFL should hope its quarterbacks will one day be coached by Packers assistant Tom Clements. A one-time Saints quarterbacks coach, Clements deserves a lot of credit for the development of both Rodgers and
Matt Flynn
.
XXV:
Every single ESPN expert
, including the AccuScore computer simulation program, picked the Packers to win tonight. So there you go. If I had made this No. I, you wouldn't have had to read all this way!
September, 7, 2011
9/07/11
4:27
PM ET
Two quick takeaways from the final injury report of the week heading into the
Green Bay Packers
' regular season opener Thursday night against the
New Orleans Saints
:
The Saints have ruled out receiver Lance Moore, who might be quarterback Drew Brees' most trusted receiver. Moore suffered a groin injury during the preseason and didn't practice all week. The Saints still have plenty of weapons in the passing game, but they will have to make a significant adjustment without Moore, who caught 66 passes last season.
Packers defensive end Mike Neal (knee) is questionable, which really doesn't tell us much about whether he will play Thursday night. He participated in a portion of each practice this week, but he hasn't played in a game Aug. 13. "Questionable" technically means Neal has a 50-50 chance of playing. We'll know soon enough.
The only Packers players who definitely won't play are cornerback
Davon House
, linebacker
Vic So'oto
and linebacker
Frank Zombo
.
September, 7, 2011
9/07/11
11:36
AM ET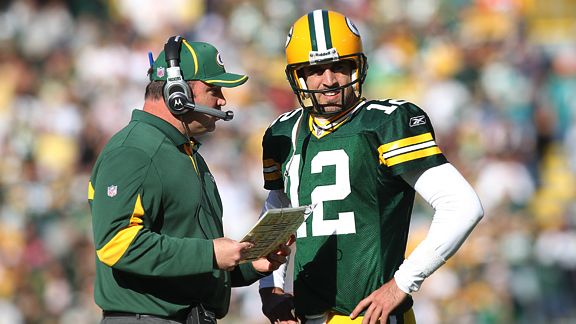 Tom Hauck/Getty ImagesExtended conversations during the season between Mike McCarthy and Aaron Rodgers proved beneficial for the Green Bay Packers.
Something was off. No one could pinpoint it, and it was driving the
Green Bay Packers
crazy. A 2010 season that opened with Super Bowl expectations had already yielded three losses in the first six games, and a presumably world-class offense was inexplicably moving in fits and starts.
So after the Packers managed only 33 points in consecutive losses to the
Washington Redskins
and
Miami Dolphins
, coach Mike McCarthy huddled with his most important player for an extended midweek meeting. McCarthy and quarterback
Aaron Rodgers
talked through the offense literally for hours, realizing along the way that their extended history with one another had spawned a mental complacency that contributed to the dulling of their overall performance.
At least once and sometimes twice a week thereafter, the quarterback and the coach/playcaller scheduled one-on-one meetings to re-sharpen their relationship and push the offense to greater heights. The meetings were one of many reasons the Packers won 11 of their next 14 games, including Super Bowl XLV, and they continued this week as the Packers prepared for Thursday night's season opener against the
New Orleans Saints
.
"I just think it's important that you're working through your plan," McCarthy said. "It not that you're not on the same page, but it's a matter of working through the thought process. To me, preparing for a football game is no different than working out every day. You still have to go through the mental process, trust the preparation and have the conversations you need to have.
"The worst thing you can do in the game of football is say, 'Hey, we've got that.' That's where you lose your edge. We didn't have that at the beginning."
In interviews this spring and summer, McCarthy and Rodgers stressed that their relationship neither soured nor even hit a rough patch. They simply and unintentionally took for granted their unspoken understanding of each other. Rodgers, for one, seems to be the type of student who needs full insight into an authority figure's thinking in order to accept direction, and McCarthy has occasionally been known to veer into mad-scientist mode in his role as a playcaller.
In retrospect, McCarthy traced the issue back to his 2010 decision to spend more time with the Packers' special-teams group, which had struggled in 2009. "I think I just got a little too far away from the quarterbacks," he said. It was an understandable decision from a head coach, but McCarthy's multiple roles should make the time he spends with Rodgers the highest of his priorities.
Both men said the meetings not only served to re-focus the Packers' offense, but they also deposited the pair into the kind of lockstep that is critical for a playcaller and his quarterback.
"It was great for our relationship as head coach-to-player and friend-to-friend," Rodgers said. "It was important for us to get on the same page as far as football goes, the X's and O's stuff. But it went a long way for our personal friendship. I have a lot of respect for Mike, and the kind of person he is, and the way he coaches as well. But that was as beneficial to what we did on the field as it was for him and I getting along off the field as well."
The meetings usually occurred on Thursday of a regular game week, after the game plan had been installed and after a 30-minute quarterback meeting to review some game-planning ideas. McCarthy said he typically sat with Rodgers from about 2:30 p.m. until at least 5 p.m. and sometimes as late as 6 p.m. on Thursday evenings.
"We would talk about the game plan," McCarthy said. "We'd talk about life and everything else. I thought it was helpful for him. I know I enjoyed it. It was just a lot of talking between two guys that have too much to say. I already knew it, but I once again found him to be a special kid."
Neither McCarthy nor Rodgers could point to a specific Eureka moment where they realized they needed to emphasize one personnel grouping over the other or, say, a different approach to their first 15 scripted plays. The true benefit was building a level of trust that ensured McCarthy would devise game plans and call plays in a way he knew that Rodgers would buy into. And for Rodgers, it was about getting to a point where he understood how McCarthy thought and where his ideas were coming from.
"Mike and I have a great relationship and I think we needed that," Rodgers said. "You need to be able to understand each other and understand the way we think and the way we react to certain situations. A lot of that was life experience, and there was definitely some storytelling going on, but it was just a great experience all the way around."
As the chart shows, the Packers became a much more efficient offense after Week 6 last season. They didn't necessarily start grinding out more yards, but they saw a 33 percent surge in their point totals and a dramatic elevation in their third-down conversion percentage. Most importantly, the only games they lost thereafter came when Rodgers was sidelined by a concussion (against the
Detroit Lions
and
New England Patriots
) and a three-point defeat to the NFC's eventual No. 1 seed, the
Atlanta Falcons
.
"I look at it like this," McCarthy said. "The playcaller and the quarterback got better. We just didn't start the season the way we needed to. Once we got rolling, we played the way we wanted to."
Yes, they talked it out -- and then some.
September, 6, 2011
9/06/11
3:30
PM ET
There is a lesson to be learned from the last time the
New Orleans Saints
played in the NFL's kickoff game, and fortunately it happened right in front of our very own NFC North eyes.


The Saints, as you might recall, entered last season's kickoff game against the
Minnesota Vikings
with their reputation as blitzing defense intact. They had battered and bruised quarterback
Brett Favre
in the 2009 NFC Championship Game, and there was every reason to believe they would follow a similar path in the teams' September 2010 rematch.
Instead, defensive coordinator Greg Williams opened in a relatively conservative Cover-2 look that
took the Vikings by surprise
and left them out of sorts for most of the Saints' 14-9 victory. After his team went three-and-out on five of its 10 possessions and managed only 12 first downs, then-coach Brad Childress said: "I have to take my hat off to them. It was set up as a big blitz game. The blitz was very, very infrequent. So they did a nice job with that."
As they prepare for Thursday night's game against the Saints, the
Green Bay Packers
are no doubt expecting the proverbial unexpected. Coach Mike McCarthy said Tuesday that his previous Packers teams have seen "between 20 and 30 percent" of so-called unscouted looks in their season openers, making it doubly important to "stay true to your base principles," he said.
The term "unscouted look" usually refers to a scheme, play, coverage or blitz that a team has never before put on film. That isn't exactly what the Saints did to the Vikings last season; they had played Cover-2 before under Williams but rarely for the majority of a game. But there is little doubt that the Saints, and probably the Packers for that matter, will do something new or totally out of character Thursday night at Lambeau Field.
The unscouted look is an especially important weapon for established teams. Both the Packers and Saints are entering their sixth season under the same head coach. Both Williams and Packers defensive coordinator Dom Capers are entering their third seasons. There shouldn't be many secrets between these teams.
But that's what makes Week 1 among of the most intriguing points on the NFL calendar. Somebody is going to come up with something new that causes a ripple effect on the way to victory. We'll know in about 60 hours or so what it is. (What? You expected me to tell you what it's going to be?)
September, 5, 2011
9/05/11
12:44
PM ET
This summer, I was struck by the first words
Green Bay Packers
quarterback
Aaron Rodgers
used in discussing the return of tight end
Jermichael Finley
.
Finley
"It will be a challenge," Rodgers said. "You add another talented guy back to the mix like that and it's tough to get the ball around to all of our skill guys. You've got to find a way to get everyone else involved, realizing that you might be bringing back the most talented guy to the offense. ... It's going to be important for us to find ways to get him the ball but also to keep the other guys involved who played big roles for us last year."
And so goes the reality of what would seem like an obvious cause for unmitigated excitement. Finley makes the Packers a "different team," Rodgers said. But he is also returning to an offense that dramatically changed its focus after his season-ending knee injury in 2010. His reintegration must be scripted and balanced if the Packers want to avoid hard feelings.
The chart illustrates how the Packers shifted from Finley to receiver
Greg Jennings
as the focal point of their passing offense last season. It's natural to be excited about the mismatches Finley will create going forward, but it's also fair to wonder whether Jennings once again will be subordinated or if Finley's impact will be limited or if some other consequence will surface based on the old basketball conundrum.
As in:
There's one ball and five shooters. Someone, you would think, will be disappointed.
The Packers will open their season Thursday night against the
New Orleans Saints
with a proverbial embarrassment of offensive riches. The Packers have five wide receivers and five tight ends who can all make plays in the passing game, and between
Ryan Grant
and
James Starks
, they have their best depth at running back since coach Mike McCarthy arrived in 2006.
It beats the alternative, but as Jennings himself said, it adds a layer of complexity for Rodgers. I realize no one will shed a tear for Rodgers in this situation, but it's absolutely a fair issue for discussion.
"Aaron has a tough job," Jennings
told Wisconsin reporters this week
. "A very, very tough job. You look out there and you see all these options, and it's like, 'Yes, I have so many options.' On the other end of that, you look out there and see all of these eyes and hands wanting the ball. Now it's like, 'Oh, I need to make sure I get everybody into the play and into the game and things like that [and] give everybody some opportunities."
Finley was on pace last season for a 67-catch, 963-yard season in 2010 before suffering his injury. I guess anything is possible, but is it reasonable to think he can have a 1,000-yard season if Jennings repeats his 2010 production? And can Jennings have another 76-catch season if Finley is on a 1,000-yard pace?
Ultimately, Jennings said, the Packers must keep "the team first." It's a cliché, but in this case it's true. Presuming the health of all major players, the 2011 Packers offense will be a case study in the challenge of sharing for the sake of team prosperity.
"Obviously there is a little bit of selfishness that comes into play when you're a competitor," Jennings said. "But you can't let that overtake what the biggest goal is. And that's the team goal. The individual goals will obviously be accomplished if the team does well, but you have to keep that in mind definitely in the forefront, top of mind. What the team wants to achieve, that has to be first and foremost.
"We have to take advantage of [the] opportunity when our number is called and congratulate the next man when he makes the play. Because we're definitely all going to make some plays."
How many they each make largely will be up to Rodgers. It's a fun problem to have, but don't mistake "fun" for "easy." Indeed, it will be a challenge.
September, 4, 2011
9/04/11
6:10
PM ET
You were off at the cabin, getting a final trip in to the pool or knee-deep in your fantasy draft. I was outside enjoying a few moments of fall-like temperatures here in the Upper Midwest. The
Green Bay Packers
, however, were on the practice field Sunday to begin earnest preparations for their fast-approaching season-opener against the
New Orleans Saints
.
[+] Enlarge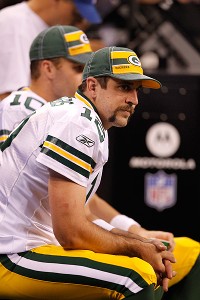 AP Photo/Jeff RobersonQuarterback Aaron Rodgers and the Packers opted to work out individually during the lockout.
That's right. Week 1 has started here in the NFC North, and the Packers will play a game that counts in about 96 hours or so. I'll have a dedicated game post each day of the week, marked by the "Kickoff'11 tag suggested by
@joshyboy81
, and will of course be at Lambeau Field by Thursday afternoon to heckle pre-game entertainer Kid Rock (I thought he was a
Detroit Lions
fan!) and then take in the game.
A prevailing theme this week will no doubt be the divergent paths each team's players took during the lockout. Saints quarterback
Drew Brees
hosted a series of
very public players-only practices at Tulane University
, believing they would limit the rust buildup before training camp. The Packers, on the other hand, worked out individually because of scheduling issues and injury concerns, a decision later backed by coach Mike McCarthy.
I'll go ahead and say it now. I don't know who is going to win Thursday night, but I'll be stunned if the Saints' offseason work is the difference. Every tea has its own needs, and I can tell you for a fact that Packers team captains
Aaron Rodgers
and
Charles Woodson
felt confident their teammates would responsibly take care of their offseason conditioning on their own.
And in truth, that's really what the Saints' workouts were about: Providing a structure, and some peer pressure, for players to stay in shape in the absence of team-run offseason programs. Perhaps it strengthened chemistry in some instances. But from a football perspective, the value of those workouts seemed minimal. How much will NFL-caliber players get out of running routes at half speed in t-shirts and shorts?
I suppose we could find out Thursday night. But when I spoke to Rodgers about the issue in training camp, he noted the Packers were already a closely-knit team from a chemistry standpoint and suggested that conditioning is ultimately the responsibility of individual.
"It's a self-motivated league and guys have to get themselves ready to play," Rodgers said. "It is a different league than it was in the past. The offseason program has a place, but I think it's important to get your work done in training camp. Once you get the pads on, that changes everything. ... It'll be hard on the rookies and the new players, but the veterans on our team have worked hard and have themselves in good shape and are ready to rock and roll."
Speaking on a conference call with Wisconsin media, Brees said Sunday that "maybe we're a little bit ahead of the game and maybe that gives an edge." (Transcription courtesy
Rob Demovsky of the Green Bay Press-Gazette
.) Not even Brees is willing to go much further than that.
The Saints appear to be among the NFL's top teams this season and they could win Thursday. But I don't think it will be because about 40 of their players, some of whom have already been released or moved on, got together for a few practices over a six-month period.
We've heard varying reports about the Packers' training camp, and it's true that they got bogged down a bit after two weeks of night practices. But McCarthy said Sunday he is happy with how the team practiced and progressed after moving to a more traditional practice schedule.
"Our program started in training camp and I'm really focused on our team," McCarthy said. "[The advantage of offseason workouts] is a matter of opinion. I thought our players and coaching staff did a good job hitting their targets throughout training camp -- the things that needed to get done because we had spent so much time away from one another. I'm very pleased with the way training camp went."
I'm still getting my story list together for the week.
Let me know
if you have any requests.