October, 31, 2013
Oct 31
8:33
PM ET
By
ESPN.com staff
| ESPN.com
Sunday NFL Countdown airs from 10 a.m. to 1 p.m. ET on ESPN. Below are some of the features you can see this week.
Also, check out
our experts' picks
.
Cowboys can't close:
Since 2011, the Cowboys have blown four double-digit leads in the final quarter -- and they've lost three win-and-in games since 2008 on the final week of the season. Why can't this talented team close?
The legend of Kiko Alonso:
The confident, rough swagger of the Bills' rookie linebacker has caught the attention of fans and teammates alike. Learn more about a man who has inspired Chuck Norris-like comparisons.
Jets' school bus:
A new tradition was started by Rex Ryan this season -- the Jets arrive at home games aboard a school bus. Why do they do it and how is it helping their success at home, where they are 3-1?
Luke Kuechly soundtracks:
The Panthers' middle linebacker has emerged as one of the best in the league. He's wired in a Week 7 win.
October, 26, 2013
Oct 26
8:00
AM ET
METAIRIE, La. – The
New Orleans Saints
' defense has been outstanding this season. But they're about to start getting tested in some different ways. The visiting
Buffalo Bills
(3-4) are by far the most run-heavy team the Saints (5-1) will have faced. And with a mobile quarterback in
Thad Lewis
, Buffalo will also throw more read-option looks at the Saints than they've seen all year.
These two new wrinkles lead off this week's installment of What 2 Watch 4:


Stopping the run:
The Saints look like they're going to catch a break Sunday, since dynamic Buffalo tailback
C.J. Spiller
is listed as doubtful with an ankle injury. But that won't stop Buffalo from running. Even with Spiller limited by injury for most of the season, the Bills have simply leaned more on underrated veteran
Fred Jackson
.
The Bills lead the NFL in rushing attempts per game this year (34.3) and rank fifth in rushing yards per game (140.4). The Saints haven't faced a team ranked in the top 12 in either category.
"I believe that's their m.o. They're gonna run and then ask questions later," Saints rookie nose tackle
John Jenkins
said. "So it is gonna be interesting, but that's what I like to say: I'm good at is being able to stop the run."
The Saints' defense has been just so-so against the run, ranking 22nd in the league in allowing 114 yards per game. But defensive coordinator Rob Ryan has admitted that he's been willing to live with some of those rushing yards while focusing more on preventing the big plays.
This game will be different. The Bills will stubbornly try to move the chains and control possession with the run game. So stopping the run has to be the top priority. And the Saints certainly won't sleep on Jackson, who has run for 380 yards and five touchdowns this season despite battling through his own knee injury. Ryan raved about him Friday – and no doubt has been warning his players about him all week.
"I'm like one of the biggest Jackson fans around," Ryan said. "This guys has been a great player for a long time. … If [Spiller] doesn't play, they've got an All-Pro right there behind him. That's my opinion. Jackson does everything well. He runs, he catches, he blocks. He's tough."
Stopping the read-option:
Lewis hasn't been a huge rushing threat from the quarterback position, especially since he was hampered by his own foot injury last week. But the Bills will definitely mix in more read-option plays than the Saints have seen so far. It will be a good warm-up test for them, since they still have mobile quarterbacks such as
Geno Smith
,
Colin Kaepernick
,
Russell Wilson
and
Cam Newton
(twice) ahead on the schedule.
The Saints spent a lot of time this offseason preparing to defend the read-option. But those plans have been on the back burner so far.
"I think that was one of the hot-button topics for every defense this offseason. We were no exception," Saints coach Sean Payton said. "But how teams run the football from those looks and play-action passes from those looks can vary, so it still becomes opponent-specific."
Buying time for Brees:
When Saints quarterback
Drew Brees
was asked what stands out about the Bills, he answered instantly: "They are getting all kinds of pressure on the quarterback."
Buffalo's dynamic pass-rusher
Mario Williams
, who has
10 sacks already
, isn't the only one wreaking havoc up front. The Bills are tied for fourth in the NFL with 23 sacks. And they lead the league with 12 interceptions – thanks in large part to that pass rush.
The Saints' pass protection has been much more solid in recent weeks after an uncharacteristically shaky start. But this may be their toughest test to date in that department, as well.
Sproles vs. Alonso:
If tight end
Jimmy Graham
is out or limited Sunday, the Saints' go-to weapon will probably be running back
Darren Sproles
. He leads all NFL running backs with 366 receiving yards on 32 catches.
It will be interesting to see how often Sproles gets matched up against rookie Bills linebacker
Kiko Alonso
, who has been one of the league's biggest breakout surprises this season. Alonso ranks third in the league with 70 tackles and is tied for the lead with four interceptions.
September, 29, 2013
Sep 29
4:36
PM ET
ORCHARD PARK, N.Y. -- A few thoughts on the
Buffalo Bills
'
23-20 victory
over the
Baltimore Ravens
.

What it means for Bills:
Another nail-biter for Buffalo at home, but they were able to come away with a victory over the defending Super Bowl champions. The Bills intercepted
Joe Flacco
five times, but came away with only 13 points off the turnovers. However, Flacco's last interception was his biggest. In a three-point game with less than a minute remaining, linebacker
Kiko Alonso
came up with his second interception of the game, sealing Buffalo's victory. The Bills gained only 147 yards on offense, limited by a 10-for-22 performance by rookie
EJ Manuel
, who threw two interceptions. But with the Ravens' turnovers, it was enough to win.
Stock watch:
Rising --
Aaron Williams
. The former second-round pick came up big for the Bills, intercepting Flacco twice. With
Leodis McKelvin
not active due to injury, Williams started at cornerback Sunday after beginning the season as a safety. Williams briefly left with a shoulder injury in the first half, but later returned to the game and had a strong performance when the Bills needed it. He later departed with a lower back injury in the fourth quarter.
Spiller, Jackson hobbled:
The Bills had a pair of injury scares in their backfield.
C.J. Spiller
left briefly with an ankle injury before returning, and
Fred Jackson
also left with a leg injury but returned. Buffalo leaned heavily on its running game Sunday, and it paid off. Spiller and Jackson combined for 39 carries for 164 yards.
Third-down defense improves:
Buffalo has struggled on third downs both offensively and defensively this season, but the Ravens' third-down performance will help the Bills' defensive ranking. Flacco and the Ravens' offense were just 3-for-16 on third downs, and 1-for-4 in the red zone. Doug Marrone stressed the importance of these stats earlier in the week, and they were part of the difference Sunday.
What's next:
The Bills (2-2) have a short week coming up. They'll travel to face the
Cleveland Browns
on Thursday night, their lone prime-time game of the season.
September, 20, 2013
Sep 20
5:00
AM ET
When three rookies trot out as opening-day starters for an NFL team, the reactions can vary wildly.
Anything from "Wow, look at all that young talent!" to "Yikes, they didn't have anyone else, huh?" might capture the situation accurately.

So when ESPN Insider Mike Sando
tweeted earlier
this week that
Buffalo Bills
' 2013 draft picks have played more snaps through two games than those of any other team, it was worth pondering where the Bills fell on that spectrum.
After all, the Bills, with 440 snaps played by rookie draft selections, were trailed by four teams (the Jets, Jaguars, Rams and Redskins) with a combined record of 2-6 through the first two weeks. In other words, if the 1-1 Bills are going to have those teams as company, they'd better be the class of the party.
And I think they are.
Of those league-leading 440 snaps, the vast majority has gone to three players, who were also the team's top three selections in April's draft: quarterback
EJ Manuel
, receiver
Robert Woods
and linebacker
Kiko Alonso
.
It's true that the Bills entered the draft with holes at all three of those positions, so entering training camp, the top three picks were all favored to start or at least see significant time.
Even so, this much has been clear: All have earned their jobs. Manuel would have won the starting job with or without
Kevin Kolb
suffering a season-ending concussion. Woods outplayed
T.J. Graham
throughout the preseason. And the task of manning the middle of the Bills' defense never seemed too big for Alonso.
Only four teams had younger rosters entering Week 1 than Buffalo, who had an average age of 25.45: the Jaguars, Rams, Browns and Seahawks. That last one stands out as an example of a team that isn't just young; Seattle is pretty good, too.
It's easy to forget that the Seahawks came into last season coming off four consecutive losing campaigns. Things can turn around quickly, and the feeling here is that the Bills are better positioned than Jacksonville, St. Louis, or Cleveland to follow the Seahawks' lead.
As a parting shot, here's a glance at the Bills' rookies and their participation through the first two weeks:
QB EJ Manuel (first round)
Starts: 2 of 2 games
Offensive snaps: 138 of 138
WR Robert Woods (second round)
Offensive snaps: 132 of 138
Special-teams snaps: 10 of 64
LB Kiko Alonso (second round)
Defensive snaps: 170 of 170
Special-teams snaps: 11 of 64
WR Marquise Goodwin (third round)
Offensive snaps: 9 of 138
Special-teams snaps: 6 of 64
Did not play Week 2 (fractured hand)
S Duke Williams (fourth round)
Defensive snaps: 6 of 170
Special-teams snaps: 36 of 64
S Jonathan Meeks (fifth round)
Defensive snaps: 0 of 170
Special teams snaps: 34 of 64
K Dustin Hopkins (sixth round)
Has not played (right groin strain)
TE Chris Gragg (seventh round)
Healthy inactive Weeks 1 and 2
CB Nickell Robey (undrafted)
Defensive snaps: 110 of 170
Special-teams snaps: 2 of 64
QB Jeff Tuel (undrafted)
Active but has not played
August, 16, 2013
Aug 16
6:15
PM ET

Buffalo Bills
defensive end
Mario Williams
(foot) will not play in tonight's preseason game against the
Minnesota Vikings
, the team announced.
Williams played two series in the Bills' preseason opener last Sunday, and has been limited throughout training camp with a foot injury.
"He keeps getting treatment to take care of his body," coach Doug Marrone said Wednesday. "Again, we're just trying to be smart up and down, resting him for some time, just so he can make sure he just gets ready. Especially coming off this short week."
The Bills said Williams will dress for the game, meaning he would be available to play in an emergency.
Other Bills not playing tonight:
Not listed among the inactives are quarterback
Kevin Kolb
, wide receivers
Brad Smith
and
Kevin Elliott
, tight end
Scott Chandler
, and linebacker
Keith Pough
. All missed Sunday's win over Indianapolis.
August, 4, 2013
Aug 4
11:00
AM ET

PITTSFORD, N.Y. -- Travel to most NFL training camps, and this passing drill is the same: A ball boy snaps to a quarterback, who throws to a receiver practicing a specific route.
But make a stop at St. John Fisher College in upstate New York, site of the
Buffalo Bills
' training camp, and rookie quarterback
EJ Manuel
isn't receiving the ball from just another member of the equipment staff.
Instead, you'll see head coach Doug Marrone snapping it to Manuel.
It's appropriate, because the fate of Marrone, a former NFL offensive lineman, will be tied to the success of Manuel, the first quarterback chosen in April's draft.
Through his first week of an NFL training camp, Manuel has looked the part, avoiding the critical mistakes that rookie quarterbacks often make as the intensity of practice picks up.
Which raises the next point: These Bills want to play fast.
Offensive coordinator Nathaniel Hackett installed a no-huddle offense last season while working under Marrone at Syracuse, and will bring the same concepts -- borrowed from the Bills' "K-gun" offense of the early 1990s -- to Buffalo.
As training camp rolls on, Manuel has been eased into the first-team offense in practice, and he appears comfortable running Hackett's up-tempo system. Having poise in practice is one thing, though, and expecting Manuel and Hackett, who was last in the NFL as a quality control coach with the Bills in 2009, to light up NFL defenses this season is probably asking too much.
The Bills want to bring Manuel along slowly, and there will be growing pains along the way. So despite the rookie's passing the first few tests of training camp, don't look for Marrone to accelerate the process too much.
But for now, it's so far, so good for the 16th overall pick out of Florida State.
"He's going to be the face of our franchise," general manager Doug Whaley said. "And it's not too big for him."
THREE HOT ISSUES
[+] Enlarge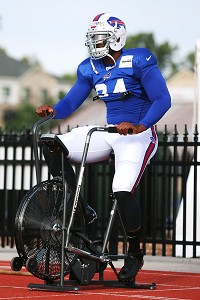 AP Photo/Bill WippertMario Williams was bothered by a wrist injury in 2012, and this year he has already missed time in training camp with a sore foot.
1. Can they stay healthy?
When the Bills took the practice field for the first time last weekend, nearly the entire roster was able to participate in practice, leading Marrone to note afterward how the team was fortunate to begin camp that healthy. Yet defensive end
Mario Williams
was one of the few exceptions, watching from the sideline because of a sore foot. He later left camp to have it examined by doctors, and the Bills' highest-paid player had not returned to practice by Friday.
Last season, Williams dealt with a wrist injury that limited his productivity until he underwent a procedure during the bye week. He came back strong, finishing with 10.5 sacks. But the Bills need more out of him, and his latest injury isn't a good sign for the team.
Likewise for wide receiver
Steve Johnson
, who pulled up with a hamstring injury during Friday's practice, and could miss time this preseason. The Bills dealt with a number of injuries to key players last season -- tight end
Scott Chandler
and running back
Fred Jackson
among them -- and they haven't built enough depth on their roster to withstand the blow of losing a player like Johnson.
2. When does Byrd return?
Safety
Jairus Byrd
remains unsigned and away from Bills training camp, another less-than-ideal situation for one of the team's top players. The Bills failed to reach a long-term deal with Byrd, who is the only franchise-tagged player in the NFL yet to sign his tender, by the July 15 deadline.
Ultimately, it would be surprising if Byrd doesn't report to the team by the start of the regular season. By doing so, he would earn a guaranteed $6.9 million, and still have the possibility of a long-term deal come next March.
The question is if the Bills can persuade Byrd to return earlier, forgo the risk of injury and use the preseason to get acclimated to the new defensive scheme. But one way or another, these situations tend to work themselves out, and Pro Bowl-caliber players like Byrd quickly get back up to speed.
3. Can Pettine turn around the defense?
It didn't take long last season for the Bills' porous defense to be exposed. The
New York Jets
, owners of the NFL's 28th-ranked scoring offense by season's end, hung 48 points on Buffalo in the season opener. Three weeks later, the
New England Patriots
erased a 21-7 third-quarter deficit to come away from Orchard Park with a 52-28 win, lighting up the Bills for 580 total yards.
Such performances, especially against division opponents, will drown the Bills again this season if new defensive coordinator Mike Pettine can't turn things around. Pettine is known for blitz-heavy schemes that pressure opposing defenses, but his defensive remake will also have to address a run defense that allowed opponents 145.8 yards per game last season, second-worst in the NFL.
Pettine has several pieces to work with, including Byrd, Williams and top cornerback
Stephon Gilmore
. The key will be filling holes elsewhere. Can rookie
Kiko Alonso
step in right away at inside linebacker? Can former third overall pick
Marcell Dareus
benefit from a fresh start and contribute along the defensive line? And where does the pass rush come from if Williams goes down with another injury? These are just a few of the questions facing Pettine and his staff.
REASON FOR OPTIMISM
Beyond the early positive signs from Manuel, the Bills' offense has the potential to be explosive, especially if healthy. They addressed deficiencies behind Johnson at wide receiver by drafting
Robert Woods
(second round) and
Marquise Goodwin
(third round). They have one of the NFL's better running backs in
C.J. Spiller
and a receiving threat at tight end in Chandler. The offensive line could prove problematic, but Hackett's fast-paced system could help take pressure off blockers.
Having not made the playoffs since 1999, the Bills' annual problem is getting over the hump in their division, which includes defeating New England. They will host the Patriots at Ralph Wilson Stadium in the Sept. 8 season opener, which is perfect timing for Buffalo. Fans will be excited, parts of Hackett's offense will yet to be revealed on film and Patriots tight end
Rob Gronkowski
may not be ready to play. It will be a challenge for Buffalo, but kicking the season off by beating New England would be big.
REASON FOR PESSIMISM
The NFL saw three rookie quarterbacks take their teams to the playoffs last season, but it's hardly been an annual occurrence. Manuel will need to exceed expectations if he is to repeat the successes of
Robert Griffin III
,
Russell Wilson
and
Andrew Luck
from last season. It won't doom his career if Manuel struggles for stretches this season (assuming he becomes the starter) and the results for the Bills follow suit. It's just the way things go in the NFL, and improvement can take time.
Beyond that, the Bills have a top-heavy roster that will require more than one season under Whaley to develop depth across positions. The offensive line lacks starting-quality players at at least one position, there are question marks behind Chandler at tight end and the defensive line includes several underachieving, younger players. The rigors of an NFL schedule may prove too difficult to overcome for the weak points on the roster.
OBSERVATION DECK
[+] Enlarge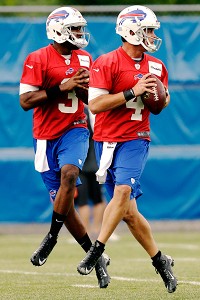 AP Photo/David DupreyThe Bills drafted EJ Manuel (left) in the first round, but Kevin Kolb has been ahead of him in taking most of the first-team reps at quarterback during camp.
" For all the talk about Manuel, it has been veteran
Kevin Kolb
taking the majority of the first-team reps at quarterback in camp. The Bills have dismissed talk of Kolb being a "placeholder" while Manuel adjusts to the NFL, but Kolb will have to step it up if he wants a legitimate shot at holding onto his role as the starter. He has struggled, and would hardly inspire confidence if under center on opening day.
" Spiller had a breakout season in 2012, but don't overlook Jackson, who could create an impressive one-two punch at running back. Jackson is 32 and coming off a knee injury that lingered last season, but is just two years removed from averaging 5.5 yards per carry in 2011. The Bills have used two-running back sets frequently in practice, and between Spiller, Jackson and
Tashard Choice
, they have backfield threats that will force defenses to adjust.
" The battle at wide receiver behind Johnson has several candidates, and the Bills haven't been afraid to throw different players into the mix with the first-team offense. From this standpoint, Goodwin has performed better in camp than Woods, who struggled with drops through the first few practices. Undrafted rookie
Da'Rick Rogers
figures to factor into the mix as well. It's no coincidence the Bills opened their first practice of training camp with a deep-ball drill; it's a receiver group that has the potential to take the top off of opposing defenses.
" Marrone has routinely named
Jamie Blatnick
and
Kourtnei Brown
when mentioning pass-rushers on his defense, especially following the surprising release of
Mark Anderson
shortly before training camp. But it may be more out of default than anything: the Bills lack depth at the outside linebacker position. Blatnick spent most of last season out of football after being released from Denver's practice squad, while it took Brown until Week 14 to hook onto Washington's practice squad. It's possible either player could emerge, but if Marrone has practice-squad-level players on the field to provide pass-rush during the regular season, the Bills will be in trouble.
" It's a similar situation along the defensive line, where the Bills are searching for options both alongside and behind Mario Williams and
Kyle Williams
. The top option is Dareus, but the Bills will need more quality play out of him if he takes 50 percent or more of defensive snaps. Other possibilities include more players who have largely underachieved in the NFL, including
Alex Carrington
and
Alan Branch
.
" The absence of Byrd in practice has been alleviated by an impressive start by
Aaron Williams
, the team's second-round pick in 2011. He struggled at cornerback through his first two seasons, but his switch to safety looks to be paying off early in camp. He has been around the ball and come down with interceptions.
August, 2, 2013
Aug 2
10:15
AM ET
On Tuesday,
Buffalo Bills
general manager Doug Whaley sat down with Sirius XM NFL Radio's "Moving the Chains" program with Pat Kirwan and Tim Ryan.

Here are some highlights from the conversation:
Whaley on rookie receiver
Robert Woods
: "When he came into OTAs and even out here for trainning camp, he looks like a 10-year veteran. That's exactly what we thought of him: Polished."
On rookie quarterback
EJ Manuel
: "Most successful quarterbacks have that 'it' factor. He has that 'it' factor. When he walks into a room, there's a presence and people take notice. He's going to be the face of our franchise, and it's not too big for him."
On offense: "We want to be an offense that dictates to the defense, instead of being reactionary. With that personnel, and the people we have that we can put on the field -- not only with the speed at wide receiver, but the talent at running back -- we think we have a chance here."
On nickel cornerback: "It's going to be an interesting battle between
Ron Brooks
,
Nickell Robey
, and
Justin Rogers
. We're excited about that."
On rookie linebacker
Kiko Alonso
: "For a young guy to come in, and take the position of middle linebacker, be the quarterback of the defense. He's comfortable calling the huddle, and it's something we didn't expect to happen this soon."
On battles on special teams: "I've been in this business 17 years, and this is the first training camp that I've been excited about a kicker or punter battle."
May, 18, 2013
May 18
12:00
PM ET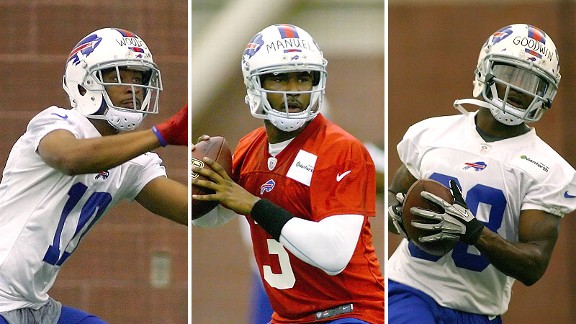 Getty ImagesThe Bills are hoping the future is bright for rookies Robert Woods, EJ Manuel and Marquise Goodwin.
Longtime readers of the AFC East blog know I detest grading drafts before rookies play their first NFL game. But there is nothing wrong with examining potential.
The "P" word is exactly what I see when I look at the
Buffalo Bills
' 2013 draft. I see a potential franchise quarterback in first-round pick
EJ Manuel
. I see potentially two or three good NFL receivers in second-round pick
Robert Woods
, third-round pick
Marquise Goodwin
and talented rookie free agent
Da'Rick Rogers
. I also see an aggressive, potential starting linebacker in
Kiko Alonso
.
The Bills haven't tasted the playoffs since the Music City Miracle in the 1999 season. For the past 13 years, the Bills and their fans have been sent home packing after Week 17. They've had just one winning season since 2000.
Potentially, Buffalo's rookie class could lay the foundation for ending the NFL's longest playoff drought.
"Down the road I think the strength of this draft is going to be in the second round," ESPN NFL draft analyst Kevin Weidl said. "I really like the Woods pick. I liked him on tape a lot. I think Robert Woods is really one of the more underrated players in this draft. ... Alonso is a guy who is an intense football player and a guy who makes a lot of plays. He flies around the field with sideline-to-sideline range, I thought."
However, Manuel is the centerpiece of this group. The Bills shocked a lot of people by making him the first quarterback off the board with the No. 16 overall pick. ESPN draft expert Todd McShay was among the biggest critics, calling it
a mistake and a wasted pick
. Most agreed Buffalo took Manuel earlier than it needed to.
However, the Bills fell in love with Manuel's size, accuracy and athleticism. The rookie has a lot of tools to work with and will compete with veterans
Kevin Kolb
and
Tarvaris Jackson
for the starting job in training camp. Manuel can silence his critics by winning the job this year and playing well.
I caught up with Manuel and Goodwin at this week's NFLPA Rookie Premiere event in Los Angeles, which taught first-year players on the business of football and promoted giving back to the community. Count Goodwin among those who believe Manuel will develop into a franchise quarterback with the Bills.
"If I can describe him in one word, he's A1," Goodwin said. "He's one of the best quarterbacks I've been surrounded by, and he's an even better person. He's my roommate right now, and I've definitely got to know him on a personal level. It's been great. I text him every day. I talk to him every day. So it's been great."
Weidl says Manuel has a lot of physical tools to succeed but still plenty to learn.
"The wild card in this mix is EJ Manuel, and the focus of this draft class will always be EJ Manuel," Weidl said. "Manuel, when you look at him, he's everything you want in a quarterback in terms of physically. He's got size, above average arm strength, he's got mobility, and when you see how he carries himself, he's a true professional.
"But the questions I had is on the field off his tape. He wasn't always naturally accurate and he forces his receivers to adjust at times. And when the bullets are flying, especially under pressure, he didn't always show the poise I'd like to see at quarterback. He didn't always get deep in his progressions."
The Bills have struggled in recent years making big plays in the passing game. Former starting quarterback
Ryan Fitzpatrick
did not have the arm strength to successfully throw deep, and Buffalo lacked big-play receivers.
Enter rookies Woods, Goodwin and Rogers, who all have big-play capability to go with Manuel's size and arm strength. If Manuel can grow over the next couple of years with his athletic and talented rookie receivers, the Bills could have a dangerous passing offense to go with dynamic running back
C.J. Spiller
.
"They are great receivers who run great routes," Manuel said. "The best thing about Robert is he always wins [one-on-one battles]. Marquise, a lot of people talk about his speed, but he runs good routes too."
New Bills general manager Doug Whaley told the AFC East blog this week that he's excited about his rookie class — and for good reason. But the team also took on
some character risks.
Alonso, Rogers and safety
Duke Williams
, who will compete for a starting role, all had off-field issues in college. Alonso had multiple alcohol-related incidents while at Oregon and also was arrested for burglary and criminal mischief in 2011. Rogers' long list of issues include an arrest, a suspension and a failed drug test that resulted in him being kicked out of the University of Tennessee. Williams was suspended three times at the University of Nevada for various incidents. He reportedly got into a fight with a teammate in 2010, which led to one suspension. He also was arrested for theft in 2009.
The Bills said they examined those players' backgrounds and believe their issues are behind them. That remains to be seen. Buffalo was willing to add good talent in exchange for character concerns.
The Bills also could have their kicker of the future in sixth-round pick
Dustin Hopkins
, who was a teammate of Manuel at Florida State and set the NCAA record for points scored. Hopkins will compete with longtime kicker
Rian Lindell
, who is 36 and entering his 15th season. According to Weidl, Hopkins is a good kicking prospect who has a chance to unseat the veteran.
If everything falls into place, the Bills could have a franchise quarterback, a starting linebacker, at least two contributing receivers and a kicker from one draft class. Rarely does everything go according to plan in the NFL, but the Bills appear to have more hits than misses in this draft, which was not always the case for this struggling franchise.
The Bills will not erase 13 years of losing overnight. But in the near future, we may look back at this 2013 draft class as the tipping point for when Buffalo finally started changing its losing ways.
April, 28, 2013
Apr 28
12:36
PM ET

The
Buffalo Bills
were quiet in free agency, but the team was extremely aggressive in this weekend's NFL draft. The Bills have added several players with significant off-the-field concerns in the process
The latest example is Buffalo's signing
of rookie free-agent
receiver
Da'rick Rogers
. The former Tennessee and Tennessee Tech star has good upside and production on the field. Rogers and former Tennessee teammate and quarterback
Tyler Bray
were arguably the top two undrafted players available. However, Rogers' long list of issues, which include an arrest, a suspension, a failed drug test and being kicked out of one school caused all 32 teams to stay away. Rogers announced on Twitter that he signed with Buffalo.
Are the Bills taking in too many character risks? In addition to Rogers, here's a rundown of concerns with Buffalo's 2013 draft class:
Bills second-round pick Kiko Alonso had major issues at Oregon. The linebacker had multiple alcohol-related incidents in college and also was arrested for burglary and criminal mischief in 2011. Alonso stayed out of trouble last year at Oregon and focused on football. That was enough to make Alonso a second-round pick for Buffalo, which needs to improve its 31st-ranked run defense. The Bills hope Alonso's off-the-field issues are a thing of the past.
Buffalo fourth-round pick Duke Williams was suspended three times at the University of Nevada for various incidents. Williams reportedly got into a fight with a teammate in 2010, which led to one suspension. He also was arrested for theft in 2009.
Rogers is the third player from Buffalo's 2013 rookie class with major character concerns. Buffalo is a team with a rookie head coach -- Doug Marrone -- who is trying to establish his program. Marrone cannot afford to spend too much time policing off-the-field issues in his first year.
Alonso, Williams and Rogers are all talented enough to make Buffalo's 53-man roster. But the Bills must keep these players with questionable character on a short leash.
April, 26, 2013
Apr 26
7:48
PM ET
The
Buffalo Bills
filled two needs with a pair of players from the Pac-12. Buffalo drafted USC receiver
Robert Woods
and Oregon middle linebacker
Kiko Alonso
in the second round.
I really like the pick of Woods. He was my favorite receiver in this draft because he was solid at everything and is NFL-ready. Woods has the potential to start opposite
Steve Johnson
right away in coach Doug Marrone's new offense.
Alonso will have a chance to start in the middle of Buffalo's new-look defense under Mike Pettine. The Bills will run a lot of 3-4 defense and need inside linebackers. Alonso played at a high level for one of the top teams in the nation. After taking a risk in the first round with
EJ Manuel
, the Bills went with safe and productive picks in the second round.
April, 12, 2013
Apr 12
4:55
PM ET
Earlier this week
, I posed a number of NFC North-centric draft scenarios to Scouts Inc.'s Steve Muench. Friday, I got the chance to do the same with ESPN draft analyst Todd McShay.
I'm going to spread McShay's answers over a few posts, but we'll start with his take on the middle linebacker situation after Georgia's
Alec Ogletree
. If Ogletree is drafted before the
Chicago Bears
' No. 20 overall pick, which is quite possible given his skill set, would any of the remaining middle/inside linebackers be worthy of a first-round draft pick? And who would be worth looking at later in the draft?
[+] Enlarge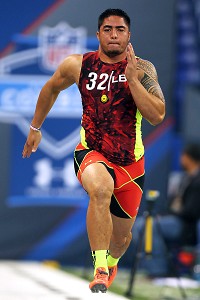 Brian Spurlock/USA TODAY SportsAfter Alec Ogletree "it's Teo and that's it," says Todd McShay of the middle linebackers worthy of a first-round pick.
The list of possibilities includes Notre Dame's
Manti Te'o
, LSU's
Kevin Minter
, North Carolina's
Kevin Reddick
, Oregon's
Kiko Alonso
and Kansas State's
Arthur Brown
. McShay was unequivocal in his answer.
"I think it's Te'o and that's it [in the first round]," he said. "I know specifically at least one other team that has Minter and Te'o neck-in-neck and are debating the two. But that's a 3-4 team, not a 4-3 team, and at least in my opinion Te'o fits better as a 4-3. …
"For 4-3 teams, I think Te'o would have the advantage, but Minter is not that far behind in some team's minds. After that, there is a bigger dropoff and you get into the third round before get into Kiko Alonso from Oregon or Kevin Reddick from UNC."
Minter, according to McShay, is "maybe on the same part athletically and quickness-wise with Te'o." But Te'o "diagnoses things a lot quicker when you watch the tape." In the end, Te'o has a better chance of being a three-down linebacker in the NFL than Minter does, McShay said, and that is what you would want if you're drafting an inside linebacker in the first round.
I asked McShay specifically about Brown, who many of you suggested would be a good fit for the Bears and Vikings given their schemes. McShay projects Brown as a middle- second-round value for teams who play the Tampa-2 scheme.
"He fits the Tampa 2," McShay said. "But you've got to cover him up. You have to cover up Arthur Brown. He is a speedser that can go sideline to sideline and you get guys out on him and he gets in trouble fast."
We've long since set an ESPN.com NFL blog network record for attention spent to middle linebackers in this run-up to the draft, and I'm sorry, but I'm not expecting it to end today. Hang on if you can.
NFL SCOREBOARD
Thursday, 12/5
Sunday, 12/8
Monday, 12/9
WEEKLY LEADERS