November, 3, 2013
11/03/13
3:49
PM ET
FOXBOROUGH, Mass. -- There are no surprises among the
Pittsburgh Steelers
' healthy scratches Sunday.
Inside linebacker
Kion Wilson
is inactive for the second game in a row since the Steelers promoted him from the practice squad.
Wilson's status just confirms that when the Steelers released
Isaac Redman
a couple of weeks ago they did so because they had no use for the veteran running back.
Wilson benefited from Redman's release but if the Steelers really needed another linebacker on the 53-man roster he would have suited up in each or at least one of the past two games.
Also inactive for the Steelers are right guard
David DeCastro
(ankle), wide receiver
Markus Wheaton
(finger), cornerback
Curtis Brown
, nose tackle
Hebron Fangupo
, tight end
Richard Gordon
and quarterback
Landry Jones
.
Wheaton did some light catching with the other wide receivers a couple of hours before kickoff, and he appears to be moving closer to returning to the field.
Wheaton will miss his fourth game in a row after having surgery to fix a broken right pinkie.
The Patriots will be without top cornerback
Aqib Talib
(hip) while wide receiver
Kenbrell Thompkins
is inactive after playing just 14 snaps last Sunday.
October, 22, 2013
10/22/13
3:00
PM ET
PITTSBURGH -- Steelers coach Mike Tomlin made sure to lavish praise on
Le'Veon Bell
a couple of days after the rookie running back rushed for just 34 yards in the Week 6 win over the Jets.

After Bell gashed the Ravens for 93 yards last Sunday, Tomlin, unprompted and with a noticeable edge, asked: "Any questions about Le'Veon Bell?"
Tomlin may not be sensitive to outside criticism but he acknowledged that it could affect younger players such as Bell. That is why he gave the former Michigan State star a public vote of confidence.
"I felt the need to assure him that he's doing the right things, that's he's doing what we're asking him to do in a manner of which we ask him to do it," Tomlin said Tuesday. "I don't want him listening to the elevator music. I want him to listen to what matters and that's the opinion of the people that evaluate him."
Here are other notable topics that Tomlin addressed at his weekly news conference:
The Steelers released running back Isaac Redman and signed Kion Wilson, Tomlin said, because the latter gives them more flexibility on special teams. Wilson also provides depth at linebacker with Jarvis Jones coming back from a concussion. Tomlin did not provide an update on Jones and said the team will know more about his status Wednesday.
Tomlin said the offensive line played well against the Ravens, but asked if it has jelled, he said, "It would be premature to say that. Largely how they do and how we do is going to be determined how we move forward." Tomlin said pre-snap penalties are a concern, and he attributed those to the struggles the Steelers' offense has had in the red zone.
Zoltan Mesko's only punt against the Ravens covered just 36 yards and ended up as a net kick of 24 yards. Tomlin said Mesko's inconsistency has been an issue and that he has had a "junior varsity punt" in each of the last three games. "We need more consistency there," Tomlin said.
The decision Sunday to dress Isaiah Green over Curtis Brown resulted from Tomlin wanting to get the latter's attention. "Curtis is a top-flight special teams player but hadn't been playing that way over the last several weeks," Tomlin said.
Tomlin said he was told there was no "mechanism" in place to review the kickoff return after officials ruled that Emmanuel Sanders stepped out of bounds on the way to the end zone. Had the ruling on the field been a touchdown it would have automatically been reviewed. Asked if the proper time was put back on the clock after the ball was placed on the Steelers' 34-yard line, Tomlin said, "I have no idea. I was too pissed to notice."
October, 8, 2013
10/08/13
3:25
PM ET
PITTSBURGH -- Wednesday will be a telling day as far as whether or not the Steelers have to do more shuffling along the left side of their offensive line.
Foster
Left guard
Ramon Foster
is slated to practice at least on a limited basis when the Steelers don the pads in preparation for Sunday when they visit the
New York Jets
.
Foster is nursing a minor pectoral strain, and he said that pain tolerance will be the determining factor on whether he can play against the Jets.
The fifth-year veteran was limited in practuce on Monday. The players are off on Tuesday.
"What he's capable of doing in pads is going to be critical," Steelers coach Mike Tomlin said at his weekly news conference.
If Foster is unable to play against the Jets,
Kelvin Beachum
or
Guy Whimper
will start at left guard. Beachum is also a leading candidate to start at left tackle following the demotion of
Mike Adams
.
Beachum would be available to start at left guard if the Steelers go with recently acquired
Levi Brown
at left tackle.
Wide receiver
Markus Wheaton
(finger) is the only Steelers player who has been ruled out for Sunday.
In addition to Foster, inside linebacker
Kion Wilson
(hamstring) and safety
DaMon Cromartie-Smith
(hip) will be limited this week by injuries.
Tomlin made no mention of quarterback
Ben Roethlisberger
, tight end
Heath Miller
or running back
Le'Veon Bell
when he provided an injury update.
Roethlisberger slightly dislocated the index finger on his throwing hand in the Steelers' 34-27 loss to the Vikings on Sept. 29. The Steelers held him out of practice last week along with Miller (knee) and Bell (foot) as a precaution.
None of the three is expected to be limited in practice this week as the Steelers prepare for their 1 p.m. game against the Jets.
September, 24, 2013
9/24/13
4:15
PM ET
PITTSBURGH -- There is at least some positive news on the Steelers front.
"If you look at us from an injury standpoint going into this game, we're the best that we've been," Steelers coach Mike Tomlin said Tuesday.
Indeed, running back
Le'Veon Bell
will play Sunday against the
Minnesota Vikings
barring a setback this week in practice.
[+] Enlarge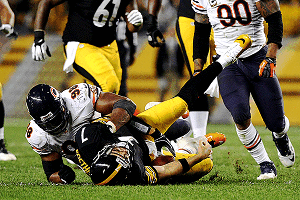 Jason Bridge/USA TODAY SportsQB Ben Roethlisberger has been under heavy heat this season as his offensive line has struggled.
Tomlin said he also is "optimistic" that starting cornerback
Cortez Allen
will return after missing the past two games because of a sprained ankle. And tight end
Heath Miller
, who had reconstructive knee surgery in late December, won't be restricted at all after playing last Sunday night -- his first game in nine months.
Here are some other Tomlin takes from the seventh-year coach's weekly news conference:
Tomlin, like quarterback Ben Roethlisberger, expressed faith in the Steelers' beleaguered offensive line."I see improvement in the group," Tomlin said. "I see improvement in the unit. Obviously not enough. Our quarterback is still being pressured too often. We're turning the ball over some because of it. "

Tomlin said the Steelers will continue to look at different combinations along the line, which means Kelvin Beachum is likely to spell both left tackle Mike Adams and right tackle Marcus Gilbert as he did last Sunday night against the Bears.

But Tomlin is pleased with how the offensive linemen are trying to work through the adversity.

"I like the way they're showing mettle from a mental toughness standpoint," he said. "We're experiencing some frustrating times but frustration doesn't solve the issue. Work does and they are taking a nice, businesslike approach to that work."

The Steelers have vowed that panic won't set in following an 0-3 start, and Tomlin said that starts with him."We're all falling short right now, and I mean that, coaches included," Tomlin said. "So we're not trying to throw anybody under the bus or identify anybody as an Achilles heel or a weak link. The reality is that we all need to work collectively together to solve our issues. We're just going to roll our sleeves up, keep our mouths shut and take what comes with the position we're in."

Kion Wilson is still atop the depth chart at right inside linebacker, but rookie Vince Williams played more there against the Bears and appears to be making a real push for the starting job.Tomlin said Williams, a sixth-round draft pick, has been impressive in calling the defenses as well as in other areas of communication.

"I think he's winning the confidence of the veteran players from that standpoint," Tomlin said.

Tomlin said there will be an ongoing competition between Williams and Wilson.

"We'll continue to play he and Kion," Tomlin said, "in an effort to get the best out of both until we get some clarity in terms of who is going to be the guy that's going to rise up and seize the spot."

Tomlin agreed with Roethlisberger, upon further review, that the Steelers quarterback did not lose two fumbles in the 40-23 loss to the Bears because he wasn't more careful with the ball."I think a lot of it had to do with what the Chicago Bears did," Tomlin said. "They're 3-0 at this point for a reason."

But, Tomlin added, "I expect Ben to be better. Ben expects himself to be better."
September, 15, 2013
9/15/13
5:10
PM ET
PITTSBURGH -- The term island is most associated in football with cornerback, but the Steelers won't leave inside linebacker
Kion Wilson
on one Monday night in Cincinnati.
Wilson
Wilson, who was out of football last season, takes over for the injured
Larry Foote
at strongside inside linebacker. And the Steelers will do as much as they can to help Wilson transition from special-teams player to starter.
Steelers linebackers coach Keith Butler said Wilson will relay defensive calls in the huddle but that inside linebacker
Lawrence Timmons
will set the defense prior to the snap.
In addition, safeties
Ryan Clark
and
Troy Polamalu
will be given authority to make adjustments or change the defensive call prior to the snap because of their vantage point from the back end of the defense and their combined 23 seasons of NFL experience.
"We'll be OK," Butler said, "because we've got enough veteran guys that have done it before."
The Steelers should also be OK with Wilson, whom they will spell with rookie
Vince Williams
, in one sense.
He is not likely to get stage fright at Paul Brown Stadium given all that he has overcome just to get to this point.
Wilson bounced around the league for two seasons, playing a combined eight games for the Chargers and Panthers. Last year he worked as an insurance adjuster in New York in the aftermath of Hurricane Sandy and later sold insurance.
Wilson was not moving on with his life but rather earning enough money to "make ends meet," and continue training in his quest to return to the NFL.
The former undrafted free agent will take the perspective of where he has been into his first NFL start.
And who knew that the former insurance salesman would turn out to be the Steelers' insurance policy for Foote, who is out for the rest of the season with a torn bicep?
"It's still just a childhood dream for me at this point," Wilson said. "But I know I have one mission to accomplish. I still feel that my best football is yet to come."
So do the Steelers.
"Kion's made some plays and he's an aggressive guy," Butler said. "He can run, he's quick, and we want to take a good look at him and see what happens. We still like Vince Williams too so both of them are probably going to end up playing."